Sometimes going to the gym and sticking with your exercise plan can be a serious struggle. If you're feeling low on energy and demotivated, use (and memorize) these motivational gym quotes to recite in your head (wether you need to get to the gym or stay motivated during a workout).
For more motivation in the gym, check out these motivational fitness quotes.
Gym Quotes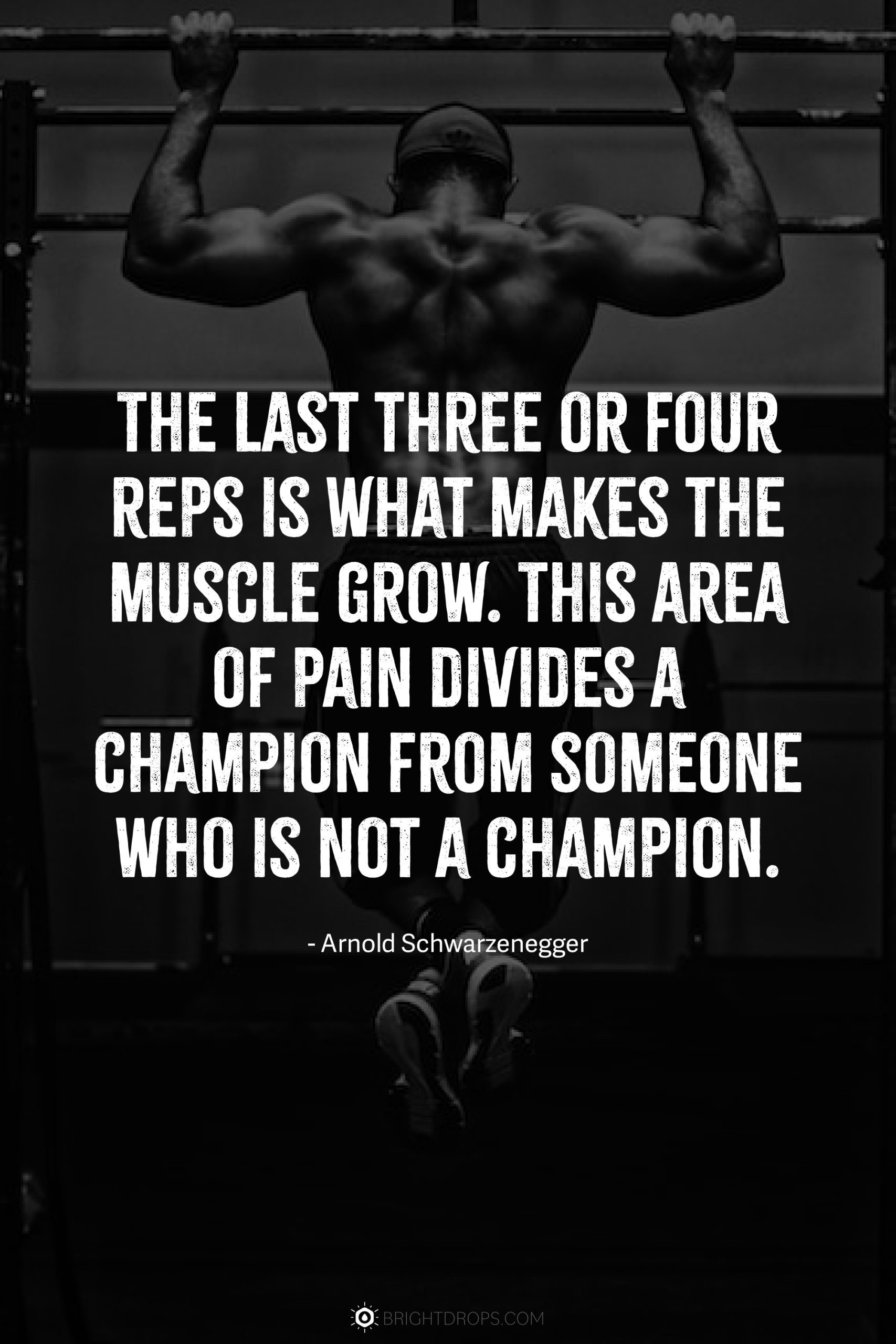 "The last three or four reps is what makes the muscle grow. This area of pain divides a champion from someone who is not a champion." – Arnold Schwarzenegger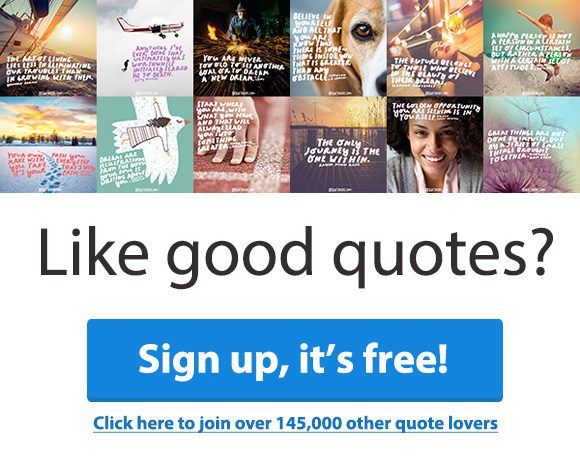 "If something stands between you and your success, move it. Never be denied." – Dwayne "The Rock" Johnson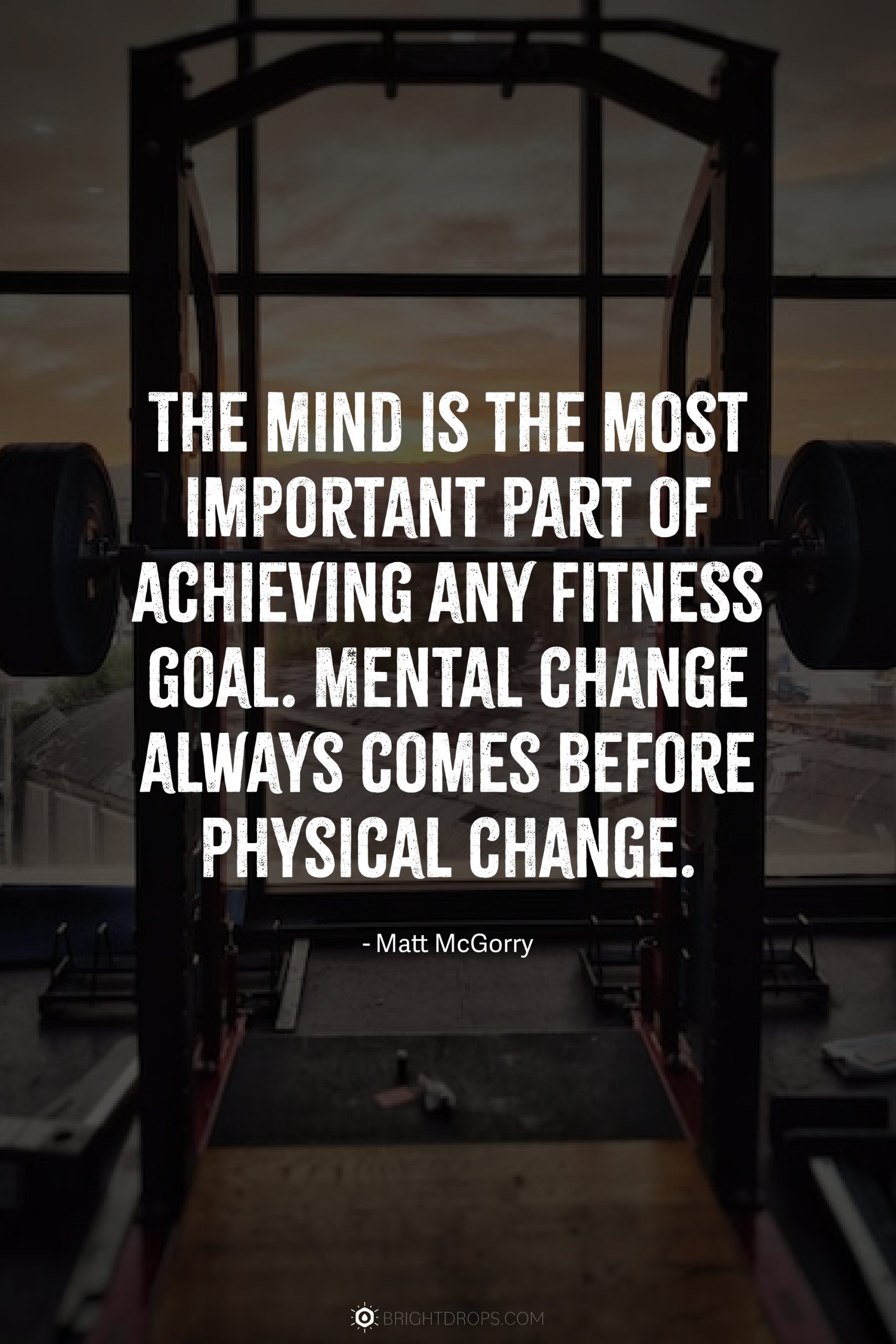 "The mind is the most important part of achieving any fitness goal. Mental change always comes before physical change." – Matt McGorry
You may also like: These motivational quotes: https://brightdrops.com/category/motivational-quotes
"Walking: the most ancient exercise and still the best modern exercise." – Carrie Latet
"You're going to have to let it hurt. Let it suck. The harder you work, the better you will look. Your appearance isn't parallel to how heavy you lift, it's parallel to how hard you work." – Joe Manganiello
"Nobody gets muscles by watching ME lift weights." – Arnold Schwarzenegger
Related: Weight Loss Quotes
"Most people give up right before the big break comes — don't let that person be you." – Michael Boyle
"If you don't make time for exercise, you'll probably have to make time for illness." – Robin Sharma
"I do not think that there is any other quality so essential to success of any kind as the quality of perseverance. It overcomes almost everything, even nature." – John D. Rockefeller
"If you aren't hurting after a good workout then obviously you haven't done something right." – Mark W. Boyer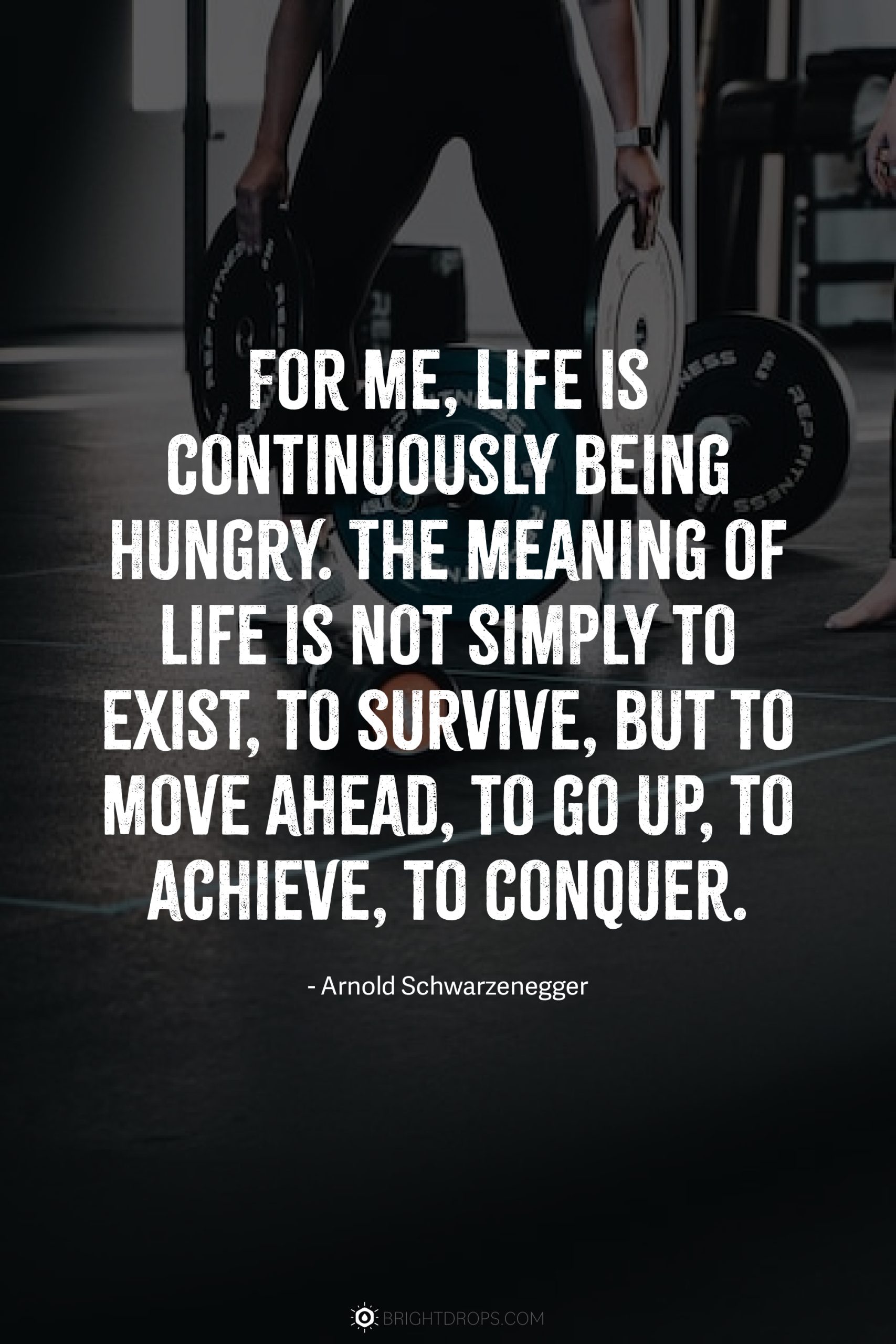 "For me, life is continuously being hungry. The meaning of life is not simply to exist, to survive, but to move ahead, to go up, to achieve, to conquer." – Arnold Schwarzenegger
"To be a champ you have to believe in yourself when no one else will." – Sugar Ray Robinson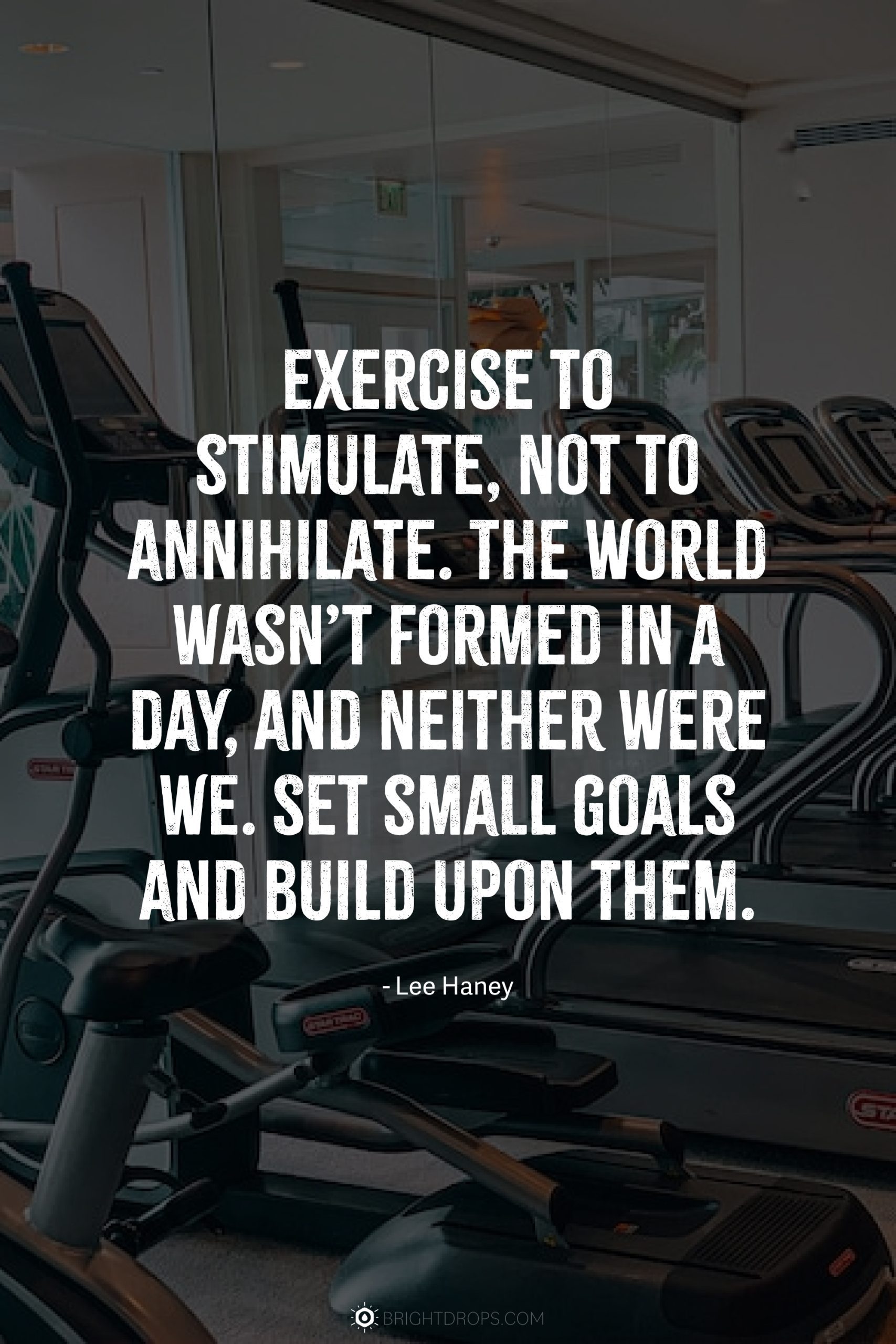 "Exercise to stimulate, not to annihilate. The world wasn't formed in a day, and neither were we. Set small goals and build upon them." – Lee Haney
"Your current body is the only body that can take you to your new body so be kind to it." – Elaine Moran
"Enduring means accepting. Accepting things as they are and not as you would wish them to be, and then looking ahead, not behind." – Rafael Nadal
"I don't run to add days to my life, I run to add life to my days." – Ronald Rook
"Take care of your body. It's the only place you have to live." – Jim Rohn
"Physical fitness is not only one of the most important keys to a healthy body, it is the basis of dynamic and creative intellectual activity." – John F. Kennedy
"You want me to do something… tell me I can't do it." – Maya Angelou
"A man's health can be judged by which he takes two at a time: pills or stairs." – Joan Walsh Anglund
"Once you learn to quit, it becomes a habit." – Vince Lombardi Jr.
"All progress takes place outside the comfort zone." – Michal Joan Bobak
"To enjoy the glow of good health, you must exercise." – Gene Tunney
"Muscles come and go. Flab lasts." – Bill Vaughan
"If it doesn't challenge you, it doesn't change you." – Fred DeVito
"Grit is that 'extra something' that separates the most successful people from the rest. It's the passion, perseverance, and stamina that we must channel in order to stick with our dreams until they become a reality." – Travis Bradberry
"In general, any form of exercise, if pursued continuously, will help train us in perseverance. Long-distance running is particularly good training in perseverance." – Mao Zedong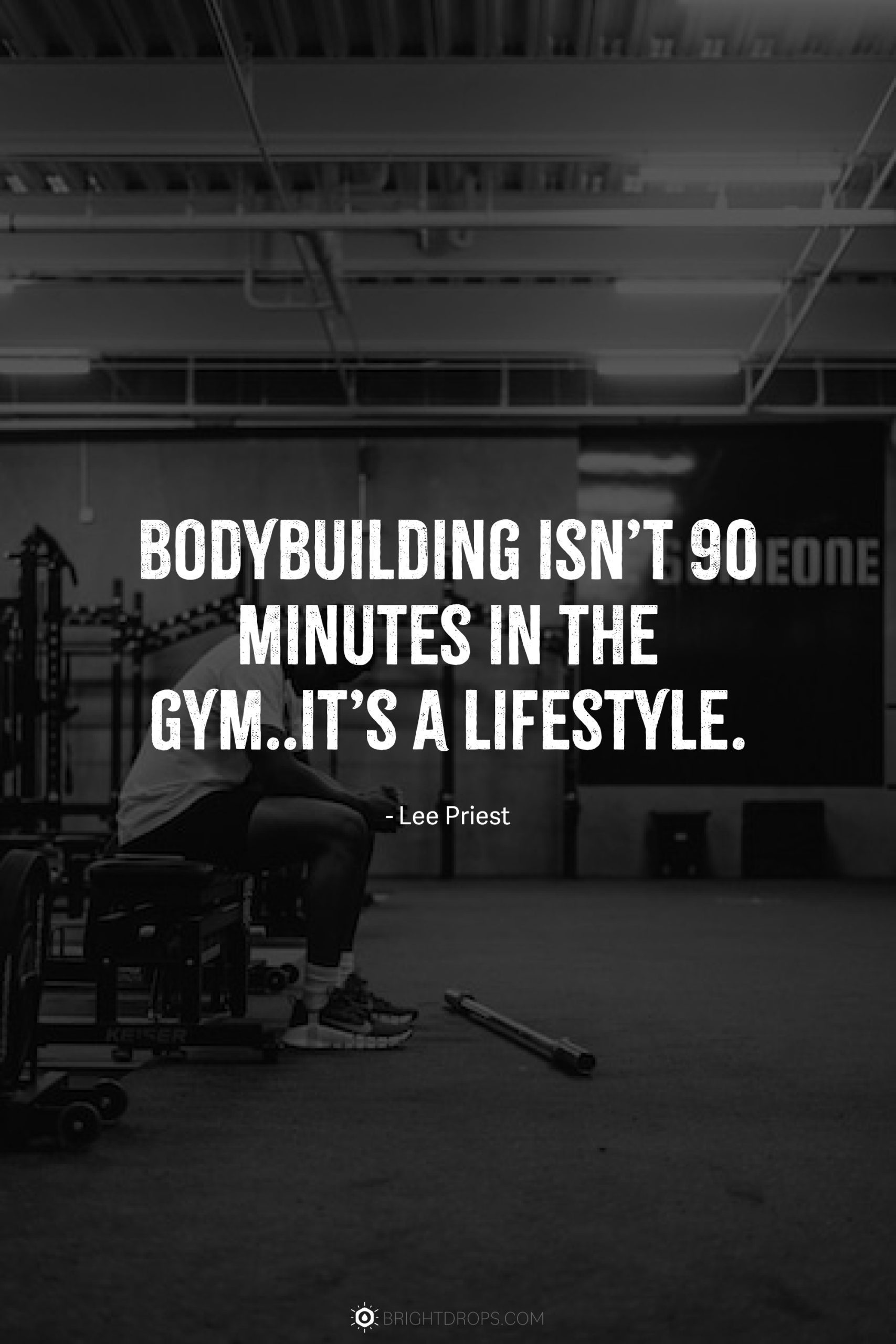 "Bodybuilding isn't 90 minutes in the gym..it's a lifestyle." – Lee Priest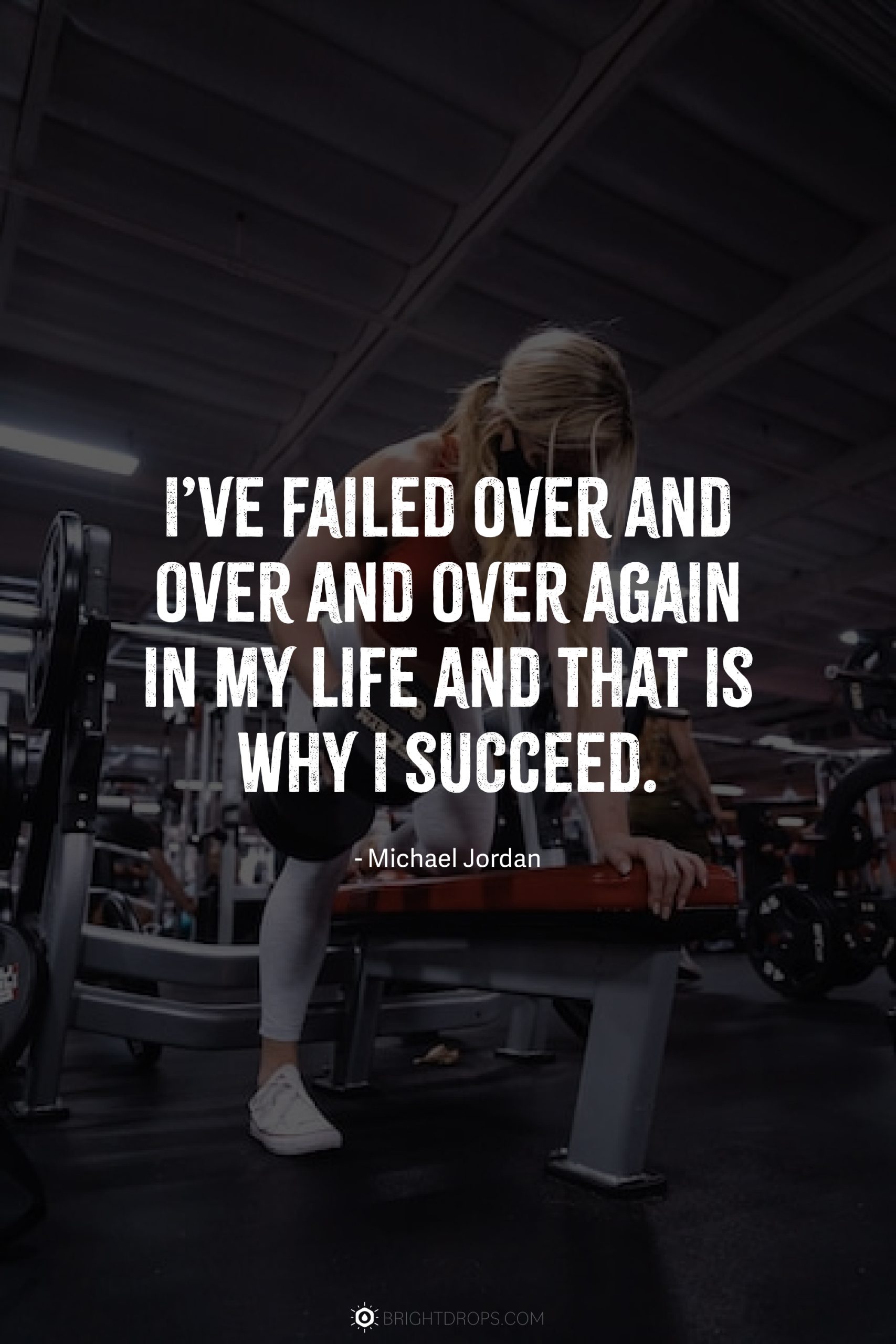 "I've failed over and over and over again in my life and that is why I succeed." – Michael Jordan
"Strength does not come from physical capacity. It comes from an indomitable will." – Mahatma Gandhi
"Fitness is not about being better than someone else. It's about being better than you used to be." – Khloe Kardashian
"We must appreciate and never underestimate our own inner power." – Noah Galloway
"If you always do what you did, you'll always get what you got." – Marian Diamond
"Success is usually the culmination of controlling failure." – Sylvester Stallone
"You have to push past your perceived limits, push past that point you thought was as far as you can go." – Drew Brees
"Feed your fitness. Starve your mediocrity." – Krystal Breakley
"When we give ourselves permission to fail, we, at the same time, give ourselves permission to excel." – Eloise Ristad
"Bodybuilding is much like any other sport. To be successful, you must dedicate yourself 100% to your training, diet, and mental approach." – Arnold Schwarzenegger
"The resistance that you fight physically in the gym and the resistance that you fight in life can only build a strong character." – Arnold Schwarzenegger
"Failure is an option here. If things are not failing, you're not innovating enough." – Elon Musk
"You dream. You plan. You reach. There will be obstacles. There will be doubters. There will be mistakes. But with hard work, with belief, with confidence and trust in yourself and those around you, there are no limits." – Michael Phelps
"If you're afraid of failure, you don't deserve success." – Nastia Liukin
"The successful warrior is the average man, with laser-like focus." – Bruce Lee
"Of all the paths you take in life, make sure a few of them are dirt." – John Muir
"No man has a right to be an amateur in the matter of physical training." – Socrates
"If you always put limits on everything you do, physical or anything else. It will spread into your work and into your life. There are no limits. There are only plateaus, and you must not stay there, you must go beyond them." – Bruce Lee
"Once you are exercising regularly, the hardest thing is to stop it." – Erin Gray
"I have nothing in common with lazy people who blame others for their lack of success. Great things come from hard work and perseverance. No excuses." – Kobe Bryant
"Health is worth more than learning." – Thomas Jefferson
"Failure is the condiment that gives success its flavor." – Truman Capote
"Being defeated is often a temporary condition. Giving up is what makes it permanent." – Marilyn vos Savant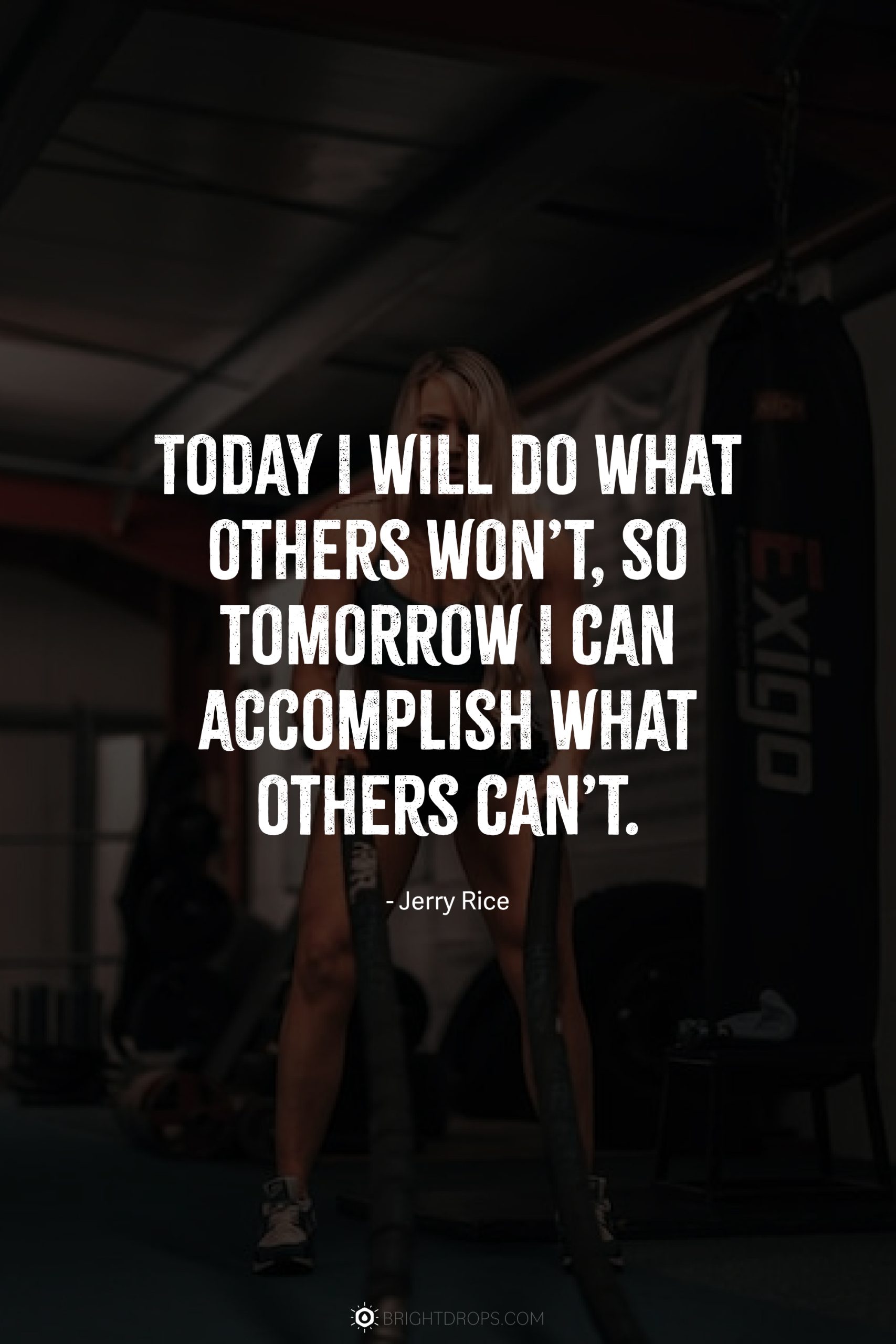 "Today I will do what others won't, so tomorrow I can accomplish what others can't." – Jerry Rice
"The greatest mistake you can make in life is to be continually fearing you will make one." – Elbert Hubbard.
"You get out what you put in. If you want more, give more." – Jeanette Jenkins
"Your mind is the strongest and most valuable muscle you can grow in the gym." – Greg Plitt
"You really have to have some muscle to be on the stage in front of the world." – Billy Crystal
"When you have a clear vision of your goal, it's easier to take the first step toward it." – LL Cool J
"Strength does not come from winning. Your struggles develop your strengths. When you go through hardships and decide not to surrender, that is strength." – Arnold Schwarzenegger
"Through perseverance many people win success out of what seemed destined to be certain failure." – Benjamin Disraeli
"The gym is the best place you'll ever be." – Skip Prosser
"Action is the foundational key to all success." – Pablo Picasso
"Movement is a medicine for creating change in a person's physical, emotional, and mental states." – Carol Welch
"The pain you feel today will be the strength you feel tomorrow." – Arnold Schwarzenegger
More Good Health Quotes: