Kindness costs nothing, and yet it can really change the course of someone else's day. A few words, a helpful deed, or even a gentle smile will add sunshine to a dull day, and bring color to a world that can sometimes seem very gray.
Good deeds don't have to be grand gestures, and these kindness quotes will help you to see that the smallest of good deeds can have the biggest ripple effect. We can never know what another person is going through, and we all have the power to lift their burden with a simple act of goodness.
Of course, being kind has a wonderful knock-on effect, and you will also reap the benefits and brighten your own day by being kind to others. Take a look at these beautiful kindness quotes, which will inspire you to bring more gentleness and warmth into someone else's day.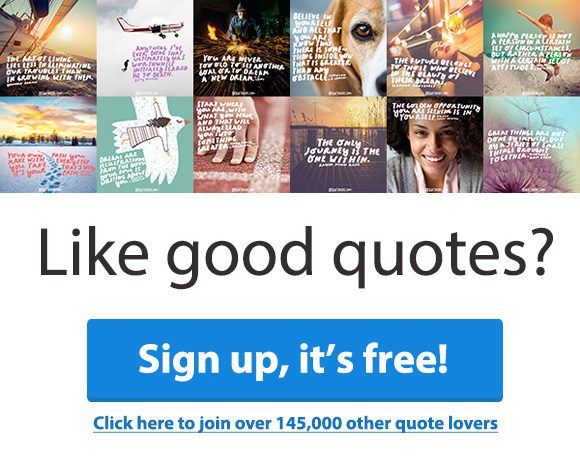 As important as kindness, these peace quotes and these gratitude quotes will help center you and keep you grounded as well.
Kindness Quotes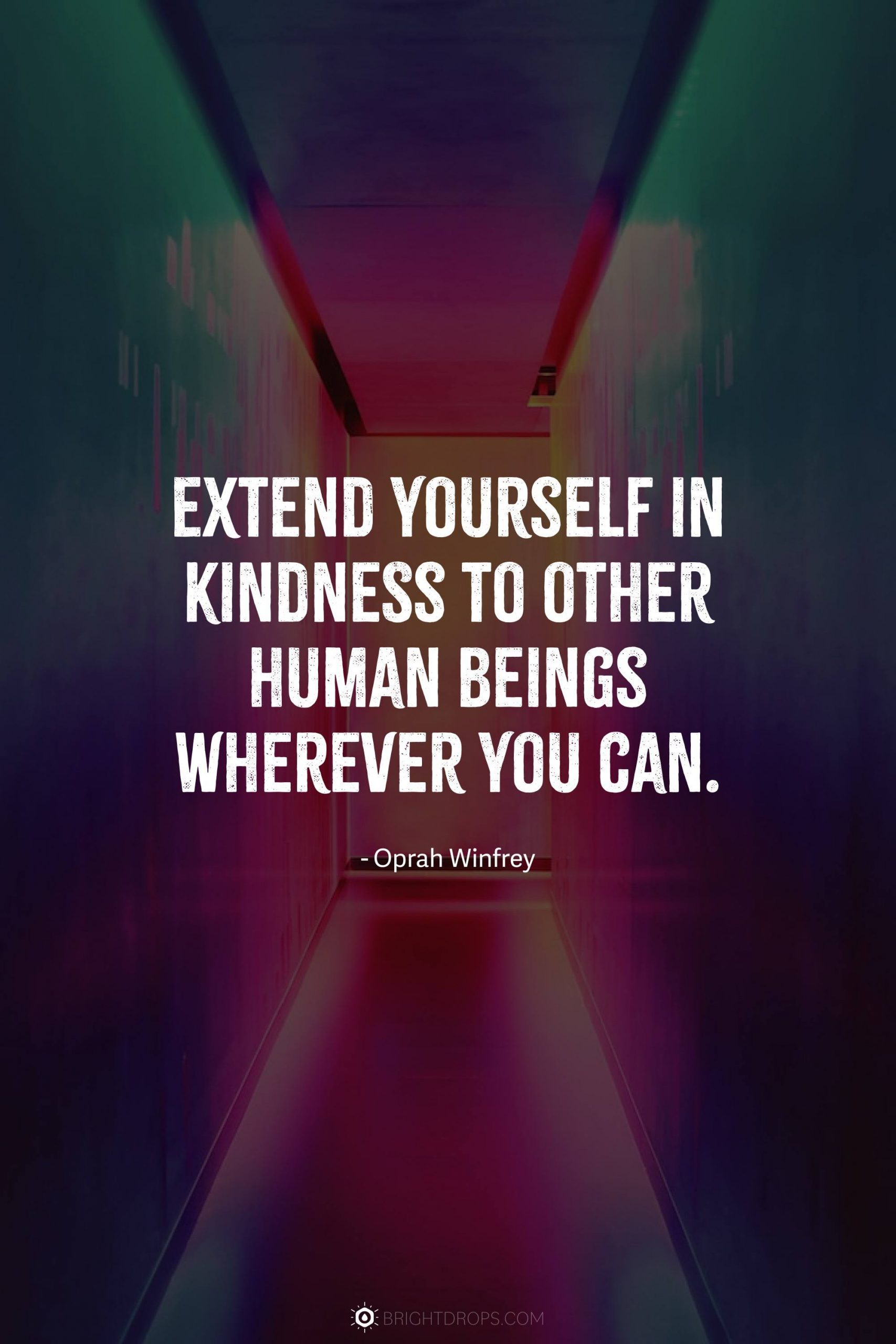 "Extend yourself in kindness to other human beings wherever you can." – Oprah Winfrey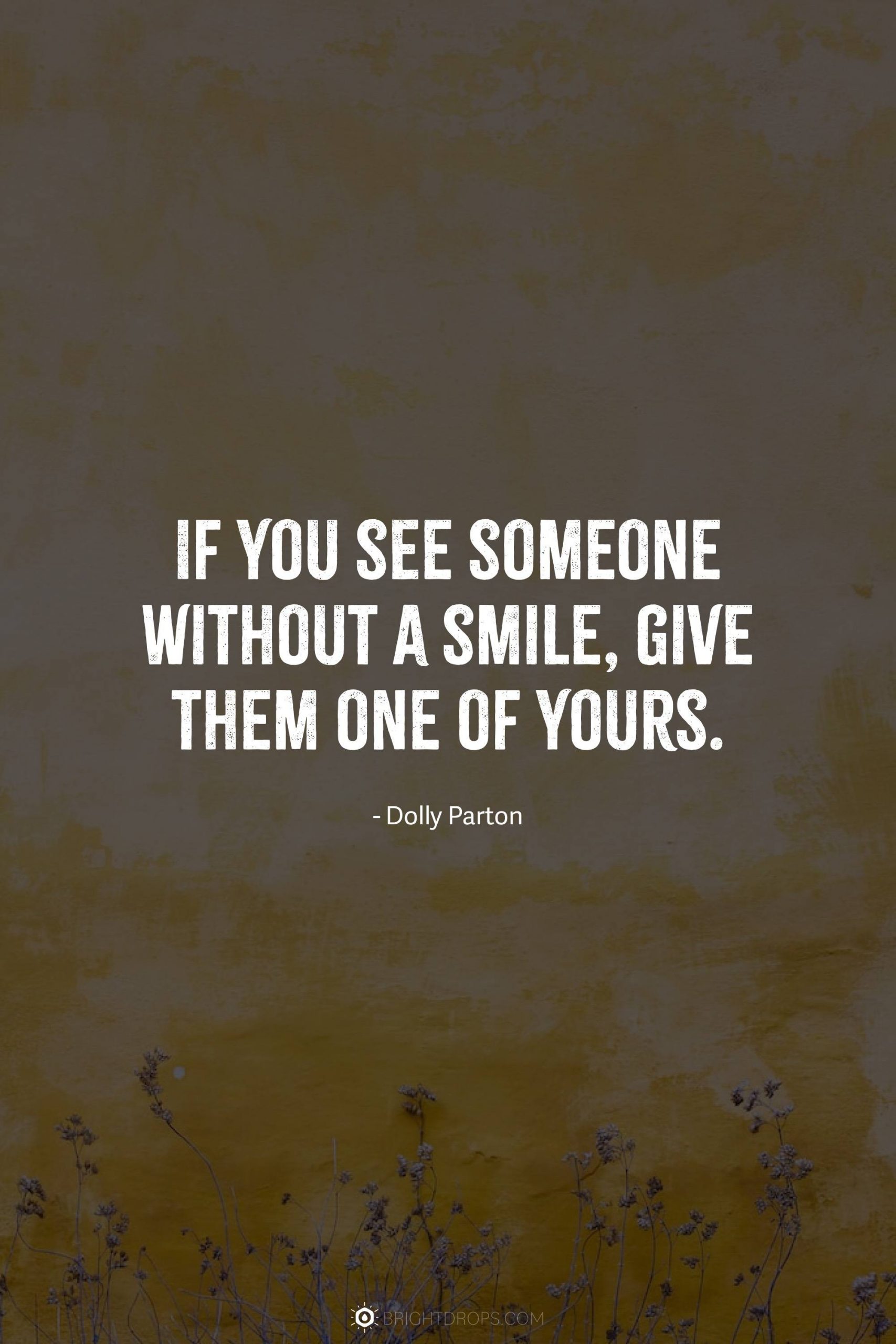 "If you see someone without a smile, give them one of yours." – Dolly Parton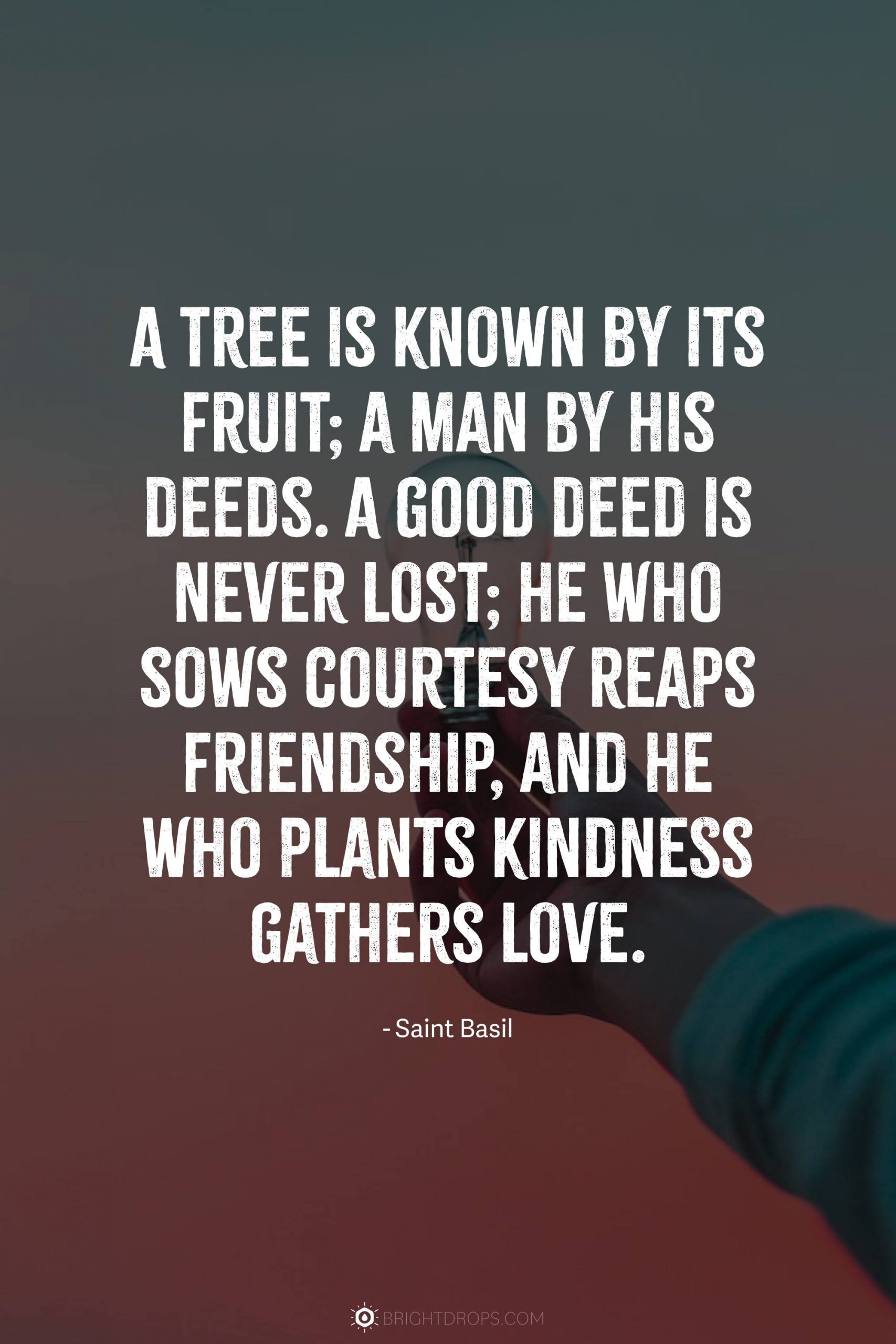 "A tree is known by its fruit; a man by his deeds. A good deed is never lost; he who sows courtesy reaps friendship, and he who plants kindness gathers love." – Saint Basil
You may also like: This comprehensive list of the best love quotes: https://brightdrops.com/category/love-quotes
"Be kind whenever possible. It is always possible" – Dalai Lama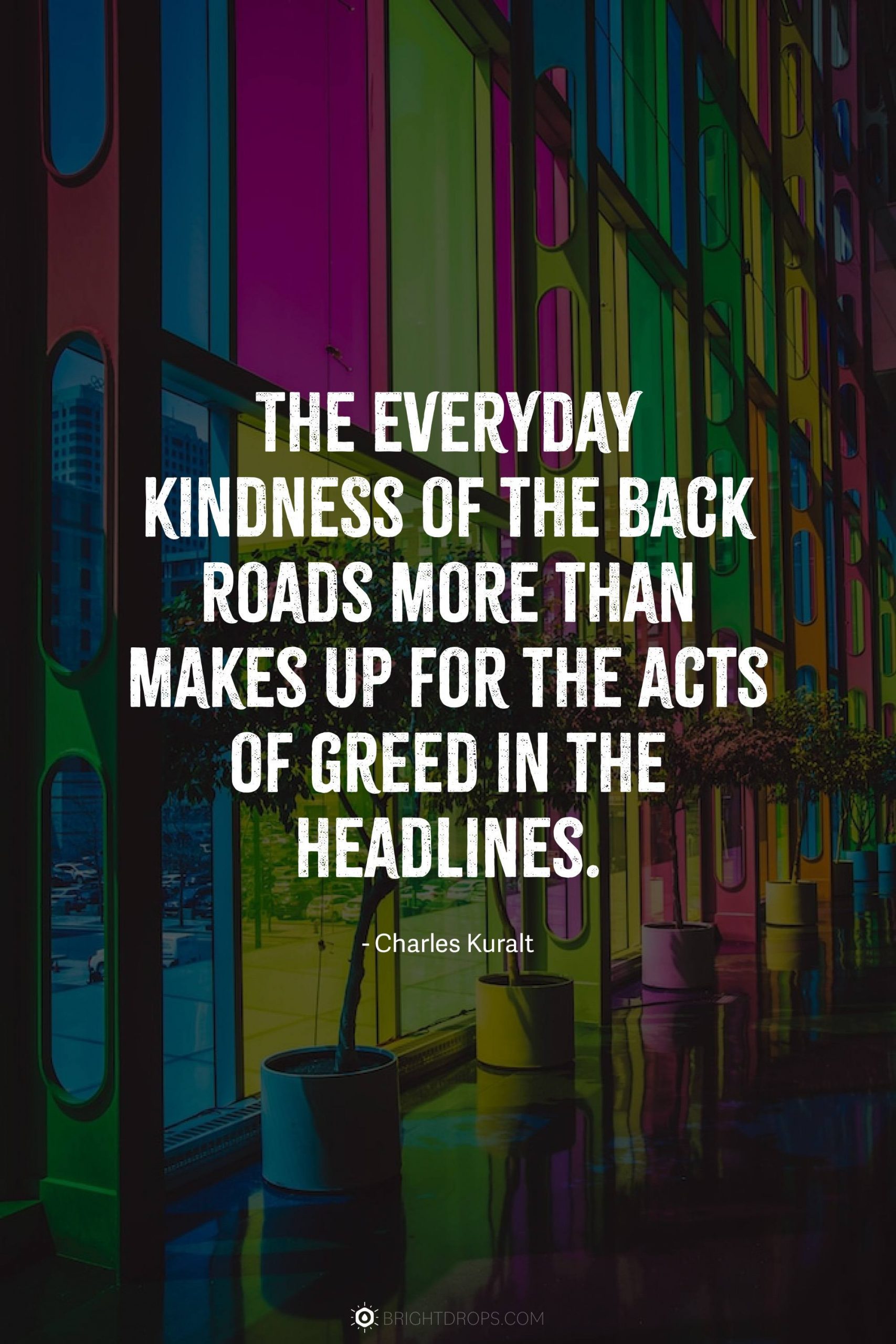 "The everyday kindness of the back roads more than makes up for the acts of greed in the headlines." – Charles Kuralt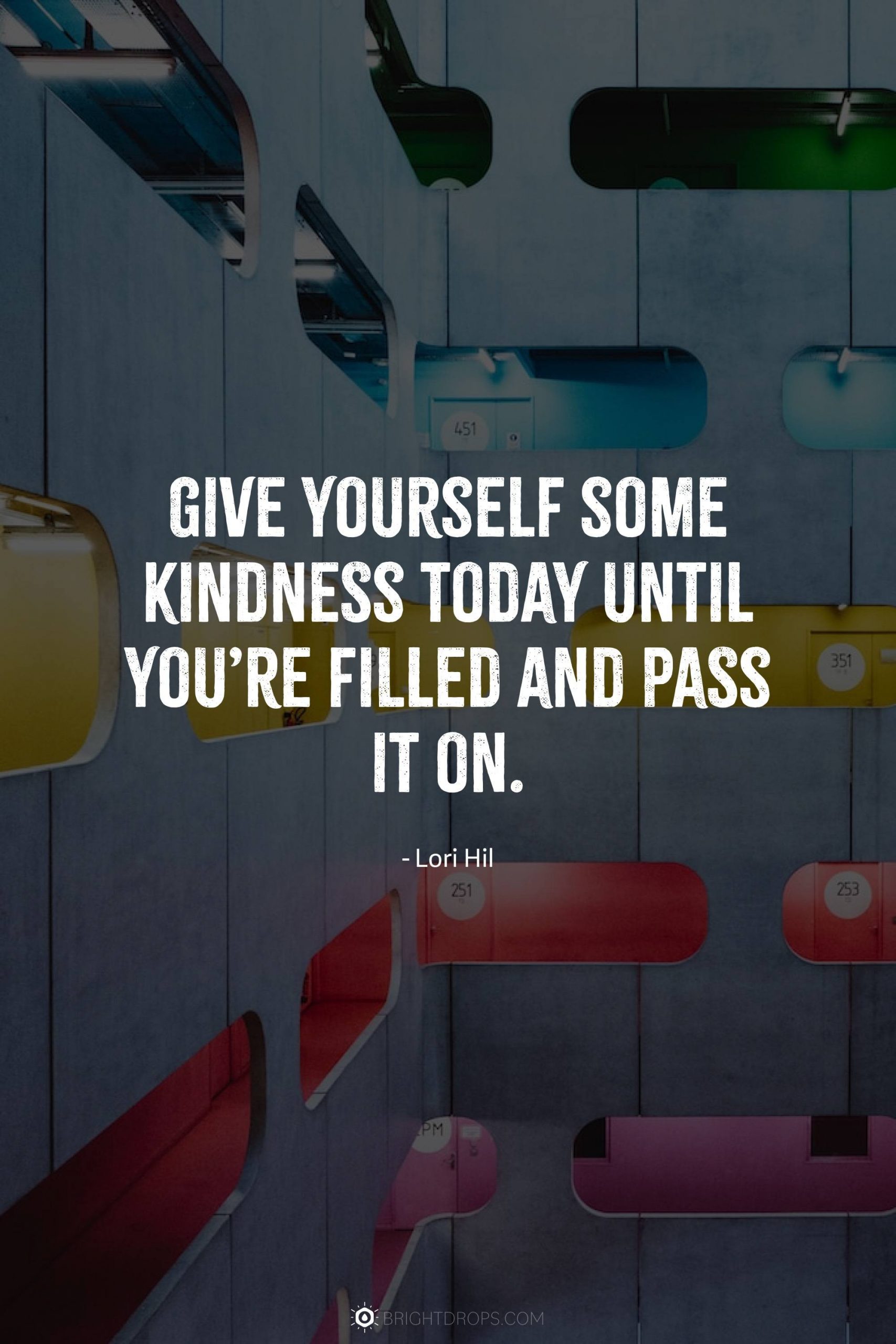 "Give yourself some kindness today until you're filled and pass it on." – Lori Hil
Related: Forgiveness Quotes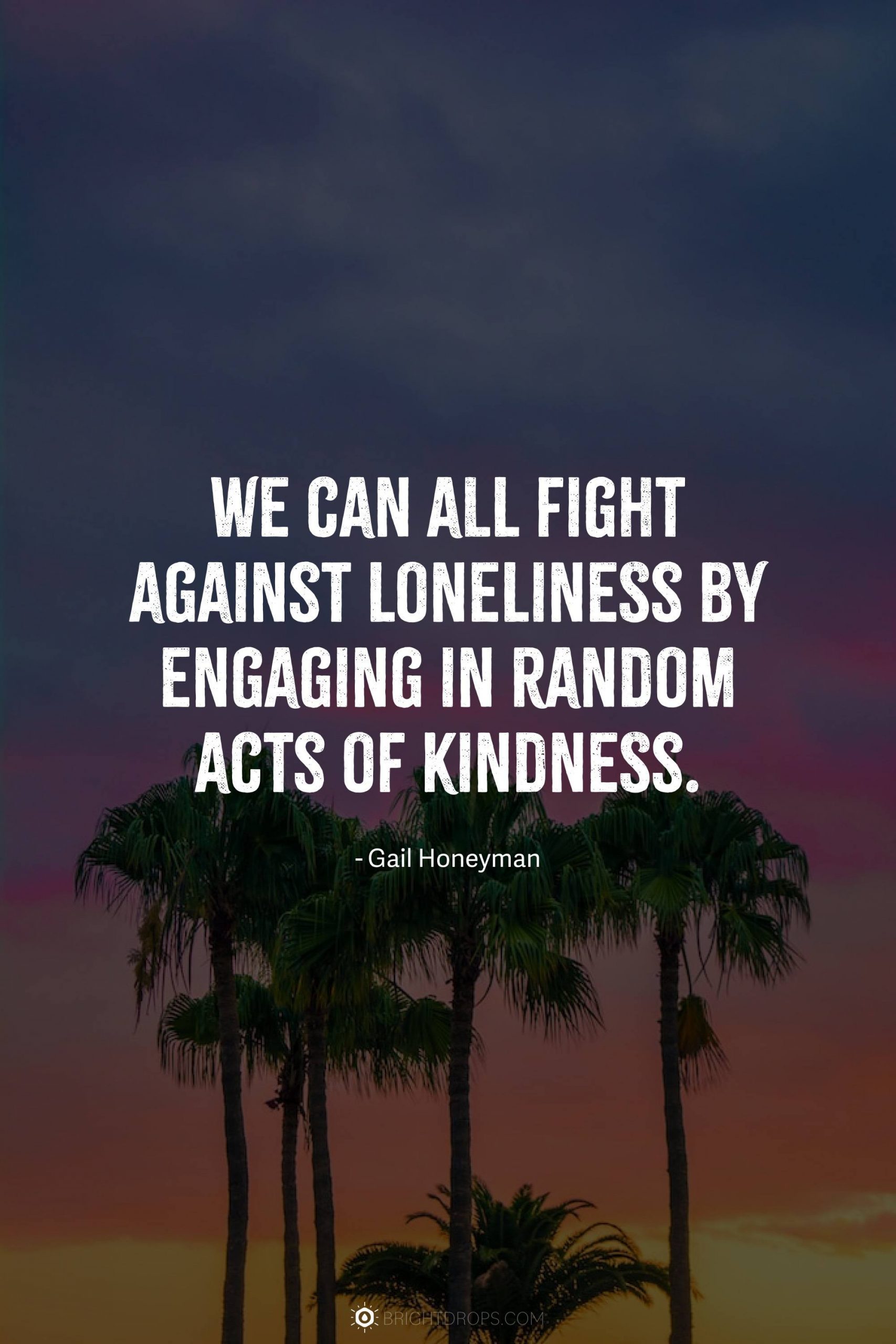 "We can all fight against loneliness by engaging in random acts of kindness." – Gail Honeyman

"The love, kindnesses, and value we have given authentically to others will be our remaining treasures at the end of life." – Steve Brunkhorst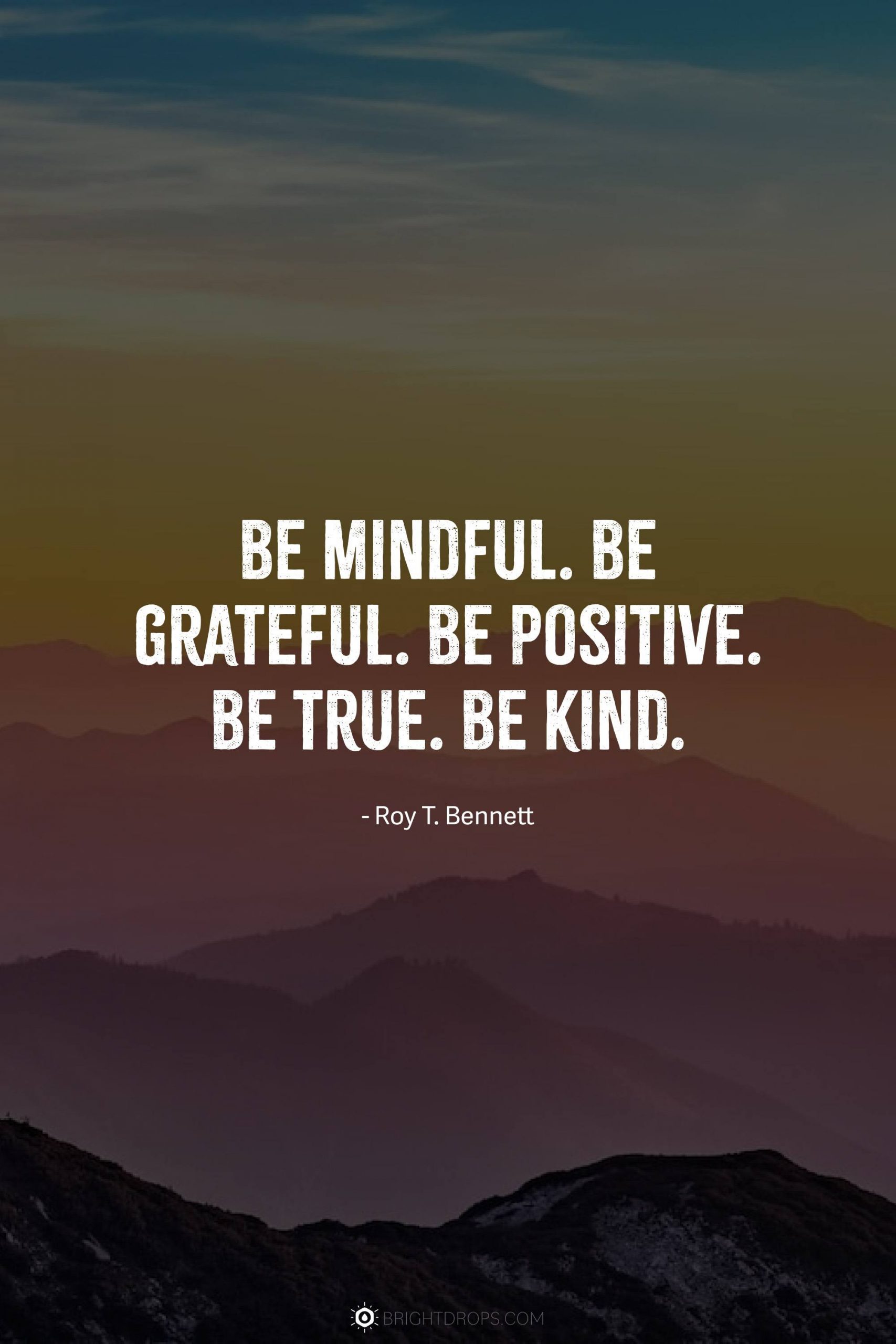 "Be mindful. Be grateful. Be positive. Be true. Be kind." – Roy T. Bennett

"Kindness is always fashionable, and always welcome." – Amelia Barr

"I am a little bit of a softie, yes. Actually I don't think it's softness, I think it's kindness." – Len Goodman

"Never lose a chance of saying a kind word." – William Makepeace Thackeray

"Carry out a random act of kindness, with no expectation of reward, safe in the knowledge that one day someone might do the same for you." – Princess Diana

"Because that's what kindness is. It's not doing something for someone else because they can't, but because you can." – Andrew Iskander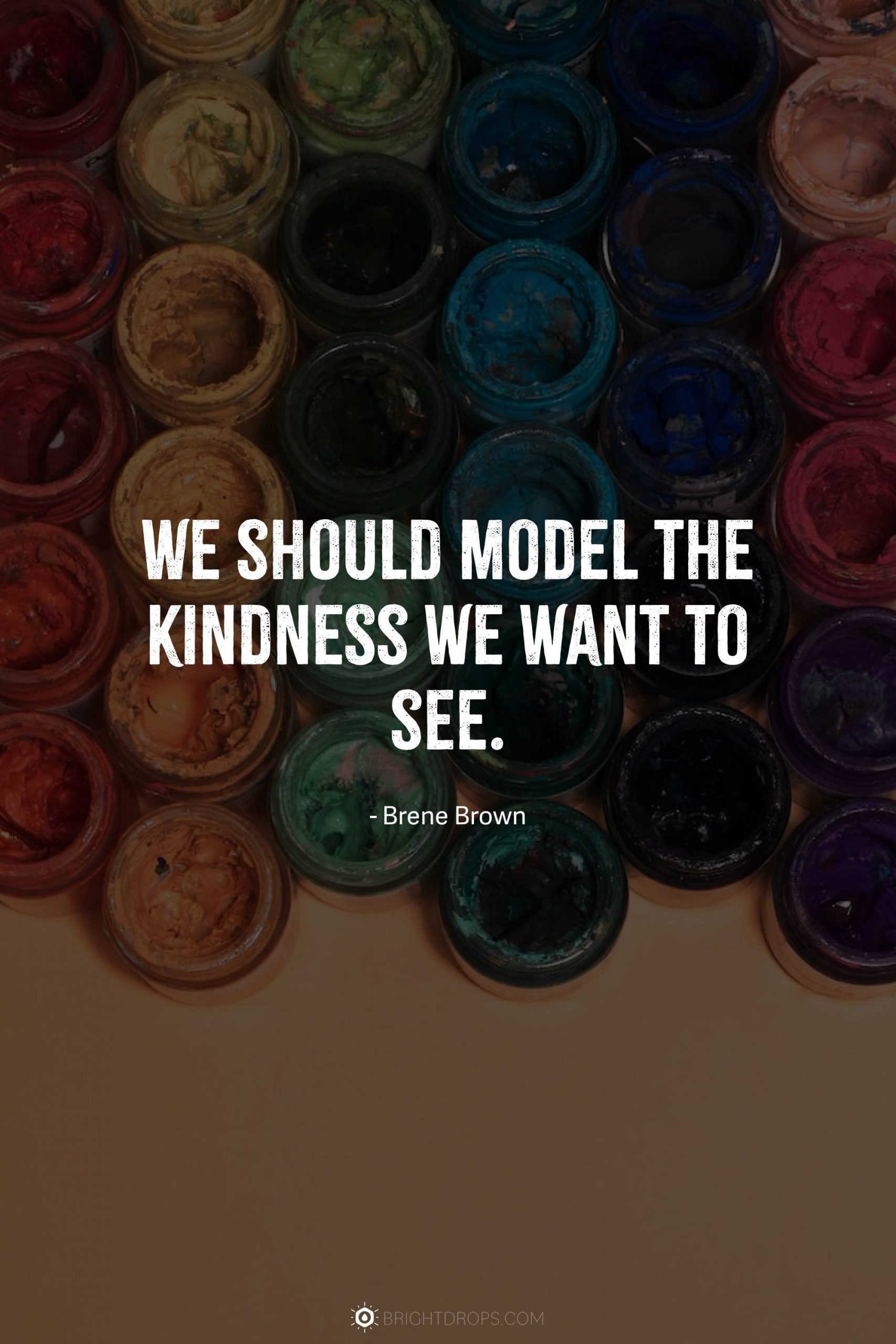 "We should model the kindness we want to see." – Brene Brown

"Do your little bit of good where you are; it's those little bits of good put together that overwhelm the world." – Desmond Tutu

"What this world needs is a new kind of army – the army of the kind." – Cleveland Amory

"Kindness is a universal language." – RAKTIVIST

"When words are both true and kind, they can change the world." – Buddha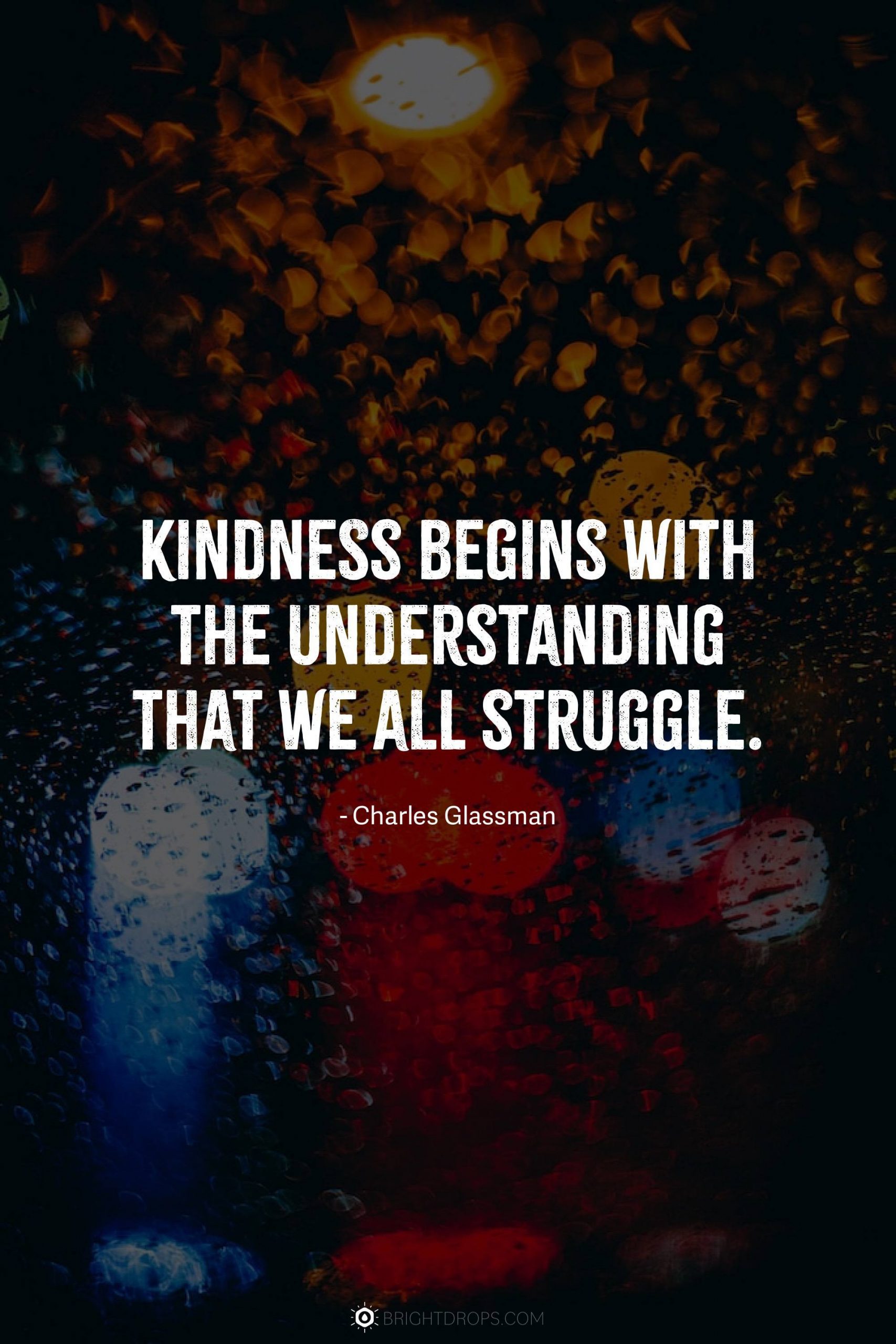 "Kindness begins with the understanding that we all struggle." – Charles Glassman

"Weeds are flowers too, once you get to know them." – A.A. Milne

"Kindness is wisdom" – Philip James Bailey

"Kindness in words creates confidence. Kindness in thinking creates profoundness. Kindness in giving creates love." – Lao Tzu

"Kindness and politeness are not overrated at all. They're underused." – Tommy Lee Jones

"The simplest acts of kindness are by far more powerful then a thousand heads bowing in prayer." – Mahatma Gandhi

"Always stop to think whether your fun may be the cause of another's unhappiness." – Aesop

"We are all neighbors. Be kind. Be gentle." – Clemantine Wamariya

"It takes strength to be kind; it's not a weakness." – Daniel Lubetzky

"Sometimes the questions are complicated and the answers are simple." – Dr. Seuss

"Compassion isn't about solutions. It's about giving all the love that you've got." – Cheryl Strayed

"No one has ever become poor by giving." – Anne Frank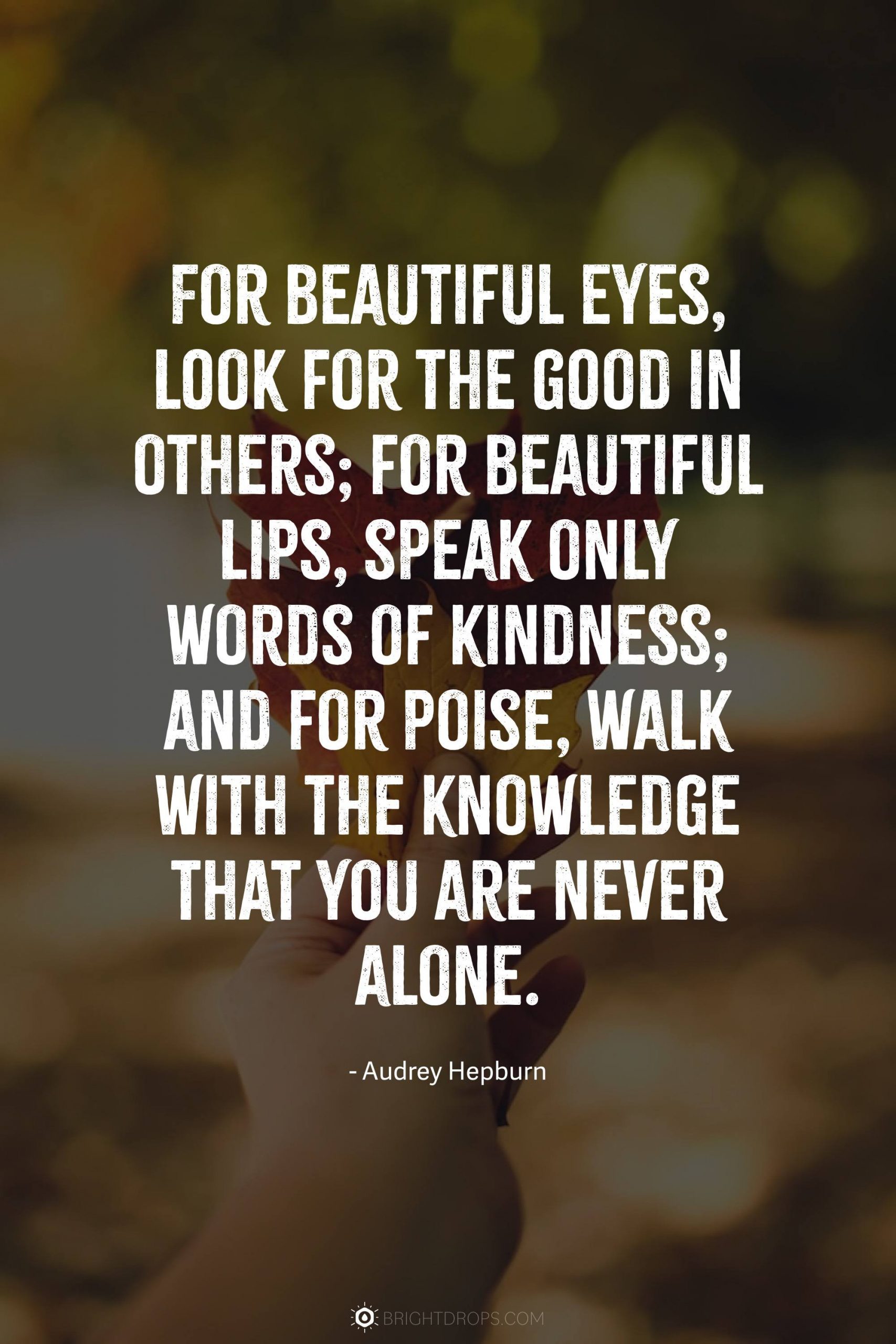 "For beautiful eyes, look for the good in others; for beautiful lips, speak only words of kindness; and for poise, walk with the knowledge that you are never alone." – Audrey Hepburn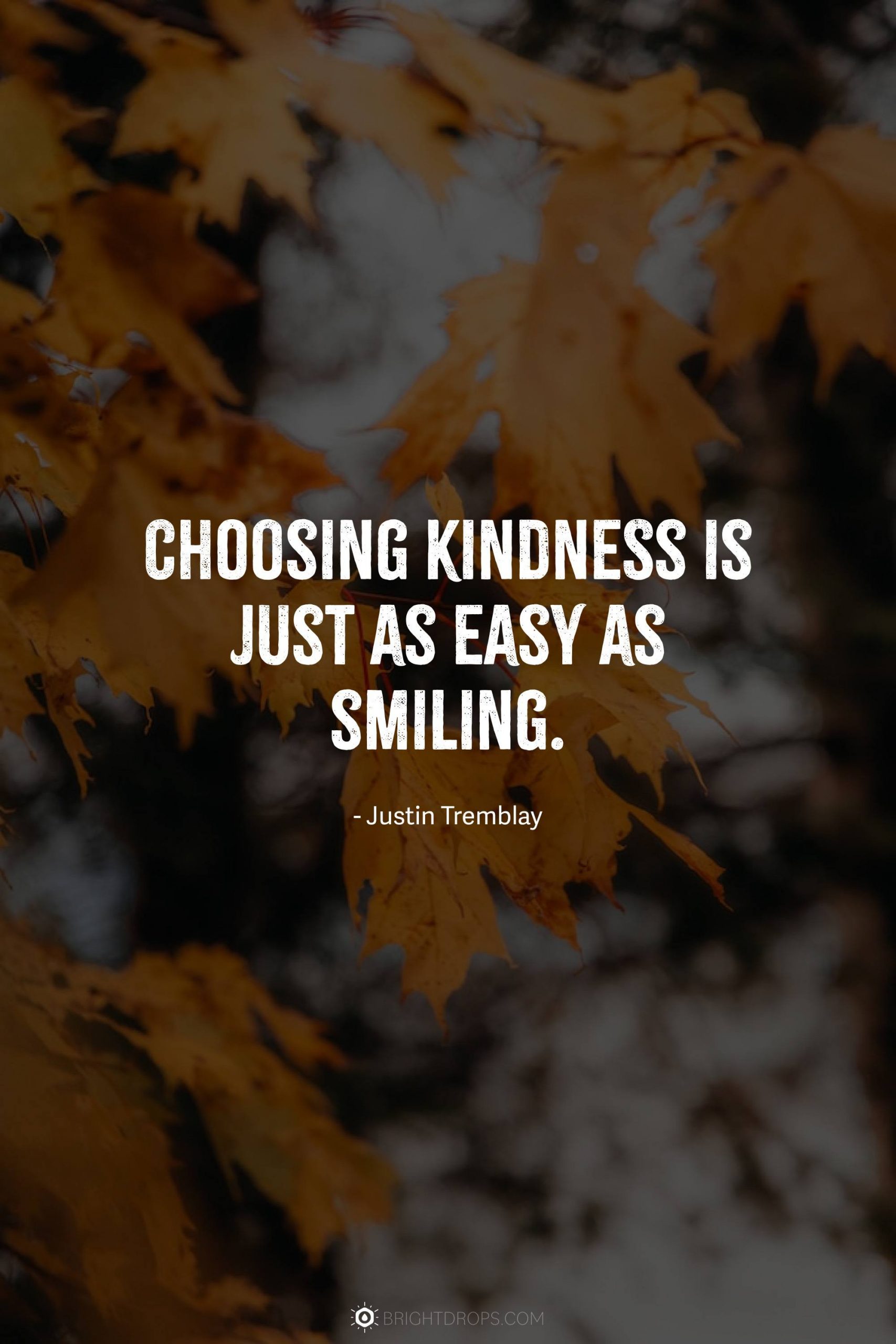 "Choosing kindness is just as easy as smiling." – Justin Tremblay

"Transparency, honesty, kindness, good stewardship, even humor, work in businesses at all times." – John Gerzema

"Believe in yourself. Do what you love. And most importantly, be kind to others, even if you don't like them." – Stacy London

"Treat others as you wish to be treated. Don't just be nice, but be kind to other people. That can be so rewarding." – Mary Lambert

"When you are kind to someone in trouble, you hope they'll remember and be kind to someone else. And it'll become like a wildfire." – Whoopi Goldberg

"Guard well within yourself that treasure, kindness. Know how to give without hesitation, how to lose without regret, how to acquire without meanness." – George Sand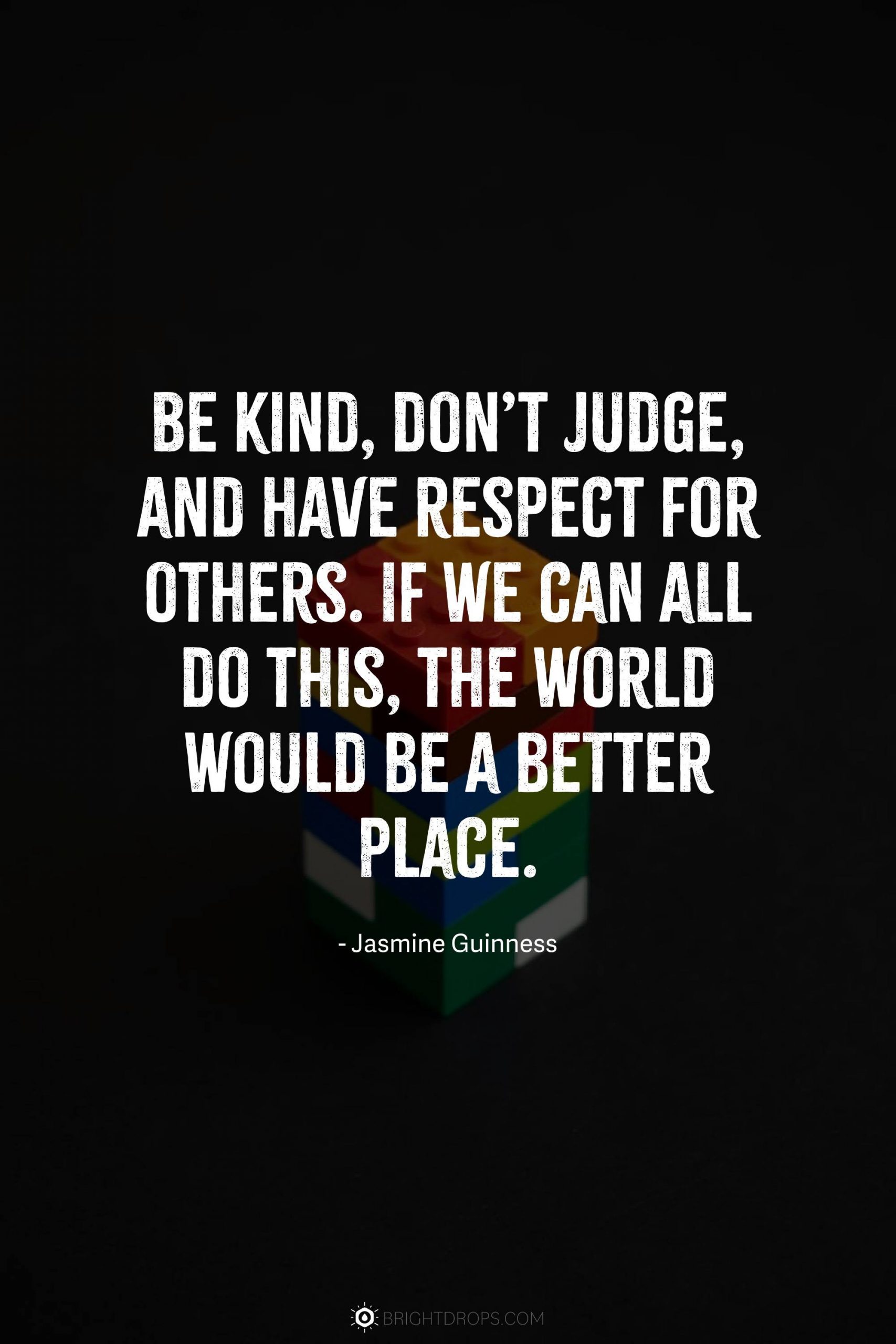 "Be kind, don't judge, and have respect for others. If we can all do this, the world would be a better place." – Jasmine Guinness

"And so I try to be kind to everything I see, and in everything I see, I see him." – Hanya Yanagihara

"I work best when there's a safety trampoline of kindness." – Ruth Negga

"The catch phrase for the day is 'Do an act of kindness. Help one person smile.'" – Harvey Ball

"When you show people kindness and respect, despite petty differences, you are bringing positive vibes into your life and into the lives of others." – Jason Scotts

"Always have a willing hand to help someone, you might be the only one that does." – Roy T. Bennett

"It's very important to choose kindness and stop bullying." – Jacob Tremblay

"I've been searching for ways to heal myself, and I've found that kindness is the best way." – Lady Gaga

"Generosity and kindness always feel good to give, and it never feels good to give grief or negativity." – Jason Becker

"My religion is very simple. My religion is kindness." – Dalai Lama

"A kind gesture can reach a wound that only compassion can heal." – Steve Maraboli

"A person's a person, no matter how small." – Dr. Seuss

"Today I shall behave, as if this is the day I will be remembered." – Dr. Seuss

"When we seek to discover the best in others, we somehow bring out the best in ourselves." – William Arthur Ward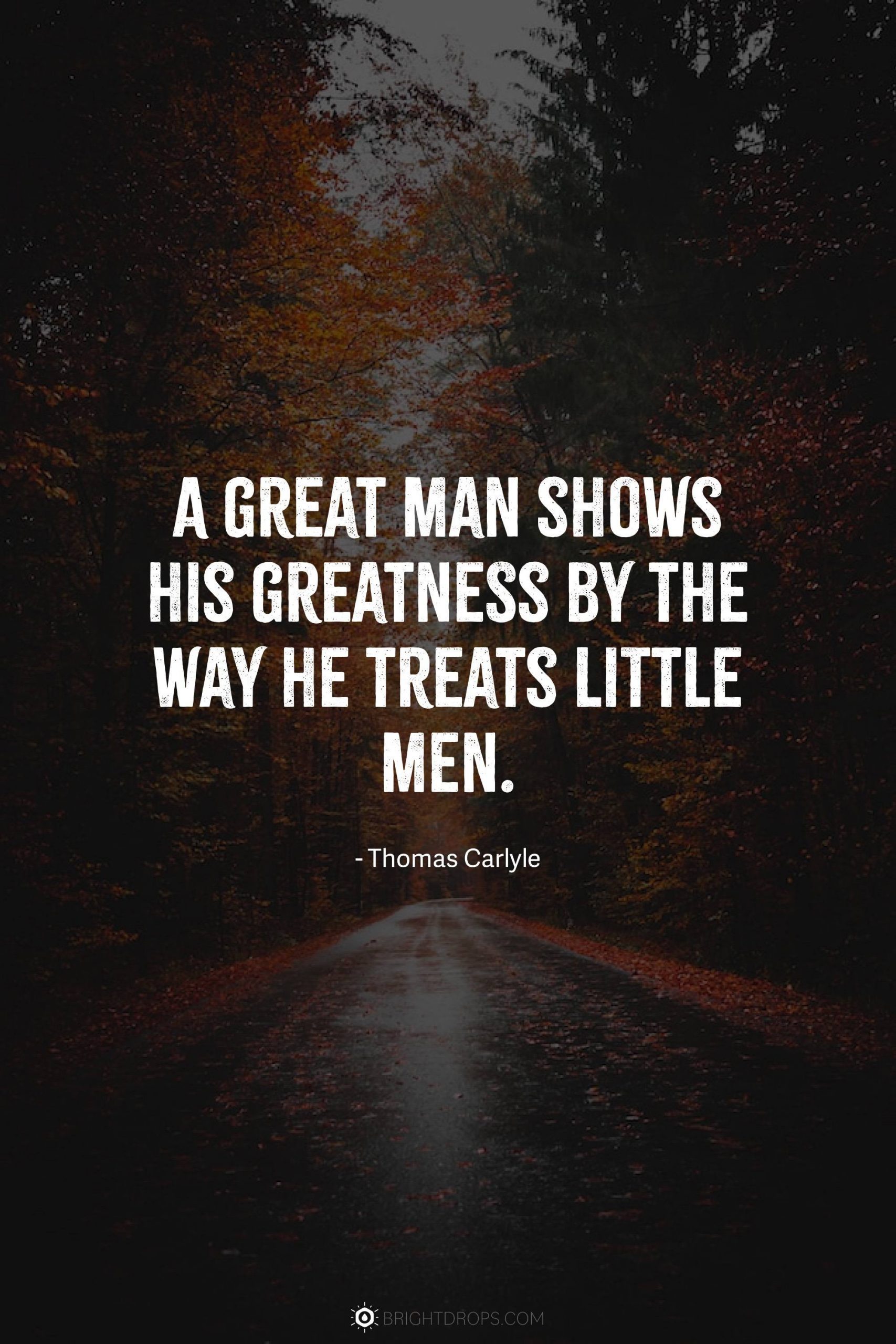 "A great man shows his greatness by the way he treats little men." – Thomas Carlyle

"The test of our progress is not whether we add more to the abundance of those who have much; it is whether we provide enough for those who have too little." – Franklin D. Roosevelt

"Work hard, be kind, and amazing things will happen." – Conan O'Brien

"Kindness is not a business. True kindness expects nothing in return and should never act with conditions." – Roy T. Bennett

"Never believe that a few caring people can't change the world. For indeed, that's all who ever have." – Margaret Mead

"Kindness is choosing to acknowledge and celebrate the beauty in others, regardless of whether or not they can find it in themselves." – RAKTIVIST

"People shouldn't have to earn kindness. They should have to earn cruelty." – Maggie Stiefvater

"Forget injuries; never forget kindness" – CONFUCIUS

"Deliberately seek opportunities for kindness, sympathy, and patience." – Evelyn Underhill

"Be gentle to all and stern with yourself." – Teresa of Avila

"Be kind, for everyone you meet is fighting a harder battle." – Plato

"Kindness extended, received, or observed beneficially impacts the physical health and feelings of everyone involved." – Wayne Dyer

"All I'm saying is, kindness doesn't have any boundaries." – Kathryn Stockett

"If you have kindness in your heart, you offer acts of kindness to touch the hearts of others wherever you go—whether they are random or planned. Kindness becomes a way of life." – Roy T. Bennett

"Be kind, for everyone you meet is fighting a hard battle." – Philo

"Let us practice random kindness and acts of senseless beauty to all we meet." – Paul Keller

"Everyone responds to kindness." – Richard Gere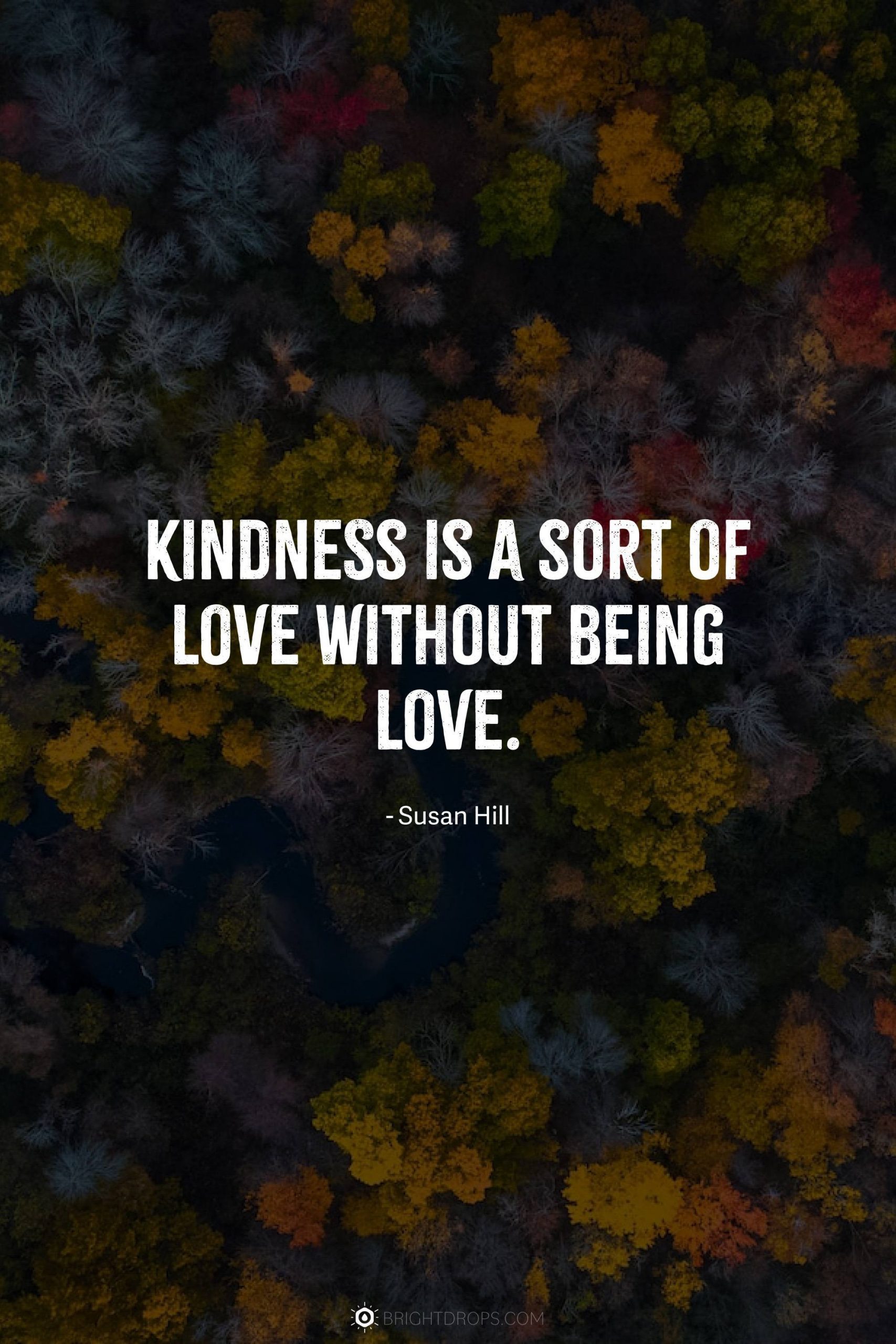 "Kindness is a sort of love without being love." – Susan Hill

"Today you can embrace kindness, practice compassion, stand up for justice, talk to strangers, ask for help, offer hope and listen with your whole heart." – Unknown

"Take time to be kind and to say 'thank you.'" – Zig Ziglar

"The purpose of life is not to be happy. It is to be useful, to be honorable, to be compassionate, to have it make some difference that you have lived and lived well." – Ralph Waldo Emerson

"Act with kindness, but do not expect gratitude." – Confucius

"What we all have in common is an appreciation of kindness and compassion; all the religions have this. Love. We all lean towards love." – Richard Gere

"I'm a big believer in acts of kindness, no matter how small." – Liam Neeson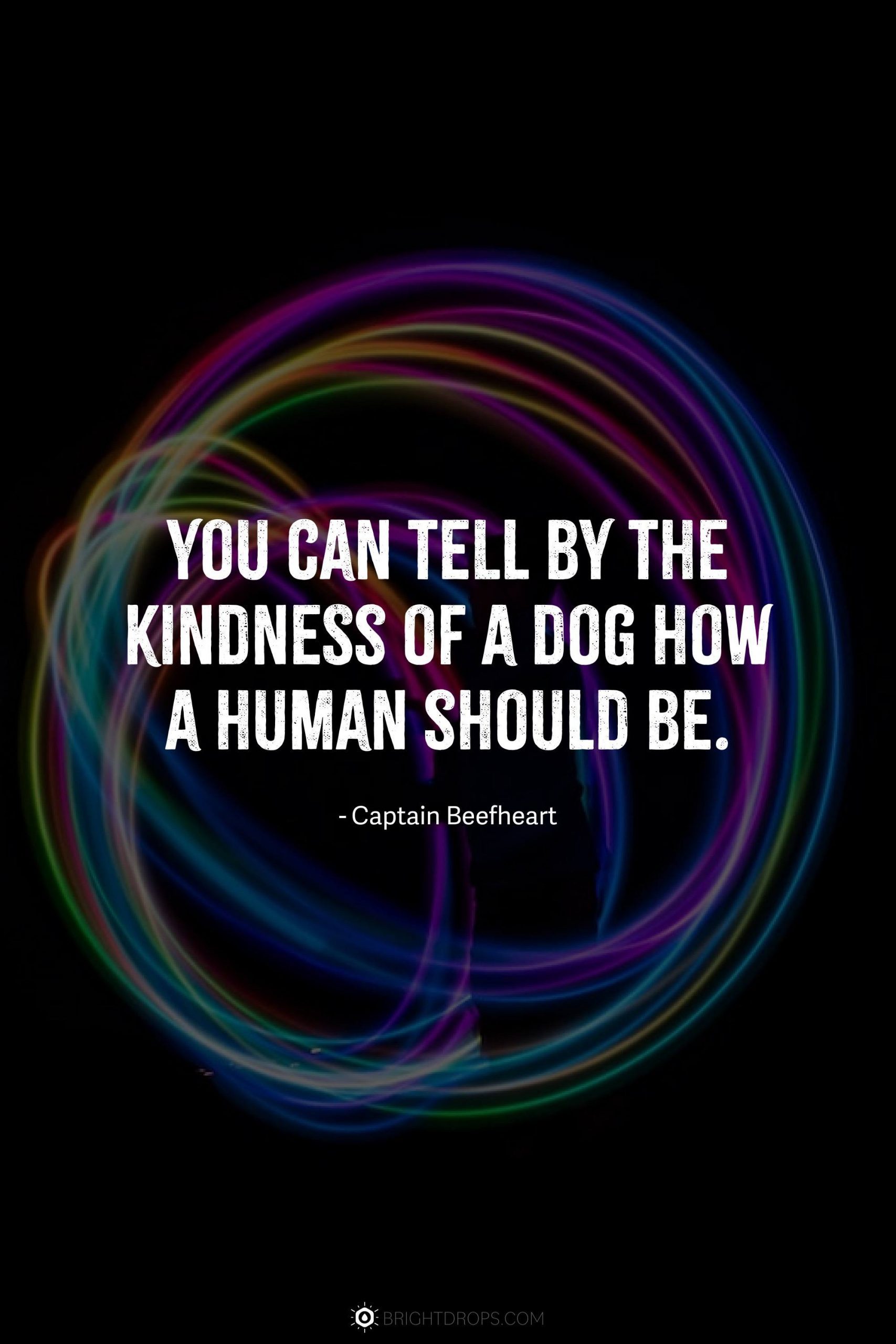 "You can tell by the kindness of a dog how a human should be." – Captain Beefheart

"Wherever there is a human being, there is an opportunity for kindness." – Lucius Annaeus Seneca

"Constant kindness can accomplish much. As the sun makes ice melt, kindness causes misunderstanding, mistrust, and hostility to evaporate." – Albert Schweitzer

"Be kind to people on the way up – you'll meet them again on your way down." – Jimmy Durante

"Kind people are the best kind of people" – UNKNOWN

"One man practicing kindness in the wilderness is worth all the temples this world pulls." – Jack Kerouac

"Simplify, slow down, be kind. And don't forget to have art in your life – music, paintings, theater, dance, and sunsets." – Eric Carle

"The only way to have a friend is to be one." – Ralph Waldo Emerson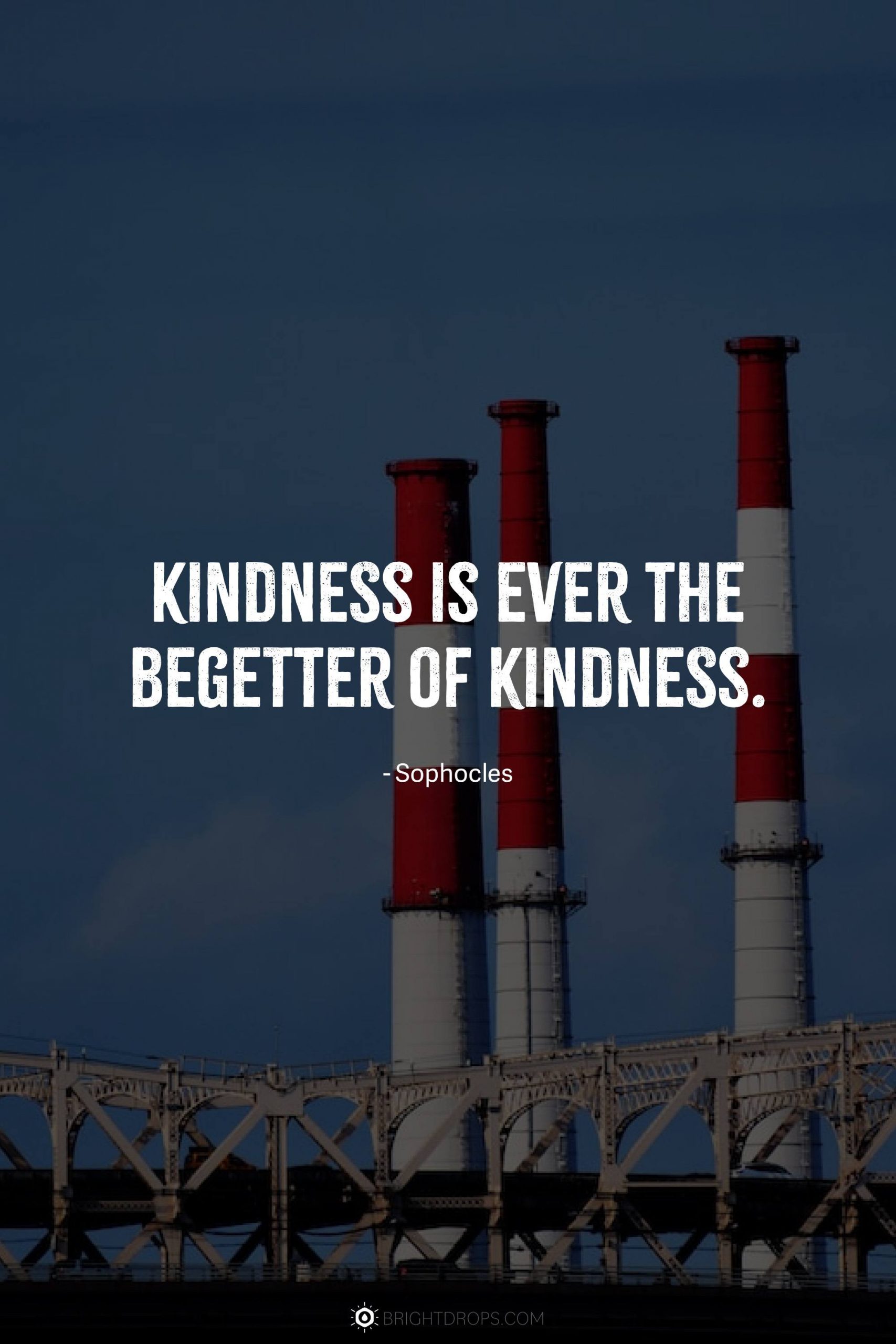 "Kindness is ever the begetter of kindness." – Sophocles

"For it is in giving that we receive." – Francis of Assisi

"You cannot do a kindness too soon, for you never know how soon it will be too late." – Ralph Waldo Emerson
More Good Quotes: