If you're looking for inspiration to help you through the day, the bible can be a great source of motivation and comfort, no matter what your situation. Lending you strength and courage, these words can help you to navigate your way through some of life's greatest storms, as well as offer a daily dose of encouragement to keep you going.
Whether you are new to Christianity or have had God by your side throughout your life, these bible quotes will resonate in often surprising ways. Even though it's believed to be around 2,000 years old, the bible can provide insight and wisdom that can be applied to modern life in ways that will truly resonate.
From the concise Psalm 23:1 to remind you that He is always there to guide you, to the beautiful 1 Peter 4:8 which speaks powerfully of the importance of love, the following 79 bible quotes will give you all the tools you will need to bring you closer to God and steer you on – or back to – the right path in life.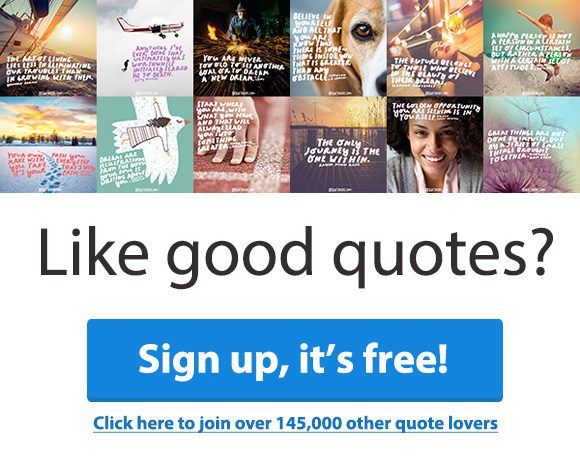 If you're looking for something to strengthen your faith and become a better person, also take a look at these spiritual quotes, these god quotes and these thankful quotes on the power of gratitude.
Bible Quotes
"A righteous person is cautious in friendship, but the way of the wicked leads them astray." – Proverbs 12:26
"As a mother comforts her child, so I will comfort you; in Jerusalem you shall find your comfort." – Isaiah 66:13
"One thing have I asked of the LORD, that will I seek after: that I may dwell in the house of the LORD all the days of my life, to gaze upon the beauty of the LORD and to inquire in his temple." – Psalm 27:4
You may also like: These powerful Christian quotes: https://brightdrops.com/christian-quotes
"Peace I leave with you;my peace I give to you. Not as the world gives do I give to you. Let not your hearts be troubled, neither let them be afraid." – John 14:27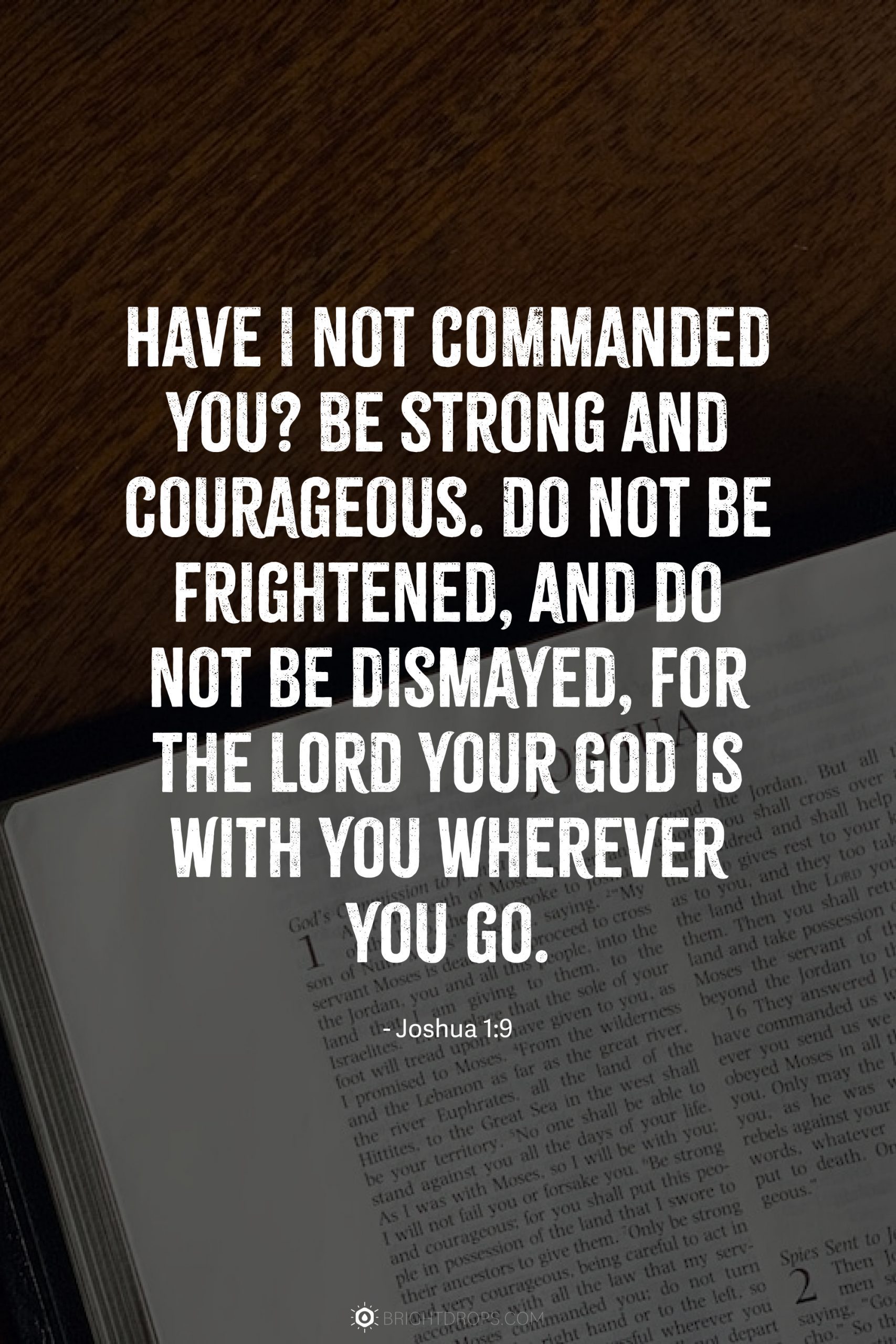 "Have I not commanded you? Be strong and courageous. Do not be frightened, and do not be dismayed, for the LORD your God is with you wherever you go." – Joshua 1:9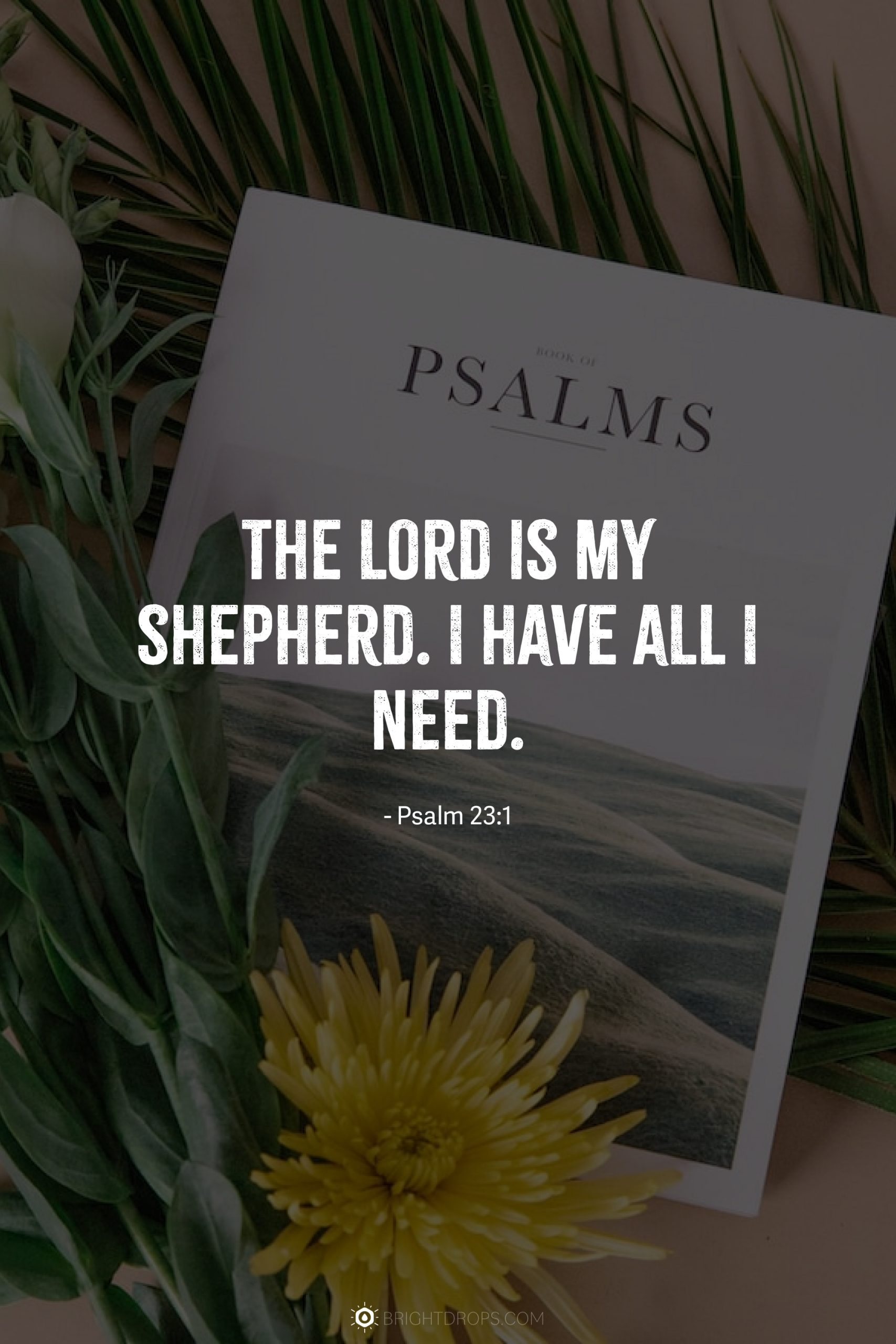 "The Lord is my shepherd. I have all I need." – Psalm 23:1
Related: Jesus Quotes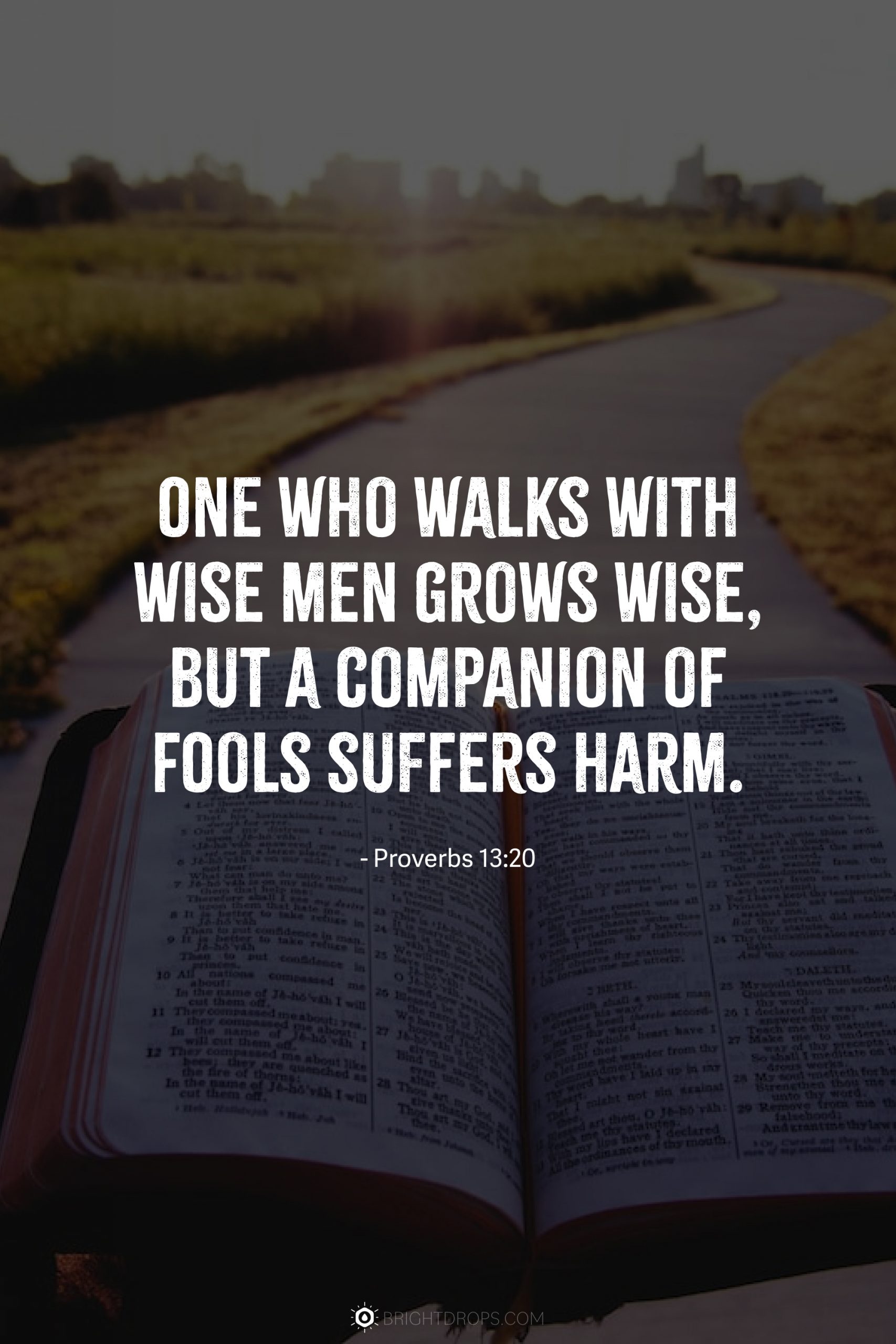 "One who walks with wise men grows wise, but a companion of fools suffers harm." – Proverbs 13:20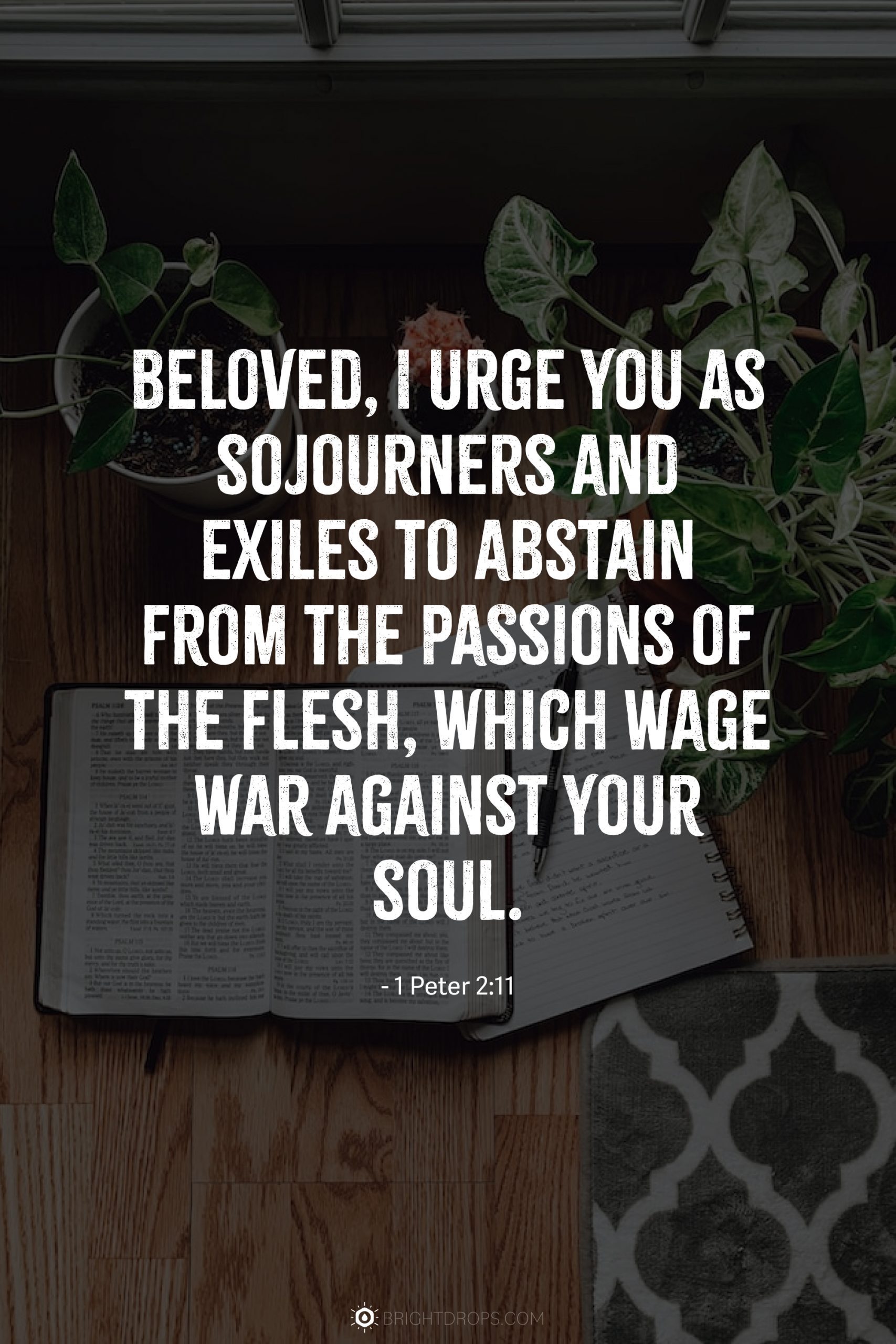 "Beloved, I urge you as sojourners and exiles to abstain from the passions of the flesh, which wage war against your soul." – 1 Peter 2:11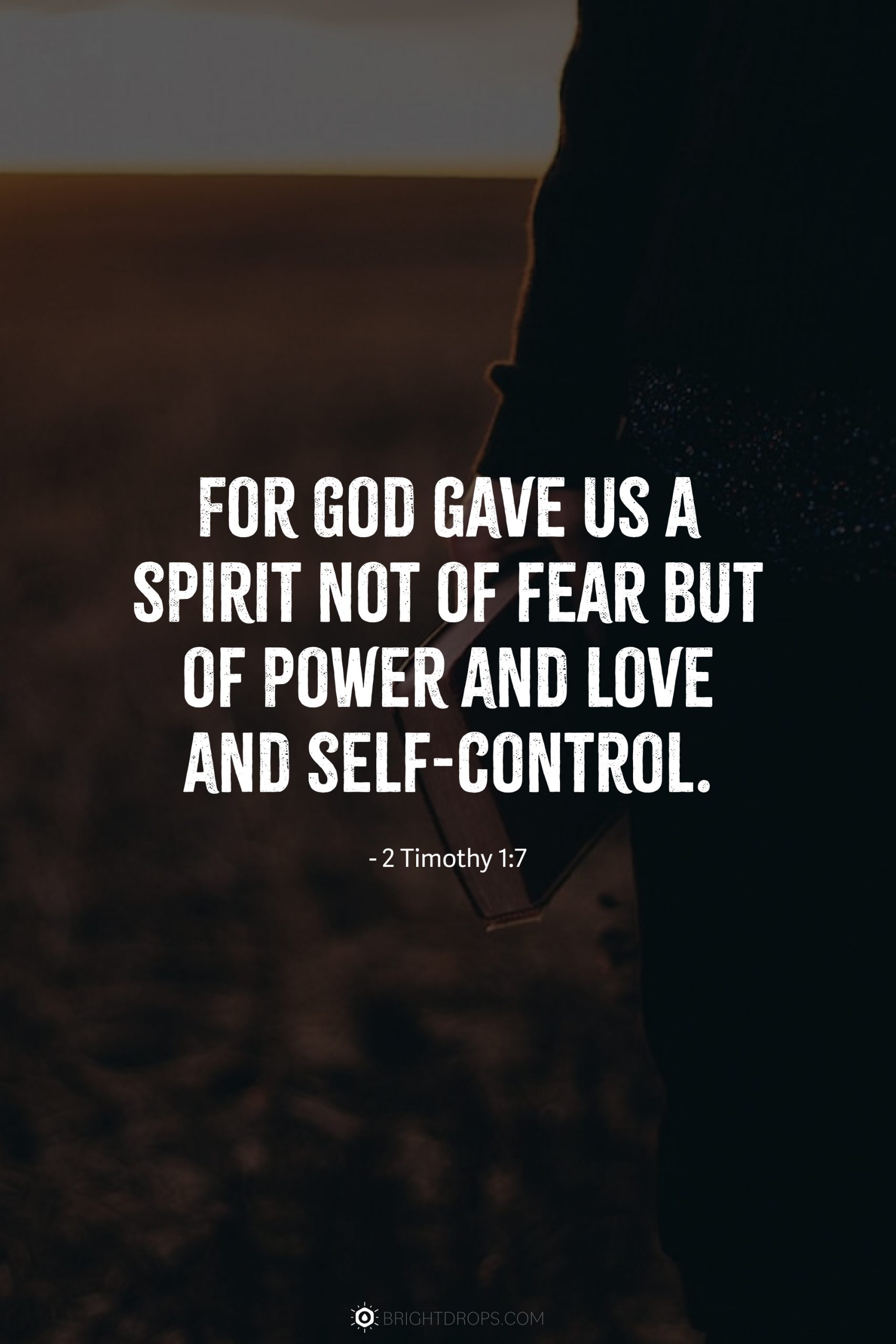 "For God gave us a spirit not of fear but of power and love and self-control." – 2 Timothy 1:7
"Now may the Lord of peace himself give you peace at all times and in every way." – 2 Thessalonians 3:16
"The hope of the righteous brings joy, but the expectation of the wicked will perish." – Proverbs 10:28
"You will increase my greatness and comfort me again." – Psalm 71:21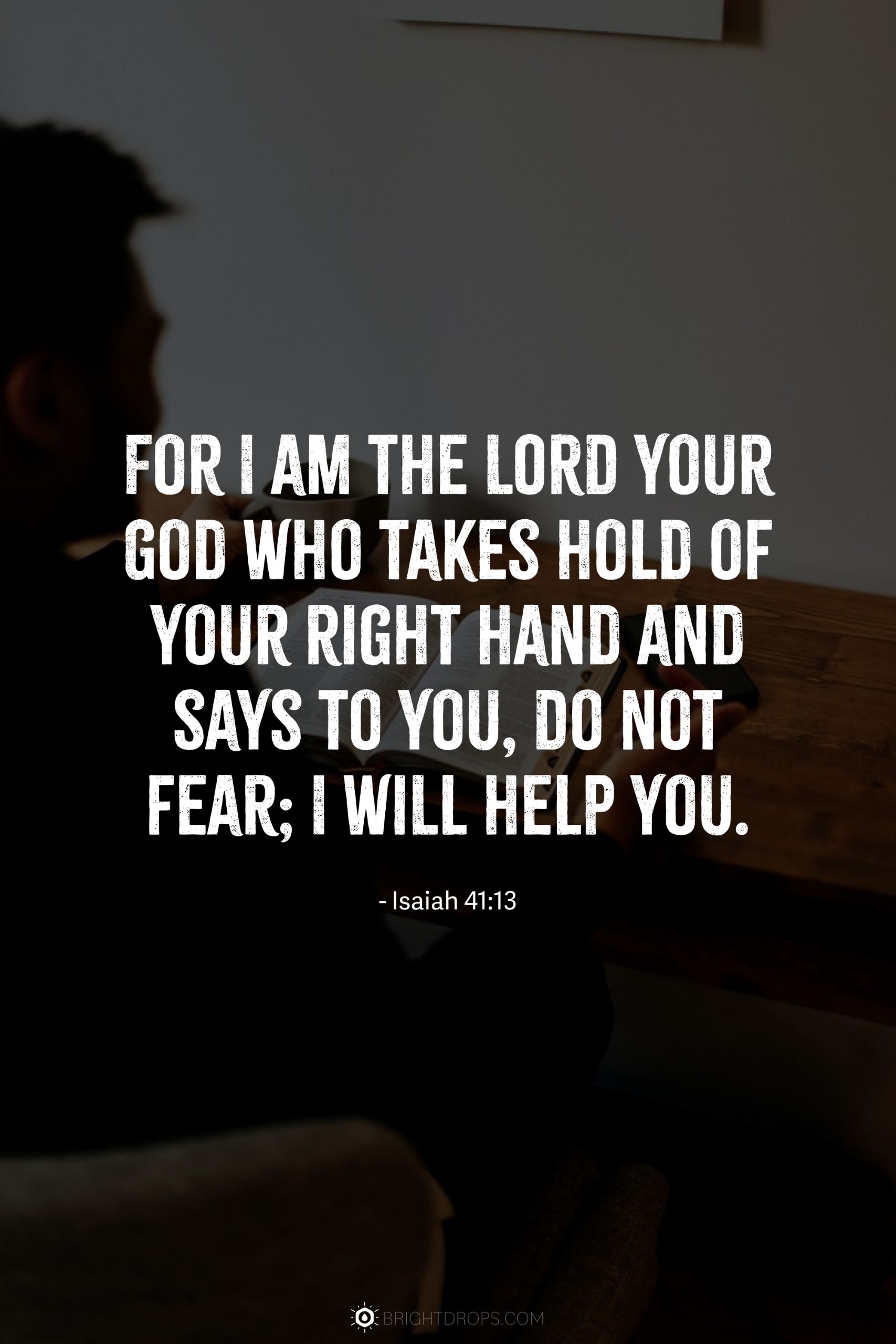 "For I am the LORD your God who takes hold of your right hand and says to you, Do not fear; I will help you." – Isaiah 41:13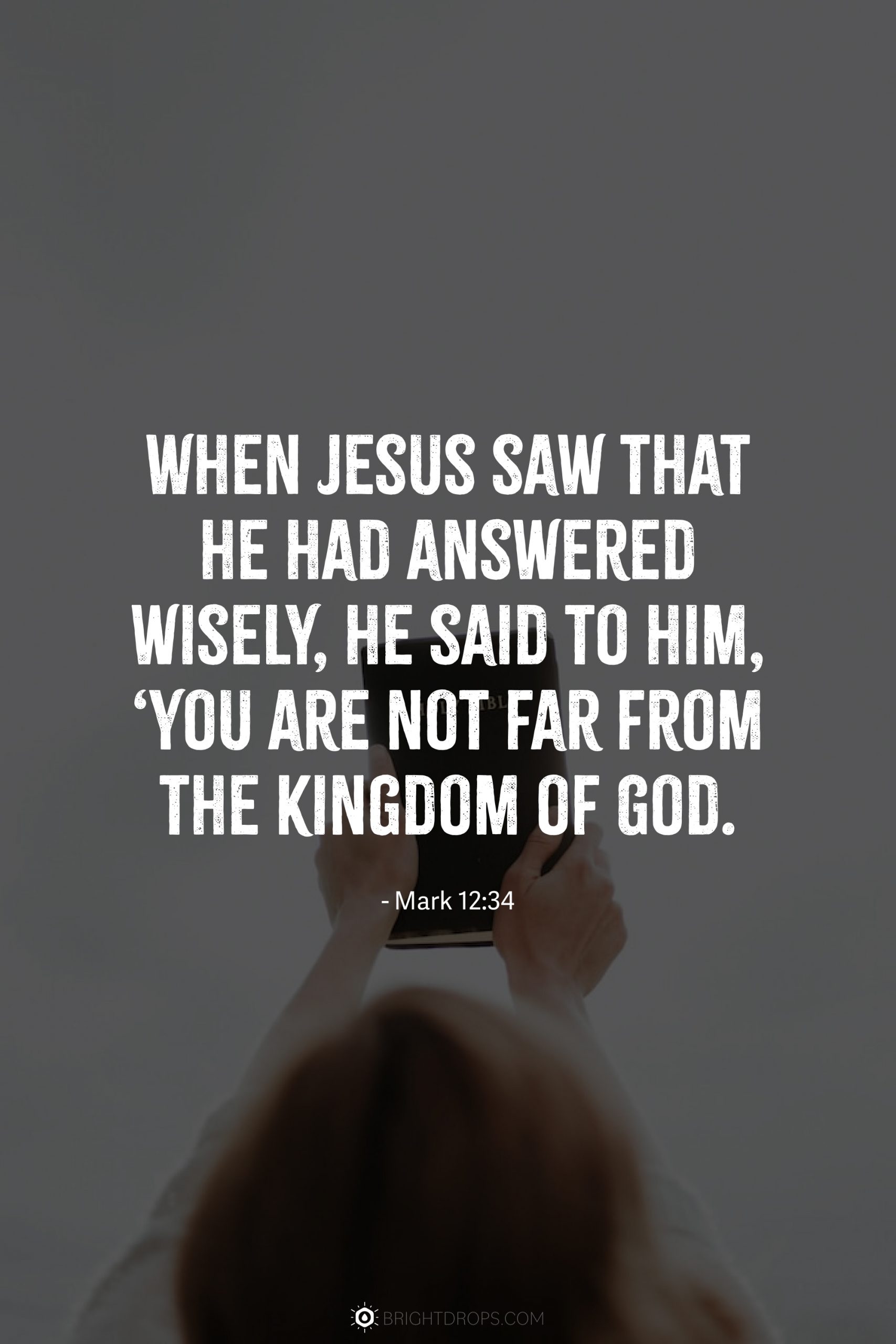 "When Jesus saw that he had answered wisely, he said to him, 'You are not far from the Kingdom of God." – Mark 12:34
"The fruit of the spirit is love, joy, peace, forbearance, kindness, goodness, faithfulness, gentleness, and self-control." – Galatians 5:22
"The grass withers, the flower fades, but the word of our God will stand forever." – Isaiah 40:8
"You are my hiding place and my shield; I hope in your word." – Psalm 119:114
"Do not suppose that I have come to bring peace to the earth. I did not come to bring peace, but a sword." – Matthew 10:34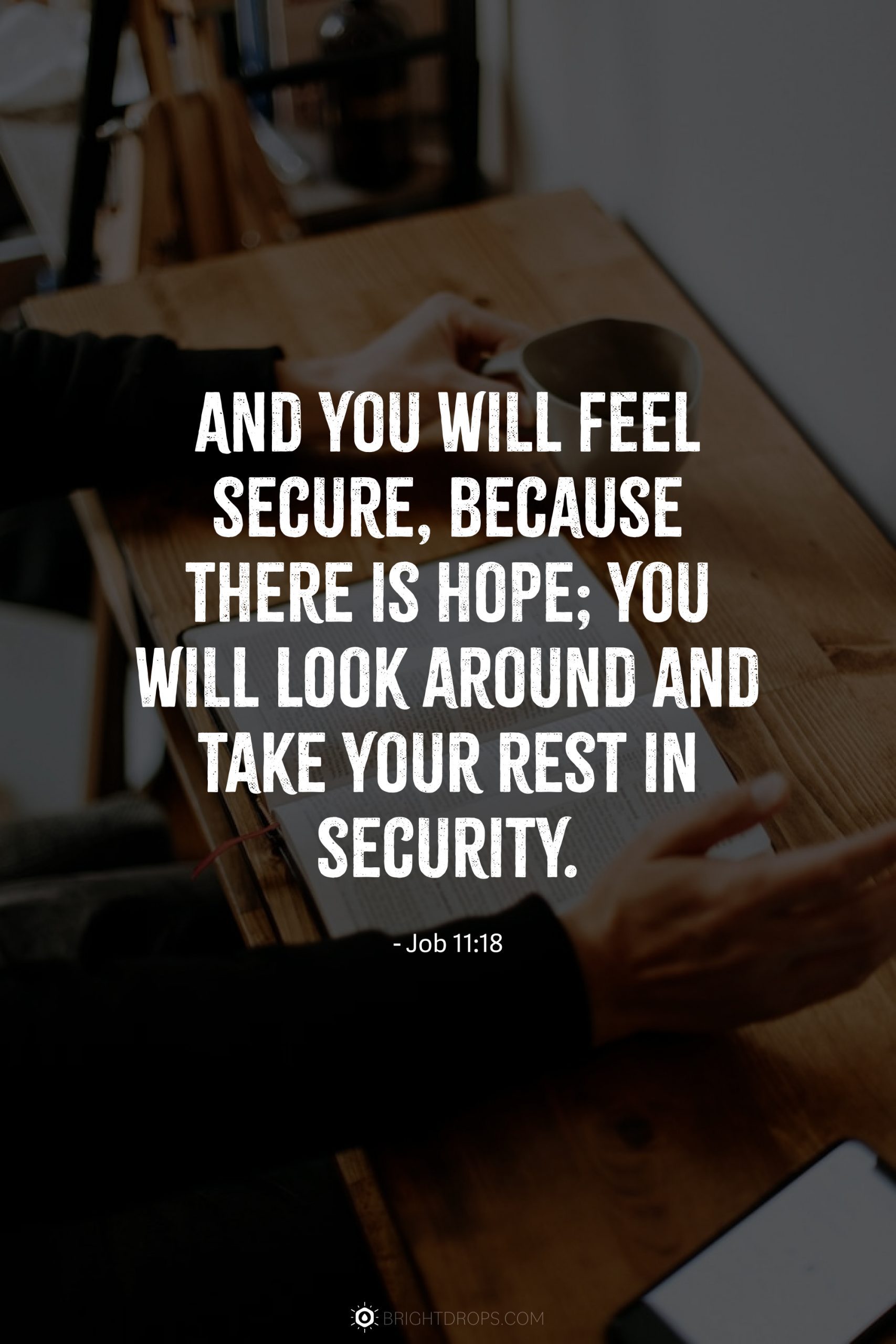 "And you will feel secure, because there is hope; you will look around and take your rest in security." – Job 11:18
"You, dear children, are from God and have overcome them, because the one who is in you is greater than the one who is in the world." – 1 John 4:4
"Trust in the LORD with all your heart and lean not on your own understanding; in all your ways submit to him, and he will make your paths straight." – Proverbs 3:5-6
"I love the Lord, for he heard my voice; he heard my cry for mercy. Because he turned his ear to me, I will call on him as long as I live." – Psalms 116:1
"And we know that for those who love God all things work together for good, for those who are called according to his purpose." – Romans 8:28
"And my God will supply every need of yours according to his riches in glory in Christ Jesus." – Philippians 4:19
"He personally carried our sins in his body on the cross so that we can be dead to sin and live for what is right. But his wounds you are healed." – 1 Peter 2:24
"With all your heart you must trust the Lord and not your own judgment. Always let Him lead you, and He will clear the road for you to follow." – Proverbs 3:5
"And the peace of God, which transcends all understanding, will guard your hearts and your minds in Christ Jesus." – Philippians 4:7
"Remembering before our God and Father your work of faith and labor of love and steadfastness of hope in our Lord Jesus Christ." – 1 Thessalonians 1:3
"For I know the plans I have for you … plans to prosper you and not to harm you, plans to give you hope and a future." – Jeremiah 29:11
"The LORD makes firm the steps of the one who delights in him; though he may stumble, he will not fall, for the LORD upholds him with his hand." – Psalm 37:23-24
"Sing for joy, O heavens, and exult, O earth; break forth, O mountains, into singing! For the Lord has comforted his people and will have compassion on his afflicted." – Isaiah 49:13
"You're here to be light, bringing out the God-colors in the world." – Matthew 5:14
"The salvation of the righteous is from the LORD; he is their stronghold in the time of trouble." – Psalm 37:39
"Faith is the substance of things hoped for, the evidence of things not seen." – Hebrew 11:1
"He heals the brokenhearted and bandages their wounds." – Psalm 147:2
"I keep my eyes always on the LORD. With him at my right hand, I shall not be shaken." – Psalm 16:8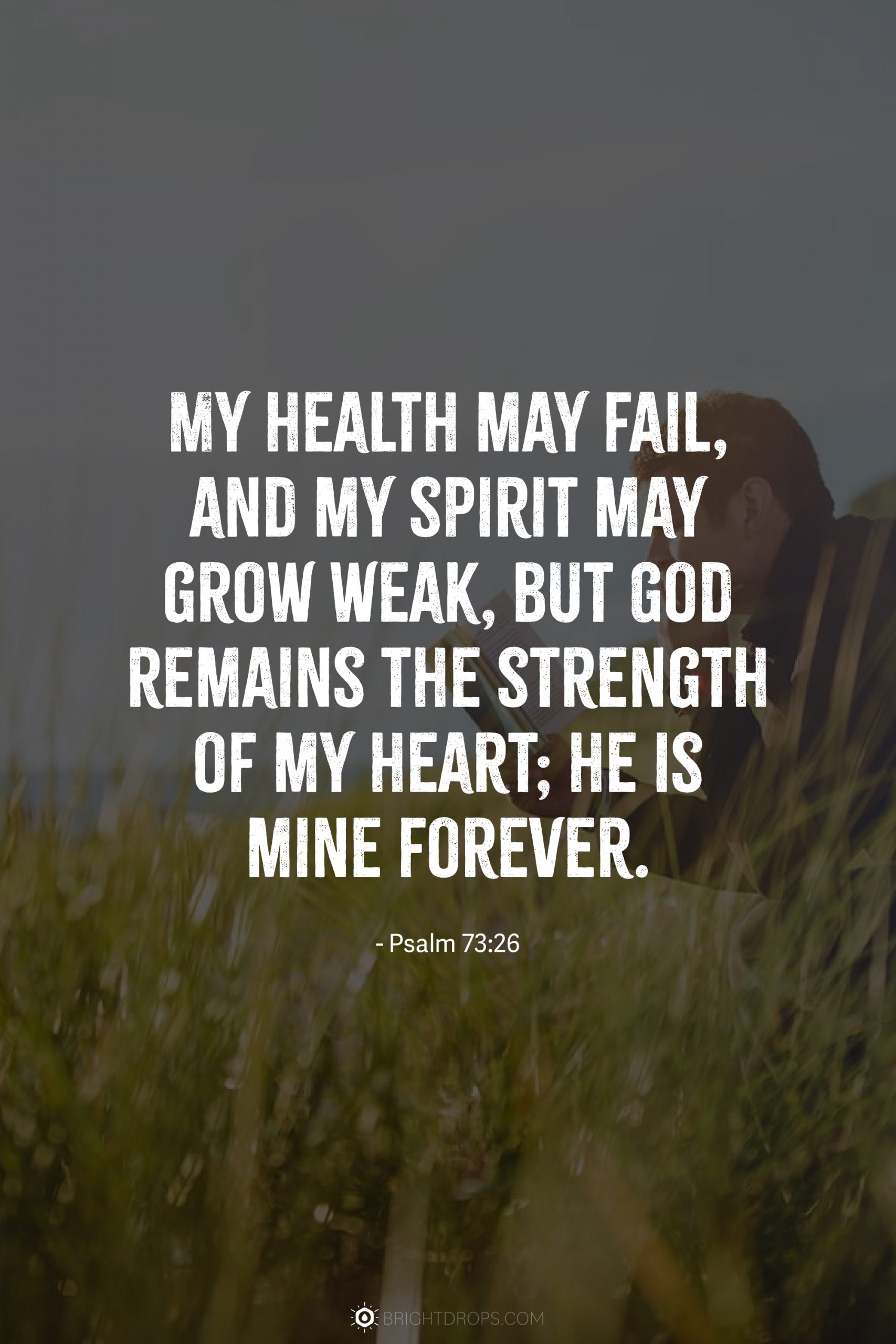 "My health may fail, and my spirit may grow weak, but God remains the strength of my heart; he is mine forever." – Psalm 73:26
"Do not be afraid, little flock, for your Father has been pleased to give you the kingdom." – Luke 12:32
"O Lord, if you heal me, I will be truly healed; if you save me, I will be truly saved. My praises are for you alone!" – Jeremiah 17:14
"Let all that I am praise the Lord; may I never forget the good things he does for me. He forgives all my sins and heals all my diseases." – Psalm 103:2
"Know that the Lord has set apart his faithful servant for himself; the Lord hears when I call to him." – Psalms 4:3
"The Lord nurses them when they are sick and restores them to health." – Psalm 41:3
"Rejoice always; pray without ceasing; in everything give thanks." – 1 Thessalonians 5:16
"Such a prayer offered in faith will heal the sick, and the Lord will make you well. And if you have committed any sins, you will be forgiven." – James 5:15
"So my dear brothers and sisters, be strong and immovable. Always work enthusiastically for the Lord, for you know that nothing you do for the Lord is ever useless." – 1 Corinthians 15:58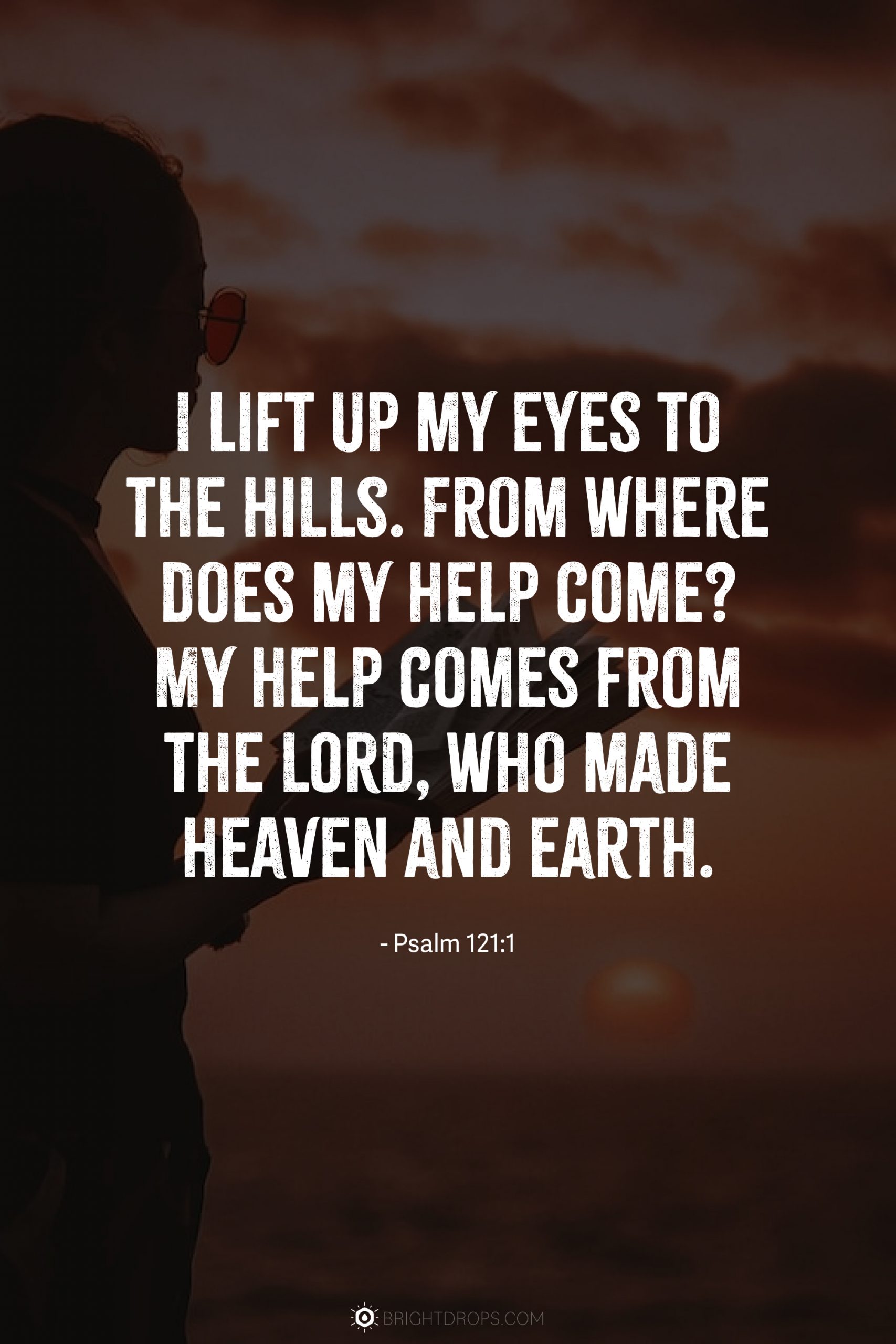 "I lift up my eyes to the hills. From where does my help come? My help comes from the LORD, who made heaven and earth." – Psalm 121:1
"I rejoice at Your word as one who finds great treasure!" – Psalm 119:162
"Why are you cast down, O my soul, and why are you in turmoil within me? Hope in God; for I shall again praise him, my salvation and my God." – Psalm 43:5
"And above all things have fervent love for one another, for love will cover a multitude of sins." – 1 Peter 4:8
"You are now well because of your faith. May God give you peace! You are healed, and you will no longer be in pain." – Mark 5:34
"My grace is sufficient for you, for my power is made perfect in weakness." – 2 Corinthians 12:9
"I have set the Lord always before me. Because he is at my right hand, I will not be shaken." – Psalm 16:8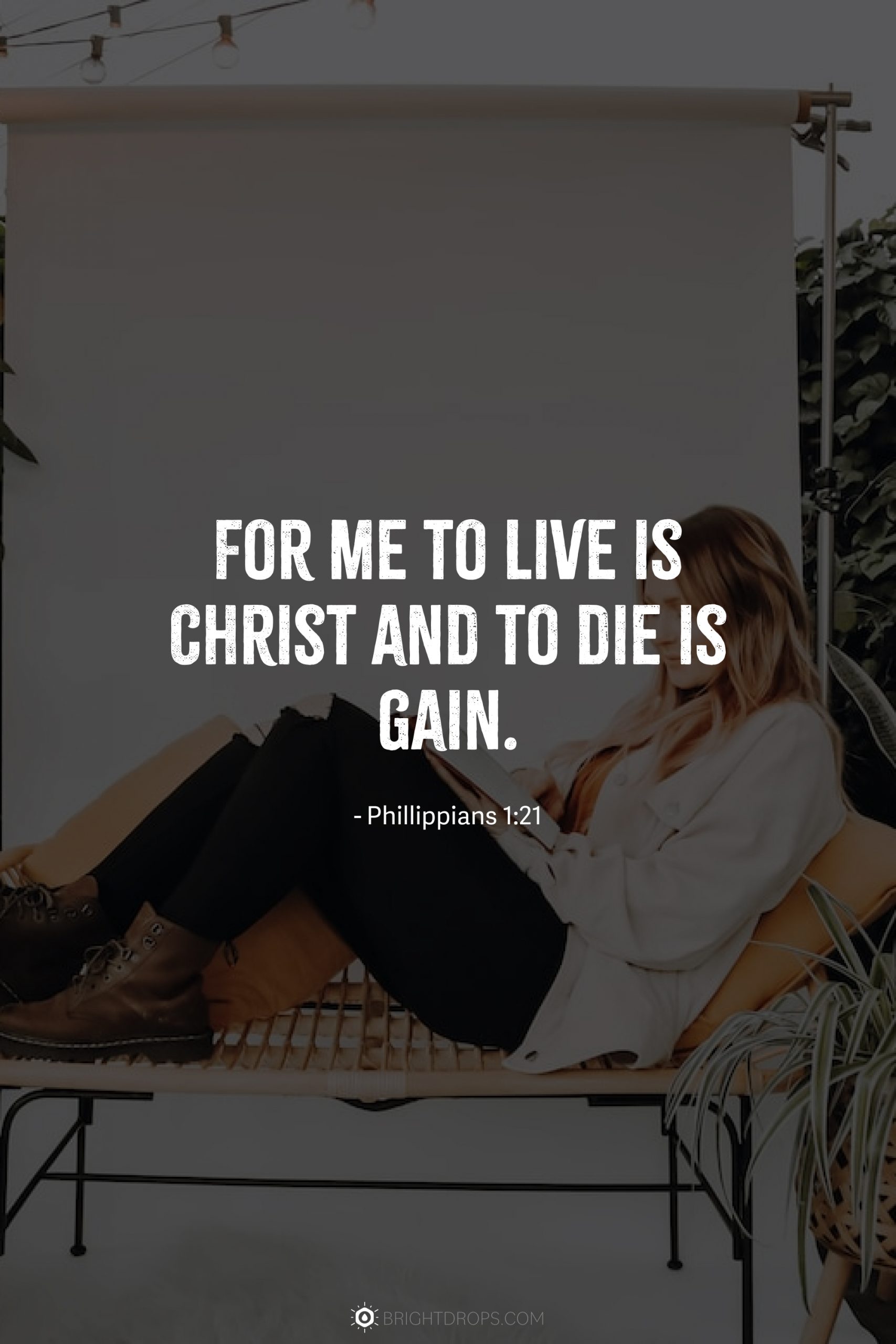 "For me to live is Christ and to die is gain." – Phillippians 1:21
"He saves the needy from the sword in their mouth; he saves them from the clutches of the powerful. So the poor have hope, and injustice shuts its mouth." – Job 5:15
"God is our refuge and strength, an ever-present help in trouble. Therefore we will not fear, though the earth give way and the mountains fall into the heart of the sea, though its waters roar and foam and the mountains quake with their surging." – Psalm 46:1
"A friend loves at all times, and a brother is born for adversity." – Proverbs 17:17
"God wants you to always call him not because you need him but because you love him." – Matthew 22:37
"Old things are passed away; behold, all things are become new." – 2 Corinthians 5:17
"Come to me, all who labor and are heavy laden, and I will give you rest." – Matthew 11:28
"What shall we say about things as wonderful as these? If God is for us, who can ever be against us?" – Romans 8:31
"Show me a sign of your favor, that those who hate me may see and be put to shame because you, Lord, have helped me and comforted me." – Psalm 86:17
"The Lord is a refuge for the oppressed, a stronghold in times of trouble." – Psalm 9:9
"May the God of hope fill you with all joy and peace in believing, so that by the power of the Holy Spirit you may abound in hope." – Romans 15:13
"Be not quick in your spirit to become angry, for anger lodges in the heart of fools." – Ecclesiastes 7:9
"And we know that in all things God works for the good of those who love him, who have been called according to his purpose." – Romans 8:28
"Don't befriend a hot-tempered man, and don't associate with one who harbors anger: lest you learn his ways, and ensnare your soul." – Proverbs 22:24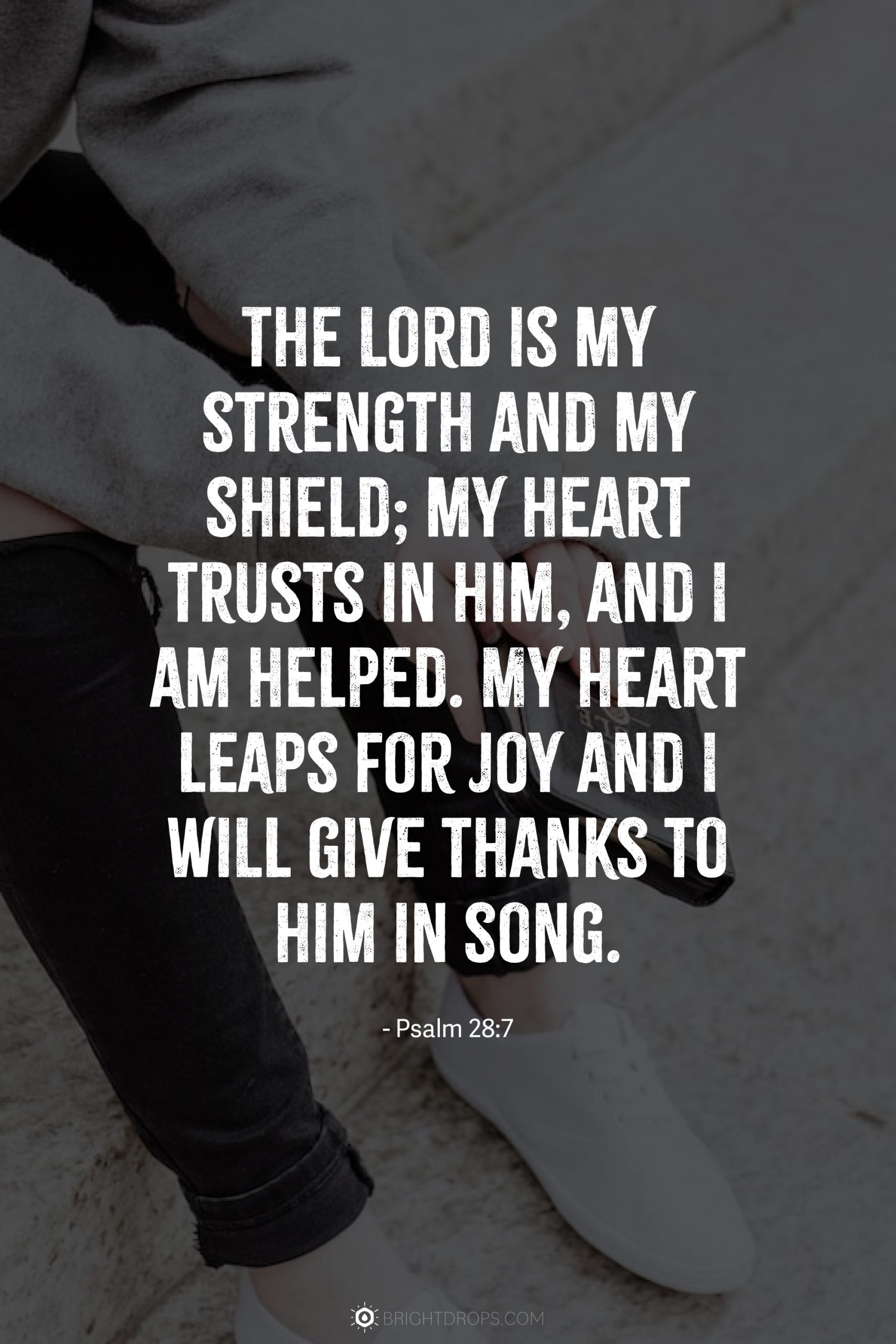 "The Lord is my strength and my shield; my heart trusts in him, and I am helped. My heart leaps for joy and I will give thanks to him in song." – Psalm 28:7
"He gives power to the weak and strength to the powerless." – Isaiah 40:29
"Be strong and courageous. Do not fear or be in dread of them, for it is the Lord your God who goes with you. He will not leave you or forsake you." – Deuteronomy 31:6
"When I called, you answered me; you made me bold and stouthearted." – Psalm 138:3
"Let your steadfast love comfort me according to your promise to your servant." – Psalm 119:76
"There is no greater love than to lay down one's life for one's friends." – John 15:13
"And let the peace of Christ rule in your hearts, to which indeed you were called in one body. And be thankful." – Colossians 3:15
"Cast all your anxiety on him because he cares for you." – 1 Peter 5:7
"Finaly, my brethren, be strong in the Lord and in the power of His might. Put on the whole armor of God, that you may be able to stand against the wiles of the devil." – Ephesians 6:10
"…being confident of this, that he who began a good work in you will carry it on to completion until the day of Christ Jesus." – Philippians 1:6
"Even though I walk through the valley of the shadow of death, I will fear no evil, for you are with me;  your rod and your staff, they comfort me." – Psalm 23:4
"Cast your burden on the LORD, and he will sustain you; he will never permit the righteous to be moved" – Psalm 55:22
"So also you have sorrow now, but I will see you again, and your hearts will rejoice, and no one will take your joy from you." – John 16:22
More Good Quotes on Faith: