These inspirational sports quotes will help you find your inner athlete. Channel that energy into beating the opponents you face every day to win your personal championship.
1. Tim Notke on hard work.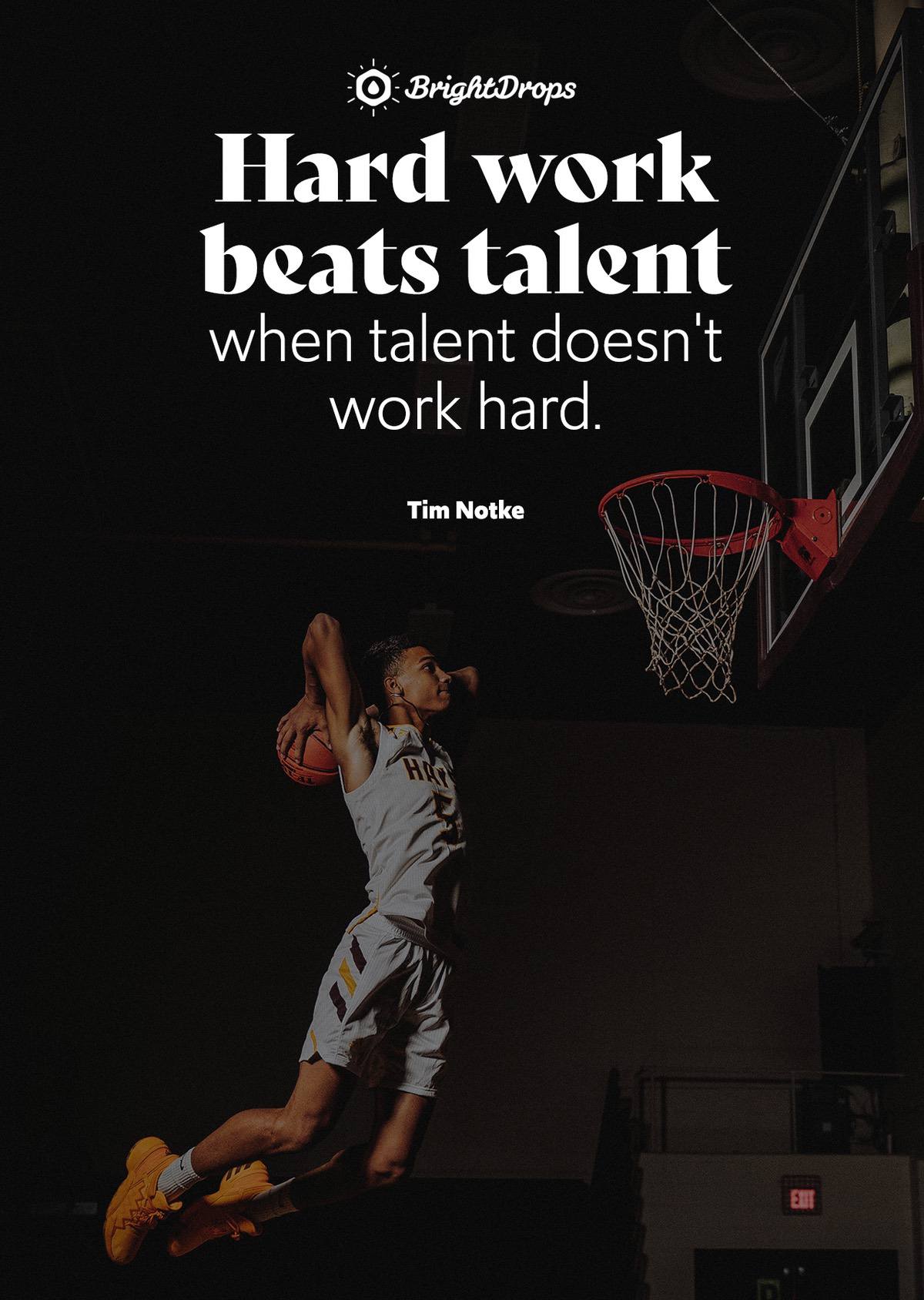 "Hard work beats talent when talent doesn't work hard." – Tim Notke
There are plenty of talented people in the world. As you already know, talent is not enough. Some of the athletes with the most potential never pan out. What separates the good from the great is determination and work ethic.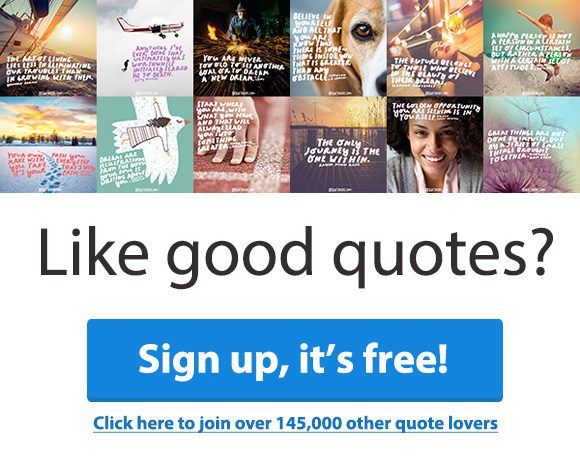 2. Babe Ruth on never giving up.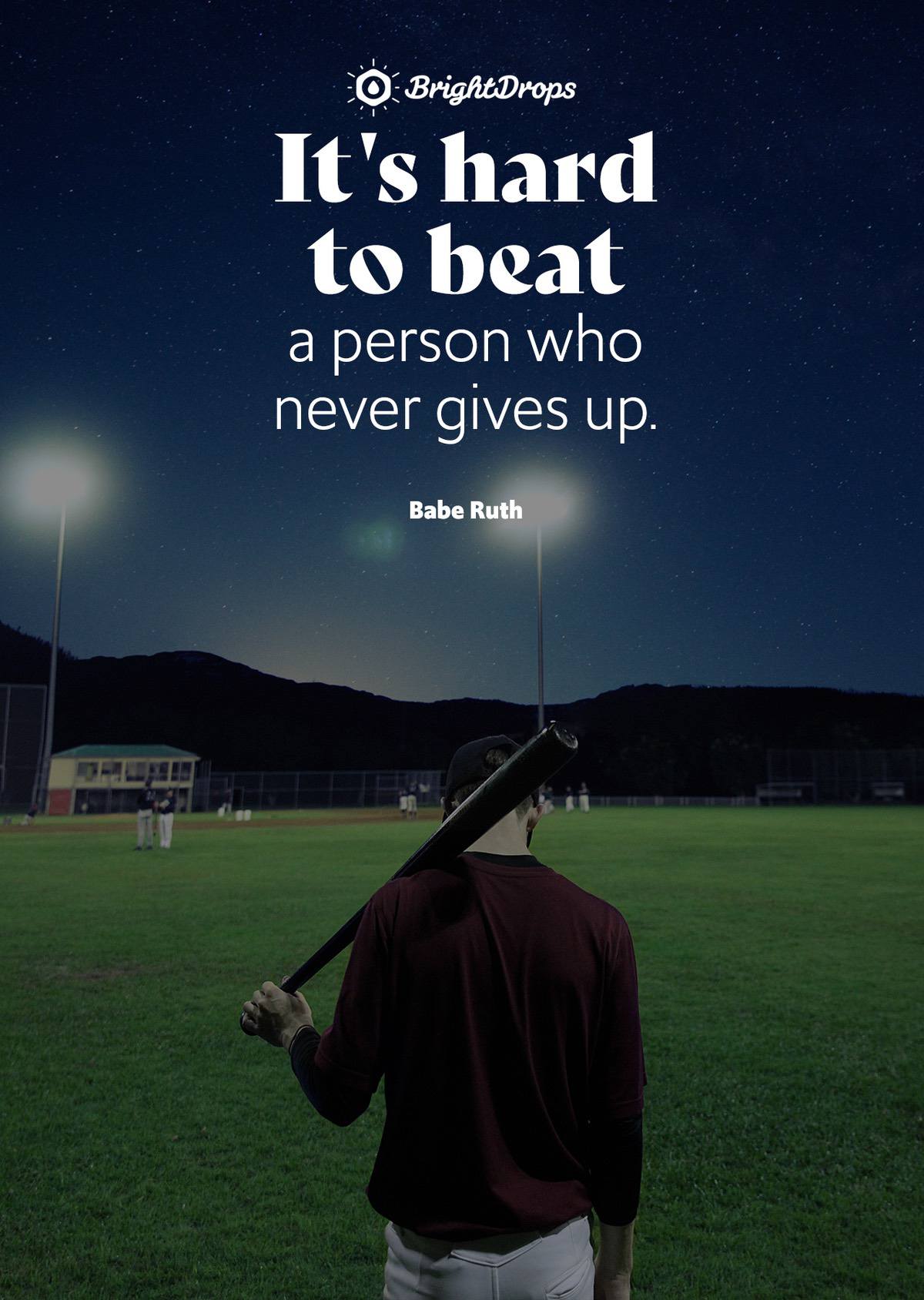 "It's hard to beat a person who never gives up." – Babe Ruth
The Colossus of Clouds was one of the hardest working players in history. Sure, he had his vices, but no one ever doubted what he did on the field. He led the league in strikeouts and homeruns just about every year. It's because he never saw a pitch he thought he couldn't hit. Basically, he never gave up.
3. Les Brown on sweet victory.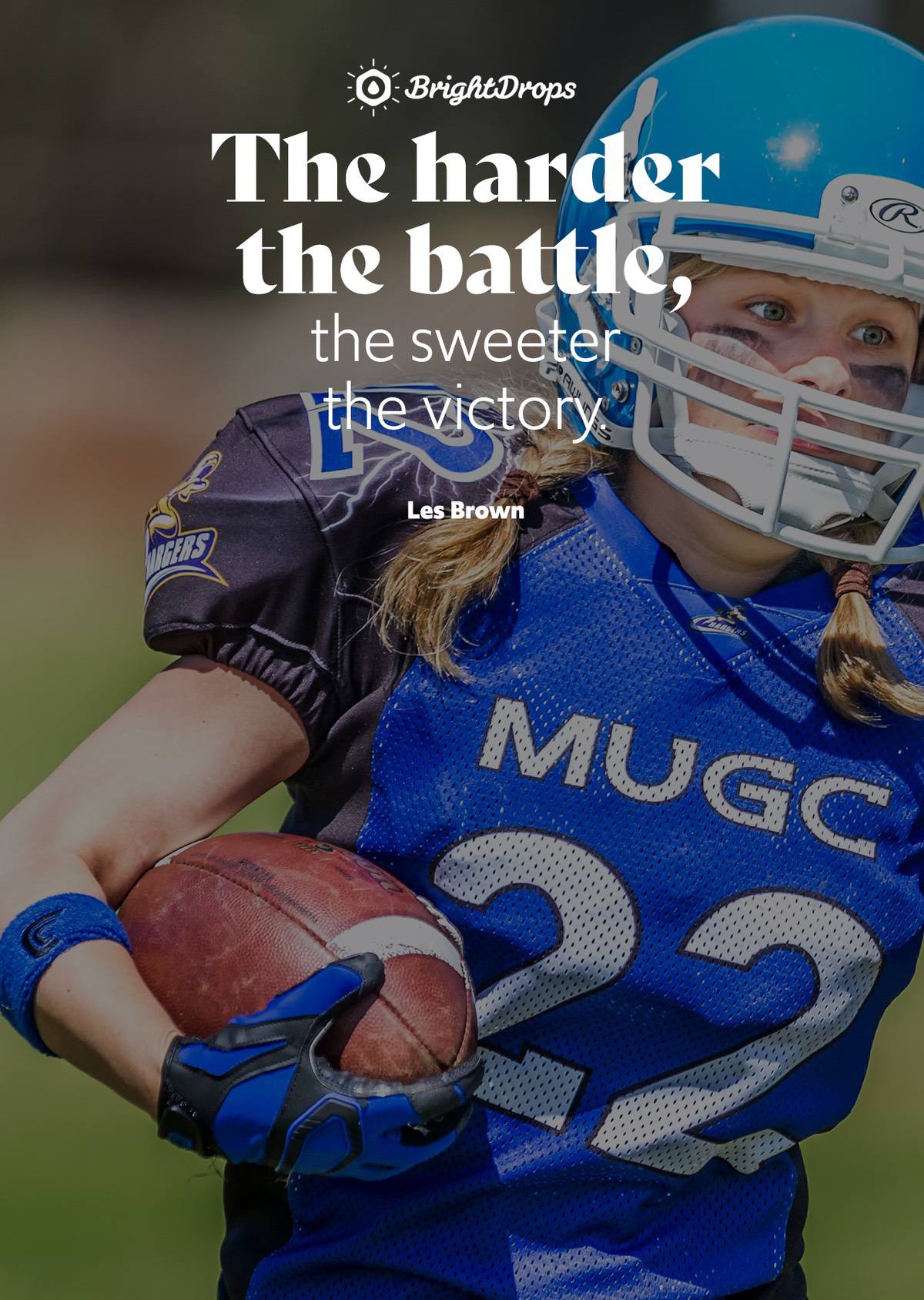 "The harder the battle, the sweeter the victory." – Les Brown
If you have to work hard for anything, the final outcome is that much sweeter. Every ounce of sweat on the ground is another ounce of joy when the scoreboard is in your favor. There are no championship players or teams that tell reporters, "This was such an easy win."
4. Michael Jordan has no limits.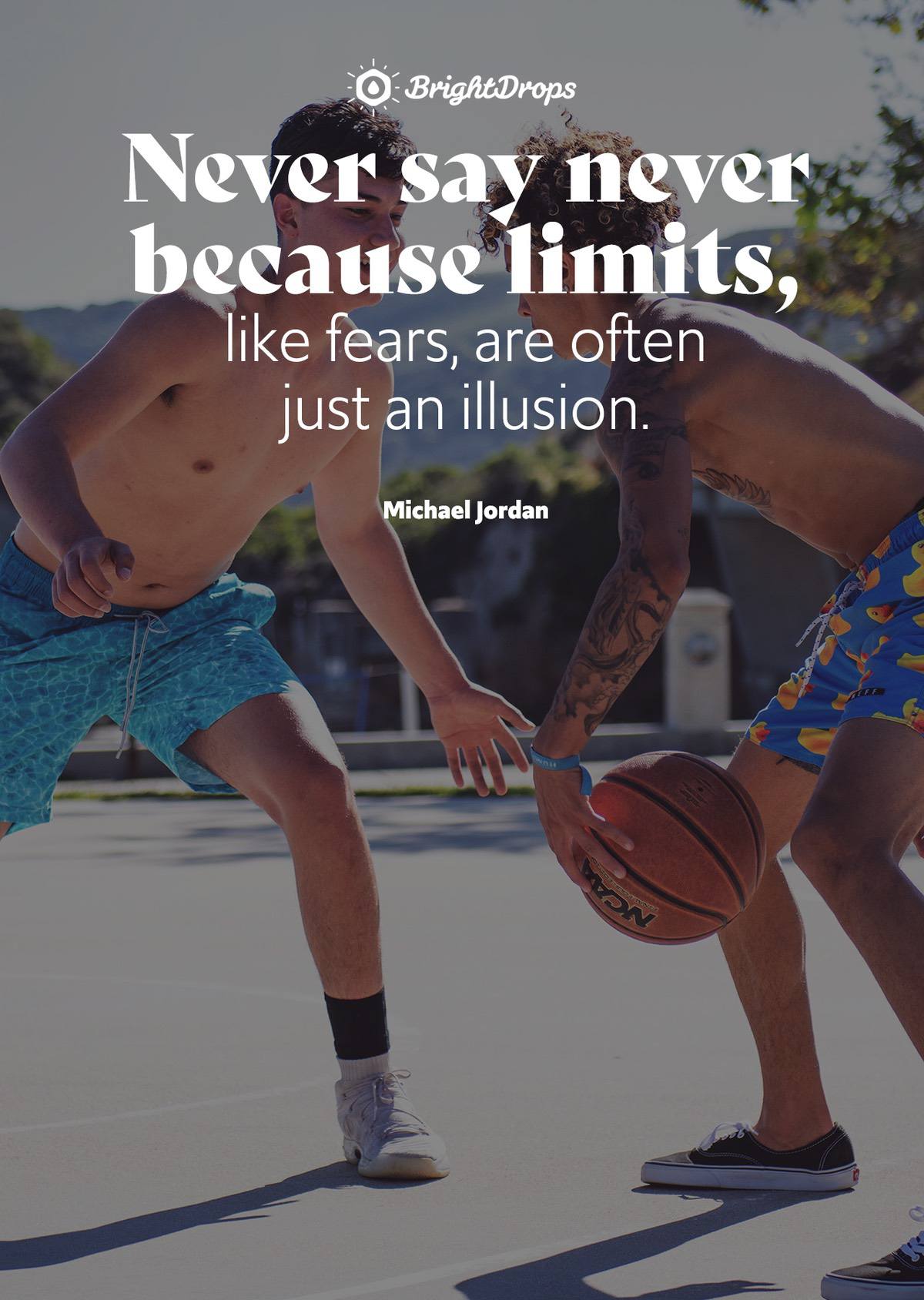 "Never say never because limits, like fears, are often just an illusion." – Michael Jordan
When there is a road block in your way, it is almost always mental. When you place some sort of mental road block, it becomes something to fear. You may doubt that you can reach the next goal or milestone, but that's just your mind playing tricks on you.
5. Wayne Gretzky is a mathematical genius.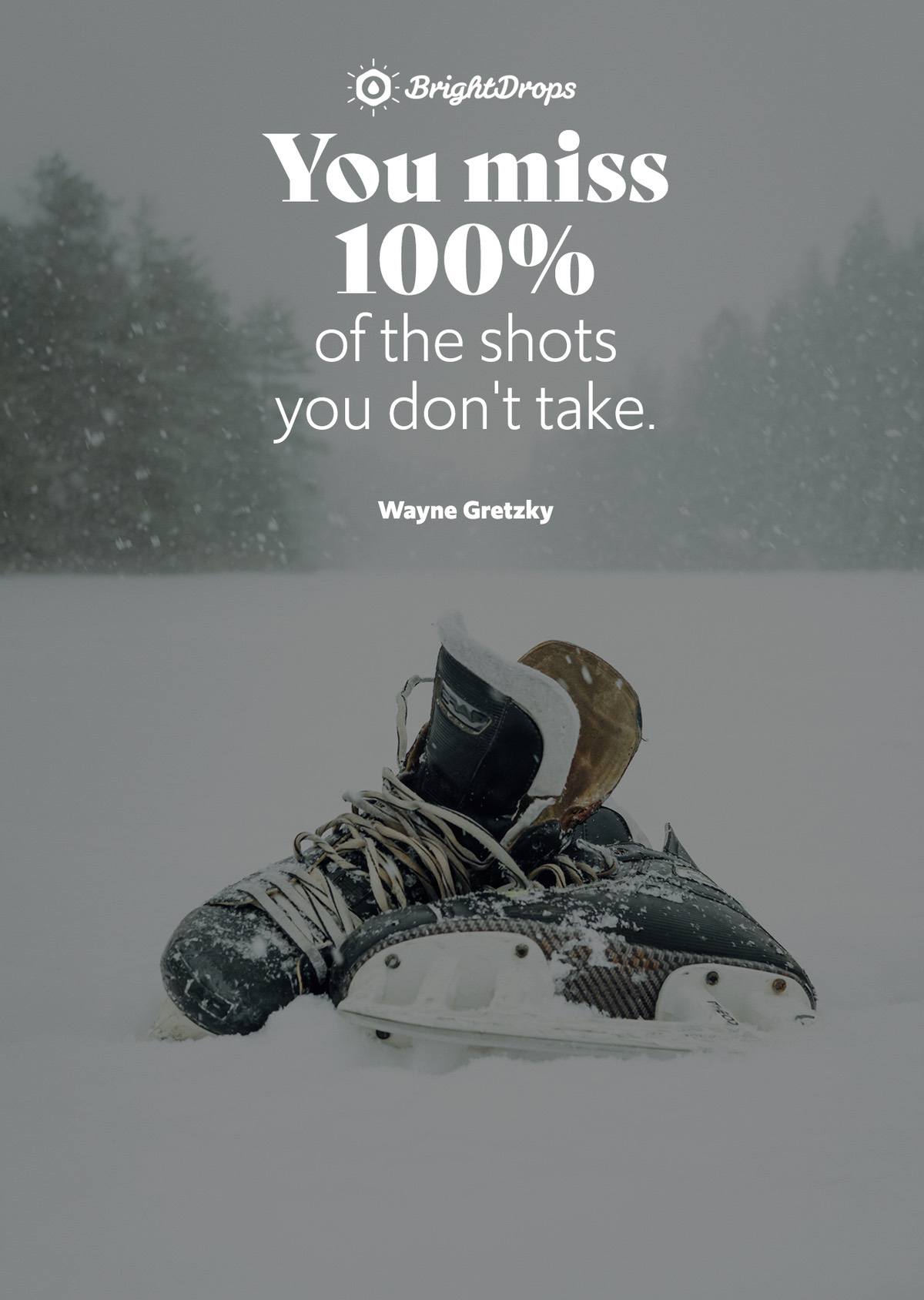 "You miss 100% of the shots you don't take." – Wayne Gretzky
Besides being statistically true, this inspirational sports quote from the most prolific goal scorer in hockey history tells us to take risks. This can be applied in almost any situation in life. Take the shot; if you don't, you can never make it.
6. Tom Landry is also good with numbers.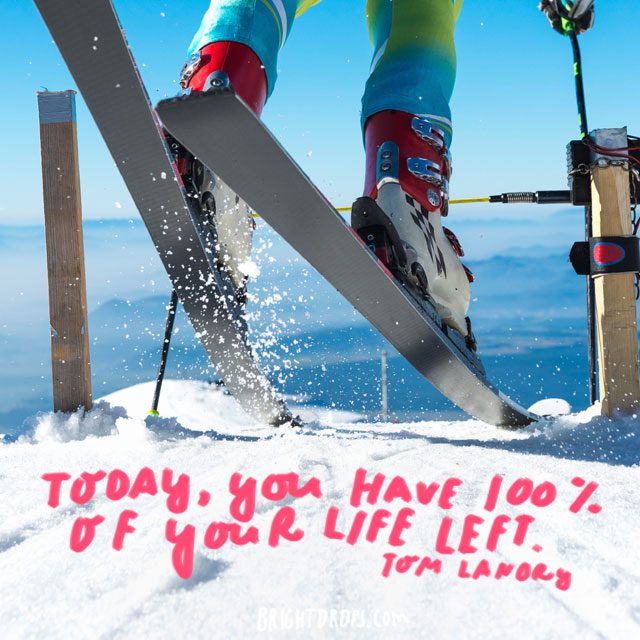 "Today, you have 100% of your life left." – Tom Landry
Another statistical fact that gives you hope for tomorrow, and every day after that. Just because you didn't close the deal today, doesn't mean you never will. When you lose game 7, all you have left is next year. And there is a next year.
7. Michael Jordan on expectations.
"You have to expect things of yourself before you can do them." – Michael Jordan
Michael Jordan is undoubtedly the greatest player of all time. Let's not forget that he started as a kid who couldn't make the JV team. He started out as a kid that wasn't that good. When he set expectations for himself, he became the greatest player in history.
8. Vince Lombardi wants to win.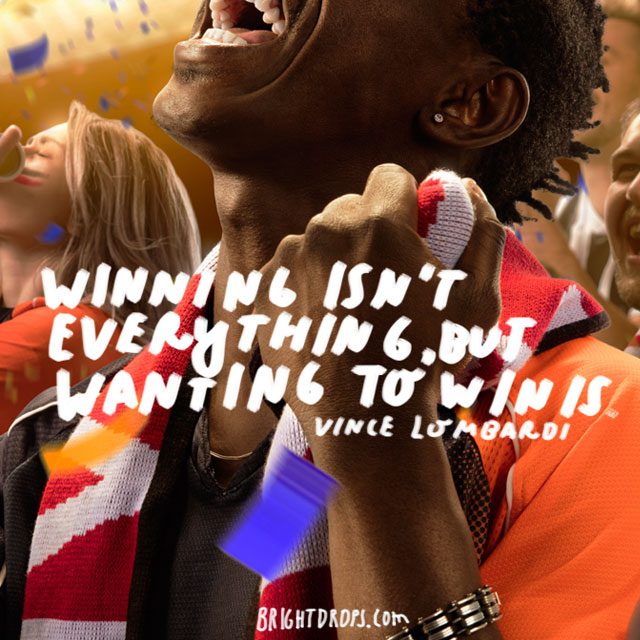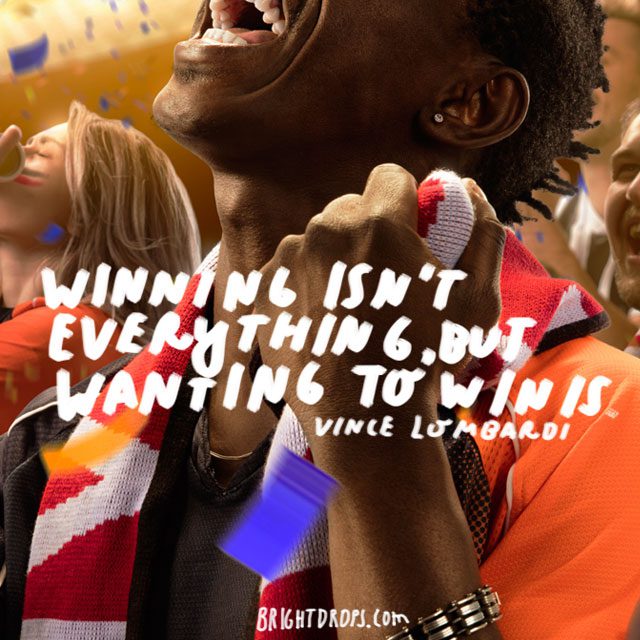 "Winning isn't everything, but wanting to win is." – Vince Lombardi
If you want to win, you will go much further in competition. That should be your attitude in training, in sports, or in any aspect of competition in your life. Wanting to achieve is the most important step in achievement.
9. Derek Jeter doesn't make excuses.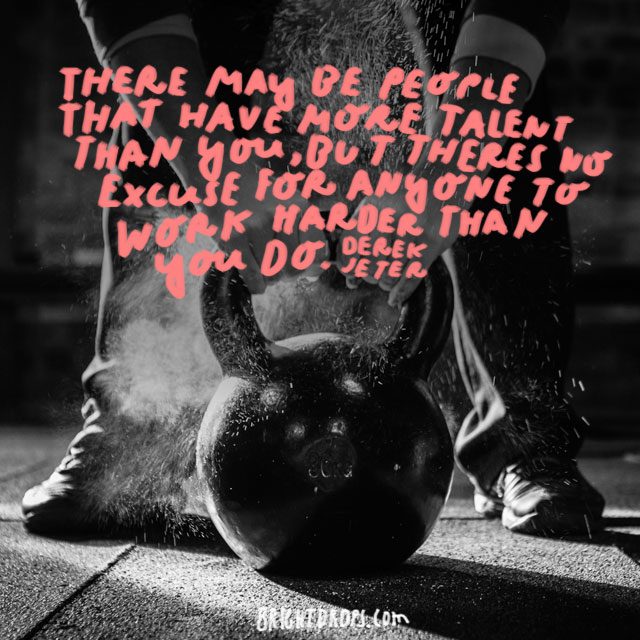 "There may be people that have more talent than you, but there's no excuse for anyone to work harder than you do." – Derek Jeter
Talent isn't everything. The most important aspect of any competition is working hard. Having the right effort and work ethic is worth a lot more than talent, and it will take you places that talent can't get you. Just ask the Captain.
10. Sandy Koufax on good pitching.
"I became a good pitcher when I stopped trying to make them miss the ball and started trying to make them hit it." – Sandy Koufax
The best competitors are those who love to compete. If you are trying to dance around a batter, they have the advantage. If you challenge a batter head to head, you have the advantage. Nothing is more daring than reaching back and hurling the ball at someone, daring them to hit it.
11. Terry Bradshaw on having something to prove.
"When you've got something to prove, there's nothing greater than a challenge." – Terry Bradshaw
Whether you've got to prove it to the critics, the competition, or yourself, having the fire to prove yourself is possibly the greatest fuel. If you stop trying to be the best, what are you doing anyway?
12. Ben Hogan on working.
"If you can't outplay them, outwork them." – Ben Hogan
The same theme is repeated from every champion: Work hard. That's because hard work can trump any and all talent. Whether you have natural, raw talent, or just enough to get by, the only way to harness that ability is through grueling work.
13. William James on the second wind.
"Most people never run far enough on their first wind to find out they've got a second." – William James
Distance runners always talk about that second wind. The hard part is pushing yourself hard enough to realize that you can break through that wall. Sadly enough, there are great athletes and people who never push themselves.
14. Michael Jordan on failure.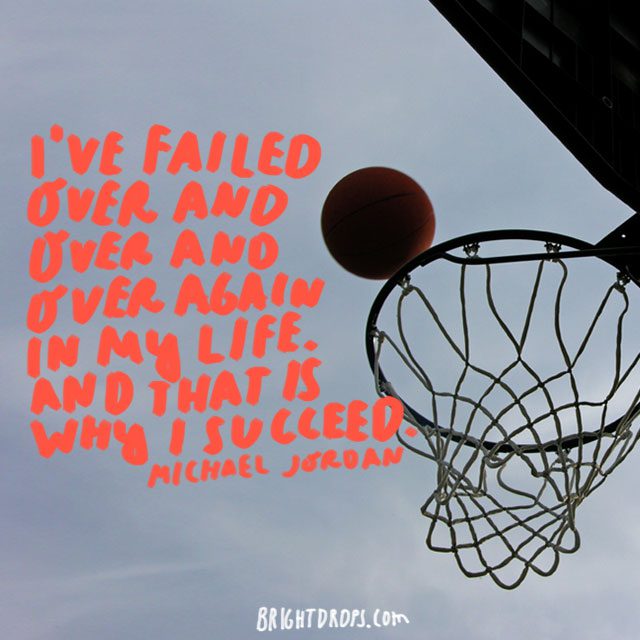 "I've failed over and over and over again in my life. And that is why I succeed." – Michael Jordan
This is a famous quote from Michael Jordan. The previous paragraph is his rundown of how many shots he's missed, including the game winners he is usually remembered for hitting. It just goes to show that even the greatest fail.
15. Vince Lombardi on getting up.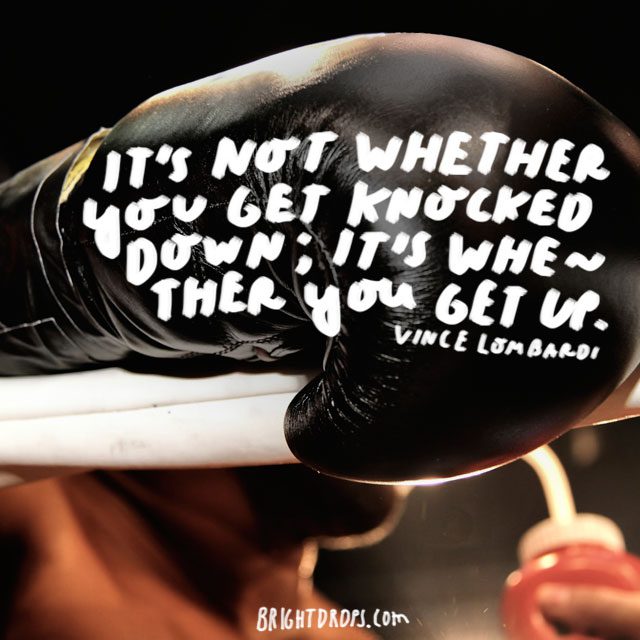 "It's not whether you get knocked down; it's whether you get up." – Vince Lombardi
When you fail or get knocked down, you have to get up. Whether it's a game-winning shot, missing a deadline at work, or not picking up milk on the way home, you always have a chance to redeem yourself. You just have to get back up.
16. Mike Singletary on playing.
"Do you know what my favorite part of the game is? The opportunity to play." – Mike Singletary
The reality is that making it to the level of professional sports is incredibly rare. To be as great as Mike Singletary is once or twice in a generation. The reality is that being grateful for the opportunity is the first step. The next step is being hungry.
17. Pele on winning.
"The more difficult the victory, the greater the happiness in winning." – Pele
The Brazilian born football phenom is commonly recognized as the greatest player in history. He even maintains a list of the top 50 footballers of all time that is widely accepted as the gospel for the world's sport. Even the greatest want the struggle for the payoff to be even better.
18. George Halas on giving your best.
"Nobody who ever gave his best regretted it." – George Halas
When you are in the midst of competition, you have to give everything you have. Every professional athlete talks about leaving it all on the field. If you keep that extra effort in your back pocket, you can never be sure that the loss you just endured should've been a loss.
19. Ronnie Lott on belief.
"If you can believe it, the mind can achieve it." – Ronnie Lott
Ronnie Lott was the most mentally tough player in history. He is known for having a finger cut off rather than enduring time out to treat the injury. He did not want to miss a second of any game because he believed he could win every down and every game.
20. Lou Holtz on self-discipline.
"Without self-discipline, success is impossible, period." – Lou Holtz
You can't win championships by showing up for gameday. You have to put in all the work. There is individual work to be done before any practice can be effective and there are endless hours of practice before a team can be successful.
21. John Wooden on your masterpiece.
"Make each day your masterpiece." – John Wooden
One of the greatest college basketball coaches of all time was known for inspiring his athletes. There is nothing better than adopting this mentality. When you wake in the morning, today should be your new masterpiece. How can you put your signature on today?
22. Joe Namath on going.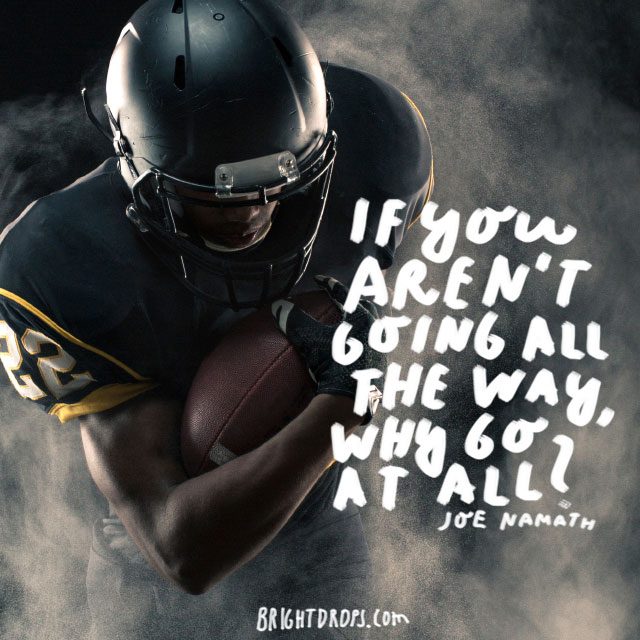 "If you aren't going all the way, why go at all?" – Joe Namath
That's a great question. If you continue to hold back, you are only cheating yourself. If you are competing, you must first defeat your own limitations before you can beat your opponent. This is another lesson we will learn throughout this list.
23. John Wooden on mental strength.
"Do not let what you can not do interfere with what you can do." – John Wooden
The great coach reminds us that we have to have the right balance in our mindset. Everyone has limitations. Pitchers become great pitchers because they focus on their strengths. What pitcher now leads their team in hitting? It'd be a waste of training.
24. Jack Dempsey on what makes a champion.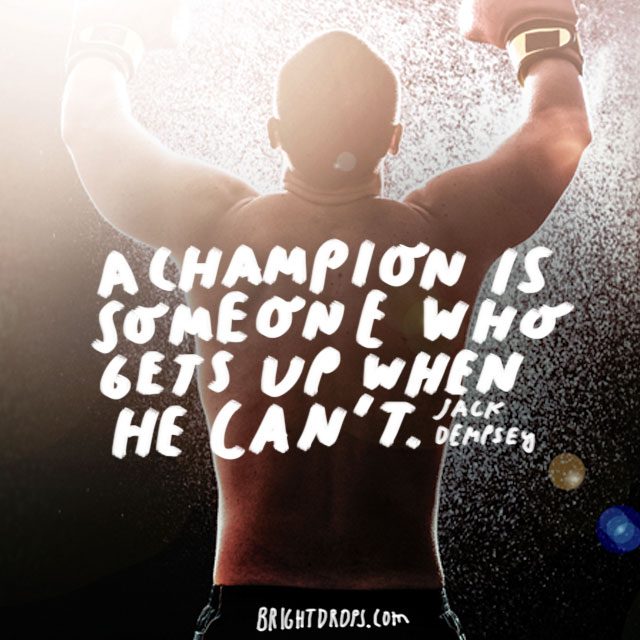 "A champion is someone who gets up when he can't." – Jack Dempsey
Again, the thing that sets champions apart from everyone else is the work ethic and the mental fortitude to succeed. When you take a hit whether it's literal or figurative, it takes a lot of mental strength to get back up. Your body can do whatever your mind tells it to.
25. Yogi Berra doesn't quit.
"It ain't over 'til it's over." – Yogi Berra
One of the most famous inspirational sports quotes of all time is Yogi's response to a reporter asking about the chances of winning the pennant. The team was down and out, but Yogi's simple response showed his approach to the game.
26. Vince Lombardi on winners and quitters.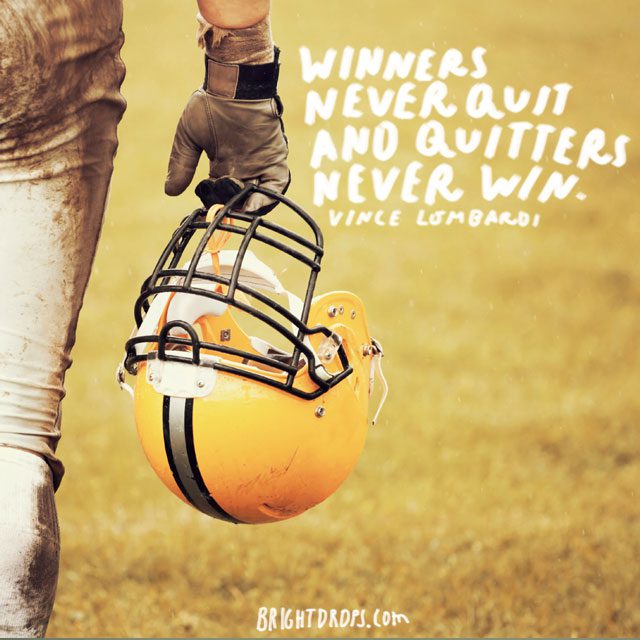 "Winners never quit and quitters never win." – Vince Lombardi
This quote is often misattributed to many others. The first and second Super Bowl champion was the originator. If you quit, you can't win by default. The champion mentality is that you never quit. In fact, the champion believes that you win by making your opponent quit.
28. Knute Rockne on Sportsmanship.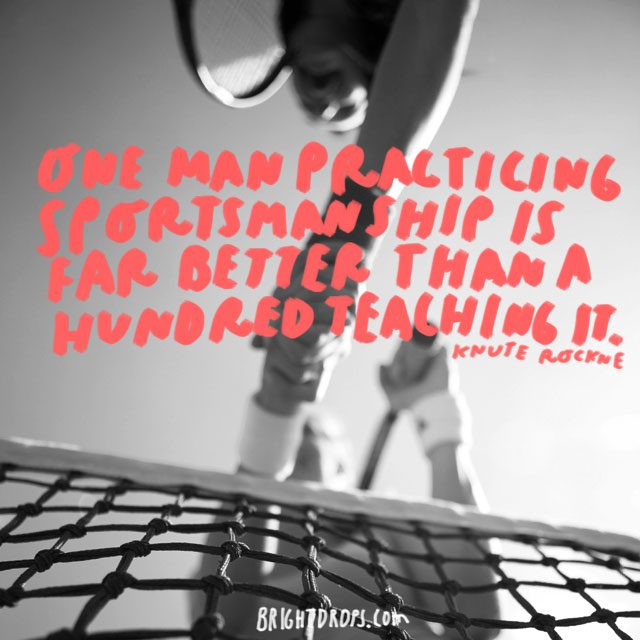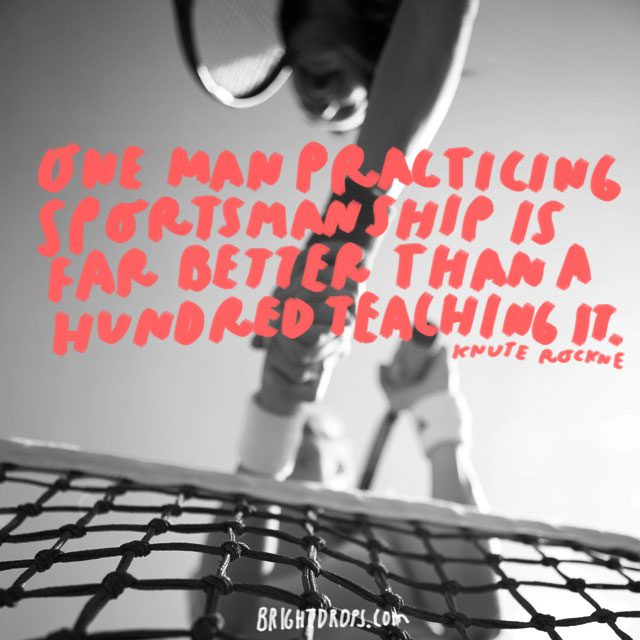 "One man practicing sportsmanship is far better than a hundred teaching it." – Knute Rockne
Playing the game the right and honorable way is what everyone is supposed to do. It doesn't matter how many coaches tell you how to play the right way. When you see something taken from theory to practice (or competition) then you can truly enjoy it.
29. Bobby Unser on Success.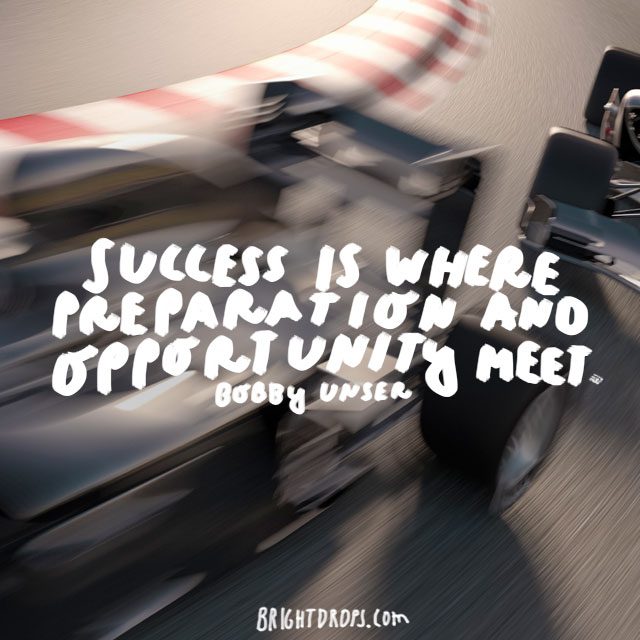 "Success is where preparation and opportunity meet." – Bobby Unser
The truth is that most champions benefit from having the right opportunity. The difference is that those who walk away with the win, the title, the glory are always those who are most prepared. It's always about putting in the work.
30. Tommy Lasorda on 3 Types of People.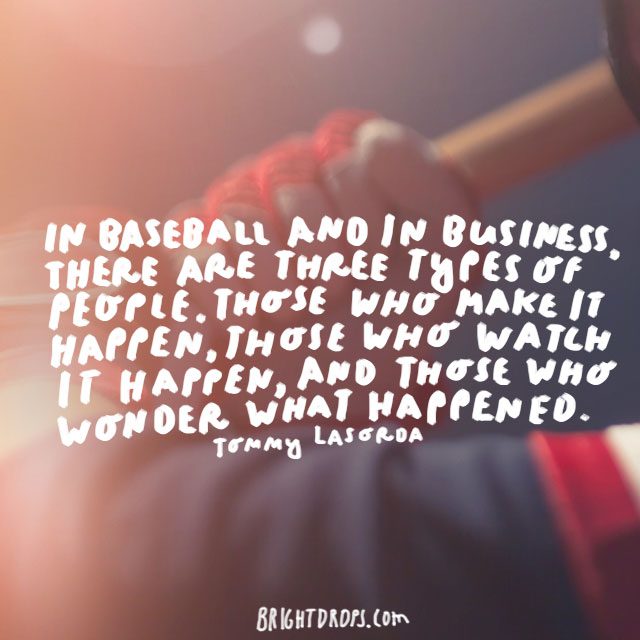 "In baseball and in business, there are three types of people. Those who make it happen, those who watch it happen, and those who wonder what happened." – Tommy Lasorda
When you approach any competition in any sport, you always encounter these three varying approaches. Some people get run over and are left to ponder about their preparation. The winners are those who make things happen through hard work and determination.
31. Billie Jean King on Getting It Right.
"Champions keep playing until they get it right." – Billie Jean King
Billie Jean King inspired generations of young women to pursue athletic excellence. She became the greatest female athlete in the world because she pursued excellence. She never rested until she got every aspect of her game perfected.
32. Muhammad Ali on Mountains.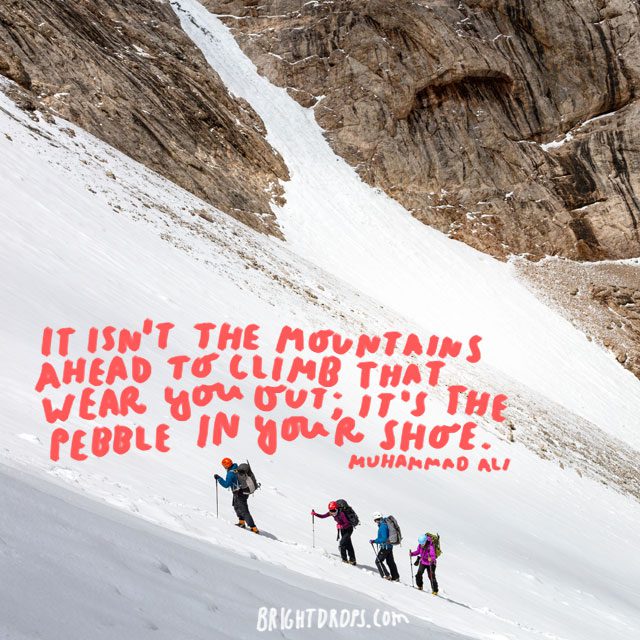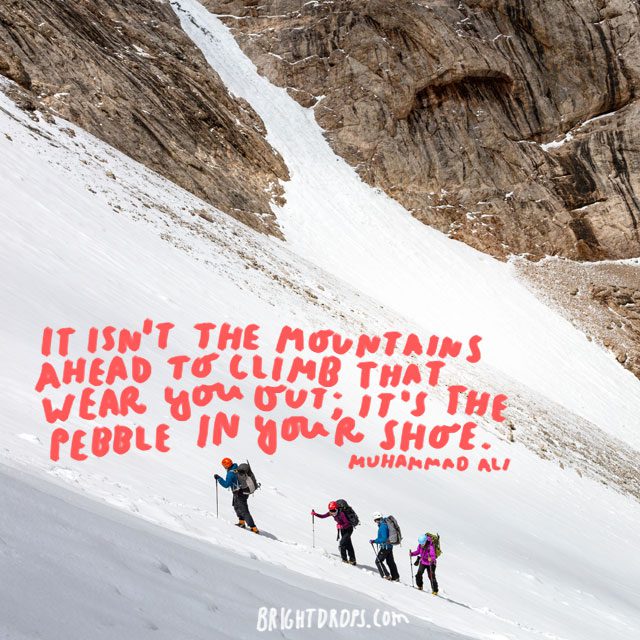 "It isn't the mountains ahead to climb that wear you out; it's the pebble in your shoe." – Muhammad Ali
When you are pursuing personal perfection, it is easy to get lost in the mountain that is ahead of you. What you must be wary of is getting distracted by the small problems that can defeat you mentally. Those mountains can be conquered.
33. Michael Phelps on Getting Far.
"You can't put a limit on anything. The more you dream, the farther you get." – Michael Phelps
Again, we see that hard work is the essential ingredient in becoming a champion. Every champion talks about putting in the work, not about being born to achieve. There is no destiny when it comes to winning.
34. Arnold Palmer Makes a Total Effort.
"Always make a total effort, even when the odds are against you." – Arnold Palmer
Arnold Palmer faced insurmountable odds on many a Sunday. He went into the final round trailing in almost every tournament. He never let that stop him from becoming one of the greatest golfers in history.
35. Vince Lombardi on Winning All the Time.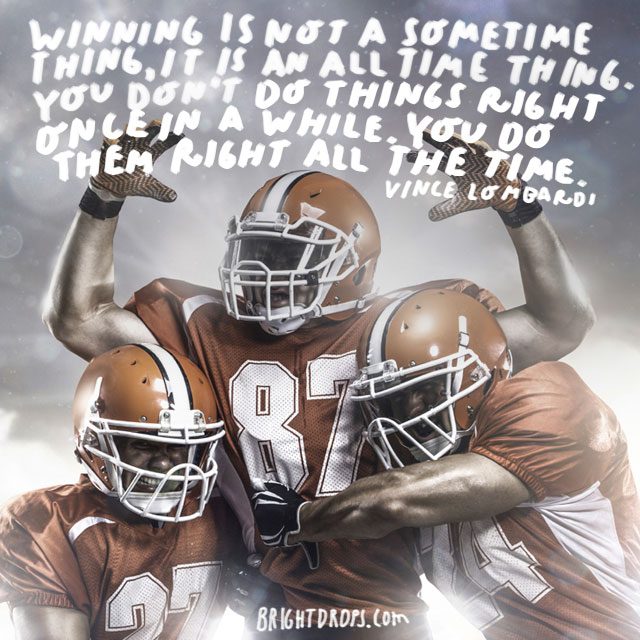 "Winning is not a sometime thing, it is an all the time thing. You don't do things right once in a while. You do them right all the time. " – Vince Lombardi
Vince Lombardi is the expert on winning. When you set out to win, you don't do that on Sunday. You decide every moment of every day that you will be a winner. That is the mentality that creates legendary memories like the Longest Yard.
36. Shaq Is Grateful.
"I'd like to thank everyone who voted for me. And the one guy who didn't vote for me, thank you, too." – Shaquille O'Neal
Shaq was one vote away from being the first unanimous MVP in NBA history. No one has ever been unanimous, not even Michael Jordan. Shaq knew that having everyone's approval could give him a reason to slow down. Always thank your haters.
37. Bear Bryant on the Will to Win.
"It's not the will to win that matters — everyone has that. It's the will to prepare to win that matters." – Paul "Bear" Bryant
Bear Bryant is a legend. He's a legend because he always won. He's the only person that won more than Nick Saban. Everyone wants to win because that is natural. Preparing to win, having that work ethic, that's what makes a champion.
38. Andre Agassi Has Something to Lose.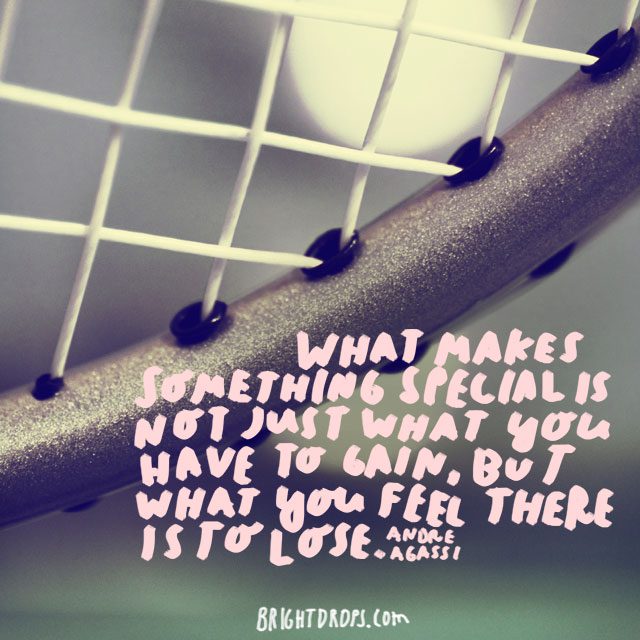 "What makes something special is not just what you have to gain, but what you feel there is to lose." – Andre Agassi
When you are consistently one of the best, you have a lot to lose. Agassi and Sampras battled for the top spot throughout their careers. Every serve, every game, every set mattered because they had everything to lose.
39. Mary Lou Retton Is All About the Memories.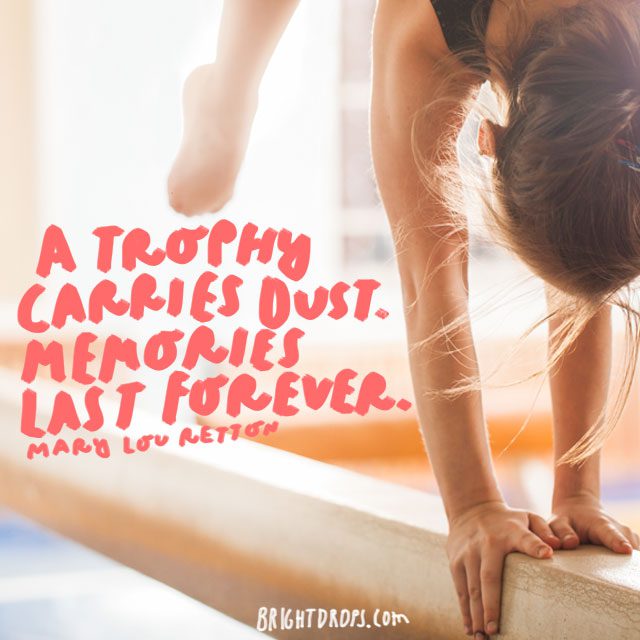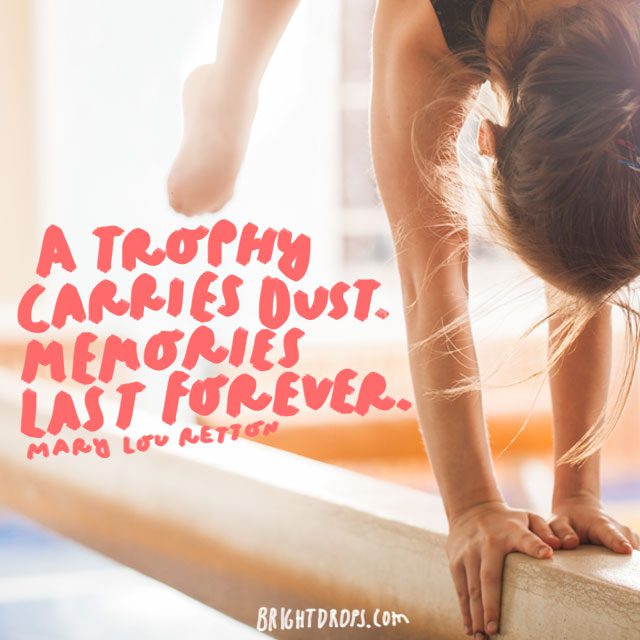 "A trophy carries dust. Memories last forever." – Mary Lou Retton
No one ever wins the cup and says, "No, thanks. I'll just take a ribbon." The truth is that those medals and trophies and rings all gather dust. Champions never forget the thrill of victory when they claimed that title.
40. Vitas Gerulaitis on Beating Vitas Gerulaitis.
"Nobody beat Vitas Gerulaitis 17 times in a row." – Vitas Gerulaitis
This famous quote is an ongoing joke. Anytime a tennis player ends a long-standing streak against another player they fill in the blanks accordingly. The original version was when Gerulaitis finally beat Jimmy Connors. He beat Connors 4 more consecutive times. He was right in the end. He ended his career with his record being 0-16 against Bjorn Borg. He beat everyone else though.
41. Shaq Is a Problem Solver.
"I never worry about the problem. I worry about the solution." – Shaquille O'Neal
Any Shaq fan can tell you about his fantastic lines of wisdom. In this case, he has the exact approach. Champions get the title because they look for solutions. Instead of getting lost in the problem and thinking about every negative aspect, they find the answer.
42. Sir Charles Deserves to Be Successful.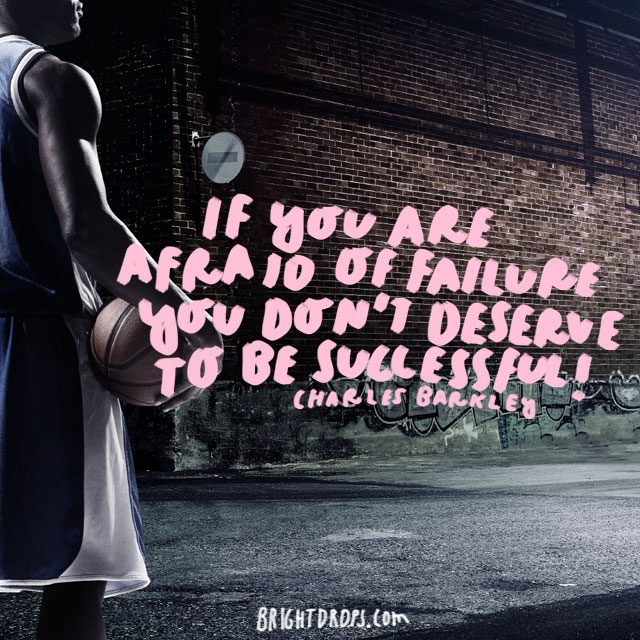 "If you are afraid of failure you don't deserve to be successful!" – Charles Barkley
As we know from Michael Jordan and Vitas Gerulaitis, everyone faces failure individually and as a team. Even the '72 Dolphins had weaknesses to address. They actually had several close calls. Anyone who is afraid of a failure, can not succeed.
43. Tom Landry on Constructive Defeats.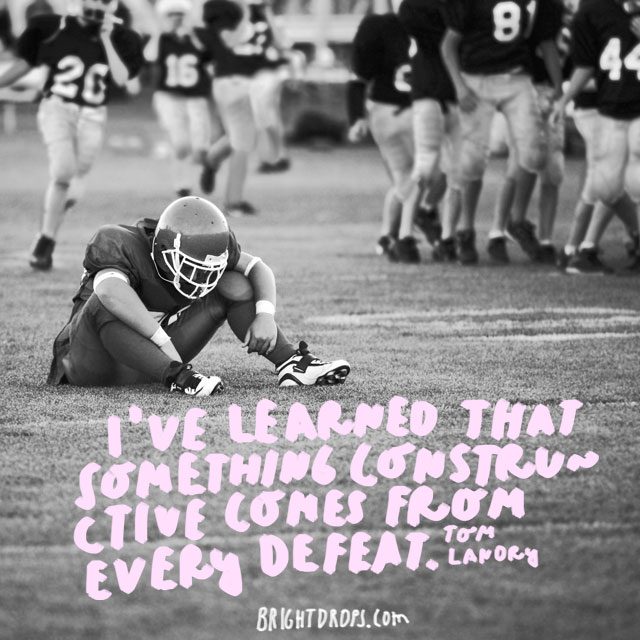 "I've learned that something constructive comes from every defeat." – Tom Landry
Every time you fail, you learn something from it. If you are afraid that you might not win or you might not be the best at something, you never will be. If you come out of a loss as a loser, you will never grow from that experience.
44. Mike Ditka Tries Not to Be a Loser.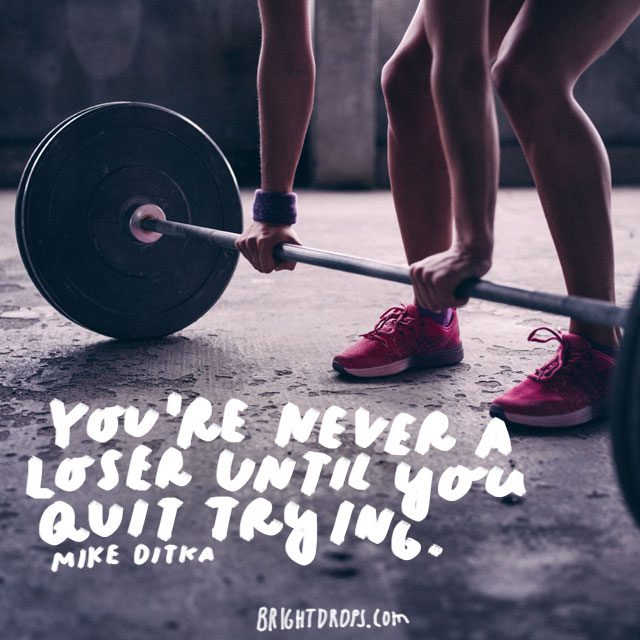 "You're never a loser until you quit trying." – Mike Ditka
Winners work. That's what makes them winners. If you quit working, you are a loser. It doesn't get much simpler than that. Mike Ditka had a way of making things simple for his players, his staff, and the media. That's why fans still love him today.
45. Mia Hamm on Intimidation.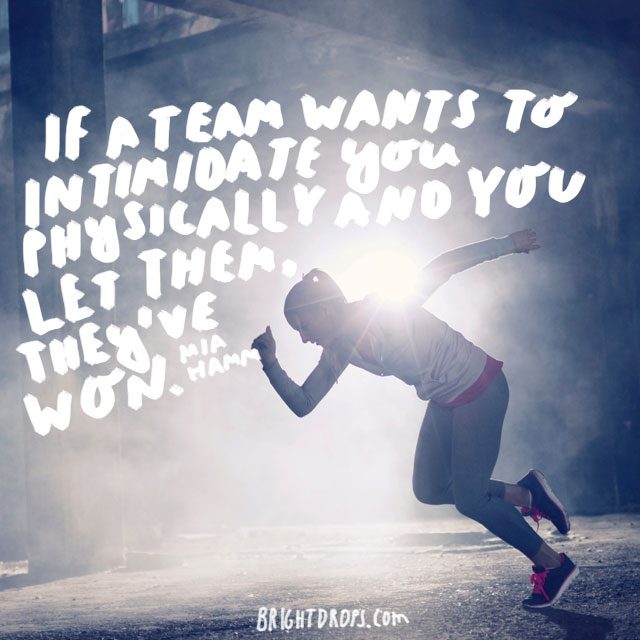 "If a team wants to intimidate you physically and you let them, they've won." – Mia Hamm
If you can be intimidated, then you can be defeated. If you don't back down from any challenge, then you have the opportunity to win. Mia Hamm was the most important player for the US Women's National Team. She orchestrated the team from midfield. She was never the biggest, strongest, or fastest, but you would never know by watching her play.
46. Mia Hamm Loves Being on Top.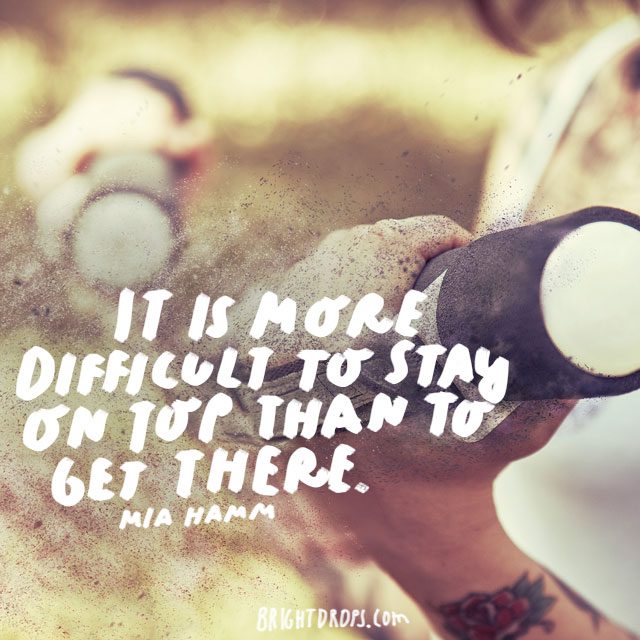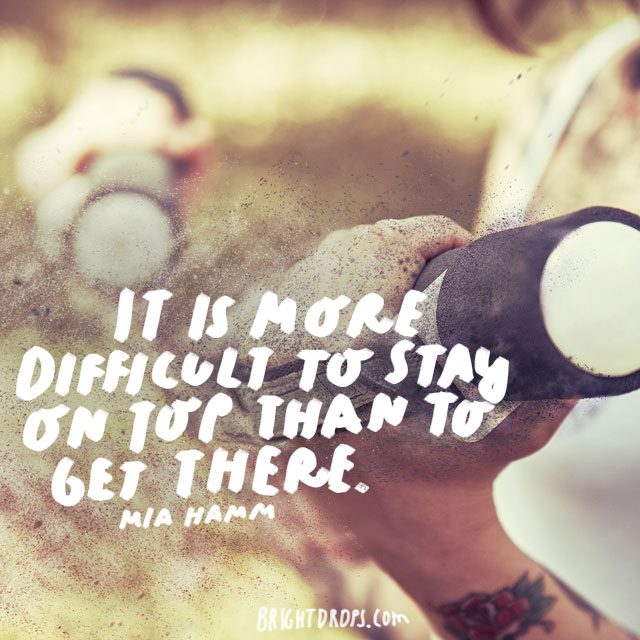 "It is more difficult to stay on top than to get there." – Mia Hamm
You can be the best in a sport. It's harder to stay number one for a long time. You have to push yourself even harder once you are a champion. Even champions that won multiple titles never took days off. In fact, they often got back to work before the other teams.
47. Muhammad Ali on Courage.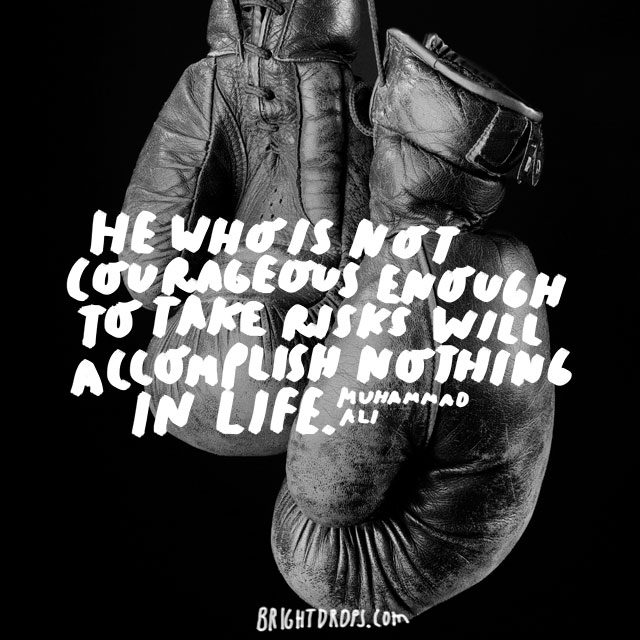 "He who is not courageous enough to take risks will accomplish nothing in life." – Muhammad Ali
Throughout this list, everyone talks about talent being secondary. You need to work harder than anyone else to be a winner. You also have to take risks. Whether you think about Gretzky, Jordan, or Pele, you think of winners as those who take risks.
48. Evander Holyfield Has a Big Heart.
"It is not the size of a man but the size of his heart that matters." – Evander Holyfield
Evander Holyfield beat just about everyone. He never worried about being smaller than almost every heavyweight he fought. He always put in the extra work and then got in the ring. He was a great heavyweight fighter and retired with no regrets.
49. Matt Biondi on Persistence.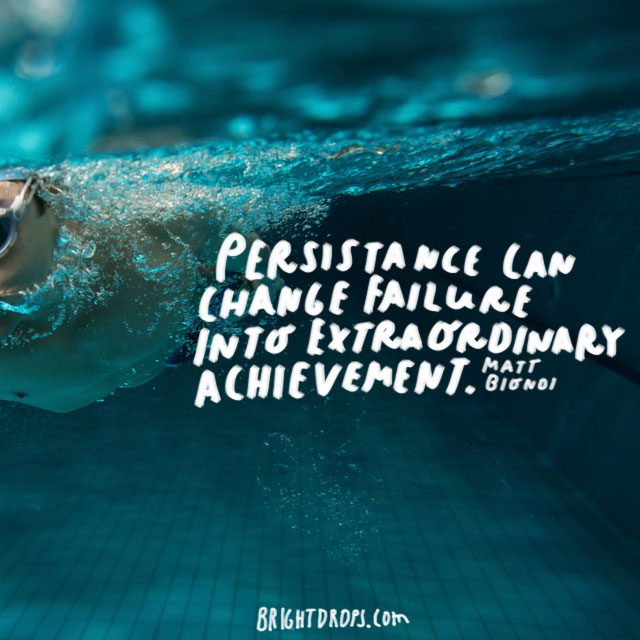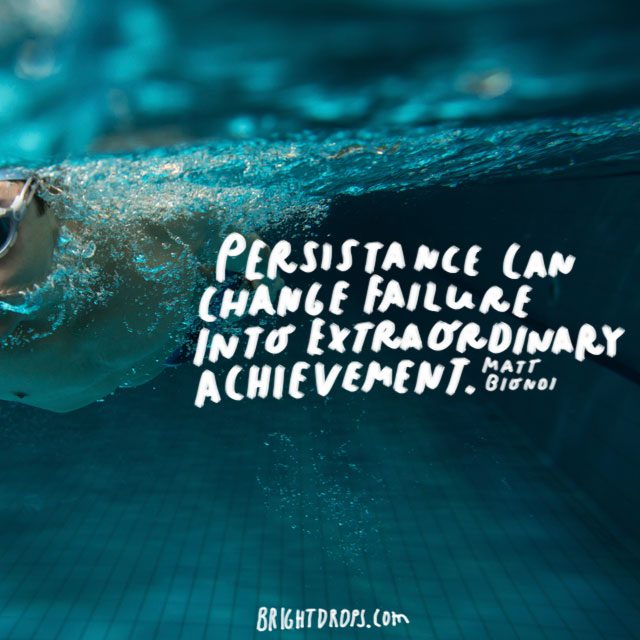 "Persistence can change failure into extraordinary achievement." – Matt Biondi
Before Michael Phelps, Team USA had Matt Biondi. He was an 11 time medalist. He never had the massive success that USA Swimming would later achieve, but he laid the ground work for the amazing program we have today.
50. Steve Prefontaine on Gifts.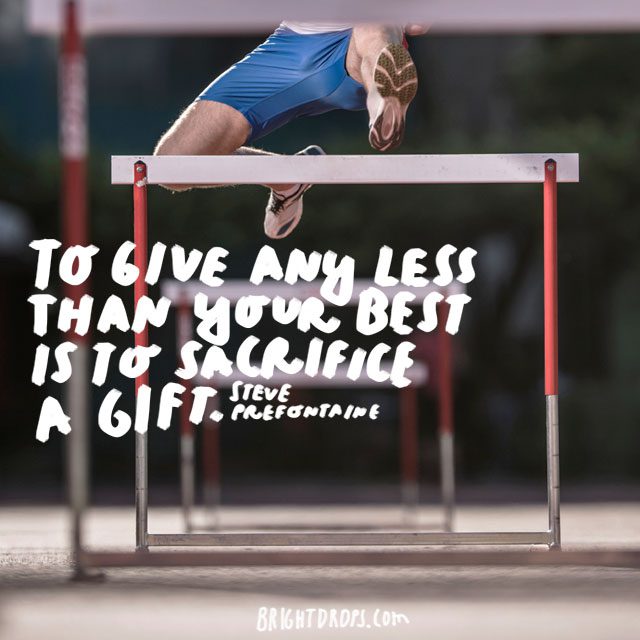 "To give any less than your best is to sacrifice a gift." – Steve Prefontaine
If you have more to give, you better give it. Every person is given ability, whether great or small. If you have something in the tank, you need to use it. Every champion on this list speaks of endurance, perseverance, and work ethic. None of them ever said talent got them anywhere.
51. Dean Karnazes Never Gives Up.
"Run when you can, walk if you have to, crawl if you must; just never give up." – Dean Karnazes
Obviously, everyone wants to run. If you push yourself beyond that limit, walk. If your body is giving out, crawl. These inspirational sports quotes teach the valuable lesson of pouring every ounce of effort into every moment of preparation and competition.
52. Carl Lewis on the Journey.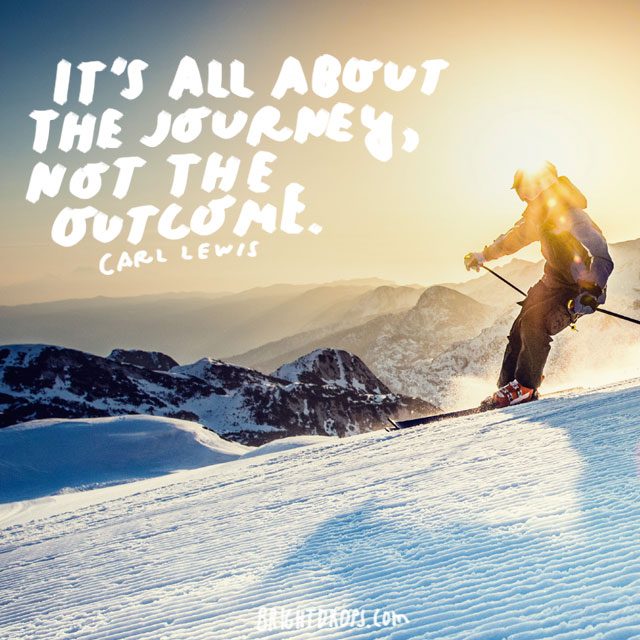 "It's all about the journey, not the outcome." – Carl Lewis
Carl Lewis was one of the greatest athletes in history. He was always focused on working harder and outperforming himself. He never measured his own achievement against anyone else. Instead, he always competed with himself.
53. Noureddine Morceli on Doubts.
"When I race my mind is full of doubts – who will finish second, who will finish third?" – Noureddine Morceli
When you are competing with yourself, you only have winning to think about. You can't worry about the competitor because in every competition, you are mentally competing against yourself and your own limitations. When you're prepared, you only worry about who will finish behind you because no one will finish before you.
54. Arnold Schwarzenegger on Strength.
"Strength does not come from winning. Your struggles develop your strengths." – Arnold Schwarzenegger
Winning is the glory that comes from developing your strength. Struggling in preparation and practice is what makes you develop strength to begin with. When you develop those strengths through hard work and determination, you can become a champion.
55. Heywood Broun on sports.
"Sports do not build character. They reveal it." – Heywood Broun
Competition is the root of all sport. There is nothing that can show what a person can really accomplish more than lining up against another person and going toe to toe in competition. That's how sports reveal your character. They can't build what you don't have.
(Read this next: 65 Most Inspirational Quotes of All-Time)