If you are lacking in motivation and need some strong advice, read some of these Vince Lombardi quotes, which are like having your own personal life coach on your shoulder. Spoken about football but relevant to any situation in life, these lines will whip you up into a frenzy of action, and infuse you with the will to do better and better each day.
Known in the sporting world as one of (if not the) greatest football coaches of all time, Vince Lombardi is best remembered for taking the failing Green Bay Packers and turning them into the most admired, feared, and envied football team of the 1960s. As the oldest of five children, Brooklyn born Lombardi at first had aspirations of joining the priesthood, and in fact spent two years at the Cathedral College of Immaculate Conception, but left when he realized that football was his calling.
Having spent time at Fordham and West Point, as well as coaching the New York Giants, Lombardi took the position in 1959 of head coach with the Packers, and began a gruelling training programme which, although impossibly hard, earned him the devotion and loyalty of many of his players. Taking the former defeated team to five NFL championships and Superbowl I and II victories, Lombardi implemented a zero-discrimination policy, and by 1967 the team had 13 black players, as opposed to the one – Nate Borden – who was there when Lombardi took over.
1. Vince Lombardi Knows Only One Thing That Cannot Be Reached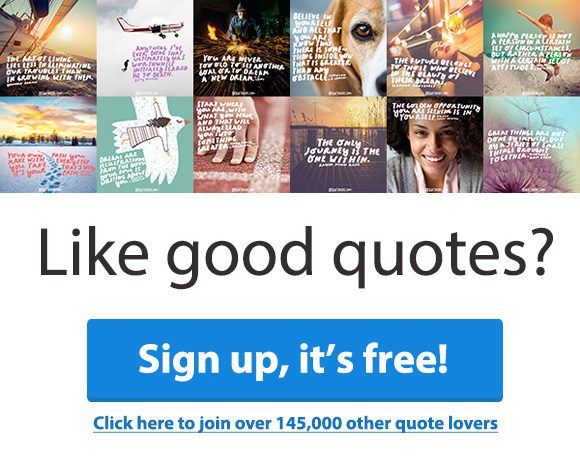 "Perfection is not attainable, but if we chase perfection we can catch excellence." – Vince Lombardi
Perfection is not something to aim for because it is impossible to be perfect. However, if we are constantly chasing perfection we can end up reaching excellence. Excellence is something all humans should strive for in every endeavor we choose.
2. Vince Lombardi Believes The True Test of Character is How You Act After Being Beaten
"It's not whether you get knocked down; it's whether you get up." – Vince Lombardi
It doesn't matter how many times you get knocked down as long as you keep picking yourself back up. Everybody fails, but the people who succeed in the end are the ones who are relentless and learn from getting knocked down.
3. Vince Lombardi Can Tell The Difference Between Winners and Losers
"The difference between a successful person and others is not a lack of strength, not a lack of knowledge, but a lack of will." – Vince Lombardi
The difference between people is not a great deal. Many people are talented and many people are knowledgeable. But the true characteristic that separates winners from losers is that of will.
4. Vince Lombardi Knows The Amount of Work Put In Matters a Great Deal
"The harder you work, the harder it is to surrender." – Vince Lombardi
The more time and effort you put into something, the harder it will be to walk away from it. Invest your time into projects and goals you want to achieve. The more you work, the harder it will be to quit.
5. Vince Lombardi Believes in Individual Commitment
"Individual commitment to a group effort – that is what makes a team work, a company work, a society work, a civilization work." – Vince Lombardi
Each individual must have a burning passion and desire to achieve excellent results. People work harder at things they believe in and are invested in. Make your teammates, your employees and your colleagues believe in the cause and you will have an unbeatable group of people.
6. Vince Lombardi Knows Success Isn't Reached Without Hard Work
"The only place success comes before work is in the dictionary." – Vince Lombardi
Hard work is the foundation for success. Success is a goal that makes the hard work worth it in the end. Nobody wakes up one day with all the success they ever dreamed of. It is a by-product of the commitments and sacrifices they have made over their life.
7. Vince Lombardi Knows Habits Are Made Quick
"Once you learn to quit, it becomes a habit." – Vince Lombardi
Lombardi was an incredibly determined player and coach. Once you quit once, quitting can become a habit and seem like the norm for the future. Quitting should never be settled for or expected of anybody.
8. Vince Lombardi Believes There is Nothing More Cowardly Than Quitting On a Task
"Winners never quit, and quitters never win." – Vince Lombardi
Winners are people who will do whatever it takes to win and even if they don't win, they will never quit. Quitters are people who don't stay around long enough to give themselves a chance to win.
9. Vince Lombardi Needs Enthusiastic People to Complete a Goal
"If you aren't fired with enthusiasm, you'll get fired with enthusiasm." – Vince Lombardi
Funny quote but also true to the last word. People need to be passionate about what they do in life because if not, they will have no desire to try hard and they will not be willing to put everything they have to the task at hand.
10. Vince Lombardi Sees Confidence As a Habit
"Confidence is contagious. So is a lack of confidence." – Vince Lombardi
Confident people are confident in any situation; this makes the people around them confident as well, through social proof. We act like the people around us. Unfortunately a lack of confidence makes other people not confident as well.
11. Vince Lombardi Understands Losses Happen, but doesn't Accept Negative Mindsets
"Winning is not everything, but wanting to win is." – Vince Lombardi
Winning is not everything because it is nearly impossible to win every time. But the will to win is everything. The will to win and the positive mindset that one will win is the only thing you need when competing.
12. Vince Lombardi Uses What He Knows Most About To Relate to Life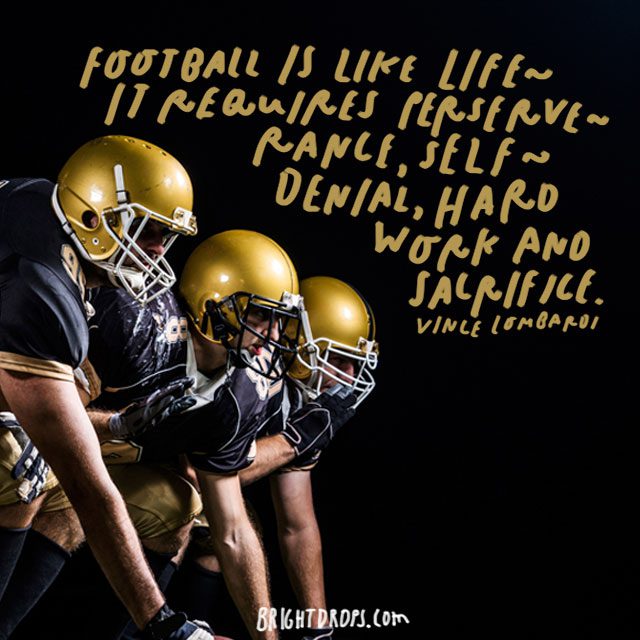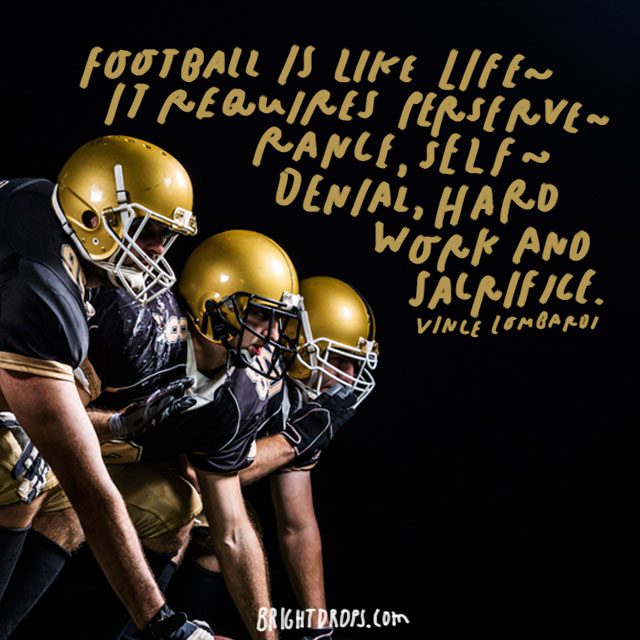 "Football is like life – it requires perseverance, self-denial, hard work and sacrifice." – Vince Lombardi
Football is like life in all aspects. Life takes dedication and teamwork to complete a common goal. Using sports is a great comparison to life because every game is a grind that takes everything out of you to win.
13. Vince Lombardi Believes Perfection Makes Perfection
"Practice doesn't make perfect. Perfect practice makes perfect." – Vince Lombardi
Practicing with no form or no goal does not make a difference toward progress. Perfect practice is the only type of practice that the hall of fame coach allows. Practice with a goal to get better and improve.
14. Vince Lombardi Preaches Working With One Another is Always Better Than Working Alone
"People who work together will win." – Vince Lombardi
People who work with other people will win more times than people who work by themselves. Learn to work in a group and respect others' opinions and skills. Everybody has skills and weaknesses that can be balanced out by other people.
15. Vince Lombardi Knows that Habits are Made, Whether They are Negative or Positive Is Up To You
"Winning is habit. Unfortunately, so is losing." – Vince Lombardi
Habits are made through repetition. Winning and losing can become habits once you accept whichever one you will be. Winners have a habit of believing they will win; losers have a habit of believing they will lose.
16. Vince Lombardi Proves Each Individual Has a Part in the Success of an Organization or Team
"The achievements of an organization are the results of the combined effort of each individual." – Vince Lombardi
The success of a team or an organization happens through teamwork and every person chipping in. No one person can do everything by themselves all of the time. A group of people that work together will always have better success than a single person.
17. Vince Lombardi Values Loss, For Reacting to Loss is a Testament to One's Character
"The greatest accomplishment is not in never failing, but in rising against after you fail." – Vince Lombardi
You will fail time and time again trying to make it to where you want to be. How you react to failing will ultimately determine if you make it or not. Coming back stronger after a loss and more knowledgeable is a true showing of good character.
18. Vince Lombardi Values Winning as the Most Important Aspect of Life
"Winning isn't everything, it's the only thing." – Vince Lombardi
The definition of winning is more than just winning or losing a game. Winning can be thought of as achieving the life that you desire. In that sense, winning is the only thing in the world. If you are truly happy with your life, then you are winning.
19. Vince Lombardi Goes Against the Norm that Talented People are Born that Way
"Leaders are made, they are not born." – Vince Lombardi
Leaders are made through experiences that teach them to become great leaders. Some people are naturally better leaders than others, but nobody is born with the natural ability to lead people and be looked upon as a leader. Those characteristics are learned through meaningful experiences.
20. Vince Lombardi Believes Every Person is Different with Different Circumstances
"The measure of who we are is what we do with what we have." – Vince Lombardi
Some people are born more privileged than other people. Many people won't take advantage of the things that they do have and only focus on the things they don't have. Truly inspiring people are the ones who take advantage of every opportunity they are given, even if it is not much.
21. Vince Lombardi Makes sure Nobody Expects Success to be an Easy Ride
"The price of success is hard work, dedication to the job, and determination." – Vince Lombardi
Success is reached through long hours and a lot of hard work. Anyone who believes success is reached easily and half-heartedly, they are sadly mistaken. If success was easy, then everyone would be doing it.
22. Vince Lombardi Explains Time in His Own Way
"We didn't lose the game; we just ran out of time." – Vince Lombardi
The famous coach has a funny way of explaining that his team did not lose, they simply did not have enough time to win. This statement is a good way to look at a loss in positive way. If they only had a few more minutes they would have been able to get a win.
23. Winning isn't Always Everything, but the Will to Win Is
"The spirit, the will to win, and the will to excel are the things that endure." – Vince Lombardi
The will to win and belief that one will win is something that everybody wants within their group of people. Winning may not always happen, but believing that you will win every time you compete is inspiring and contagious.
(Read this next: 55 Most Famous Inspirational Sports Quotes of All-Time)