Yogi Berra had barely found his feet as a New York Yankees baseball player when he enlisted with the Navy and fought in World War II, but on his return he joined the Newark Bears; a move that heralded the start of a long and illustrious career in the sport. As a member of The Yankees, he appeared in 14 World Series (winning 10), and was hailed as one of the greatest catchers in the history of the sport, before continuing his career as a manager and coach.
But apart from his sporting achievements, Yogi had another skill; that of mixing expressions together until they made no sense, and yet did. Named 'Berra-isms' or 'Yogi-isms', these amusing sayings won their way into people's hearts and minds, and many of them are still spoken and remembered today.
While on the face of it Yogi Berra quotes seem nonsensical, a lot of them actually have a lot of wisdom behind them, and it is exactly that 'silliness' that makes them stand out in your mind. Use these quotes as a lighthearted way to uncover some profound truths, which will stay with you forever.
Most Famous Yogi Berra Quotes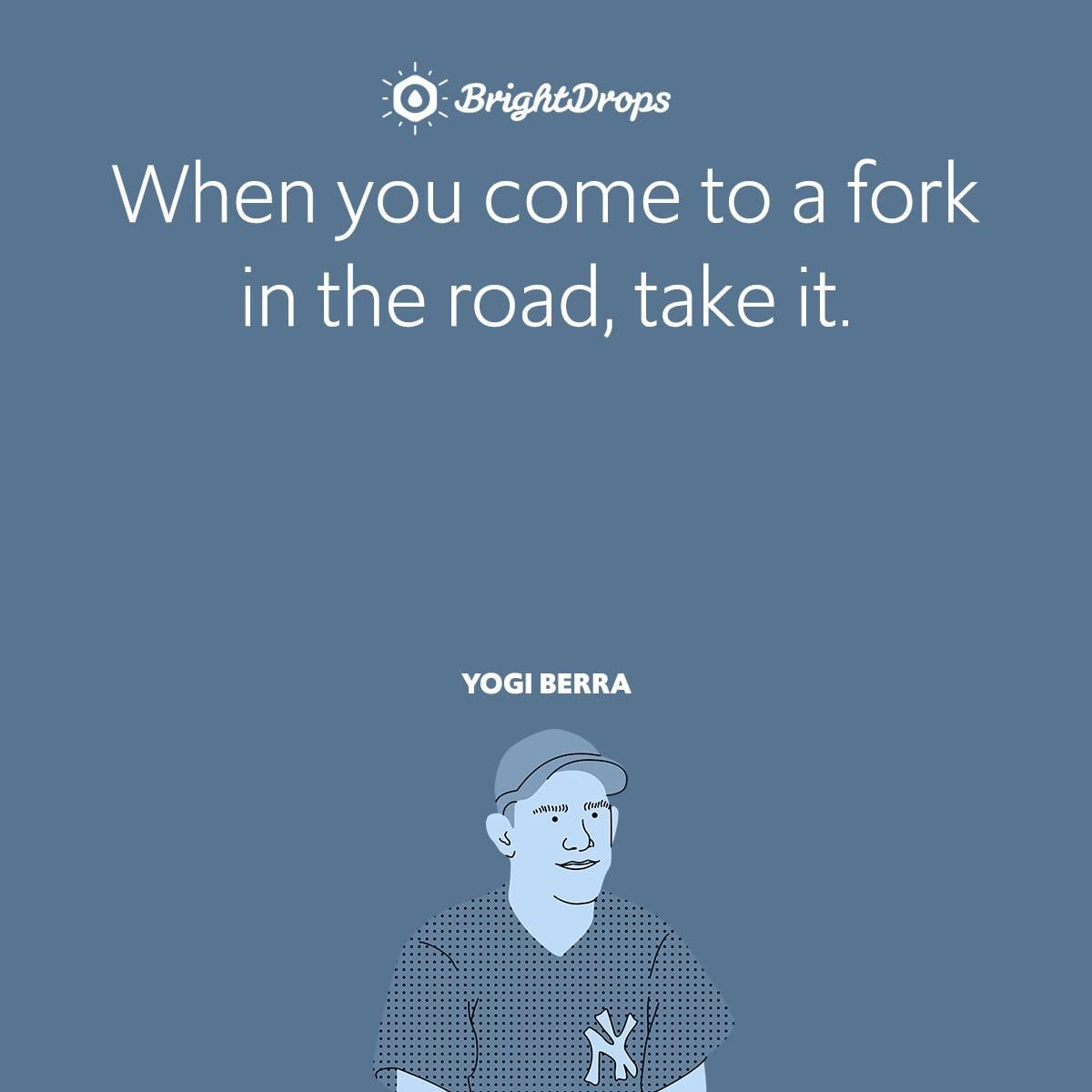 "When you come to a fork in the road, take it." – Yogi Berra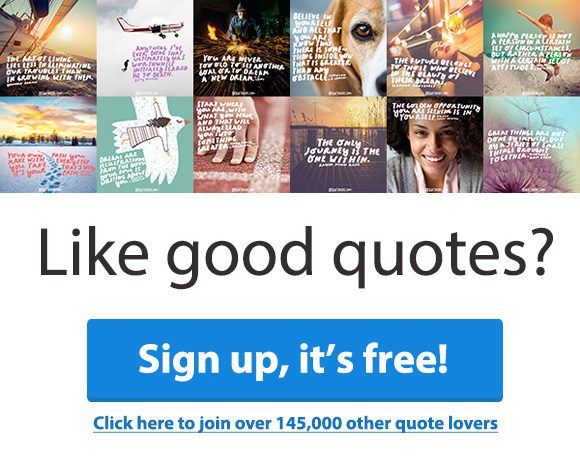 "If the world was perfect, it wouldn't be." – Yogi Berra
"I always thought that record would stand until it was broken." – Yogi Berra
"We have a good time together, even when we're not together." – Yogi Berra
"It's pretty far, but it doesn't seem like it." – Yogi Berra
"The other teams could make trouble for us if they win." – Yogi Berra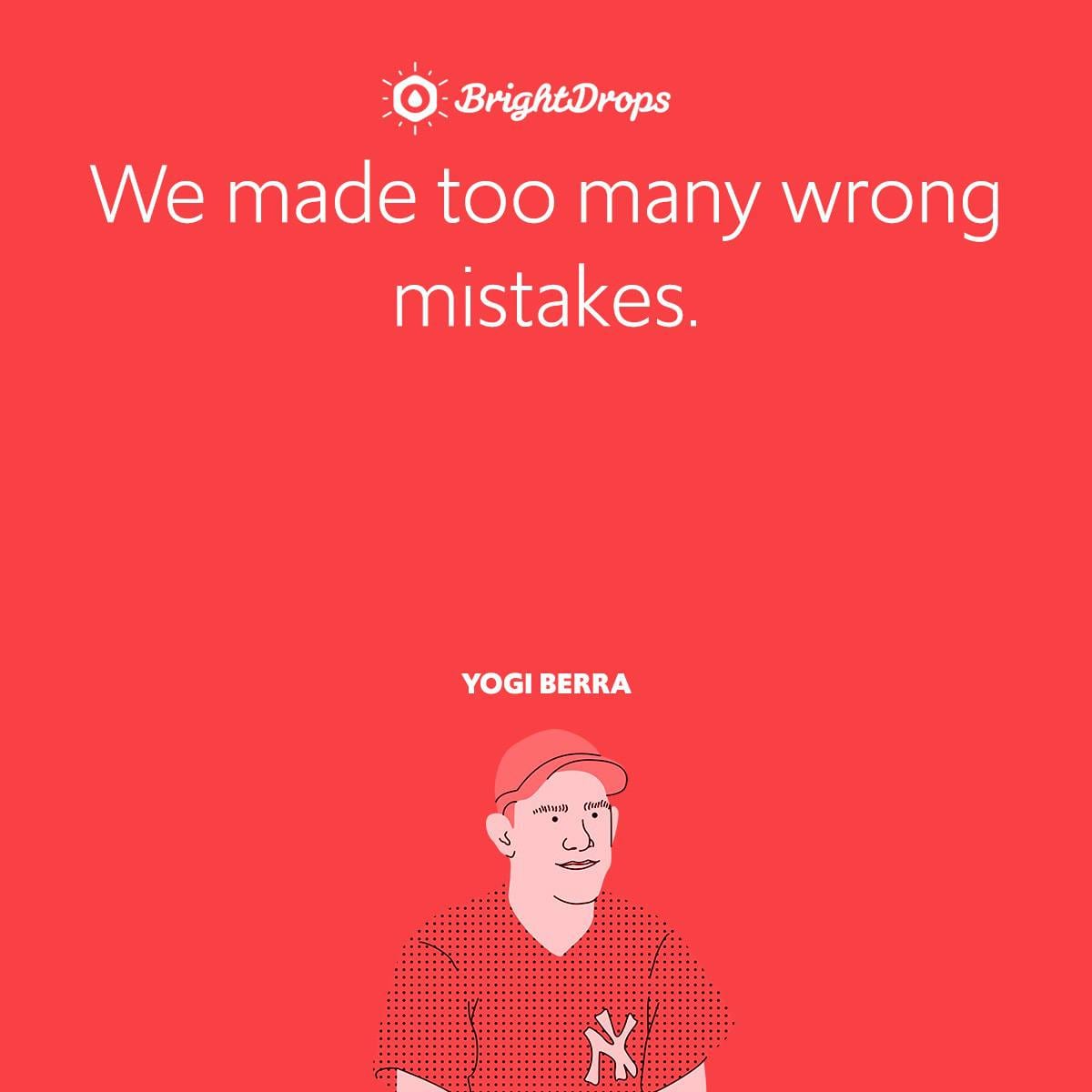 "We made too many wrong mistakes." – Yogi Berra
"He hits from both sides of the plate. He's amphibious." – Yogi Berra
"Take it with a grin of salt." – Yogi Berra
"It's tough to make predictions, especially about the future." – Yogi Berra
"Slump? I ain't in no slump… I just ain't hitting." – Yogi Berra
"There are some people who, if they don't already know, you can't tell 'em." – Yogi Berra
"It ain't the heat, it's the humility." – Yogi Berra
"Its getting late early." – Yogi Berra
"It was impossible to get a conversation going; everybody was talking too much." – Yogi Berra
"Okay you guys, pair up in threes!" – Yogi Berra
"You got to be very careful if you don't know where you're going, because you might not get there." – Yogi Berra
"A nickel isn't worth a dime today." – Yogi Berra
"We're lost, but we're making good time." – Yogi Berra
"Even Napoleon had his Watergate." – Yogi Berra
"I wish I had an answer to that because I'm tired of answering that question." – Yogi Berra
"How can you think and hit at the same time?" – Yogi Berra
"So I'm ugly. So what? I never saw anyone hit with his face." – Yogi Berra
"I'm not going to buy my kids an encyclopedia. Let them walk to school like I did." – Yogi Berra
"If you can't imitate him, don't copy him." – Yogi Berra
"No matter where you go, there you are," – Yogi Berra
"Love is the most important thing in the world, but baseball is pretty good, too." – Yogi Berra
"Always go to other people's funerals, otherwise they won't go to yours." – Yogi Berra
"I usually take a two-hour nap from one o'clock to four." – Yogi Berra
"If you ask me anything I don't know, I'm not going to answer." – Yogi Berra
"Nobody goes there anymore. It's too crowded." – Yogi Berra
"Half the lies they tell about me aren't true." – Yogi Berra
"We have deep depth." – Yogi Berra
"If you don't set goals, you can't regret not reaching them." – Yogi Berra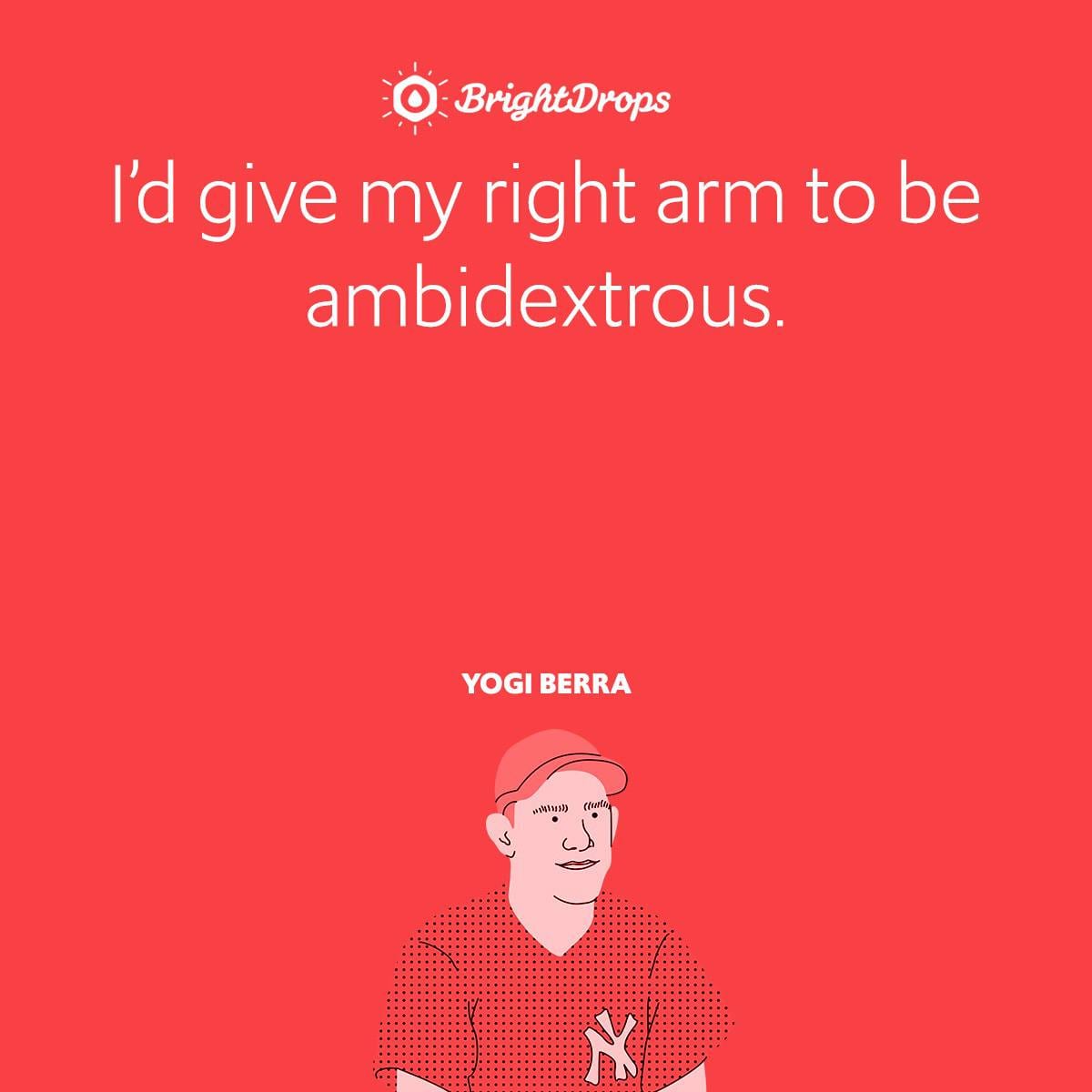 "I'd give my right arm to be ambidextrous." – Yogi Berra
"I never said most of the things I said. Then again, I might have said 'em, but you never know." – Yogi Berra
"Never answer an anonymous letter." – Yogi Berra
"If people don't want to come out to the ball park, nobody's gonna stop 'em." – Yogi Berra