Become a Jedi Master you will. Yoda is one of the most loved characters from the Star Wars franchise. This list of Yoda quotes compiles all the wisdom from his film appearances in Episodes I – VI. So grab your lightsaber and prepare to become the the master, whether you are a padawan young or old.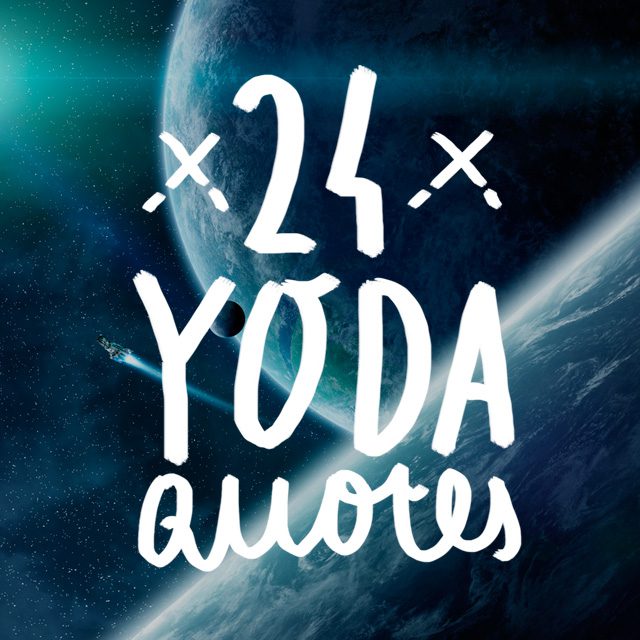 1. Yoda on What You Already Know.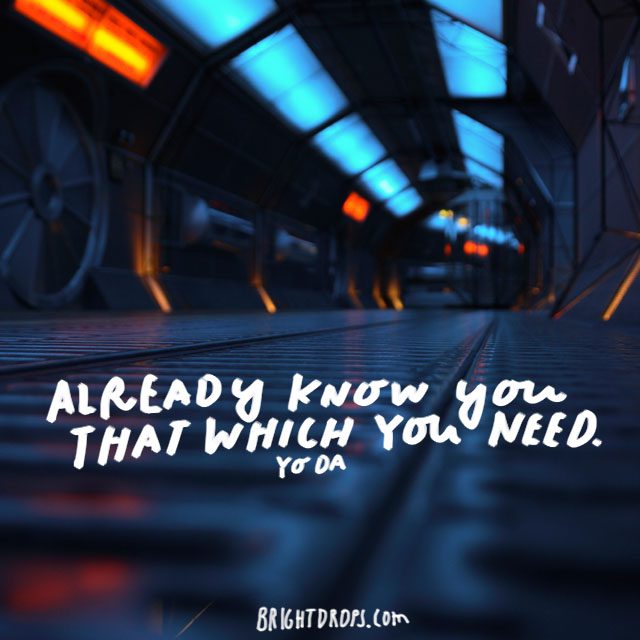 "Already know you that which you need." – Yoda
You already have everything you need in life. Whether you are fighting the Empire or just trying to make the most of what you have, it's already there with you. You have to decide what you're going to do with what you've been given.
2. Yoda on Jedi Cravings.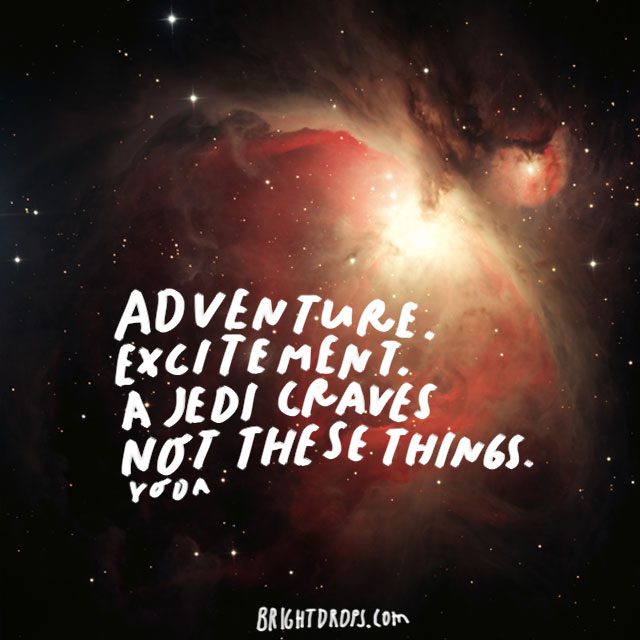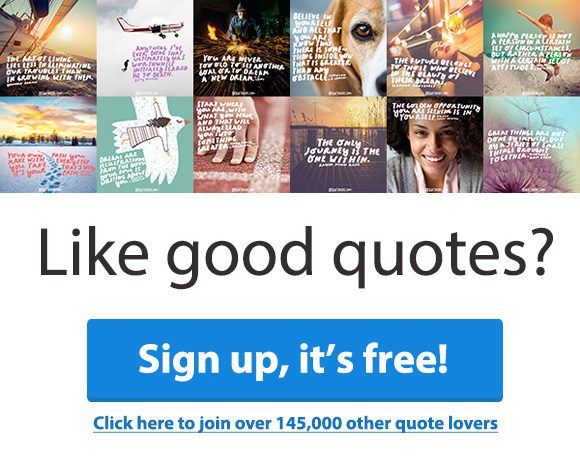 "Adventure. Excitement. A Jedi craves not these things." – Yoda
We get misled by pop culture. We see reality stars driving cars worth more than every possession we own combined and we get caught in a cycle of want. When you are on the path of light, you don't chase adventure and excitement.
3. Yoda Don't Think So!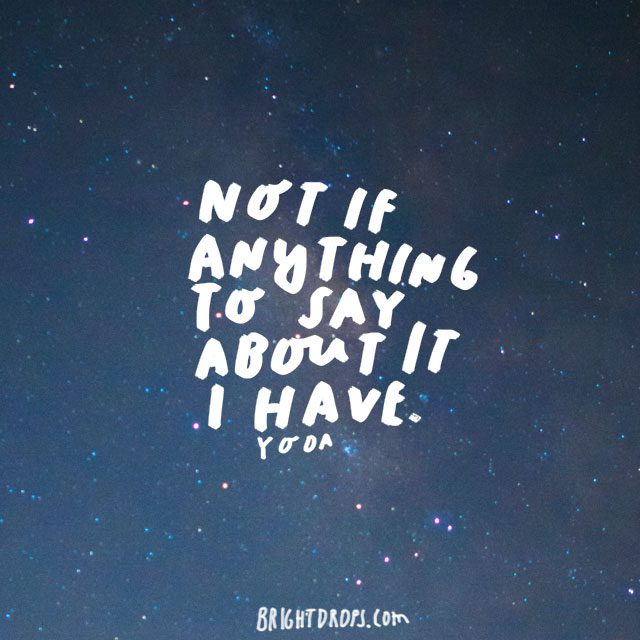 "Not if anything to say about it I have." – Yoda
Yoda knows when to take a stand. It's fine to turn the other cheek sometimes, but you also have to know when to stand up for what's right. In the ongoing battle between good and evil, it is important to know what you stand for.
4. Yoda on Size.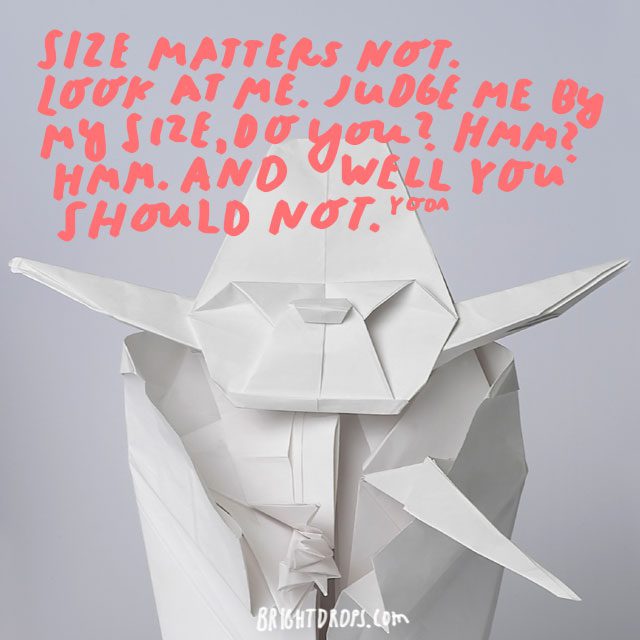 "Size matters not. Look at me. Judge me by my size, do you? Hmm? Hmm. And well you should not." – Yoda
Yoda is a little guy. It's never the size of the fighter, but the size of the force within them. We are all little guys in power, but we can stand for what's right and make a difference in the world. That's what being a Jedi is about.
5. Yoda Sees the Future.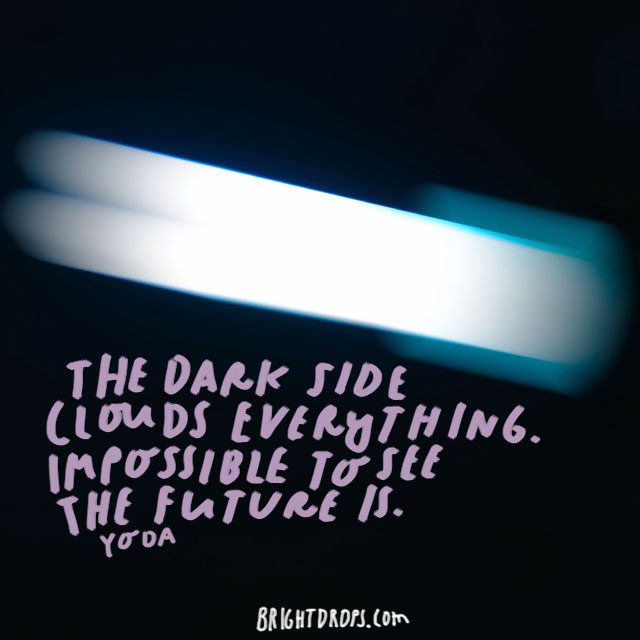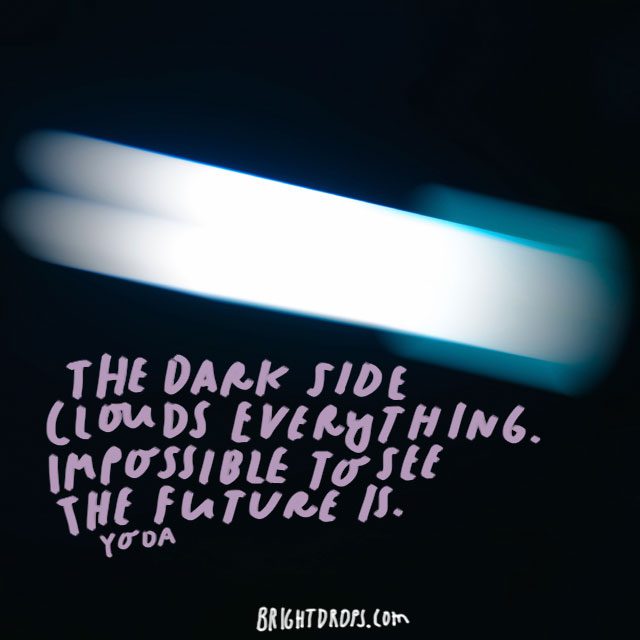 "The dark side clouds everything. Impossible to see the future is." – Yoda
When you get caught in the delusions of pop culture, you lose your way. It becomes impossible to see where you really want to go in life. Don't get lost in the chaos of Keeping up with the Kardashians. Instead, keep a clear mind.
6. Yoda Wants a Clear Mind.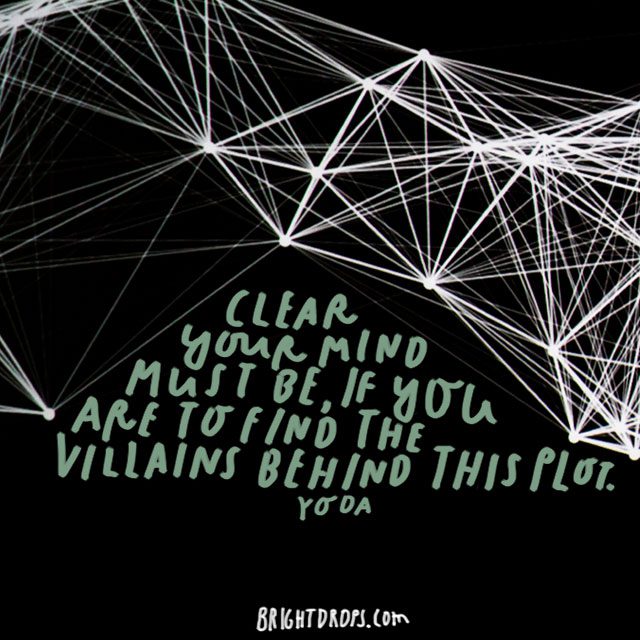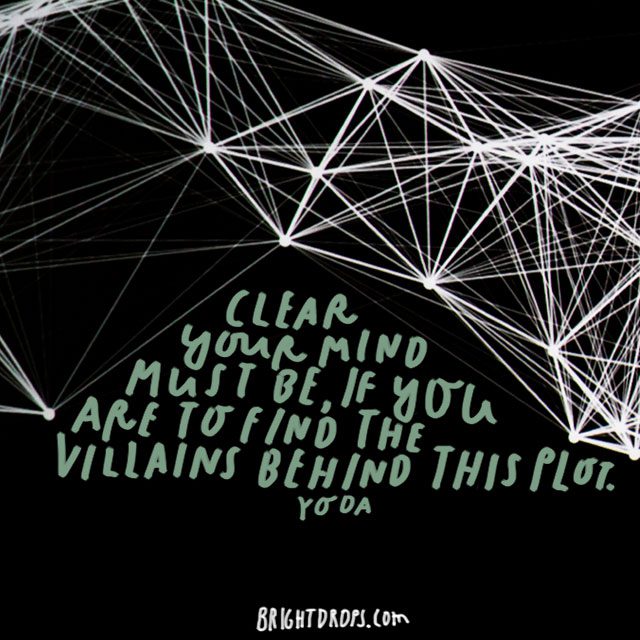 "Clear your mind must be, if you are to find the villains behind this plot." – Yoda
If you want to be successful, you have to keep a clear mind. Fortunately, we don't have to fight villains on a daily basis. Most of the time, the only villain in our plot is ourself. If you can keep a clear mind, the villains will never be a problem.
7. Counting with Yoda.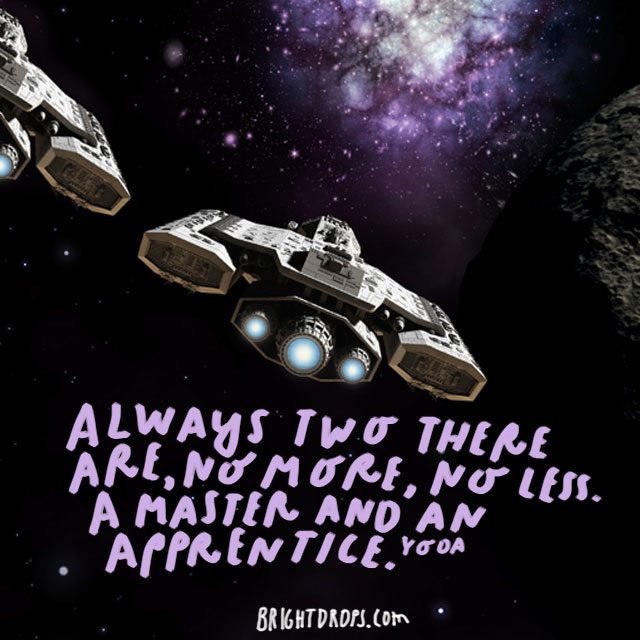 "Always two there are, no more, no less. A master and an apprentice." – Yoda
In life, you have to strive to be something. You probably have a role model whether you're 5 or 75. There is always someone that can inspire you to achieve more than you already have. Don't be afraid of setting appropriate goals; that's the only way to grow.
8. Don't Try Yoda.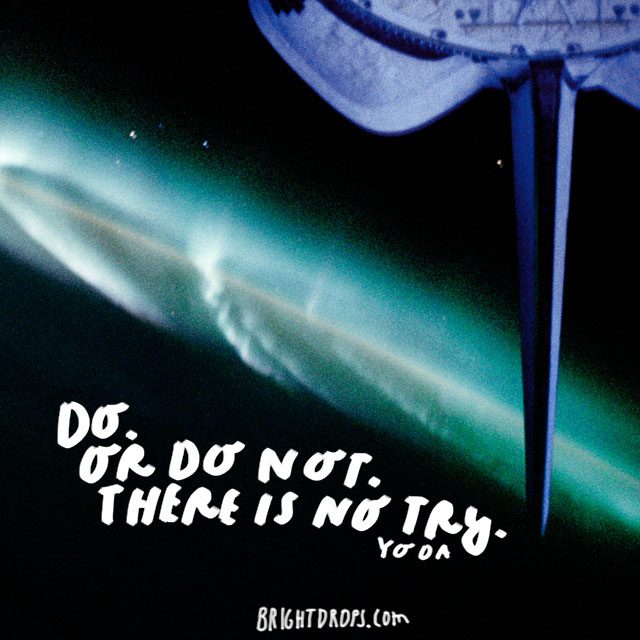 "Do. Or do not. There is no try." – Yoda
When you set your goals, you must always achieve them. You do not sit back and consider something or think about it forever. You have to go out and get what you want in life, no matter how big.
9. Yoda on Learning.
"Much to learn you still have…my old padawan. This is just the beginning!" – Yoda
There is always more to learn. Even Yoda was learning in Empire Strikes Back. He was training Luke but still growing himself. If Yoda was still learning, everyone can learn. Make yourself better every single day.
10. Yoda on Relationships.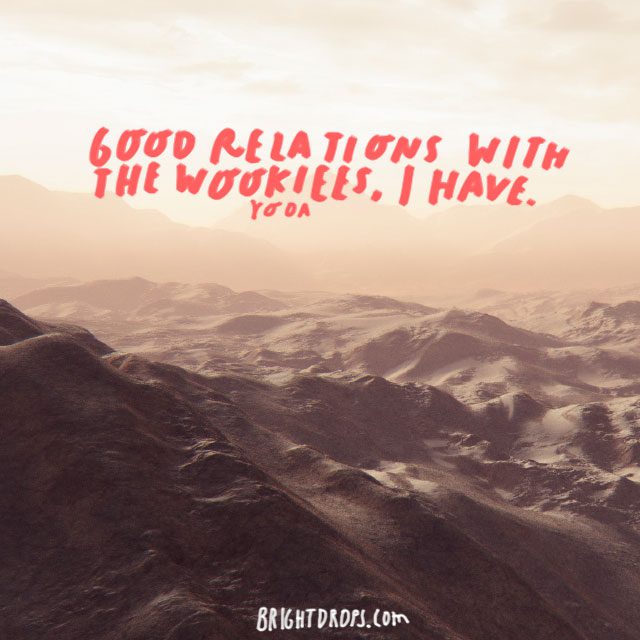 "Good relations with the Wookiees, I have." – Yoda
Whenever you can, have allies. There is no reason to cause conflict where there needs to be none. If you can manage to extend an olive branch, even if someone has wronged you, then go ahead and make peace.
11. Yoda Loves Children.
"Truly wonderful, the mind of a child is." – Yoda
The young mind is a beautiful thing and Yoda, just like Jesus, recognized that. The older you get, the more you appreciate and admire the simplicity of the child's mind. In our adult minds, we often overcomplicate things.
12. Yoda on Passing It On.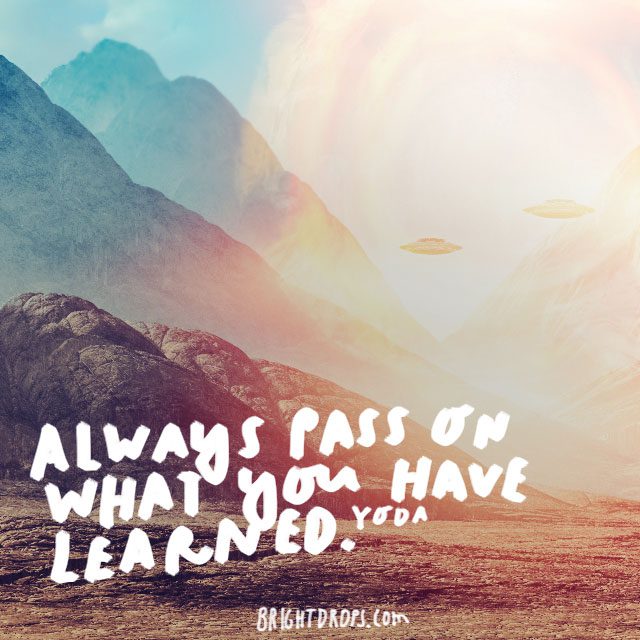 "Always pass on what you have learned." – Yoda
When you have made great progress on your journey, help someone else make progress in their journey. There is nothing better than helping someone conquer the demons in their past.
13. Yoda on the Dark Path.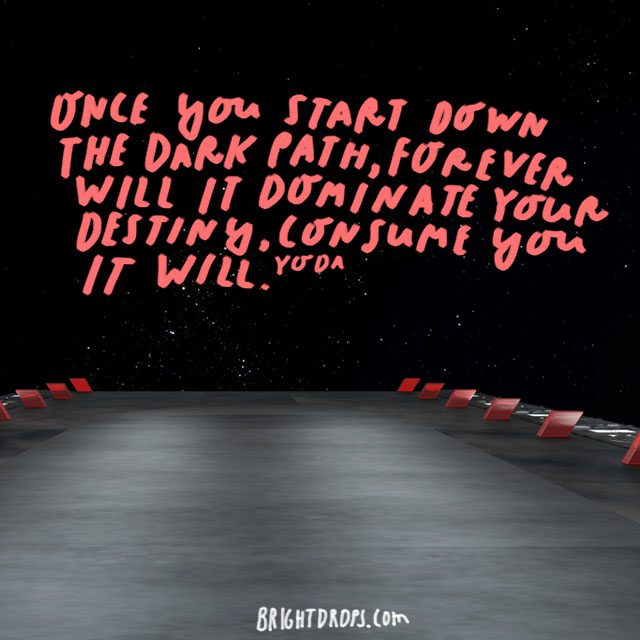 "Once you start down the dark path, forever will it dominate your destiny, consume you it will." – Yoda
It is important to be full of positive thoughts and positive ambitions. If you allow darkness the slightest foothold, you could be pulled down the path of self destruction. It is never the Dark Side that defeats us; it is ourselves.
14. Yoda on Cowards.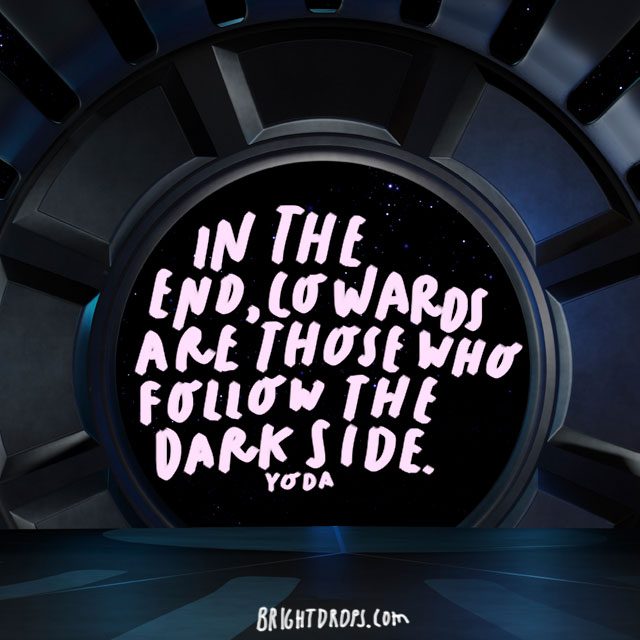 "In the end, cowards are those who follow the dark side." – Yoda
In the mysterious world of the Force, the Jedi choose love and the Syth choose fear. If you are a Syth, you are afraid, usually of failure. If you choose to be a Jedi, you follow your heart, you do what's right, and you protect life at all costs.
15. Yoda on Using What You Learn.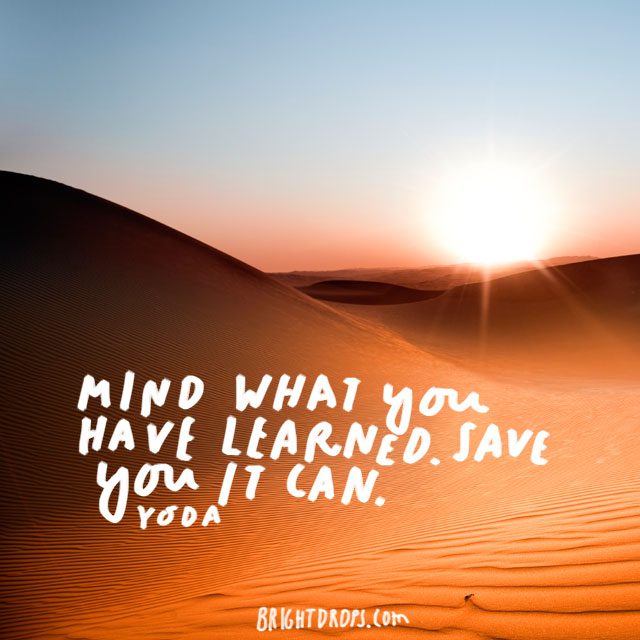 "Mind what you have learned. Save you it can." – Yoda
If you always remember the lessons life has taught you, no matter how difficult those lessons were at the time, you can save yourself from nearly anything. Keep everything you have learned in your growing toolbox.
16. Yoda on the 2nd Amendment.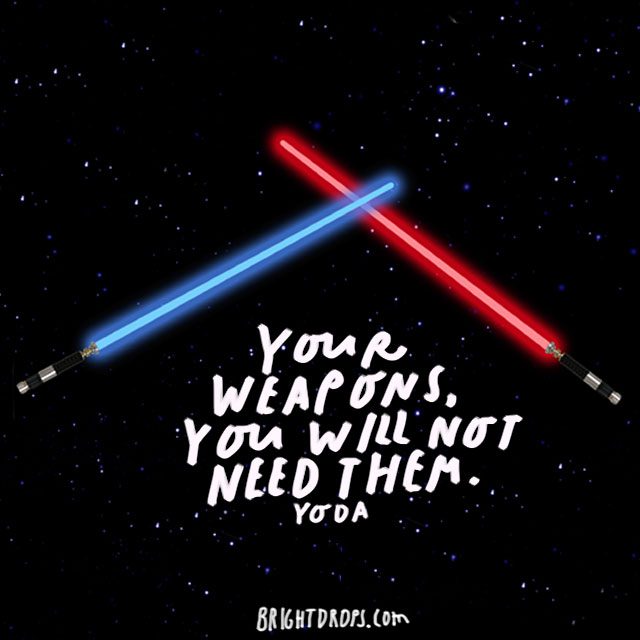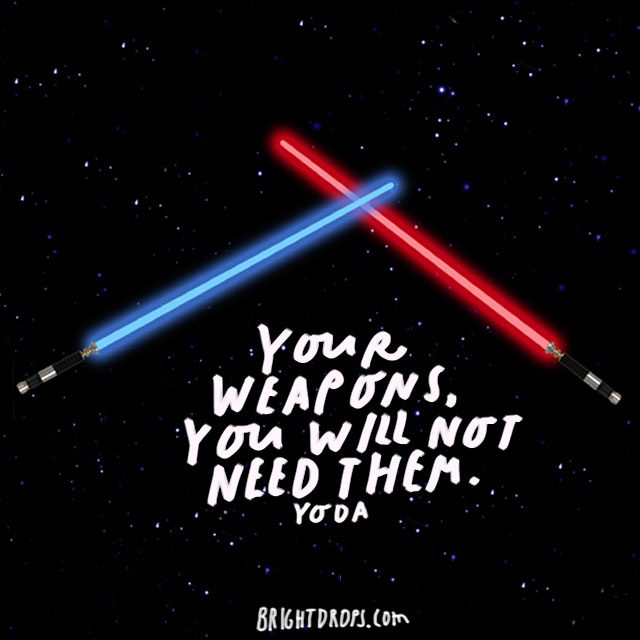 "Your weapons, you will not need them." – Yoda
When you master your lessons, you will not need to fight battles the way you did when you were young. Athletes play smarter as they age. Lawyers settle out of court as they become more experienced. Doctors prevent disease more as they get wiser.
17. Yoda on Power.
"To answer power with power, the Jedi way this is not." – Yoda
The first way we learn to fight fire is with fire. When you learn what life teaches you, you know that the best way to battle is not to fight. For a Jedi, they resort to the lightsaber only when they must. They prefer to use the Jedi Mind Trick and other methods first.
18. Yoda on Losing Yourself to Win.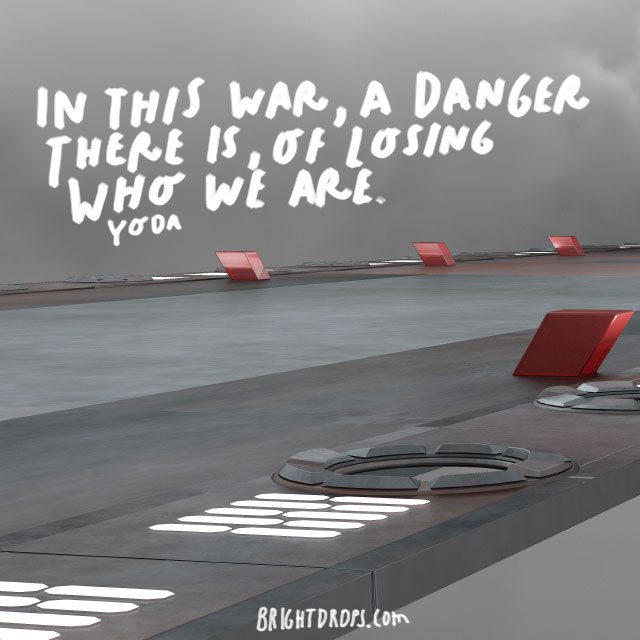 "In this war, a danger there is, of losing who we are." – Yoda
Losing who you are is the worst loss of all. When Anakin becomes Vader, it is heart breaking for every Jedi. In life, you must always remember who you are; that is the most important and valuable lesson of them all.
19. Yoda on Bringing It.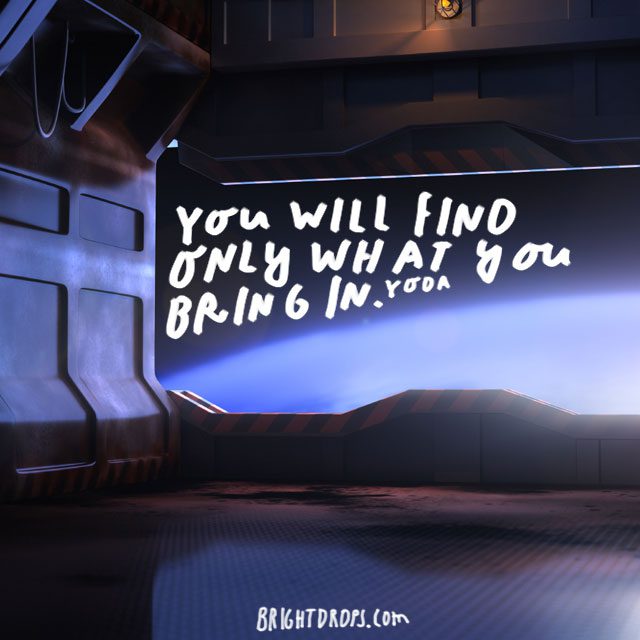 "You will find only what you bring in." – Yoda
Always keep your toolbox with you. Never allow the dark side to enter you. Remember, the Jedi fights with love and for love. The Syth fights with fear and for fear. If you conquer those fears, you can never be defeated.
20. Yoda on the Geometry of Battle.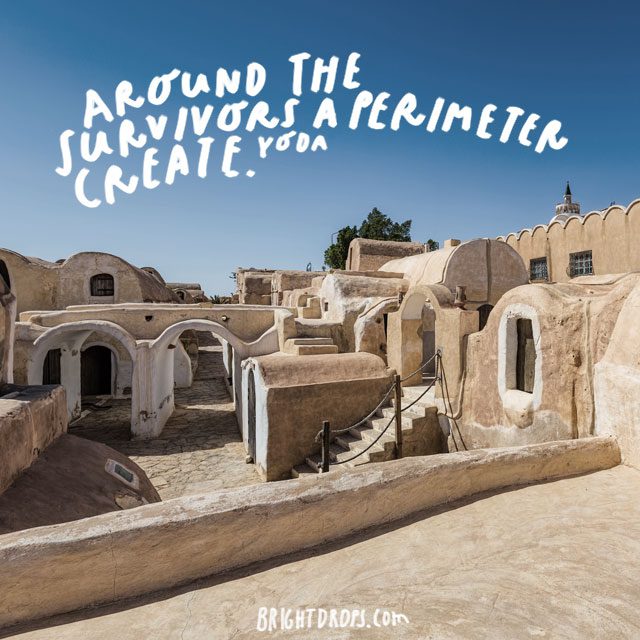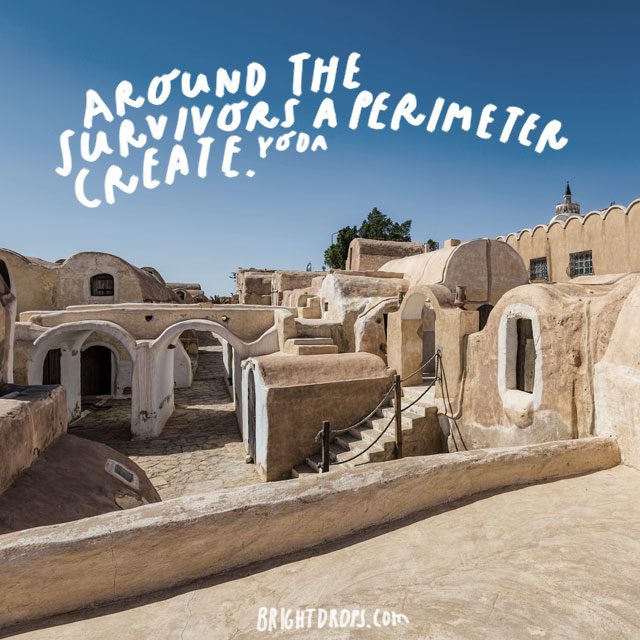 "Around the survivors a perimeter create." – Yoda
When someone is vulnerable, they need support. Whenever you can help someone by showing them the love you learned as a Jedi, you must. It's what Yoda would've wanted. It's what Yoda still wants.
21. Yoda on Attachment.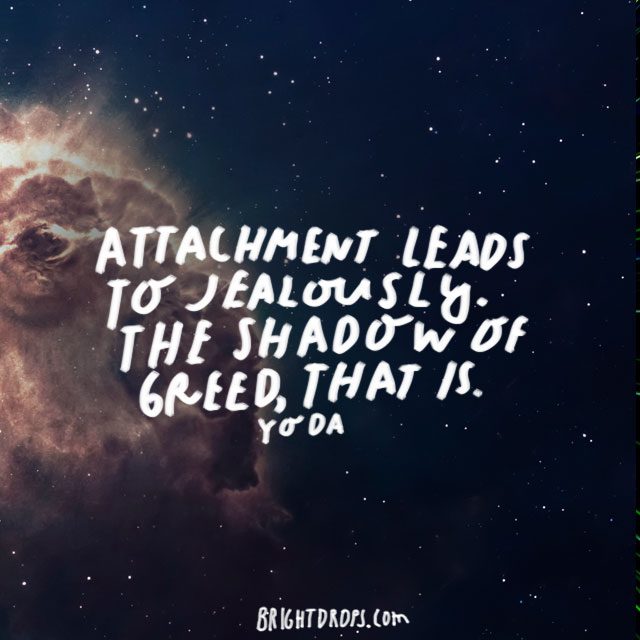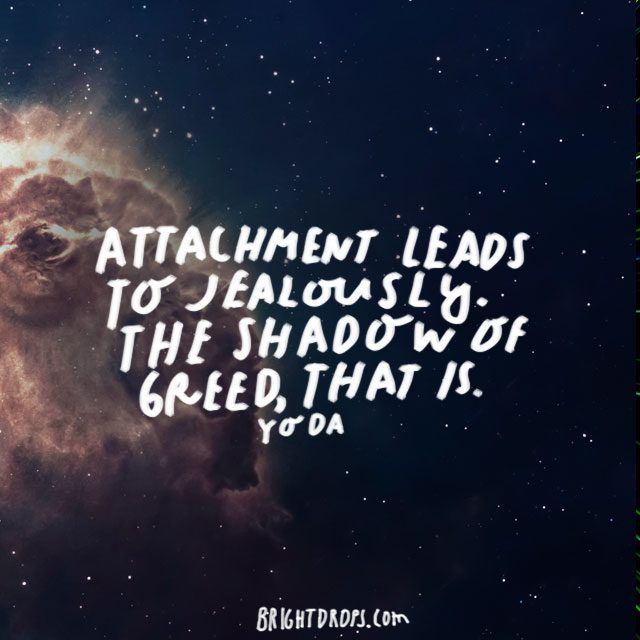 "Attachment leads to jealously. The shadow of greed, that is." – Yoda
In a world that chases Materialism, it's hard not to get attached. A Jedi knows that. What are you attached to that you really know you could do without? Try to be more selfless. Take steps today to place people over possessions.
22. Yoda on the Importance of Nutrition.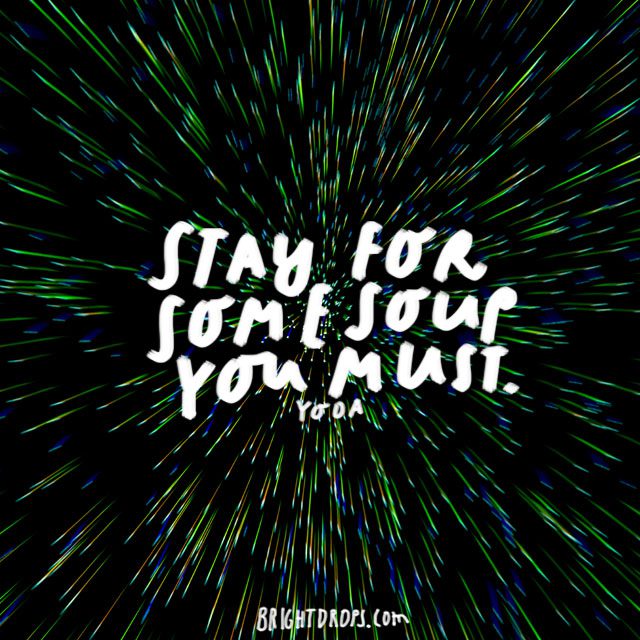 "Stay for some soup you must." – Yoda
Yoda invites an ignorant Luke in for dinner. Even when the Dark Side has the advantage, you must always remember to stop and refuel. You must not get lost in the chaos of your day to day life.
23. Yoda on Death.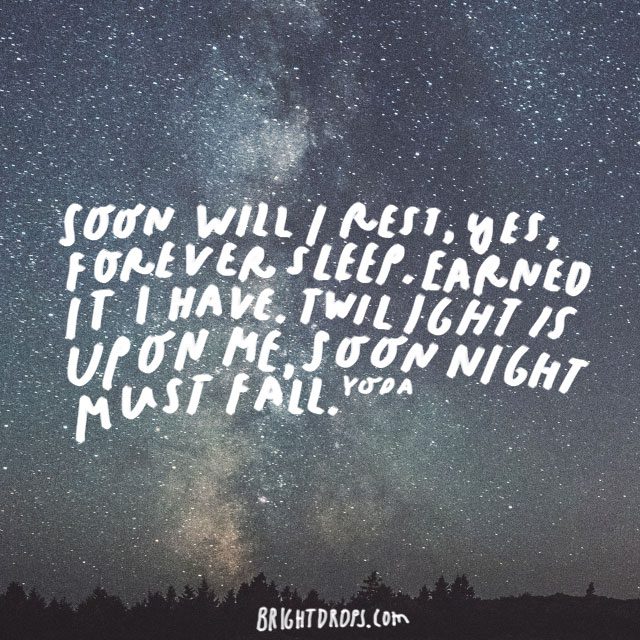 "Soon will I rest, yes, forever sleep. Earned it I have. Twilight is upon me, soon night must fall." – Yoda
Yoda viewed death as something that was earned. He did not fear death because he was a Jedi. A man that is afraid to die, is actually afraid to live. We hear it all the time, but it's also true. If you live fully, you are always ready to die.
24. Yoda Conquers All.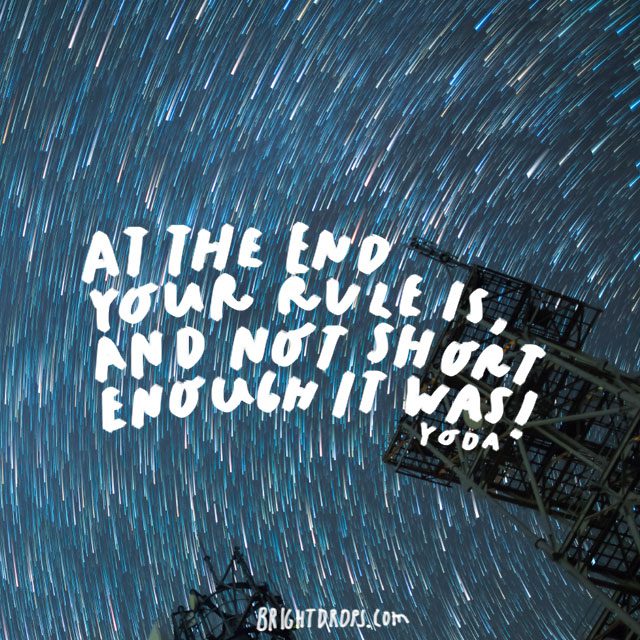 "At an end your rule is, and not short enough it was!" – Yoda
When you finally accomplish your life's work, there is no one ruling you. You can actually look at the voice in your head that pushed you too hard for too long. You can tell that little voice that you are now a Jedi Master. There's no need to doubt yourself now. May the Force be with you.
(Read this next: 17 Hilarious Forrest Gump Quotes)