The most beloved of characters, Winnie-the-Pooh, has shared the most profound but simple advice through almost four decades. These time tested quotes are heart warming and very good at giving us all some perspective. Read through these Winnie the Pooh quotes to find some of your very favorites.
If you're looking for more classics from famous children's book authors, make sure to read these dr. seuss quotes and these shel silverstein quotes.
1. A.A. Milne Says To Get Out There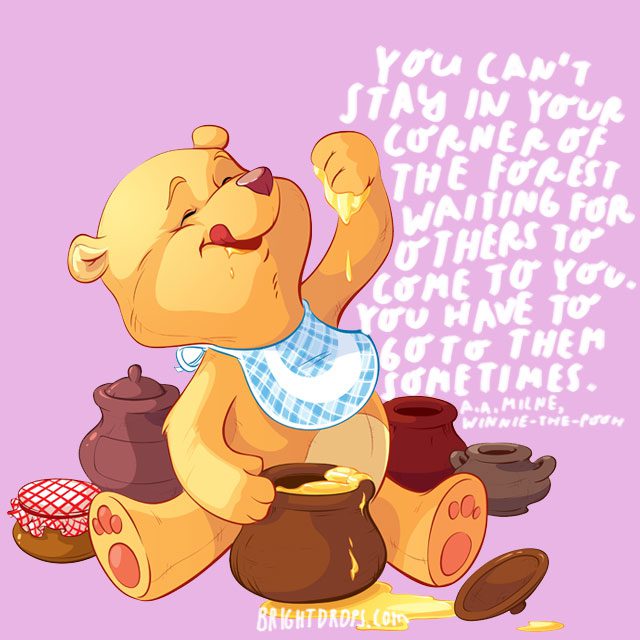 You can't stay in your corner of the Forest waiting for others to come to you. You have to go to them sometimes.
You really won't get much in life if you sit in one place. Friendships need give and take. Make sure you are getting out and going to your friends at times. This way it's fair when they come to you. You need to put yourself out there to achieve anything.
2. Winnie-the-Pooh on Why We Dream
I think we dream so we don't have to be apart for so long. If we're in each other's dreams, we can be together all the time.
Dreaming of a best friend or loved one can certainly make the night easier. If you have to be apart then dreams are the next best thing, right? Granted, only the good dreams count. If you have any bad ones, just brush them off. Keep the good ones to yourself.
Also read: 75 Best Love Quotes of All-Time
3. A.A. Milne on Being Patient with Bad Listeners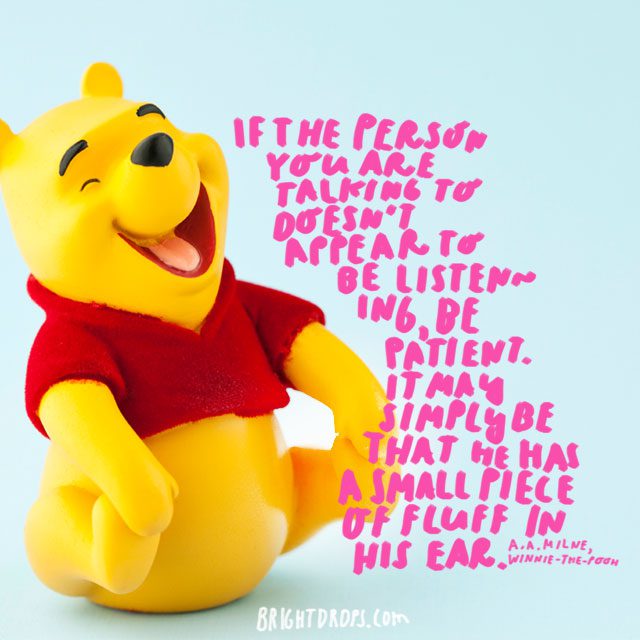 If the person you are talking to doesn't appear to be listening, be patient. It may simply be that he has a small piece of fluff in his ear.
This is some great advice. Not that many of us are walking around with actual fluff in our ears, but maybe that "fluff" is something else. It can seem rude if someone is not listening, but be patient because maybe they are distracted by something or not feeling well.
4. Winnie-the-Pooh on Not Knowing if You're Lost or Not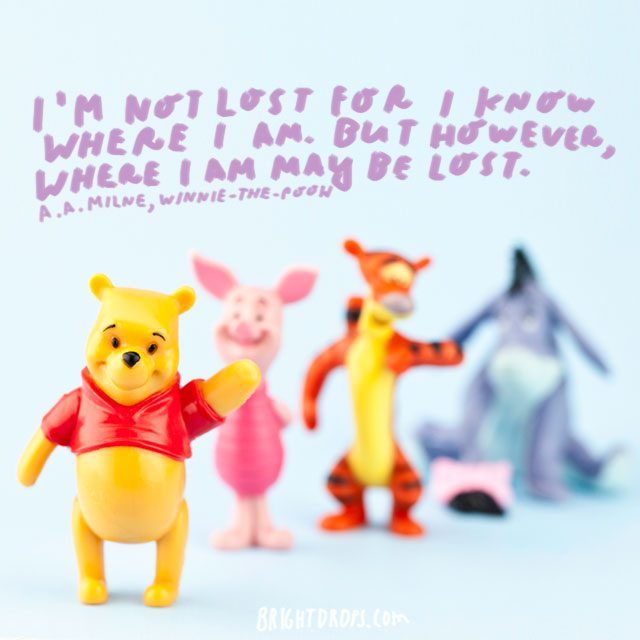 I'm not lost for I know where I am. But however, where I am may be lost.
Do you ever feel this way in your life? You know where you are, but where you are might be a little lost and confused? The good news is that if you know you are lost, that is half the battle! Finding your way out is then the next logical step. Keep moving forward.
Also read: Encouraging Quotes
5. A.A. Milne Says to Listen to Animals
Some people talk to animals. Not many listen though. That's the problem.
Sometimes people talk to animals frequently but may not actually listen to the answers they give in the way of behavior or looks. Listening to animals is not something that is done with the ears; it is done with the heart. Talk to your pet then watch for signs of response.
6. Winnie-the-Pooh on the Capacity for Gratitude
Piglet noticed that even though he had a Very Small Heart, it could hold a rather large amount of Gratitude.
It does not matter where you come from, what you have experienced, what you own, or how pretty you are, gratitude can be held by any heart, at any age. You might live a rather unassuming life but you can feel profound amounts of gratitude for your blessings and friendships.
7. A.A. Milne on Being Ready for an Adventure
When you see someone putting on his Big Boots, you can be pretty sure that an Adventure is going to happen.
Who doesn't like adventures? When you see someone prepping themselves by putting on certain kinds of shoes, you can pretty much guess that there is some kind of shenanigan that will take place. Don't just stand here, join in!
8. Winnie-the-Pooh on the Importance of Thinking
Think, think, think.
It doesn't get any simpler than that! How many times do you act or react before you think? How many times do you eat that extra slice of pizza without thinking of how you'll feel later? In your job, your home, and your social life, it behooves you to think, think, and think first.
9. A.A. Milne on the Virtue of Exercise
A bear, however hard he tries, grows tubby without exercise.
This statement stands true for humans too. You could probably eat very little and lose weight without exercise, but that is not healthy or ideal. So if you do everything but exercise you still may grow a bit tubby. Start that new diet or exercise routine today. With a thumbs up from your doctor of course.
Get motivated: Motivational Workout Quotes
10. Winnie-the-Pooh on the Magic of Balloons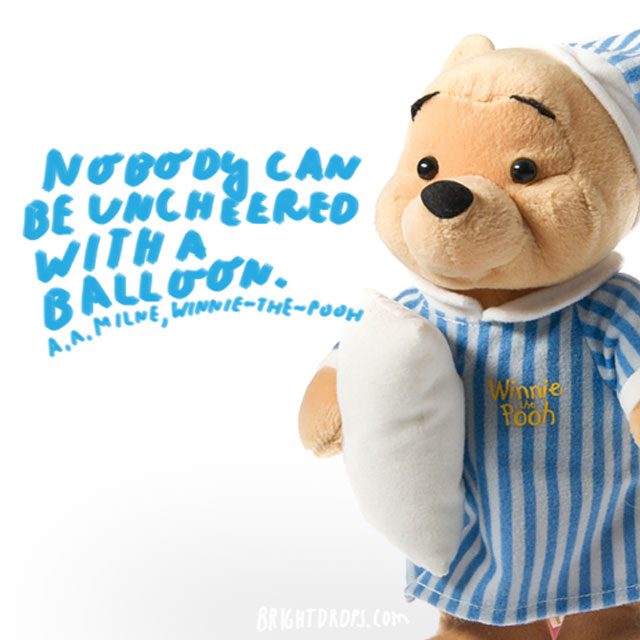 Nobody can be uncheered with a balloon.
It's true. Try playing with a balloon, or having one in your home and see if it doesn't cheer you just a little. It won't make you unhappy, that's for sure. Pooh got it right with this one. Balloons might seem just for children but adults can enjoy them too!
11. A.A. Milne on the Unpredictability of Bees
You never can tell with bees.
Bees do their thing, flying around, visiting flowers and collecting nectar. You can never really tell what a bee is going to do next or how it feels. And for heaven's sake, you can never tell when they are about to sting you! Since that is the case, it is just good to steer clear of them altogether.
12. Winnie-the-Pooh on the Joy of Two
It's so much more friendly with two.
Many things are friendlier with two people. It is always nice to have lunch or coffee with a friend. Even shopping is nicer when there is someone to visit with in the process. Next time you are going out to do something and don't want to be alone, ask a friend!
13. A.A. Milne Describes Tigger as Larger Than Life
Whatever his weight in pounds and ounces, he always seems bigger because of his bounces.
Pooh is talking about Tigger here, but this can apply to anyone in your life that has lots of energy. Some of the smallest people have the most enormous presence. When they are "bouncing" around like that, it doesn't matter their physical size, they just seem bigger when they are "bouncing."
14. Winnie-the-Pooh on Making a Difference
A little Consideration, a little Thought for Others, makes all the difference
You can make a big difference in the life of someone you know just by being considerate and giving an extra bit of thought about them. It doesn't take much to make someone feel valued, validated and appreciated. Pick someone in your life and share some of your consideration with them.
15. A.A. Milne Provides One of the Most Touching Quotes
If you live to be 100, I hope I live to be 100 minus 1 day, so I never have to live without you.
When you truly love someone, you can't ever imagine being without them. If you've lost someone then you know how painful it can be. Wouldn't it be nice if we could leave this Earth before anyone else we love? Though the flip side is that they would be heartbroken being left without us.
16. Winnie-the-Pooh Shares a Touching Thought
Promise me you'll never forget me because if I thought you would I'd never leave.
Pooh doesn't want Christopher Robin to ever forget him. You might feel that way about someone else. Even if you are apart from someone you care about, chances are they won't forget you, and never leaving their side might make you a stalker.
17. A.A. Milne on Not Rushing Things Along
Rivers know this: there is no hurry. We shall get there some day.
Some of the best advice you can follow is that you just wait and be patient. Follow the example of rivers; they get to where they need to go all in good time. There are times to hurry, it's true, but for most of life, a bit of patience brings a lot of peace.
18. Winnie-the-Pooh on the Virtue of Doing Nothing
People say nothing is impossible, but I do nothing every day.
This cute quote should at least make you chuckle. Doing nothing is entirely possible. Sometimes you just need to do nothing. After a long hard day, when the world is cruel, or when you don't feel well, doing nothing is the best thing to do.
19. A.A. Milne on How Much Room You Have in Your Heart
Sometimes the smallest things take up the most room in your heart.
Tis true. The littlest of gestures can fill your heart with gratitude and joy. Even little pets can take up the most room in your heart. Love and happiness in life comes more from the little things. The big things are nice, but the little things make each and every day even more special.
20. Winnie-the-Pooh on Remembering to Start Thinking
Did you ever stop to think and forget to start again?
Sometimes it is easy to sit down to think and then just not think at all. Daydreaming is a great way to forget thinking. At times thinking is hard, and draining. Maybe you just need a rest from thinking, eh? The lack of brainpower would indicate so.
21. A.A. Milne on the Virtue of Friends
A day without a friend is like a pot without a single drop of honey left inside.
We know how much Pooh loves honey. He must really think a day without a friend is quite bad. He has a point though, if you can chat with or spend time with a friend for just a few minutes every day, it might possibly make each and every day a bit better.
22. Winnie-the-Pooh Ponders the Nature of Accidents
They'er funny things, accidents. You never have them till you're having them.
You might go about your day without having any accidents, or you might not even consider that you will have one. But the minute you are having an accident, you realize how lucky you are to have not had any, until you did.
23. Winnie-the-Pooh Provides Some Positive Encouragement
You are braver than you believe, stronger than you seem, and smarter than you think.
You really are. You might not feel brave, strong, or smart, but your capacity for getting through each day is 100% so far. When push comes to shove, your bravery, strength and smarts really come out to play. Believe that you are greater than you might think right now.
24. A.A. Milne Gives Some Great Advice on Watching Where You're Going
Always watch where you are going. Otherwise, you may step on a piece of the forest that was left out by mistake.
Since we aren't in a book, this doesn't really apply in a literal sense. However, if you aren't watching where you are going in life, you might end up finding yourself somewhere you really don't want to be. Be present, stay in the now, and pay attention!
25. Winnie-the-Pooh Waxes Poetic on Love
Love is taking a few steps backward maybe even more… to give way to the happiness of the person you love.
Sometimes you need to put aside your desires, or to step aside for the one you love so that they can have some happiness. Compromising and making sacrifices sometimes is a normal part of being in a healthy relationship. It's ok to let someone else shine for awhile.
26. Winnie-the-Pooh Drops a Great Line
A day spent with you is my favorite day. So today is my new favorite day.
When you really enjoy the company of person, it can make even a crappy day seem great. Let those you love know that spending time with them is your favorite thing to do. You could even use this quote with a child and they would probably be quite tickled.
27. A.A. Milne Shows How to Start the Day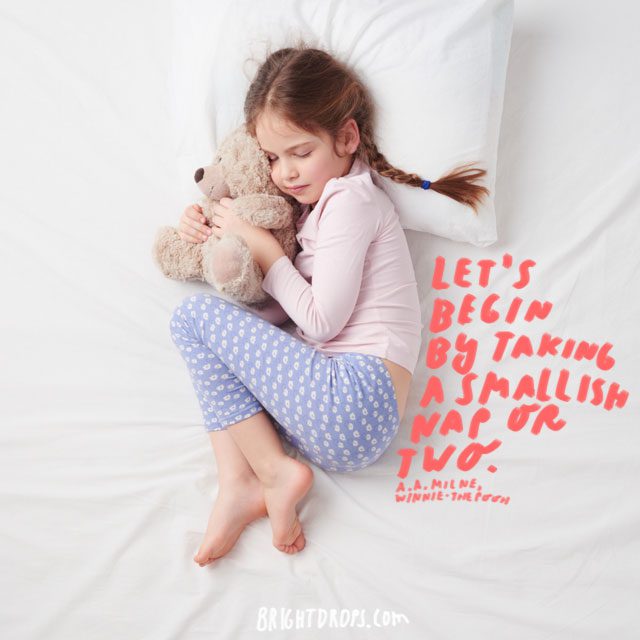 Let's Begin by taking a smallish nap or two
Sometimes the best way to start any project is to take a nap in preparation. This makes perfect sense. Take a nap to refresh and renew yourself, then you can perform your tasks so much better. Maybe Pooh should petition the government for nationwide siestas during the workweek.
28. Winnie-the-Pooh with Some Practical Modern Day Advice
Weeds are flowers, too, once you get to know them.
This can be applied to the people you meet every day. At first glance you might think that someone is not worth your time, but once you get to know them, you might discover that they are indeed a flower. Take time to get to know the people you might not necessarily like; you could be surprised.
29. A.A. Milne on That Feeling of Adventure
I knew when I met you an adventure was going to happen.
Some people are like that. Some people just stand up, stand out, and inspire others just by being themselves. If you know someone that you are in the middle of an adventure with, hug them and say thank you. Life would be incredibly boring without adventure seekers.
30. Winnie-the-Pooh on What Makes You You
The things that make me different are the things that make me.
Your weirdness, your quirkiness, your nerdiness are the very things that make you who you are! You were born to stand out, so why hide the parts of you that you think aren't acceptable? Life is a much better experience when you embrace the things that make you "different."
31. Winnie-the-Pooh on Staying Together Forever
If there ever comes a day when we can't be together keep me in your heart, I'll stay there forever
If someone you love moves away, or even passes away, you can keep them close to you in your heart. Thinking of someone and loving them no matter what will allow you to feel their presence in your life. Just because what you are used to ends, doesn't mean that love has to.
32. A.A. Milne on the Power of Not Bothering
Don't underestimate the value of Doing Nothing, of just going along, listening to all the things you can't hear, and not bothering.
Doing nothing is the best way to relieve stress. Practice doing nothing but just going along with your environment as needed, listen to what is not said, watch the behavior of others and mind your own business. This practice of awareness is quite valuable. Even a stuffed bear knows that.
33. Winnie-the-Pooh Shows How to Make it Through a Rough Morning
When late morning rolls around and you're feeling a bit out of sorts, don't worry; you're probably just a little eleven o'clockish.
Yes, eleven o'clockish can be a strange place to be. Sometimes you wake up and just can't seem to function in your day, or think straight. Perhaps you just need more sleep. Either way, if you have a bit of lunch and wait things out, you might be back into sorts again soon enough.
34. Winnie-the-Pooh on Caring Too Much
Some people care too much. I think it's called love.
You might be someone like this, or you might know someone. The first people that come to mind are mothers and fathers. Sometimes it seems they care too much about what you are doing doesn't it? When someone meddles or suffocates you, consider that maybe they love you a lot and don't know any other way to show it.
35. A.A. Milne with a Fun Quote About Finding Someone
I was walking along looking for somebody, and then suddenly I wasn't anymore.
You can be searching for something until all of a sudden, you are no longer searching. Hopefully it is because you found what you are looking for, or perhaps you no longer need what you are looking for. Either way, searching for someone or something will eventually lead to no more searching.
36. A.A. Milne on the Passing of Birthdays
But, after all, what are birthdays? Here to-day and gone to-morrow.
If you don't like your birthdays, then take this quote to heart. They come and go rather quickly, so really, what are they? You can celebrate your life the other 364 days per year as well. One day does not need to hold so much meaning, unless you want it to.
37. Winnie-the-Pooh with Some Down to Earth Advice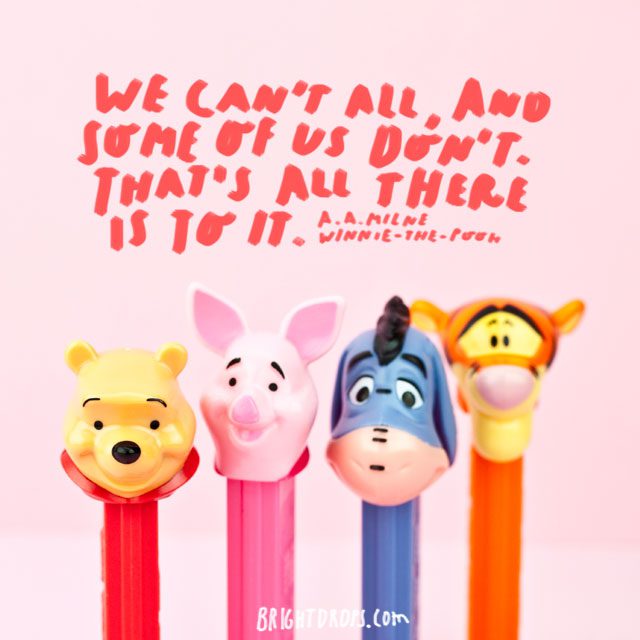 We can't all, and some of us don't. That's all there is to it.
Not all of us can be the same things. Some of us choose to not be much of anything. The lesson here lies in the fact that we all have a choice to do or be something, or not. We can accept the choices of others as well. That's all there is to it.
(You may also like: 30 Happy Positive Quotes and Messages)