These synergy and teamwork quotes are filled with great advice and comparisons. They will range from teamwork compared to an avalanche to a quote by the greatest basketball player to have ever lived. If you are looking for inspiration to start a team, look no further.
1. Helen Keller Believes We are Greater Together
"Alone we can do so little; together we can do so much." – Helen Keller
Alone, we are only as powerful as we try to be. Together, the power that we possess is multiplied and radiated throughout the entire group. We can only do so much as an individual, but together, we can accomplish feats we did not even know were possible.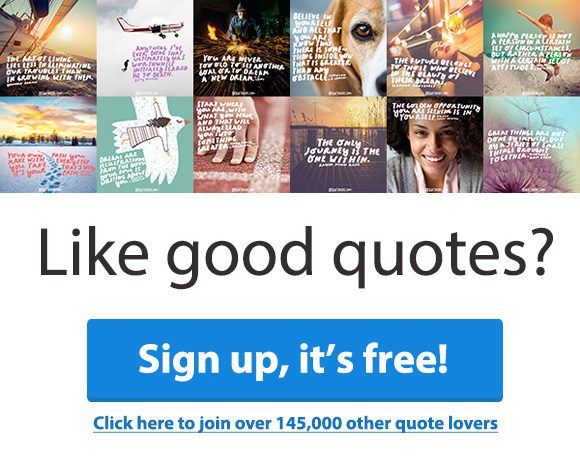 2. Michael Jordan Believes Teamwork Prevails
"Talent wins games, but teamwork and intelligence wins championships." – Michael Jordan
Talent from key players can win games, but the talent of the overall team and the knowledge from the coaching staff wins championships. Sports is the icon for teamwork. Nobody can do it themselves, you need a whole team to come together and work to win.
3. Phil Jackson Express the Knowledge he has Learned
"The strength of the team is each individual member. The strength of each member is the team." – Phil Jackson
The team is only as good as the players, and the players are only as good as the team. If the players are all talented but the team does not work together, they will not have success. Great teams are formed through players loaded with talent working with each other to get the best results.
4. C.B. Cook Relates Teams to Food
"On our own, we are marshmallows and dried spaghetti, but together we can become something bigger." – C.B. Cook
By ourselves, we are nothing special. We all have weaknesses and strengths. When we put our strengths together with the strengths of other people, we became a great team. The purpose of a team is to complement each other. Everyone has different strengths and weaknesses so find people who complement you.
5. Chris Bradford Believes Teamwork Makes us Stronger
"Only by binding together as a single force will we remain strong and unconquerable." – Chris Bradford
Only when we decide to stop trying to do everything on our own is when we succeed. Realizing that you cannot do something by yourself is hard to swallow for some people, but the faster we do it the faster we will get to where we want to be.
6. Patrick Lencioni Believes Great Teams Push
"Great teams do not hold back with one another." – Patrick Lencioni
Teams that succeed are filled with people who push each other. Great teams are filled with determined individuals who push everybody around them to the highest of their ability. Being with success and talented people makes you rise to their level and beyond.
7. Lorii Myers Gets to the Point
"We = power." – Lorii Myers
There is no stronger force in the world than a group of people with a common goal. By ourselves we are not able to accomplish much, but as a group there is no limit to what we can achieve. Never underestimate the power of a team.
8. Paul Bryant Believes in his Team
"If anything goes bad, I did it. If anything goes semi-good, we did it." – Paul Bryant
If anything good happens, it is probably because a team did it. When we try to do something on our own that we cannot handle, it usually goes wrong and we need other people to help put it back together. A team is always stronger and more efficient than a single person.
9. Chris Hill Believes Selfishness Leads to Defeat
"The second you make it all about you, is the second you've already lost." – Chris Hill
When you make a game or a project all about you, then you have already lost. You are part of something bigger and more important than your individual accolades. The team is more important and the process of learning together and completing a common goal is more important than your bragging rights.
10. Dick Winters Believes Training is Key
"There is no need to tell someone how to do his job if you have properly trained your team." – Dick Winters
There is no need to explain to people how to do something if it was part of the training. Sometimes we have to re-think the way we do things to make sure it is coming across correctly to the people we train. If your training is proper and informative, you should rarely have to explain something.
11. R.J. Torbert Knows a Good Game Requires Good Players
"To play a good game, you need a few players." – R.J. Torbert
To play a good game in any sport or even in anything aspect of life, you need good players. Good players complement and help each other out. Very few things in life can be done by one person. Everybody has different opinions that need to be shared and ideas that need to be discussed.
12. Nazim Ambalath has the Blueprint for Growth
"Teamwork builds trust and the trust build growth." – Nazim Ambalath
Trust is built through consistent help and never letting someone down. Trust builds growth of a relationship and teamwork. Teamwork starts with the trust that everyone is going to do their part. From there, the team grows and expands their thinking to bigger and better goals.
13. Matshona Dhliwayo Makes a Great Comparison
"A united army of sheep can defeat a divided army of wolves." – Matshona Dhliwayo
By themselves, a wolf would most definitely defeat a sheep. However, a team of united sheep versus a team of divided wolves, the sheep will win every time. No matter the talent of one group of people, if they do not work together, they will never be able to beat a team that does.
14. Rasheed Ogunlaru Knows Nobody is Successful Without a Team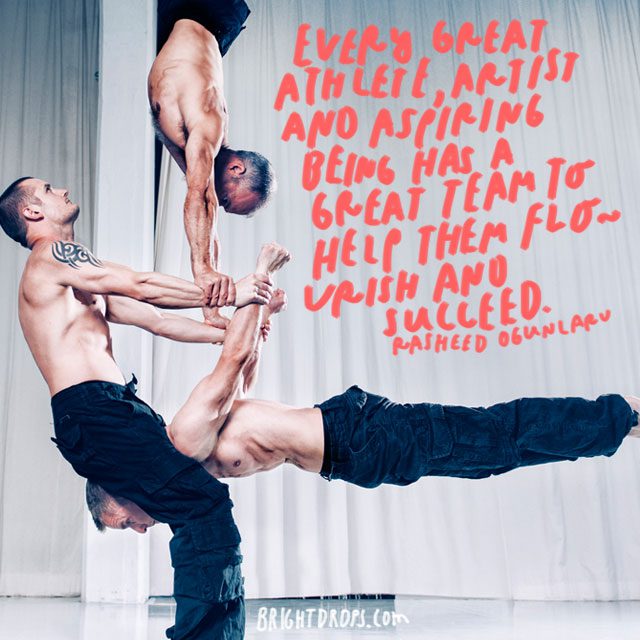 "Every great athlete, artist and aspiring being has a great team to help them flourish and succeed." – Rasheed Ogunlaru
Every great athlete that has won championships did with a great team by their side. Any artist who has become world famous did it with a team to promote and help them. Anybody who has accomplished their goals in life did it with help from someone every step of the way.
15. Lailah Akita Details What a Team Needs
"The individual great spirit and great efforts create a great team." – Lailah Akita
A team is made up of members. What make the team great is the attitude and the drive of each member. A team is only as good as the effort and the spirit of its members. A team is always better than an individual, but the team still has to have the right members to flourish.
16. Aniekee Ezekiel Breaks Down the Team Mathematically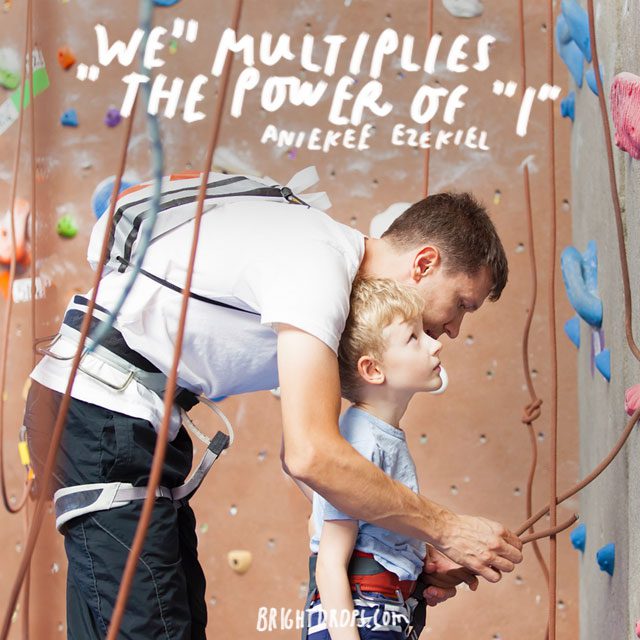 ""We" multiplies the power of "I" – Aniekee Ezekiel
Everything you do, you start with yourself as "I". When you gather more people to your team, you become "We". We is a force to be reckoned with and is much stronger than I. A group of we will have a much higher success rate than a single I every time.
17. Erin Hunter Believes Greatness Takes More than One
"The most heroic actions take more than one cat." – Erin Hunter
The most successful people and the biggest endeavors in human history have all been accomplished by more than one person. Everything from landing on the moon to throwing a no-hitter was not done without the surrounding people to help.
18. Aayush Jain Details What Start-ups Need
"Every successful start-up is built on four pillars. Team, Idea, Passion & Presentations." – Aayush Jain
There are many start-ups that never reach their full potential because they don't focus on what matters. Team, ideas, passion and presentation are the keys to success for anybody starting anything. Teamwork is number one. Working and staying true to your team is the foundation of anything in business.
19. Anuj Somany Knows We Start Alone
"All are one unless and until they are asked to work together." – Anuj Somany
Everybody is by themselves until someone asks them to work with them. We work on our own until we find a way to invite other people to work with us, or until somebody asks us to work with them. We are all just people working by ourselves until we find the people who we want to work with.
20. Bluenscottish Understands Leadership
"True leaders do the right thing when the team's success is at stake." – Bluenscottish
When winning or losing is at stake, true leaders know what to do to rally their team and come out on top. They do not panic or lose their focus, they bear down and simplify things to make winning as easy as possible. Bluenscottish is right on about leaders.
21. Aniekee Ezekiel Does Not Associate with Un-skeptical People
"Never follow anybody who hasn't asked "why" – Aniekee Ezekiel
Never follow people who take everything they hear as a certainty. People need to be skeptical about claims with no information to back them up. Never trust everything that someone says because you don't know their motives and they might just be trying to take advantage of you.
22. Saji Ijiyemi With a Play on Words
"You are either supporting the vision or supporting division." – Saji Ijiyemi
As a team member, it is your job to support and reinforce the objective. You are either supporting everybody else supporting the separation of the team. If you are negative and don't agree with the vision and make that clear, you are bringing the team apart and only making things worse. Give your opinion, but don't preach separation.
23. Jane Ripley Explains a Leader's Job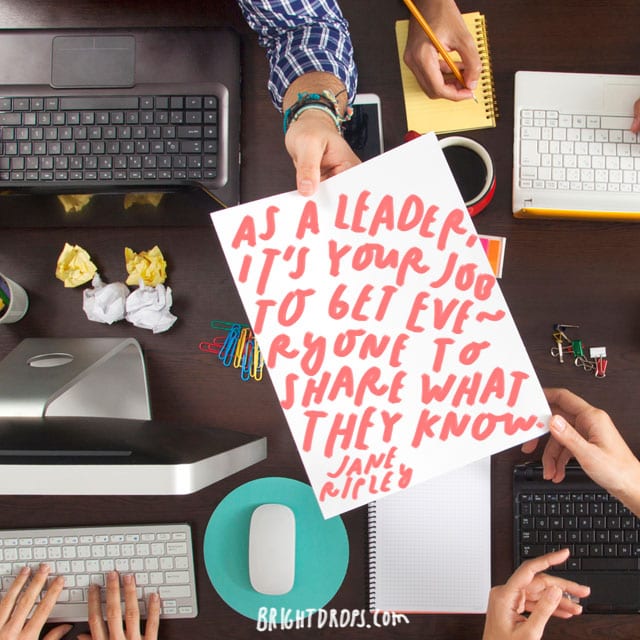 "As a leader, it's your job to get everyone to share what they know." – Jane Ripley
As a leader, it is your job to be professionally mature and make sure your team hears everyone's opinion. All team members are valuable and every opinion is valuable to the success of the team. Make sure to treat everyone as an equal or people will begin to think you have favorite members.
24. Eunice Carew Understands the Benefit of Hearing From Everyone
"The natural result of utilizing different perspectives is that people are more engaged." – Eunice Carew
When people feel that their opinion and ideas are heard, they are more likely to be engaged. Even if you do not believe the idea is good, listen and give feedback. When people are taken seriously and professionally, they are more open to give ideas and the more ideas they give the better chance that they give a good one.
25. Michele Jennae Knows Communication Leads to Success
"If we don't communicate, we certainly can't get much done." – Michele Jennae
If we work in a team but we are all working on our projects with talking about the overall goal, then we are basically working as individuals. Communication is key to working as a team and having success. If we don't communicate, we will never hear the opinions and ideas from the other members of the team.
26. Israelmore Ayivor Values Teamwork
"Teamwork is the best ever investment." – Israelmore Ayivor
When starting a project or thinking of investing in a monetary sense. look at the people you are dealing with. If it is a team that works great together and has great ideas, then you have a better chance of getting a return on your investment. a good team is the best investment
27. Rasheed Ogunlaru Goes Straight to the Point
"Build your team and grow." – Rasheed Ogunlaru
Rasheed gives the best and simplest advice you can get, build your team and make it grow. Start with the group of people you feel best about and then get to work. Do everything in your power to communicate and make everyone feel comfortable and then get going.
28. Idowu Koyenikan Describes How Powerful a Team can Be
"There is immense power when a group of people with similar interests gets together." – Idowu Koyenikan
There is nothing quite like a group of driven, similar-minded individuals. When you find the people that think like you and want the same things as you, do not let them go. These are the build you will become successful with because they have the same interests and the same drive to succeed.
29. Unknown With a Great Quote on a Group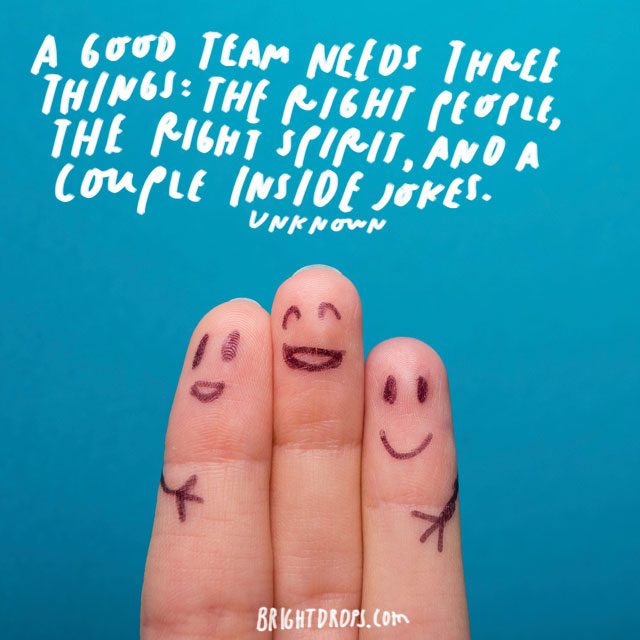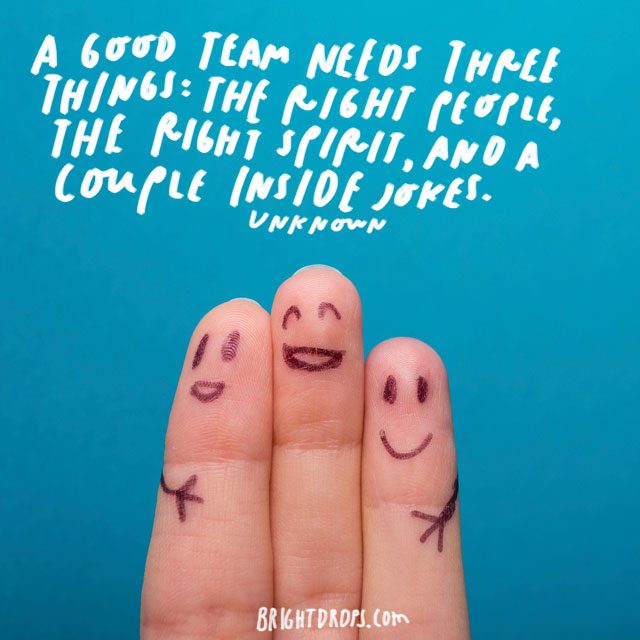 "A good team needs three things: the right people, the right spirit, and a couple inside jokes." – Unknown
This is a great quote that is exactly what a team needs. The right people because the people need to be the perfect fit to succeed, the right spirit because if everyone wants different things and has different attitudes you will never succeed, and a couple inside jokes to keep things light and remind everyone that you are only humans building toward something amazing.
30. Cheryl Bachelder Understands an Integral Part of Leadership
"It is about bringing out the ambitions of your team." – Cheryl Bachelder
One of the many jobs of a leader is to get the best out of your team members. Every member is different and responds to criticism or praise differently. Some members may respond positively to constructive criticism, others may respond well to positive reinforcement. It is your job as a leader to understand these and grow your emotional intelligence with your team.
31. Matshona Dhliayor Relates Teamwork to a War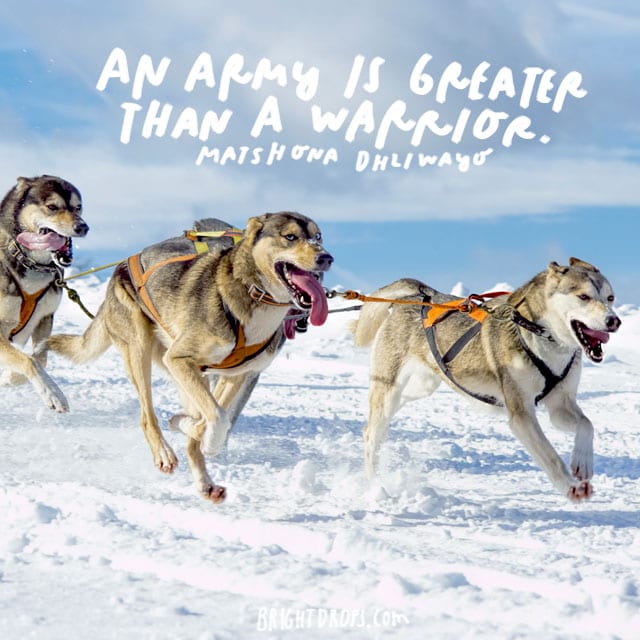 "An army is greater than a warrior." – Matshona Dhliayor
No matter what your thoughts on war are, you cannot win a war with one warrior. this can be the same for any competition. You need multiple individuals to fight to have a chance at winning, just like you need multiple individuals on your team to reach a goal.
32. Sunday Ahelaja Knows a Team is Only as Good as its Leader
"A team is a reflection of its leader." – Sunday Ahelaja
Every team has a leader, the person who calls the shots and who the members look to for guidance. The team is only as good as the leader because the leader gives direction and raises the level of performance of the team. A team without a good leader can never succeed.
33. Lailah Akita Believes Working As a Team Means Something
"Working together for a great mission is very fulfilling." – Lailah Akita
Working as a team means more than just being able to get more done at a time. Working with other people gives you people to celebrate accomplishments with. It is more fulfilling to have completed what you set out to do along with helping other people complete what they wanted to do.
34. Jay Woodman Just Wants his Team to be Happy
"I want to be part of the happiness team – let's create the happiness team." – Jay Woodman
If the happiness exists, then Jay Woodman wants to be a part of that team. Being a part of a team should be enjoyable, even in stressful times. The happiness team can be a place where anyone can join to pick their spirits up and be reminded what is truly important in life.
35. Lailah Akita Describes Teamwork in Three Words
"Teamwork, amazing outcome." – Lailah Akita
Working with a team instead of yourself, leads to amazing outcomes. Teamwork gets the job done faster and more efficiently than any single person. Team is a constant concept of success. Why do alone what you can do with a team even better?
36. Matshona Dhliwayo Describes Teams in Terms of Running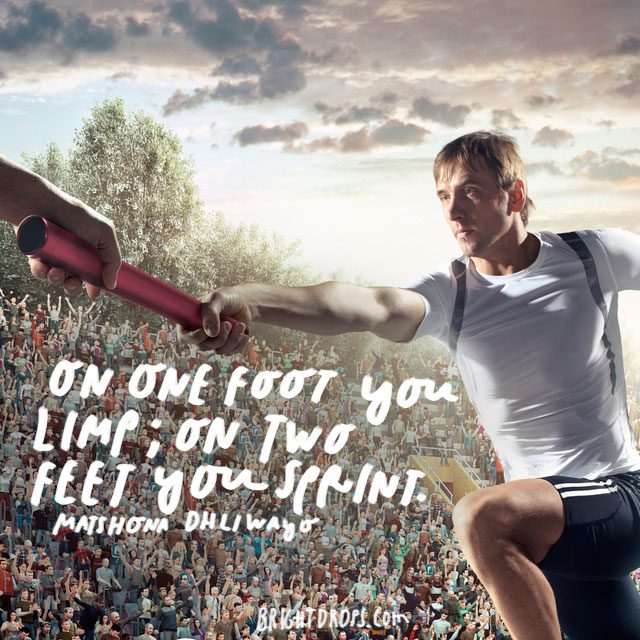 "On one foot you limp; on two feet you sprint." – Matshona Dhliwayo
Working by yourself can be compared to running on one food, limping and not going very fast. Working as a team can be compared to running with two feet. You sprint and are able to gas as fast as possible. Of the two options, the latter is usually the best choice.
37. Phil Mitchell Relates Classes in School to Teams
Image
"On one foot you limp; on two feet you sprint." – Phil Mitchell
Learn to work with your classmates and understand how they learn and how you can help them learn. Learning to help other people is a valuable skill that some people learn too late. People will always want to be around people that are helpful and that understand them.
38. Sunday Ahelaja Believes it Starts with Leaders
"To build a strong team we need to become strong leaders first." – Sunday Ahelaja
To make a team the best it can be, it starts with the leaders. The leaders bring the best out of their teams and without good leadership the team will not reach its full potential. A team should realistically be filled with strong leaders to propel them through tough times.
39. Sunday Ahelaja Believes Man Needs a Team to Make God Proud
"A man needs a team in order to reach God's goal." – Sunday Ahelaja
In order to reach the highest honor in God's mind, we must all have a team. Living life with a team by our side is in Gods plans. Sunday Ahelaja is a religious person and even if you are not, it is necessary to understand that every person should have a team.
40. Lailah Akita Believes a Team can Accomplish Anything
"Great team can accomplish great works." – Lailah Akita
Any great human work has been completed with the help of other people. A great team can accomplish great things. Lailah Akita is an advocate of teamwork whenever you get the chance. Any goal is completed faster and better with a team helping along the way.
41. Alcurtis Turner Advises You to Never Quit
"Never quit or give up on your teammates because they will give up and quit on you." – Alcurtis Turner
Never, ever give up on your teammates. As a leader or another team member, this is the worst action you can take with your team. It will make them believe that you are not fully invested in the goal and the next time things get tough, they will not have confidence in you.
42. Lailah Akita Lays the Foundation for Results
"Good team and network promotes amazing results." – Lailah Akita
Having a good team and a good network is the key to results. With the right people by your side and the right people to reach out to for help, anything is possible. As much as networking is talked about, it is still underrated. Networking to similar-minded people is extremely important for you and your team.
43. Shannon Thompson Explains What Happens to Team Members
"We had grown into one another somewhere along the way." – Shannon Thompson
When you are just starting out, you may not know your team members very well. You are not sure if they will be a good fit or if you will get along. If you are all dedicated to the goal and work hard, somewhere along the journey you will all fit in seamlessly.
44. Richie Norton Believes that if YOU Believe, You Can Do It
"If you can dream it up, you can team it up." – Richie Norton
If you can dream of your goal, you can build a team around you to accomplish it. Think about what you want to accomplish in life, whether it is in business or personal life, and think of the group of people that can help you the most. If you believe in it, so will your team.
45. Biz Stone Understands Great People Just Need the Chance
"When you hand good people possibility, they do great things." – Biz Stone
There are great people all over the world who are never given to chance to use their talents. When you give great people chances, they do great things. Find the people who you truly believe are great and give them an opportunity to prove to you how great they are. If you believe your talents are being wasted, go out and find your opportunity.
46. Michael Joling Knows the Members Make up the Team
"There is no team without the individual members; an individual can never be a team." – Michael Joling
An individual cannot be a team and there cannot be a team without individuals. A team is a group of people working toward the same goal. They work together and balance their strengths and weaknesses to make the best possible outcome occur.
47. Ifeanyi Onuoha Explains the Need for a Team
"You can do something, but not everything." – Ifeanyi Onuoha
Teams are filled with people who have specific skills. When you look at a business, there are marketing specialists, finance specialists, customer service specialists and people with skills in all different departments. A team is a group of people who all have different skills that each play a pivotal role.
48. Lailah Akita Understands Spirit Creates Success
"Team spirit promotes greater accomplishment." – Lailah Akita
A team will never reach its goal if it is made up of people who are negative and do not believe in the cause. The spirit and the positivity of the team is one of the biggest influencers among a group of people. Believing in yourself and your team can make or break your success.
49. Zachariah Barrett Values the Team as a Reliable Source
"But you'll always have others to rely on as well." – Zachariah Barrett
As an individual, you want to be the best that you can be no matter what it takes. The good part about a team is that even if you have an off day, your team is there to pick you up. Some people are incredibly talented but can't handle pressure. The team can help to take the pressure off of you.
50. Ifeanyi Onuoha Relates Teamwork to Buildings
"A great building will never stand if you neglect the small bricks." – Ifeanyi Onuoha
A building is only as strong as the bricks it was made with. If you neglect the small bricks and the foundation, the building will fall. As a team, if you neglect the smaller people who play a big role, the team will not come together and your goals will not be reached.
51. Ifeanyi Onuoha Knows Success is Reached Through Teamwork
"Nobody can achieve success alone." – Ifeanyi Onuoha
Nobody achieves success solely by themselves. Success is earned through determination, perseverance and the help of other people. Networking is such an important skill because you need to know other people to get where you want to be.
52. Vinita Kinra and the Taj Mahal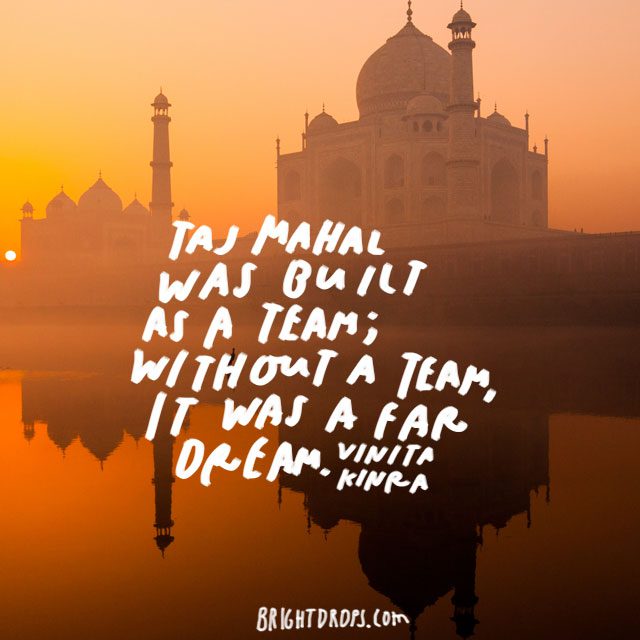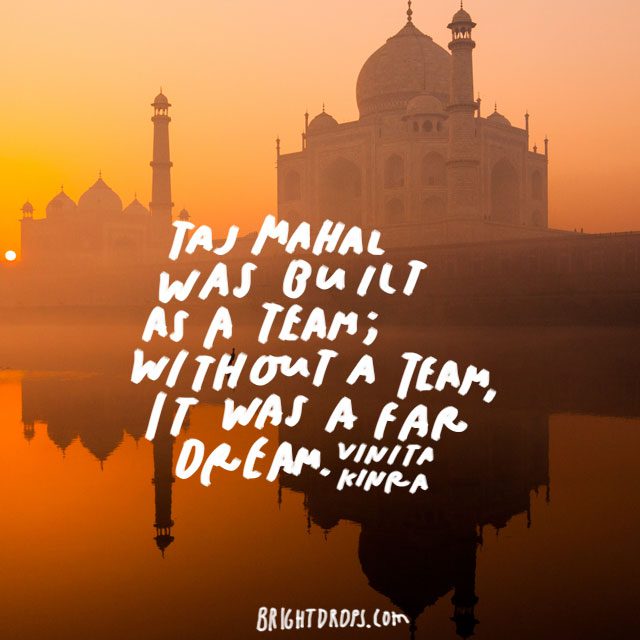 "Taj Mahal was built as a team; without a team, it was a far dream." – Vinita Kinra
The Taj Mahal, one of the most famous architectural masterpieces in history, was build by a team. It was not build by a single person because it would have never been completed it if was. It was built by a team who all had the same goal of making something truly amazing.
53. Ogwo Emenike Believes Teams Must be on the Same Page
"Of what need is teamwork without a common goal." – Ogwo Emenike
Teamwork will not make the dream work without a common understanding of what the objective is. Even if everybody on a team is working hard, if they are working in the wrong directions, then it is pointless. All members must be on the same page for the team to work well.
54. Nauman Faridi Knows Finding a Team is not Easy
"Teamwork: Easier Said than Done." – Nauman Faridi
Teamwork seems like an easy idea; find the people who think like you and work with them to reach an agreed upon goal. finding these people is harder than you may think. There may not be people as driven as you. It may take a long time to find the right people but when you do, you can achieve amazing results.
55. Ifeanyi Onuoha Makes Common People Uncommon
"Teamwork is the secret that make common people achieve uncommon result." – Ifeanyi Onuoha
Teamwork is the secret that helps ordinary people come together and make extraordinary results. Alone, most of us would not be able to do anything spectacular. As a team, we can achieve anything we want to. A team of like-minded people can achieve anything.
56. Max McKeown Knows Everyone Has a Part
"Strategy is not really a solo sport – even if you're the CEO." – Max McKeown
Strategy is never done alone. Even if you are the leader and you implement the strategy, you need the team to execute. Even if you are the head of the team, you still have to rely on your team members to do their part because they know more about their specific job than anyone.
57. Mike Schmoker Believes Teachers Need a Team
"Collaboration allows teachers to capture each other's fund of collective intelligence." – Mike Schmoker
Teachers are the people who help us understand what we want to know. Teachers need a team as well to help them teach better. Teachers gather ideas from other teachers and use them in their teachings. Some of the best teachers in the world were not born that way, everything they know was learned through the process of being tough by someone else.
58. Lee Iacocca Believes the Boss Determines the Speed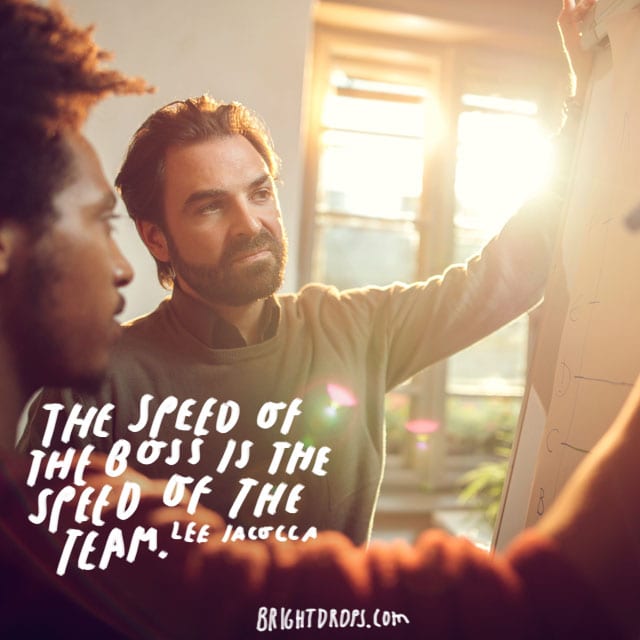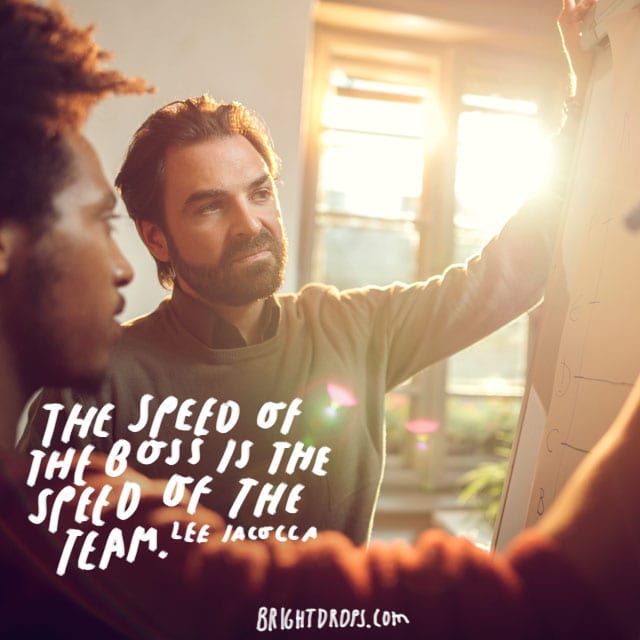 "The speed of the boss is the speed of the team." – Lee Iacocca
A team will always look for the boss or the leader for example. If the boss is working slowly, then the team will work slowly. It is up to the boss to lead by example and show the team how work is supposed to be done. A boss that works positively and quikcly will yield a team that does the same.
59. Henry ford Describes the Progression
"Coming together is a beginning. Keeping together is progress. Working together is success." – Henry Ford
Coming together and forming a team is the first step. Staying together and growing as team is the second step. Working together and completing goals is the step that continues for as long as the team stays focused and stays together.
60. Bang Gae Rhymes
"Teamwork makes the dream work." – Bang Gae
Team work is what makes the goal of the individuals work. Every team is started because somebody has a goal and wants to accomplish it. Team work is what makes that dream come true. Finding the people than can help you is the basis of completing anything difficult, but worthwhile.
61. Bill Bethel Perfectly Describes a Team
"A successful team is a group of many hands and one mind." – Bell Bethel
A successful team is basically everybody working together with the same mind. It is the same mind but with a bunch of different hands all working tirelessly on the goal. That is the essence of a team. Everyone has the same mindset, but the number of people gets the work done much faster than one person with two hands.
62. Ken Blanchard Knows We are Smarter than I
"None of us is as smart as all of us." – Ken Blanchard
No single person is as smart as a group. 2 brains will always be smarter than 1 and every person that is added, the knowledge in the group rises. Remember that when deciding if you want to go at something alone or if you want to be a part of a group.
63. Pele Knows His Success was Through Teamwork
"No individual can win a game by himself." – Pele
The world famous soccer player has as many accolades as any player in history and even he acknowledges the fact that he would not have the awards and championships he has without his teammates. His teammates helped him every step of the way and all the game he has won were not won without his team.
64. HE Luccock Compares a Symphony to One Musician
"No one can whistle a symphony. It takes a whole orchestra to play it." – HE Luccock
When you attend a symphony, what do you see? You definitely do not see one person playing all of the instruments, that would be impossible. You see many different musicians playing many different instruments. All complementing each other and making beautiful music.
65. Lewis Ergen Believes Vocabulary Tells All
"The ratio of We's to I's is the best indicator of the development of a team." – Lewis Ergen
If you listen to a team speak, that will give away if they are a true team or not. If they only use the word we, then they are in it together. If they use the word I many times, then they are more concerned about their individual gain and not committed to the team.
66. Benjamin Franklin Understands Teamwork and Loyalty
"We must all hang together or most assuredly we shall all hang separately." – Benjamin Franklin
We must all embrace the team and share opinions. If we do not commit to the goal, we most definitely will be separated. Even just a few people working together is better than thousands of people working in different directions.
67. Napoleon Hill Believes Teamwork Creates the Quickest Results
"It is literally true that you can succeed best and quickest by helping others to succeed." – Napoleon Hill
To achieve the best results, we must be willing to help others. When you help other people, they are more willing to help you in the future. Nobody can reach success without the help of other people and helping people in the process makes the journey that much better.
68. Dr. Allan Fromme Believes People Achieve More With Others
"People achieve more as a result of working with others than against them." – Dr. Allan Fromme
When you work as team, you will achieve much more with that team that you would working against them. When you combine forces with similar-minded people, the limits are endless. When you separate and compete against each other, you will never get as far.
69. Justin Sewell Relates Teamwork to an Avalanche
"Teamwork. A few harmless flakes working together can unleash an avalanche of destruction." – Justin Sewell
A team is very similar to an Avalanche. A snowflake on its own can never accomplish much besides being an annoyance or a joy. But millions of snowflakes together can cause an avalanche. An avalanche is made up of millions of little snowflakes all working together and playing a role.
(Read this next: 35 Quotes On Why Dogs are the Greatest Creatures on Earth)