Sunflowers are big, beautiful, colorful and the perfect flower to share love and uplift peoples spirits. Use these image sunflower quotes to post on Instagram and other socials to brighten peoples day and share your current sunny vibe.
If you're a nature lover, make sure to also check out these flower quotes and these butterfly quotes.
Sunflower Quotes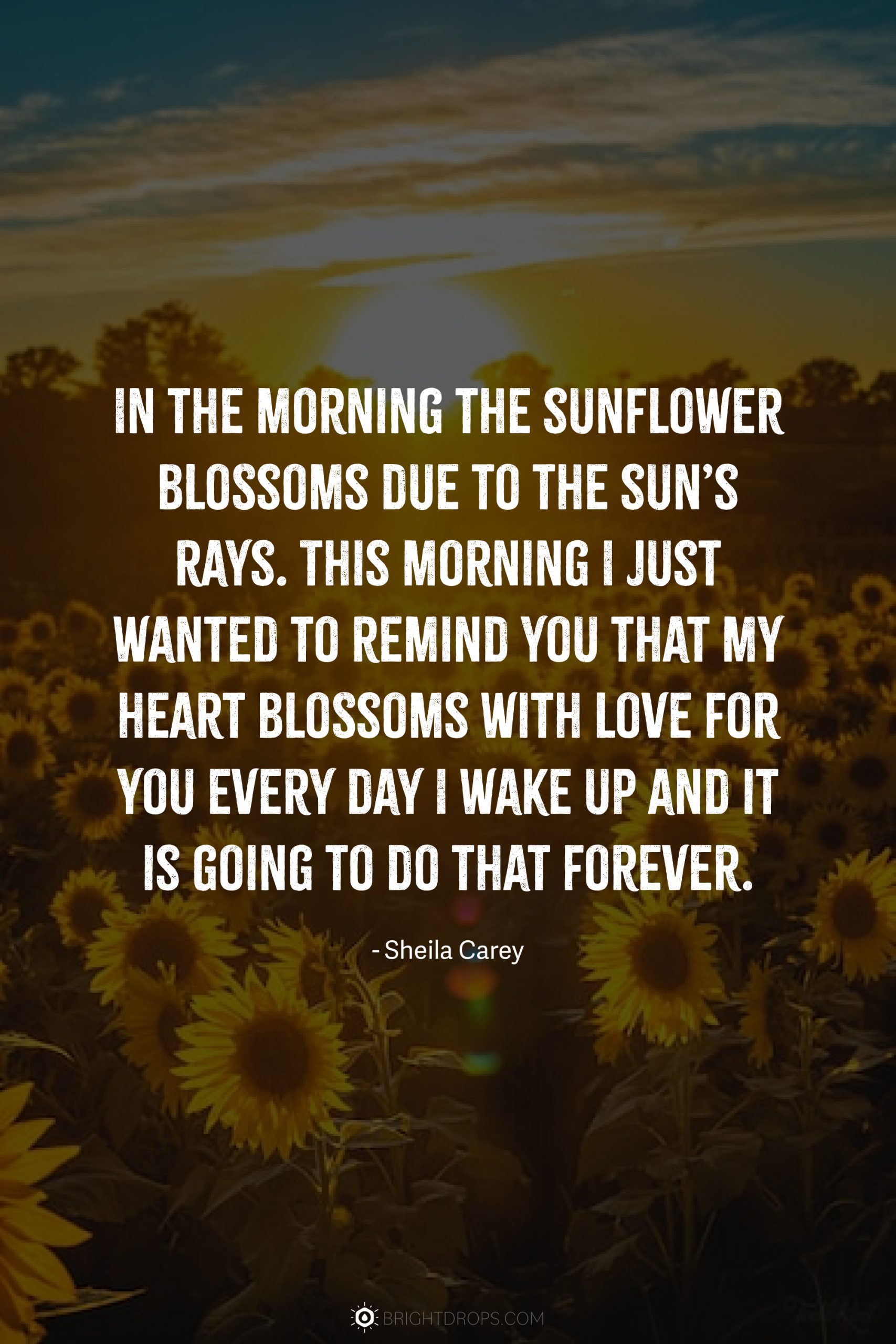 "In the morning the sunflower blossoms due to the sun's rays. This morning I just wanted to remind you that my heart blossoms with love for you every day I wake up and it is going to do that forever." – Sheila Carey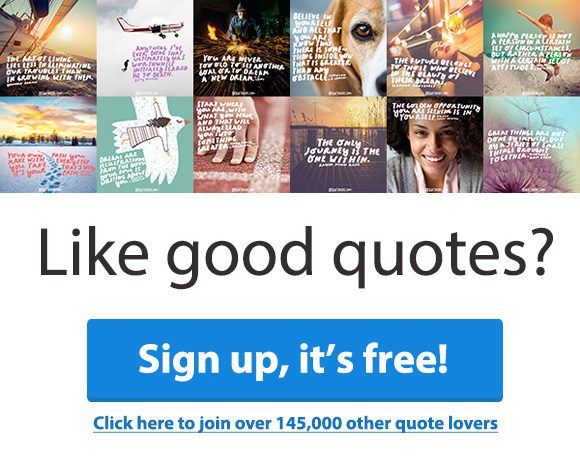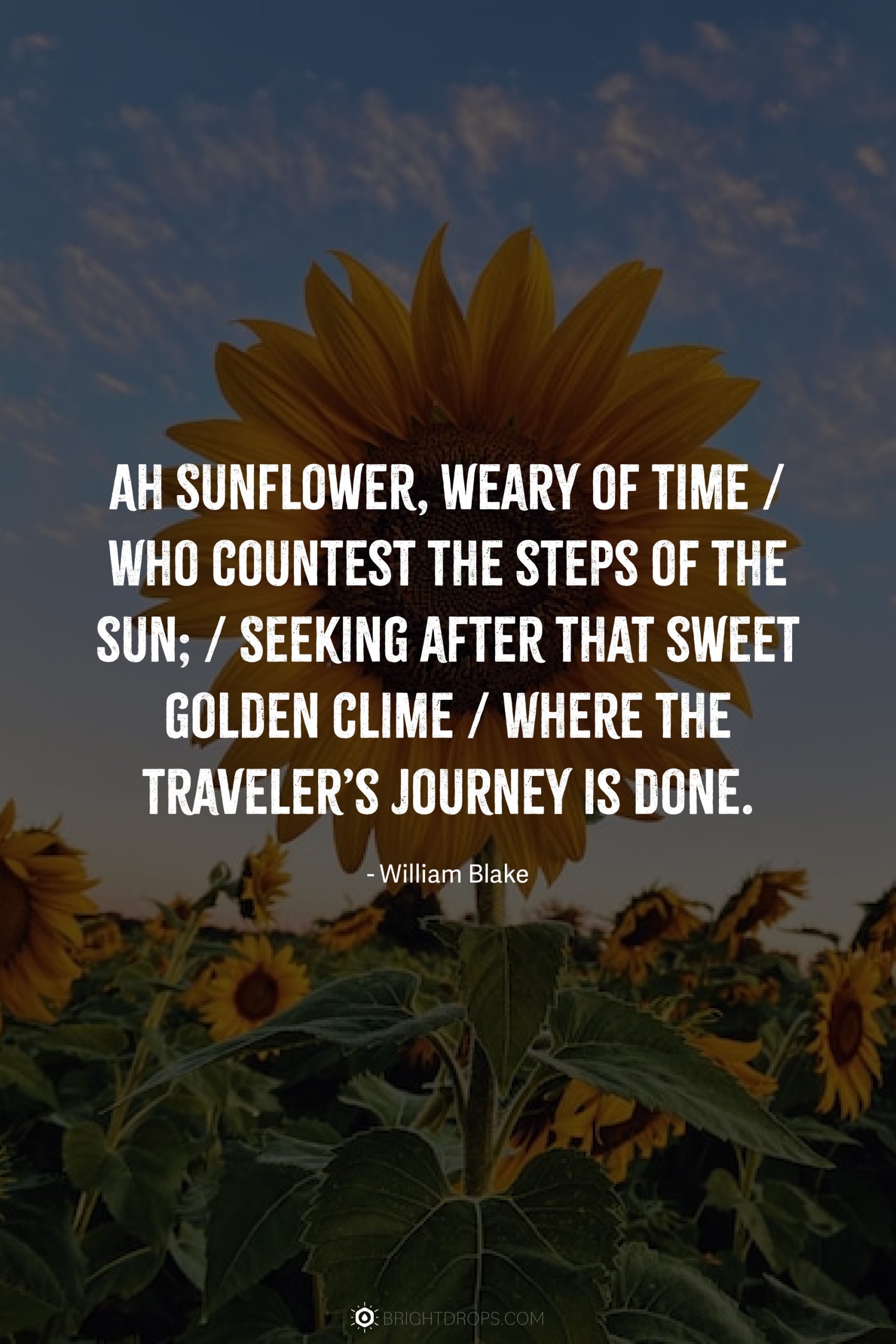 "Ah Sunflower, weary of time / Who countest the steps of the sun; / Seeking after that sweet golden clime / Where the traveler's journey is done." – William Blake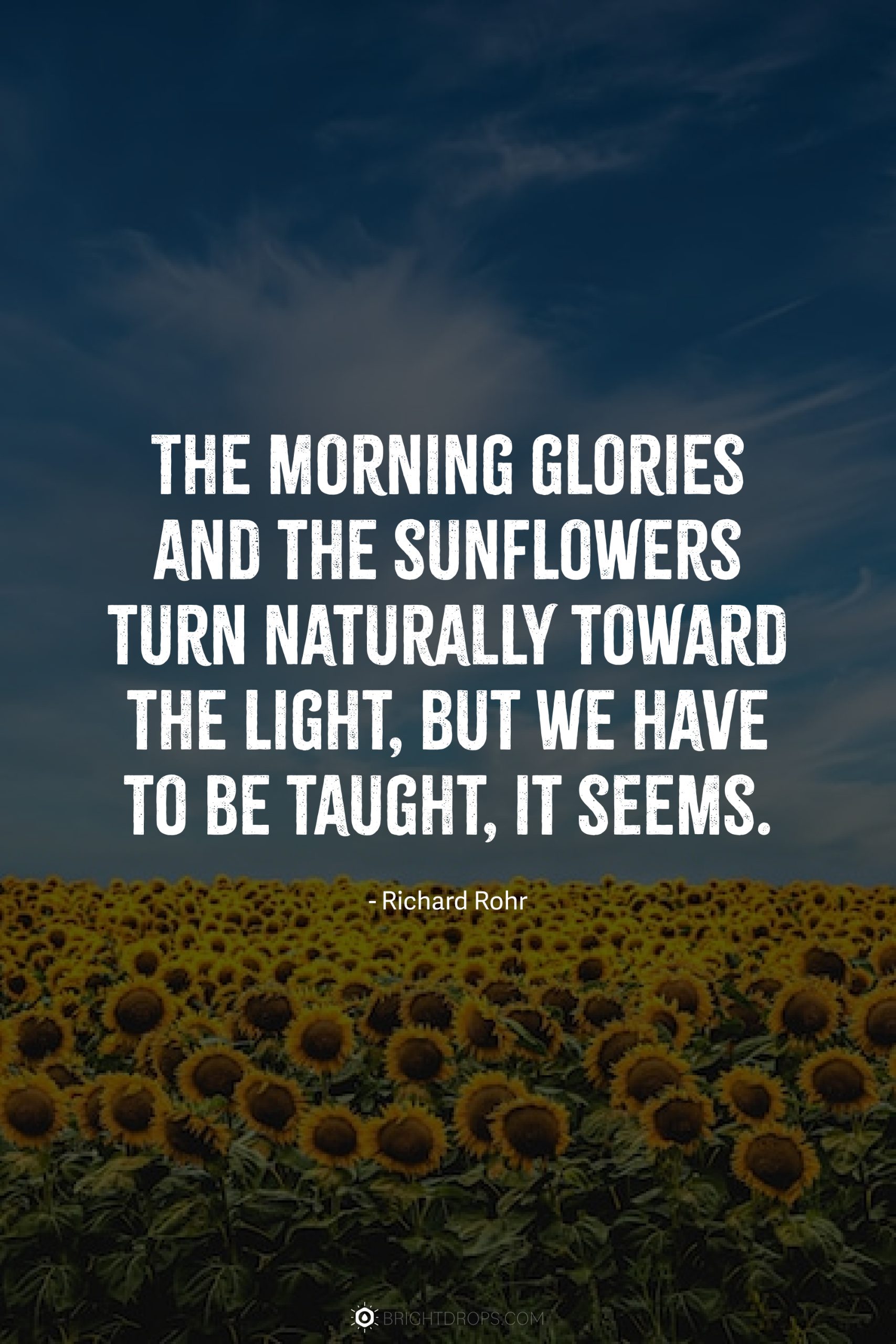 "The morning glories and the sunflowers turn naturally toward the light, but we have to be taught, it seems." – Richard Rohr
You may also like: These nature quotes: https://brightdrops.com/category/nature-quotes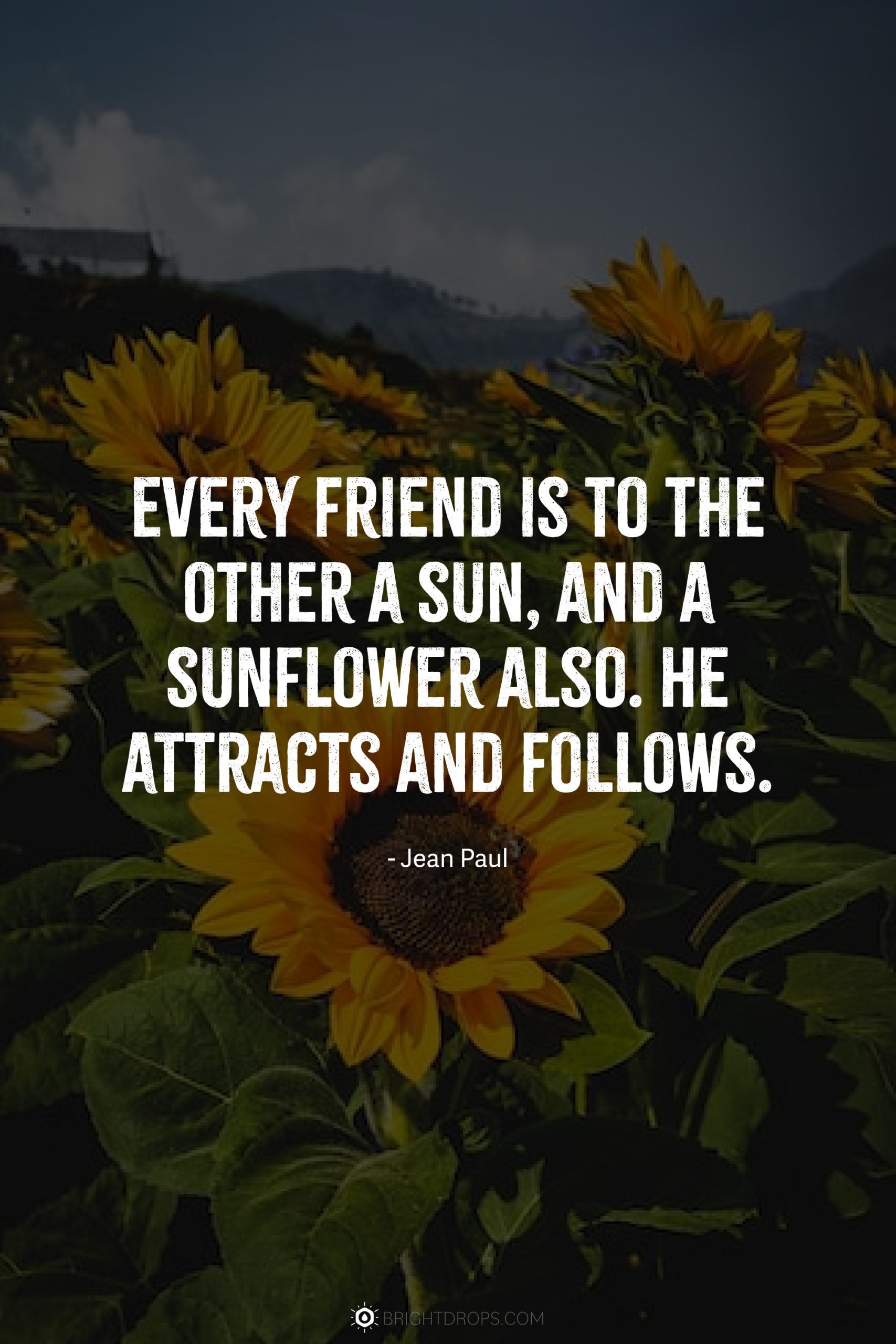 "Every friend is to the other a sun, and a sunflower also. He attracts and follows." – Jean Paul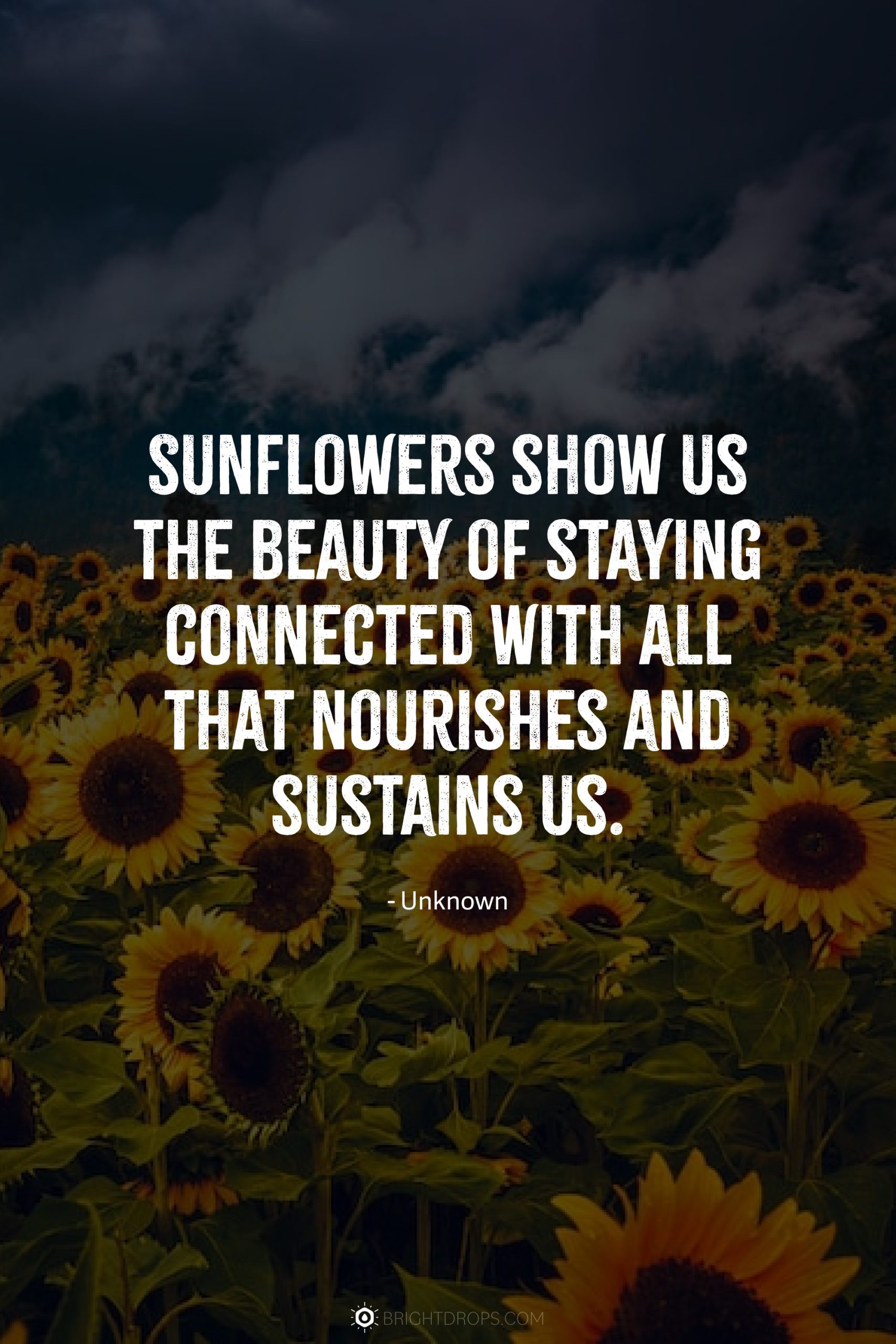 "Sunflowers show us the beauty of staying connected with all that nourishes and sustains us." – Unknown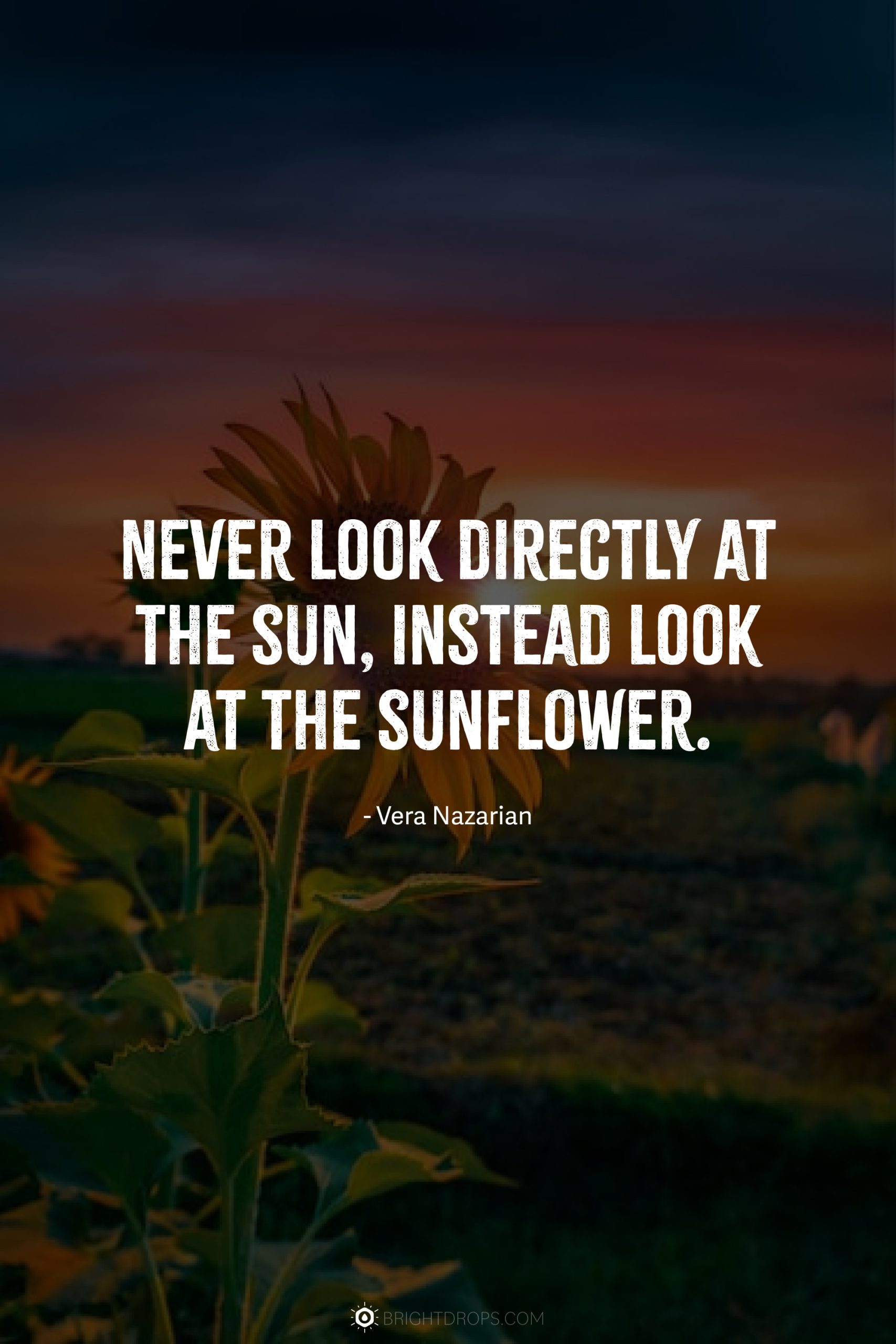 "Never look directly at the sun, instead look at the sunflower." – Vera Nazarian
Related: Adventure Quotes for Instagram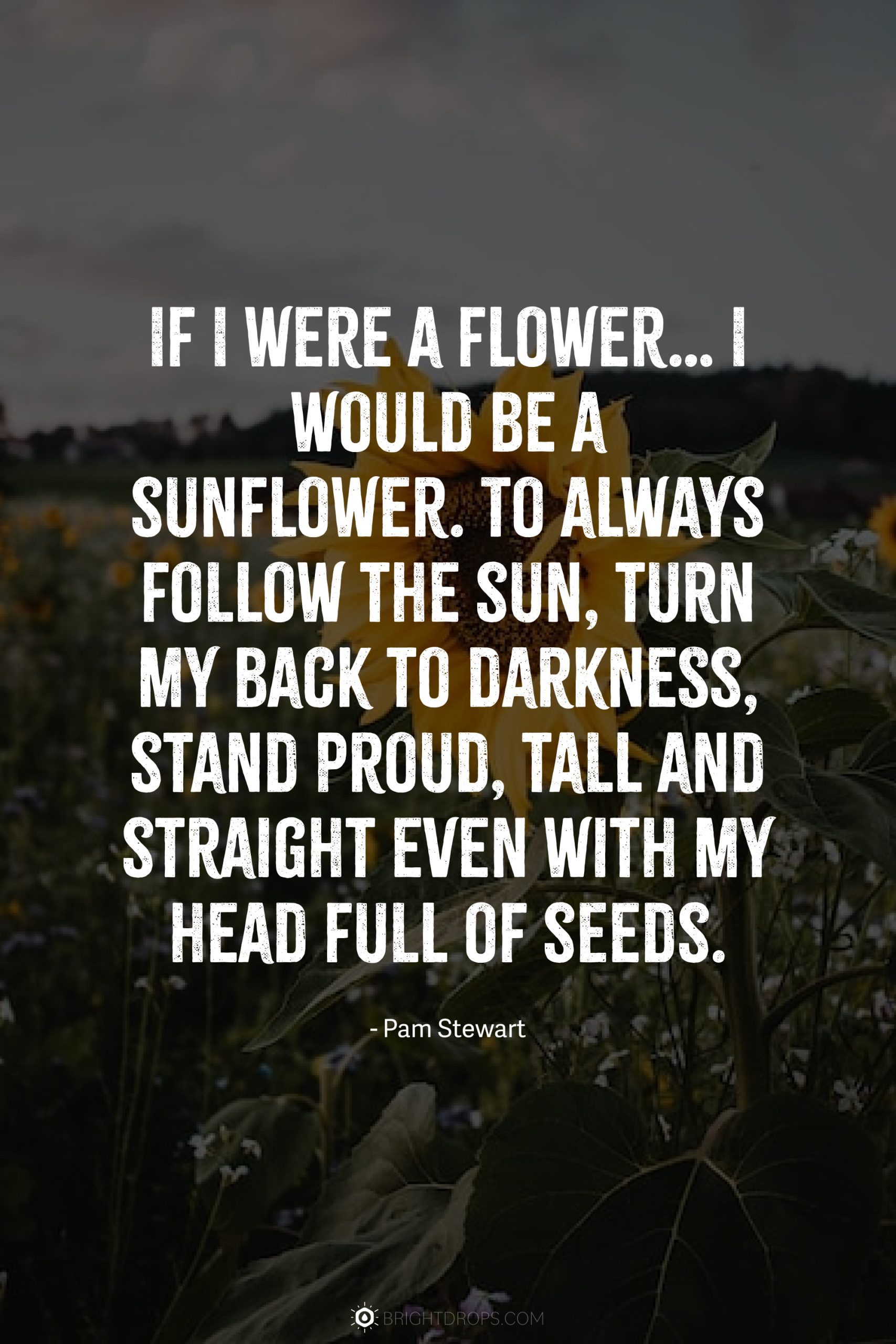 "If I were a flower… I would be a sunflower. To always follow the sun, turn my back to darkness, stand proud, tall and straight even with my head full of seeds." – Pam Stewart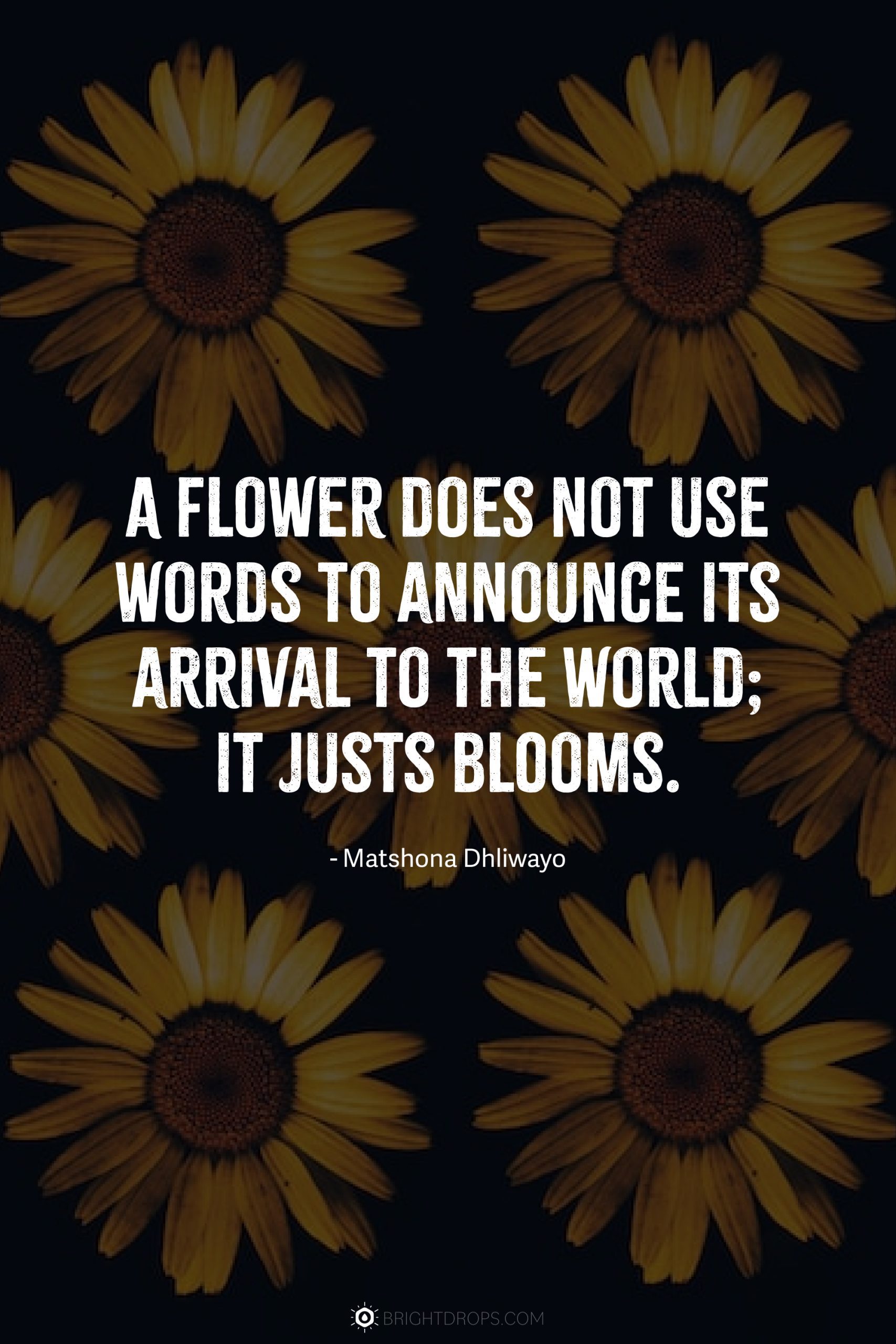 "A flower does not use words to announce its arrival to the world; it justs blooms." – Matshona Dhliwayo
"A sunflower for my sunflower. To brighten the dark October days you hate so much. Plant some more, and be safe in the knowledge a warm and bright summer awaits." – Cecelia Ahern
"Be like a flower and turn your face to the sun." – Kahlil Gibran
"You look beautiful as a sunflower and charming as a rose." – Avijeet Das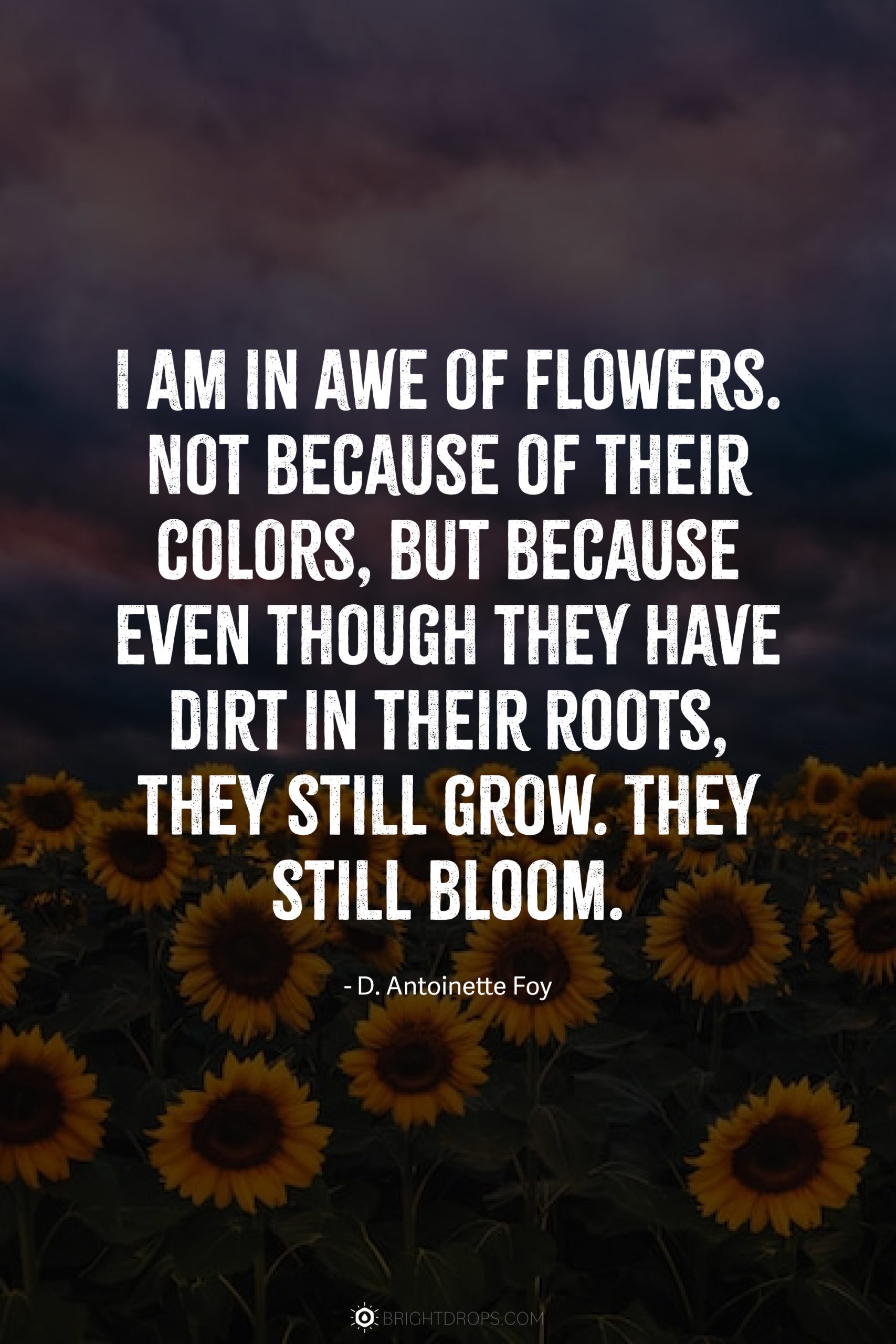 "I am in awe of flowers. Not because of their colors, but because even though they have dirt in their roots, they still grow. They still bloom." – D. Antoinette Foy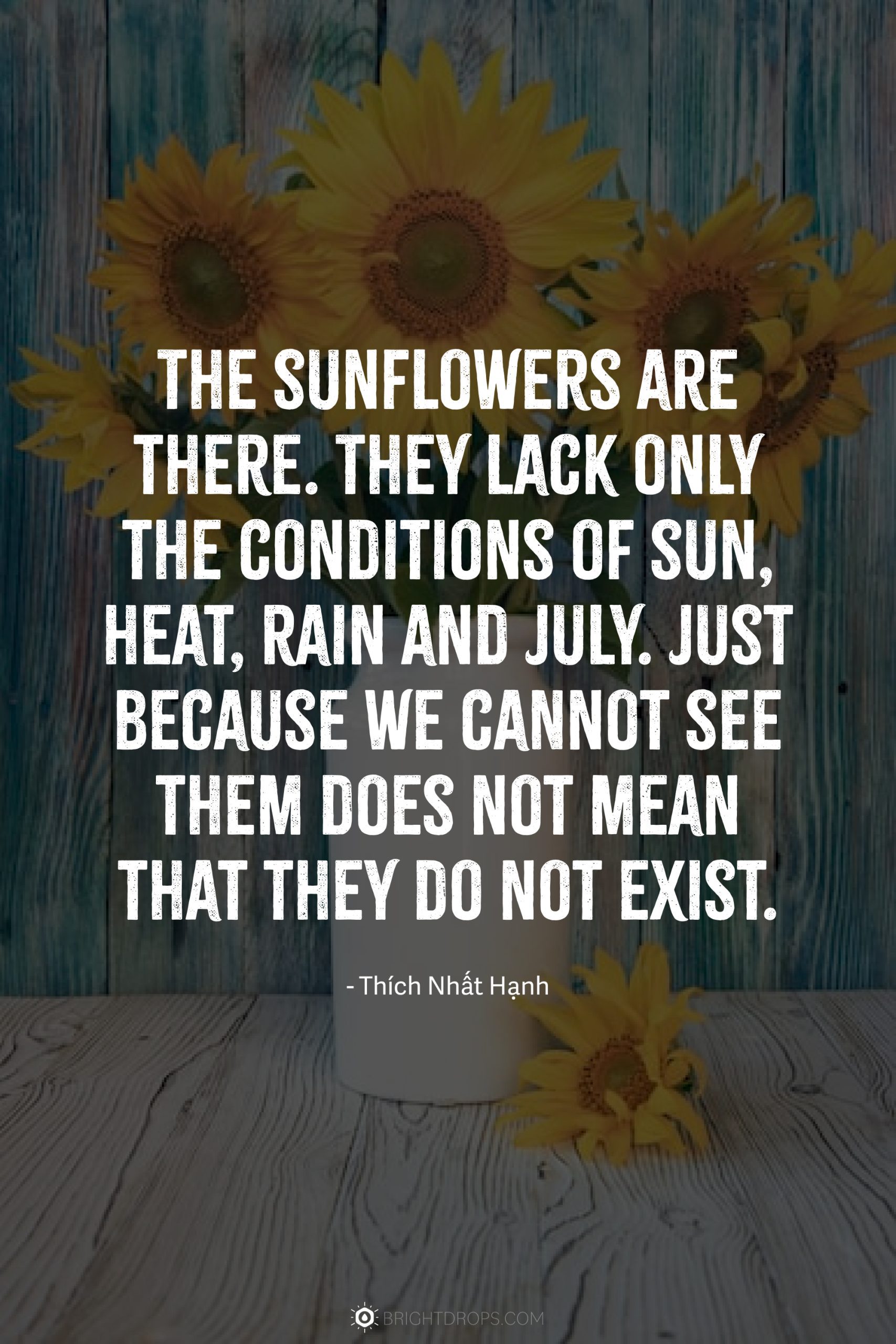 "The sunflowers are there. They lack only the conditions of sun, heat, rain and July. Just because we cannot see them does not mean that they do not exist." – Thích Nhất Hạnh
"Sunflowers never lie." – Emily Byrnes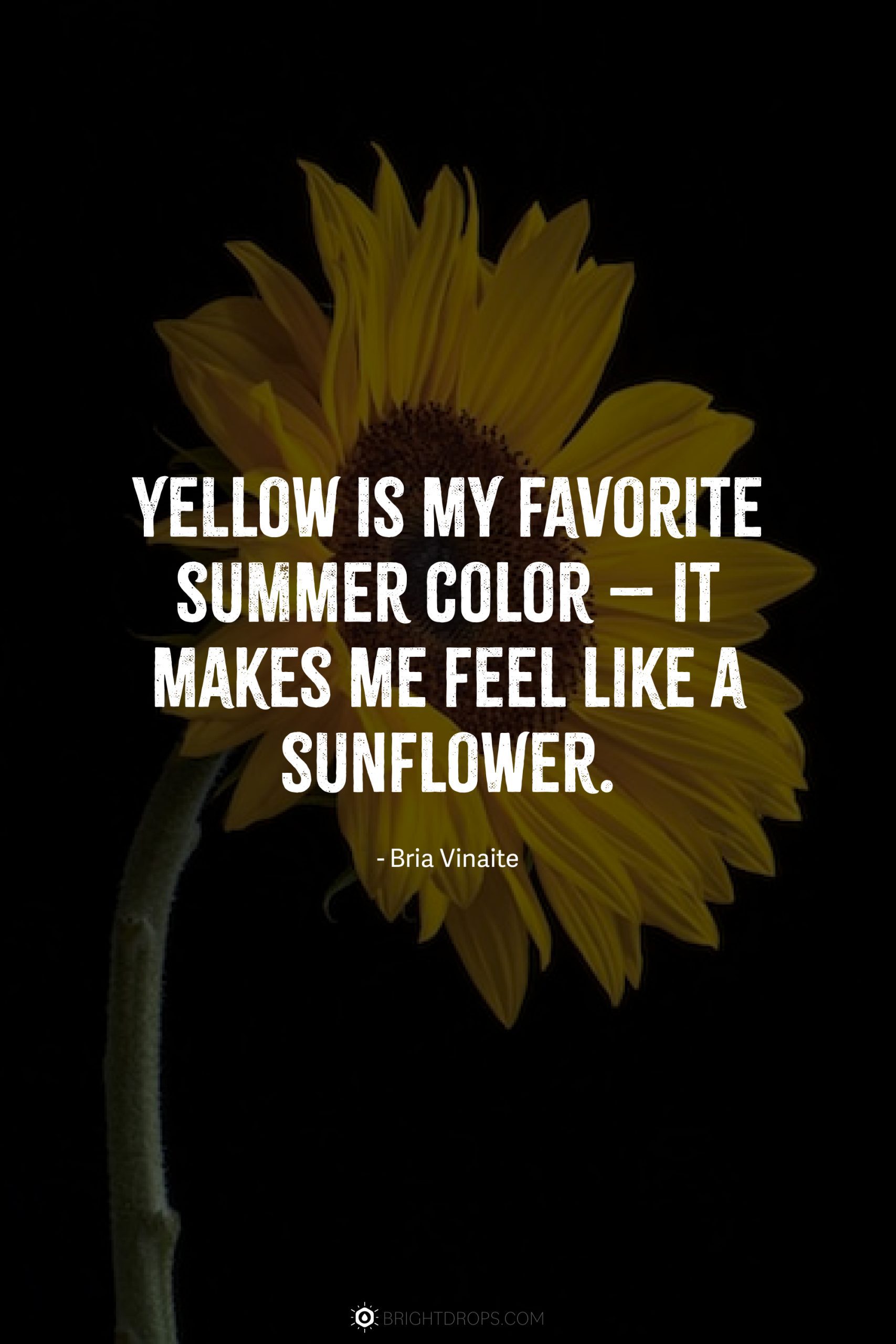 "Yellow is my favorite summer color – it makes me feel like a sunflower." – Bria Vinaite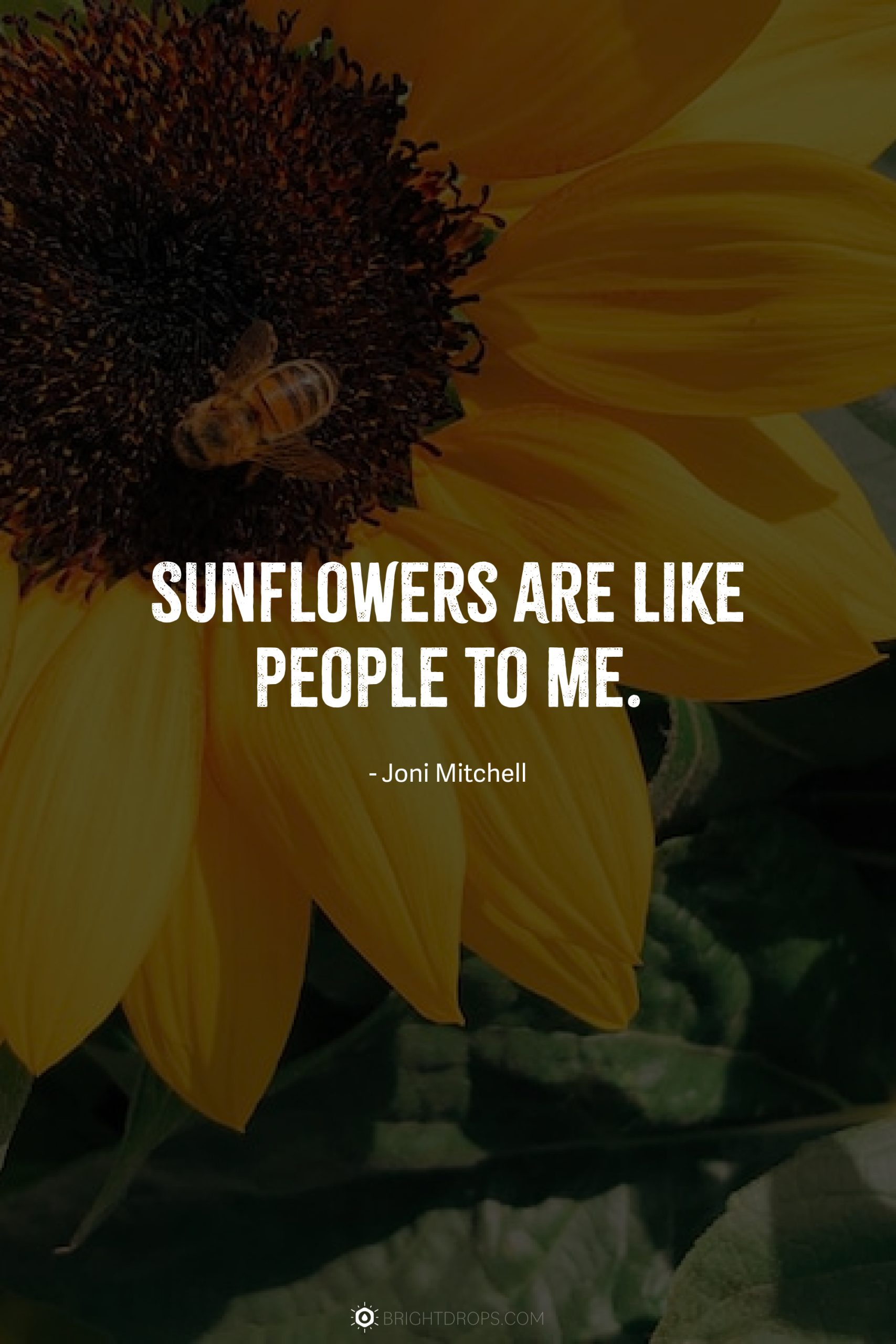 "Sunflowers are like people to me." – Joni Mitchell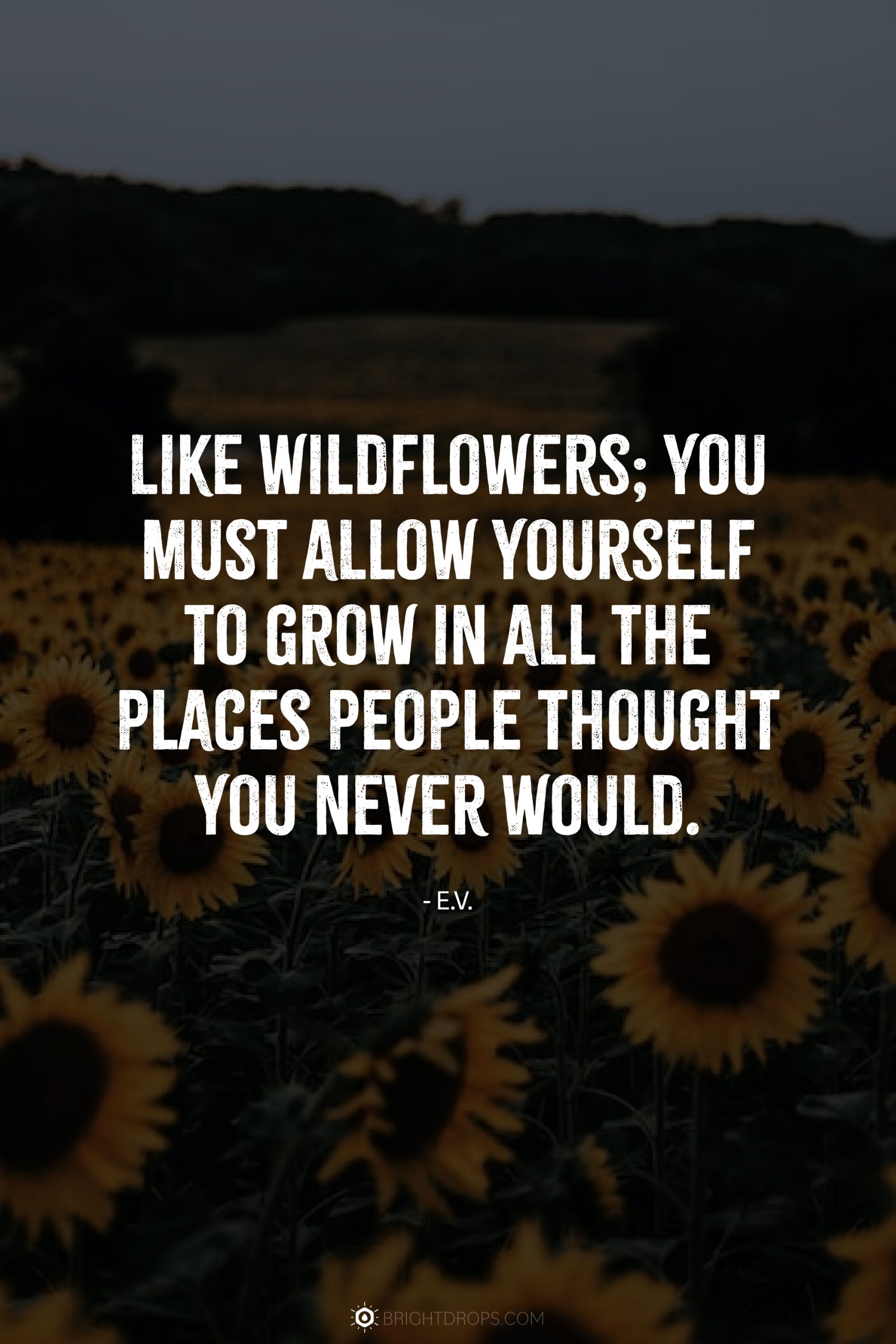 "Like wildflowers; You must allow yourself to grow in all the places people thought you never would." – E.V.
"Sunflowers and seashells and logarithmic spirals…" – Keri Hulme
"Pick up a sunflower and count the florets running into its centre, or count the spiral scales of a pine cone or a pineapple, running from its bottom up its sides to the top, and you will find an extraordinary truth: recurring numbers, ratios and proportions." – Charles Jencks
"The flower that follows the sun does so even in cloudy days." – Robert Leighton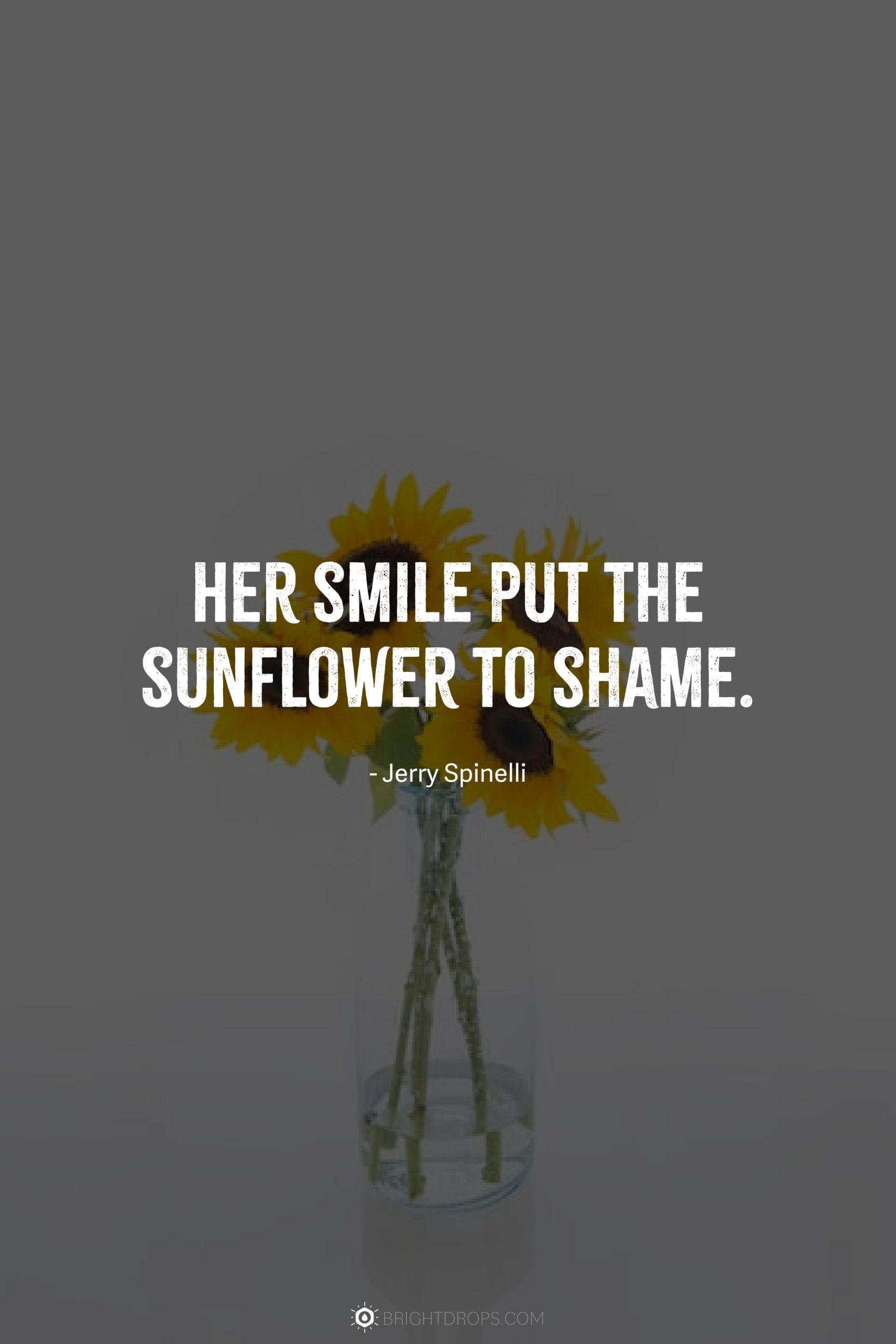 "Her smile put the sunflower to shame." – Jerry Spinelli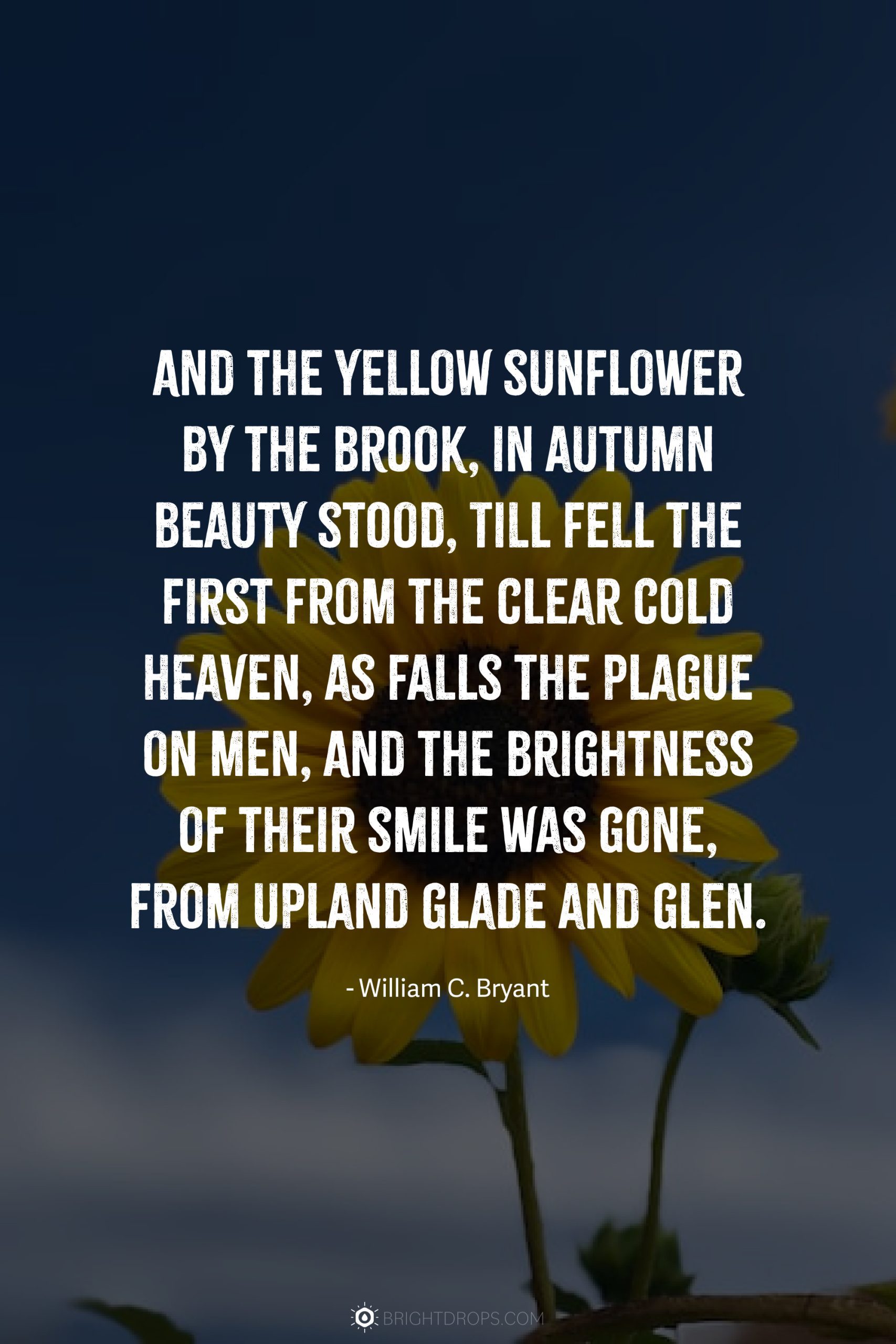 "And the yellow sunflower by the brook, in autumn beauty stood, Till fell the first from the clear cold heaven, as falls the plague on men, And the brightness of their smile was gone, from upland glade and glen." – William C. Bryant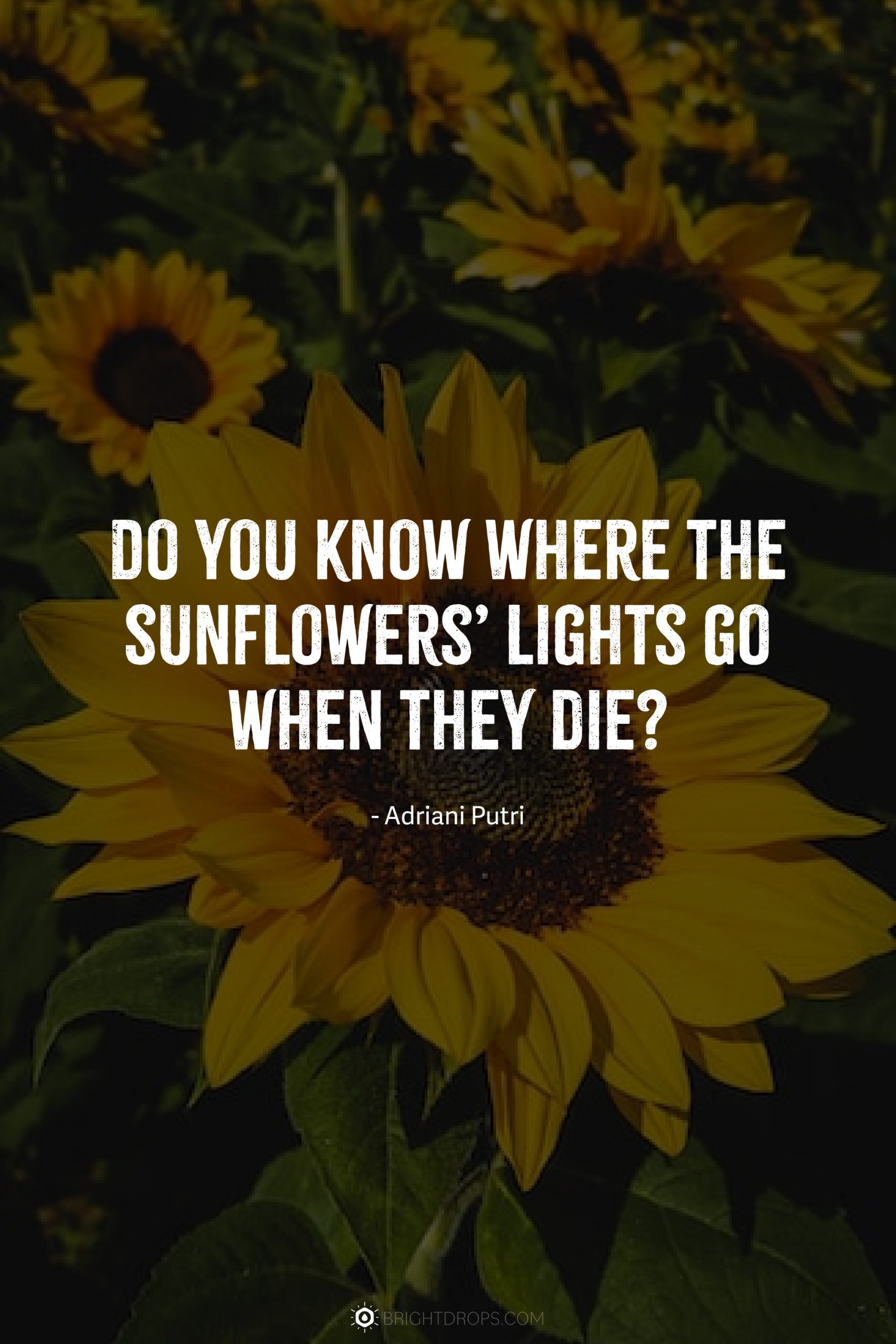 "Do you know where the sunflowers' lights go when they die?" – Adriani Putri
"Some people are just so much sunshine to the square inch." – Walt Whitman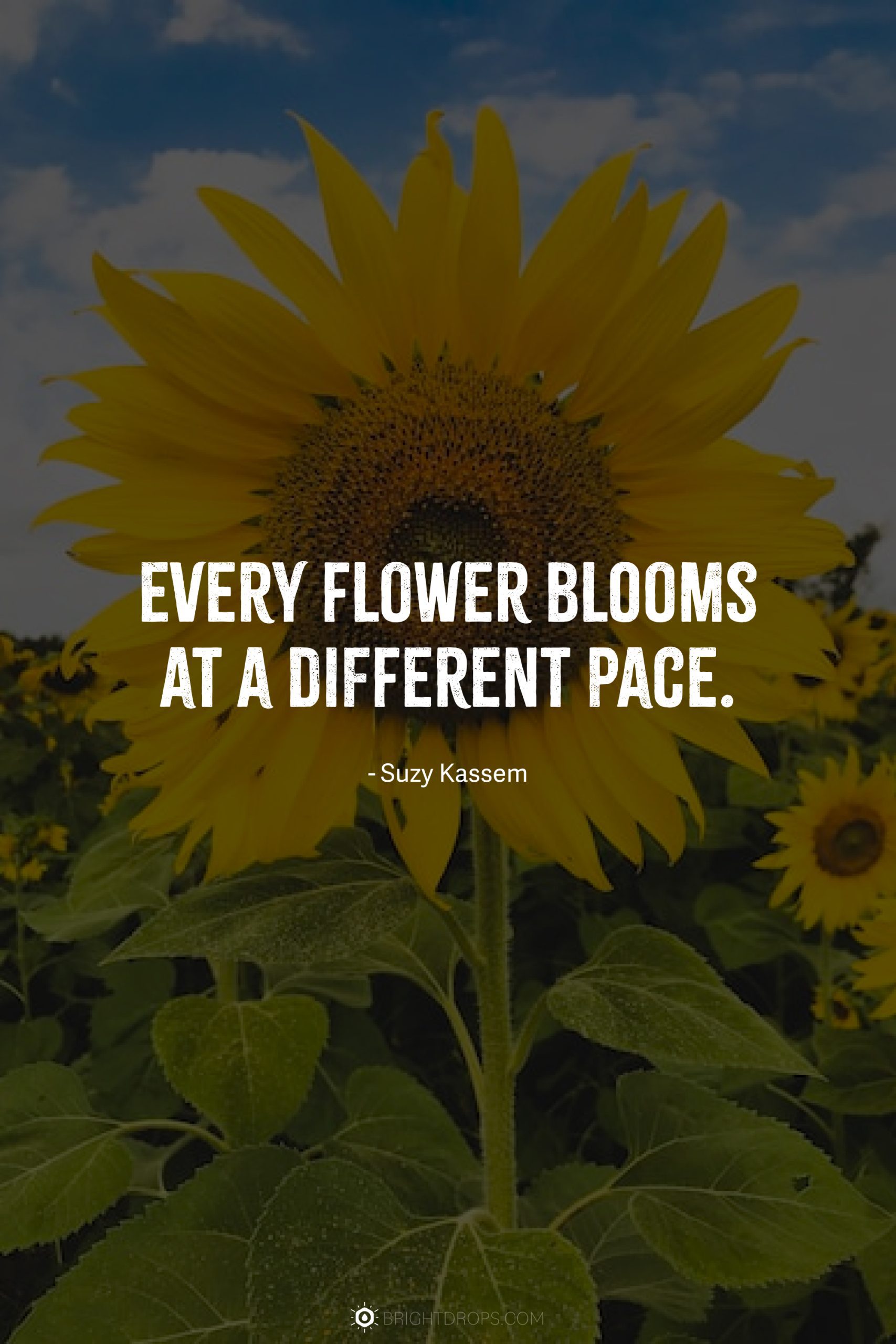 "Every flower blooms at a different pace." – Suzy Kassem
"The head of all flower heads is one flower; the sunflower in the sky, that gives the others vivid color stemming from the inside." – Curtis Tyrone Jones
"Jesus was not this wimpy little guy who walked around munching sunflower seeds and saying nice things to people. The real Jesus of the Bible said, 'Render unto Caesar the things that are Caesar's.' That is: Obey the government." – Robert Jeffress
"Despite knowing they won't be here for long they still choose to live their brightest lives… Sunflowers." – Rupi Kaur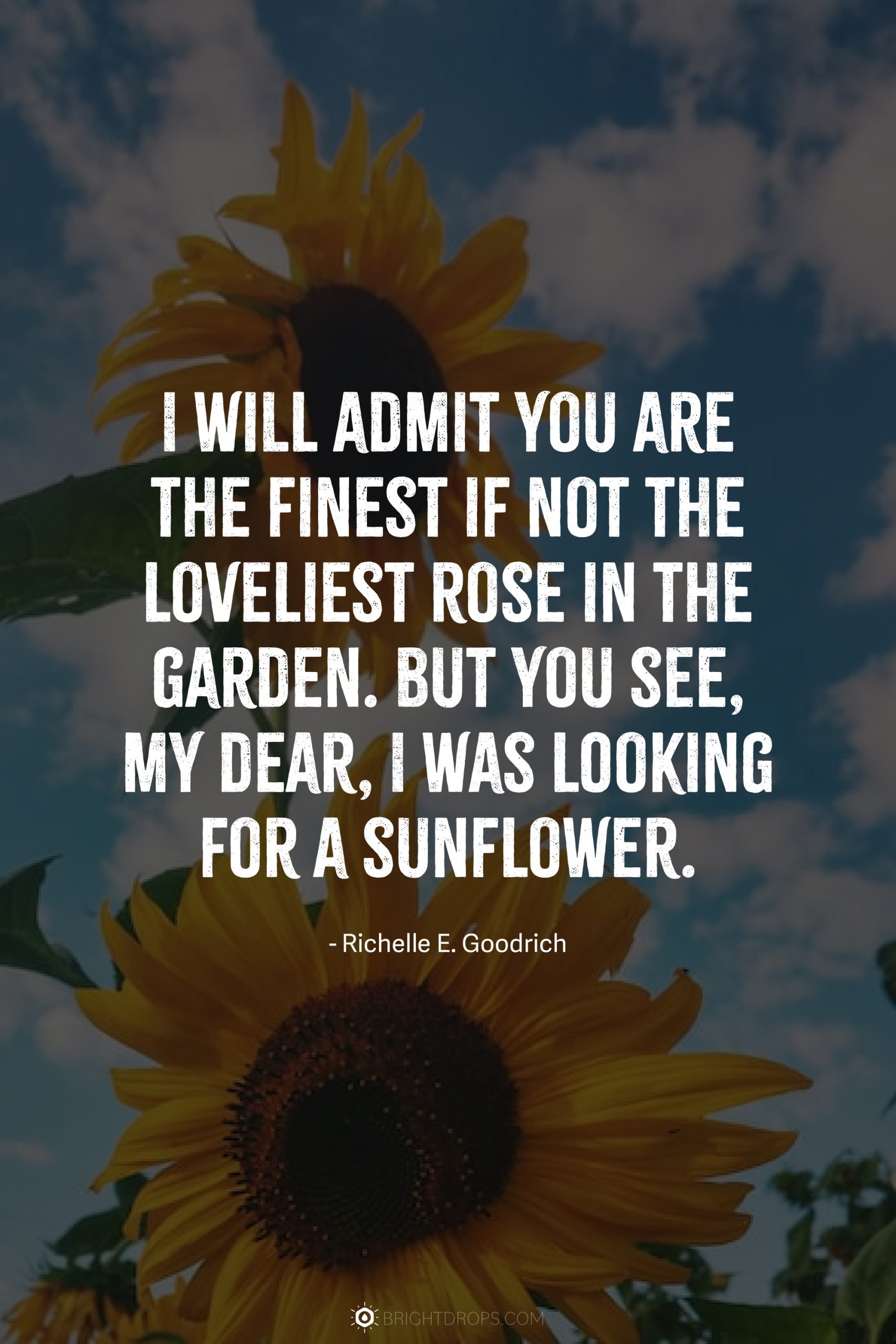 "I will admit you are the finest if not the loveliest rose in the garden. But you see, my dear, I was looking for a sunflower." – Richelle E. Goodrich
"Turn your face to the sun, and shadows follow behind you." – Maori Proverb
"Let us dance in the sun, wearing wildflowers in our hair." – Susan Polis Schutz
"We're all golden sunflowers inside." – Allen Ginsberg
"I want to be like a sunflower so that even on the darkest days I will stand tall and find the sunlight." – Unknown
"You are touching so many people's lives. You are a Sunflower." – Avijeet Das
"Stand tall and face the sun." – Unknown
"They're in bloom because they've found where they belong." – Mark Sippings
"I plant sunflowers and get back my daily joy." – Nadine Locke
"If every tiny flower wanted to be a rose, spring would lose its loveliness." – Therese of Lisieux
"Growing up in Texas, I am a sunflower seeds and Dr. Pepper guy. If I have that, I'm pretty much good to go on any road trip, anywhere." – Chris Harrison
"A sunflower field is like a sky with a thousand suns. – Corina Abdulahm" – Negura
"Standing in a sunflower field on a sunny days gives you the feeling of being completely engulfed in sunshine." – Unknown
"If you look the right way, you can see that the whole world is a garden." – Frances Hodgson Burnett
"Those who bring sunshine to the lives of others cannot keep it from themselves." – James Matthew Barrie
"Keep your face to the sunshine and you cannot see the shadow. It's what sunflowers do." – Helen Keller
"Big doesn't necessarily mean better. Sunflowers aren't better than violets." – Edna Ferber
"I faced the gaudy sunflower on her canvas bag — it looked hand-painted, and at last, my eyes fell into hers. I said, Thanks for the card. Her smile put the sunflower to shame. She walked off." – Jerry Spinelli
"Never look at the sun directly, instead look at the sunflower." – Vera Nazarian
"A rose can never be a sunflower, and a sunflower can never be a rose. All flowers are beautiful in their own way, and that's like woman too." – Unknown
"Flowers don't tell, they show." – Stephan Skeem
"What a lonely place it would be to have a world without a wildflower." – Roland R. Kemler
"If all your dreams have broken and gone, if you feel isolated in your own private world, go out this minute and buy a sunflower." – Clifford Thurlow
"Come with me into the field of sunflowers is a better line than anything you will find here, and the sunflowers themselves are far more wonderful than any words about them." – Mary Oliver
"Happiness held is the seed; happiness shared is the flower." – John Harrigan
"Be honest, be nice, be a flower not a weed." – Aaron Neville
"I always like to have flowers on the table. I think they make it look special." – Ina Garten
"Sunflowers are my friends." – Laynni Locke
"Eagle of flowers! I see thee stand, And on the sun's noon-glory gaze; With eye like his, thy lids expand, And fringe their disk with golden rays: Though fix'd on earth, in darkness rooted there, Light is thy element, thy dwelling air, Thy prospect heaven." – James Montgomery
"True friends are like bright sunflowers that never fade away, even over distance and time." – Marie Williams Johnstone
"Fame is the scentless sunflower, with gaudy crown of gold; But friendship is the breathing rose, with sweets in every fold." – Oliver Wendell Holmes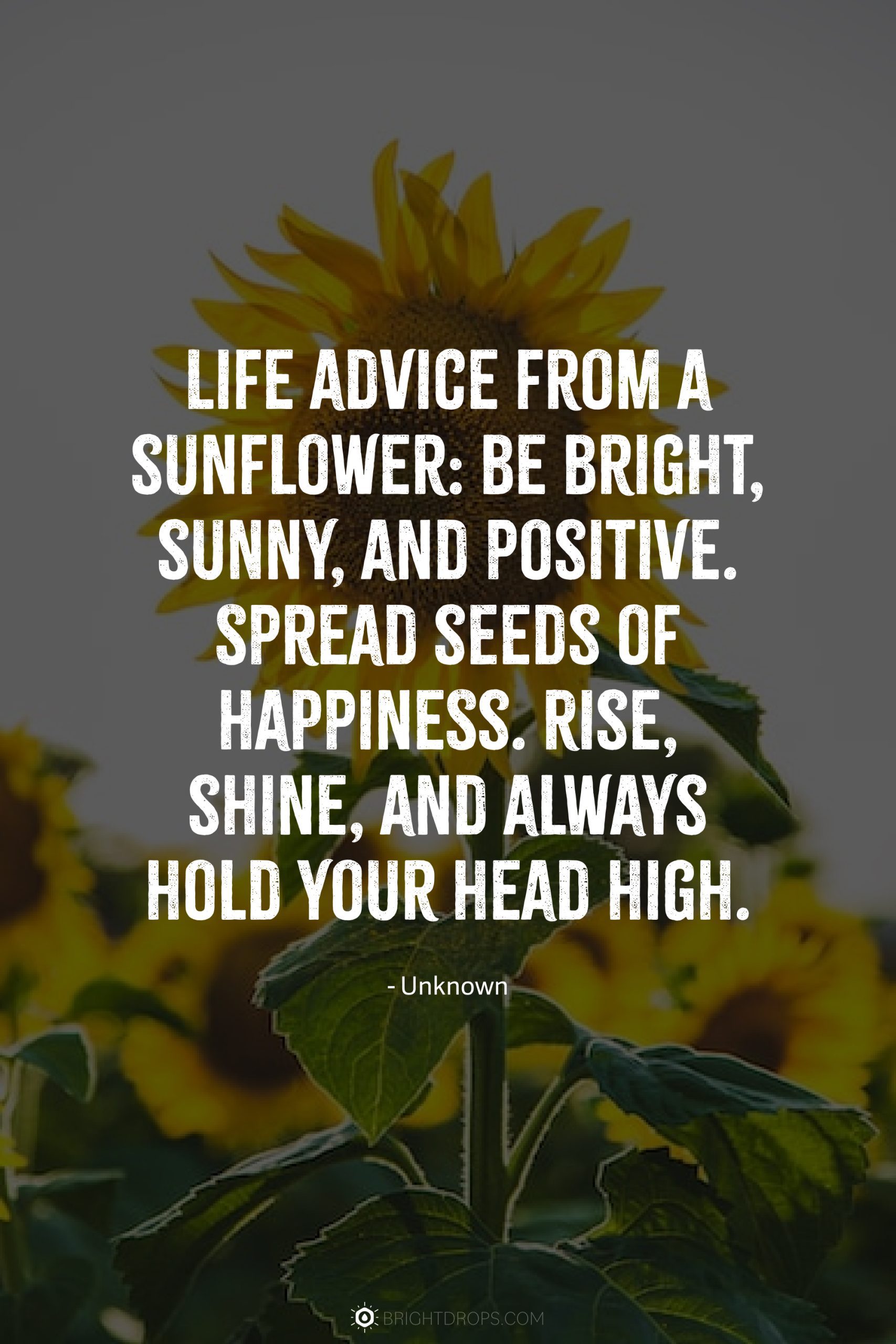 "Life advice from a sunflower: be bright, sunny, and positive. Spread seeds of happiness. Rise, shine, and always hold your head high." – Unknown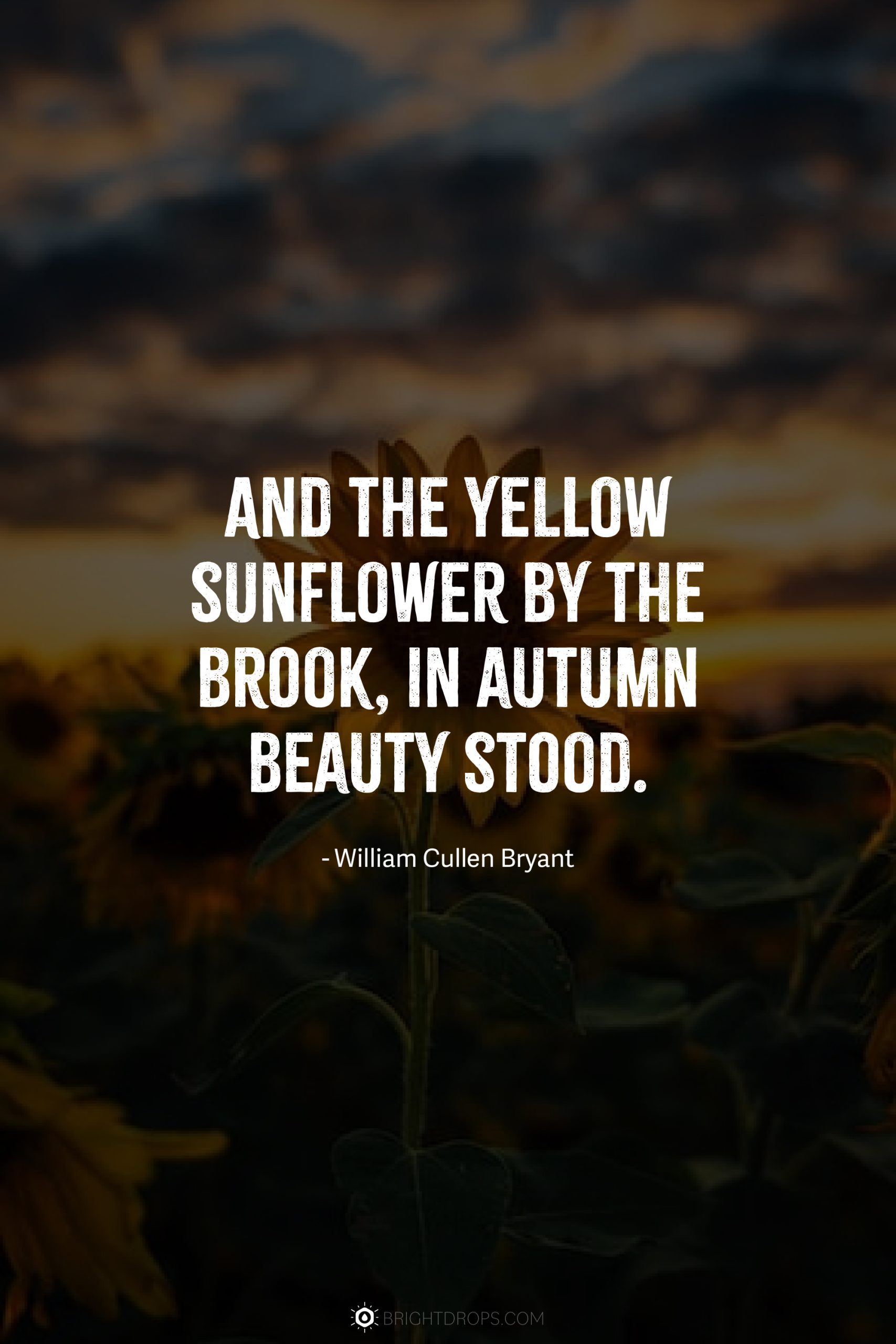 "And the yellow sunflower by the brook, in autumn beauty stood." – William Cullen Bryant
"I plant the sunflowers and get back daily glee." – Unknown
"Be a Sunflower in a field of roses." – T.F. Fox
"I think it's something to do with the nurturing side of the psyche; tying up a sunflower or whatever and helping it grow, it is just some kind of core human experience." – Joe Lycett
"Every flower blooms in its own time." – Ken Petti
"He that will enjoy the brightness of sunshine, must quit the coolness of the shade." – Samuel Johnson
"She stood out like a sunflower in a field of wheat." – Jennifer L. Armentrout
"Like a single sunbeam on a warm summer day, there is an exuberance and brilliance in a sunflower." – Unknown
"If roses tried to be sunflowers, they would lose their beauty; and if sunflowers tried to be roses, they would lose their strength." – Matshona Dhliwayo
"Let the sunflowers of thy soul bloomin the sunshine." – Lailah Gifty Akita
"Sunflowers in the tall grass, we were born to thrive but not born to last" – Unknown
"Yes, I need you, my fairy-tale. Because you are the only person I can talk with about the shade of a cloud, about the song of a thought — and about how, when I went out to work today and looked a tall sunflower in the face, it smiled at me with all of its seeds." – Vladimir Nabokov
"Don't judge each day by the harvest you reap, but by the seeds that you plant." – Robert Louis Stevensen
"Attention shifted to him like sunflowers turning to the sun." – Khaled Hosseini
"When you have sunflowers, you have a little bit of sunshine even on a cloudy day." – Unknown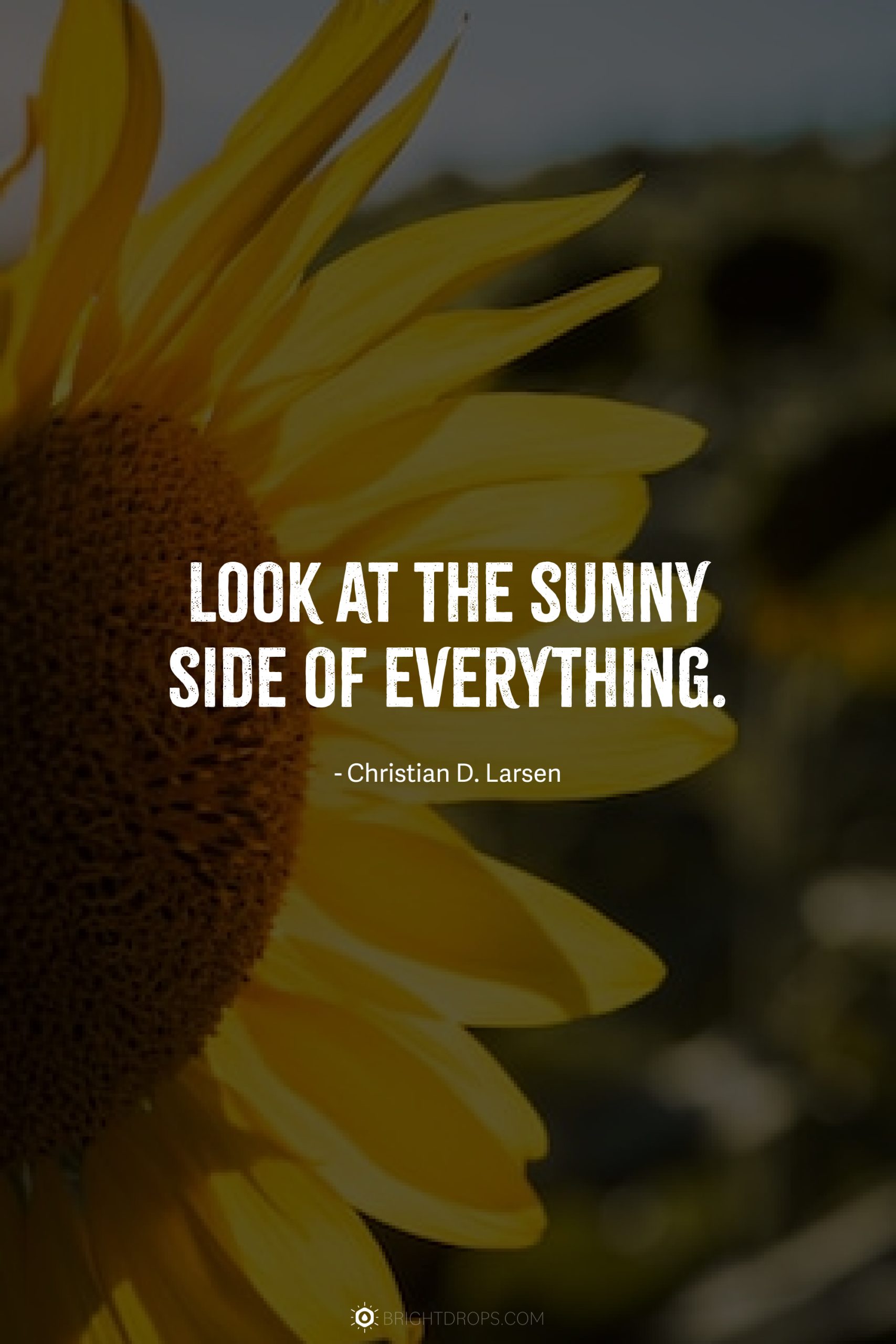 "Look at the sunny side of everything." – Christian D. Larsen
"Wherever life plants you, bloom with grace." – Old French Proverb
"As for marigolds, poppies, hollyhocks, and valorous sunflowers, we shall never have a garden without them, both for their own sake and for the sake of old-fashioned folks, who used to love them." – Henry Ward Beecher
"Then one by one they raised their faces to the sky. 'Like a field of sunflowers." – Fiona Valpy
"So, I'm off to the market to buy a few sunflowers to place in a vase on my kitchen table. Have a beautiful day!" – Olivia Dunn
"Sunflowers are like people to me." – Joan Mitchell
"…so far, the sunflowers blended into one another, creating a solid carpet of golden yellow.Somewhere out there was my future." – Tanya Guerrero
"The sunflower is mine, in a way." – Vincent Van Gogh
"My will broke at the sound of his voice, and my head turned with as much inevitability as a sunflower turning its face to the sun." – Patricia Briggs
"The earth paints a portrait of the sun at dawn with sunflowers in bloom. Unhappy with the portrait, she erases it and paints it again and again." – Rabindranath Tagore
"Who knows what may lie around the next corner? There may be a window somewhere ahead. It may look out on a field of sunflowers." – Joe Hill
"Like sunflowers, galaxies, and fingerprints, your life is an intricately designed spiral." – Kristen Lee
"I remember my first role as a sunflower at nine." – Kay Kay Menon
"Where flowers bloom so does hope." – Lady Bird Johnson
"In a crowd of roses, choose to be a sunflower. Thornless. Unwithering. Abundant in seeds." – Jatawny M. Chatmon
"I am painting with the same enthusiasm as a Marseillaise eats bouillabaisse … I am painting big sunflowers." – Vincent Van Gogh
"The road to freedom is bordered with sunflowers." – Martin Firrell
"For lunch, it's usually a salad with sunflower seeds, cucumbers, celery, and a lot of vegetables." – JaVale McGee
"All flowers have their own beauty, but the Sunflower alone has the distinction of being named after the sun!" – Unknown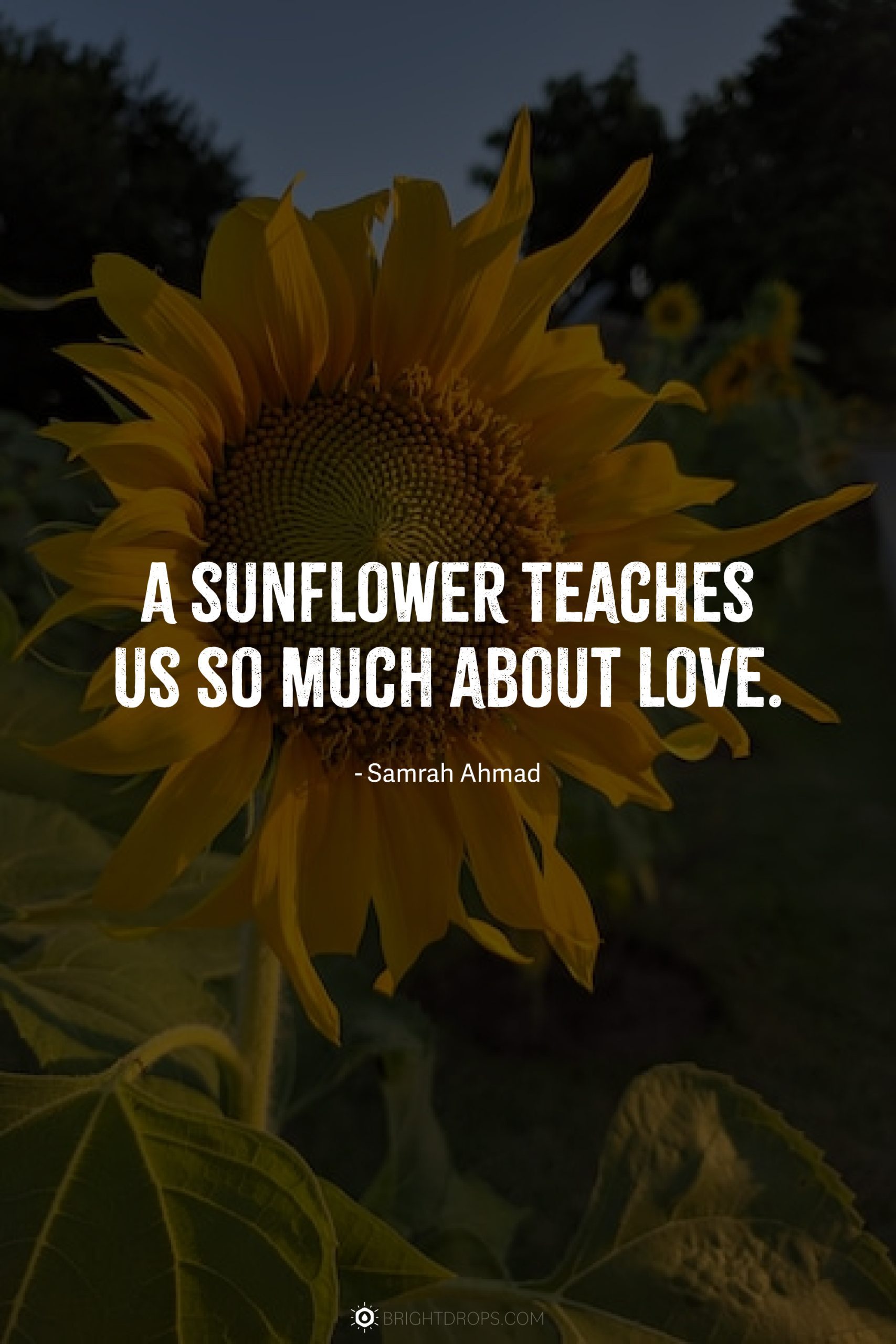 "A sunflower teaches us so much about love." – Samrah Ahmad
"Sunflower-bordered roads always seem to me the roads to freedom." – Willa Cather
"When van Gogh paints sunflowers, he reveals, or achieves, the vivid relation between himself, as man, and the sunflower, as sunflower, at that quick moment of time." – D. H. Lawrence
"I want to encourage women to embrace their own uniqueness. Because just like a rose is beautiful, so is a sunflower, so is a peony. I mean, all flowers are beautiful in their own way, and that's like women too." – Miranda Kerr
"And here the sunflower of the spring shines bright in the morning's beam." – Ebenezer Elliott
"Don't wait for someone to bring you flowers. Plant your own garden and decorate your own soul." – Luther Burbank
"And to this day I love endless landscapes, big horizons, sunflowers, and narcissi." – Gisela Hausmann
More Good Nature Quotes: