There are so many benefits of being positive. It lowers heart rate and blood pressure, brings a level of peace, and it can actually help you create what you want in your life. What we think about we bring about, so remain positive as much as you can to bring about positive changes.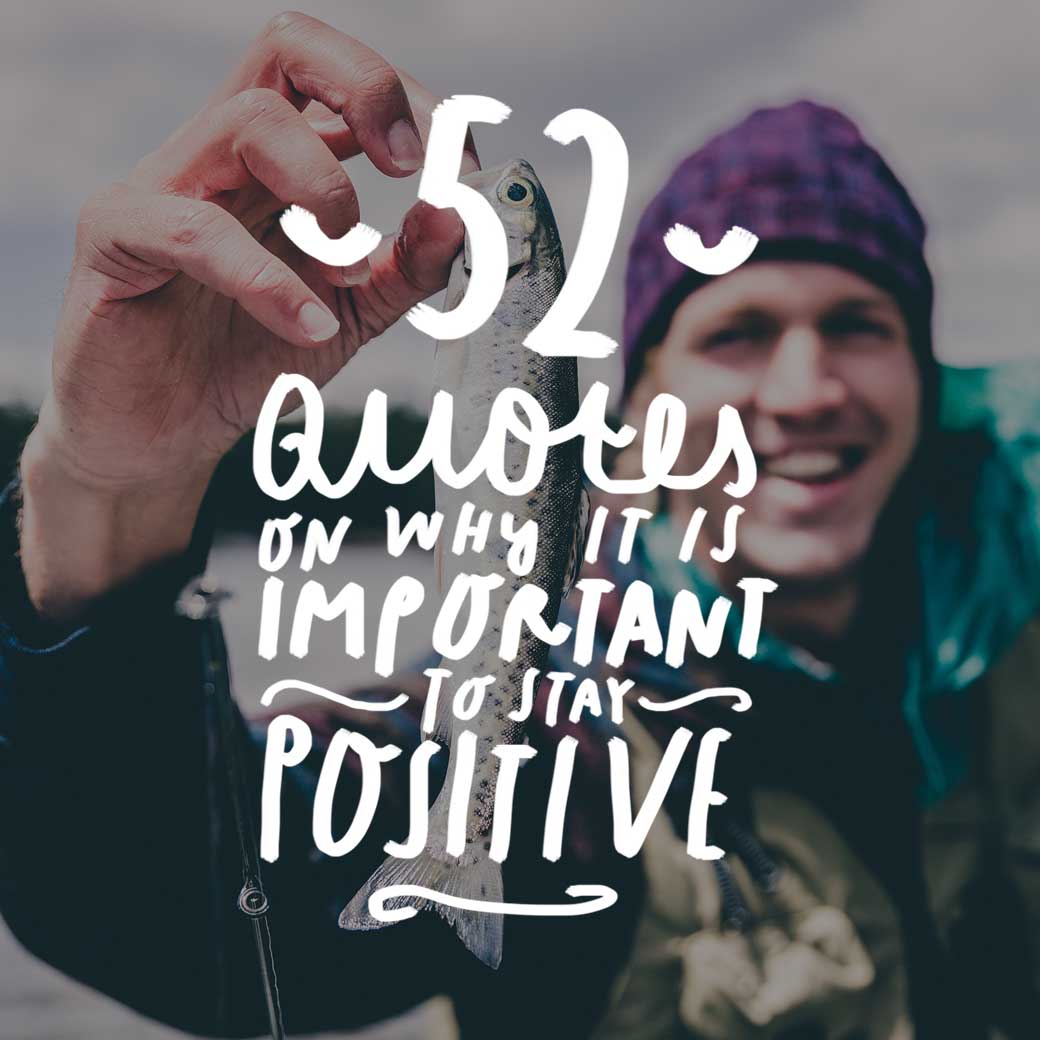 1. Edith Wharton on Spreading Light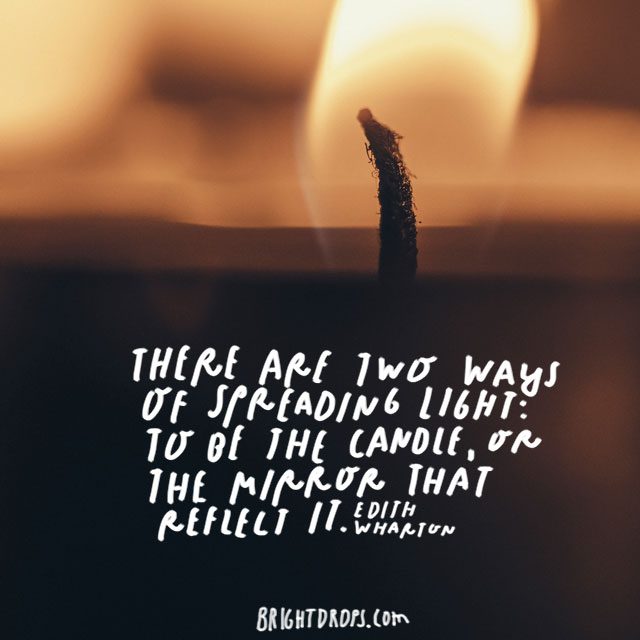 "There are two ways of spreading light: to be the candle, or the mirror that reflects it" – Edith Wharton
You can spread your light and positivity simply by being your magnificent self, or you can be a reflection of someone else's light and joy. Even if all you are doing is reflecting light from someone else, you are helping spread it across the world.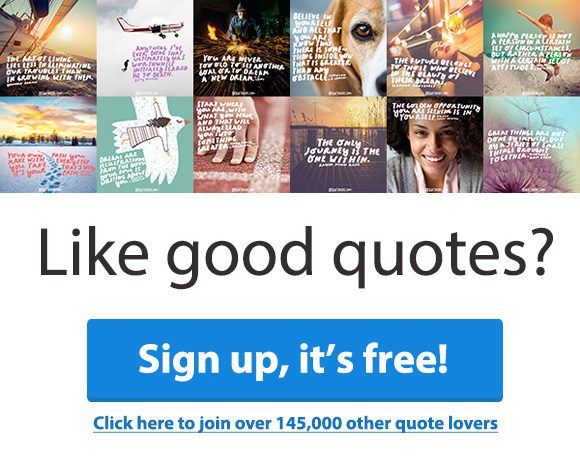 2. Norman Vincent Peale Knows the Value of Self Belief
"Believe in yourself! Have faith in your abilities! Without a humble but reasonable confidence in your own powers you cannot be successful or happy" – Norman Vincent Peale
It is impossible to create success in your life if you do not believe in yourself. Feeling negative does nothing but bring more negativity to you. Dream big and trust that you are not fully capable of achieving your dreams, but that you deserve to do so.
3. Brian Tracy on Being Superior
"An attitude of positive expectation is the mark of the superior personality" – Brian Tracy
Have you ever noticed that those who are positive are often granted more positions of power or influence? Positivity is a skill that can be learned by anyone, but those who have mastered it have a superior personality than the rest of the world. Be like them.
4. Zig Ziglar Has a Recipe for Success
"If you can dream it, then you can achieve it. You will get all you want in life if you help enough other people get what they want." – Zig Ziglar
It was once a dream of certain men to fly in the sky like birds, and now we have airplanes and any other number of flying items to help us. Part of creating your own success is helping others create theirs. Be willing to show up for people and they will show up for you.
5. Pat Riley Says Positivity Lessens Problems
"If you have a positive attitude and constantly strive to give your best effort, eventually you will overcome your immediate problems." – Pat Riley
There've been people across the world that have beaten all the odds against them, and they have done so with a positive outlook on life. A positive attitude and a willingness to keep going will get you past your problems and into a place of peace. Give it a try.
6. Bikram Choudhury Encourages Your Positivity
"Negative attitude is nine times more powerful than positive attitude." – Bikram Choudhury
A negative attitude creates negativity so quickly and gets things so out of control that it is incredibly hard to reverse when in motion. A positive attitude is quite powerful as well, but for some reason positivity needs more consistent effort to spread than negative energy does. But even so, stay positive anyway.
7. Lou Holtz on Positive Possibilities
"Virtually nothing is impossible in this world if you just put your mind to it and maintain a positive attitude." – Lou Holtz
Everything that is possible now was once impossible before. It took dedication and fortitude for those to create what others said could not be done. Believe that you can, keep moving forward and you will. Things might get hard, but keep your positive attitude at the forefront and things will work out fine.
8. Joan Lunden Says It's a Skill To Be Learned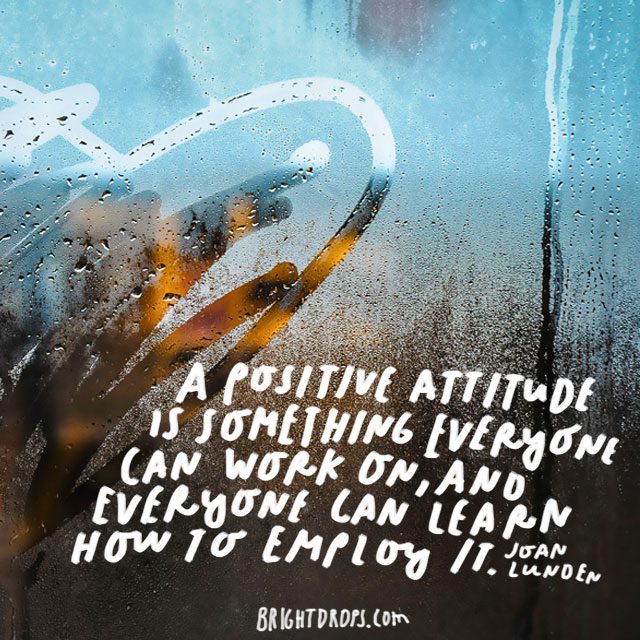 "A positive attitude is something everyone can work on, and everyone can learn how to employ it." – Joan Lunden
Being positive might be a challenge because of your life circumstances, or perhaps you've learned negativity from your upbringing. However, everyone can learn how to be positive and apply it in their lives. It takes some practice to make it a new daily habit, so start today.
9. Marilu Henner Knows It Sometimes Goes Awry
"Most of us start out with a positive attitude and a plan to do our best." – Marilu Henner
You probably started out with a positive attitude and planned to do your best, but then there were some bumps in the road or perhaps some wicked storms. But go back to that place of a positive attitude and a plan to do your best; hold onto it tightly as you go about your life.
10. Natalie Massenet on Positive Meetings
"Always go into meetings or negotiations with a positive attitude. Tell yourself you're going to make this the best deal for all parties. " – Natalie Massenet
A lot of meetings and negotiations can carry heavy negative energies depending on what they are. No matter if it is simply an important meeting, a nerve wracking meeting, or a happy meeting, go in with a positive attitude and work on creating the best outcome for everyone involved. This will inevitably create better outcomes overall.
11. Amy Adams Says Positivity is Smart
"I think a lot of times we don't pay enough attention to people with a positive attitude because we assume they are naive or stupid or unschooled." – Amy Adams
Sometimes others make fun of those with a very positive attitude. It has been said that those people live with their head in the clouds. However, living with positivity allows a type of joyful magic to enter your life and create miracles. So who is naive and stupid now?
12. David Bailey on the Coming True of Dreams
"A positive attitude can really make dreams come true – it did for me." – David Bailey
Being positive not only gives you the strength you need to keep moving forward and have hope on bad days, it shows others exactly what you're made of. Many opportunities could be presented to you simply because of your positive attitude. People notice it and they admire it.
13. Donald Johanson Says It's Essential for Success
"Commitment, belief and positive attitude are all important if you're going to be a success." – Donald Johanson
Success just isn't about hard work. It's been committed to what you want; believing that you can achieve it, but having a positive attitude in spite of challenges. Applying all of these things to anything that you are trying to create your life is a recipe for success.
14. Shelley Long on Making It Work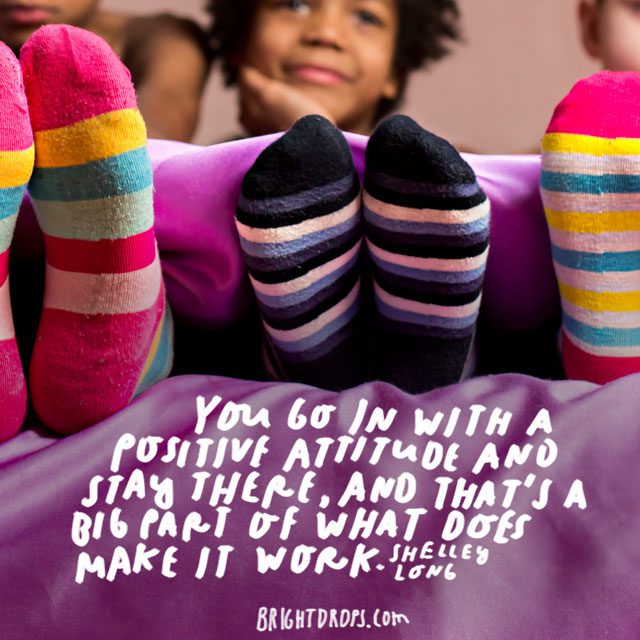 "You go in with a positive attitude and stay there, and that's a big part of what does make it work." – Shelley Long
Even if your project or goal is extremely overwhelming and challenging, a positive attitude is the fuel you need to keep going and accomplish your dreams. It really does make things work. It might not seem like it sometimes but trust us, you are only better for having a positive attitude.
15. Lesley Gore Says It Helps
"Really you just gotta keep chugging along and keep a positive attitude and get through all the problems." – Lesley Gore
These stay positive quotes sure do reiterate that a positive attitude gets you through your challenges and allows you to complete your tasks and achieve your goals. It's really quite that simple. There's not much else to say here but smile and be happy! Even if you don't feel like it.
16. Christie Brinkley on the Youthfulness of Positivity
"Adopting a really positive attitude can work wonders to adding years to your life, a spring to your step, a sparkle to your eye, and all of that." – Christie Brinkley
Positivity and joy takes years off of your face and body. It lightens your load and definitely a creates a sense of youthfulness and peace. It gives you an energy that others envy and it lends you immense power to face whatever life throws at you. Don't believe us? Look in the mirror and smile. Do you see how much younger you look?
17. Willie Nelson Says Positivity Begets Positivity
"Once you replace negative thoughts with positive ones, you'll start having positive results." – Willie Nelson
It can be really easy to get stuck in negative patterns of thinking. If you are in such a place and you are getting fed up with being there, start thinking small positive thoughts every day and then add more positive thoughts as the weeks go by. Pretty soon you'll start to see some shift and positive results in your life.
18. Lyndon B. Johnson Says Choose Wisely
"Yesterday is not ours to recover, but tomorrow is ours to win or lose." – Lyndon B. Johnson
We cannot change the events of yesterday no matter how much we would like to. Today is what you have so live in the now and prepare for tomorrow. Your time today gives you a chance to plan how you're going to win tomorrow. Given all you've got!
19. Dalai Lama on Action and Vision
"In order to carry a positive action we must develop here a positive vision." – Dalai Lama
You cannot possibly carry a positive action if you have negative thoughts and a negative vision around it. It simply will not work. If you want any positive change in your life you must see it in your mind's eye in a positive light, and you must think of it in positive ways.
20. Walt Disney Instructs to Be Positive But Realistic
"I always like to look on the optimistic side of life, but I am realistic enough to know that life is a complex matter." – Walt Disney
Being optimistic and positive is a fantastic skill to learn. But life is extremely complex and sometimes we feel negative, sometimes negative things happen. Feeling and thinking negative things has its place in life as we process our experiences, but what matters most is what we choose to say and act on. So let that be positivity.
21. Zig Ziglar Says Be Positive, Be Better
"Positive thinking will let you do everything better than negative thinking will." – Zig Ziglar
Although negative thinking is powerful, positive thinking makes things so much easier, it really does. You might hate doing the dishes and when you do them with resistance and a negative attitude, then the whole chore sucks and probably takes longer. Next time, try doing it with a positive attitude and see if things shift.
22. William James Knows the Power of Positivity
"Pessimism leads to weakness, optimism to power." – William James
Being a pessimist leaves someone small and usually bitter, not better. Optimism is wide open and allows room for miracles and opportunities galore. It gives power to create astounding things, while pessimism leads to a shutting down and hiding from life. Which do you choose?
23. Lee lacocca on Serving Humanity
"The thing that lies at the foundation of positive change, the way I see it, is service to a fellow human being." – Lee lacocca
Helping others is our birthright; we are all connected and we all need support. Doing something for someone else tends to put one in a place of humility and compassion. That is the best start to a positive life and positive ways of thinking. Try it today!
24. Harvey Mackay
"I firmly believe that when I am positive, it not only makes me better, but it also makes those around me better." – Harvey Mackay
Positivity is contagious! It does make you better and it spreads to everyone around you. You might be surprised that the more you apply a positive outlook on life that you inspire others to do so as well. That optimism gives you a lot of power in your life, so why be negative?
25. Les Brown Gives You Many Chances
"In every day, there are 1,440 minutes. That means we have 1,440 daily opportunities to make a positive impact." – Les Brown
That's a lot of minutes! And that's a lot of chances to do something positive in your life, or for someone else. Choose to apply a dose of self-love and self-care to yourself, and then bill pay it forward to someone else later. You have so many minutes so choose a few things every day that will make a positive impact.
26. Roger Federer Knows Positivity Can Save You
"I'm a very positive thinker, and I think that is what helps me the most in difficult moments." – Roger Federer
Dark times in life require a lot of light do they not? Thinking positively can be a lifeline in the storms of life. It gives you a sense of hope and power to get through the most challenging of circumstances. It might seem futile to grasp onto positivity, but it's the best thing you can do in difficult moments.
27. Colin Powell Wants You to Multiply
"Perpetual optimism is a force multiplier." – Colin Powell
Optimism multiplies many forces; the force of love, the force of kindness, and the force of compassion. The more positive you are in your life, the more positivity you will experience overall. It multiples good feelings on our Earth! Now who wouldn't want that?
28. Winston Churchill Knows Attitude is Huge
"Attitude is a little thing that makes a big difference." – Winston Churchill
Attitude might seem like a little thing but it is really quite essential to success. A positive attitude will let others know that you can be relied upon, and it also makes jobs much easier. It can soothe pain, ease discomfort, and speed processes. See what difference it makes in your own life.
29. Maya Watson Gives You a Gift
"Learning is a gift. Even when pain is your teacher." – Maya Watson
Any kind of learning is a gift. Life is quite the teacher and sometimes life serves up quite a bit of pain. Try to look for the silver linings and lessons within each experience that you have and you will be exponentially better for it.
30. Douglas Adams Sees the Big Picture
"I may not have gone where I intended to go, but I think I have ended up where I needed to be." – Douglas Adams
Many of us reach a time in a life or if realize that we did not end up where we intended to go, but instead of feeling regrets, feel grateful that you ended up exactly where you need to be. Sometimes the bigger picture can be hard to see.
31. Aristotle on Hope and Dreams
"Hope is a waking dream." – Aristotle
Hope is a positive emotion that is like a dream you are having while you are awake. It's not quite real but you can feel it and sense it. Hope allows you to hang on to something to get through the dark times of life. Don't let go.
32. Francesca Reigler Says Choose Positivity
"Happiness is an attitude. We either make ourselves miserable, or happy and strong. The amount of work is the same." – Francesca Reigler
Negativity is quite powerful, but positivity is powerful as well. Both take a lot of effort at times, but being negative is often much for exhausting. Try to choose positivity when and where you can over the next day or so and see how much better you feel because of it.
33. Tony Robbins on the Gift of Life
"Life is a gift, and it offers us the privilege, opportunity, and responsibility to give something back by becoming more" – Tony Robbins
Life gives us opportunities to learn about ourselves and to grow. By experiencing everything that you have, and learning everything that you have, you are given an opportunity to give back to humanity with your wisdom and positive attitude. Life is rich, just reach in and grab some treasures!
34. Deepak Chopra Says It's Up To You
"No matter what the situation, remind yourself "I have a choice." – Deepak Chopra
You always have a choice. Thought it might not seem like it at times, you really do. You are never required to stay in a situation that is detrimental to your mental or physical health. You have a choice to walk away, you have a choice to make changes, you always have a choice!
35. Gary W Goldstein on Changing Yourself
"All you can change is yourself, but sometimes that changes everything!" – Gary W Goldstein
Changing yourself is the only thing you can actually do. We cannot change anyone else can we? Once you start making changes within yourself you will notice changes in your immediate life start happening like a ripple effect. Things just keep getting better and better.
36. Stephen Covey Warns to Choose Wisely
"Happiness, like unhappiness, is a proactive choice." – Stephen Covey
Again, these stay positive quotes are reiterating the fact that you have a choice to be happy and positive! No one is holding a gun to your head telling you that you have to feel or think a certain way. Choose to be practice in cultivating positivity in your life.
37. Kurt Vonnegut Knows It's a Beautiful Place
"Take pride that even though the rest of the world may disagree, you still believe it to be a beautiful place." – Kurt Vonnegut
The world is full of violence, death, and corruption, but having a positive attitude means that you see the silver linings in each negative experience. Believe in the beauty of life; trust in the love and compassion that exists in the majority of humankind. It's there if you but look.
39. John Barrymore Warns It Will Sneak Up On You
"Happiness often sneaks in through a door you didn't know you left open" – John Barrymore
Sometimes when you are busy being miserable, happiness will sneak into a door that you didn't shut and lock. If this happens to you, allow it to overtake you and relax into the joy and peace that it brings. Call on it anytime you are experiencing a challenging situation.
40. Earl Nightingale Says To Think Carefully
"We become what we think about." – Earl Nightingale
We really do create what we think about. The law of attraction works in this manner. The more you focus on positive or negative energies, the more they will show up in your life every day. Choose wisely. It's really important to focus on what you actually want, instead of what you don't want.
41. Johann Wolfgang von Goethe
"Whatever you can do, or dream you can, begin it. Boldness has genius, power and magic in it." – Johann Wolfgang von Goethe
Yet another quote that says if you dream it that it's possible. Be bold in going after your goals. There is magic and power in a positive attitude as you go along through life. Nothing is impossible unless you decide it is. So decide that you are amazing that you deserve to have your dreams come true.
42. Alice Walker Says You Have Power
"The most common way people give up their power is by thinking they don't have any." – Alice Walker
This is a very sad but true quote. Many people feel that they are stuck and that there is no way out of their situations. However, that is simply untrue! We can all make changes and choices to better our lives. Sometimes that means walking away from people are situations that are unhealthy for us.
43. Zig Ziglar
"If you can dream it, you can achieve it." – Zig Ziglar
Everything that we experience in our world now was once just a dream of someone else that they eventually achieved. If might seem impossible at first but so did flying, computers, and cell phones. Whenever it is you're dreaming, know you can achieve it. If you don't know it, then believe and trust in it.
44. George Allen, Sr. Shares His Recipe
"Work hard, stay positive, and get up early. It's the best part of the day." – George Allen, Sr.
Working hard is essential to success, but staying positive and getting up early is also a part of the equation. Doing so gives you a chance to get more done and apply positive actions in your life that will get you closer to achieving your goals.
45. Maya Angelou Says to Choose Positivity
"Everything influences each of us, and because of that I try to make sure that my experiences are positive." – Maya Angelou
Working hard is essential to success, but staying positive and getting up early is also a part of the equation. Doing so gives you a chance to get more done and apply positive actions in your life that will get you closer to achieving your goals.
46. William James Knows It Boils Down to Belief
"Believe that life is worth living and your belief will help create the fact." – William James
Life really is worth living. Even if you are experiencing struggle right now. Believe that you can create change in your life and that good things are coming and they will. You can't waver though; you must really trust and believe it and then wait for it to show up.
47. Elbert Hubbard Knows Positivity is Better
"Positive anything is better than negative nothing." – Elbert Hubbard
Negative nothing produces nothing. Doing something with positivity is literally better than doing nothing. What can you do in your life today to add more positivity and success? Believe that good things are coming to you and they will! It seems silly to say but it really is true.
48. Buddha Says Become What You Think
"The mind is everything. What you think you become" – Buddha
It really is true. Whatever you think about is what you will experience more of. So why would you even entertain negativity? Turn your thoughts to change, better times, joy, and happiness and don't let go of those thoughts. Eventually you will see them manifest in your life.
49. Winston Churchill Believes in You
"The positive thinker sees the invisible, feels the intangible, and achieves the impossible." – Winston Churchill
Being positive allows you access to a certain kind of magic. You are able to see the invisible; feel what might not be right in front of you to touch, and allows you to achieve what others say cannot be done. Listen to Winston. Be like Winston.
50. Ralph Waldo Emerson Says the Bank Never Dries Up
"So of cheerfulness, or a good temper, the more it is spent, the more of it remains." – Ralph Waldo Emerson
I think love and kindness are the only things that you can spend so much of and get back immediately. The more you give the more you end up having to give; it's an unending source that you can tap into. Go there now and pull out some positivity into your life now.
51. Henri Matisse Knows You Need Only Look
"There are always flowers for those who want to see them." – Henri Matisse
It is a skill and a practice to see the positivity in every circumstance, even the most horrific of circumstances. If you want to see the beauty and flowers within life, you will find them no matter what. Being positive allows you a view of things that many others can't see.
52. William James Says Change Is the Only Way
"If you can change your mind, you can change your life." – William James
Changing your mind is the first step in changing your life. Be patient with yourself because changing your mind and changing your life can sometimes be a slower process than you might anticipate. Keep moving forward in your life and you will inevitably change it into a more positive life.
(Read this next: 65 Positive Quotes You'll Need When Life Gets Rough)