Your sister has been there with you during all the highs and lows of childhood and maybe even into adulthood as a confidant and friend. The relationship between siblings is a strong one that hopefully will stand the test of time. Find a quote that fits your relationship and share it with your sister today.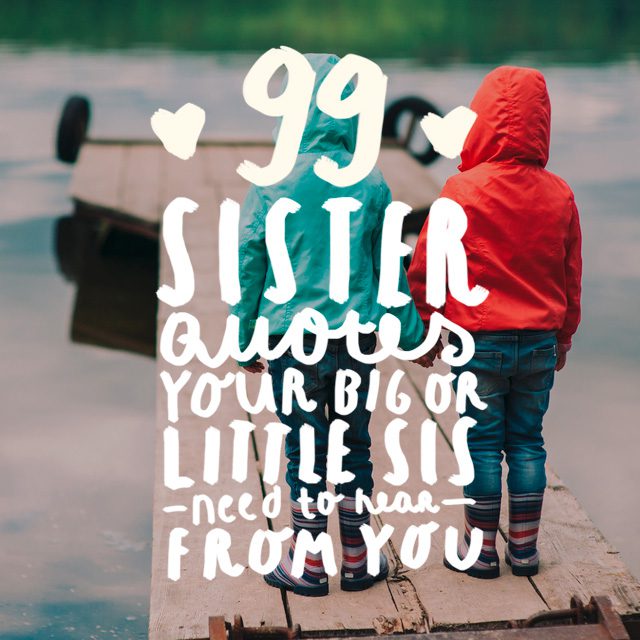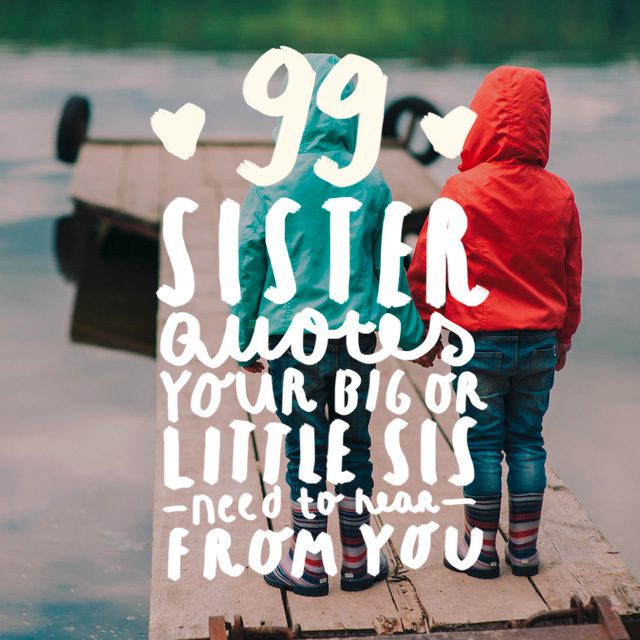 1. Margaret Mead on Sisterly Competition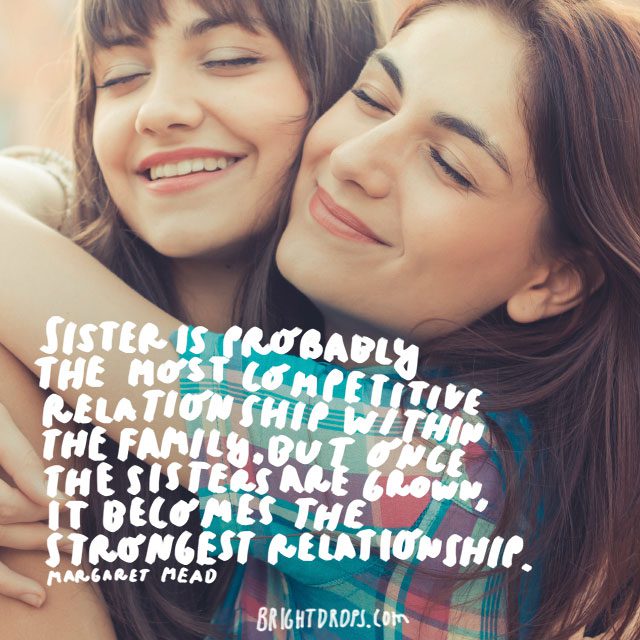 "Sister is probably the most competitive relationship within the family, but once the sisters are grown, it becomes the strongest relationship." – Margaret Mead
Two sisters is like the most beautiful disaster at times isn't it? You might have had the best of times with yours, along with some epic fights, but when childhood is outgrown the relationship takes on a new dynamic. The strength you gain from making it through the early years with your sister is immeasurable.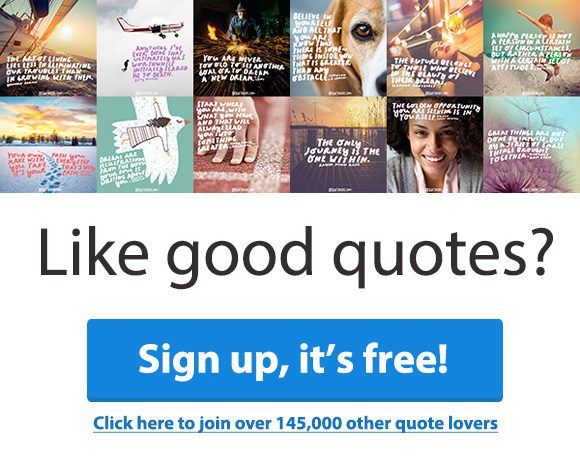 2. Cali Rae Turner and Sisterhood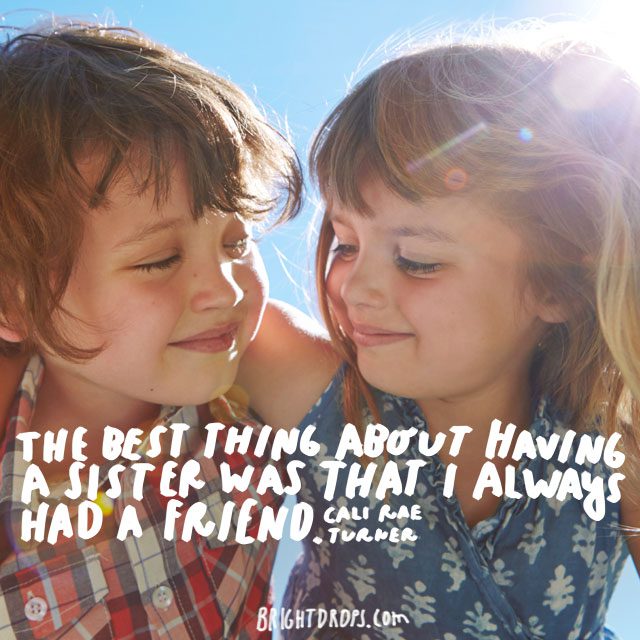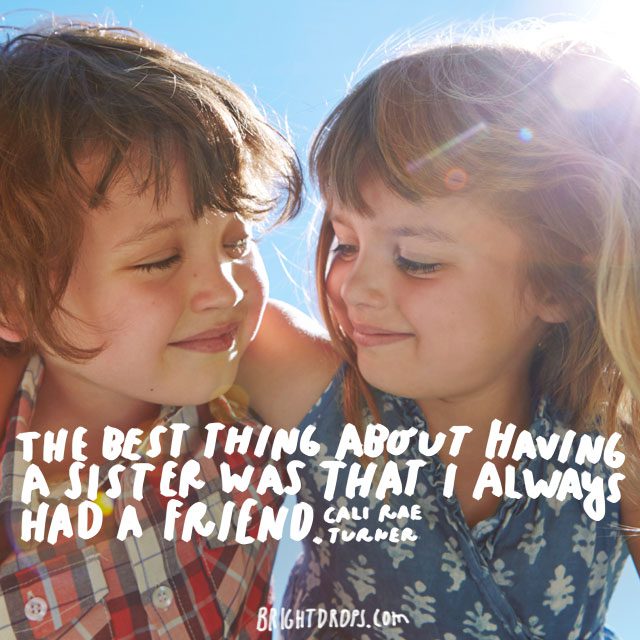 "The best thing about having a sister was that I always had a friend." – Cali Rae Turner
When friends can't play and there is no one with a childs mind to entertain you, your sister was there. Can you think of games you used to play with you sister when you were bored to tears? Those are cherished memories; make sure to hold on to them.
3. Charlotte Gray on Sisters Seeing Through You
"You can kid the world, but not your sister." – Charlotte Gray
You might be able to put on a mask for the world that you are fine and have it all together, but your sister knows that you are stressed and worried about your finances. You might appear calm and collected to the world after accepting a new job offer, but your sister knows you are ready to pee your pants with excitement.
4. Amy Li Can't Shake Her Sister
"Having a sister is like having a best friend you can't get rid of. You know whatever you do, they'll still be there." – Amy Li
Your sister has been, and always will be there. She's your friend that you get to see at family holiday parties and birthday celebrations. She will be there during family hardships and joys. If you have a sister then rely on her presence as a valuable one in your life.
5. Carol Saline on the Comfort of a Sister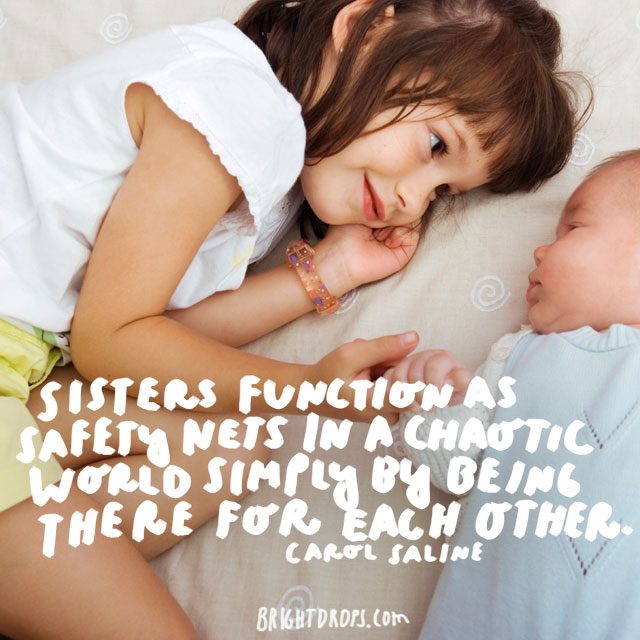 "Sisters function as safety nets in a chaotic world simply by being there for each other." – Carol Saline
When the world gets you down and everything that can go wrong does go wrong, your sister can be a constant in your life. Even if you are separated by miles or differences in personality, make sure to reach out to your sister and tell her, you love her. While you're at it, share some of these sister quotes with her.
6. Shannon Celebi Knows About Sisterly Intimacy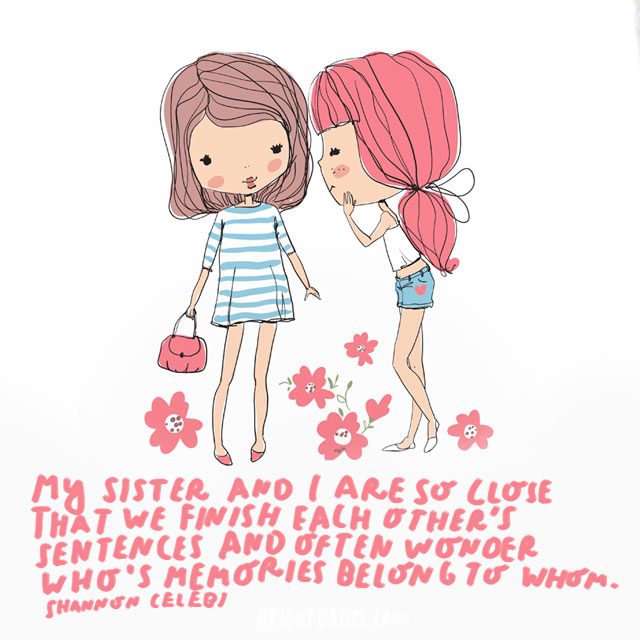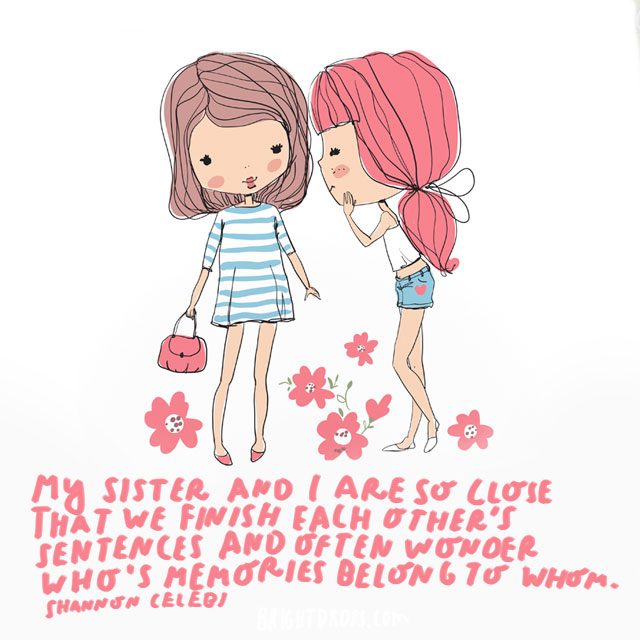 "My sister and I are so close that we finish each other's sentences and often wonder who's memories belong to whom." – Shannon Celebi
Growing up with a sister means that you have shared a lot of the same experiences and are similar in the ways you think and feel about things. Do you have a sister with whom you feel you could finish her sentences? It can be fun to have someone that is so understanding of you because they are like you!
7. Alice Walker Knows the Comfort of A Sister's Arms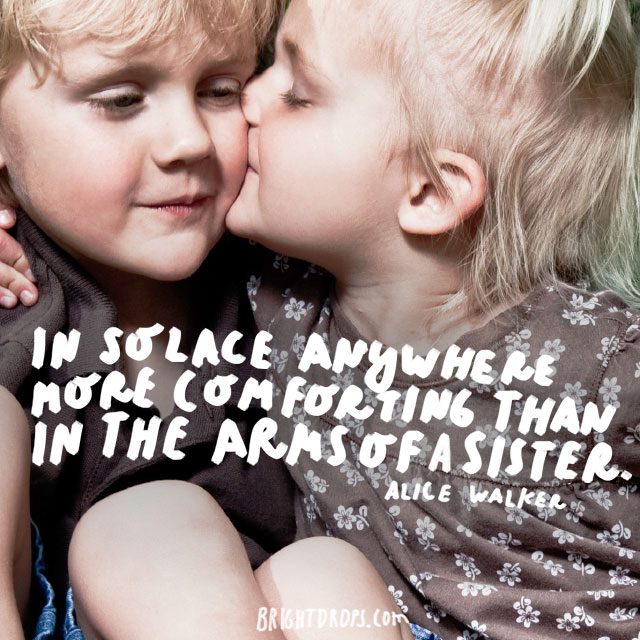 "Is solace anywhere more comforting than in the arms of a sister." – Alice Walker
Your sister is a completely different person than you, but she understands you like other people simply cannot. Growing up together means that all the good, bad, and ugly is seen and shared between you and your sister. When you are hurting, your sister can be one of the best people to go to for comfort and advice.
8. Toni Morrison Warns of Double Trouble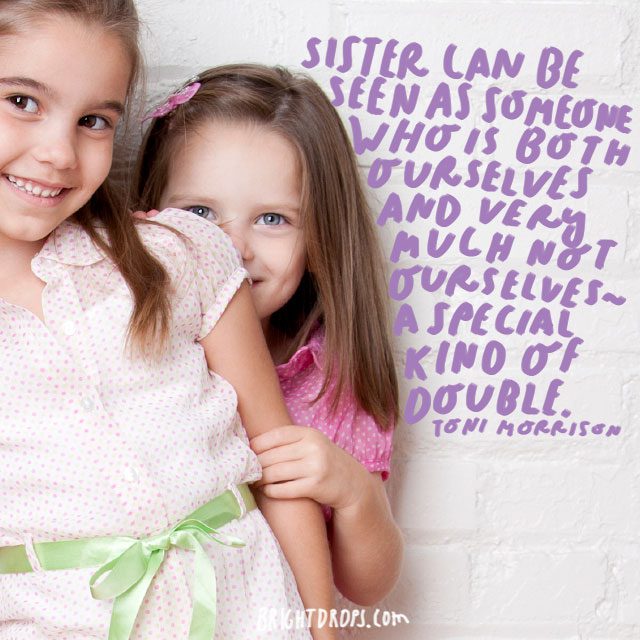 "A sister can be seen as someone who is both ourselves and very much not ourselves – a special kind of double." – Toni Morrison
Think about looking at your sister as another version of yourself. How are you similar? How are you different? Sharing genes and being raised in a household together means that an intimate relationship is shared between you. You can connect in like mindedness and learn from each other's differences.
9. Bill Cosby Relating to First Born Children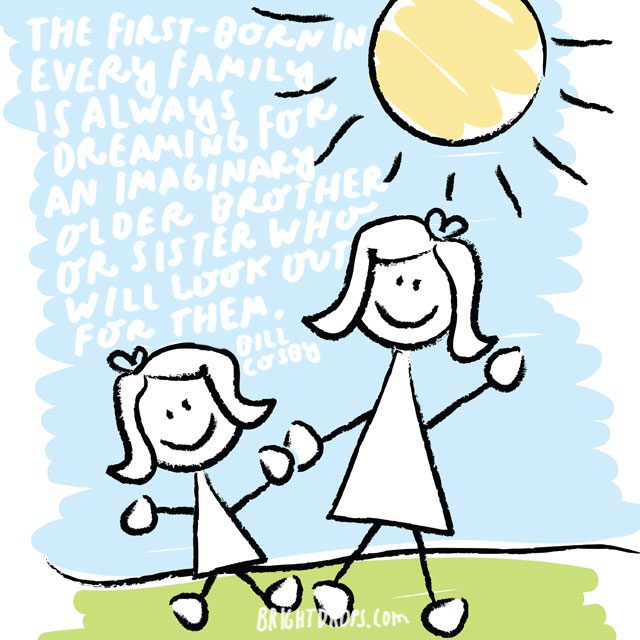 "The first-born in every family is always dreaming for an imaginary older brother or sister who will look out for them" – Bill Cosby
If you are the first born and you have always dreamed of having an older sibling, then you can probably relate to this quote quite well. Though, you are invited to think about being blessed with the seniority to guide and care for your younger sister. With great power comes great responsibility.
10. Elizabeth Fishel Sees the Reflection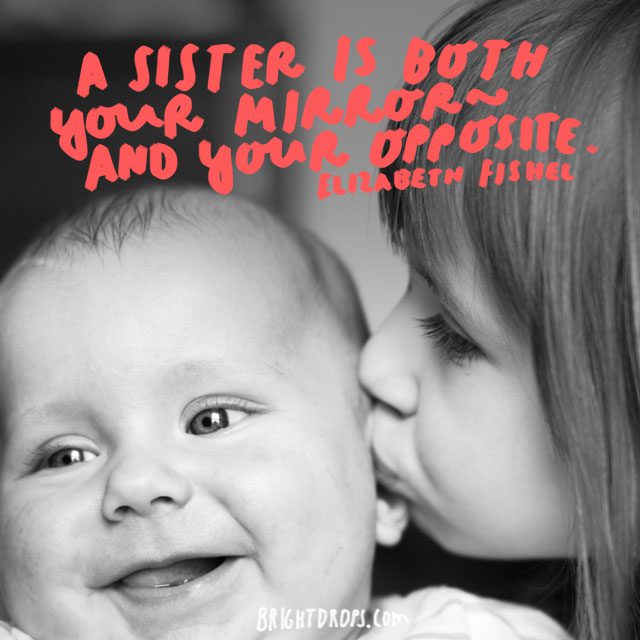 "A sister is both your mirror – and your opposite." – Elizabeth Fishel
You can look at your sister and see some of yourself in her, and some of her within you. You might be able to see some of your parents in each other as well. You and your sister are your own individual people with your own interests. It's fascinating to notice the similarities and differences from sibling to sibling.
11. Chris Montaigne Knows that Your Sister Knows
"A sister smiles when one tells one's stories – for she knows where the decoration has been added." – Chris Montaigne
When you are in the middle of telling a fantastic story and you've captured the audience, your sister is the one to chime in to tell them that you tripped and fell, or had spinach in your two front teeth. Your sister knows your intimate details and she can always see through you.
12. Mary Montagu on Confiding in Your Sister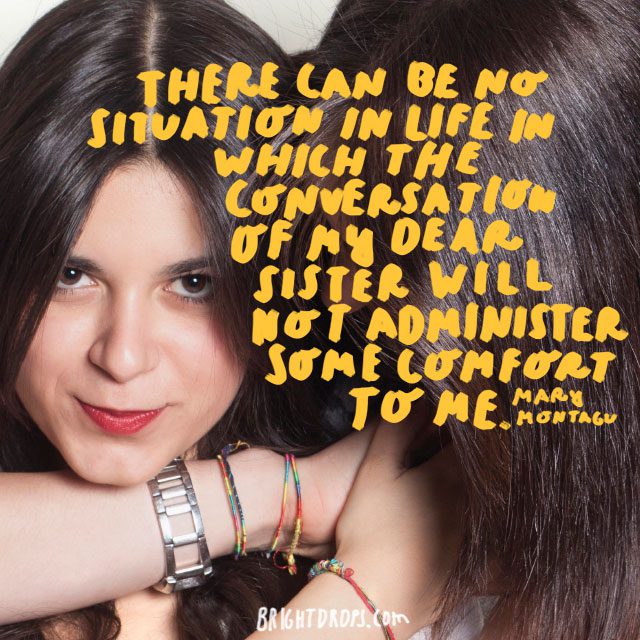 "There can be no situation in life in which the conversation of my dear sister will not administer some comfort to me." – Mary Montagu
Having a sister with whom to share your troubles is one of the benefits of being blessed with such a sibling. Your sister can be just the person to listen to you but she will also help you see things that you might not. A sister is a great confidant.
13. George R.R. Martin Understands Sisterly Ties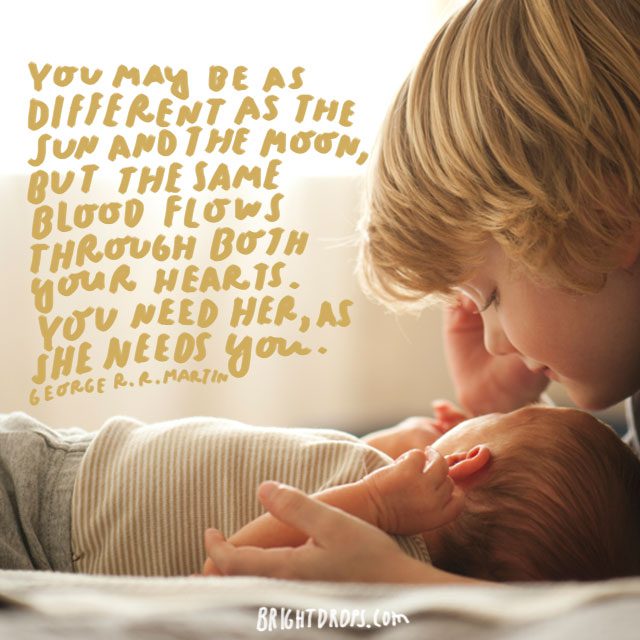 "You may be as different as the sun and the moon, but the same blood flows through both your hearts. You need her, as she needs you." – George R.R. Martin
You don't share the first 18 odd years with someone without a level of intimacy. You find that you need their friendship and understanding from time to time. You can relate with each other when dealing with your parents, you can share memories together, and be a source of support to each other. If you need her, then she needs you in some way so make sure you show up.
14. Emily Dickinson Wishes for More Sisters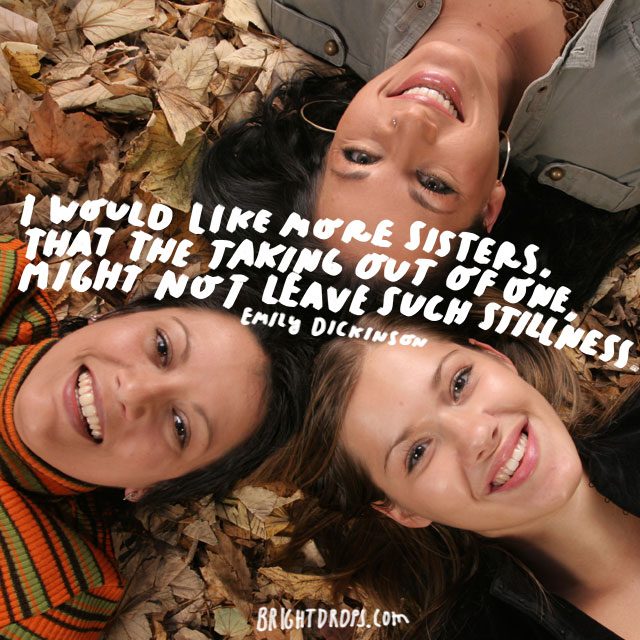 "I would like more sisters, that the taking out of one, might not leave such stillness" – Emily Dickinson
Having one sister is blessing enough, but if you have more than one, then you are blessed twice over and then some. If your relationship crumbles with your sister, or if she passes away, then it wouldn't be so lonely. No matter if you have one or ten sisters, make sure you maintain a good relationship with them.
15. Pam Brown on a United Front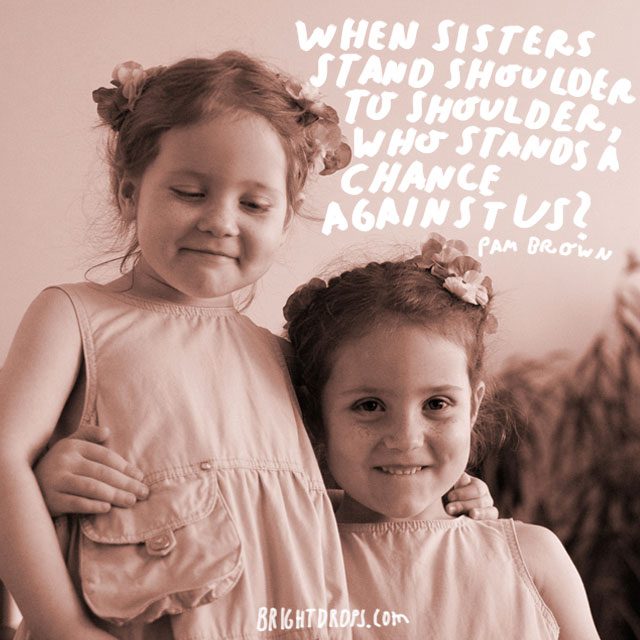 "When sisters stand shoulder to shoulder, who stands a chance against us?" – Pam Brown
When sisters decide to team up and stick up for each other, they are a force to be reckoned with! Your sister might have picked on your endlessly as a child, but chances are that then or in the future she has come to your side when someone else has picked on you.
16. Ugo Betti Touches on the Complexities of Sisterhood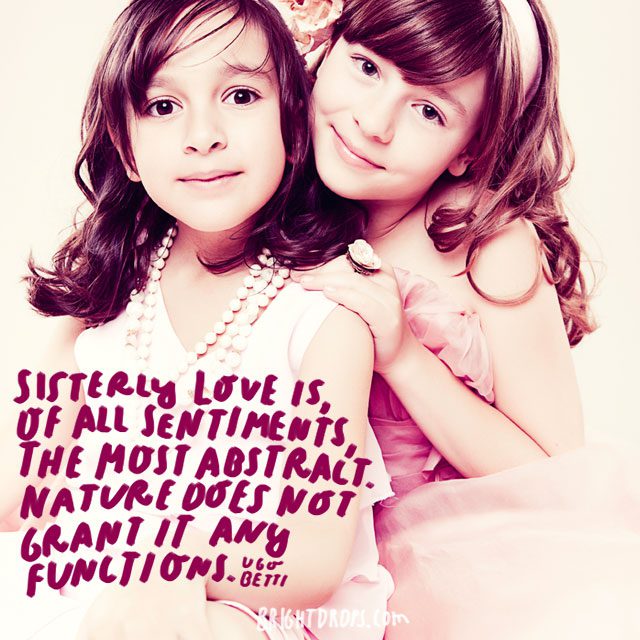 "Sisterly love is, of all sentiments, the most abstract. Nature does not grant it any functions" – Ugo Betti
Sisterly love is abstract in the way that the most intense of hatred can exist with the deepest bonds of love. We venture to say there that nature does grant it function because of shared DNA, though is it the DNA that grants this strong sisterly love, or is it from growing up with someone for decades?
17. Susan Scarf Merrell and The Longevity of Siblings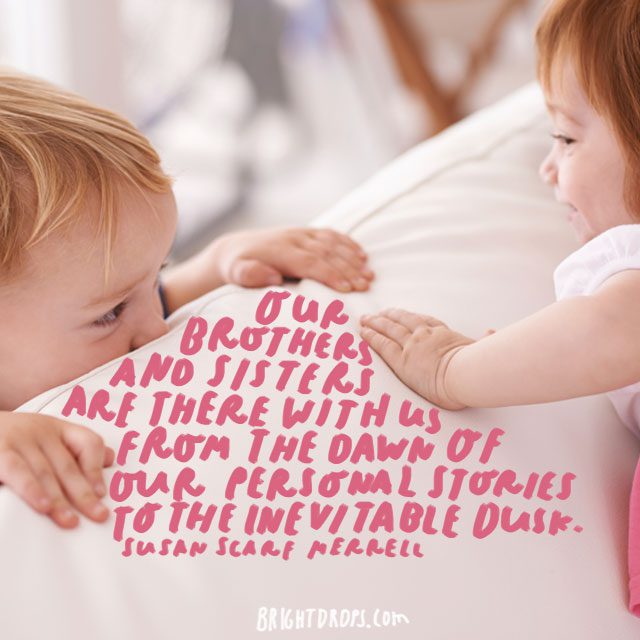 "Our brothers and sisters are there with us from the dawn of our personal stories to the inevitable dusk." – Susan Scarf Merrell
Even if your sister wasn't there with you in the first few years of your life, because you were born first, she is part of your story and was there in the beginning. That shared relationship exists until the dusk of time and you both pass from this life. Your sister is a constant in your life, make sure to treat her with respect.
18. James DeVries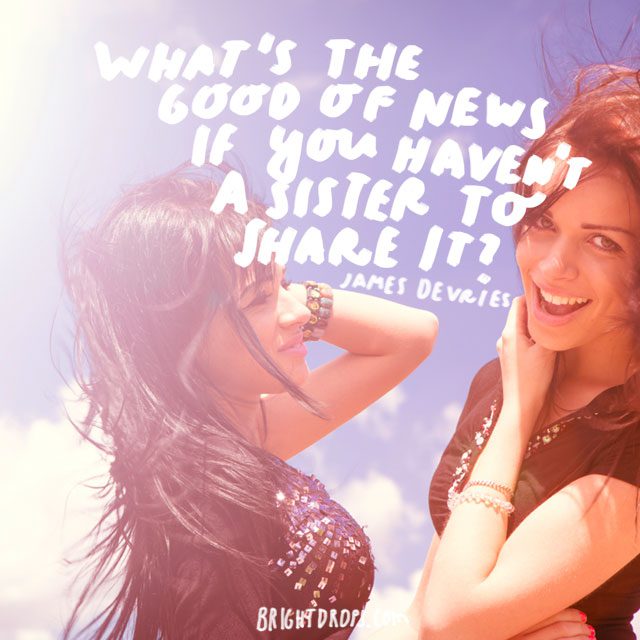 "What's the good of news if you haven't a sister to share it?" – James DeVries
You can tell your friends and your mom your good news and they will be happy for you, but your sister is a friend and a peer who knows just how far you've come in your life. Share your new with your sister and be someone she can come approach to share her own.
19. Pam Brown and Borrowing Clothes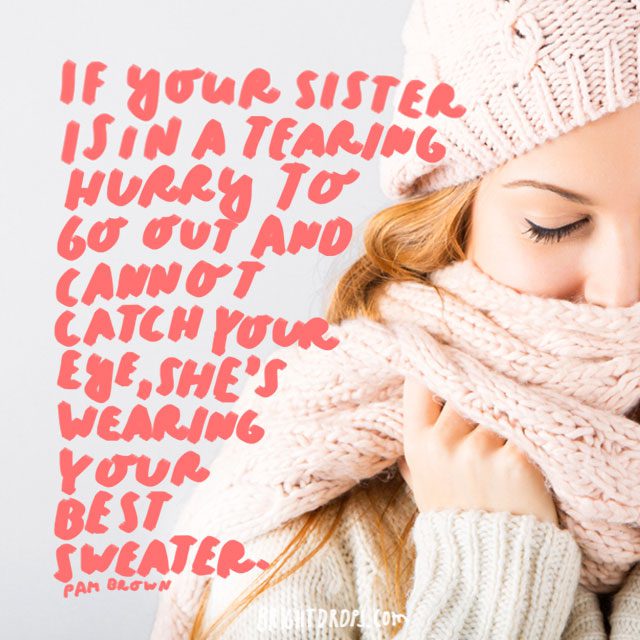 "If your sister is in a tearing hurry to go out and cannot catch your eye, she's wearing your best sweater." – Pam Brown
World wars in homes with sisters are often attributed to one sister taking something that belongs to the other. From age 2 to 20, this could be the case. There's an unspoken boundary that sisters often cross when it comes to borrowing each others clothing.
20. James Boswell Knows the Value of Siblings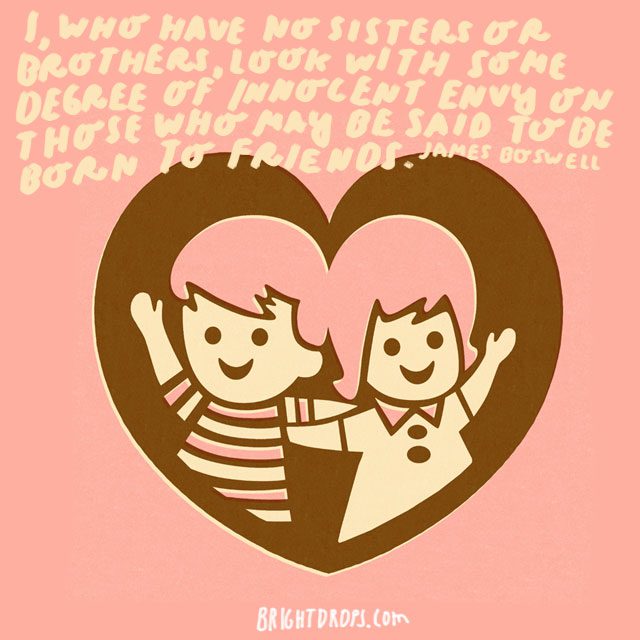 "I, who have no sisters or brothers, look with some degree of innocent envy on those who may be said to be born to friends" – James Boswell
Yes, many people have born playmates while others have no siblings at all, or there is enough of an age gap that playing was different. Even though your sisters might drive you nuts, be grateful you have them in your life. From childhood to adulthood, your sisters are built in friends you've been blessed with.
21. Isadora James on How Special a Sister Is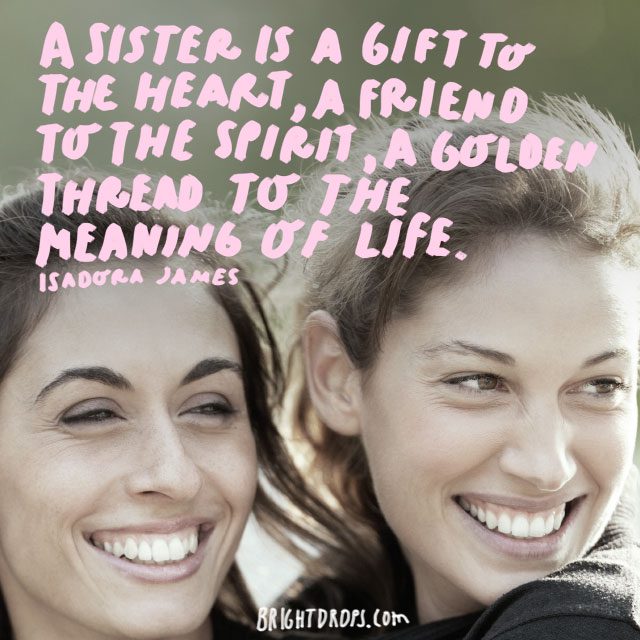 "A sister is a gift to the heart, a friend to the spirit, a golden thread to the meaning of life." – Isadora James
Your sister is a blessing in your life and has given you love that you won't get with anyone else in the same way. She is a friend who has shared a life with you, maybe even a bedroom too, and she is a thread back to your family where you both began your lives.
22. Sara Corpening Knows the Value of a Sister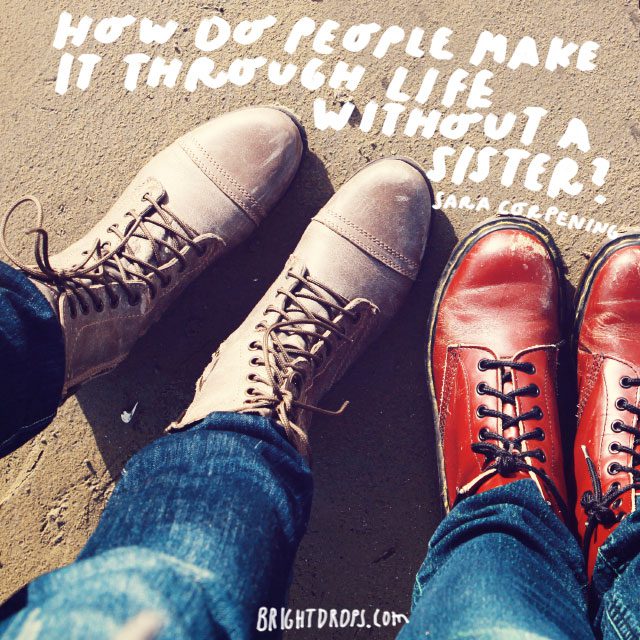 "How do people make it through life without a sister?" – Sara Corpening
It can be very lonely not having a sister. For boys, having one means there is someone there to get nurturing and compassion from; a listening ear and lots of hugs and kisses too. For girls, having a sister means having someone that understands the gender and is best friend to talk about boys to and fret over fashion.
23. Evelyn Loeb Tells it Straight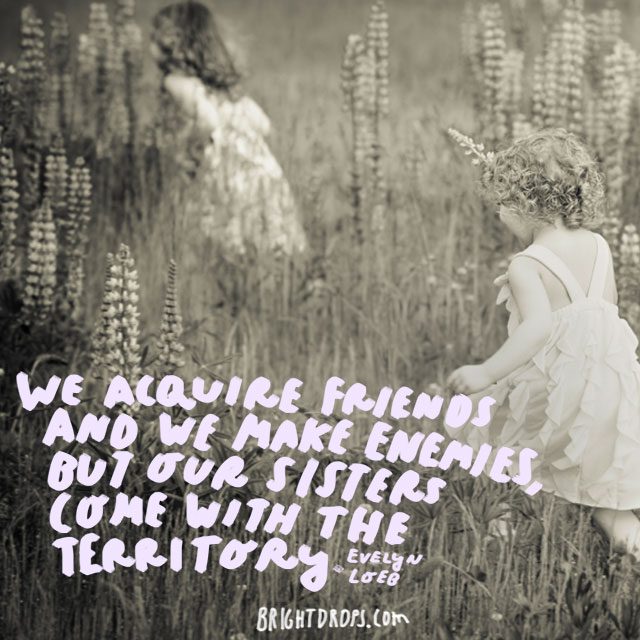 "We acquire friends and we make enemies, but our sisters come with the territory." – Evelyn Loeb
We pick up friends and haters all through our lives, but a sister is one that can be both of these things. She's probably been your best friend at times and your worse of enemies. However, beneath it all, she has shared a life with you so try to develop and keep a good relationship with her as adults.
24. Pam Brown on the Many Faces of Sisters
"An older sister is a friend and defender – a listener, conspirator, a counsellor and a sharer of delights. And sorrows too." – Pam Brown
If you have an older sister then you might be familiar with her being these things for you. She had the experience of your parents and your home before you did so she can more easily understand what you go through. She is someone who can show up for you in many different ways if you let her.
25. Tia Mowry and Sisterly Connection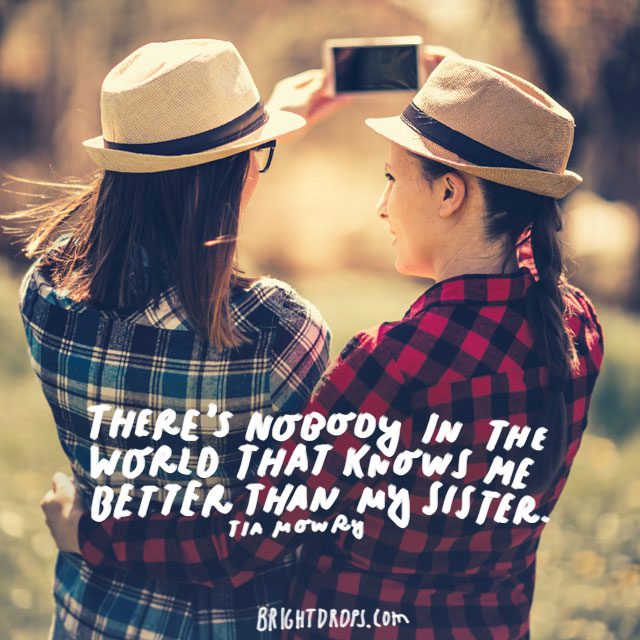 "There's nobody in the world that knows me better than my sister." – Tia Mowry
How can she not? You have both lived in the same home, with the same parents, gone to the same schools and play with the same friends. She has seen you at your best and seen you at your worst. She knows you and you know her. Make sure to be in each others corner.
26. Patti Smith on a United Front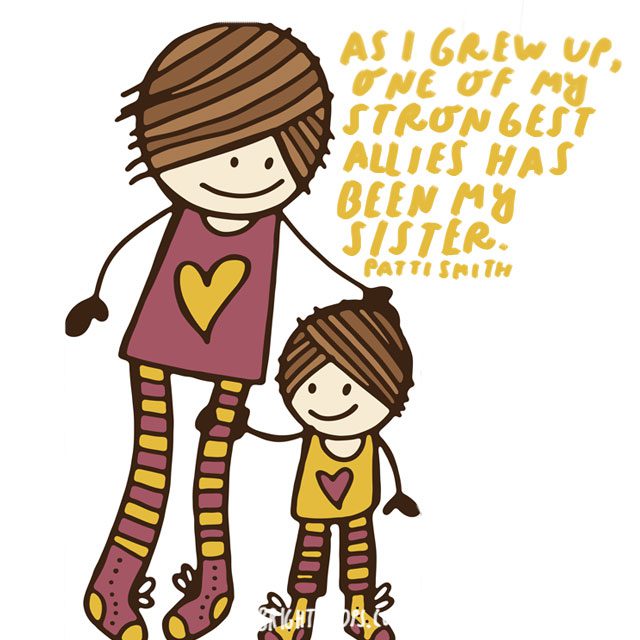 "As I grew up, one of my strongest allies has been my sister." – Patti Smith
Even though you have probably fought with your sister through the years, she has most likely been an ally with you against your parents from time to time, the bullies at school and boyfriends or girlfriends that broke your heart. Hopefully she is someone that has your back through it all.
27. Marion C. Garretty on Memories
"A sister is a little bit of childhood that can never be lost." – Marion C. Garretty
Your childhood stays with you in the form of your sister. You have shared experiences and shared memories that you can reflect on at any point during your lives. You have seen each other through all the awkward challenging years of childhood and into your lives beyond.
[hr]
28. Betsy Cohen on Sharing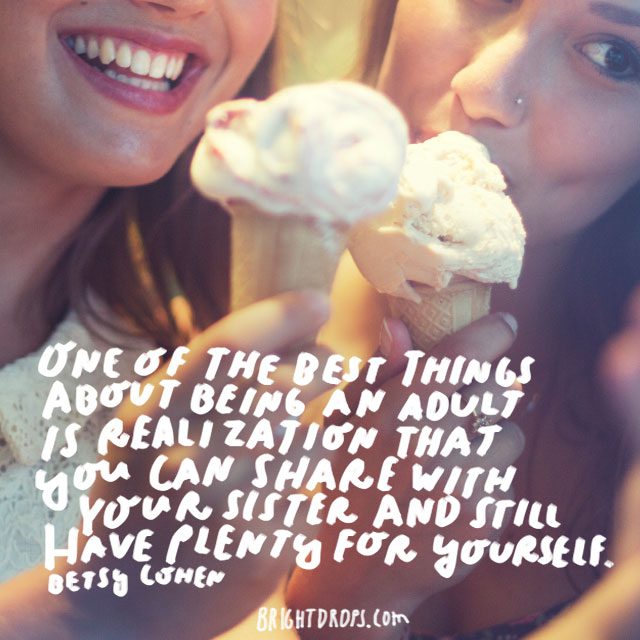 "One of the best things about being an adult is the realization that you can share with your sister and still have plenty for yourself." – Betsy Cohen
It is a mark of maturity to understand that there is enough to go around. The idea that sharing means that you go without something is a thing that should have stayed in childhood. Hopefully you have both grown into adults that respect how nice it is to share things with each other.
29. Louisa May Alcott Encourages Sisters to Help Each other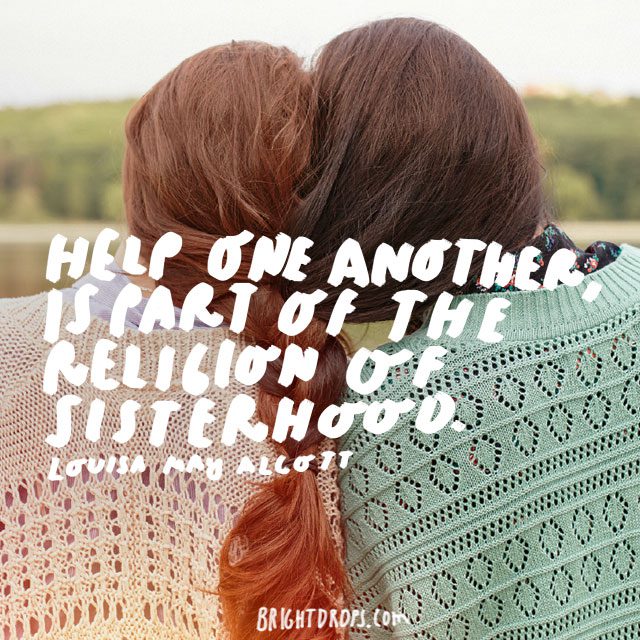 "Help one another, is part of the religion of sisterhood." – Louisa May Alcott
When you have a sister and you grow up in a home together, you understand that helping one another is valuable. Even as you grow up and have different lives from each other, you can still help each other in the name of family and sisterhood.
30. Pam Brown on Long Standing Grudges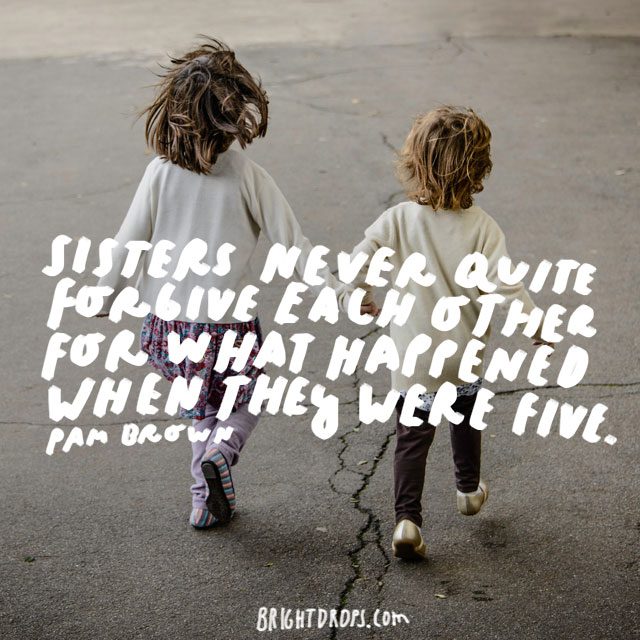 "Sisters never quite forgive each other for what happened when they were five." – Pam Brown
Even though you have grown up and maybe grown apart, there are probably things that happened between you and your sister in childhood that you still chide each other about. However, the past does not matter and as long as you can respect each other in the present, that is what is important.
31. Catherine Killigrew and the Connection Between Sisterhood and Friendship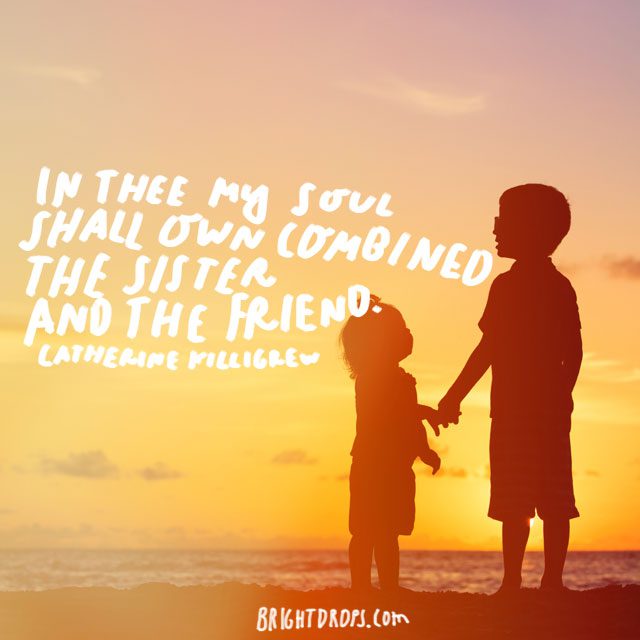 "In thee my soul shall own combined the sister and the friend." – Catherine Killigrew
A sister is someone who is not only a family member, but also a friend. She has probably been a playmate, an enemy, a confidant, and co-conspirator. If you have a sister who is also your friend, then count yourself extremely lucky. Maybe it's time to call her?
32. Pam Brown on Sisterly Youth
"It's hard to be responsible, adult and sensible all the time. How good it is to have a sister whose heart is as young as your own." – Pam Brown
Your sister is someone who has the same memories of childhood and will happily engage in wool gathering with you. You have probably a shared times of mischief and trouble making, so this makes her the best person to let your hair down and get silly with.
33. Pamela Dugdale on Sisters and Hard Knocks
"Siblings are the people we practice on, the people who teach us about fairness and cooperation and kindness and caring — quite often the hard way." – Pamela Dugdale
Your brothers and sisters are those that you first learn how to develop social skills with. Often the lessons that we learn on fairness, cooperation, kindness, and caring come in the way of fights and tears. However, at least you were both in it together!
34. Louisa May Alcott on Your Sister Finding a Lover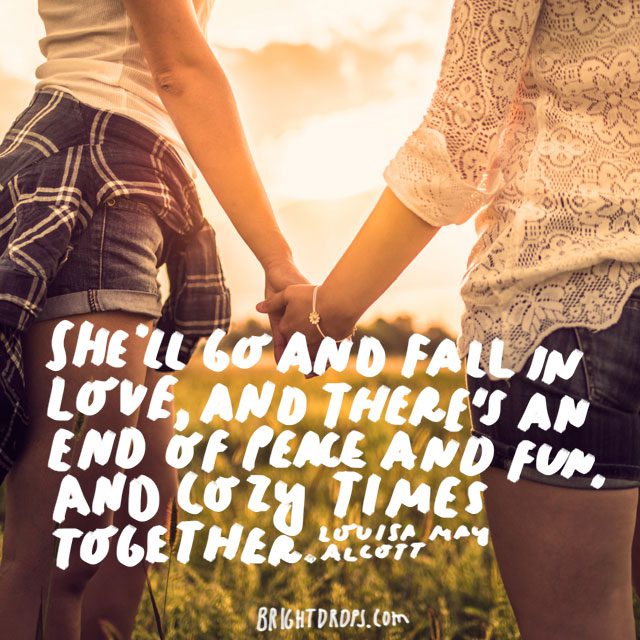 "She'll go and fall in love, and there's an end of peace and fun, and cozy times together." – Louisa May Alcott
It can be hard to watch your sister become engrossed in the attentions of another when she falls in love. However, that does not change the relationship you have with her so try to be happy for her. Make sure you do your best to spend time with her whenever possible.
35. Victoria Secunda Talks of Sister Soul Mates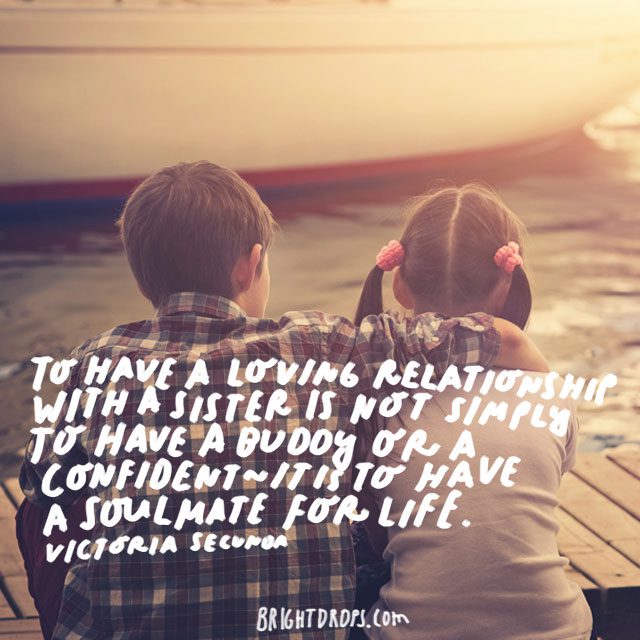 "To have a loving relationship with a sister is not simply to have a buddy or a confident — it is to have a soulmate for life." – Victoria Secunda
The bond with you and your sister may get stronger through the years and will hopefully become one of the most important relationships in your life. There have been times you have confided and supported each other, as well as enjoyed the good times, but deep down you are soul mates to some degree.
36. Katherine Mansfield Knows Your Sister Has You in Her Heart
"Bless you, my darling, and remember you are always in the heart – oh tucked so close there is no chance of escape – of your sister." – Katherine Mansfield
Even if you don't have the closest relationship with your sister, or you live miles apart, your sister has you in her heart and you have her in yours. The bond of growing up together does not just go away. If it's been awhile since you've spoken to your sister, give her call.
37. Louise Bernikow on the Closeness of Sisters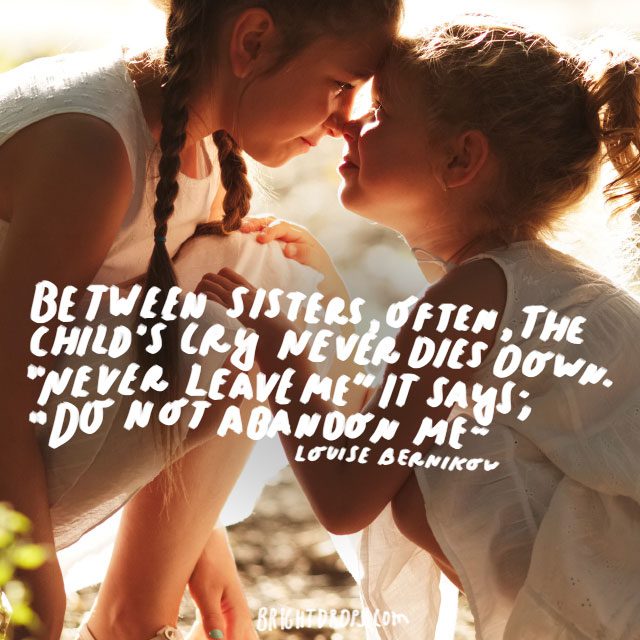 "Between sisters, often, the child's cry never dies down. "Never leave me," it says; "do not abandon me."" – Louise Bernikow.
After you have been raised with the same person, there is a bond that has grown between you. Even though you might be grown now, there is a piece of you that never wants your sister to leave your life. This is perfectly acceptable and it means that you love your sister deeply.
38. Charles M. Schulz on Sibling Relationships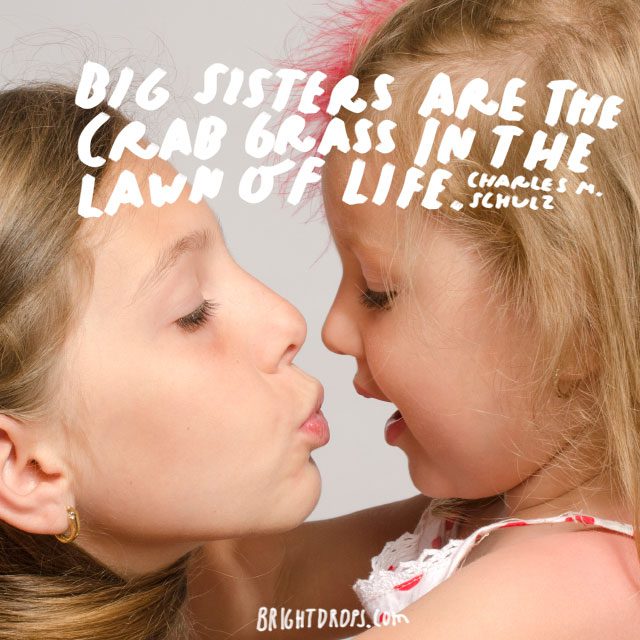 "Big sisters are the crab grass in the lawn of life." – Charles M. Schulz
If you have a big sister, you may have felt at some point that she is blight on your family. It's normal to not like our siblings as we are growing up. But just as you might have felt that she is the crab grass in the lawn of life, she might have felt the same of you.
39. Pam Brown Understands Sister Speak
"Sisters don't need words. They have perfected a language of snarls and smiles and frowns and winks – expressions of shocked surprise and incredulity and disbelief. " – Pam Brown
Your sister can look at you and in a split second you know exactly how she is feeling. Sisters have a language all on their own that usually exhibits other things like slamming doors, shrieking, and being completely irrational. But you should know how to speak her language to some degree by now, right?
40. Clara Ortega Bets On Your Sister Being in Your Corner
"The mildest, drowsiest sister has been known to turn tiger if her sibling is in trouble." – Clara Ortega
Even if she used to pick on you endlessly, your sister probably has, and still most likely will, come to your aid when the world is against you. She might not seem very interested in the goings on in your life but if you are in trouble, you can count on her.
41. Maya Angelou Know the Work it Takes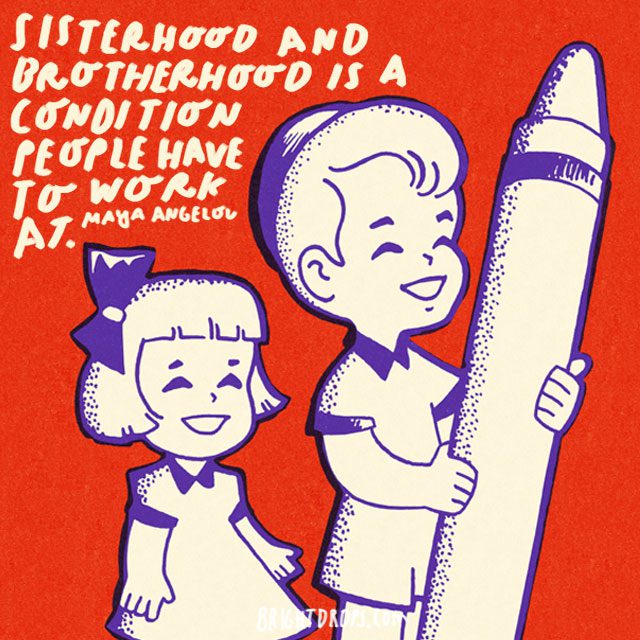 "Sisterhood and brotherhood is a condition people have to work at." – Maya Angelou
Siblinghood is a condition that people have to work at. It takes a lot of energy to work around the personality of another person, to be respectful, and to communicate well. Make sure that you are doing regular maintenance on your relationship with your sister.
42. Deborah Moggach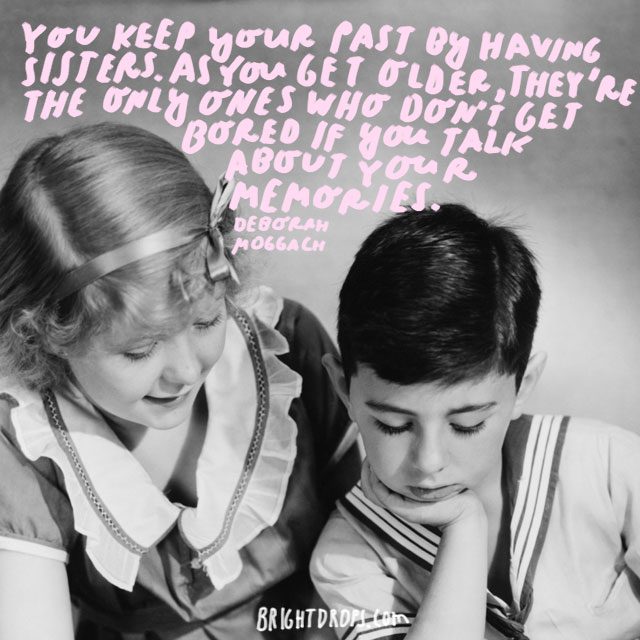 "You keep your past by having sisters. As you get older, they're the only ones who don't get bored if you talk about your memories." – Deborah Moggach
There comes a time in polite company that sharing your memories of childhood gets boring for the other people listening. However, you could go on for an hours about your childhood with your sister and she would go on for hours with you about hers.
43. Linda Sunshine Sees You When You're Sleeping and Knows When You're Awake
"More than Santa Claus, your sister knows when you've been bad and good." – Linda Sunshine
Who needs Santa Claus when your sister keeps a running tally of your good and bad deeds? She knows exactly how you tick and the troubles you can get yourself into. But she also knows when you have extended a helping hand and been kind. Your sister is watching, choose wisely.
44. Carol Saline Knows of Special Sisterhood
"What sets sisters apart from brothers and also from friends is a very intimate meshing of heart, soul and the mystical cords of memory." – Carol Saline
Sisters have a very special kind of relationship. Being female they are able to tap into a level of love and compassion but come easily. They often share a strong and loving bond, a soulmate connection, and a shared history that they can reminisce over.
45. Brad Goreski is Supported By His Sister
"My sister has been there for me through everything." – Brad Goreski
If you have a sister who has been a source of support through all the ups and downs of life, and is someone you can trust to be there when she says she is going to be, then make sure to express gratitude to her for that. It is a relationship that others often envy.
46. Barbara Alpert on The Many Faces of Your Sister
"Your sister is your teacher, your defense attorney, your personal press agent, even your shrink. Some days, she's the reason you wish you were an only child." – Barbara Alpert
Your sister has probably helped you learn some important lessons in life, come to your defense when you've been under attack, declared your awesomeness two others, and has given you great advice through the years. Though, no matter how great your relationship is, there are probably days you have wished she were never born. And that is perfectly normal.
47. Jeffrey Kluger
"Your parents leave you too soon and your kids and spouse come along late, but your siblings know you when you are in your most inchoate form." – Jeffrey Kluger
Your sister is the one that has been there with you when you were a soft wrinkly baby, to the time when one of you passes away. A person who has been in your life through so much as not only a family member but a peer, is one that you should find joy and solace in.
48. Kim Kardashian Knows All About Sibling Friends
"Having lots of siblings is like having built-in best friends." – Kim Kardashian
She has enough to be an expert on the topic. Their childhood and beyond, your sister is a built in best friend for you to rely on, trust and, and share good and bad times with. Friends easily come and go, but your sister is forever.
49. Lemony Snicket Knows What's Up
"Siblings that say they never fight are most definitely hiding something" – Lemony Snicket
It probably exists somewhere, a sibling relationship with absolutely no fighting, but we might be hard pressed to find it. Fighting with your siblings is extremely normal in childhood, and quite common in adulthood. It's a part of life; perhaps this is where the whole phrase "love and hate" was created.
50. Charlotte Gray on the Past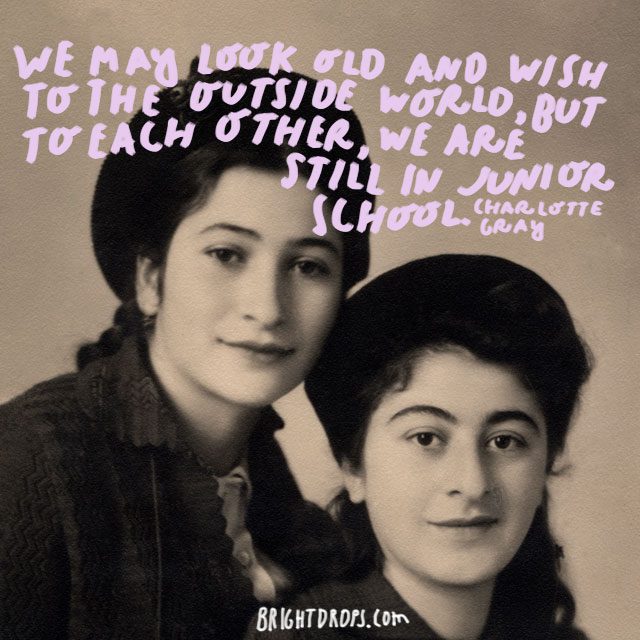 "We may look old and wish to the outside world. but to each other, we are still in junior school." – Charlotte Gray
Your sister is one of the few people that will ever look at you as the child that she grew up with. Your parents always see their adult children as their babies, but your sister will also often treat you as if you are still a teenager.
51. Chuck Danes Knows of the Love Connection
"Brothers and sisters separated by distance, joined by love. " – Chuck Danes
It can be hard to live miles and miles away from your sister, but the fact that you love each other and support each other is what is important. Make sure to call and visit your sister as frequently as you can so that the bonds of your relationship stay intact.
52. Sal Williams Speaks of Sisterly Angels
"Because angels are sometimes busy elsewhere, god created sisters like you." – Sal Williams
Your sister can be like an angel that sweeps into your life when you most need her. Sisters are often extensions of our mothers that we can find comfort in. If you have a sister that has been an angel in your life, make sure to thank her for it.
53. Toni Morrison on Goofy Girls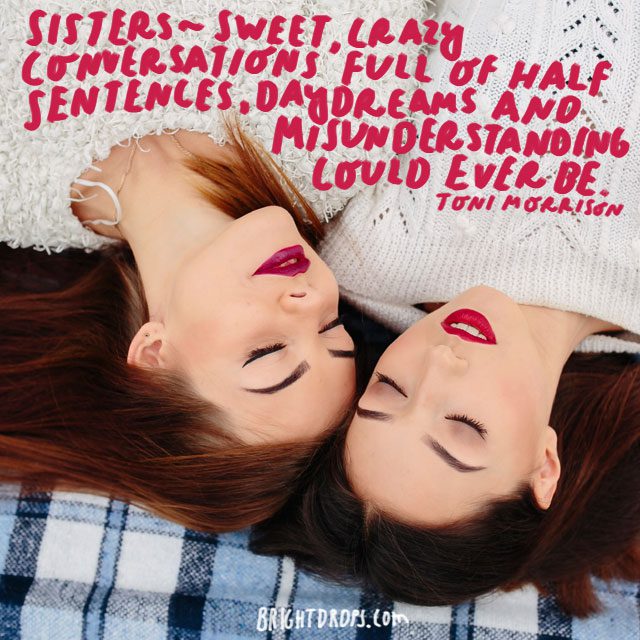 "Sisters – sweet, crazy conversations full of half sentences, daydreams and misunderstanding could ever be." – Toni Morrison
Sisters often have the most interesting conversations that are merely meanderings of feminine minds. But the thing is that sisters understand exactly what the conversation is meant to be and both connect to it wholeheartedly. To an outsider it looks flippant, but the connection that is happening is vital and valuable.
54. Ken Wheaton Knows of Sister Fights
"At this point, none of us are sure why we fight. We're sisters. We need no good reason to fight, even though we have plenty of them." – Ken Wheaton
Sister may sometimes fight for no other reason than just to fight. There are plenty of reasons for sisters to fight with each other but there really is no good reason for it. Do you and your sister fight out of habit or necessity?
55. Claire Cook on Opening Her Big Mouth
"What are sisters for if not to point out the things the rest of the world is too polite to mention." – Claire Cook
Your sister has probably interjected into a conversation things that you would rather leave unsaid. Aren't they just great for that? Your sister is the most likely person to put you in your place and leave you embarrassed. Sometimes having someone know you so intimately can be a challenge.
56. Jojo Moyes Feels Your Pain
"Nobody fights you like your own sister; nobody else knows the most vulnerable parts of you and will aim for them without mercy." – Jojo Moyes
Your sister is one of the best people that can stick a knife in the right place and twist it just the right way. Because she knows you so intimately, she may at times take things a bit too far. So, it's probably best that you maintain a good relationship with your sister and keep yourself on her good side.
57. Catherine Pulsifer and Lifetime Friends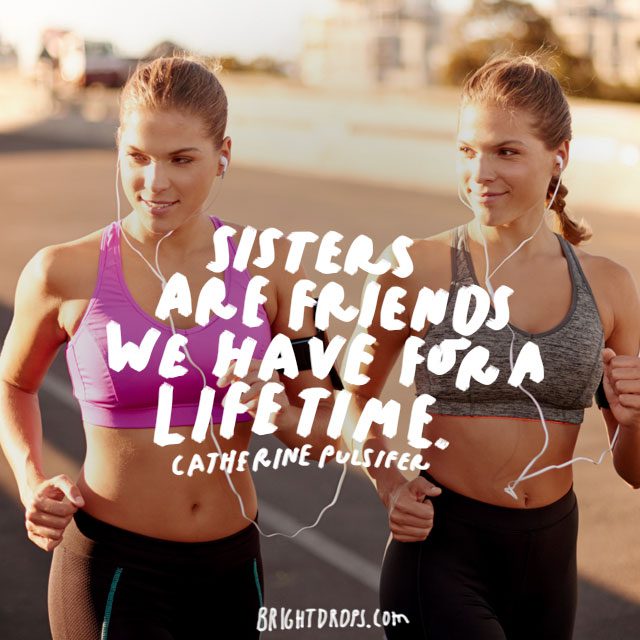 "Sisters are friends we have for a lifetime." – Catherine Pulsifer
Many friends come and go. It starts after high school graduation when friends go their separate ways, and can happen again in college, as well as having different friends when you move. However, your sister is your friend will always be there through the changing tides in your life.
58. Deborah Moggach Explains the Connection
"Whatever you do they will love you; even if they don't love you they are connected to you till you die." – Deborah Moggach
Many sisters will love you even when you are at your least lovable, and even if you have poor relationships with your sisters you are still connected through this life. A shared childhood and shared DNA does not just disappear. The bond will be there, regardless.
59. Pam Brown on Commonality
"Sisters share the scent and smells – the feel of a common childhood." – Pam Brown
If you've ever spent time reminiscing over your childhood with your sister, you'll understand this sister quote. You may have many memories that are quite similar and you can discuss even the very smells that you experienced. Grandma's house smelling like baking bread, your dad's shop smelling of pipe smoke, etc. No one understands just like your sister.
60. Robin Morgan Knows the Power of Sisterhood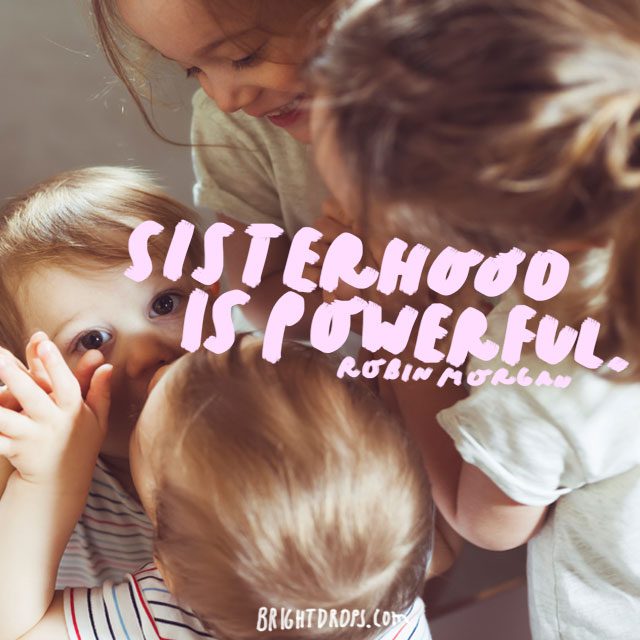 "Sisterhood is powerful." – Robin Morgan
It truly is. Regardless if you are a woman with a sister, or a man with a sister, the sisterhood you receive is a powerful one with a strong bond that you should never take for granted. Sisterhood wraps you up in compassion, understanding, and nurturing.
61. Michelle Malm on Being Honest
"A sister is a friend you don't have to avoid the truth with." – Michelle Malm
Your sister knows you incredibly well so even if you tried to avoid the truth with her, she would probably see it anyway. Sisters are great at saying the things friends and strangers would never say. Sometimes this is a good thing, and perhaps sometimes not, but truth is always better than lies.
62. Allison M. Lee on Gray Hair Glee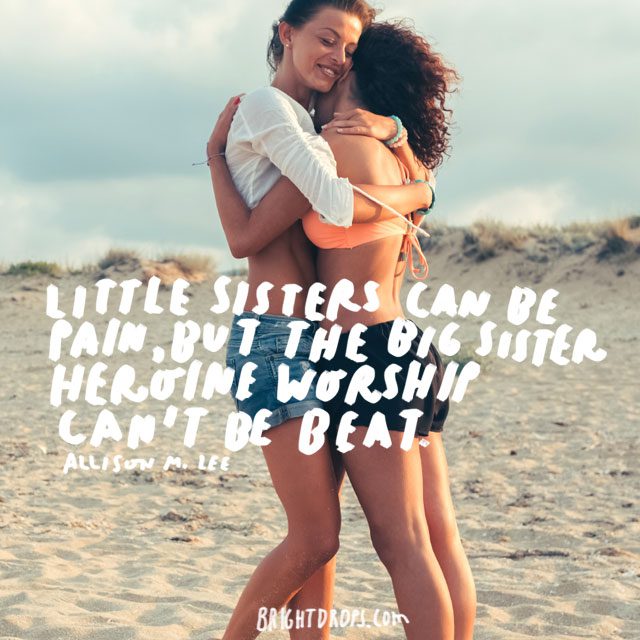 "A sister will always notice her sister's first gray hairs with glee." – Allison M. Lee
It seems entirely unfair, doesn't it? Perhaps you could keep your hair dyed so it's harder for her to notice. Sometimes sisters take a bit of twisted glee if they are the ones aging more slowly. Regardless if she notices your crow's feet or your gray hair, she probably loves you to the end of the world and back.
63. Lisa Grunwald Tells It Like It Is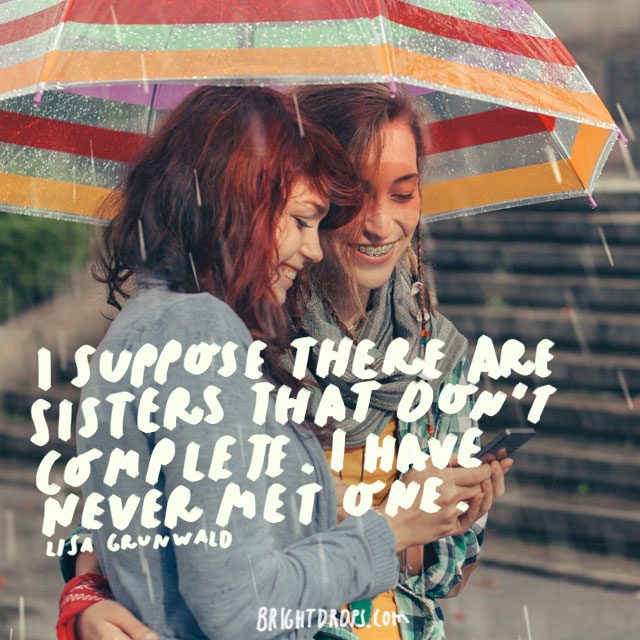 "I suppose there are sisters that don't compete. I have never met one." – Lisa Grunwald
It seems to be a very common trait with sisters, this element of competition. It does not matter how wonderful the relationship is between sisters; there is always some level of competition. The key to a healthy relationship is that they compete in friendly ways. How might you be competing with your sister?
64. Benjamin Disraeli Knows the Song of a Sister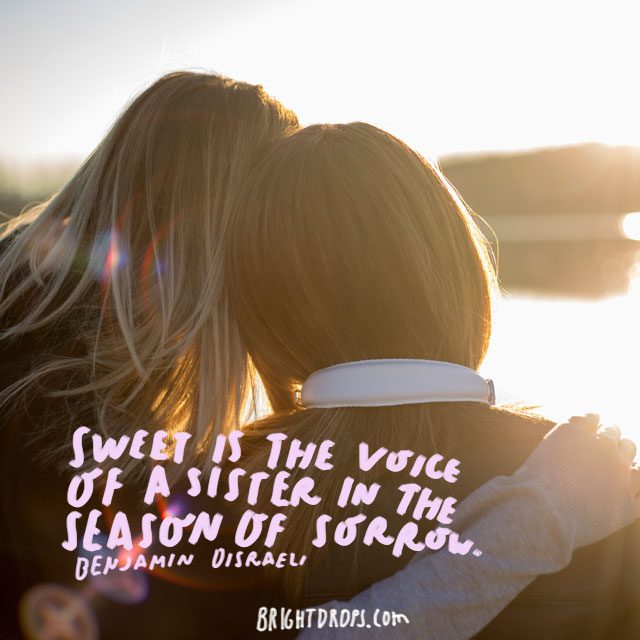 "Sweet is the voice of a sister in the season of sorrow." – Benjamin Disraeli
If you've ever gone through some tough times or even just a bad day, the voice of your sister may very well have been comfort to you. A sister can lend a listening ear, a compassionate heart, and her companionship to you in times of need.
65. Charlotte Bronte and Sister Smothering
"You know full well as I do the value of sisters' affections; there is nothing like it in this world." – Charlotte Bronte
If you have an affectionate sister, you can relate to this quote. She might be even more affectionate than your own mother. But if she smothers you, it's because she is loving on you. Let her grab your face, pinch your cheeks, and give you plenty of hugs.
66. Allison M. Lee Knows She Looks Up to You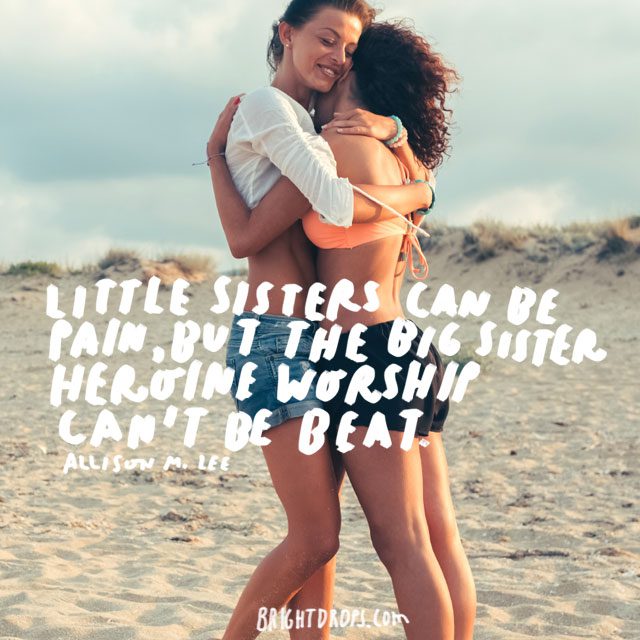 "Little sisters can be a pain, but the big sister heroine worship can't be beat." – Allison M. Lee
Your little sister has at some point in her life looked up to you and idolized you in some way. She may even now as a grown woman. She may have been a pest through the years, but having someone that looks up to you can be flattering.
67. Michelle Malm on Sisterly Beauty
"Sisters become more beautiful as each day passes by." – Michelle Malm
If you ever want to watch the years melt off your sister's face, start reminiscing your childhood with her. Focus on the happy memories and fond sentiments, then watch her for brief moments become the girl she once was. She also probably loves you more each day and that makes her more beautiful.
69. Patricia McCann on Angry Hair Care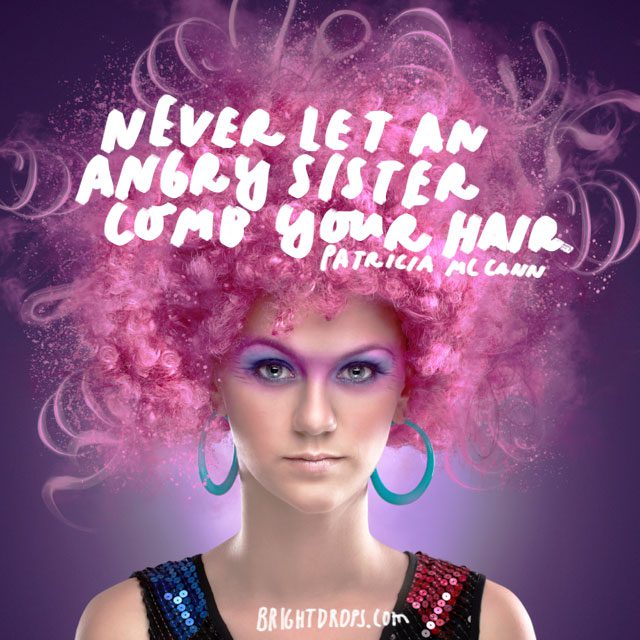 "Never let an angry sister comb your hair." – Patricia McCann
Ouch! Yes, this is very true. Be it that she is mad at you for borrowing her favorite dress, or that she's upset about the latest love interest that broker her heart, you should probably just brush your own hair. Play salon once she's calmed down.
70. Catherine Pulsifer Knows How Sisterhood Friendship Happens
"We shared a room, you stole my toys, and then my clothes, but best friends we became." – Catherine Pulsifer
It started with toys, then clothes, then friends and boyfriends, but through it all you and your sister have become better friends because of it. When you grow up you learn that those things are not important and it's the love and respect you have for each other that matters.
71. Michael D. Kahn Looks Closely
"Sisters examine each other so they can have a map for how they should behave." -l
We take this to mean that sisters analyze each other to discover if they should emulate the behavior they see, or act in completely opposite ways. At times you might have examined your sister to figure out how you might steal the limelight, or perhaps you noticed that she needed a hug.
72. Anne Tyler on Always Getting Advice
"It is very difficult to live among people you love and hold back from offering them advice." – Anne Tyler
And sisters are the most appropriate people to offer advice, especially unsolicited. It can be hard at times to remember that the advice your sister gives you is because she loves you. She just happens to think that her advice is the best advice overall!
73. Carrie Bagwell Knows the Touch of a Sister
"Sisters touch your heart in ways no other could. Sisters share . . . their hopes, their fears, their love, everything they have." – Carrie Bagwell
Sisters can often be second mothers to us. If you have a sister that shares her life with you, make sure to thank her for it. Not only does she have hopes, fears, and love of her own, she has them all for you as well. She cares about you.
74. Barbara Mathias Touches on Sister Speak
"Each family of sisters has a language and a turn of phrase all its own." – Barbara Mathias
Females in general have their own languages that they speak. If you doubt this, just watch sisters interact with each other. It's not only in their words, but their glances, and their body language. You might even relate to your sister conveying entire sentences with one look.
75. Robert Brault on Being Fair
"A toast once heard: "To my big sister, who never found her second Easter egg until I'd found my first." – Robert Brault
How very nice of that sister two make sure that things were fair for her little sister. Many times an older sister hesitates to share her good news if little sister is under times of stress and need. Your sister probably wants the best for you and watches out for your tender heart.
76. Susan Cabil Says She's Always With You
"One's sister is part of one's essential self, an eternal presence of ones' heart, soul and memory." – Susan Cabil
Not only do you and your sister have shared DNA, you have a shared childhood and that never fades no matter how many miles apart you live from each other or if you rarely speak. Not only do you carry her within your heart and soul and memory, she carries you.
77. Oscar Wilde Doesn't Care for Drama
"The typewriting machine, when played with expression, is no more annoying than the piano when played by a sister or near relation." – Oscar Wilde
Perhaps Mr. Wilde is pointing out that he thinks things being played with expression are annoying. Or perhaps he doesn't like typewriters and pianos. If your sister is a bit over-dramatic it could be annoying, or maybe her piano playing isn't up to par? Oh well, love her anyway.
78. Venus Williams is Sharing the Limelight
"I always like to win. But I'm the big sister. I want to make sure she has everything, even if I don't have anything." – Venus Williams
Even big time athletes like Venus Williams understand that good sportsmanship can be applicable anywhere in life. Perhaps you are a big brother or sister that likes to make sure your sibling has their needs met and you would be willing to sacrifice for them, or you have a big sister that is like this. If so, kudos to you!
79. Tom Cruise Wants Sister Roommates
"I would live with all of my sisters if I could. We've always been very close, my sisters and me." – Tom Cruise
Perhaps being around all that feminine influence is how Tom cruise learned how to be such a good ladies man. If you have sisters that to you can actually stand the thought of living with again, then that says a lot about the type of relationship you have.
80. Patricia Volk Knows No One Compares
"But most are like my sister and me… linked by volatile love, best friends who make other best friends ever so slightly less best." – Patricia Volk
Volatile is a good word to describe the love between sisters. Perhaps that volatility is where deep friendship is forged. Having a best friend like that does make many others pale in comparison. Sharing a childhood with somebody also creates deep bonds of friendship that are not found elsewhere.
81. William Shakespeare Speaks of an Angelic Sister
"A ministering angel shall my sister be." – William Shakespeare
If your sister has ever swept into your life when you most need it supports, then you are blessed beyond measure. Sisters are often wonderful at showing compassion and nurturing. If your sister has ever been an angel share some of these sister quotes with her.
82. George Wasserstein Lives Better Because of Sisters
"My sisters have taught me how to live." – George Wasserstein
Your sister very well could have taught you ways to live. Sisters are often good at bringing life, imagination, energy, and glitter into a family. Make a list of a few things that you have learned from your sister about life and make a point to thank her for them.
83. Virginia Woolf and Your Sister's Importance
"You can't think how I depend on you, and when you're not there the colour goes out of my life." – Virginia Woolf
You might depend on your sister in ways that she doesn't even know. When was the last time you expressed to her just how important she was to you? She probably depends on you in some ways as well so make sure to show up for her when she needs you.
84. Marian Eigerman on Sisterly Loyalty
"A loyal sister is worth a thousand friends." – Marian Eigerman
Having someone in your life that knows you and is a very dependable friend and companion for you, really makes her more valuable than anyone else. It is about quality over quantity here. Even if you don't get along, if your sister is extremely loyal to you then be grateful for her.
85. Christina Rosetti Speaks of Consistency
"For there is no friend like a sister in calm or stormy weather." – Christina Rosetti
During the calm times, your sister is someone you can laugh with and enjoy time with. During rough times, she is the best kind of friend to have that will love you and do her best to keep you afloat. Let your sister be a stable presence in your life.
86. Elizabeth Fishel Says She Will Never Go Away
"We are sisters. We will always be sisters. Our differences may never go away, but neither, for me, will our song." – Elizabeth Fishel
No matter how old tense your relationship has ever been, and no matter how many differences you have, the fact remains that when you have a sister, she will always be your sister. Shared history doesn't disappear. Try to love your sister despite your differences.
87. Oliver Wendell Holmes Relives the Old Times
"There is no time like the old time, when you and I were young!" – Oliver Wendell Holmes
Do you remember a childhood filled with happy memories? If so, the next time you talk with your sister reminisce about the old times. Sharing memories with someone can enliven the soul and lighten the heart. Another byproduct of wool gathering with your sister is that you have quality time together.
88. Kortney Cobbley and the Keeping of Secrets
"A sister takes in pride with you. She is like a girl you can trust with all of your secrets." – Kortney Cobbley
Many sisters take pride in the relationship they have with their siblings. Your sister may be one that you can trust with all of your secret's because you know that she cares enough about you that she will never share them. Make sure you are a good keeper of her secrets too.
89. M. Molly Backes Sees Both Sides
"A sister is everything you wish you could be and everything you wish you weren't" – M. Molly Backes
Sisters share a lot of traits with each other, while also being very different. There are things about your sister that you look up to, and then there are probably ways that you are similar that you wish you were not. Either way, you are sisters and you share the same bloodline. Appreciate each other and yourselves for who you are.
90. Gail Sheeny on Friends Coming and Going
"Friends grow up and move away. But the one thing that's never lost is your sister." – Gail Sheeny
It starts after high school when friends split up and go their own ways, then also in college. All through life we have friends that come and go, but our family stays the same. Your sister will be your sister no matter what happens to you and no matter where you go in life.
91. Sunny Gupta Points Out Your Mother #2
"Sister is our first friend and second mother" – Sunny Gupta
How nice it is this? You have a friend in your sister as well as mother number two. She might be nagging at you like a mother would but it is because she cares about you. She can also be of comfort to you in times of need.
92. Pam Brown Knows Your Sister is On Your Side
"If catastrophe should strike, sisters are there. Defending you against all comers." – Pam Brown
No matter the relationship you have with her sister, when you are in times of trauma, drama, or illness, chances are she will be at your side. It is amazing the power that can come from having a sister at your back.
93. JD Ghai Says Sisters Are Great
"Sisters are splendid and incredible siblings who tower our life with exuberance and responsiveness at all times!" – JD Ghai
Sisters bring a very enlivened air to life and many of them are quite exuberant. Is yours? And since we are speaking about responsiveness, have you ever noticed your sister showing up for you before you even knew you needed her? Sisters are good like that.
94. Pam Brown on Taking Care of Your Sister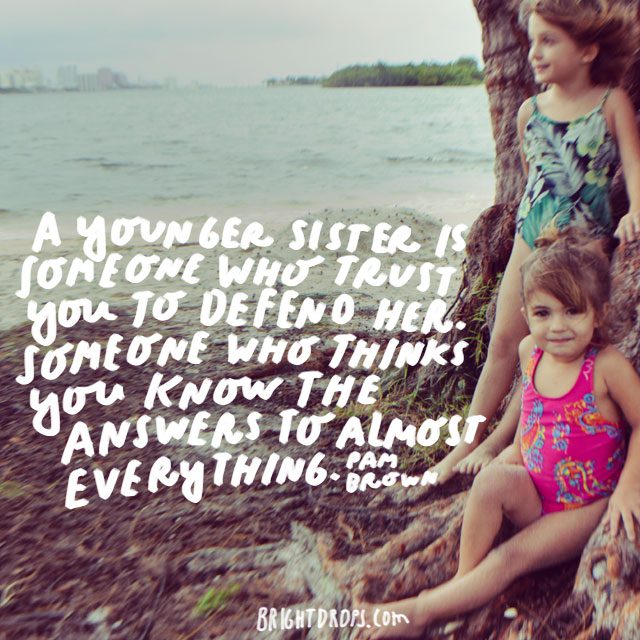 "A younger sister is someone who trusts you to defend her. Someone who thinks you know the answers to almost everything." – Pam Brown
If you have a younger sister who has looked up to you wanted you to defend her honor then be tender with her. At some point every little sister hopes her older sibling will watch out for her. Make sure to be there for her the way she most needs you.
95. Clara Ortega on Time Immemorial
"To the outside world we all grow old. But not sisters. We know each other as we always were. We live outside the touch of time" – Clara Ortega
Sisters do indeed live outside the touch of time since they know each other before the world created chaos of its own in their lives. Sisters always see each other as the young children they remember and often have their childhood close by in their hearts.
96. Louise Glück Celebrates the Differences
"Of two sisters one is always the watcher, one the dancer." – Louise Glück
Though sisters share similarities, many of them are quite different from each other. How does it work in your family? Are you the one that dances in the limelight, or the one that has her nose in books? Neither one is better or worse than the other, so appreciate your differences.
97. Deborah Moggach on Authenticity
"You can be boring and tedious with sisters, whereas you have to put on a good face with friends." – Deborah Moggach
With friends and colleagues it is usually understood that we put on a good and happy face for polite company. However, with your sister you can let your hair down and be perfectly mediocre. She loves you regardless, and you love her. Be boring and let all your idiosyncrasies hang out.
98. Marian Sandmaier Knows How Close You Are
"A sibling may be the keeper of one's identity, the only person with the keys to one's unfettered, more fundamental self." – Marian Sandmaier
When you grow up with someone, they understand a lot about you and you them. Parts of your identity are kept within your relationships with your siblings. You see the good, the back, and the ugly. You know what makes the other tick. The foundations of your lives were lived together; that's a strong bond.
99. Kathleen O'Keefe on Secrets
"She is my sounding board, my confidante, my keeper of secrets – and my best friend." – Kathleen O'Keefe
If you have a sister that you know you can trust with your secrets, and you can go to her with anything, you are quite fortunate. Someone that knows you well and loves you as family is often willing to let you unload on them when needed. Is your sister your best friend?
(Read this next: 27 Funny Good Morning Quotes to Jumpstart Your Day)