Being single is the time to better yourself before you begin a relationship with another person. Learn to value and love yourself before letting anyone else. Many people hate to be single, but if you are constantly looking for a relationship, you will never be able to tell when someone great comes along.
1. Warsan Shire Values Alone Time
"My alone feels so good, I'll only have you if you're sweeter than my solitude." – Warsan Shire
Being alone is a good feeling to a lot of people. Loneliness either means that we are missing someone or that we do not have anyone to miss. These times of aloneness should be used to better ourselves and grow.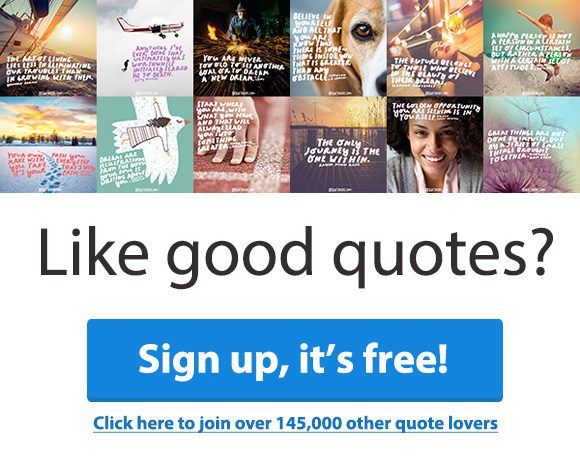 2. Julie Deply Describes Why Women Get Into Relationships They Don't Want to be In
"Too many women throw themselves into romance because they're afraid of being single."- Julie Deply
Many women and men get into relationships because they are too scared to be alone. You cannot grow as an individual if you are constantly looking for another person to provide that happiness you are looking for.
3. Omkar Phatakc Understands Another Person Should not Complete Us
"Being single is getting over the illusion that there is somebody out there to complete you." – Omkar Phatakc
Being single gives you the ability to realize that there is nobody out there to complete you. There are people out there who can enhance your life, but only you can complete yourself. Once we realize this, we are ready for a relationship.
4. Mindy Kaling Prefers to Hang out With Women
"Personally, I, Mindy Kaling want to spend like 80 percent of my life hanging out with women." – Mindy Kaling
Mindy Kaling is attracted to men, but she wants to spend the majority of her life with females. She enjoys the company of females better and there is nothing wrong with that! She understands herself and does not jump into relationships.
5. Anais Nin Believes Women Should not Rely on Men
"How wrong it is for a woman to expect the man to build the world she wants." – Anais Nin
Women should never have to rely on men to build the world and the life that they want. Women are self-motivated and driven individuals who are able to build their own lives. Being single is the best time to realize and take advantage of that.
6. Rilke Understands the Value in Being Alone
"It is good to be lonely, for being alone is not easy." – Rilke
Being alone is hard. You are left with just your thoughts you contemplate again and again. If you are able to learn to be alone for an extended period of time, you have learned a valuable skill that can help you later in life.
7. Walt Whitman Entertains Himself
"I celebrate myself, and sing myself." – Walt Whitman
Walt Whitman does not need anybody else because he celebrates himself. He entertains and values himself the most out of anybody he has ever met. He won't settle until he finds somebody that loves him as much as he does.
8. Andy Hertzfeld Believes Being Single is Great for Work
"Working long hours being single helps because your time is yours." – Andy Hertzfeld
For working toward your dreams, being single is great. You don't have any obligations to anybody else's time. You can spend long hours working on your craft without answering to anybody but yourself.
9. Eric Dickerson Love Being Single
"I love being single. I can come and go as I please and stay out as late as I want to." – Eric Dickerson
When you are single, you can go where you want and do what you want without having to get permission or let anyone know. Eric Dickerson loves this about being single. He just wants to do what he wants.
10. Jo Courdert Believes Love at the Cost of Oneself is a Terrible Thing
"You do not need to be loved, not at the cost of yourself." – Jo Courdert
Being loved is great and all, but not at the cost of yourself. Don't under value yourself just so somebody else will love you. It will not feel as good as you may have thought and will only make you worse off in the long run.
11. Thomas Merton Believes We Must Learn to Value Ourselves first
"If we seek paradise outside ourselves, we cannot have paradise in our hearts." – Thomas Merton
If we seek other people to provide us with happiness, we will never find what we are looking for. We will not be able to find happiness with them if we were never able to find happiness on our own. We must learn to be happy alone.
12. Jason Derulo Never Knew How Much He Would Enjoy the Single Life
"Now I'm feeling how I should. Never knew single could feel this good." – Jason Derulo
The famous singer used these lyrics in one of his songs. This is a revelation that many people make when they are newly single. They thought they had everything they wanted in a relationship, but realize they were missing out when they became single.
13. Warsan Shire Believe Some People are Harder to Love
"You are terrifying, and strange, and beautiful. Something not everyone knows how to love." – Warsan Shire
Some people must understand that not everyone understands them. They are harder to love because they are complex than the average person. These people take much more time to get into relationships because they may actually realize the value in themselves.
14. Liz Winston has a Simple Outlook on Relationships
"I think, therefore I'm single." – Liz Winston
Liz has a funny way of saying that people in relationships are not thinking. She believes that being single is the only way to live. Her mind works properly, therefore she is single and not devoted to another person.
15. Graham Greene Believes Nobody Can Cause Happiness in Another Person
"No human being can really understand another, and no one can arrange another's happiness." – Graham Greene
No human being can truly understand another person. We are the only ones inside our head and can understand our feelings. Relying on another person to make us feel better or make us happy is a game that will never be won.
16. Henry David Thoreau Has Never Found Anyone Who Compares to Solitude
"I never found a companion that was so companionable as solitude." – Henry David Thoreau
Some people are very comfortable being alone and the famous poet is one of them. He is, of course, famous for living by himself in a cabin on a lake. If you love to think and enjoy being with yourself, then being alone is a perfect scenario.
17. Herman Hesse Explains His View on Strength
"Some of us think holding on makes us strong, but sometimes it is letting go." – Herman Hesse
Some people believe holding on and trying to fix relationships makes us strong. However, what really makes us strong is the ability to let go when we realize there is nothing left. Letting go is a sign of strength.
18. Art Leo is There for Himself
"I like being single, I'm always there when I need Me." – Art Leo
Art Leo has a funny of describing that he is always there for himself. Whenever he needs some consoling, he does not need another person because he has himself! We should always have ourselves and always be there.
19. Fisher Amelie Offers Great Advice on Relationships
"Discover why you're important, then refuse to settle for anyone who doesn't completely agree." – Fisher Amelie
Know your worth and never settle for somebody who does not see that worth. Too many times we settle for less than we deserve and sink down to those expectations of ourselves. Learn your value and only settle for the best.
20. Delta Burke Believes Alone Does not mean Lonely
"I don't like to be labeled as lonely just because I am alone." – Delta Burke
Being alone does not mean that one is lonely. Being alone is a sign of independence and strength. If you can be alone with just yourself then you will never have to rely on other people to make you happy. Once you master being alone, then it is time to try and find another person that can make you even happier.
21. Elizabeth Gilbert Values a Broken Heart
"This is a good sign, having a broken heart. It means we have tried for something." – Elizabeth Gilbert
Having a broken heart proves that you have tried to make something work. It is better to have loved and lost than to have never loved at all. Never trying and never taking a chance at happiness is a surefire way to never be happy.
22. Warsan Shire Describes a Common Scenario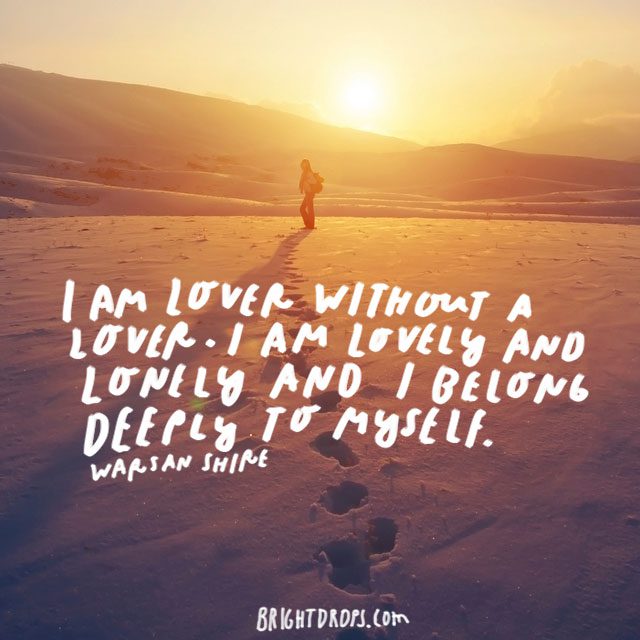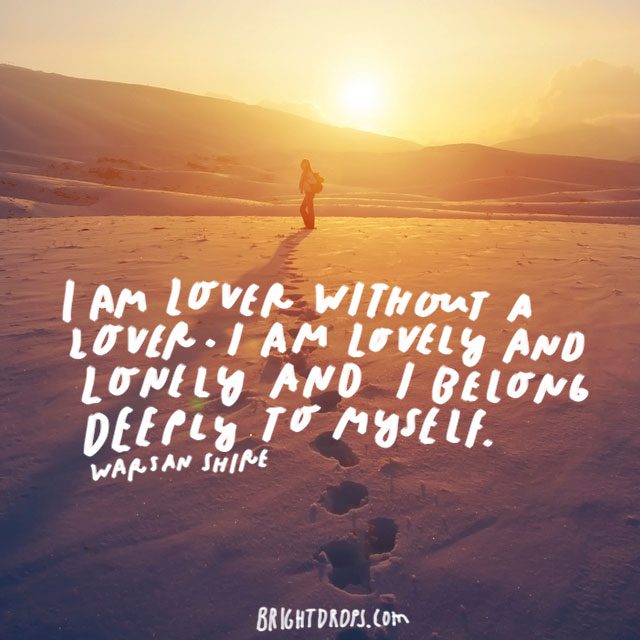 "I am a lover without a lover. I am lovely and lonely and I belong deeply to myself." – Warsan Shire
A lover without a lover is a way of saying that you are a person who is friendly toward everyone but not with anyone. It is ok to be deeply in love with yourself. These are the people who understand their value and don't settle for anything but the best.
23. Mandy Hale Knows Single is a Choice
"Single is no longer a lack of options – but a choice." – Mandy Hale
Single used to mean that nobody wanted you, now it means that you have chosen to be single. People are different nowadays. They are not actively searching for a husband or a wife. They wait as long as they have to until they find the right person.
24. Mandy Hale Believes One Must be Brave to be Alone
"Being brave enough to be alone frees you up to invite people into your life." – Mandy Hale
Being brave enough not to settle for anyone who doesn't deserve you gives you the time to invite people that do into your life. Never jump into a relationship because it will limit your options from people who really matter.
25. Mandy Hale Values the Time as a Single Person
""Single" is an opportunity to live life on your own terms and not apologize." – Mandy Hale
Single is the biggest opportunity to live the way you want to live. You don't have anyone else to provide for or worry about. You can go anywhere you want and do anything you want to do. Life can lived entirely on your own terms.
26. Mandy Hale Understands Single is a Choice
"Single is a choice, just like Married is." – Mandy Hale
Getting married is a choice that people make when they believe they have found a significant other. Single is also a choice that people make when they do not want a significant other. Being single is just as much of a choice as being married is.
27. Mandy Hale Believes a Great Life does not Depend on a Great Partner
"You don't need a significant other to lead a significant life." – Mandy Hale
You do not need another person to make your life worthwhile. To have a perfect life you do not need a perfect partner. A perfect and significant life is one where you are happy. Happiness is up to the individual and should never lie in the thought of another person.
28. John Mayer Believes it is ok to Enjoy Being Alone
"Don't be scared to walk alone. Don't be scared to like It." – John Mayer
Do not be afraid to be by yourself and do not be afraid to enjoy being by yourself. It is normal to feel safe and happy by yourself. We are raised on the idea that getting married is the ultimate happiness, but for some people this is not true.
29. Sonya Parker Relates Relationships to Investing
"Bad Relationships are like a bad investment." – Sonya Parker
Bad relationships lead to wasted time with the wrong person. In relation to finances, it is like a bad investment. Putting time into a meaningless relationship is like putting money into an investment with no return.
30. Whitney Houston Prefers Happiness over a Relationship
"I'd rather be alone than unhappy." – Whitney Houston
Being alone is much better than being unhappy with someone. So many people are unhappy with the people they are with but don't think it can get any better. Self-value is a big struggle with people and we all need to do a better job realizing ours.
(Read this next: 50 Quotes to Help You Heal from a Bad Breakup)