Here are the best of the best savage quotes for your next Instagram caption or social post!
If you're looking for more of the best quotes and captions for Insta, take a look at these adventure quotes and these quotes on fake friends.
Best Savage Quote Captions for Social
"You wouldn't worry so much about what others think of you if you realized how seldom they do." – Eleanor Roosevelt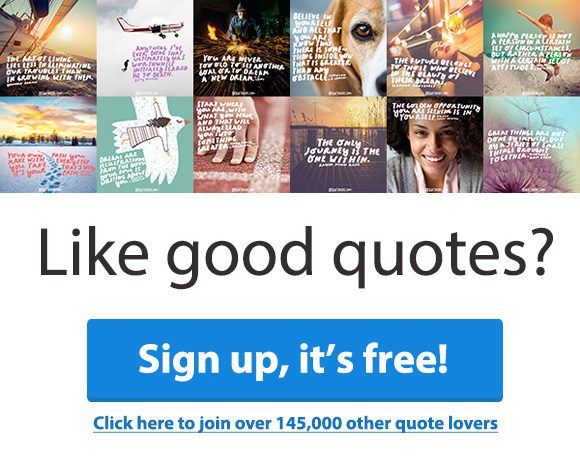 "I am a woman phenomenally. Phenomenal Woman, that's me." – Maya Angelou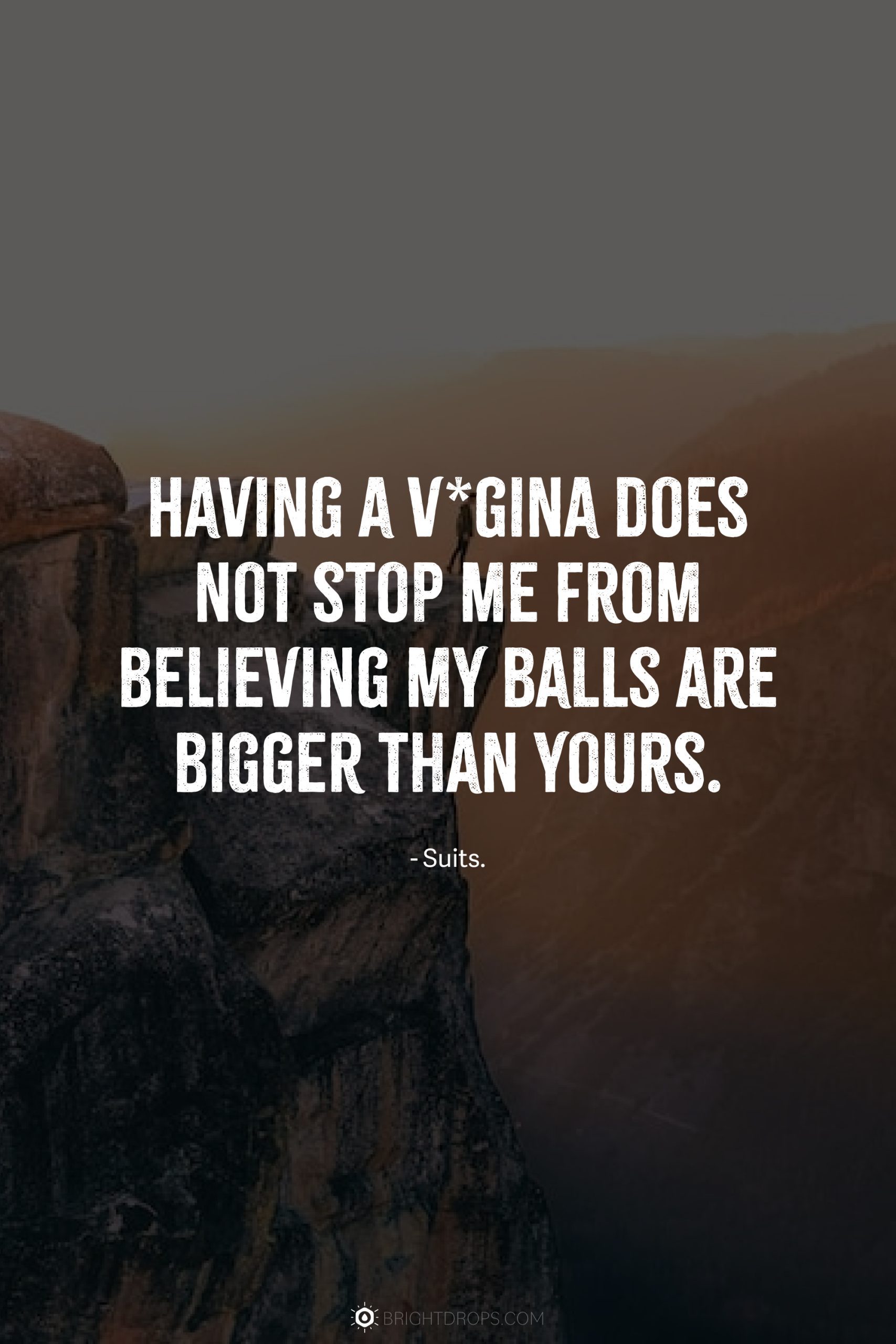 "Having a v*gina does not stop me from believing my balls are bigger than yours." – Suits.
You may also like: These savage quotes from the Mean Girls movie: https://brightdrops.com/mean-girls-quotes
"A man cannot destroy the savage in him by denying its impulses. The only way to get rid of a temptation is to yield to it." – Robert Louis Stevenson
"Respect your haters; they're the only ones who think you're better than them." – Unknown
"Nobody ever wrote down a plan to be broke, fat, lazy, or stupid. Those things are what happen when you don't have a plan." – Larry Winget
Related: Narcissist Quotes
"The three most harmful addictions are heroin, carbohydrates, and a monthly salary." – Nassim Nicholas Taleb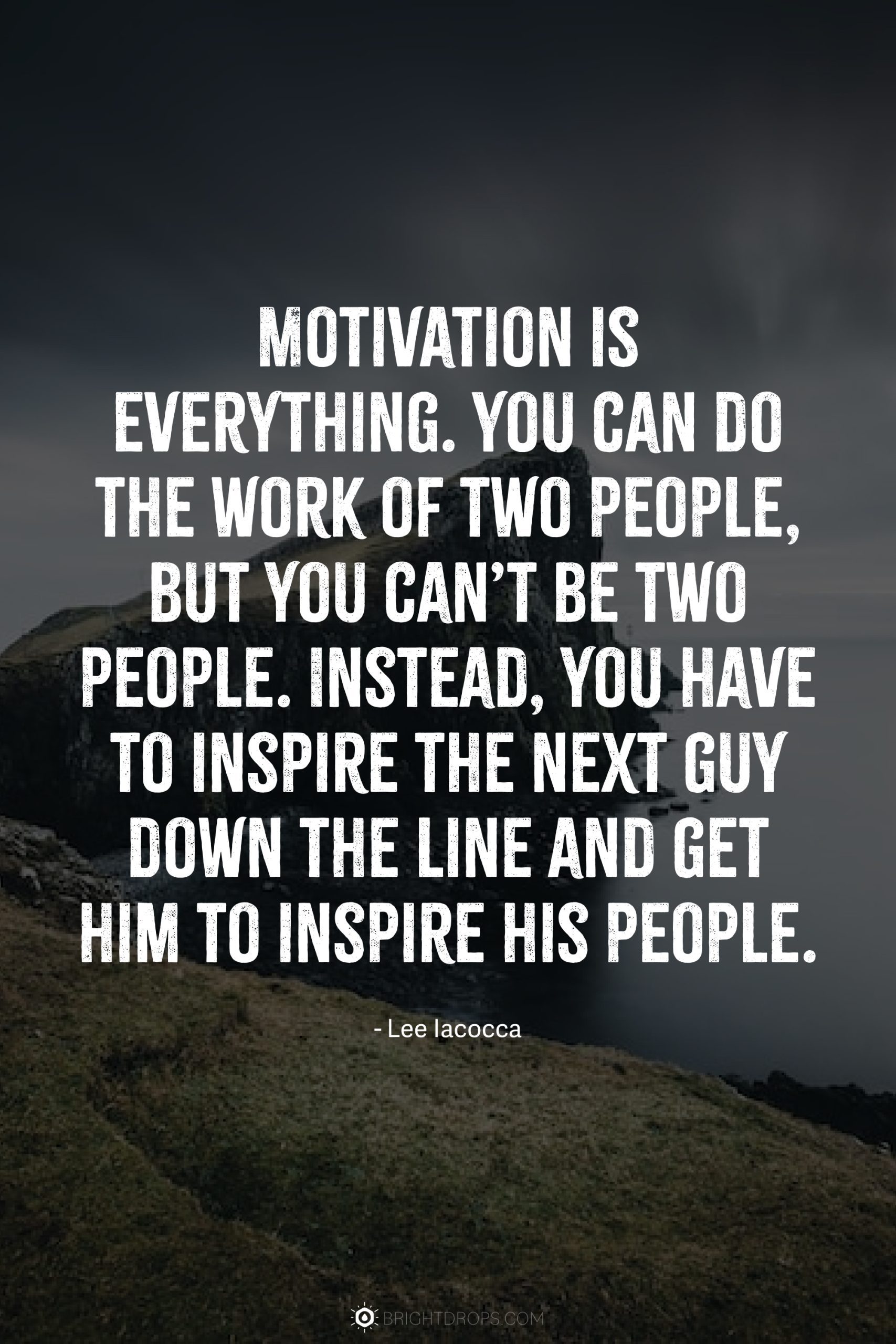 "Motivation is everything. You can do the work of two people, but you can't be two people. Instead, you have to inspire the next guy down the line and get him to inspire his people." – Lee Iacocca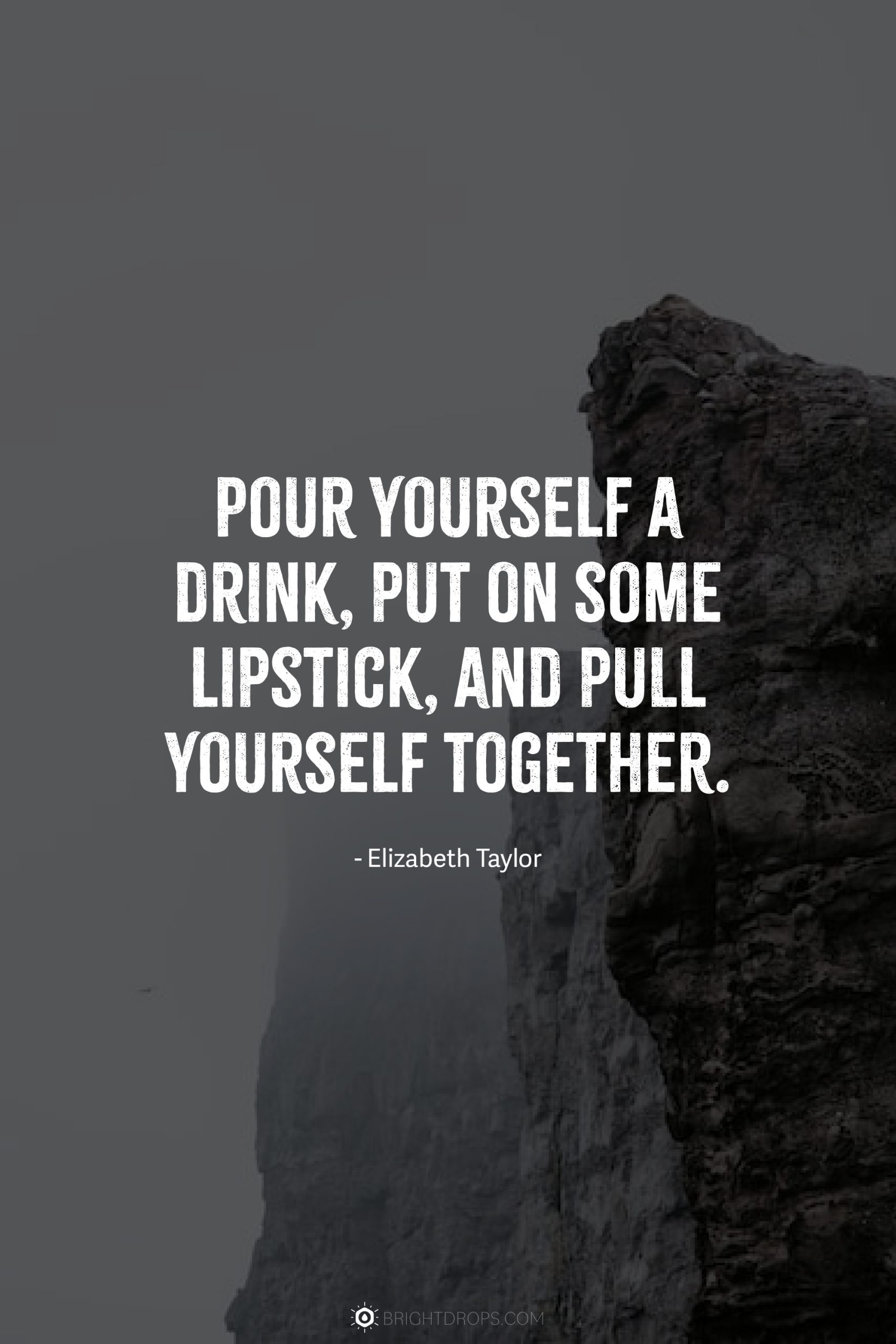 "Pour yourself a drink, put on some lipstick, and pull yourself together." – Elizabeth Taylor
"Motivation is the art of getting people to do what you want them to do because they want to do it." – Dwight D. Eisenhower
"Sometimes I wish I could be you, so I could be friends with me!" – Angelica
"I've learned that you shouldn't go through life with a catcher's mitt on both hands; you need to be able to throw something back." – Maya Angelou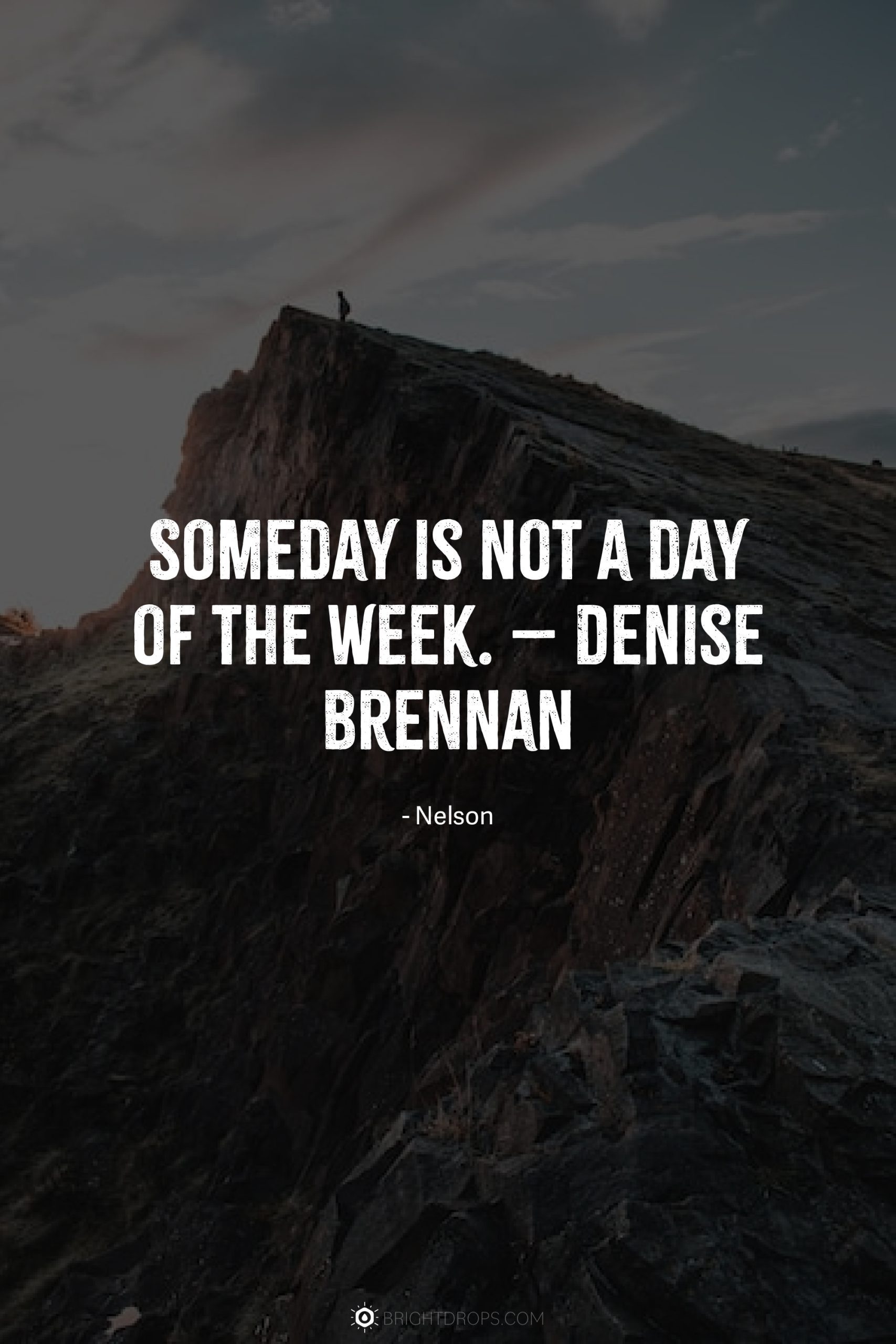 "Someday is not a day of the week. – Denise Brennan" – Nelson
"Love is like a brick. You can build a house, or you can sink a dead body." – Lady Gaga
"A man does what he can; a woman does what a man cannot." – Isabel Allende
"If you don't like my attitude, Quit talking to me." – Unknown
"The best revenge is to live on and prove yourself." – Eddie Vedder
"Mountains are Savage but what is the best part about them? They bring people Closer." – Tanveer Mazhar
"Savages are made from broken love and trust." – Jordan Hoechlin
"If they want to be a problem, they'll have to answer to me." – Garnet
"I don't have time, energy, or interest in hating the haters; I'm too busy loving the lovers." – Steve Marabou
"It is so weird being my own role model." – Mindy Lahiri
"The question isn't who is going to let me: it's who is going to stop me." – Ayn Rand
"I don't have to be an expert. I just have to care." – Mariska Hargitay
"It wasn't raining when Noah built the ark." – Howard Ruff
"I am thankful for all of those who said NO to me. Its because of them I'm doing it myself." – Albert Einstein
"If you run into an asshole in the morning, you ran into an asshole. If you run into assholes all day, you're the asshole." – Raylan Givens
"I just figured if I'm going to be a mess – might as well be a hot mess, right?" – Mindy Lahiri
"I am learning to love the sound of my feet walking away from things not meant for me." – AG
"Fall down seven times, get up eight." – Japanese Proverb
"Any man who neglects his conscience is a dangerous animal." – Suzy Kassem
"Learn to use the criticism as fuel and you will never run out of energy." – Orrin Woodward
"It's ok to disagree with me. I can't force you to be right." – Unknown
"You can't move mountains by whispering at them." – Pink
"If you're going through hell, keep going." – Winston Churchill
"If you touch me, I'll provide you with the opportunity to see if you can heal yourself." – Richelle Mead
"You don't deserve my tears. I guess that's why they aren't there." – Beyoncé
"Behind every successful person lies a pack of Haters! I love my haters!" – Gloria Tesch
"Have enough courage to trust love one more time and always one more time." – Maya Angelou
"I'm not a stop along the way. I'm a destination." – Blair Waldorf
"Haters are the people who will broadcast your failures and whisper your success." – Will Smith
"You wanted fire? Sorry, my speciality is ice." – Veronica Lodge
"A champion needs a motivation above and beyond winning." – Pat Riley
"Obsessed is just a word the lazy use to describe the dedicated." – Russell Warren
"I am not apologizing for who I am." – Donna
"It's better to die on your feet than to live on your knees." – Emiliano Zapata
"I am not apologising for who I am." – Donna
"It's about time. Where's my throne?" – Hannah Marin
"It is better to let everyone think you are stupid, then to open your mouth and remove all doubt." – Mark Twain
"Breakup with your girlfriend, yeah, yeah, 'cause I'm bored." – Ariana Grande
"Next time you'll see someone call a little girl bossy, you walk right up to that person, big smile, and you say, 'That little girl's not bossy. That little girl has executive leadership skills.'" – Sheryl Sandberg
"There is one rule, above all others, for being a man. Whatever comes, face it on your feet." – Robert Jordan
"I had to let go of us to show myself what I could do." – Unknown
"There are many humorous things in the world; among them, the white man's notion that he is less savage than the other savages." – Mark Twain
"That which does not kill us makes us stronger." – Friedrich Nietzsche
"A queen is never late. Everyone else is simply early." – Queen Clarisse Renaldi
"Someday I want to be perfect; until then, I'll be happy being incredible." – Maxine Cartoons
"People often say that motivation doesn't last. Well, neither does bathing – that's why we recommend it daily." – Zig Ziglar
"God gave women intuition and femininity. Used properly, the combination easily jumbles the brain of any man I've ever met." – Farrah Fawcett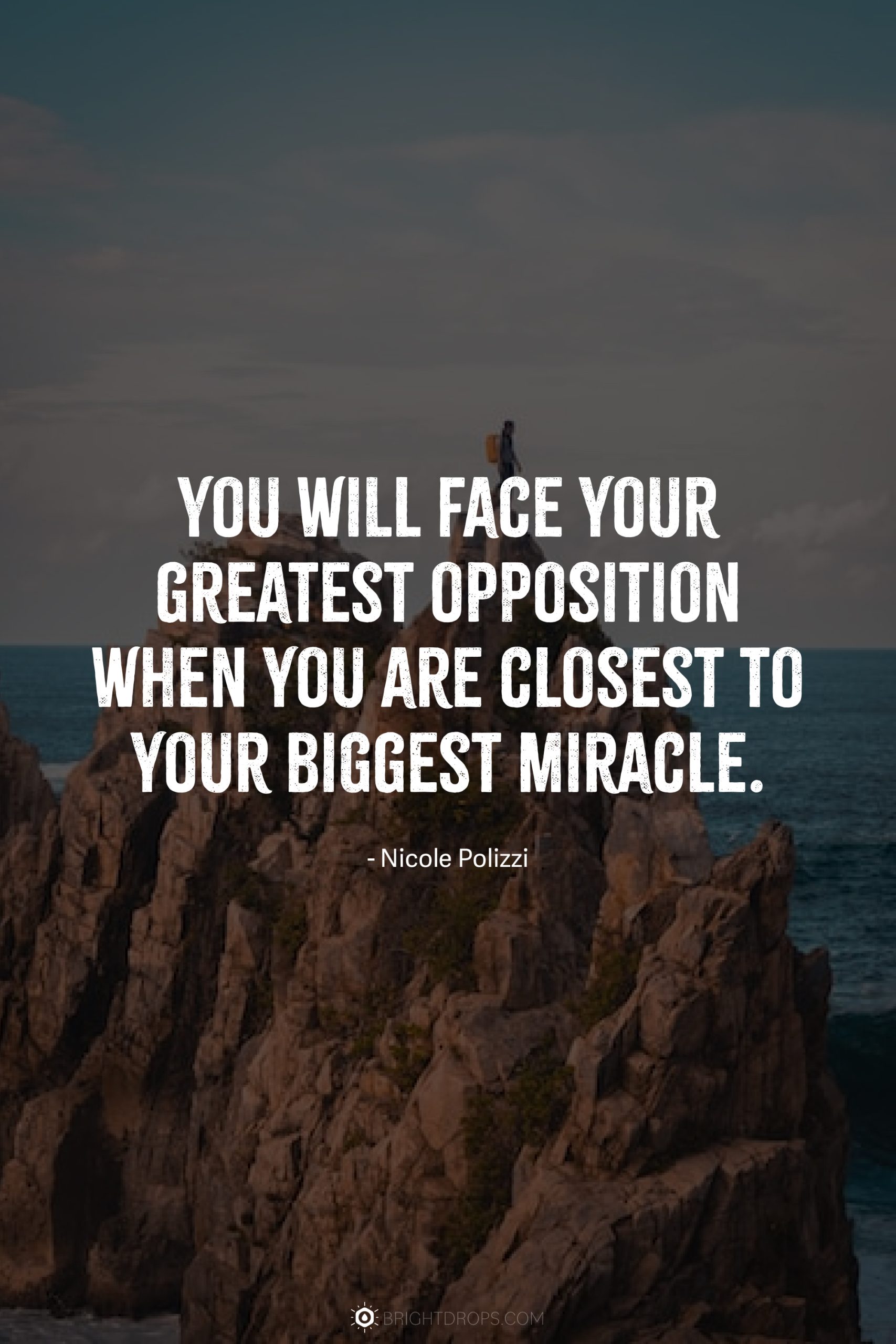 "You will face your greatest opposition when you are closest to your biggest miracle." – Nicole Polizzi
"You are allowed to be both a masterpiece and a work in progress simultaneously." – Sophia Bush
"Just because I'm sassy and have a mouth on me doesn't mean I'm coming from a negative place." – Kesha
"Never did he fail to respond savagely to the chatter of the squirrel he had first met on the blasted pine." – Jack London
"Throw me to the wolves and I'll come back leading the pack." – Unknown
"If I had any talent in the world… I would be a great diva." – Ruth Bader Ginsburg
"Enthusiasm is excitement with inspiration, motivation, and a pinch of creativity." – Bo Bennett
"Better to be strong than pretty and useless." – Lilith Saintcrow
"I never trust a narcissist, but they love me." – Taylor Swift
"I can resist everything, except temptation." – Oscar Wilde
"Being so bad got me feeling so good." – Demi Lovato
"No matter how good you are at planning, the pressure never goes away. So I don't fight it. I feed off it. I turn pressure into motivation to do my best." – Ben Carson
"I'm gracing you with my presence." – Kourtney Kardashian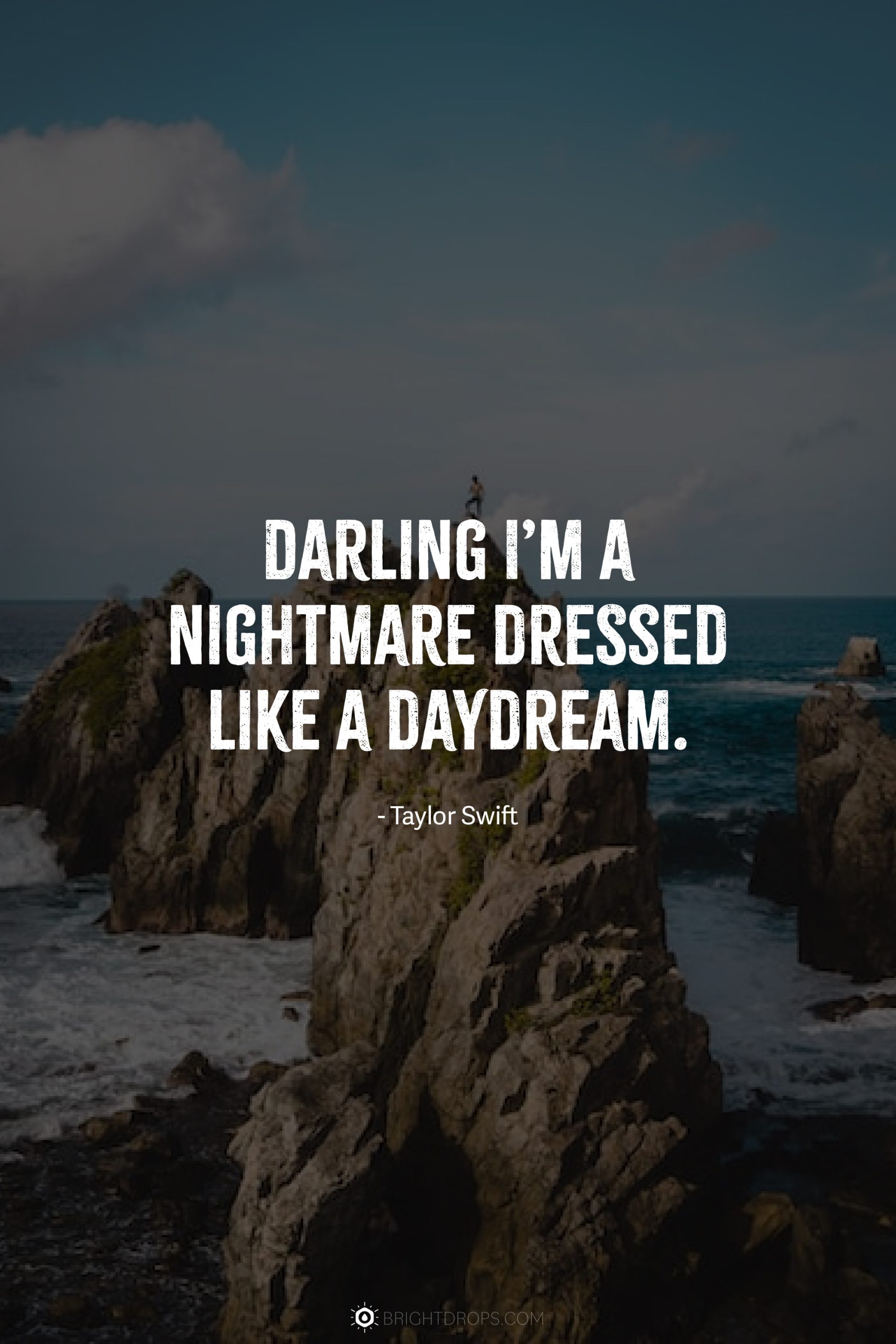 "Darling I'm a nightmare dressed like a daydream." – Taylor Swift
"Savage and unpredictable, a woman, like the sea, takes what she wants and spits the remains back into the boiling cauldron of humanity." – Virginia Alison
"I'm single because I was born that way." – Mae West
"Sorry, I can't hear you over the sound of how awesome I am." – Harvey Specter.
"I use the negativity to fuel the transformation into a better me." – Beyoncé
"If you don't like how the table is set, turn over the table." – House of Cards
"I wear my crown, show it off, go on, girl." – Kelly Rowland
"My motivation is being the best. Pretty simple and straightforward." – Brian Shaw
"I don't sweat for pounds, or inches, or a dress size. I sweat to make my outside match my inside." – Amber Dawn Hunter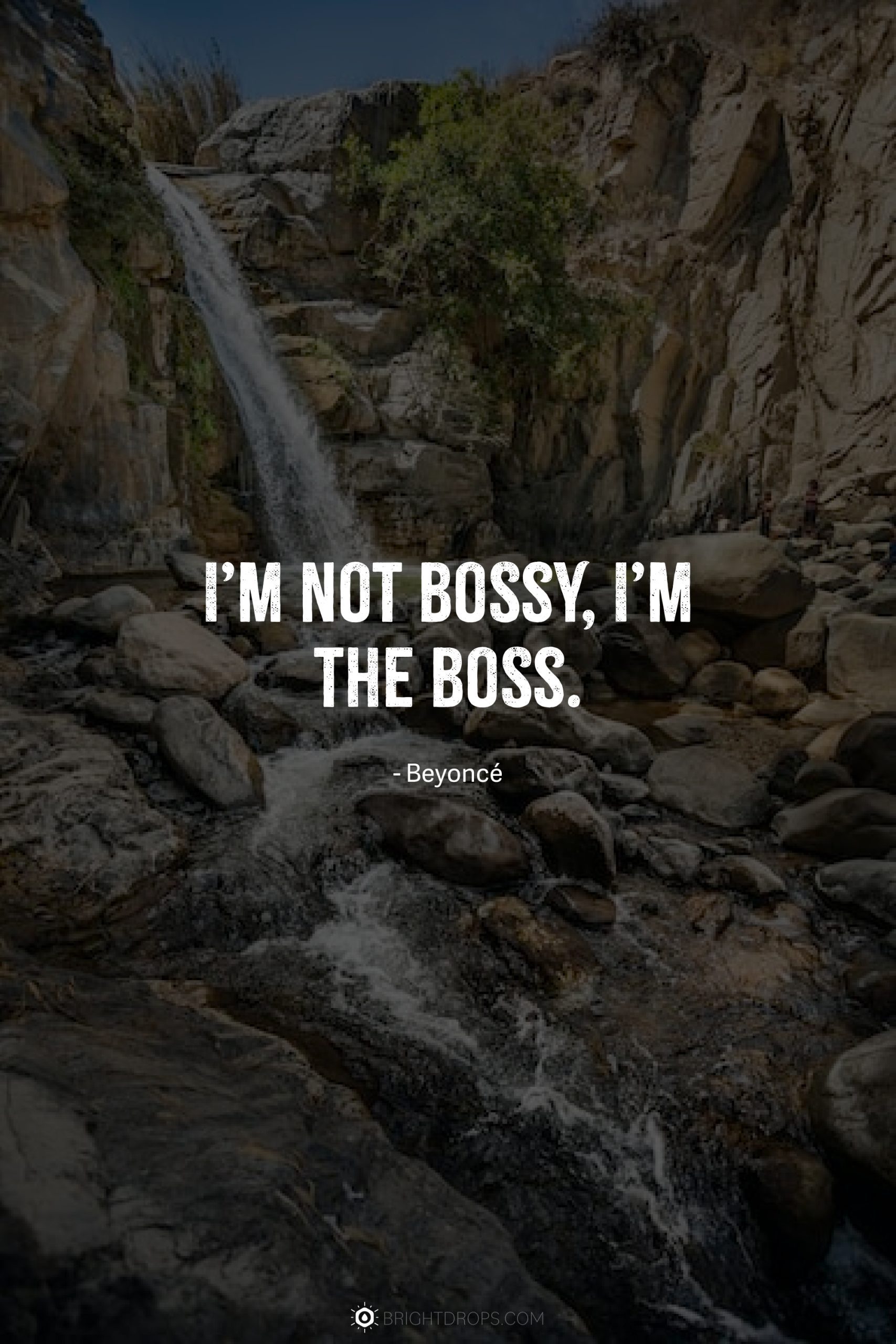 "I'm not bossy, I'm the boss." – Beyoncé
"The world is being run by savages wearing corporate business suits." – Steven Magee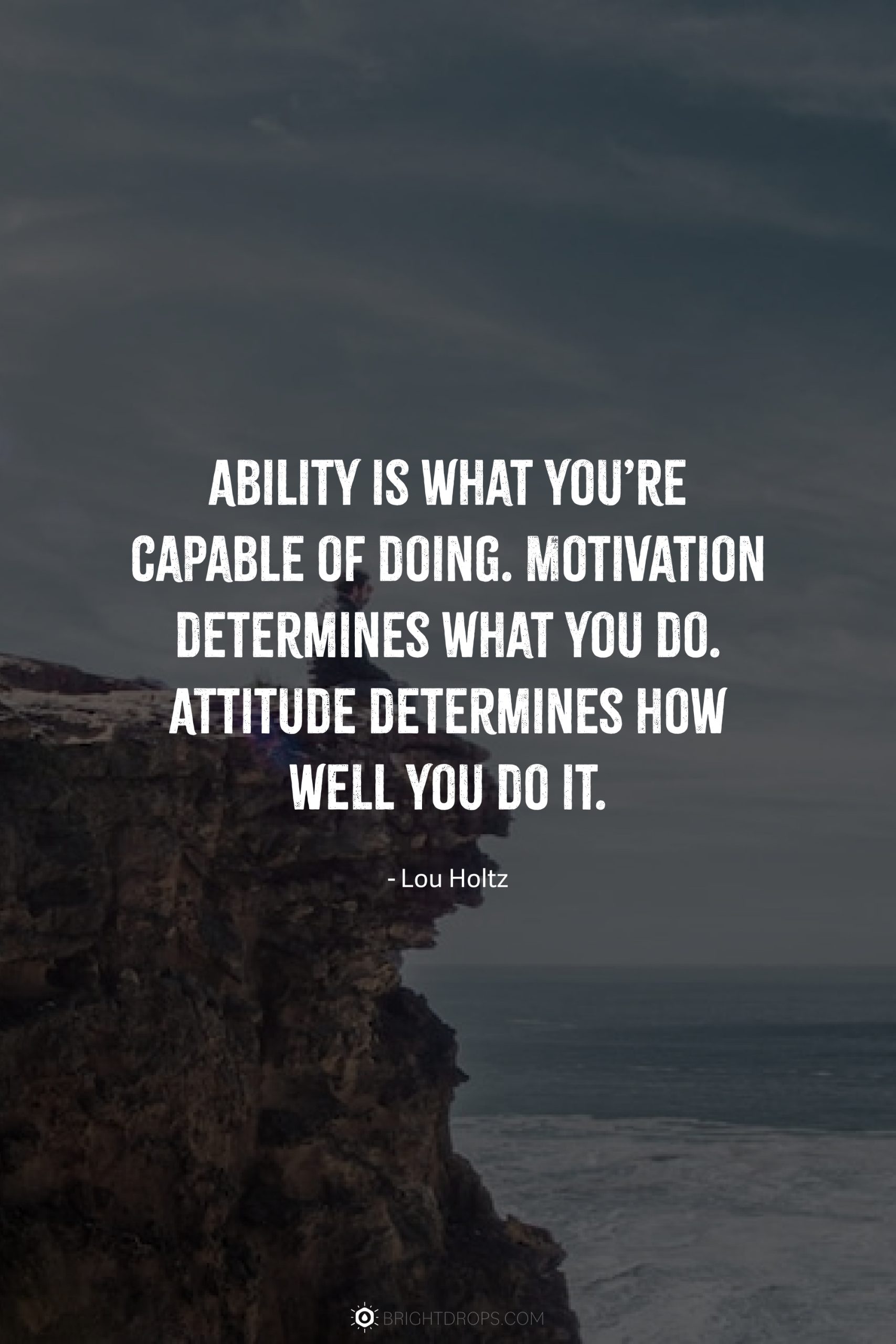 "Ability is what you're capable of doing. Motivation determines what you do. Attitude determines how well you do it." – Lou Holtz
"I stopped waiting for the light at the end of the tunnel. I lit that b*tch up myself." – Unknown
"You can't make people love you, but you can make them fear you." – Blair Waldorf
"Smile, because it confuses people. It's easier than explaining to people that what is killing you from inside" – Batman Darknight.
"Never interrupt someone doing what you said couldn't be done." – Amelia Earhart
"Too hot too handle, too cold to hold!" – Randy Savage
More Good Quotes:
11 Michael Scott Quotes
33 Never Give Up Quotes
63 Peace Quotes for Instagram