The first Jewish woman and only the second woman ever to serve on the Supreme Court of the United States, Ruth Bader Ginsburg was a lawyer who fought tirelessly for gender equality and women's rights. Having spent her early career being passed over for jobs because she was a woman, she eventually won her place on the Supreme Court after being appointed by President Bill Clinton.
She changed the lives of women in America with her dogged approach to women's rights, fighting for women to be allowed to make their own choices, and also to make same sex marriages legal. However, her work began back in the 1970s, when she challenged – and beat – archaic laws that favored men and disadvantaged women, or were biased against either sex; the equality that we enjoy today is largely down to this remarkable woman's work.
If you want true inspiration and words to aspire to, take a look at some of these Ruth Bader Ginsburg quotes to guide you. Pragmatic with a side of humor, these wise words will give you a wonderful path to follow, wherever you are going.
Most Inspirational Ruth Bader Ginsburg Quotes of All-Time
"Depriving a parent of parental status is as devastating as a criminal conviction." – Ruth Bader Ginsburg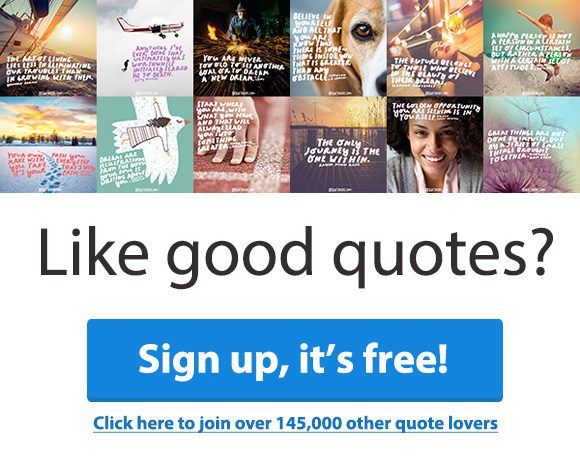 "People who are well represented at trial do not get the death penalty." – Ruth Bader Ginsburg
"Who will take responsibility for raising the next generation?" – Ruth Bader Ginsburg
"Members of the legislature, people who have run for office, know the connection between money and influence on what laws get passed." – Ruth Bader Ginsburg
"The emphasis must not be on the right to abortion but on the right to privacy and reproductive control." – Ruth Bader Ginsburg
"I would not look to the United States Constitution if I were drafting a constitution in the year 2012." – Ruth Bader Ginsburg
"It is not like I have gone crazy, I just don't want to take any chances. You never know what could happen." – Ruth Bader Ginsburg
"Every girl and every boy that's born alive is either a little liberal or else a little conservative." – Ruth Bader Ginsburg
"I'm not very good at promotion." – Ruth Bader Ginsburg
"Legislators know much more about elections than the Court does." – Ruth Bader Ginsburg
"Rabbi Alfred Bettleheim once said: Prejudice saves us a painful trouble, the trouble of thinking." – Ruth Bader Ginsburg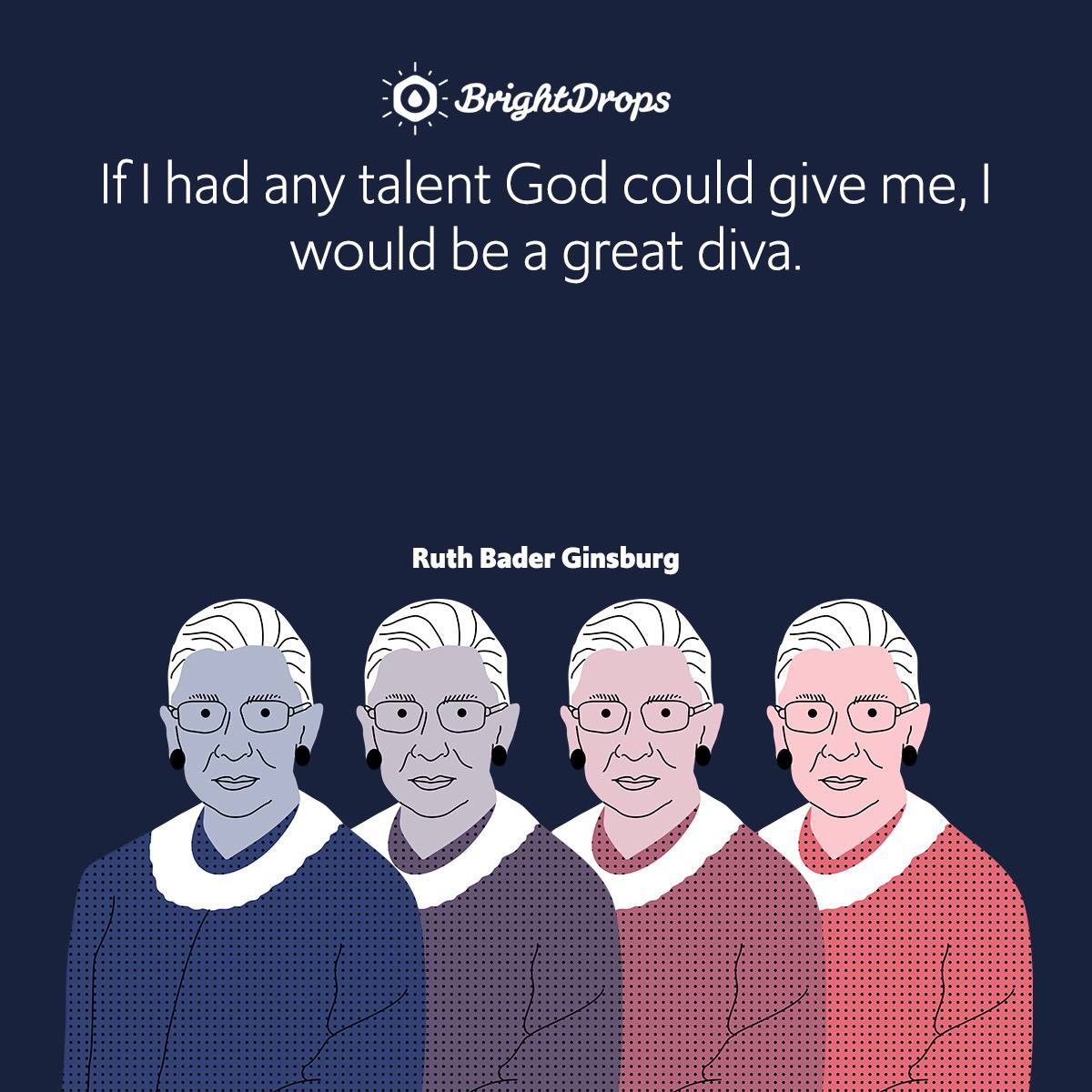 "If I had any talent God could give me, I would be a great diva." – Ruth Bader Ginsburg
"A gender line… helps to keep women not on a pedestal, but in a cage." – Ruth Bader Ginsburg
"People who think you could wave a magic wand and the legacy of the past will be over are blind." – Ruth Bader Ginsburg
"I always ask my law clerks, in addition to reading all the briefs, including all the amici briefs, that if there's a good law review article, they should bring it to me." – Ruth Bader Ginsburg
"I said on the equality side of it, that it is essential to a woman's equality with man that she be the decision-maker, that her choice be controlling." – Ruth Bader Ginsburg
"Throwing out preclearance when it has worked and is continuing to work to stop discriminatory changes is like throwing away your umbrella in a rainstorm because you are not getting wet." – Ruth Bader Ginsburg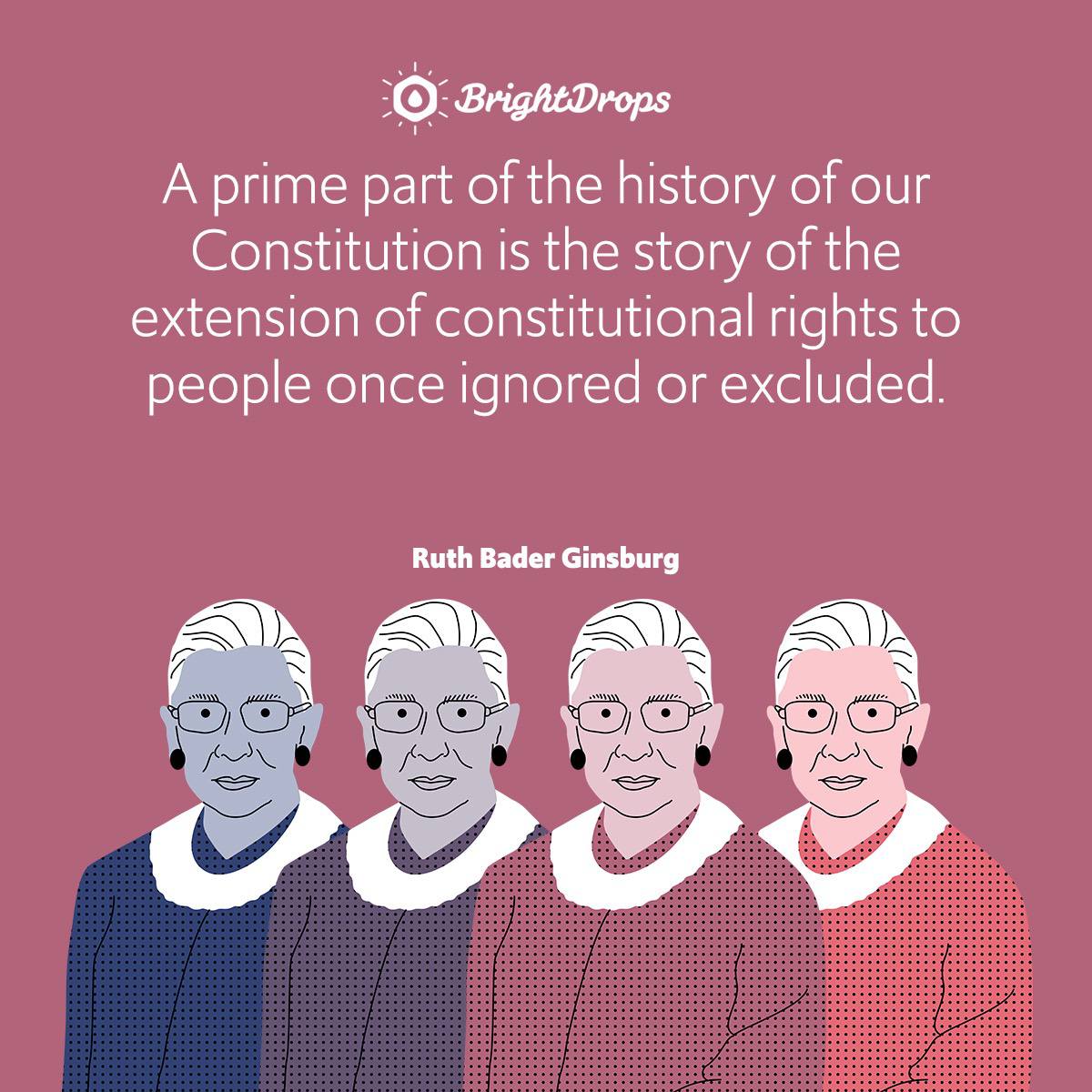 "A prime part of the history of our Constitution is the story of the extension of constitutional rights to people once ignored or excluded." – Ruth Bader Ginsburg
"The written argument endures. The oral argument is fleeting." – Ruth Bader Ginsburg
"Anger, resentment, envy, and self-pity are wasteful reactions. They greatly drain one's time. They sap energy better devoted to productive endeavors." – Ruth Bader Ginsburg
"Women belong in all places where decisions are being made. It shouldn't be that women are the exception." – Ruth Bader Ginsburg
"A constitution, as important as it is, will mean nothing unless the people are yearning for liberty and freedom." – Ruth Bader Ginsburg
"We have the oldest written constitution still in force in the world, and it starts out with three words, 'We, the people.'" – Ruth Bader Ginsburg
"My dissenting opinions, like my briefs, are intended to persuade. And sometimes one must be forceful about saying how wrong the Court's decision is." – Ruth Bader Ginsburg
"I think unconscious bias is one of the hardest things to get at." – Ruth Bader Ginsburg
"The Sixth Amendment secures to persons charged with crime the right to be tried by an impartial jury reflecting a fair cross-section of the community." – Ruth Bader Ginsburg
"Feminism… I think the simplest explanation, and one that captures the idea, is a song that Marlo Thomas sang, 'Free to be You and Me.'" – Ruth Bader Ginsburg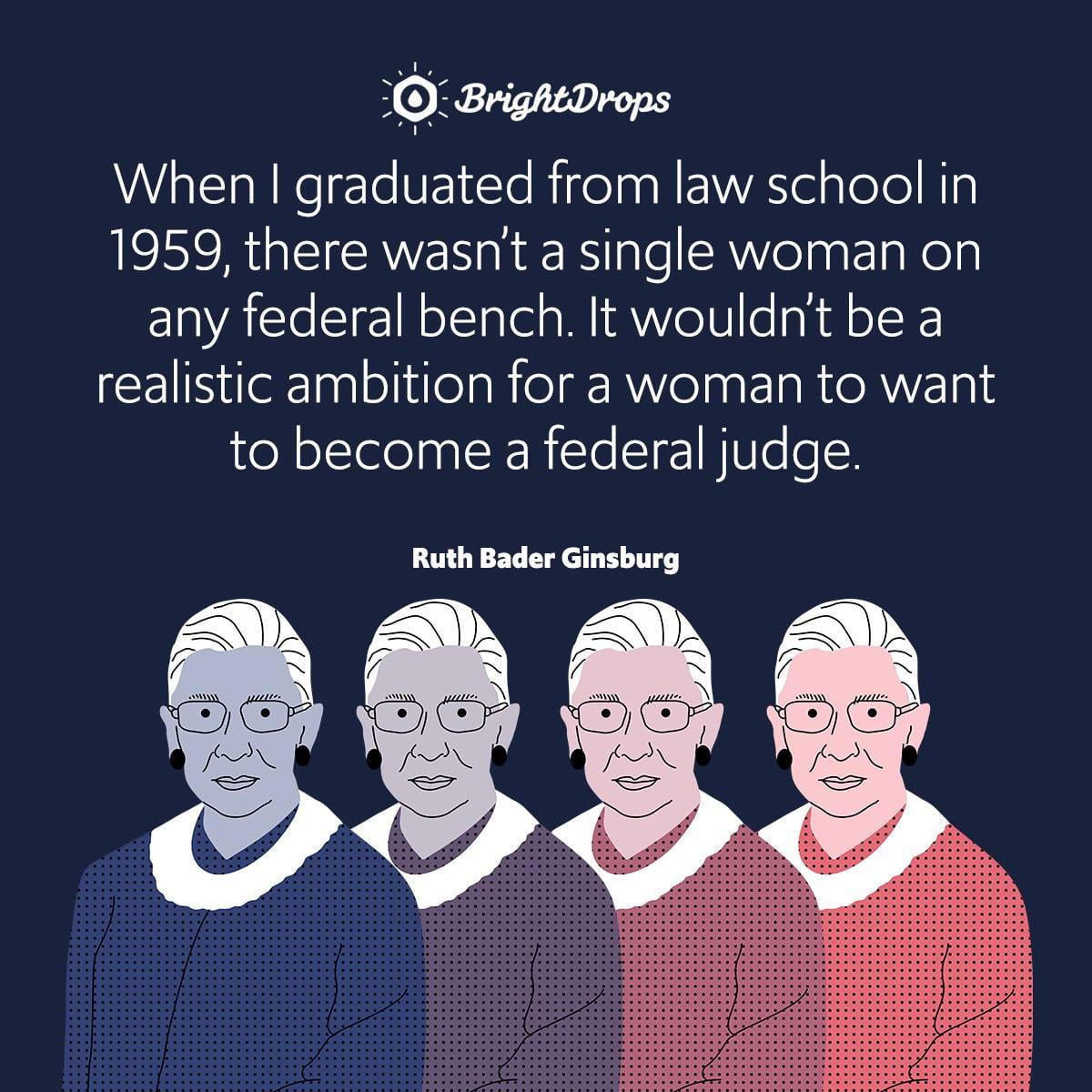 "When I graduated from law school in 1959, there wasn't a single woman on any federal bench. It wouldn't be a realistic ambition for a woman to want to become a federal judge." – Ruth Bader Ginsburg
"Fight for the things that you care about. But do it in a way that will lead others to join you." – Ruth Bader Ginsburg
"Women will only have true equality when men share with them the responsibility of bringing up the next generation." – Ruth Bader Ginsburg
"I don't say women's rights—I say the constitutional principle of the equal citizenship stature of men and women." – Ruth Bader Ginsburg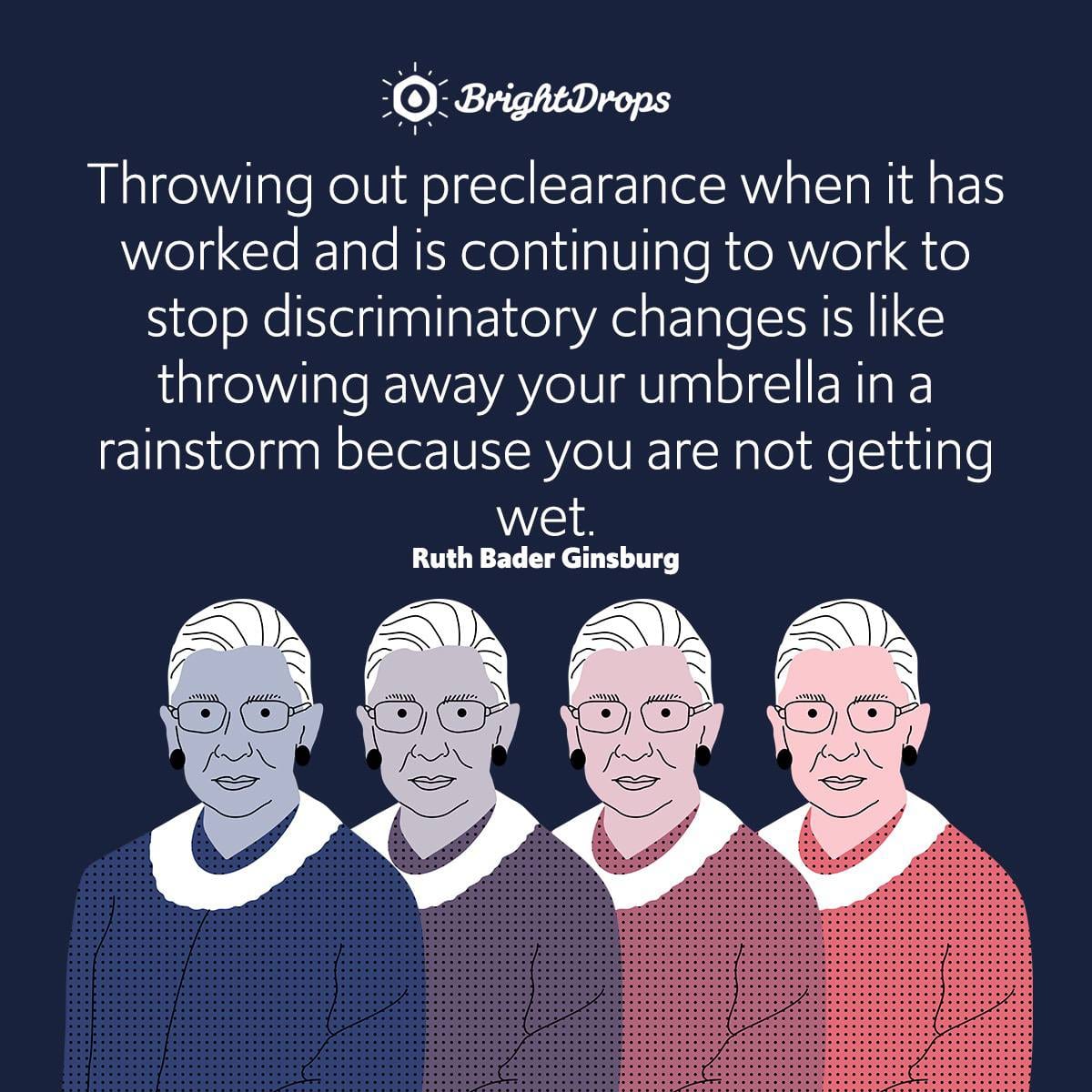 "Throwing out preclearance when it has worked and is continuing to work to stop discriminatory changes is like throwing away your umbrella in a rainstorm because you are not getting wet." – Ruth Bader Ginsburg
"You can disagree without being disagreeable." – Ruth Bader Ginsburg
"In most civil law systems there are no dissents. There is a single opinion for the court: it is unanimous; it is highly stylized; you can't tell which judge wrote it." – Ruth Bader Ginsburg
"I ask no favor for my sex. All I ask of our brethren is that they take their feet off our necks." – Ruth Bader Ginsburg
"I would like to be remembered as someone who used whatever talent she had to do her work to the very best of her ability." – Ruth Bader Ginsburg
"My rule was I will not answer a question that attempts to project how I will rule in a case that might come before the court." – Ruth Bader Ginsburg
"I think our system is being polluted by money." – Ruth Bader Ginsburg
"Judges should avoid commenting on a candidate for public office." – Ruth Bader Ginsburg
"I try to teach through my opinions, through my speeches, how wrong it is to judge people on the basis of what they look like, color of their skin, whether they're men or women." – Ruth Bader Ginsburg
"Dissents speak to a future age. It's not simply to say, 'my colleagues are wrong and I would do it this way,' but the greatest dissents do become court opinions." – Ruth Bader Ginsburg
"I would not like to be the only woman on the court." – Ruth Bader Ginsburg
"Prisons should be co-ed because separate quarters are discriminatory." – Ruth Bader Ginsburg
"No one who is in business for profit can foist his or her beliefs on a workforce that includes many people who do not share those beliefs." – Ruth Bader Ginsburg
"All I can say is I am sensitive to discrimination on any basis because I have experienced that upset." – Ruth Bader Ginsburg
"When police or prosecutors conceal significant exculpatory or impeaching material, we hold, it is ordinarily incumbent on the state to set the record straight." – Ruth Bader Ginsburg
"When contemplated in its extreme, almost any power looks dangerous." – Ruth Bader Ginsburg