Are you hopelessly romantic and head over heels in love? Use these deep romantic quotes to send to your significant other and show them how much you care.
Feeling a bit saucy? You'll want to check out these sexy quotes and these seduction quotes (for a romantic night with your lover).
Romantic Quotes
"If I know what love is, it is because of you." – Hermann Hesse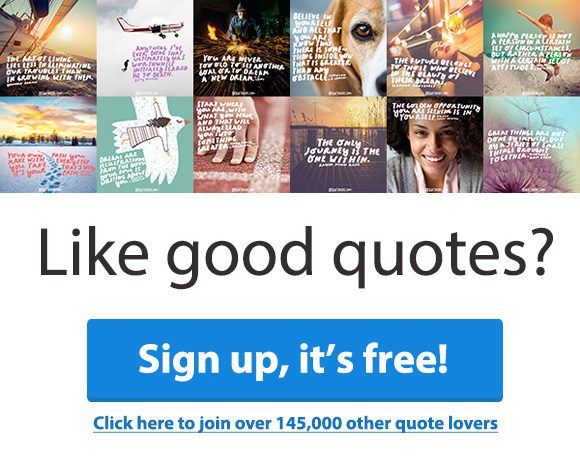 "A light rain touches my cheek like an angel's butterfly kisses." – Amanda Mosher, Better To Be Able To Love Than To Be Loveable
"Owners of dogs will have noticed that, if you provide them with food and water and shelter and affection, they will think you are god. Whereas owners of cats are compelled to realize that, if you provide them with food and water and shelter and affection, they draw the conclusion that they are gods." – Christopher Hitchens, The Portable Atheist: Essential Readings for the Nonbeliever
You may also like: These super romantic quotes for her: https://brightdrops.com/love-quotes-for-her
"Romantic love morphs into a loving and eternal relationship if we understand what is love; why passion is such a sweet word." – Balroop Singh
"Intelligence and education that hasn't been tempered by human affection isn't worth a damn." – Daniel Keyes
"Encountering the sweet mystery of first love is life-altering." – Kilroy J. Oldster
Related: Romantic Love Quotes for Him
"I'll stand beside you through the years, you'll only cry those happy tears. And though I'll make mistakes, I'll never break your heart." – John Michael Montgomery
"It's true that nothing in this world makes us so necessary to others as the affection we have for them." – Johann Wolfgang von Goethe, The Sorrows of Young Werther
". . . and I imagine that, though cold and haughty in her general demeanor, and even exacting in her requirements, she has strong affections for those who can reach them . . ." – Anne Brontë, Agnes Grey
"But yet it is evident that religion consists so much in affection, as that without holy affection there is no true religion; and no light in the understanding is good which does not produce holy affection in the heart: no habit or principle in the heart is good which has no such exercise; and no external fruit is good which does not proceed from such exercises." – Jonathan Edwards, The Religious Affections
"[I]t is not by being richer or more powerful that a man becomes better; one is a matter of fortune, the other of virtue. Nor should she deem herself other than venal who weds a rich man rather than a poor, and desires more things in her husband (see quotes for your husband) than himself. Assuredly, whomsoever this concupiscence leads into marriage deserves payment rather than affection." – Héloïse d'Argenteuil, The Letters of Abélard and Héloïse
"If you live to be a hundred, I want to live to be a hundred minus one day so I never have to live without you." – A. A. Milne
"I almost always wish that." – Veronica Roth, Allegiant
"It was a lesson most people learned much earlier; that even friendship could have an undisclosed shelf life. That loyalty and affection, so consuming and powerful, could dissipate like fog." – Jennifer Haigh, The Condition
"I'm telling you this for one reason and one reason only: No matter how sure you are of someone's love, it's always nice to hear it." – Mike Gayle, Turning Thirty
"Kiss me, and smile for me, tell me that you'll wait for me. Hold me like you'll never let me go." – John Denver
"I love you for all that you are, all that you have been, all that you're yet to be." – Ernest Hemingway
"Interest in temperament as an individual difference dimension of importance in one's behavior leads to reanalysis of both theoretical and methodological considerations relating to the construct." – Moutasem Algharati
"Outwardly, other than her hair, she had not changed much. She was still more or less the same cool, aloof woman who garnered more respect than affection. On the inside, however, it had been impossible to return to the person she used to be." – Sherry Thomas, Not Quite a Husband
"We are not people who touch each other carelessly; every point of contact between us feels important, a rush of energy and relief." – Veronica Roth, Allegiant
"Joy, like love, is an impenetrable, God-given state of being. The distinctions between joy and happiness and love and affection are important ones under the notion that happiness is an 'iffy' emotion, a highly dependent feeling both aroused and destroyed by external conditions apart from God. And the distinction between love and affection is parallel to such." – Criss Jami, Killosophy
"People who throw kisses are hopelessly lazy." – Bob Hope
"Love — not dim and blind but so far-seeing that it can glimpse around corners, around bends and twists and illusion; instead of overlooking faults love sees through them to the secret inside." – Vera Nazarian, Salt of the Air
"Needs cause motivation. Deep-rooted desires for esteem, affection, belonging, achievement, self-actualization, power, and control motivate us to push for what we want and need in our lives." – Lorii Myers, Make It Happen, A Healthy, Competitive Approach to Achieving Personal Success
"My lovers suffocate me! Crowding my lips, and thick in the pores of my skin, Jostling me through streets and public halls…coming naked to me at night, Crying by day Ahoy from the rocks of the river…swinging and chirping over my head, Calling my name from flowerbeds or vines or tangled underbrush, Or while I swim in the bath….or drink from the pump on the corner….or the curtain is down at the opera…..or I glimpse at a woman's face in the railroad car; Lighting on every moment of my life, Bussing my body with soft and balsamic busses, Noiselessly passing handfuls out of their hearts and giving them to be mine" – Walt Whitman
"We were not a hugging people. In terms of emotional comfort it was our belief that no amount of physical contact could match the healing powers of a well-made cocktail." – David Sedaris, Naked
"I found a piece of paradise to call my own, and life is worth living again, for to love you, to me, is to live." – Larry Graham
"I want all of you, forever, you and me, everyday." – Nicholas Sparks
"A true friend doesn't have guts; they beat you up and later plead with you to beat them back." – Michael Bassey Johnson
"There is nothing like wounded affection for giving poignancy to anger." – Elizabeth Gaskell, Wives and Daughters
"You will always be the miracle that makes my life complete. And as long as there is breath in me, I'll make yours just as sweet." – George Strait
"In all the world, there is no heart for me like yours. In all the world, there is no love for you like mine." – Maya Angelou
"Unknowingly, he prepared me to survive the rest of my days with the way he shielded himself from emotional vulnerabilities that slowly destroy the rest of us." – Crystal Woods, Write like no one is reading
"Oh, I love hugging. I wish I was an octopus so I could hug 10 people at a time!" – Drew Barrymore
"Conversion is not the smooth, easy-going process some men seem to think… It is wounding work, this breaking of the hearts, but without wounding there is no saving… Where there is grafting there will always be a cutting, the graft must be let in with a wound; to stick it onto the outside or to tie it on with a string would be of no use. Heart must be set to heart and back to back or there will be no sap from root to branch. And this, I say, must be done by a wound, by a cut." – John Bunyan
"Had I been in love, I could not have been more wretchedly blind. But vanity, not love, has been my folly." – Jane Austen, Pride and Prejudice
"Alessandra approached the geniuses of the past to give them life with her attention, which was the form her affection took: paying attention." – Carlos Fuentes, Todas las familias felices
"What's more, I was free to do anything that did not hurt others that strengthened me and helped me in the one thing that we are all put on this earth to do: help one another – because it is the only thing that, in the long run, gives us pleasure, as receiving love and friendship and affection is the only thing that gives us joy and ameliorates the dread of our inevitable extinction." – Samuel R. Delany, Through the Valley of the Nest of Spiders
"True friends are those who came into your life, saw the most negative part of you, but are not ready to leave you, no matter how contagious you are to them." – Michael Bassey Johnson, The Infinity Sign
"I like the scientific spirit—the holding off, the being sure but not too sure, the willingness to surrender ideas when the evidence is against them: this is ultimately fine—it always keeps the way beyond open—always gives life, thought, affection, the whole man, a chance to try over again after a mistake—after a wrong guess." – Walt Whitman, Walt Whitman's Camden Conversations
"I always have many roads to travel, but I take the one which leads to you." – Amit Kalantri
"I had not intended to love him; the reader knows I had wrought hard to extirpate from my soul the germs of love there detected; and now, at the first renewed view of him, they spontaneously revived, great and strong! He made me love him without looking at me." – Charlotte Brontë, Jane Eyre
"I have so much of you in my heart." – John Keats
"I saw that you were perfect, and so I loved you. Then I saw that you were not perfect and I loved you even more." – Angelita Lim
"Because I am in pain," – Suzanne Collins, Mockingjay
"Then stay with me a little longer,' Madame Olenska said in a low tone, just touching his knee with her plumed fan. It was the lightest touch, but it thrilled him like a caress." – Edith Wharton, The Age of Innocence
"You can talk with someone for years, every day, and still, it won't mean as much as what you can have when you sit in front of someone, not saying a word, yet you feel that person with your heart, you feel like you have known the person for forever…. connections are made with the heart, not the tongue." – C. JoyBell C.
"Take my hand, take my whole life too. For I can't help falling in love with you." – Elvis Presley
"Woe to the heart that has not loved in youth!" – Ivan Turgenev, Home of the Gentry
"If I had a flower for every time I thought of you… I could walk through my garden forever." – Alfred Tennyson
"If equal affection cannot be, let the more loving one be me." – W.H. Auden
"Oh, Lizzy! Do anything rather than marry without affection." – Jane Austen, Pride and Prejudice
"The best thing to hold onto in life is each other." – Audrey Hepburn
"…Mom equated money with affection…but I never cared about the money. I just wanted her to be healthy." – J.D. Vance, Hillbilly Elegy: A Memoir of a Family and Culture in Crisis
"I have found it is surprisingly difficult to remain sad when a cat is doing its level best to sandpaper one's cheeks." – R.L. LaFevers, Theodosia and the Last Pharaoh
"Romantic love has its place but to define a relationship solely in romantic terms is like describing marriage only by what a couple does on their honeymoon." – Dermot Davis
"The more attention you give to your loved ones, the less affection you receive from them." – Michael Bassey Johnson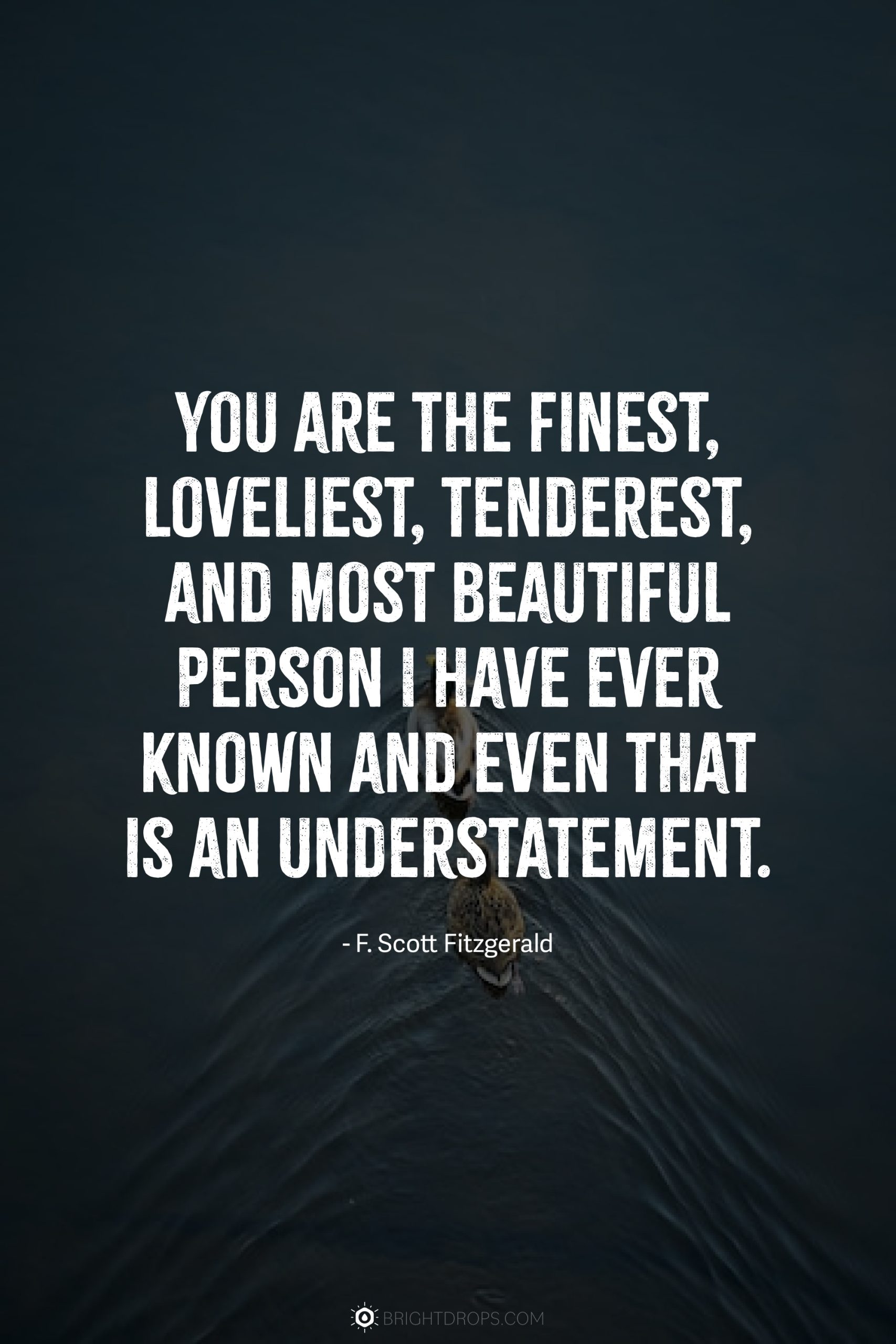 "You are the finest, loveliest, tenderest, and most beautiful person I have ever known and even that is an understatement." – F. Scott Fitzgerald
"Every time I think of you, I always catch my breath." – John Waite
"I am not sure if women are attracted to genius. Can you imagine the wise wizard winning the woman over the gallant swordsman? It seems rather otherworldly in more ways than one." – Criss Jami, Killosophy
"First love is only a little foolishness and a lot of curiosity." – George Bernard Shaw
"Walk through this world with me, go where I go. Share all your dreams with me, for I love you so." – George Jones
"If the guy likes/loves you, he won't care if you are a good kisser or not. He should like you for what you are – not how you kiss." – Meg Cabot, Princess in Love
"Because with the right person, sometimes kissing feels like healing." – Lisa McMann
"I wasn't actually in love, but I felt a sort of tender curiosity." – F. Scott Fitzgerald, The Great Gatsby
"We all know him to be a proud, unpleasant sort of man; but this would be nothing if you really liked him." – Jane Austen, Pride and Prejudice
"It is a severe cruelty inflicted upon women…that we should be the ones who so desperately need love…affection…acceptance.And yet, we suffer…many of us, for lack of it throughout our entire lives.-Shackles of Honor" – Marcia Lynn McClure
"You made my world stand still, and in that stillness, there was a freedom I never felt before." – Sarah McLachlan
"Love is that condition in which the happiness of another person is essential to your own." – Robert A. Heinlein
More Good Love Quotes: