Many people in history have talked about how to deal with breakups. There are different outlooks and even people who enjoyed going through them because of the lessons they learned. These quotes range from strong, independent people who are happy by themselves to people who found what true love really means after a breakup.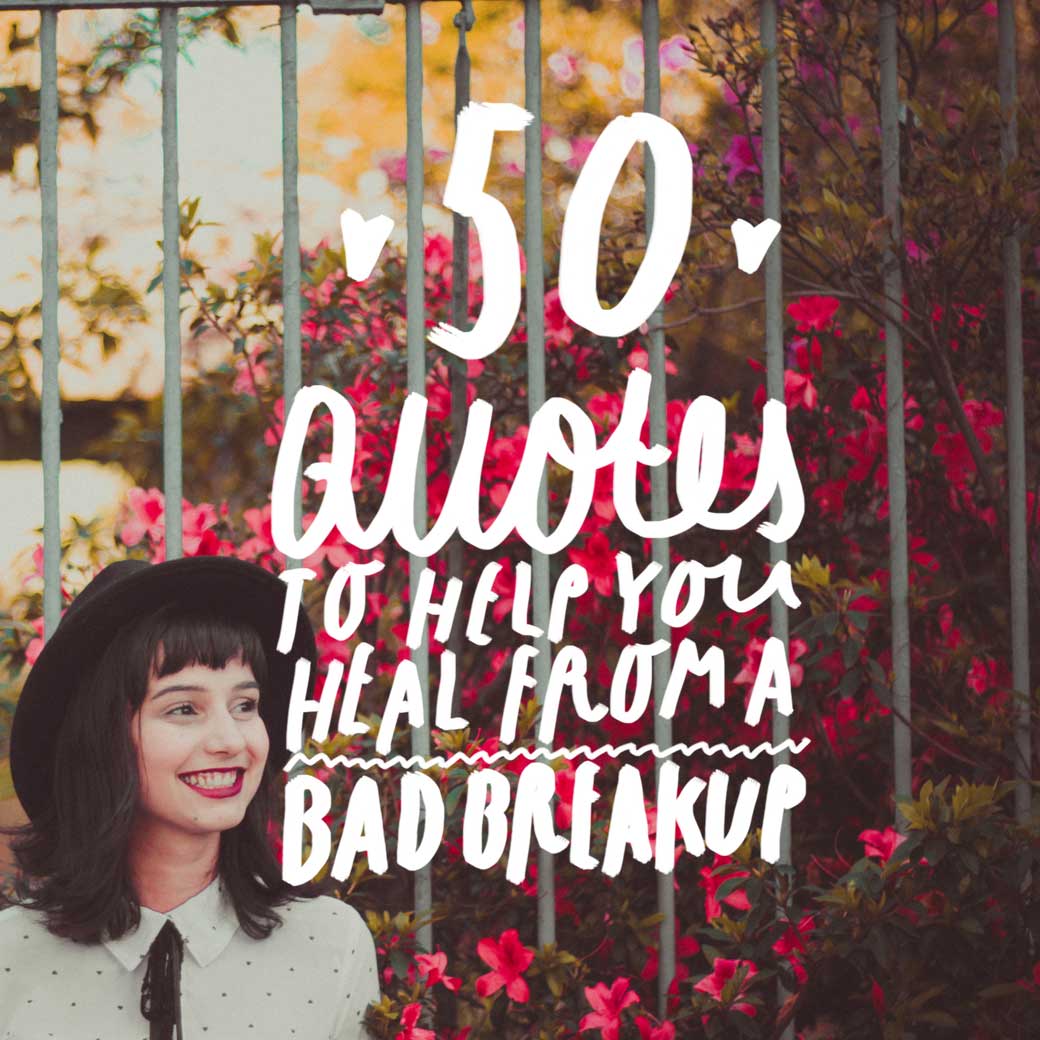 1. Steve Maraboli Comes Forward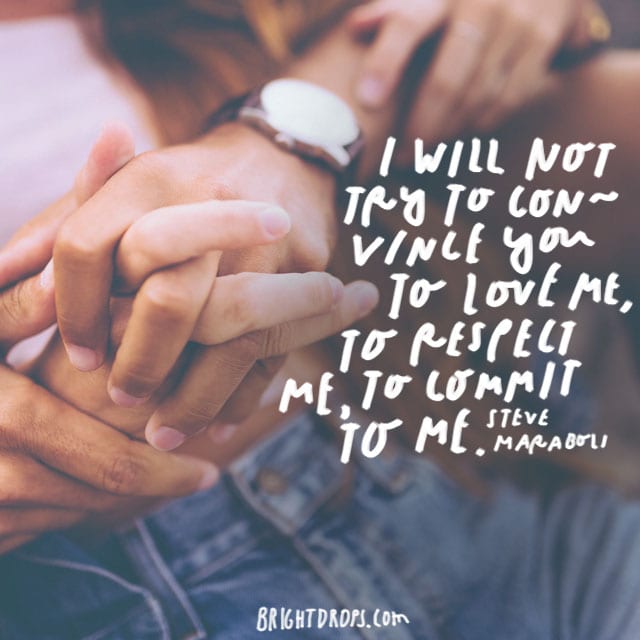 "I will not try to convince you to love me, to respect me, to commit to me." – Steve Maraboli
We should never have to convince people to love, respect or commit to us. If they truly wanted to then they would. Never try to make someone like you by acting different or not being yourself. Wait for the person who loves you for who you are.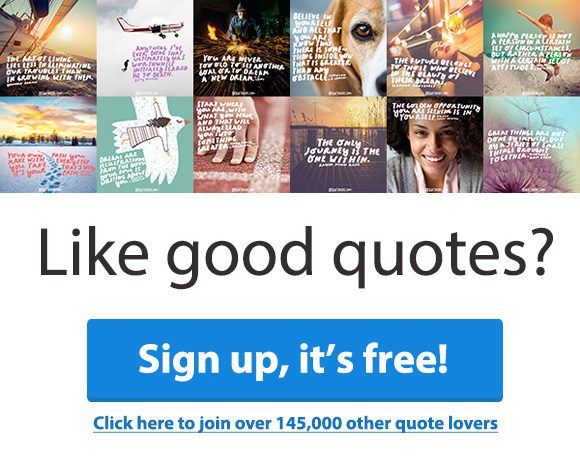 2. Steve Maraboli Believes Some of us Deserve Better
"I deserve better than that; I AM BETTER THAN THAT." – Steve Maraboli
This is the mindset we all should have when looking for a partner. Never settle for someone you do not deserve and does not treat you right. Steve Maraboli recognizes that he is better than what he has been going through.
3. Sarah Dessen Ends a Common Myth
"Because you can never go from going out to being friends, just like that. It's a lie." – Sarah Dessen
It is extremely hard to date someone and then go back to being friends afterwards. There are always mixed feelings towards each other and there is a good chance there are still some lingering romantic feelings.
4. James Dashner Tells his Side of a Breakup
"I felt her absence. it was like waking up one day with no teeth in your mouth." – James Dashner
James Dashner uses this quote to tell how a breakup can be like losing such a big part of yourself. Your teeth are very important and you would have to learn to live without them if you were to ever lose them.
5. Graham Greene Relates Love to Wine
"Like some wines our love could neither mature nor travel." – Graham Greene
Some wines are not able to travel far and they are not able to mature. Graham Greene believes this happens to be the same situation with one of his loves. The love did not grow past the initial phase and it could not travel.
6. Kathryn Stockett With a Funny Quote on a Common Breakup
"He needs "space" and "time," as if this were physics and not a human relationship." – Kathryn Stockett
Many people who want to breakup with their significant other say that they need time and space. This is a common breakup phrase and Kathryn Stockett has a funny way of comparing it to a relationships saying.
7. Amit Kalantri Values his own Respect
"I cannot compromise my respect for your love. You can keep your love, I will keep my respect." – Amit Kalantri
Never compromise respect for love. Respect is one of the most important things in the world and if we compromise our respect from other people just to be loved by one person, it is not a good showing of our character and values.
8. Isabel Lopez Knows What to Do
"Put a couple of candles in front of his picture, say a few Hail Marys, and get it over with." – Isabel Lopez
It is hard to let go sometimes, but having a ritual can bring a sense of closure to anyone who has just gone through a bad breakup. As Isabel says, light some candles, say a few hail Mary's and move on with your life.
9. Keith Urban Believes Sometimes We need Time to Realize
"It took a while for her to figure out she could run but when she did she was long gone, Long gone." – Keith Urban
Sometimes we all take some time to figure things out. Even when all of the signs point to our relationship ending we try to prolong it for as long as can. Once we figure it out it is not the best situation for ourselves, we must leave as fast as we can.
10. Nina LaCour Believes Presence is Everything
"Your presence alone is enough to say look at who I am without you." – Nina LaCour
Sometimes to show that we are not hurt, all it takes is a strong presence. A sense of confidence and happiness will drive any person wild that may have thought you were unhappy and missing them.
11. Jennifer Weiner Realizes a Relationship is not her Entire Life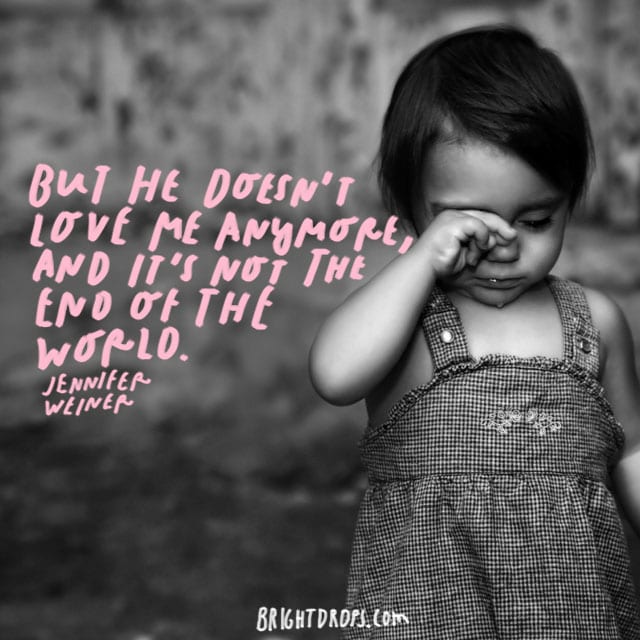 "But he doesn't love me anymore, and it's not the end of the world." – Jennifer Weiner
Jennifer Weiner has a very mature outlook on her breakup. So someone she loved may not love her anymore, it is not the end of the world. It may be hard in the beginning thinking of your life without that person, but in time it will be a thing of the past.
12. William Thackeray Lists the Top Two Loves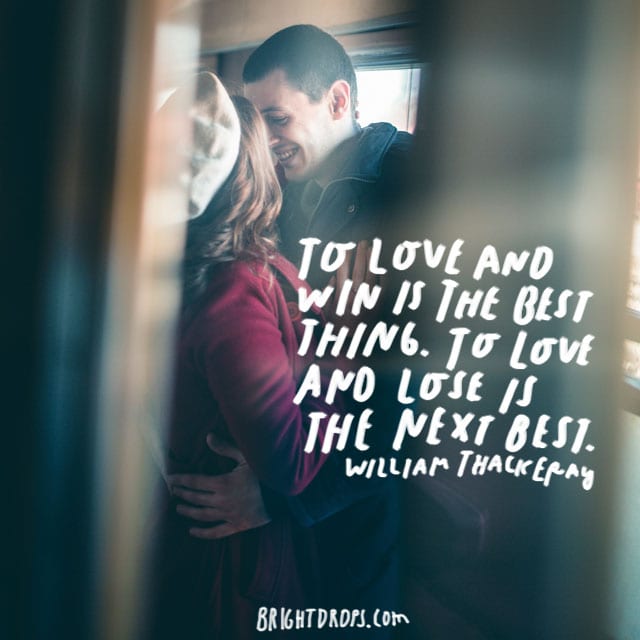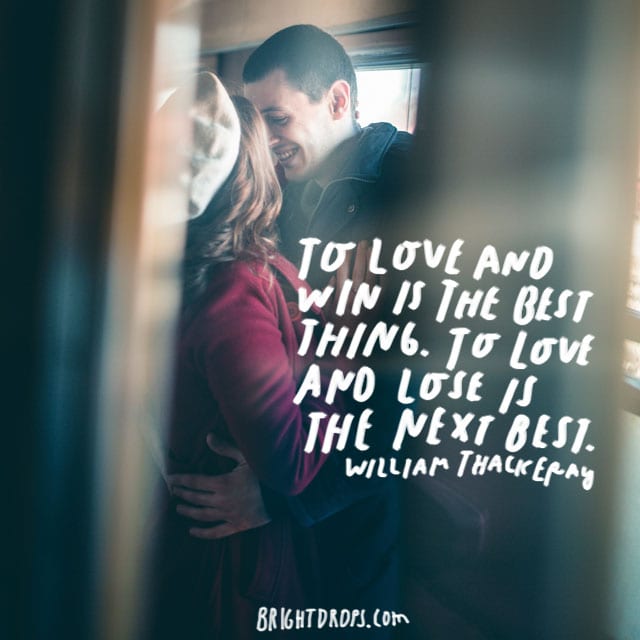 "To love and win is the best thing. To love and lose is the next best." – William Thackeray
There is nothing better than falling in love and staying in love. The next best thing is falling in love and losing that love. When we love and lose, we learn the feeling of love and we realize how much we value that feeling and want one that will last.
13. Yoko Ono Believes Healing Helps
"Healing yourself is connected with healing others." – Yoko Ono
When you are able to heal yourself, you natural energy can help to heal others. When people see what other people have gone through and come out of, they are more inclined to be confident that they can do the same.
14. Harriet Evans Knows We Fall for the Wrong People
"Everyone's allowed to be in love with the wrong person at some point." – Harriet Evans
We all fall for people that are not right for us. It is not our fault or theirs. We are human and sometimes when we think we are in love we go into it full speed without thinking. This is definitely ok and it is good to learn what not to do.
15. Golda Meir Understands Crying Teaches Laughter
"Those who do not know how to weep with their whole heart do not know how to laugh either." – Golda Meir
To be able to laugh with everything that we have we must learn how to cry with everything that we have. Good things do not feel as good if we do not know what pain feels like. Just like laughing does not feel as god if we do not know what crying feels lik
16. Oscar Wilde Understands Hurt is Necessary
"Hearts live by being wounded." – Oscar Wilde
Hearts live because of the pain they are able to endure. If we were not able to get hurt, we would not never know how to handle it when it did happen. The pain that we feel prepares on how to handle future pain as well as future pleasure.
17. Khalil Gibran Understands The value in Love
"Ever has it been that love knows not its own depth until the hour of separation." – Khalil Gibran
We never really know how much we love someone until they are gone. This is a sad truth that many people do not realize until it is too late. We have to value the people who are in our lives now and if we don't value them, we need to get stay away from the
18. H.M. Ward Knows how to Handle Bad Days
"Bad days call for foods that are bad for your butt." – H.W. Ward
Bad days are a good time to have some food that may not be the best for you health wise. Go ahead and eat some ice cream and cake and watch movies with your friends. Do not worry about whoever it is who broke up with you.
19. Romaim Rolland Believes Love is Never a Mistake
"One makes mistakes; that is life. But it is never a mistake to have loved." – Romain Rolland
It is never a mistake to have loved someone. Love is one the most admirable things a person can do. If you are able to become vulnerable and trust another person with your heart, well then you are a lucky person because happiness is right around the corne
20. Donna Lynn Hope Believes Your Thoughts Should be for People You Love
"Don't allow someone not worth it to have the power to occupy your thoughts." – Donna Lynn Hope
Do not allow someone the power of occupying your thoughts when they themselves are not worthy of your thoughts. Only let the people who care about you into your thoughts because they are the ones you should be thinking of most of the time.
21. Walter Anderson Values Response
"Bad things do happen; how I respond to them defines my character." – Walter Anderson
Bad things happen to everyone. Some more than others but everybody gets a taste of unfortunate events at different points in their lives. The way that we react to these times is what defines our character and makes us who we are.
22. Oscar Wilde Believes a Broken Heart is Normal
"The heart was made to be broken." – Oscar Wilde
The heart was made to be broken and be repaired time and time again. If our hearts were never broken we would never value the feeling of love. Love is so much greater than we can imagine because of the pain that it heals.
23. Mark Twain Believes in Equality in Relationships
"Never allow someone to be your priority while allowing yourself to be their option." – Mark Twain
Do not let another person occupy your time and thoughts when they do not value yours. You need to be selective about who you care about because some people are just trying to use you when they most need you.
24. Nicholas Sparks Understands Emotion
"The emotion that can break your heart is sometimes the very one that heals it." – Nicholas Sparks
Sometimes the feeling that can make your heart full is also the one that breaks it. Love is definitely one of these feelings. Love is something that can break your heart in half, but then put it all back together as well.
25. Stephen King is Honest
"Hearts can break. Yes, hearts can break." – Stephen King
Stephen King is definitely right on with this quote. Hearts certainly can break and there are many people in the world who can attest to this fact. Hearts are made to break and be repaired again to make them stronger.
26. Sara Evans Keeps her Confidence
"I know my heart will never be the same but I'm telling myself I'll be okay." – Sara Evans
Even though your heart may never be the same after a bad breakup, it is your job to make sure it heals and comes back even stronger. Breakups are like strength training for our hearts. They get torn down just to get rebuilt even better than before.
27. E.A. Bucchianeri Believes Love has a Price
"So it's true, when all is said and done, grief is the price we pay for love." – E.A. Bucchianeri
Sometimes love does pay a price. The grief that we feel when we lose love is the price we pay for the great feelings we had when we were in love. It is better to have loved and lost than to never have experienced in love.
28. Mineko Iwasaki Compares Wounds of the Body to the Heart
"Stab the body and it heals, but injure the heart and the wound lasts a lifetime." – Mineko Iwasaki
The body has no cognitive feeling, the body will heal when it receives a wound. When the heart is wounded, that injury lasts a lifetime. It gets easier as time goes on, but it is never forgotten and it is never completely healed.
29. Elizabeth Gilbert Describes Grief in her Own Way
"Deep grief sometimes is almost like a specific location, a coordinate on a map of time." – Elizabeth Gilbert
Deep grief can be like a location because you know exactly where to find it. You find grief when you begin to think about something or someone that has brought that grief upon you. It is like a location on a map in your own mind.
30. Melissa be la Cruz Values Breakups When They are Needed
"You cannot be with someone just because you don't want to hurt them." – Melissa be la Cruz
Staying with someone because you don't want to hurt them is even worse than breaking up with them. All you are doing is giving them hope and delaying the inevitable. If you truly feel that you do not want to be with someone, you should let them know immed
31. Gregory Roberts Makes you Wonder
"Sometimes you break your heart in the right way, if you know what I mean." – Gregory Roberts
Breaking your heart in the right way is possible. Gregory Robert Poses an interesting take on heart break. We usually do not consider heart break in a good way, but breaking your heart to realize something better in the future can be considered breaking i
32. Sara Teasdale Believes We Must Love When we are Young
"A heart must be broken before the years can make it wise." – Sara Teasdale
We must love when we are young because if we become too wise on the subject of heart break, we will never want to take the chance of loving anything. Even though heart break is a terrible feeling, there is nothing worse than living a life without love.
33. Britney Spears Believes Time is Valuable
"I don't think anyone can give you advice when you've got a broken heart." – Britney Spears
There is only one thing that will make a broken heart heal and that is time. Nobody can give you advice because at the end of the day your mind and your heart are where they are. Time is the only source of healing because it gets easier as time goes on.
34. Fulton Sheen Believes Broken Hearts are a Sign of Faith
"Sometimes the only way the good Lord can get into some hearts is to break them." – Fulton Sheen
Broken hearts can be considered a way that god gets into them. God needs to break hearts to get into them. Faith has tricky ways of getting into people and Fulton Sheen believes a broken heart is a sign of pure faith.
35. E. Lockhart Explains how We Feel
"It shattered something inside me that hadn't been broken before." – E. Lockhart
This is what a broken heart feels like, especially the first time. When you get your heart broken for the first time, you do not recognize the feeling. The pain is unimaginable and you feel as if there is nothing you can do. Just know that it will get bet
36. Taylor Swift Wonders if her Partner Feels the Same Way
"And I'm dying to know, is it killing you like it's killing me?" – Taylor Swift
This is the question we are all wondering after a break up. Is our partner as hurt and sad as we are? Or are they moving on without a worry in the world or even happier than before? These questions always linger after a breakup.
37. Agatha Christie Followed Advice
"Everybody said, "Follow your heart". I did, it got broken." – Agatha Christie
Sometimes we don't believe the advice we get is correct especially when we come out on the wrong end of it. Follow your heart, however, is great advice because it will always lead you to what you want, even if it doesn't work out the first time.
38. Coco Ginger Believes Love is Blind
"When we are in love, we are convinced nobody else will do." – Coco Ginger
When we are in love, we do not believe there is anyone else for us no matter how badly we are treated. We don't believe there is anyone better because our feelings are so focused on one person. If we are being treated poorly, then there are much better pe
39. Coco Ginger Believes we Grow and Learn
"But as time goes, others do do, and often do, much much better." – Coco Ginger
Often times we realize that other people are much better for us. The ones who treated us poorly were not right and we moved on and met someone else who treated us the way we deserved. Some people find this out later than others and unfortunately some peop
40. Leila Sales Knows Love and Heartbreak are Connected
"Well, you can't have heartbreak without love." – Leila Sales
Heartbreak always starts with love. There cannot be heartbreak without love because the ability to love is the only thing that can give you the ability to feel heartbreak. Love is the high that we get for the low that is heartbreak.
41. Junot Diaz Asks the Important Question
"You ask everybody you know: How long does it usually take to get over it." – Junot Diaz
This is the questions that everybody is wondering after they get their heart broken. How long until I feel normal again? How long until I feel like I can start to date again? The answer is that nobody really knows. Everyone handles heartbreak differently
42. Elizabeth Eulberg has the Right Attitude
"And anything that might hurt me would just make me stronger in the end." – Elizabeth Eulberg
Elizabeth Eulberg has the right mindset when she feels pain. Anything that hurts now will make you stronger in the end. Pain is given to the people who can handle it and to the people who deserve to go through pain to reach an even higher level of happine
43. Faraaz Kari Gives Needed Advice
"No matter how bad your heart is broken, the world doesn't stop for your grief." – Faraaz Kari
This is advice that everybody should get, especially when we are young. The world does not owe you anything and the world does stop when you most need it to. Everybody you see is dealing with something, some people just handle it much better than others.
44. Gabrielle Zevin Gives Advice
"They should tell you when you're born: have a suitcase heart, be ready to travel." – Gabrielle Zevin
Your heart will travel to many different places during your lifetime. It will come in contact with many different loves, both romantic and friendly, that will make your heart jump through hoops. Giving people the expectation of this from a young age can h
45. Jocelyn Soriano Believes Wounds Creates Desire
"It is our wounds that create in us a desire to reach for miracles." – Jocelyn Soriano
It is the times that we are hurt that make us want the best. When we break up with someone, it makes us want to find the perfect person for us because we learned how much we can love and how much we can be loved.
46. Coco Ginger Won't Give her Ex the Satisfaction
"I won't let you have it. I won't give you this moment." – Coco Ginger
Do not give someone the power to make you hurt. When someone isn't worth it, don't let them see you cry or see you hurt, it will only please them because they never cared for you in the first place. Don't let them have their moment.
47. Shane Koyczan Believes Good can Come for a Broken Heart
"If your heart is broken, make art with the pieces." – Shane Koyczan
If your heart is broken into multiple pieces, put it together and make something greater with the pieces. The pieces do not have to be put back together exactly the same way, they can be reformed and retouched to be made into something even greater.
48. Charlaine Harris has Hope
"I have a big hole in my heart, But it'll close over." – Charlaine Harris
Charlaine Harris knows that it is not the end of the world even though her heart is broken. This is the best outlook to have. Face the pain head on but know that it will not last forever. Your heart will repair and you will be stronger than before.
49. Moira Fowley Doyla Details Life
"Our hearts break. We burn, we drown, we stay alive." – Moira Fowley Doyla
Life is a constant struggle between wanting to give but knowing we must move forward. Never give up in the face of adversity no matter what it is, especially a broken heart. Don't give someone else the satisfaction of having the power to break you.
50. Naomi Shibab Nye is Over It
"Getting over what you did to me is not why I get out of bed anymore." – Naomi Shibab Nye
When you reach the point that Naomi has reached, you know that you have made it past your heartbreak. When you no longer get up in the morning to prove to someone else that you are okay, then you can finally move on with your life in a positive way.
(Read this next: 16 Empowering Breakup Quotes)