Couch potato no more! These motivational quotes will surely give you something to ponder as you climb up off the sofa and back into life. You are a valuable person with a contribution to share with the world, so get up and start living!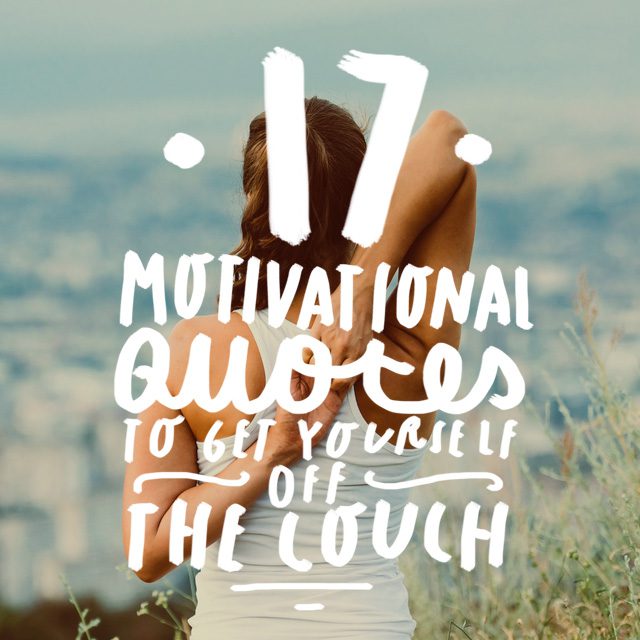 1. Charles M. Schulz on Massaging the Earth
"Jogging is very beneficial. It's good for your legs and your feet. It's also very good for the ground. It makes it feel needed." – Charles M. Schulz
You see, jogging isn't just for you the ground benefits as well. You're doing an Earthly service by going out and hitting the pavement. Now, you might think that it would hurt the pavement to be running on it but it's more like a massage. So lace up your tennis shoes and get outside now.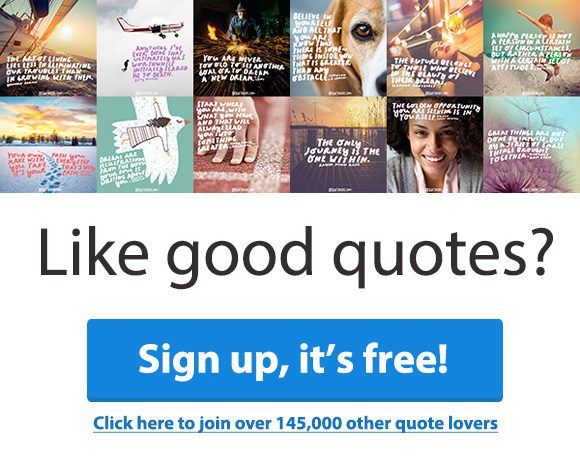 2. John F. Kennedy on Couches
"We must use time as a tool, not as a couch." – John F. Kennedy
Time should be used to work for you. Either you're using time to get things done, or you are using time to wait for things to develop. Time is a great tool when used effectively, but as it is said here, it is not best to us it as a couch.
3. Thomas Jefferson Encourages You to Act
"Do you want to know who you are? Don't ask. Act! Action will delineate and define you." – Thomas Jefferson
If you want to know who you are, don't talk about who you are. It is easy to speak of things that we want to be but we are actually not. However, actions speak louder than words. If you want to be a certain kind of person then go out and take action that shows the world that you are that certain type of person.
4. Walt Disney Works Hard
"The way to get started is to quit talking and begin doing." – Walt Disney
There is a time for talking and planning and then a time for action. If you've been talking of doing something for weeks, months, or years, then take what you have talked about and put it into solid action. A legacy was never created on words alone.
5. Chris Grosser Says to Create Your Own Opportunities
"Opportunities don't happen, you create them." – Chris Grosser
You create opportunities by being in the right place the right time, having the right expertise and knowledge, and by actively stepping into them. Being open, alert, and willing to accept opportunities that come your way, the more success you will have throughout your entire life.
6. Kim Garst Wants You to Know Your Value
"If you don't value your time, neither will others. Stop giving away your time and talents–start charging for it." – Kim Garst
It's always good to be in service of fellow human beings, but there comes a time when an energetic exchange can become imbalanced. If you feel that you are not receiving enough energy to offset the energy you are giving out to others, then start asking for it or charging for it.
7. Henry Ford Invites You to Find Your Destiny
"The whole secret of a successful life is to find out what is one's destiny to do, and then do it." – Henry Ford
The key to this is doing it as young as you possibly can. Having good personal awareness helps you know what gifts, talents, and abilities that you are here to share with the world. Once you get even a glimpse of what your life's purpose is, go out and learn it, master it, and share it.
8. Lolly Daskal Says Take a Breath
"When you stop chasing the wrong things, you give the right things a chance to catch you." – Lolly Daskal
You might think that you want everything the you're going for, but if those things are not what will serve you best, then you are only keeping yourself from the right things in life. Slowdown, catch a breath, and wait for a while to see what develops and what opportunities or experiences drift into your life.
9. Dr. Seuss Knows You'll Succeed
"And will you succeed? Yes indeed, yes indeed! Ninety-eight and three-quarters percent guaranteed! – Dr. Seuss
This quote might seem trite but it is the truth. You will succeed in some things, and perhaps not succeed at other things. But if you keep working, moving forward, and stay optimistic, you will succeed for sure. Ninety-eight, three quarters percent, or more!
10. Henry Ford Says Just Do It
"You can't build a reputation on what you are going to do." – Henry Ford
If you talk to people about what you are going to do all the time, then you are only known for talking instead of being known for the amazing ideas you have. If you want to build a solid reputation, back your words up with action.
11. Thomas Jefferson on Work and Luck
"I find that the harder I work, the more luck I seem to have." – Thomas Jefferson
Some people seem so lucky; however you don't know the extent of faith that they have practiced in their lives or the amount of work they have put into creating the right circumstances for things to come their way. If you do very little, very little comes your way and very little luck you have.
12. Napoleon Hill Says You Must Desire It
"The starting point of all achievement is desire." – Napoleon Hill
If you would like to achieve something, you must desire it first. Sit and think for a few moments about what you truly desired for your life. Those ideas that set your heart on fire are exactly the ideas that you should hold onto with all of you're might so that you can achieve your dreams.
13. Robert Collier Knows It's the Small Things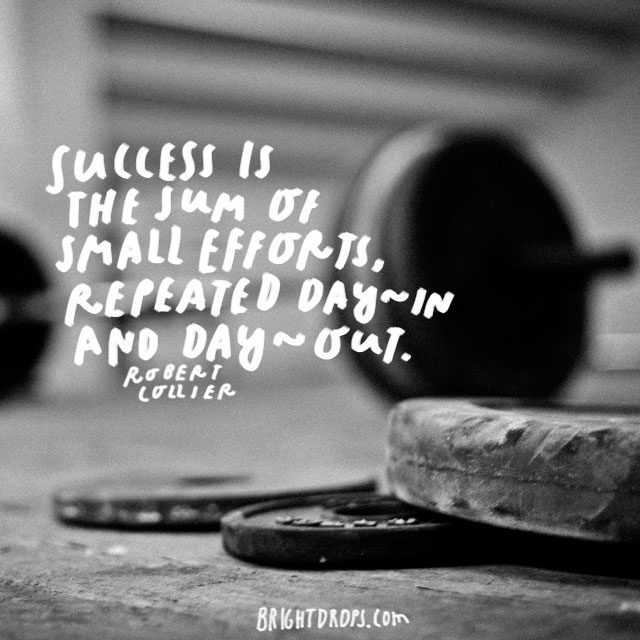 "Success is the sum of small efforts, repeated day-in and day-out." – Robert Collier
Success is not writing one song and receiving a Grammy for it the next day. Success comes in the form of responding to emails and phone calls, strategizing on paper, sitting in front of a computer, practicing the new skill, or building something with your hands bit by bit every day.
14. Thomas J. Watson on Excellence
"If you want to achieve excellence, you can get there today. As of this second, quit doing less-than-excellent work." – Thomas J. Watson
Excellence is quite easy to come by. As this quote explains, you simply must just make a choice to do something better. Wash the dishes more thoroughly, spend undivided attention on your children, watch one less hour of TV and exercise instead.
15. Michael John Bobak Wants You To Be Uncomfortable
"All progress takes place outside the comfort zone." – Michael John Bobak
We must be uncomfortable to learn and grow. For instance, the shell that a lobster has when it is young does not grow with the body beneath it. So if the body is going to grow but the shell does not, how does a lobster grow? When uncomfortable, a lobster hides under a rock sheds its old shell and grows a new one. Be like a lobster.
16. Bill Gates on Empowerment
"As we look ahead into the next century, leaders will be those who empower others." – Bill Gates
We've seen too much throughout our history of those in power exploiting it to their benefit and the detriment of others. The changes we seek on our earth will come from true leaders that collaborate and empower others. By doing this in your own life, you tap into unity consciousness.
17. Richard Simmons
"Number one, like yourself. Number two, you have to eat healthy. And number three, you've got to squeeze your buns. That's my formula." – Richard Simmons
Liking yourself is extremely important for being happy in life. Eating healthy is also extremely essential to a successful life because without good food you don't feel good and the body does not function well. Squeezing your buns gives you exercise and a nice shape. Who could want anything more?
(Read this next: 107 Famous Quotes About Change in Life, Yourself and The World)