The power of positivity brings change. It can make the worst things around you suddenly seem like background noise. Before you know it, you'll find ways to focus on what you must get down. You'll see the world through a different lens, a lens of clarity rather than one that's clouded by negativity.
1. Bernard Baruch on Newton.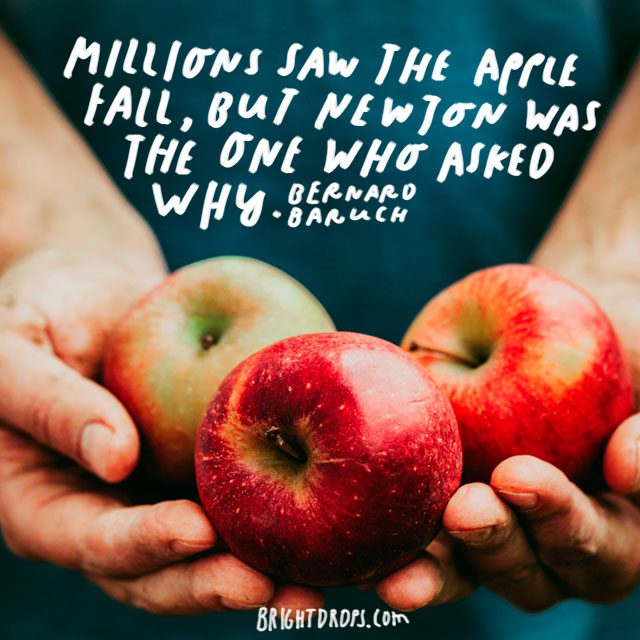 "Millions saw the apple fall, but Newton was the one who asked why." – Bernard Baruch
Sir Isaac Newton practically started the Age of Enlightenment. Most people just saw an apple fall. Newton observed the apple falling. That simple shift in thinking made our entire world change. It even changed the way we see this world and the universe that surrounds us.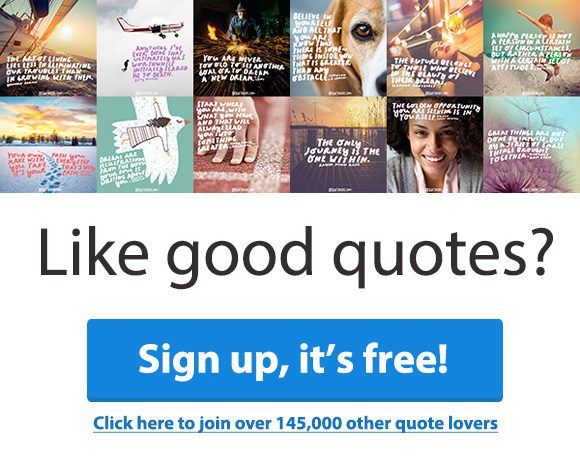 2. William James on Believing.
"Believe that life is worth living and your belief will help create the fact." – William James
In the simplest way, you get what you give. If you push forward all of your efforts toward positive thinking, then you will have positive thoughts. When you have these positive thoughts flooding your every moment, you will start to see the world through that lens and you'll start making life better, rather than just thinking that it is.
3. Buddha on Thinking What You Are.
"The mind is everything. What you think you become." – Buddha
Buddha knows a thing or two about thought. In fact, he probably spent more time in deep thought than any other person in history. In Buddhist thought, you achieve Nirvana by pursuing positive thought as a way of life. All 5 pillars of Buddhism support positivity and all the benefits are from positive energy.
4. Shakespeare on What We May Be.
"We know what we are, but know not what we may be." – William Shakespeare
If we allow ourselves to be contained by negative thought, we will never achieve our fullest potential. Shakespeare is right to say this in the sense that we constantly struggle with selling ourselves short. Don't get stuck in your past. Where you are now, is not where you will always be.
5. MLK on Love.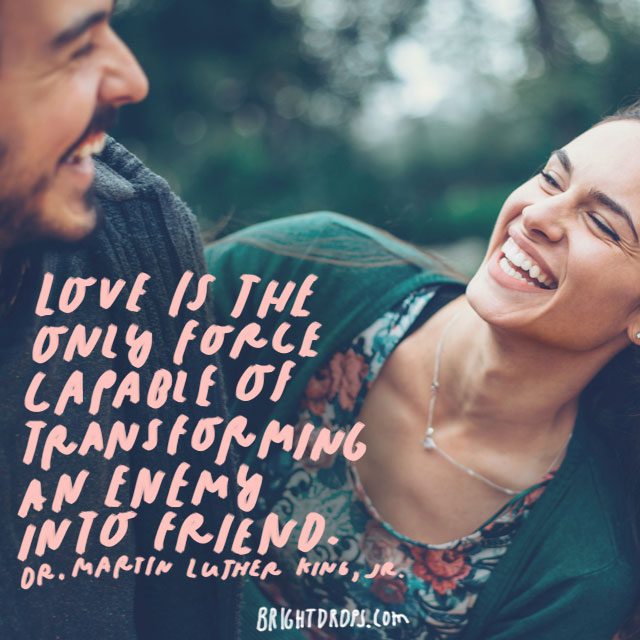 "Love is the only force capable of transforming an enemy into friend." – Dr. Martin Luther King, Jr.
Don't hold grudges. That's negativity and carrying that around will get in the way of developing positive thoughts. By focusing on love and forgiveness, you are building bridges instead of walls and fences. Love can bring people together. You never know how the friend you make today could help you tomorrow.
6. The Dalai Lama on Positive Vision.
"In order to carry a positive action we must develop here a positive vision." – Dalai Lama
Positive action results from positive vision. The Dalai Lama is the only world leader that does not hold a political office. You could argue for the Pope, but there are some politics involved there. Here we see how positive action occurs. It must first start in your mind and then the results will follow.
7. Willie Nelson on Positive Results.
"Once you replace negative thoughts with positive ones, you'll start having positive results." – Willie Nelson
Willie Nelson has heard it all from both ends of the spectrum. He's never been fully accepted by folk singers or country music. He was always somewhere in between. Some people hated his voice. Others thought he was only a mediocre songwriter. At the end of the day, he's an important part of American music.
8. Joyce Meyer on a Positive Life.
"You cannot have a positive life and a negative mind." – Joyce Meyer
Your life will harvest what your mind sows. If you plant seeds of negativity, you will yield a very large crop of negativity. If you plant seeds of joy and happiness and positive energy, you will yield a bountiful crop of positivity.
9. Emerson on What Lies Behind.
"What lies behind you and what lies in front of you, pales in comparison to what lies inside of you." – Ralph Waldo Emerson
Life is a journey, but let's not get lost in travel. Instead, you must focus on what is within you. The journey of life will change you and unlock what is inside of you. As you evolve during the journey, you have to be sure that all of the changes you are making are positive. Don't allow missteps in the journey be permanent.
10. Mother Teresa on the Paradox of Love.
"I have found the paradox, that if you love until it hurts, there can be no more hurt, only more love." – Mother Teresa
Make this your mantra. If you take a moment to reflect on this, you have no choice but to be a better person. Bonus quote! Maya Angelou said, "The hardest place to put love is the place that needs it most." Remember this when life beats you down and you feel like you are giving all the positive energy you can.
11. The lowercase poet on wasted days.
"The most wasted of all days is one without laughter." – e.e. cummings
Cummings made a name for himself by ignoring the rules of grammar and basic conventions of language. Hidden in those broken lines of poetry is beauty that surpasses Shakespeare and Wilde. And the simplest of all positivity is laughter. Find the time to laugh, and you'll find the time to be positive.
12. Ellen on Helping Those in Need.
"Here are the values that I stand for: honesty, equality, kindness, compassion, treating people the way you want to be treated and helping those in need. To me, those are traditional values." – Ellen DeGeneres
Ellen has slowly crept into our hearts. She was the awkward poster child for the LGBT community in the early 90s. Then, we started listening to her for real and not just as a symbol. We liked her. We even loved her. We still do. Because she fills everyone she touches with all those values she stands for.
13. Emily Dickinson on Possibility.
"I dwell in possibility." – Emily Dickinson
When a few things start to weigh us down, it's so easy to get negative. The right approach is to remain optimistic. Dwell in possibility. After all, anything and everything is possible. Most of the time, we get caught up in a to-do list of sorts. Instead of thinking about the 50 things that aren't done, think about the one thing you are doing right now.
14. Thoreau Wants Us to Paint.
"The world is but a canvas to our imagination." – Henry David Thoreau
All the universe can be our blank canvas. The only limitations are those you place on yourself. When it comes to setbacks, they are usually in place because of the creative handcuffs you place on yourself. Break free from the chains that you've placed on yourself.
15. Thoreau on Turning the World Around.
"Live your beliefs and you can turn the world around." – Henry David Thoreau
In your heart of hearts, you know what drives you and what makes you a gift for the entire world. It is probably so much deeper than you give yourself credit for. If you live those beliefs and convictions, you can make major changes in the world. That's how a few people with no jobs (like Emerson and Thoreau) shifted the entire thinking of a nation (Transcendentalism).
16. Emerson Takes It One Minute at a Time.
"For every minute you remain angry, you give up sixty seconds of peace of mind." – Ralph Waldo Emerson
Staying positive is very difficult, especially when facing harsh adversity. In the real world, deadlines are constantly breathing down our necks and stress keeps us up at night. Getting lost in that negative thought costs you precious seconds you'll never get back. Instead of dealing in hours and days and all the measurements of time, deal in moments.
17. Eckhart Tolle Is in the Present.
"Realize deeply that the present moment is all you ever have. Make the Now the primary focus of your life." – Eckhart Tolle
When you realize that time is a construct of man, it's easier to let go of time's power. The Now is all we really have. The Now can be our only focus because all other things are either over or not real. Embrace the present moment on the deepest level and you won't be restricted in that corporate time warp that often controls you.
18. Eckhart Tolle on Small Things.
"If small things have the power to disturb you, then who you think you are is exactly that: small." – Eckhart Tolle
The paradox of small things is that they can either break us or build us. In a blossoming relationship, a kind text message can propel things forward. In a dead end job, your stapler jamming can make you want to throw your monitor across the office. Invest less in small things and measure what is truly important and changing.
19. Deepak Chopra Is What You Think He Is.
"The way you think, the way you behave, the way you eat, can influence your life by 30 to 50 years." – Deepak Chopra
This seems to contradict the whole living in the moment thing. It's the exact opposite. Every moment is incredibly important. You must be mindful and maintain positive energy in all encounters. Each step you take can take you farther on the path. Each misstep can get you off course.
20. Oprah Celebrates Life.
"The more you praise and celebrate your life, the more there is in life to celebrate." – Oprah Winfrey
Oprah is an oddly polarizing figure. She's been loved and hated for her successes. She credits all of her success to positivity. When she speaks of her success, she rarely talks about hard work and determination. Rather she focuses on having the right thoughts and the right approach to life and work and values.
21. Jesus on Anxiety.
Image

This Jesus character seems to know a lot about modern living. When we lose sight of positive thoughts and energy, it's because yesterday and tomorrow creep in our mindset. Don't get derailed by everything that you have to get done tomorrow or the things you did not finish yesterday. Each day brings enough trouble. Take it as it coes.
22. The Dalai Lama Knows Our Purpose.
"The purpose of our lives is to be happy." – Dalai Lama
We get caught up looking for meaning and answers in our life. The reality is that our entire purpose is to live life to the fullest. When we do that we will find such joy in every moment. We won't have time for negative energy. It takes only a moment to breathe and release all those negative energies and focus on the positive.
23. The Dalai Lama on Peace.
"We can never obtain peace in the outer world until we make peace with ourselves." – Dalai Lama
One more bit of wisdom from the Dalai Lama as we approach the end of our list. Peace begins inside ourselves. Wars are fought because the warlords do not have peace in their hearts. If all of us seek to have peace within ourselves, then peace will be carried throughout the world.
24. Oprah Is Surrounded.
"Surround yourself with only people who are going to lift you higher." – Oprah Winfrey
Here is an example of Oprah discussing her success. She never talks about hard work or long hours the way we would expect of someone who has accomplished the American Dream. She speaks of having a network of people that are positive and filling yourself with positive energy.
25. Gandhi Changed the World.
"You must be the change you wish to see in the world." – Mahatma Gandhi
You can't have a list about positivity without including Mahatma Gandhi. Gandhi was the change that he wanted to see in the world. He invented non-violent protest and didn't worry about a patent. He wanted his ideas to be shared forever and always. Embrace the positive energy and be the positive change you want to see.
26. Jesus on Profit.
"For what shall it profit a man, if he gain the whole world, and suffer the loss of his soul?" – Jesus
We end this list with a word of caution. When things begin to work out financially, we begin to assume that everything is positive. Be wary of getting lost in financial success. This can lead to another cycle of negativity. Always be sure to stay in the moment and focus on positivity rather than the physical repercussions that result from that attitude.
(Read this next: 65 Best Positive Quotes of All-Time)