If you're looking for tranquility, restfulness and wisdom, these peace quotes will calm your mind, fill your soul and help you share it with others.
And if you need more zen, make sure to check out these Buddha quotes (for more insight and tranquility) and these healing quotes (to help center yourself).
Peace Quotes
"When the power of love overcomes the love of power the world will know peace." – Jimi Hendrix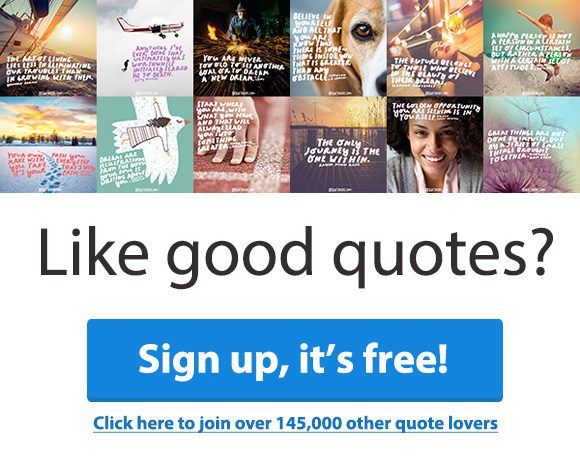 "We've got one word for Peace…. We don't have enough words to accurately describe all the different types of peace. I think it was Socrates who once said `if you don't have a word to describe something, then how can you think about it'." – Steve Killelea
"Neither seek nor avoid, take what comes." – Swami Vivekananda
You may also like: These Mother Teresa quotes: https://brightdrops.com/mother-teresa-quotes
"I was once asked why I don't participate in anti-war demonstrations. I said that I will never do that, but as soon as you have a pro-peace rally, I'll be there." – Mother Teresa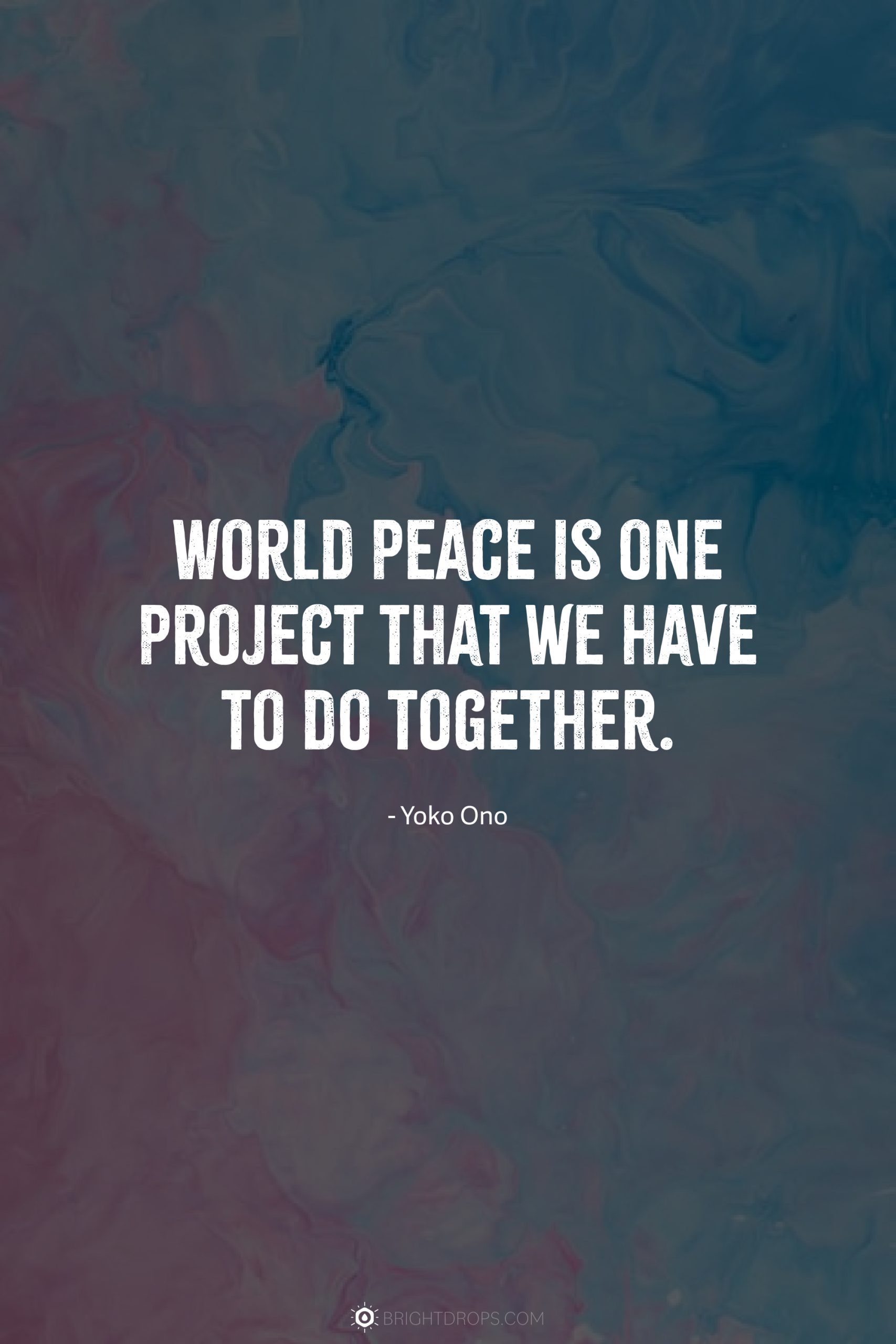 "World peace is one project that we have to do together." – Yoko Ono
"Anyone who enjoys inner peace is no more broken by failure than he is inflated by success." – Matthieu Ricard
Related: Self-Care Quotes
"It isn't enough to talk about peace, one must believe in it. And it isn't enough to believe in it, one must work at it." – Eleanor Roosevelt
"Choose. The single clenched fist lifted and ready, or the open hand, held out and waiting. Choose: For we meet by one or the other." – Carl Sandburg
"World peace, like community peace, does not require that each man love his neighbor – it requires only that they live together with mutual tolerance, submitting their disputes to a just and peaceful settlement." – John F. Kennedy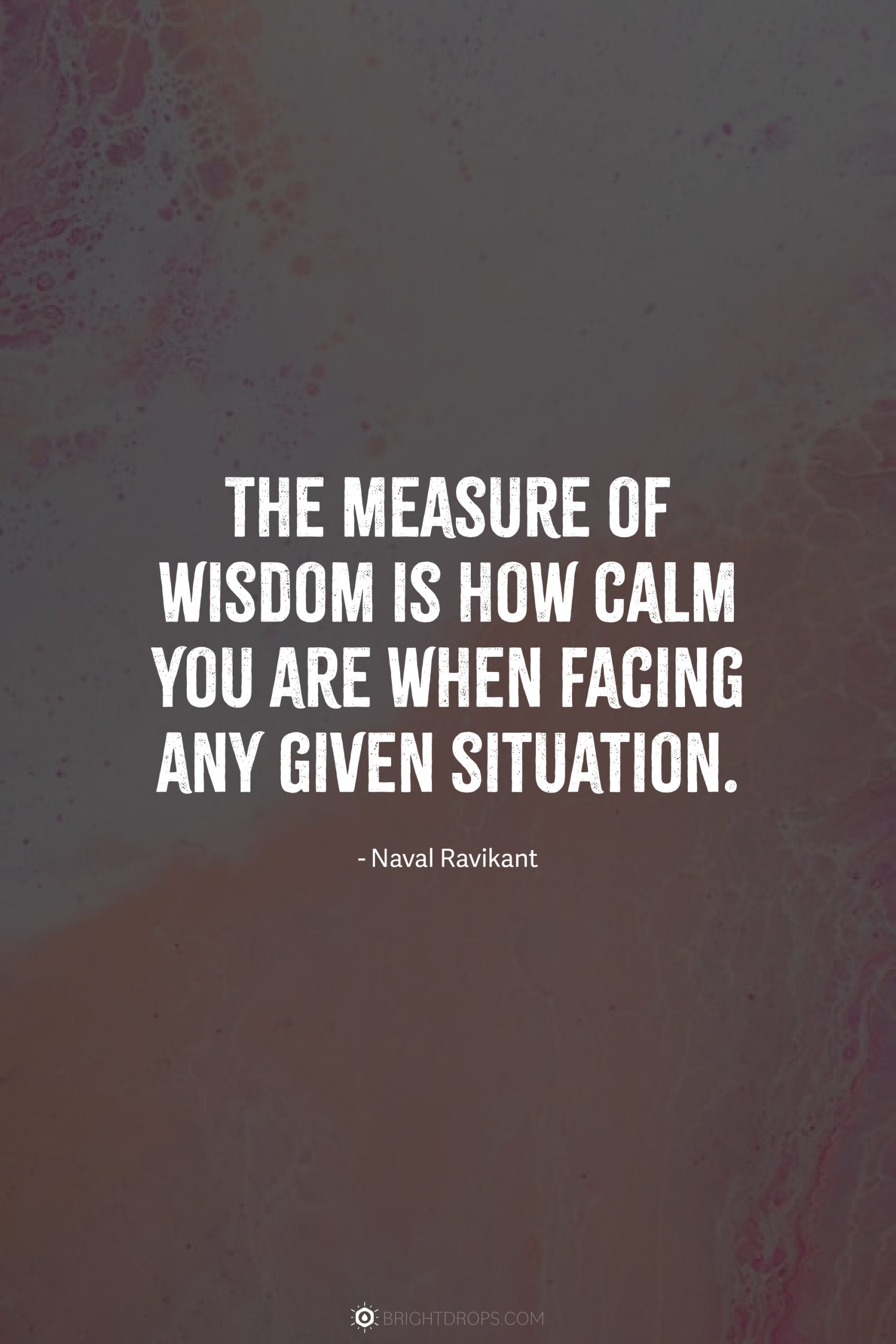 "The measure of wisdom is how calm you are when facing any given situation." – Naval Ravikant
"They call it peace of mind but maybe it should be called peace from mind." – Naval Ravikant
"I do not want the peace which passeth understanding, I want the understanding which bringeth peace." – Helen Keller
"Give me accountability, I'll give you peace." – Abhijit Naskar
"On the day when we can fully trust each other, there will be peace on earth." – L. Ron Hubbard
"We are going to have peace even if we have to fight for it." – Dwight D. Eisenhower
"Achieving world peace, or peace on Earth requires a strong emphasis on knowledge, openness, freedom of information and dialogue. ― Oscar Auliq" – Ice
"Let us not deceive ourselves; we must elect world peace or world destruction." – Bernard Baruch
"It's only God who gives you peace and rest." – Greta Zwaan, Guidances
"World peace is not something that can be realized simply by politicians signing treaties, or by business leaders creating economic cooperation. True and lasting peace will be realized only by forging bonds of trust between people at the deepest level, in the depths of their very lives." – Daisaku Ikeda
"Darkness cannot drive out darkness; only light can do that. Hate cannot drive out hate; only love can do that." – Rev. Dr. Martin Luther King, Jr.
"World peace stays a dream and is impossible until the veto power holders become unable to practice veto-dragon since that causes injustice, wars, and destruction." – Ehsan Sehgal
"There will be no peace in the world until there is peace in our hearts." – Marianne Williamson
"Kindness in words creates confidence. Kindness in thinking creates profoundness. Kindness in giving creates love." – Lao Tzu
"Though force can protect in emergency, only justice, fairness, consideration and cooperation can finally lead men to the dawn of eternal peace." – Pres. Dwight Eisenhower
"If we are to reach real peace in the world, we will have to begin with the children." – Mahatma Gandhi
"It's also selfish because it makes you feel good when you help others. I've been helped by acts of kindness from strangers. That's why we're here, after all, to help others." – Carol Burnett
"To be calm is the highest achievement of the self." – Zen proverb
"If there's no inner peace, people can't give it to you. The husband can't give it to you. Your children can't give it to you. You have to give it to you." – Linda Evans
"Love is the purest form of a soul at peace." – Matthew Donnelly
"Everyone suffers some injustice in life, and what better motivation than to help others not suffer in the same way." – Bella Thorne
"Where ignorance is our master, there is no possibility of real peace." – Dalai Lama
"Work joyfully and peacefully, knowing that right thoughts and right efforts inevitably bring about right results." – James Allen
"Don't Gain The World & Lose Your Soul, Wisdom Is Better Than Silver Or Gold." – Bob Marley
"We have to be active about kindness and about peace. I've always fantasized that it would be great if there was a Department of Peace." – Dave Matthews
"If you have a common purpose and an environment in which people want to help others succeed, the problems will be fixed quickly." – Alan Mulally
"The very first step in nonviolence is that we cultivate in our daily life, as between ourselves, truthfulness, humility, tolerance, loving kindness." – Mahatma Gandhi
"We must see that peace represents a sweeter music, a cosmic melody, that is far superior to the discords of war." – Martin Luther King Jr.
"Inner peace is like a clean and spacious room, empty of unnecessary, old, or broken stuff." – Remez Sasson
"Of all our dreams today, there is none more important—or so hard to realize—than that of peace in the world." – Lester B. Pearson
"Peace only comes from accepting the inevitable and taming our desires." – The Ancient Sage
"Nobody can bring you peace but yourself." – Ralph Waldo Emerson
"You can accomplish by kindness what you cannot by force." – Publilius Syrus
"One who knows how to show and to accept kindness will be a friend better than any possession." – Sophocles
"Inner peace is when you do what's right and let go of the rest." – Maxime Lagacé
"The most important service to others is service to those who are not like yourself." – J. Irwin Miller
"Let there be peace on earth, and let it begin with me." – Seymour Miller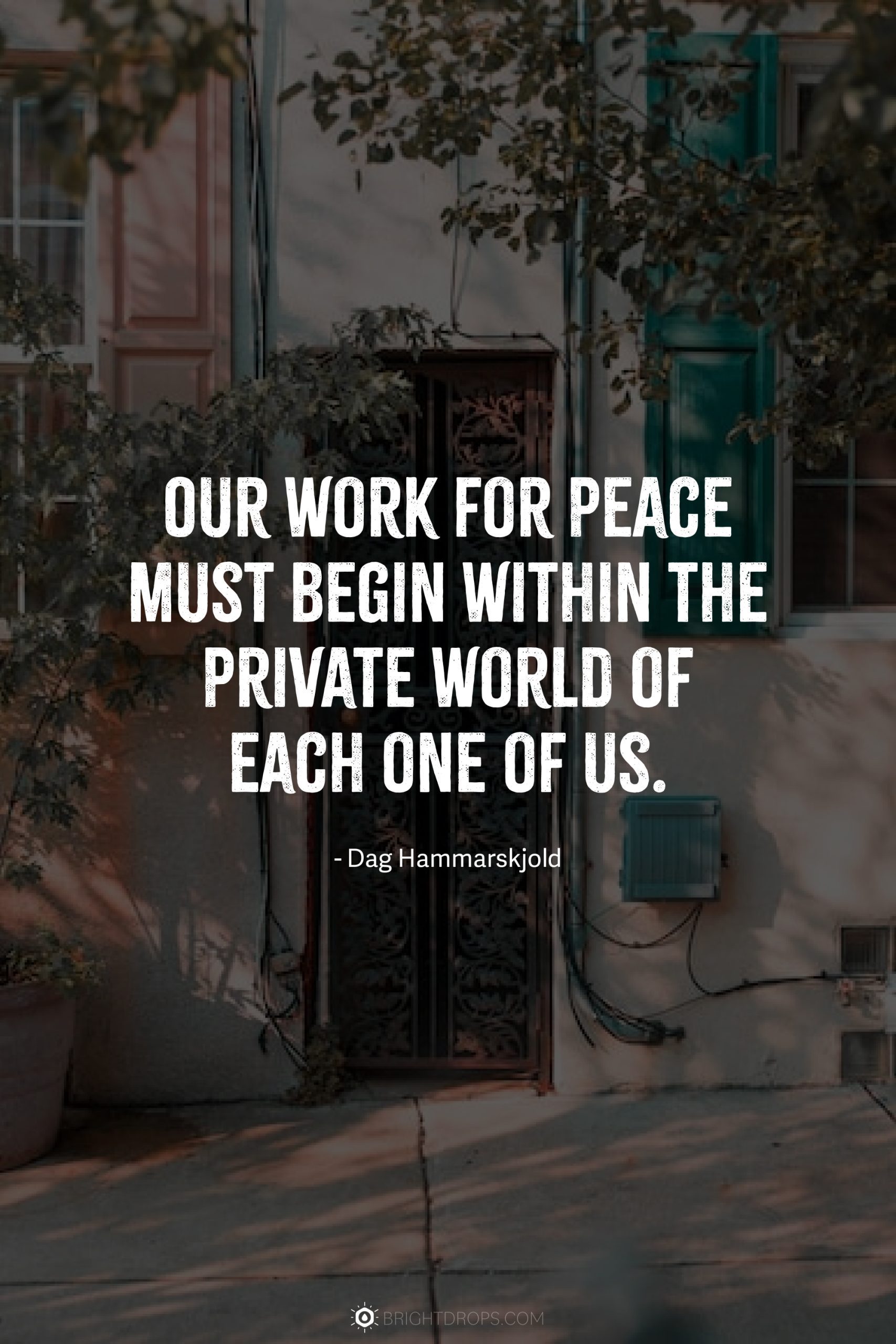 "Our work for peace must begin within the private world of each one of us." – Dag Hammarskjold
"Remember your humanity, and forget the rest." – Bertrand Russell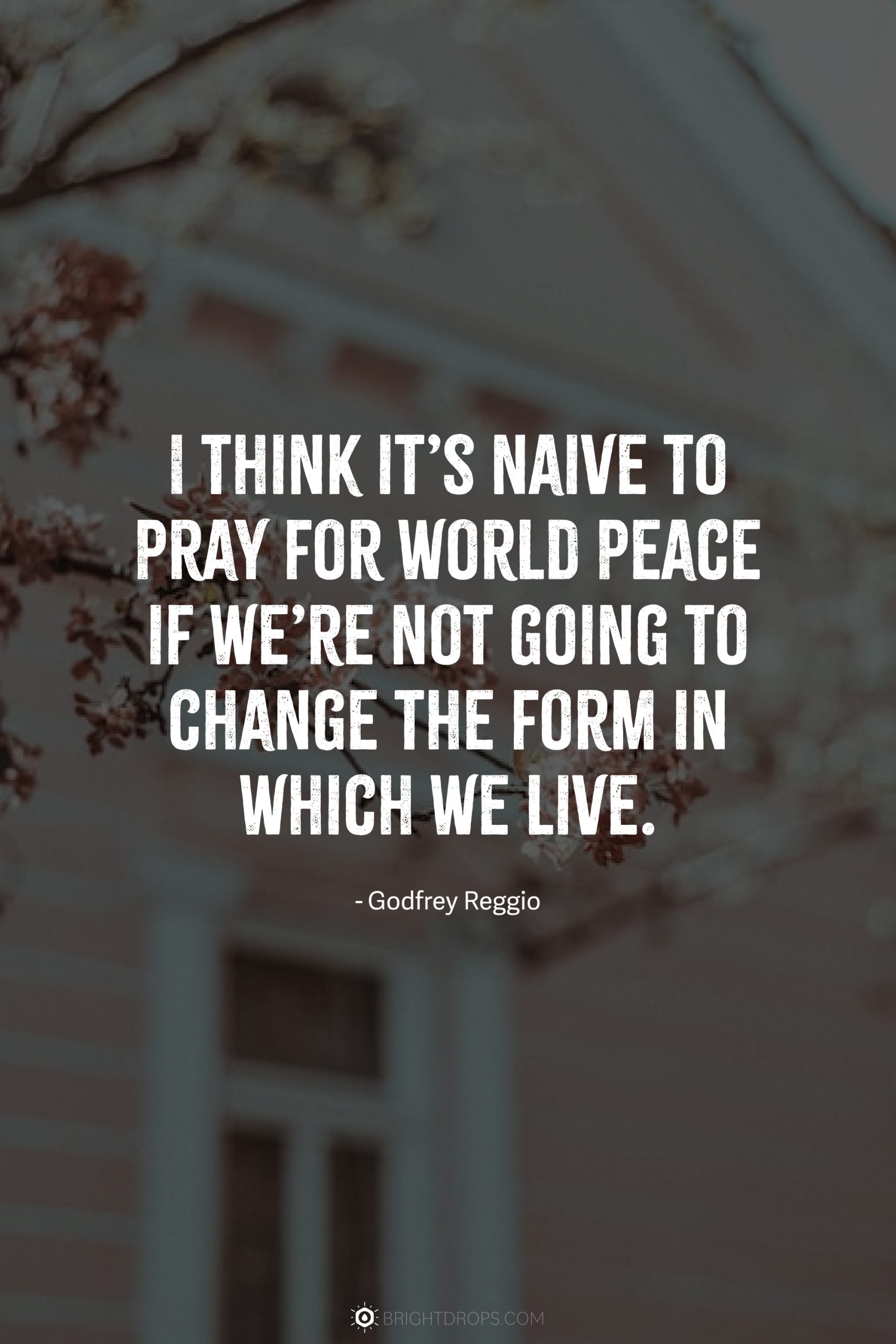 "I think it's naive to pray for world peace if we're not going to change the form in which we live." – Godfrey Reggio
"To reach peace, teach peace." – Pope John Paul II
"Be the harmony in the melody echoing in the heart of humanity." – Abhijit Naskar
"If you want peace, you don't talk to your friends. You talk to your enemies." – Desmond Tutu
"Remain calm in every situation because peace equals power." – Joyce Meyer
"Peace is a daily, a weekly, a monthly process, gradually changing opinions, slowly eroding old barriers, quietly building new structures." – President John F. Kennedy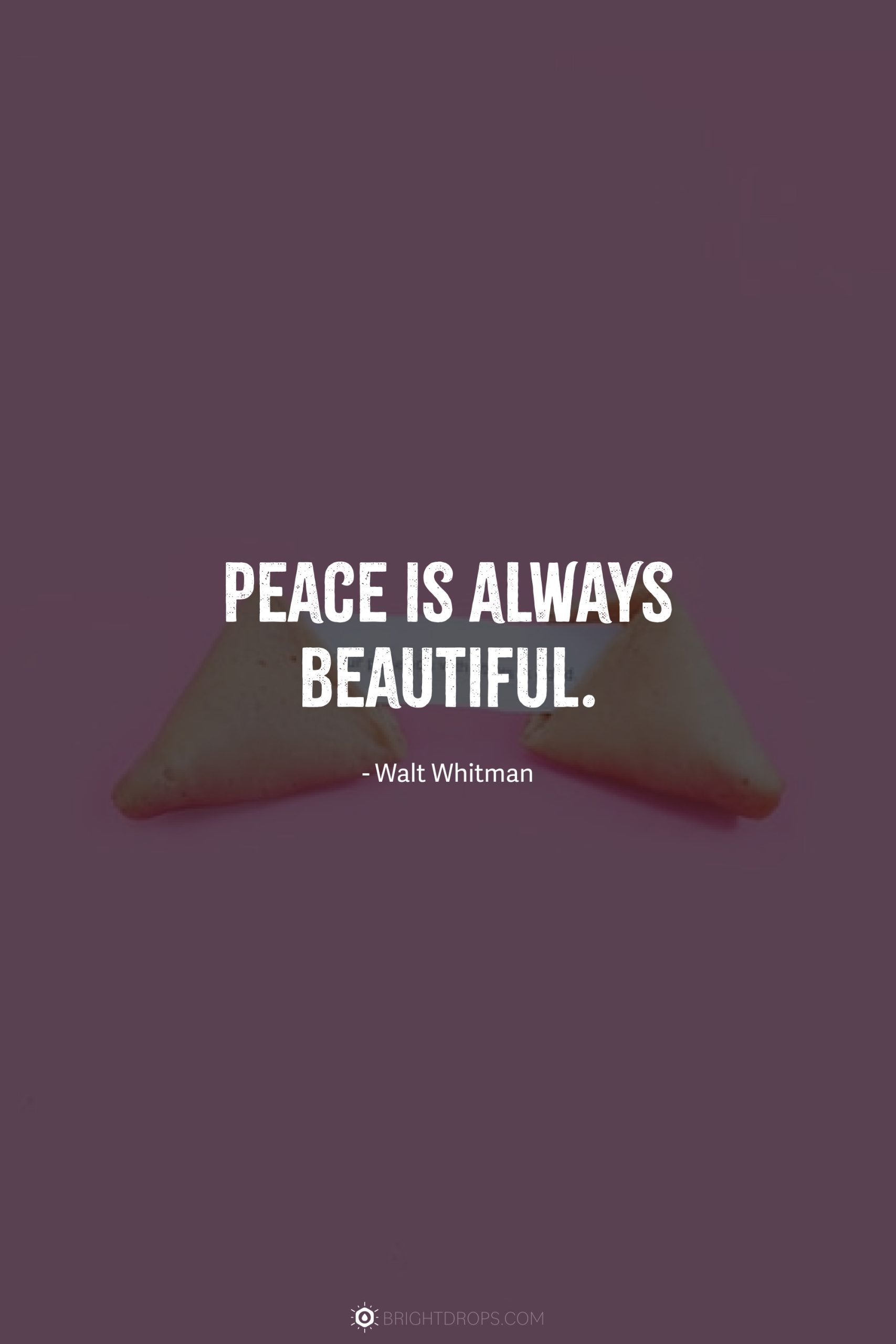 "Peace is always beautiful." – Walt Whitman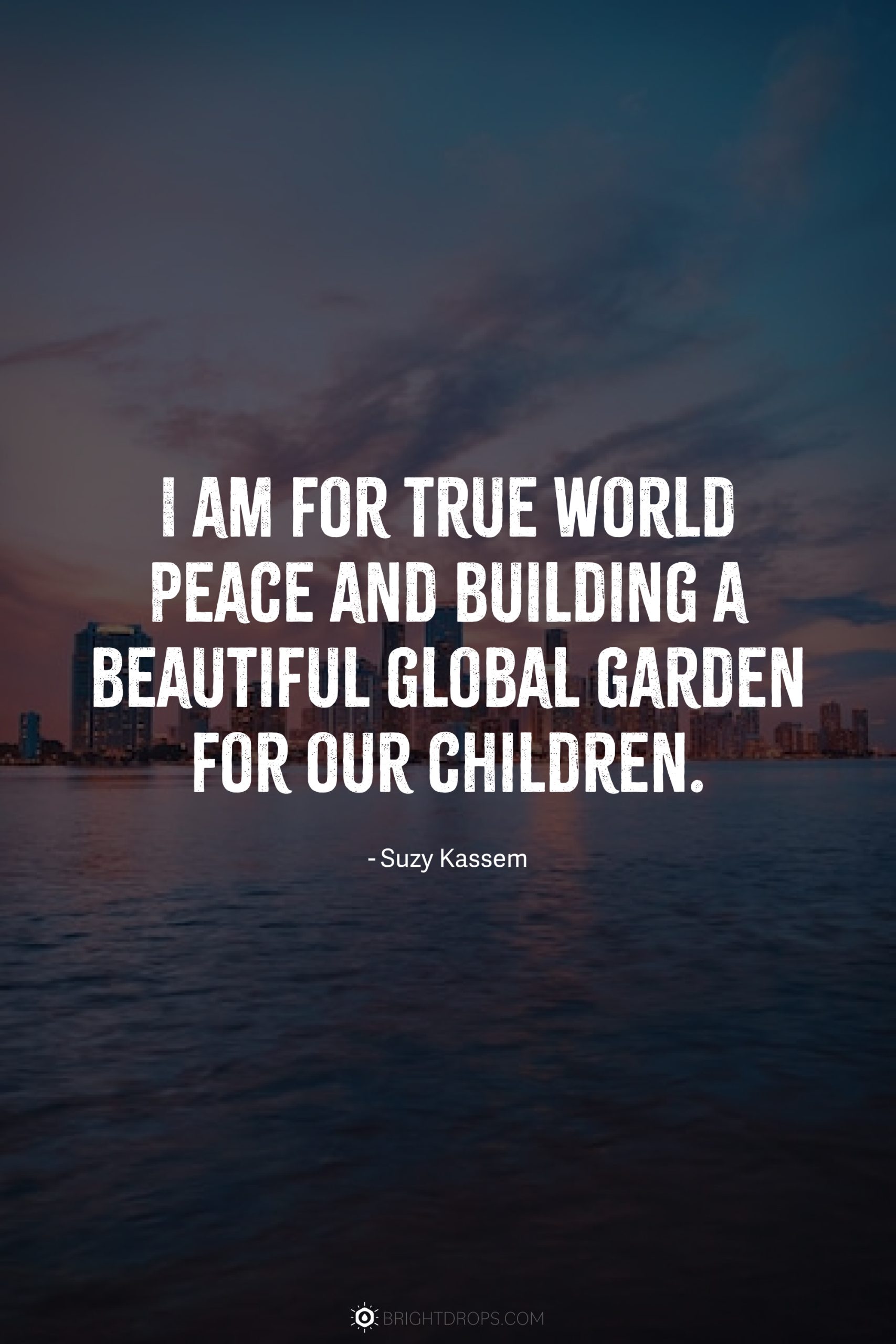 "I am for true world peace and building a beautiful global garden for our children." – Suzy Kassem
"Peace comes from being able to contribute the best that we have, and all that we are, toward creating a world that supports everyone. But it is also securing the space for others to contribute the best that they have and all that they are." – Hafsat Abiola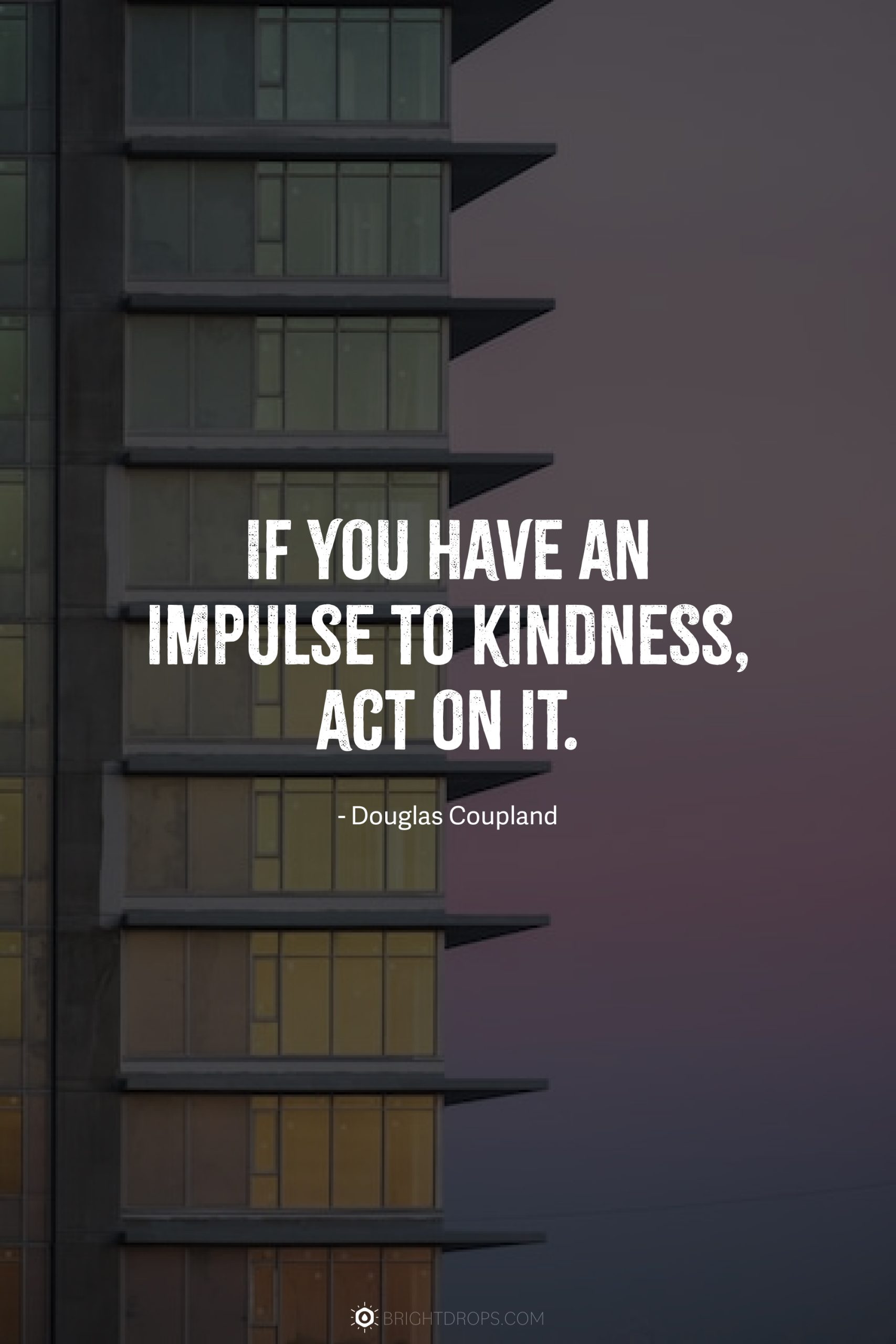 "If you have an impulse to kindness, act on it." – Douglas Coupland
"It is not the world that needs peace, it is people. When people in the world are at peace within, the world will be at peace." – Prem Rawat
"Bringing peace to your own life adds peace in the world." – Carol 'CC' Miller
"By dedicating ourselves to peace, understanding, kindness and compassion, we do our part to heal the world." – Laurence Overmire
"Don't hope that events will turn out the way you want, welcome events in whichever way they happen: this is the path to peace." – Epictetus
"Peace is not absence of conflict, it is the ability to handle conflict by peaceful means." – Ronald Reagan
"Peace begins with a smile." – Mother Teresa
"It is not enough to say we must not wage war. It is necessary to love peace and sacrifice for it." – Martin Luther King Jr.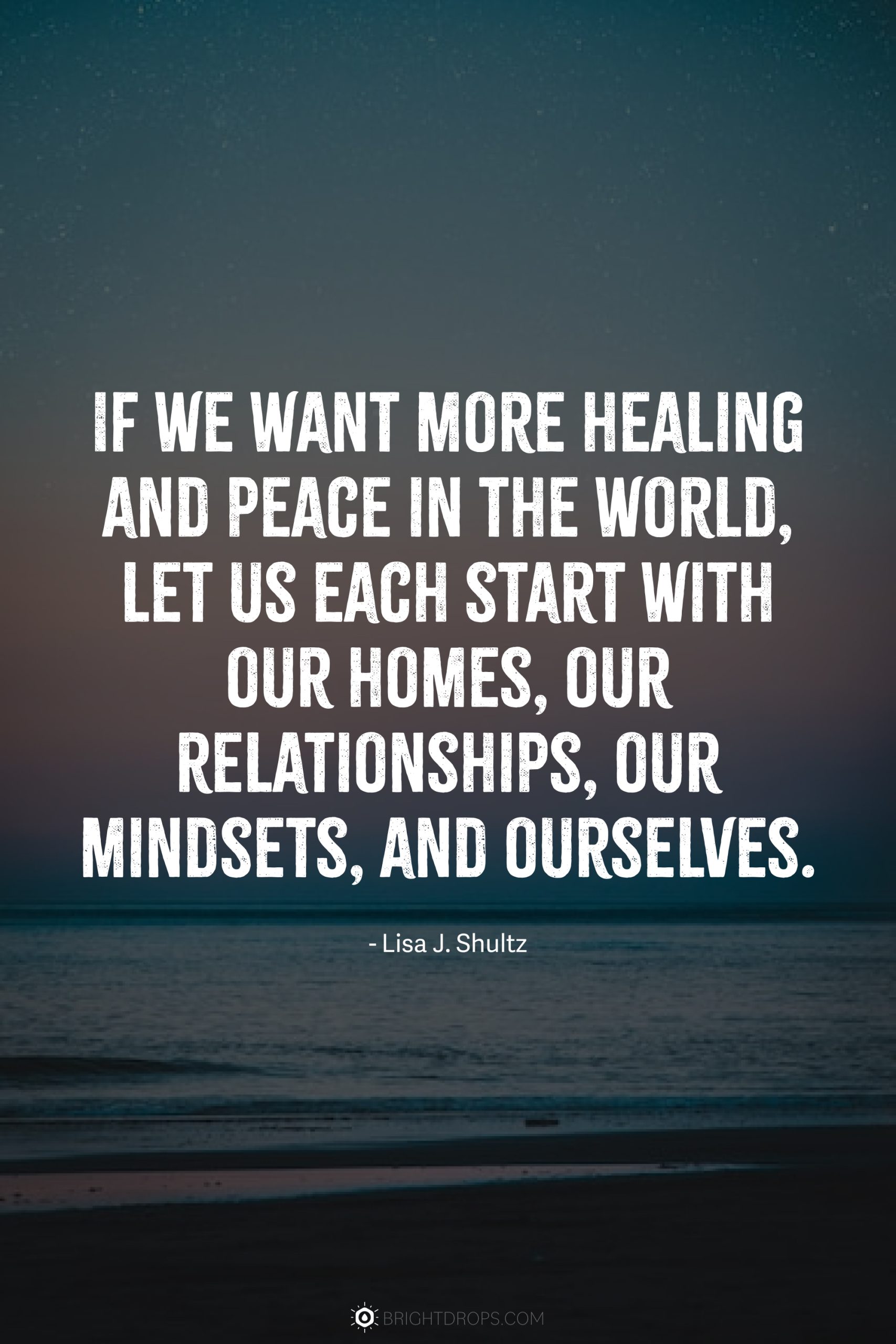 "If we want more healing and peace in the world, let us each start with our homes, our relationships, our mindsets, and ourselves." – Lisa J. Shultz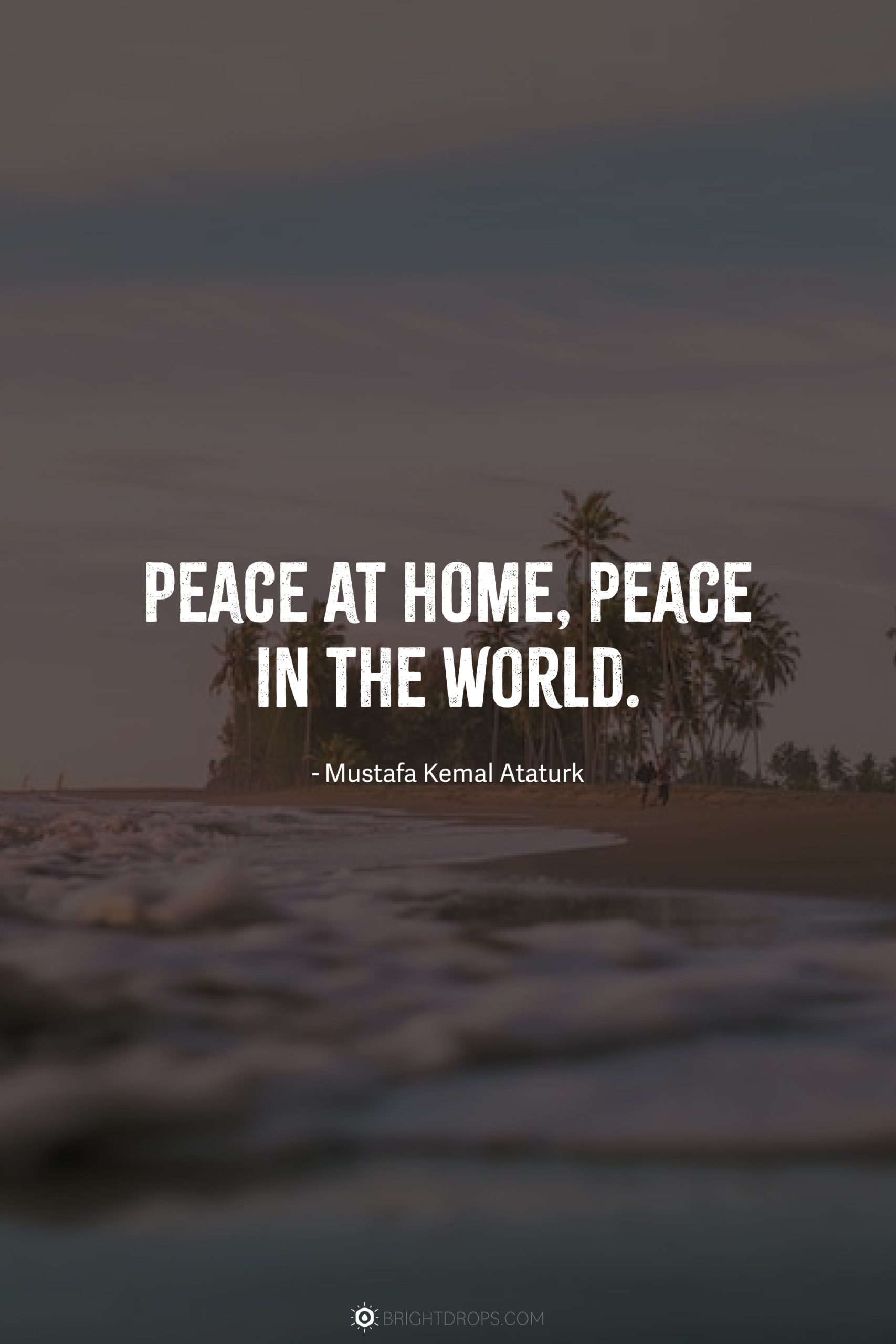 "Peace at home, peace in the world." – Mustafa Kemal Ataturk
"Be good. Be kind to each other. And if there's somebody you love, tell them. The world always needs more love." – Mira Grant
"Learning to distance yourself from all the negativity is one of the greatest lessons to achieve inner peace." – Roy T. Bennett, The Light in the Heart
"Forgiveness equals inner peace – more peaceful people equals more world peace." – Richard Branson
"The most important thing in my father's life? World peace. Me and my brother. My mom." – Sean Lennon
"If you want to make peace with your enemy, you have to work with your enemy. Then he becomes your partner." – Nelson Mandela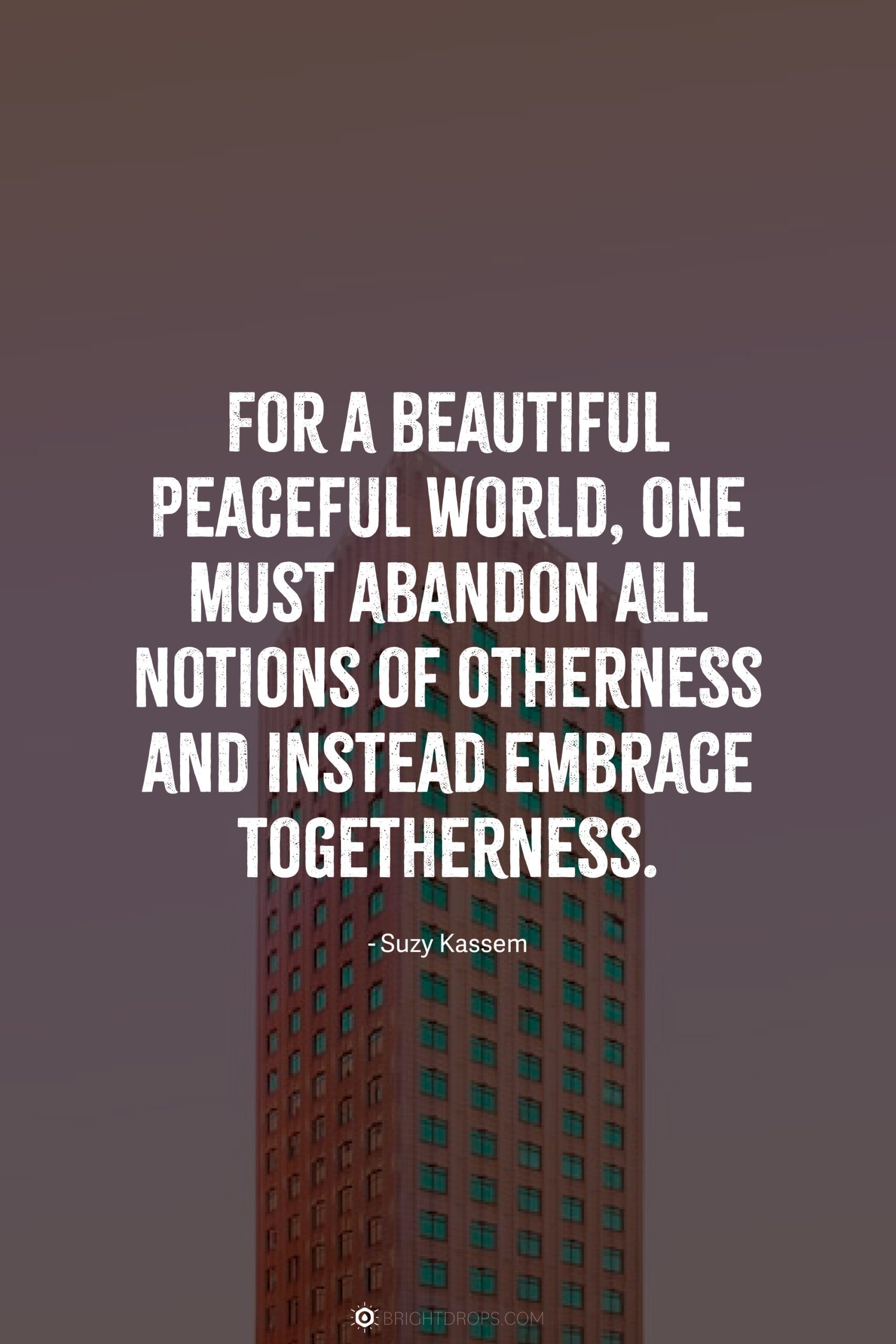 "For a beautiful peaceful world, one must abandon all notions of otherness and instead embrace togetherness." – Suzy Kassem
More Good Quotes: