If you find yourself in your head feeling paralyzed with indecision just a little too often, view these quotes about overthinking to get out of your head and move forward.
Overthinking Quotes
"Worrying is like sitting in a rocking chair. It gives you something to do but it doesn't get you anywhere" – Emma Bombeck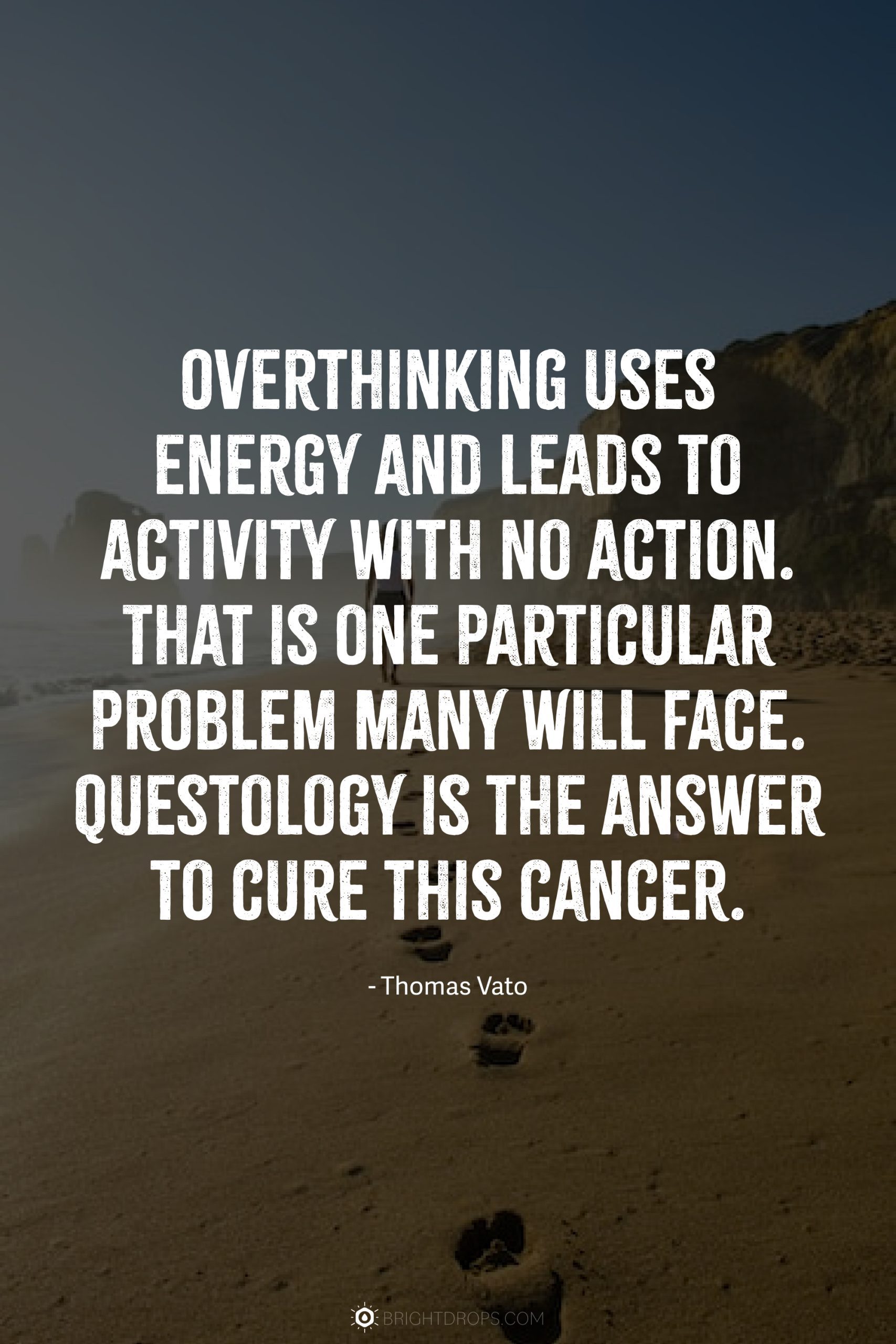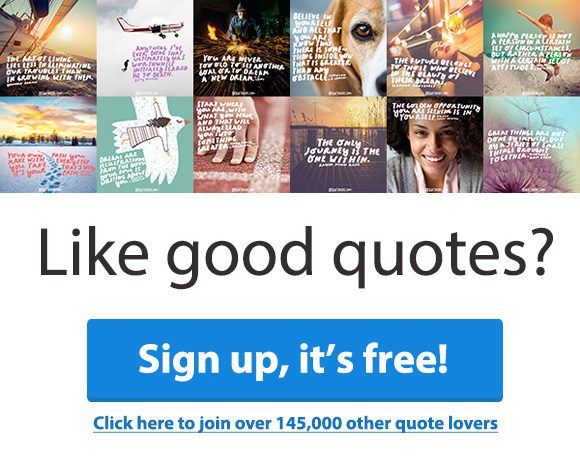 "Overthinking uses energy and leads to activity with no action. That is one particular problem many will face. Questology is the answer to cure this cancer." – Thomas Vato
"Don't keep things bottled up. It's not good for you." – Kody Keplinger
"He never complicates a desire by overthinking it, unlike Mirabelle, who spins a cocoon around an idea until it is immobile." – Steve Martin
"Overthinking will not empower you over things that are beyond your control. So, let it be if it is meant to be and cherish the moment." – Mahsati A
"Don't let your mind bully your body." – June Tomaso Wood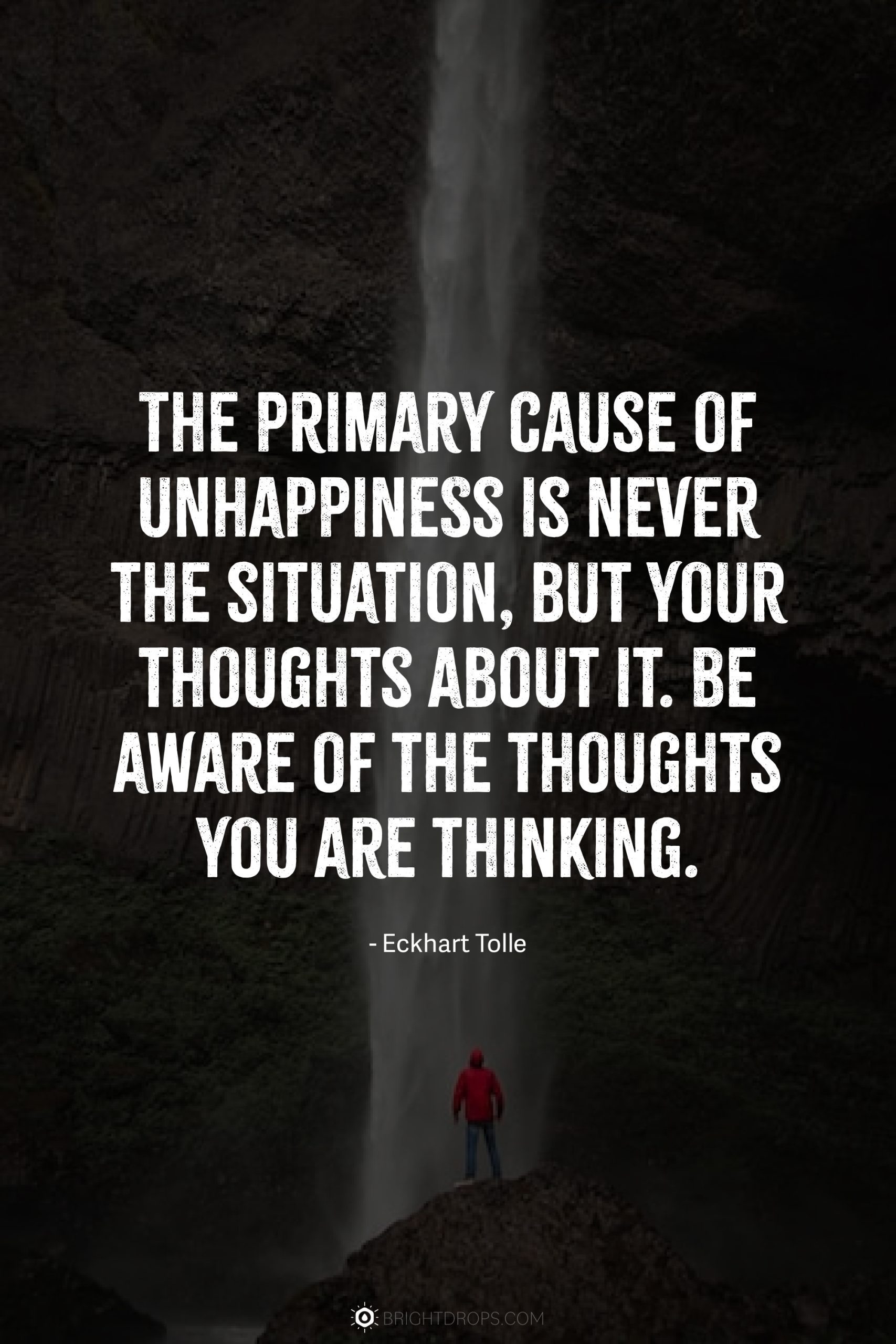 "The primary cause of unhappiness is never the situation, but your thoughts about it. Be aware of the thoughts you are thinking." – Eckhart Tolle
"I'm too open-minded that I don't know what to mind anymore." – Ahmed Mostafa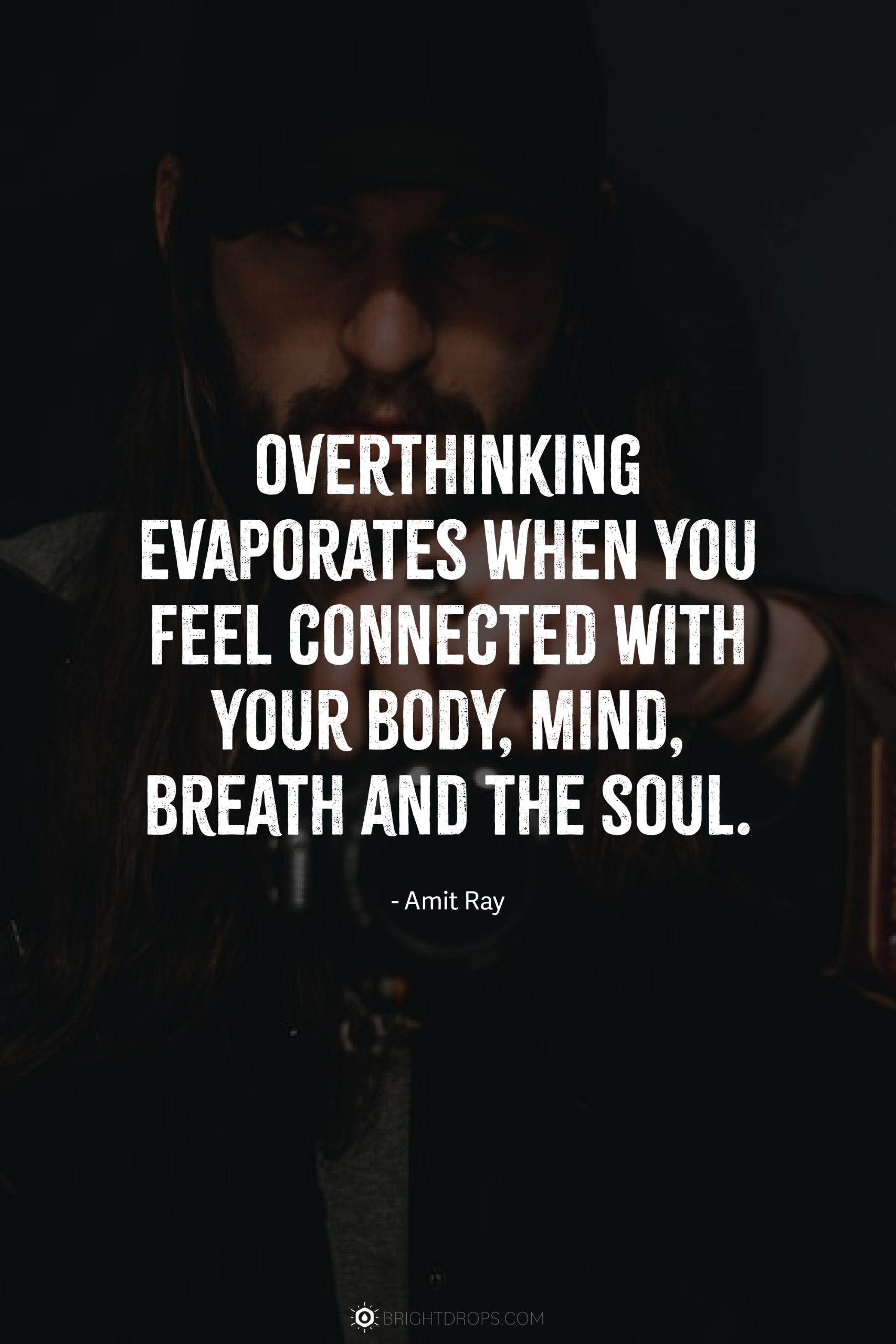 "Overthinking evaporates when you feel connected with your body, mind, breath and the soul." – Amit Ray
"Stop overthinking, put more energy on what you really want to do." – Amit Ray
"Too much thinking leads to paralysis by analysis." – Robert Herjavec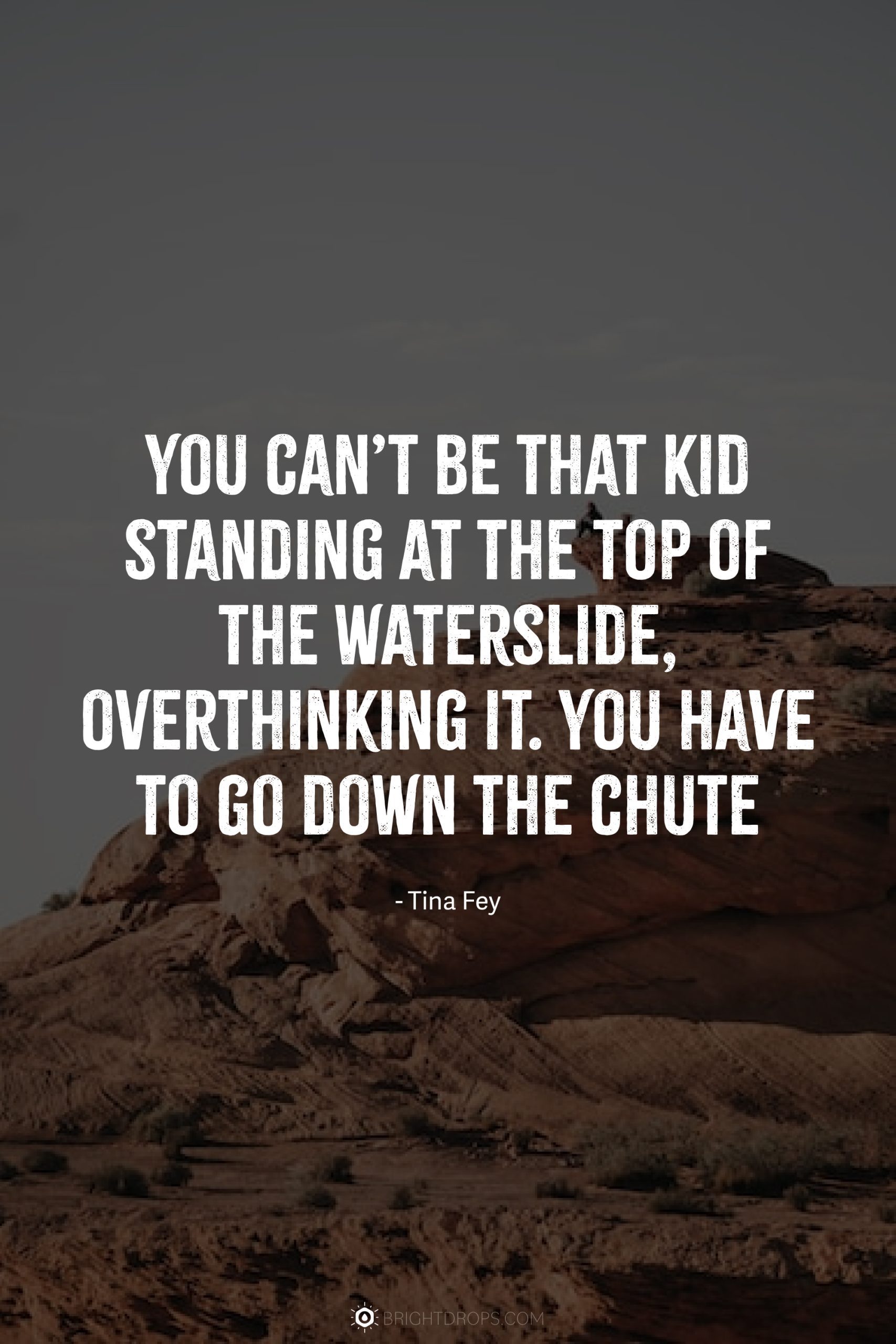 "You can't be that kid standing at the top of the waterslide, overthinking it. You have to go down the chute" – Tina Fey
"It's a good idea always to do something relaxing prior to making an important decision in your life." – Paulo Coelho
"Sometimes, you overthink things so much that you ruin something before it even begins, then you beat yourself up, replaying everything to your friends and in your mind." – Kirsten Corley
"Stop overthinking everything. Just let it be. Relax and go with the flow more. Worry less. And don't take life so seriously… live a little!" – Mandy Hale
"Stop thinking, and end your problems." – Lao Tzu
"Don't overthink yourself out of something good!" – Akosua Dardaine Edwards
"If you spend too much time thinking about a thing, you'll never get it done." – Bruce Lee
"Thinking will not overcome fear, but action will." – W. Clement Stone
"Nothing happens by overthinking; then why stress? Is it too hard to sit down and relax?" – Sukant Ratnakar
"I admire the linear and decisive way a certain kind of man thinks, to my curlicue boundless overthinking." – J. Courtney Sullivan
"If you're stressing over happiness, you're doing it wrong!" – Shannon L. Alder
"Dont gaze too hard at your belly button Or you will unexpectedly hit rock bottom!" – Ana Claudia Antunes
"The greatest weapon against stress is our ability to choose one thought over another." – William James
"The more you rationalize, the more you move farther away from your authentic self." – Shannon L. Alder
"I have found that sometimes I do better working on a crazy schedule. It gives me less time to overthink things and forces me to be present." – Torrey DeVitto
"To think too much is a disease." – Fyodor Dostoyevsky
"Don't overanalyze what you see. I have a feeling that you're over-thinking things. Give it some time, and the pieces of this puzzle might come together." – Jessica Park
"Don't overthink things. Sometimes you can convince your head not to listen to your heart. Those are the decisions you regret for the rest of your life." – Leah Braemel
"Everything is too easy. If you want to record a song, you can buy Pro Tools and record four hundred guitar tracks. That leads to overthinking, which kills any spontaneity and the humanity of the performance." – Jack White
"The trouble with most people is that they think with their hopes or fears or wishes rather than with their minds." – Will Durant
"Most of us never stop to consider our blessings; rather, we spend the day only thinking about our problems." – Bernie Siegel
"The main things to rebel against – overproduction, too much technology, overthinking." – Jack White
"Overthinking ruins moods and kills good vibes." – SupaNova Slom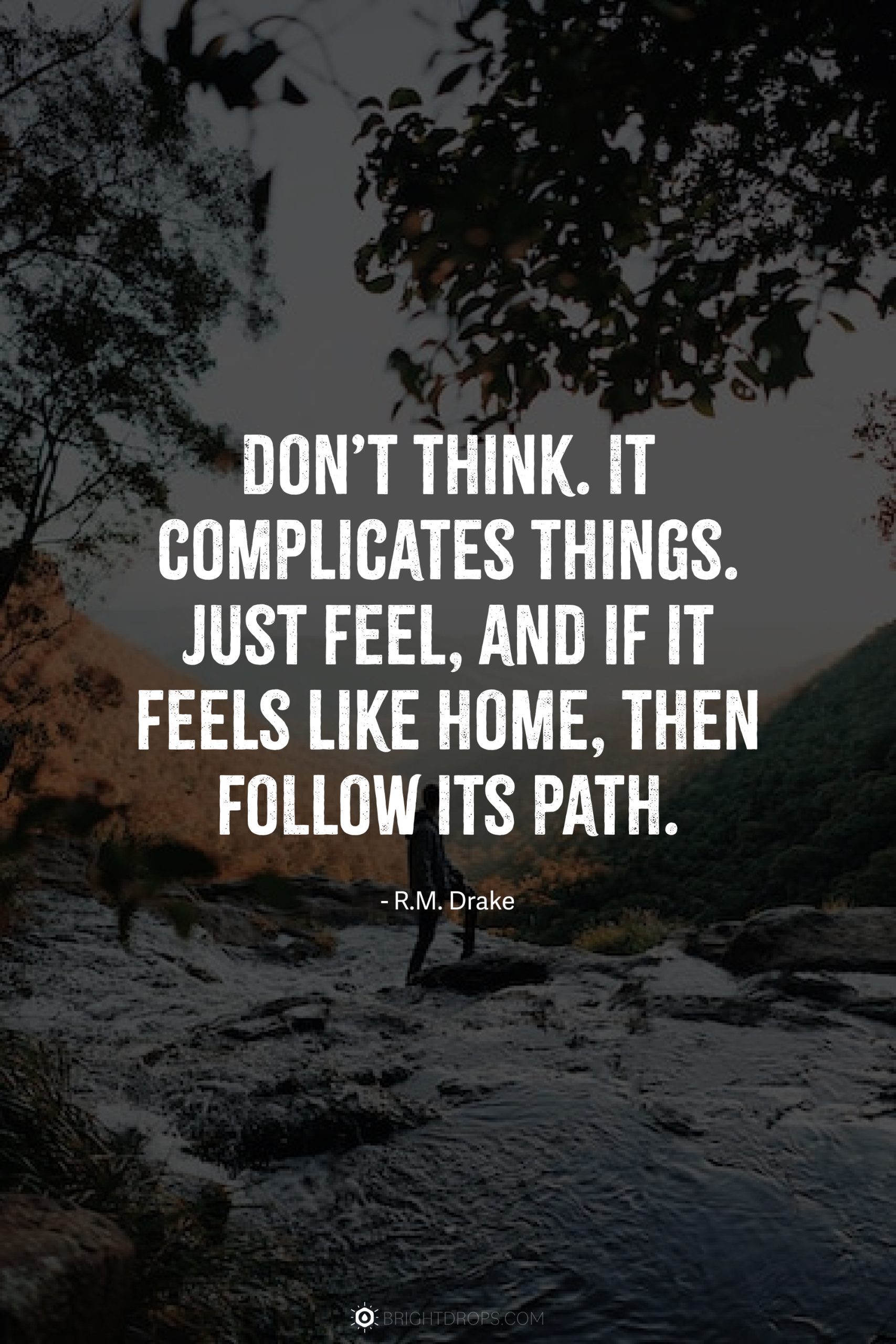 "Don't think. It complicates things. Just feel, and if it feels like home, then follow its path." – R.M. Drake
"To end hunger of overthinking, you need to eat positive attitude and happiness." – Genereux Philip
"Overthinking. A powerful drug of mentality." – A.M.L.
"Once you start overthinking it, it's like it ain't a feeling no more." – Dreezy
"Overthinking is parasitic. It's viral. It's deadly, even." – Genereux Philip
"Thinking too deeply will only drown me." – Greta Farrel
"Nothing in the world can bother you as much as your own mind, I tell you. In fact, others seem to be bothering you, but it is not other, it is your own mind." – Sri Ravi Shankar
"I admire the linear and decisive way a certain kind of man thinks, to my curlicue boundless overthinking." – J. Courtney Sullivan
"Your addiction to thinking will come back to haunt you." – Natsume Sōseki
"While you were overthinking, you missed everything worth feeling." – Nitya Prakash
"Overthinking, also, best known as creating problems that are never there" – David Sikhosana
"A crowded mind, leaves no space or a peaceful heart." – Christine Evangelou
"Less thinking, more living." – S.R. Crawford