The world consists largely of two types of people; Christmas people, and New Year people, and if you fall into the latter category, you will already know all the advantages that a new year brings. January 1st is the perfect chance to draw a line in the sand and start again, whether that means adopting a healthier lifestyle, ticking the next thing off your bucket list, or simply taking stock of your life (like these life quotes) and making the changes you know you need to make.
Whatever your feelings around a brand-new 12-month stint, these New Year quotes will help you to focus on your goals – no matter how big or small – and really encourage you to go for what you want. To paraphrase the king of motivation himself – Tony Robbins – a new year is a chance to decide who you want to become and how you will live, so take inspiration from these and other words of wisdom to make the first day of January work for you.
Offering a completely clean slate, a new year is an exciting time of possibilities and improvements, and reading these New Year quotes will fill you with an enthusiasm to grab life with both hands and finally push for what you really want. Let the New Year be the springboard you need to achieve all your goals, and if it doesn't go quite as you planned it, the next New Year is only 12 months away!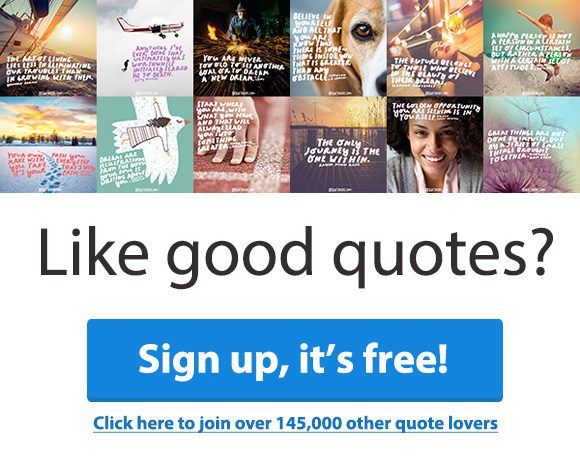 If you're looking for motivational quotes to start each week with inspiration and drive, make sure to take a look at these motivational Monday quotes.
New Year Quotes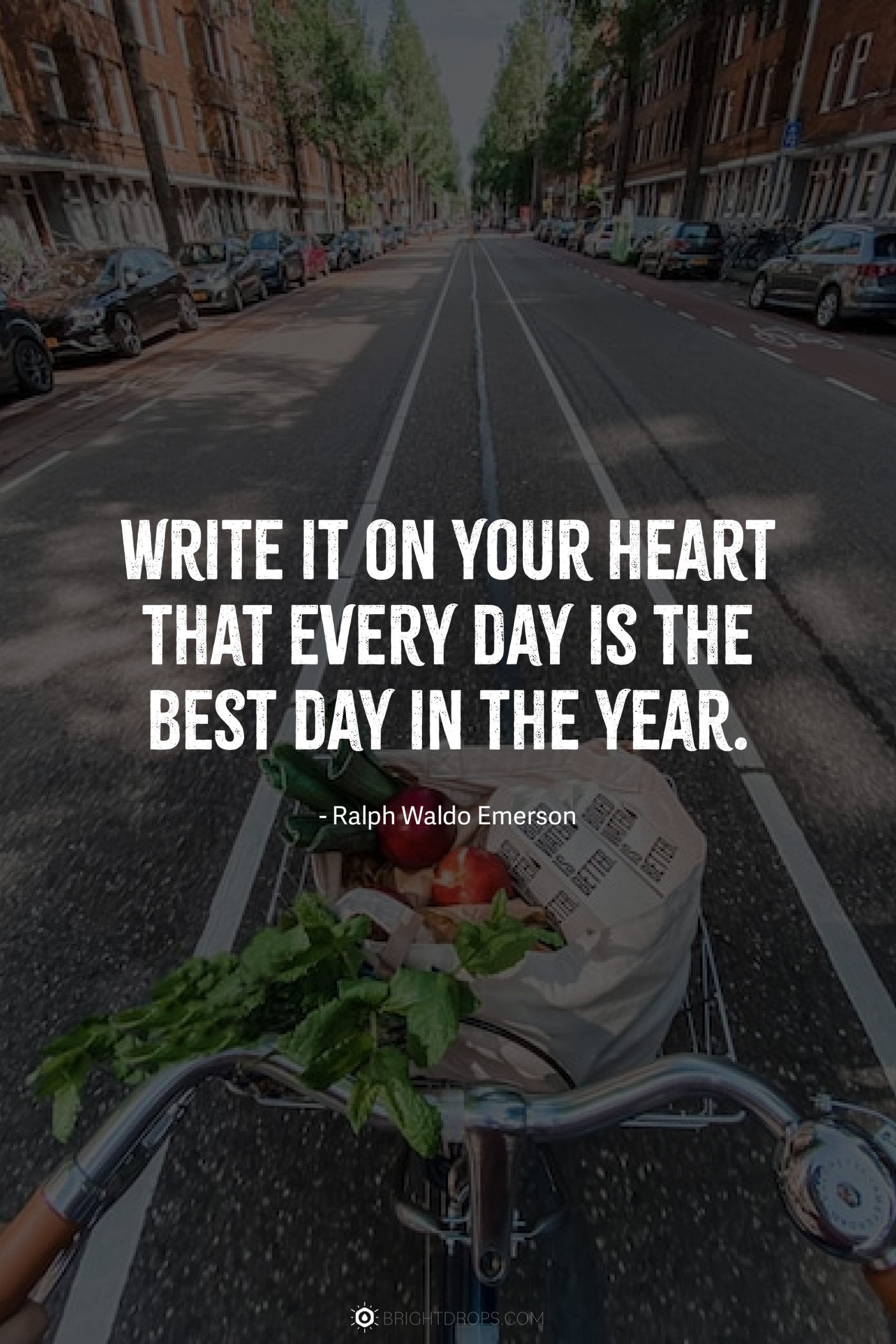 "Write it on your heart that every day is the best day in the year." – Ralph Waldo Emerson
"New year is the glittering light to brighten the dream-lined pathway of future." – Munia Khan
"Celebrate endings—for they precede new beginnings." – Jonathan Huie
You may also like: These life-changing motivational quotes: https://brightdrops.com/best-motivational-quotes
"Learn from yesterday, live for today, hope for tomorrow." – Albert Einstein
"The future is before us in the coming year, turn all your wishes turn into goals!" – Unknown
"New Year = A New Life! Decide today who you will become, what you will give how you will live." – Tony Robbins
Related: Never Give Up Quotes
"I hope that in this year to come, you make mistakes. Because if you are making mistakes, then you are making new things, trying new things, learning, living, pushing yourself, changing yourself, changing your world. You're doing things you've never done before, and more importantly, you're doing something." – Neil Gaiman
"And now we welcome the new year. Full of things that have never been." – Rainer Maria Rilke
"As this New Year approaches find inspiration around you, and motivation within you, to be all that you can be." – Kate Summers
"It always seems impossible until it's done." – Nelson Mandela
"Your success and happiness lies in you. Resolve to keep happy, and your joy and you shall form an invincible host against difficulties." – Helen Keller
"No, this is not the beginning of a new chapter in my life; this is the beginning of a new book! That first book is already closed, ended, and tossed into the seas; this new book is newly opened, has just begun! Look, it is the first page! And it is a beautiful one!" – C. JoyBell C.
"The beginning is always today." – Mary Wollstonecraft Shelley
"This is a new year. A new beginning. And things will change." – Taylor Swift
"When you see a new year, see realities and limit fantasies!" – Ernest Agyemang Yeboah
"The first step towards getting somewhere is to decide you're not going to stay where you are." – J.P. Morgan
"Be willing to be a beginner every single morning." – Meister Eckhart
"Whether we want them or not, the New Year will bring new challenges; whether we seize them or not, the New Year will bring new opportunities." – Michael Josephson
"Yesterday is gone. Tomorrow has not yet come. We have only today. Let us begin." – Mother Teresa
"The future belongs to those who believe in the beauty of their dreams." – Eleanor Roosevelt
"A new year, a new day, to bring you everything you wish for." – Unknown
"Each year's regrets are envelopes in which messages of hope are found for the New Year." – John R. Dallas Jr.
"The New Year comes and goes, but our bond will last a lifetime. Excited to see what 2022 has in store for us!" – Unknown
"As the year comes to a close, it is a time for reflection – a time to release old thoughts and beliefs and forgive old hurts. Whatever has happened in the past year, the New Year brings fresh beginnings. Exciting new experiences and relationships await. Let us be thankful for the blessings of the past and the promise of the future." – Peggy Toney Horton
"An optimist stays up till midnight to see the New Year in. A pessimist stays up to make sure the old year leaves." – Bill Vaughn
"New Year's Day. A fresh start. A new chapter in life waiting to be written. New questions to be asked, embraced, and loved. Answers to be discovered and then lived in this transformative year of delight and self-discovery. Today carve out a quiet interlude for yourself in which to dream, pen in hand. Only dreams give birth to change." – Sarah Ban Breathnach
"Whatever it is you're scared of doing, do it. Make your mistakes, next year and forever." – Neil Gaiman
"New Year's Day is every man's birthday." – Charles Lamb
"An optimist stays up until midnight to see the New Year in. A pessimist stays up to make sure the old year leaves." – William E. Vaughn
"It is never too late to be what you might have been." – George Eliot
"May all your troubles last as long as your New Year's resolutions." – Joey Adams
"Nothing is as good as coming into the new year with zeal, hope and positive mind." – Bamigboye Olurotimi
"The merry year is born like the bright berry from the naked thorn." – Hartley Coleridge
"Tonight's another chance to start again. It's just another New Year's Eve. Another night like the rest. It's just another New Year's Eve. Let's make it the best!" – Barry Manilow
"Another fresh new year is here. Another year to live! To Banish worry, doubt and fear, to love and give." – William Arthur Ward
"Every time you tear a leaf off a calendar, you present a new place for new ideas and progress." – Charles Kettering
"A new year means a new chapter. I hope 2022 is an incredible part of your story." – Unknown
"Approach the new year with resolve to find the opportunities hidden in each new day." – Michael Josephson
"The best is yet to come." – Frank Sinatra
"A year from now, you're gonna weigh more or less than what you do right now." – Phil McGraw
"We spend January 1st walking through our lives, room by room, drawing up a list of work to be done, cracks to be patched. Maybe this year, to balance the list, we ought to walk through the rooms of our lives … not looking for flaws but for potential." – Ellen Goodman
"A new year brings not only happiness, it makes us happy with a hope to fulfill our dreams or a new beginning of our life. So, a new year is very special to everyone." – Santonu Kumar Dhar
"With dawn of the new year on the horizon, I resolved to exert my will on the world." – Holly Black
"Sometimes a year has been so disastrous and so terrible that entering a new year will automatically mean entering a wonderful year!" – Mehmet Murat idlan
"There are far better things ahead than any we leave behind." – C.S. Lewis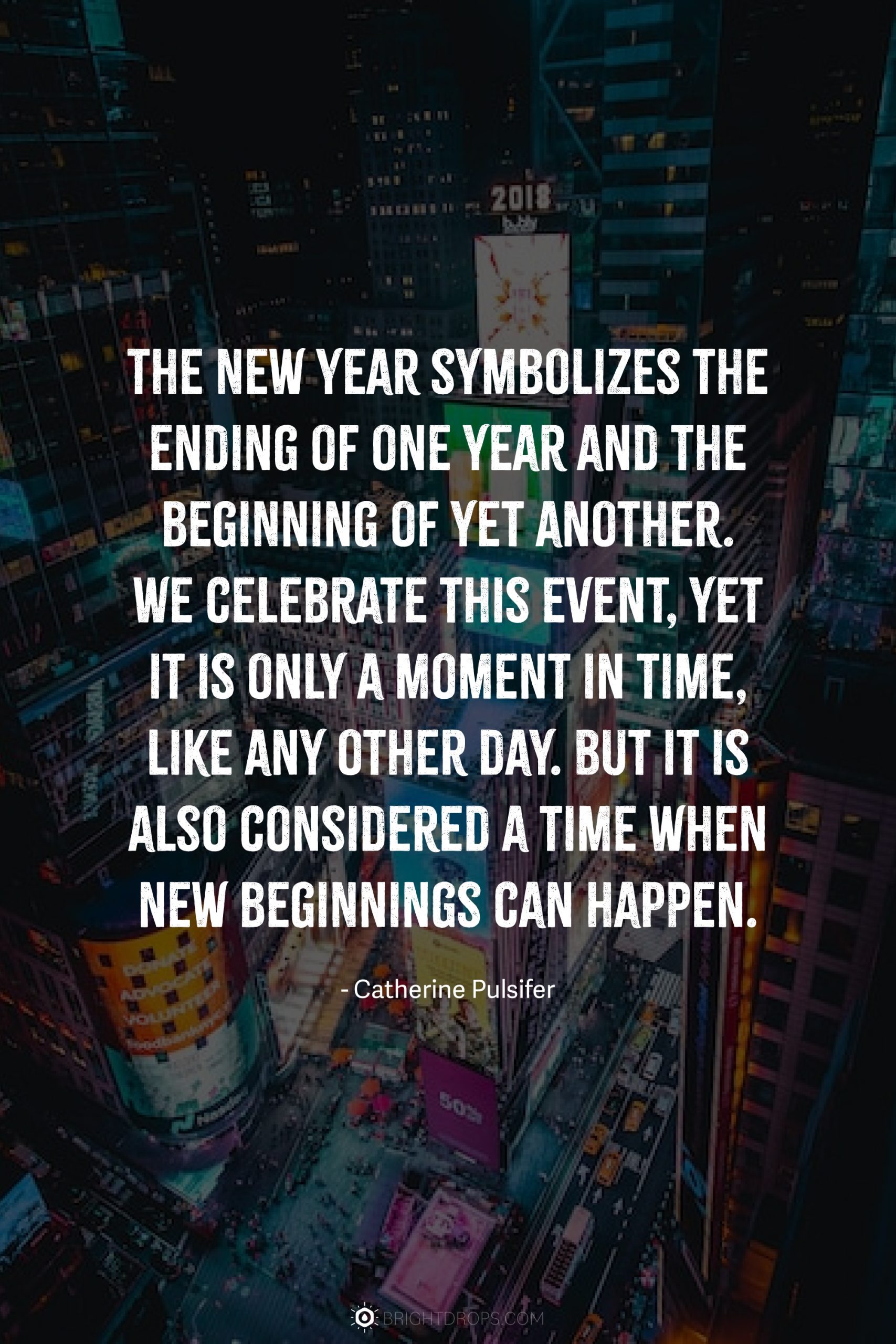 "The New Year symbolizes the ending of one year and the beginning of yet another. We celebrate this event, yet it is only a moment in time, like any other day. But it is also considered a time when new beginnings can happen." – Catherine Pulsifer
"Some of us think holding on makes us strong, but sometimes it is letting go." – Herman Hesse
"Let's forget the baggages of the past and make a new beginning." – Shehbaz Sharif
"This cannot be the year of talking. Of wishing. Of wanting. This has to be the year, you get it done!" – Eric Thomas
"New Year's Day is every man's birthday." – Charles Lamb
"The beginning is the most important part of the work." – Plato
"If you're brave enough to say goodbye, life will reward you with a new hello." – Paulo Coehlo
"Making New Year resolutions is one thing. Remaining resolute and seeing them through is quite another." – Alex Morritt
"We should celebrate every year that we made it through and every year that we're happier and healthier." – Ellen DeGeneres
"New year gives us an opportunity and power to begin the magical first day of the rest of our lives." – Debasish Mridha
"Cheers to a new year and another chance for us to get it right." – Oprah Winfrey
"The object of a new year is not that we should have a new year. It is that we should have a new soul." – G.K. Chesterton
"Stir the eggnog, lift the toddy, Happy New Year everybody!" – Phyllis McGinley
"As we look forward to the New Year, let's resolve to recommit ourselves to the values we share." – Barack Obama
"Drop the last year into the silent limbo of the past. Let it go, for it was imperfect, and thank God that it can go." – Brooks Atkinson
"Each New Year, we have before us a brand new book containing 365 blank pages. Let us fill them with all the forgotten things from last year—the words we forgot to say, the love we forgot to show, and the charity we forgot to offer." – Peggy Toney Horton
"The new year stands before us, like a chapter in a book, waiting to be written. We can help write that story by setting goals." – Melody Beattie
"What the new year brings to you will depend a great deal on what you bring to the new year." – Vern McLellan
"The bad news is time flies. The good news is you're the pilot." – Michael Altshuler
More Good Quotes: