Motivational quotes can really help us find our internal drive. Of course we already know that the only way to really get anything accomplished is to have the self-motivation to do the work required, but it never hurts to hear from someone who's been there before. Or at least been somewhere before.
1. Milton Berle is a could-be.
"I'd rather be a could-be if I cannot be an are; because a could-be is a maybe who is reaching for a star, I'd rather be a has-been than a might-have-been, by far; for a might have-been has never been, but a has was once an are." – Milton Berle
We start with a humorous poem from the brilliant funny man Milton Berle. These words are so true. It's better to be reaching for something or lost something than to just float around never doing anything with your life. How long have you been stuck in the rut you're in right now?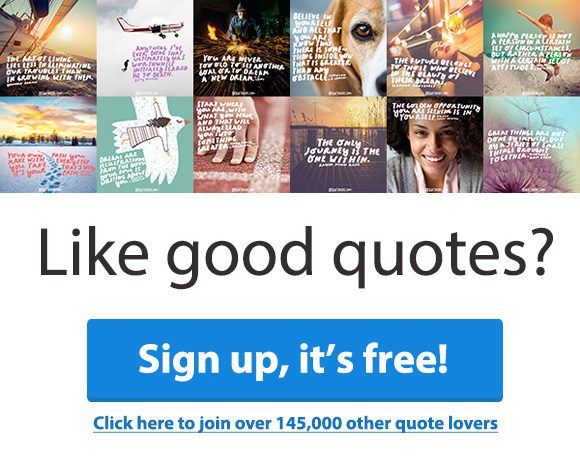 2. St. Francis on doing the impossible.
"Start by doing what's necessary; then do what's possible; and suddenly you are doing the impossible." – St. Francis of Assisi
Start today by doing the things that must be done. Maybe you are trying to launch a business, or maybe you're just trying to get organized. Either way, the first steps are the first steps. Take this opportunity to lay the groundwork. Then, you can stretch yourself. Before you know it, you'll be doing things that you never thought possible.
3. Vince Lombardi on Chasing Perfection.
"Perfection is not attainable, but if we chase perfection we can catch excellence." – Vince Lombardi
If you start going for the impossible goal, you might get very close to it. Just like St. Francis said, we can do what we thought was impossible. If we start chasing that model of perfection that's in our minds, we might get something close to perfection.
4. Audrey Hepburn on the Impossible.
"Nothing is impossible, the word itself says 'I'm possible'!" – Audrey Hepburn
One of the things that slows us down the most is the size of the obstacles. We have to realize that barriers are there to make us stronger in the pursuit of our goals. If there were no mountains to climb, there would be no mountain climbers.
5. Shakespeare on Knowing What We Are.
"We know what we are, but know not what we may be." – William Shakespeare
If you never try to be the person you are meant to become, then you will never become that person. How miserable it is to be only part of a whole. If you leave all those stones unturned and all those dreams unlived, then how could you measure your life?
6. Milton Berle is a Handyman.
"If opportunity doesn't knock, build a door." – Milton Berle
Timing is everything, and there's no time like the present. If you sit around and wait, someone else might beat you to the punch. Instead of waiting, make the opportunity come to you where you are right now. Make things happen.
7. Teddy Roosevelt on the Power of Belief.
Believe you can and you're halfway there. – Theodore Roosevelt
The former president knows a thing or two about mental strength. He was a stubborn man that established the first legitimate third party in the nation. While his efforts were eventually unsuccessful, he had already served as president for 8 years. Hard to call him a failure.
8. Henry Ford Chops Wood.
"Chop your own wood and it will warm you twice." – Henry Ford
Henry Ford is the example of hard work and ingenuity. He might not have invented the automobile, but he did build the American spirit. With the attitude displayed in this motivational quote, there's no doubting how Ford became an American pillar.
9. Aesop's Moral on Kindness.
"No act of kindness, no matter how small, is ever wasted." – Aesop
Make the effort to give to someone else, and it will always come back to you. We like to credit this concept to revolutionary thinkers like Eckhart Tolle and Deepak Chopra, but these ideas have been around since recorded history.
10. Joseph Campbell is a Hero.
"A hero is someone who has given his or her life to something bigger than oneself." – Joseph Campbell
Your goals are massive. Getting there is a daunting task. The only way to be the person you are, the hero you are, is to put one foot in front of the other. So, get up and get going. You have big things to do and those things are bigger than you can imagine.
11. Robin Williams on the Power of Words.
"No matter what people tell you, words and ideas can change the world." – Robin Williams
Those thoughts that are locked inside your head, those conversations you have with friends and family, those are the same ideas and words that can change the world. Put those ideas in motion and when they come to fruition, the world will be better for it.
12. Bear Bryant on the Price of Victory.
"If you believe in yourself and have dedication and pride – and never quit, you'll be a winner. The price of victory is high but so are the rewards." – Paul "Bear" Bryant
Bear Bryant is the quintessential champion. The guy just never lost. Even when the scoreboard said otherwise, he still carried himself like a winner. If you have that same approach to your personal and professional goals, you'll always be a winner.
13. Ronald Reagan Needs Help.
"We can't help everyone, but everyone can help someone." – Ronald Reagan
When you start working toward your goals, you'll realize that you get back all the good you've given. Along the way, you'll have opportunities to do more good. Just remember that it will always come back to you.
14. Mary Kay Ash on Happiness.
"Happiness is not something you postpone for the future; it is something you design for the present." – Mary Kay Ash
How long are you going to hold yourself back from having what you really want in life? Your dreams belong to you, but you have to bring them to the present for yourself. When you are making things happen for yourself, the journey itself brings joy to your heart.
15. Mary Kay Ash on Limitations.
"Don't limit yourself. Many people limit themselves to what they think they can do. You can go as far as your mind lets you. What you believe, remember, you can achieve." – Mary Kay Ash
The journey can bring you happiness. The first thing is breaking those chains that you've put on yourself. Get rid of those restrictions and start reaching for the next level. Before you know it, you'll be making progress on things you've wanted as long as you can remember.
16. Bruce Lee Has No Limits.
"If you always put limit on everything you do, physical or anything else. It will spread into your work and into your life. There are no limits. There are only plateaus, and you must not stay there, you must go beyond them." – Bruce Lee
When you reach the point where you think you have hit a wall, just push right on through it. The only road blocks are in your mind. Whether you are pushing yourself mentally, physically, emotionally, or spiritually, you can always get through that next obstacle with a bit more grit.
17. Wilma Rudolph Loves Nature.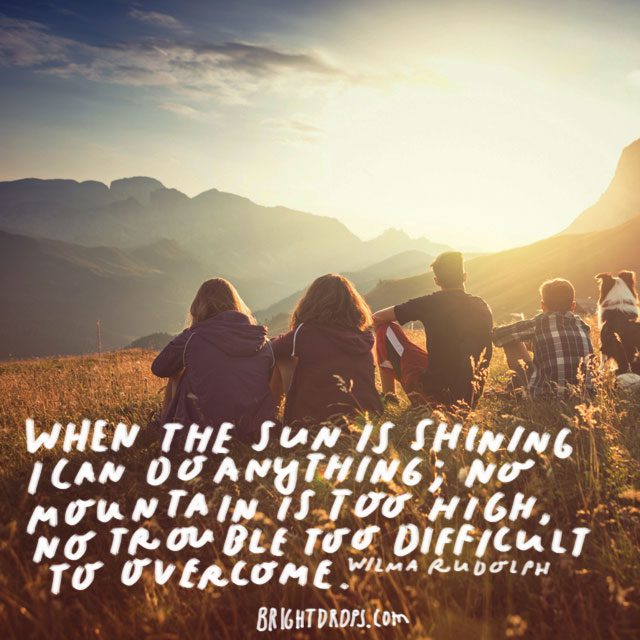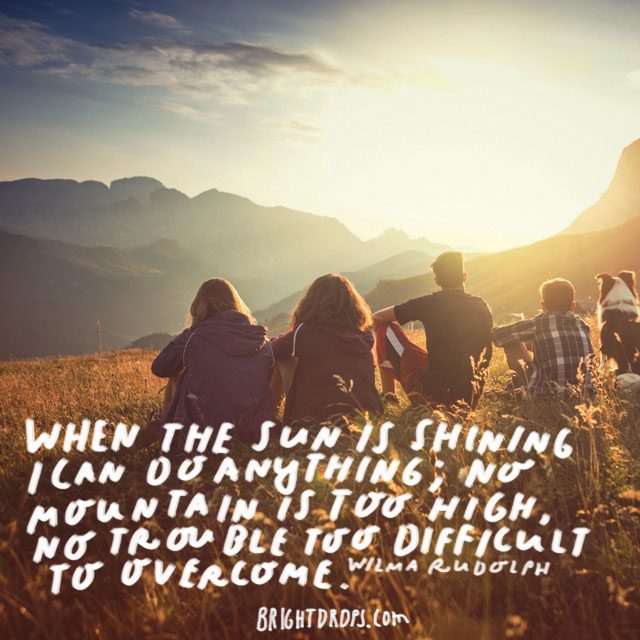 "When the sun is shining I can do anything; no mountain is too high, no trouble too difficult to overcome." – Wilma Rudolph
If today is a day, you can get everything done that needs to be done. This motivational quote is not limiting you to sunny days at all. No matter what the weather is like, the sun is shining somewhere on the planet. That's how the universe works.
18. Vince Lombardi on Measures.
"The measure of who we are is what we do with what we have." – Vince Lombardi
You have so much to give. If you keep it inside you, then you have not given the world what it has given you. You cannot be measured as a full person if you keep all of you to yourself. That's selfish. Give back to the world and it will continue to give to you.
19. Buddha on Lighting Candles.
"Thousands of candles can be lighted from a single candle, and the life of the candle will not be shortened. Happiness never decreases by being shared." – Buddha
Happiness is contagious. It is the easiest thing in the world to share a smile and brighten someone's day. You never know when that bit of sunshine will come back to you. If you are struggling to get moving, help someone else on their journey. That will come back to you.
20. Tony Robbins on Destiny.
"It is in your moments of decision that your destiny is shaped." – Tony Robbins
Getting started is the trick. Once you make the first decision, the next decision is a little bit easier. Every choice you make simply makes your destiny clearer to your mind's eye. You must take each decision with the end in mind.
21. Emerson on What Lies Inside.
"What lies behind you and what lies in front of you, pales in comparison to what lies inside of you." – Ralph Waldo Emerson
There are infinite mistakes and failures that lie in your wake. There are infinite missteps in your future. Don't get lost in the negative space. Instead, focus on all the good that lies inside you. When you start to spread that good, it begins to grow into greatness.
22. Carl Sagan Knows About Something Incredible.
"Somewhere, something incredible is waiting to be known." – Carl Sagan
That incredible thing could be yours. You'll never know unless you go after it. You can't sit around and wait for things to get better or hope that your life miraculously improves. You have to make things happen for yourself. It will be incredible.
23. Arthur Helps on Soaring High.
"Keep your feet on the ground, but let your heart soar as high as it will. Refuse to be average or to surrender to the chill of your spiritual environment." – Arthur Helps
Plant your feet and stand strong, as the old adage goes. But when you are planted firm in the foundation of you, that's when your dreams and ambitions can truly soar to new heights. That's how you break away from the pack and reach your fullest potential.
24. Warren Buffett on Sitting in the Shade.
"Someone is sitting in the shade today because someone planted a tree a long time ago." – Warren Buffett
Your dreams don't come true right away. They might not even come true the first few times you give that maximum effort. But, if you continue to strive to achieve every single day, no matter how much life seems to beat you down, you'll one day sit in the shade of that giant tree you planted.
25. Joseph Campbell on Following Bliss.
"Follow your bliss and the universe will open doors where there were only walls." – Joseph Campbell
When you start to follow your dreams, wherever they lead you, you'll find that things start falling into place for you. Soon a door opens, an opportunity presents itself, and you're two steps closer to where you want to be even though you only took one step.
26. Steve Jobs on Sensing Greatness.
"Everyone here has the sense that right now is one of those moments when we are influencing the future." – Steve Jobs
The vicious visionary never compromised when striving for excellence. I don't believe he ever thought he was doing something heartless; he was simply going where the universe took him. When you are working toward your goals, you sense that greatness is coming just around the next corner.
27. F. Scott Fitzgerald on Vitality.
"Vitality shows in not only the ability to persist but the ability to start over." – F. Scott Fitzgerald
Of course you're going to hit some immovable objects. If you are an unstoppable force, you'll just go around. Starting anew is just a sign that you really want something. If you think life tells you "No," you have to realize that most of the time, it's actually saying "Not right now, not this way."
28. Napoleon Hill on the Big Opportunity.
"Your big opportunity may be right where you are now." – Napoleon Hill
You don't have to look everywhere to find your chance. Sometimes it's hard to see how this place we are stuck can be the opportunity we were looking for in the first place. You have to learn to bloom in the place you've been planted, like a resilient and beautiful flower.
29. Ellen on Being You.
"Find out who you are and be that person. That's what your soul was put on this Earth to be. Find that truth, live that truth and everything else will come." – Ellen DeGeneres
When you start to bring out what is in your heart and soul, everything seems to come together nicely. Opportunities will come and you will have chances to shine that you have never been able to find before. Things start looking easy.
30. Thoreau on Living Your Beliefs.
"Live your beliefs and you can turn the world around." – Henry David Thoreau
What's inside you is huge. It can be even bigger than you know. When you start to take that inner strength and make it an outer strength, the world becomes bigger, bolder, brighter, and more brilliant. Everyone you touch shines a little brighter.
31. Anne Frank on Good News Inside.
"Everyone has inside of him a piece of good news. The good news is that you don't know how great you can be! How much you can love! What you can accomplish! And what your potential is!" – Anne Frank
What is that one piece of good news you have to give the world? You can accomplish everything you can imagine and probably even more. You can't imagine the success you'll discover. Especially once you expand your definition of success beyond your bank account.
32. Arthur Ashe on Making a Life.
"From what we get, we can make a living; what we give, however, makes a life." – Arthur Ashe
Success is measured in more than what our minds conceive at times. We get caught in the rat race of pursuing more money and more financial freedom. We are as free as we choose to be if we start looking at success in a different way.
33. Ella Fitzgerald Does What She Wants.
"Just don't give up trying to do what you really want to do. Where there is love and inspiration, I don't think you can go wrong." – Ella Fitzgerald
Success is about more than money. You don't find the most successful people boasting about their car collection. Instead, you hear these people talk about how blessed they are to do what they love to do. When you have outer fulfillment of your inner desires, you are successful.
34. Elizabeth Barrett Browning on Sunsets.
"My sun sets to rise again." – Elizabeth Barrett Browning
When we are chasing success, we will obviously run into many failures. Most of them are brief. What would the world be if the sun never set? If we never had darkness, we could not fully appreciate the light.
35. A. P. J. Abdul Kalam on Birds.
"The bird is powered by its own life and by its motivation." – A. P. J. Abdul Kalam
All animals have the same drive that we must have. Birds don't rise in the morning and struggle with the alarm clock. They simply go about doing the things that fulfill their lives the best way they know how.
36. Edison on Capabilities.
"If we did all the things we are capable of, we would literally astound ourselves." – Thomas Edison
Inside everyone, there is greatness. It doesn't take inventing the light bulb. It takes doing what the bird does. It takes fulfilling your own life. By doing these simple things, you will live the most fulfilled life you can live.
37. Robert Frost on Forks in the Road.
"Two roads diverged in a wood and I – I took the one less traveled by, and that has made all the difference." – Robert Frost
When we get to a point where a decision must be made, do what most people are afraid to do. Blaze a trail and make your legacy. Robert Frost, like many on this list, did not have a fancy car collection or a vacation home in Maui. His success came from within.
38. A. P. J. Abdul Kalam on Sacrifice.
"Let us sacrifice our today so that our children can have a better tomorrow." – A. P. J. Abdul Kalam
Success might not be something that you reap financial rewards for. In fact, you may reap only the benefit of happiness and fulfillment. What more do you want for you children and your grandchildren? Money can buy material things, but true fulfillment is the best legacy.
39. Carol Burnett Never Let Go.
"When you have a dream, you've got to grab it and never let go." – Carol Burnett
If you start to work toward your dream, you will be more fulfilled. Every little setback is not a sign telling you to give up, but a sign telling you to hold on tighter. The harder you work for your dreams, the more you will appreciate your successes.
40. Anais Nin on Space Kites.
"Throw your dreams into space like a kite, and you do not know what it will bring back, a new life, a new friend, a new love, a new country." – Anais Nin
Your dreams bring success, but it might not be the success you expect. You could be put on a new path or be compelled to forge your own way in life. You could be thrown a curveball, but the right answer is to go with the flow and turn it into success.
41. Aeschylus on Growth.
"From a small seed a mighty trunk may grow." – Aeschylus
When you plant the smallest idea of what you are hoping to have in life, your dreams will grow into a giant tree. Jesus told the story of a mustard seed becoming a strong and mighty tree. When you begin with even the smallest goal, there's no telling what may grow from those tiny seeds.
42. Thomas Aquinas on Love.
"The things that we love tell us what we are." – Thomas Aquinas
If your only motivation is money, you will not succeed. If money is a part of that dream, that's great. What you really have to pursue are those things that you truly love. You will lose any pursuit if it is one dimensional. Pursue what you love and success is guaranteed.
43. Stephen R. Covey on Imagination.
"Live out of your imagination, not your history." – Stephen R. Covey
This is the first in a trilogy of quotes from the expert in success. When you limit yourself to only what you've done in the past, you cannot possibly fulfill your wildest dreams. Your imagination can go above and beyond what you've accomplished and failed at in the past.
44. Stephen R. Covey on Schedules.
"The key is not to prioritize what's on your schedule, but to schedule your priorities." – Stephen R. Covey
When you start to prioritize your schedule, your mentality is flawed. You must realize that the only things that should ever make it to your schedule are the things that are important to getting where you want to go.
45. Stephen R. Covey on the Main Thing.
"The main thing is to keep the main thing the main thing." – Stephen R. Covey
This is more than just a redundant phrase. The truth is that we often lose sight of where we want to be in life. Instead, we get caught up in the minutiae of what we must get "done" by some foreseen deadline. Measure things in the frame of your end goal.
46. Jim Rohn on Day Runners.
"Either you run the day or the day runs you." – Jim Rohn
Schedules and getting things checked off your list are still important. Don't just throw out your planner. The point is that you must take charge of your day. Don't put things on your planner that don't help you get where you want to go.
47. Nikos Kazantzakis on Believing.
"In order to succeed, we must first believe that we can." – Nikos Kazantzakis
The reason you haven't already started to get up and go for your goals is because you don't fully believe. These motivational quotes are exactly what you needed to hear. Find that inner strength to believe in yourself. You are strong.
48. Chuck Swindoll on the Percentages of Life.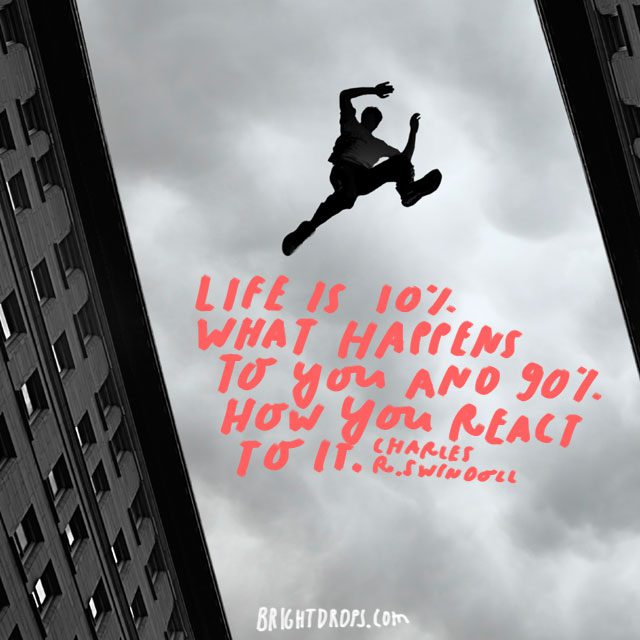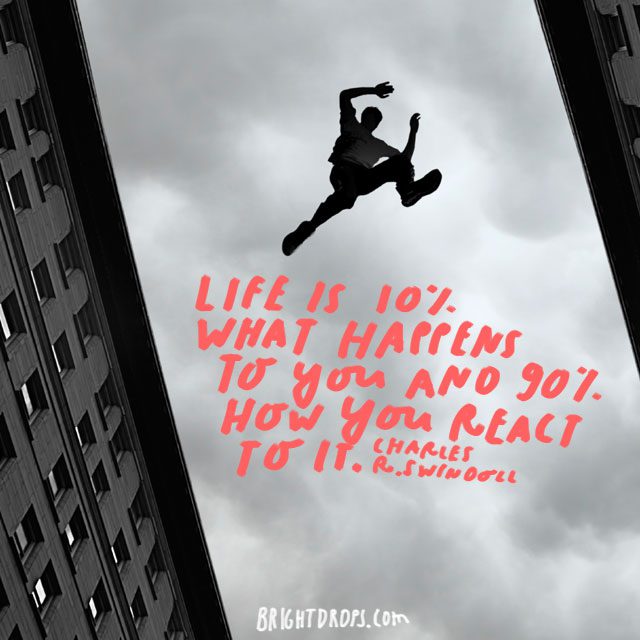 "Life is 10% what happens to you and 90% how you react to it." – Charles R. Swindoll
Be proactive. Have a plan in place about how you will respond to setbacks. If all you do is react, then you will make more missteps. Instead, have a proactive plan about how to react. Being purely reactive is the wrong approach.
49. General Patton on Accepting Challenges.
"Accept the challenges so that you can feel the exhilaration of victory." – General George S. Patton
General Patton knows a few things about success. There are obvious obstacles to entry when following your dreams. If you can find a way to accept that challenge, then you will appreciate that feeling of victory when you finally achieve your dreams.
50. General Patton on Planning.
"A good plan violently executed now is better than a perfect plan executed next week." – General George S. Patton
Taking the challenge is the first step. Then, you have to have a good plan. Once you sit down and flesh out your goals and ambitions, suddenly you can see the light at the end of the tunnel. It's not so hard to get up and get going.
51. Og Mandino on Determination.
"Failure will never overtake me if my determination to succeed is strong enough." – Og Mandino
Setback and failure are not the same. If you hit a snag, it doesn't mean to sit down and never get off the bench again. The reason we procrastinate is because our determination is not strong. What do you really want in life?
52. Ralph Marston on Today.
"What you do today can improve all your tomorrows." – Ralph Marston
Today is the day you get off the couch, literally and figuratively. Stop putting off things that need to be done. Every step you take today is one less step you have to take tomorrow and the next day. Start with small steps and the big steps are easier.
53. Ayn Rand on Creativity.
"A creative man is motivated by the desire to achieve, not by the desire to beat others." – Ayn Rand
Sometimes we get so beat down by the success of those around us, whether we know them personally or through the headlines. We see that everyone else is doing it. Stop being competitive, and start being creative. Create your own success.
54. Og Mandino on the Harvest.
"Always do your best. What you plant now, you will harvest later." – Og Mandino
Those seeds that you plant today, right now, you will harvest later. If you continue to wait for the right opportunity to plant those seeds, you are going to delay that harvest another week, month, year, or, worse yet, inevitably.
55. Mark Twain Has a Secret.
"The secret of getting ahead is getting started." – Mark Twain
The truth is that you have to start in order to finish. If you want to get ahead and work toward the goals you have in life, you have to start. You can't keep procrastinating and giving yourself excuses as to why you can't get it done today.
56. Confucius Takes It Slowly.
"It does not matter how slowly you go as long as you do not stop." – Confucius
A gradual process is the best. No one has ever achieved their dreams in a few short weeks. Even in those industries where you see overnight success, it's not really an overnight success. There were years of careful planning and late nights before the plan came together.
57. Sam Levenson on Clocks.
"Don't watch the clock; do what it does. Keep going." – Sam Levenson
When we lose motivation, we start to look at the clock. Whether it's on a daily basis or a yearly basis, we get lost in what we're not doing. Instead, keep going. Focus on right now. Get things done today… right now.
58. Edison on Giving Up.
"Our greatest weakness lies in giving up. The most certain way to succeed is always to try just one more time." – Thomas Edison
Today is the time to start trying, one more time. Maybe you just need one more trip to the gym. Maybe you need to send just one more email. Maybe you need to revise your CV just one more time. This one more effort could be the one that matters.
59. W. Clement Stone on the Moon.
"Aim for the moon. If you miss, you may hit a star." – W. Clement Stone
When you have the goal in sight, you might not always hit the exact target. You might end up hitting something even better. Every success story has some wayward journey that ends up being something that they didn't plan for directly.
60. Goethe on Applying Knowledge.
"Knowing is not enough; we must apply. Willing is not enough; we must do." – Johann Wolfgang von Goethe
You can't have everything in your head and your heart. You have to carry those thoughts into actions. Mental strength and knowledge is what you must build on, but it is essential to bring the plan to life with actions.
61. Confucius on Winning.
"The will to win, the desire to succeed, the urge to reach your full potential… these are the keys that will unlock the door to personal excellence." – Confucius
Putting off your goals are a problem. You have to make sure you still have that internal drive. If you really want to be excellent, you have to have the belief inside. When you have those beliefs inside, you can then bring them to action.
62. Disney the Dreamer.
"If you can dream it, you can do it." – Walt Disney
As if you didn't know, Walt Disney was a dreamer. He obviously had the belief inside that he could make his dreams happen. When you have the solid foundation of belief in yourself, you then make those dreams happen. Stop waiting.
63. Rabindranath Tagore on Crossing the Sea.
"You can't cross the sea merely by standing and staring at the water." – Rabindranath Tagore
If you stand and stare, you will see how beautiful things are. You will never take action. Are you stuck in a rut of waiting and taking in the possibilities? Take those internal dreams and desires and express them through outward action.
64. Wayne Dyer on Going for It.
"Go for it now. The future is promised to no one." – Wayne Dyer
Now is the time. We don't know if tomorrow will come for us. Do you want to leave the world with regrets? What are you putting off that you can accomplish? Get off the bench and get into the game. Your number just got called.
65. Aldous Huxley on Controlling the Universe.
"There is only one corner of the universe you can be certain of improving, and that's your own self." – Aldous Huxley
You have control over yourself. You can control nothing else in the entire universe. Are you doing what the universe wants you to do with what you have been given? You owe it to everyone to do what you can.
66. Gordon B. Hinckley on Hard Work.
"Without hard work, nothing grows but weeds." – Gordon B. Hinckley
If the garden is left to its own, the weeds will take over. It will look like a jungle. You have to put on your gloves and pull the weeds and trim the hedges. Stop waiting for your "one day" and make that day today.
67. Maya Angelou on Being Defeated.
"We may encounter many defeats but we must not be defeated." – Maya Angelou
Every setback feels like the end of the world, especially when you are so highly invested. You must remember that things are not easy. Every success story starts with a million tiny failures. If your failures are big, imagine the success you are in store for.
68. Lao Tzu on Difficult Things.
"Do the difficult things while they are easy and do the great things while they are small." – Lao Tzu
Things look difficult now, but they can be done. In fact, this is the easiest these things will ever be. If you start with doing little things, it makes the next step smaller. You can't accomplish everything in a few short steps. It is a marathon.
69. Lao Tzu on the Long Journey.
"A journey of a thousand miles must begin with a single step." – Lao Tzu
This is actually the next part of the previous quote. You must put one foot in front of the other. The journey is long and seems like it might be an insurmountable project. Once you take the first steps, you'll be closer to the first mile. When you finish that mile, you can focus on the next mile.
70. Oprah on Doing that One Thing.
"Do the one thing you think you cannot do. Fail at it. Try again. Do better the second time." – Oprah Winfrey
The first time you try to make your dreams a reality, you will fail. That must not set you back. You must pick yourself up and do even better the next time. When you stick at it, you will become successful.
71. Oprah on the High Wire.
"The only people who never tumble are those who never mount the high wire." – Oprah Winfrey
If you are afraid of falling, you will never get to great heights. Stop making excuses. Stop waiting for that perfect moment, that golden opportunity. Those moments do not come. You make them happen.
72. JFK on Making It Happen.
"Things do not happen. Things are made to happen." – John F. Kennedy
The simple fact is that things do not just fall into place. When you see someone we feel to be successful, they didn't just stumble into success. They made their own success by hard work. Success may be quick, but the work was not.
73. Julie Andrews on Perseverance.
"Perseverance is failing 19 times and succeeding the 20th." – Julie Andrews
There's no way you can put a number on your personal successes. You may feel apprehensive because you have failed a few times. Just know that everyone who has ever succeeded at anything has failed their fair share. Persevere. It may be the next one.
74. Philip Sidney on Finding a Way.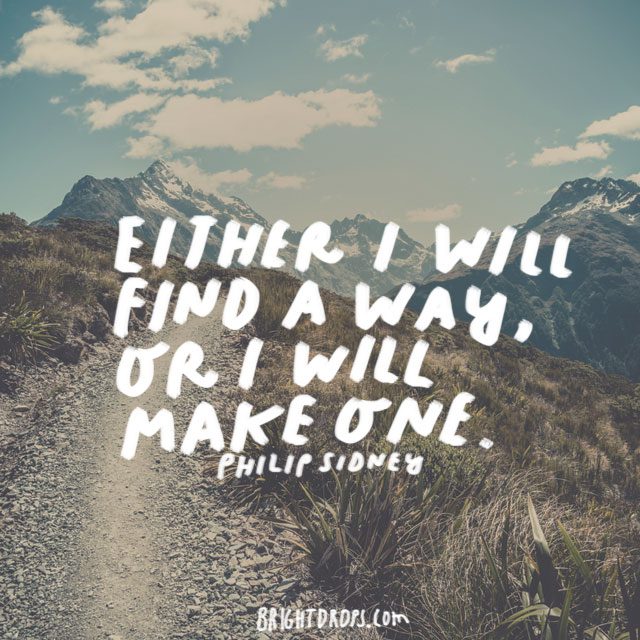 "Either I will find a way, or I will make one." – Philip Sidney
The way to get your dreams is not just going to magically light up before you like a yellow brick road. You have to pave the road to your own success through hard work. You can't give up on the first or second or tenth failure. You're worth more than that.
75. William Butler Yeats on the Hot Iron.
"Do not wait to strike till the iron is hot; but make it hot by striking." – William Butler Yeats
You're waiting until the perfect combination of time and place and people to converge. That's going to be your sign from the universe to get going. Well, it's not going to happen. You have to take action into your own hands. The universe doesn't send out invites.
76. Mandela on Playing Small.
"There is no passion to be found playing small – in settling for a life that is less than the one you are capable of living." – Nelson Mandela
You are capable of more than you give yourself credit for. Maybe you're waiting for the right people to come along and help you get things accomplished. Stop waiting. You can do it on your own, you just have to stop playing yourself small.
77. George Lucas on Blinders.
"You simply have to put one foot in front of the other and keep going. Put blinders on and plow right ahead." – George Lucas
It seems that all these motivational quotes talk about taking small steps to accomplish big goals. Sometimes, you get lost and give up. Put your blinders on, stop paying attention to distractions, and get to where you want to go.
78. Tony Robbins on Turning the Invisible into the Visible.
"Setting goals is the first step in turning the invisible into the visible." – Tony Robbins
You can see where you want to be in your mind. You can't quite figure out how to get there. Set your goals. Write them down. When you set concrete goals, you see exactly where you want to be. Then, you can get there.
79. John Dewey on the Next Goal.
"Arriving at one goal is the starting point to another." – John Dewey
Some of your goals are small. For example, your first goal should be, "Get Off My Ass." You can get that one checked off today. When you get to the end of that goal, it's the starting point for the next goal on your list.
80. Edison Knows a Better Way.
"There's a way to do it better – find it!" – Thomas Edison
Of course the guy that invented the lightbulb can find a better way. His message is true though. Just because we feel the task may be too daunting, doesn't mean it will be. Sometimes when you begin the work that must be done, you find a shortcut.
81. Aristotle on Quality.
"Quality is not an act, it is a habit." – Aristotle
When you get into the habit of not doing, it's pretty bad. The only way to replace the habit of not doing, is to replace it with the mindset of doing your best every single moment in every single opportunity. So, go ahead and pursue quality.
82. Elon Musk on Doing the Damn Thing.
"When something is important enough, you do it even if the odds are not in your favor." – Elon Musk
The chances are, the biggest reason you are dragging your feet is because the chips are stacked against you. Your future is more important than the difficulty of getting done. Think about where you will be in a month. In six months. In a year. Now do it.
83. Simone de Beauvoir on Changing Your Life.
"Change your life today. Don't gamble on the future, act now, without delay." – Simone de Beauvoir
Refusing to take action today is taking a chance that things will just happen to get better some other day. The circumstances will be more favorable another time. What if they aren't? What if this is the best they ever get? Will you regret letting this opportunity slip away?
84. William Blake on Soaring to New Heights.
"No bird soars too high if he soars with his own wings." – William Blake
You dream big. Some people say too big. But that's those people. That's their limitations. Don't let their limitations hold you back from what you can accomplish. Today is the day to take action.
85. Alfred A. Montapert on the Most Important Meal of the Day.
"Expect problems and eat them for breakfast." – Alfred A. Montapert
Problems will arise as you begin to make progress toward your goal. There will be days that feel like a plateau, physically, mentally, financially. Don't lose heart. Instead, take those setbacks and make them the very thing that fuels your desire to beat them.
86. Norman Ralph Augustine on Motivation.
"Motivation will almost always beat mere talent." – Norman Ralph Augustine
There might be someone out there who is more talented than you. Maybe they have more natural ability. Maybe they have more resources. The truth is, when you start working toward your goal, you'll be stronger because you had to overcome those limitations.
87. Florence Nightingale on Success.
"I attribute my success to this – I never gave or took any excuse." – Florence Nightingale
We already know that success doesn't accept excuses. It's completely true. When you give excuses, even to yourself, you're just hiding the fact that you've given up. When someone offers an excuse, they should be offering you an apology.
88. H. G. Wells on Falling Down.
"If you fell down yesterday, stand up today." – H. G. Wells
Last time you fell flat on your face and you promised yourself that would never happen again. Well, today's another day. Today's the day you stand up and push on. And if you fall again, go ahead and get up tomorrow and try again.
89. Thomas Paine on Tough Conflicts.
"The harder the conflict, the more glorious the triumph." – Thomas Paine
When you struggle, you grow. No great champion or successful person has ever been handed anything. When you cross the finish line of a marathon, you feel like you've really beaten the odds… and beaten yourself. It's the same in all conflict. Victory is sweeter when it hurts.
90. Herbert Simon on Pushing It to the Limits.
"One finds limits by pushing them." – Herbert Simon
The only way you know your breaking point is to reach your breaking point. If you have been complacent you have no idea what you could do. Push yourself as far as you can today and tomorrow you'll be able to go that much farther.
91. William James on Making a Difference.
"Act as if what you do makes a difference. It does." – William James
What you do makes a difference. Especially when you find your inner purpose or when you accomplish great things. You are part of a wonderful world that needs you as much as you need it. The more you do, the more you change.
92. Lucille Ball on Doing More.
"The more things you do, the more you can do." – Lucille Ball
As you push yourself beyond your personal limits, you'll realize that your personal limits expand. If you continue to push on you'll be putting forth a Herculean effort on a daily basis. You'll accomplish superhuman feats on a daily basis.
93. Orison Swett Marden on Finding a Way.
"A will finds a way." – Orison Swett Marden
When you really want it, you will make it happen. If you have been holding back, maybe you don't want it. Take the time to ask yourself what your goals are. Do you want to lose 10 pounds? Do you want to write a novel? Do you want to be your own boss? Then make it happen.
94. J. D. Salinger on Doing Something.
"How do you know you're going to do something, until you do it?" – J. D. Salinger
The only way to know what you can really do is to do it. You might find that you have more inside than you thought. You've been selling yourself short for a long time. So, stop making excuses and feeling sorry for yourself and get moving.
95. Ben Franklin on Well Done.
"Well done is better than well said." – Benjamin Franklin
When you put all those words and ideas into action, you'll start to accomplish things. No matter how small your accomplishments, they are accomplishments. No one ever said, "Wow, what a great phrase." People remember what you do, not what you say.
96. Henry Ford on Building a Reputation.
"You can't build a reputation on what you are going to do." – Henry Ford
People can listen to your ideas and have great conversations with you. No one ever writes books about the guy or girl that never did anything. You don't get a statue in your hometown for something you have locked in your mind.
97. Walter Elliot on Perseverance.
"Perseverance is not a long race; it is many short races one after the other." – Walter Elliot
Every marathon runner will tell you the same thing. You are trying to win each mile. A marathon is 26 miles. It's not a 26 mile venture it is 26 mile long treks. When you finish mile one, you start a new one. That goes on until you cross the finish line.
98. Emerson on Hitting the Mark.
"We aim above the mark to hit the mark." – Ralph Waldo Emerson
When you aim for exactly what you want, you will probably fall short. Instead, you should always aim to give just a little more effort, a little more than what you actually have to give. When you aim high, even if you fall short, you've done great.
99. Yvon Chouinard on Bullseyes.
"A bullseye is not the result of perfect aim. A bullseye happens when you do the entire process the right way." – Yvon Chouinard
In archery, you aim above the target. You also go through the entire process. Aiming is not what helps you hit the bullseye. Instead, you go through the same process over and over. When you nail the process, you nail the target.
100. Yvon Chouinard on Mountain Climbing.
"How you climb a mountain is more important than reaching the top." – Yvon Chouinard
It's not whether you when or lose, it's how you play the game. The same is true about climbing a moutain. If you get to the top, but you had to sell your soul, then what's the point. If you climb the mountain on your own through hard work and individual effort, but you don't reach the top, you have a lot to be proud of.
101. Yvon Chouinard on the Process of Climbing.
"If you focus on the process of climbing, you'll end up on the summit." – Yvon Chouinard
These quotes from Emerson and Chouinard are the ending point for a reason. This short series bring us to the summit of this list of motivational quotes. You persevered to the end and now you must feel that you have reached a figurative summit.
102. Robert H. Schuller Asks the Ultimate Question.
"What great thing would you attempt if you knew you could not fail?" – Robert H. Schuller
Now that you've arrived at the end of this list, what will you do to be great? Think about the great that's inside you and bring that to fruition. Do not let yourself sit and wait another day. Today is the first day of forever, and success is waiting for you to find it. Tag, you're it.
(Read this next: 24 Motivational Workout Quotes to Get Your Butt Moving)