Perhaps the most famous missionary in modern history, Mother Teresa helped thousands of poor people with dispensaries, clinics, orphanages, shelter, food and counseling. This year will see the late Mother Teresa canonized into sainthood by the Catholic Church, forever beautifying her name in remembrance of the good cause that she spread throughout her life.
1. Mother Teresa Comments on Judgement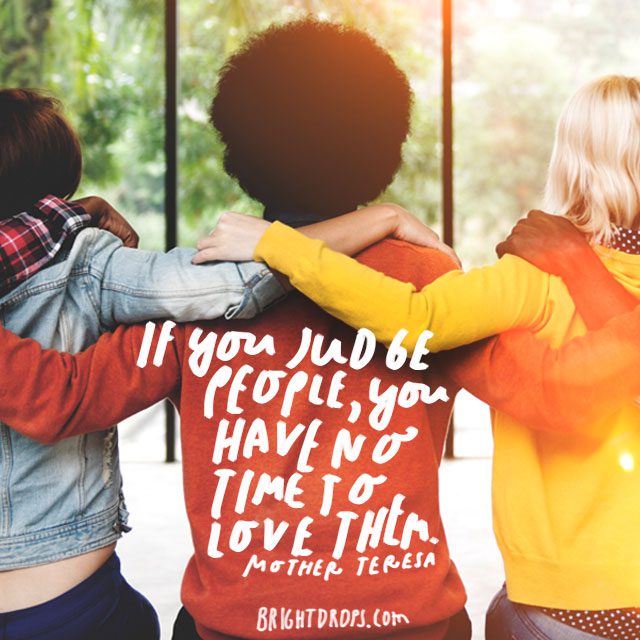 "If you judge people, you have no time to love them." – Mother Teresa
Many people are quick to judge others without truly knowing anything about them. Some of us can judge on instinct and first impressions, this hinders our ability to practice compassion and can keep us closed minded and wary of strangers. Sometimes it's best to give people a chance and listen before you judge.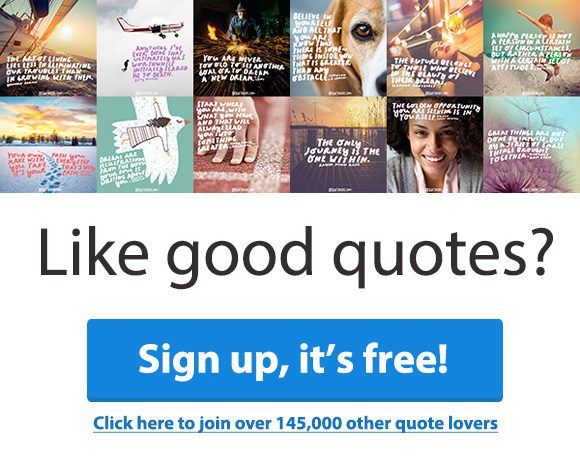 2. Mother Teresa Considers Love and Happiness
"There are no great things, only small things with great love. Happy are those." – Mother Teresa
If you think of the small gestures you have received and the love and passion behind them, it may make you want to better yourself and start to do more for others. Love and happiness are interconnected, and love and happiness can be brought about by the smallest of personal actions and gestures.
3. Mother Teresa Believes in the Unity of Humans as a Whole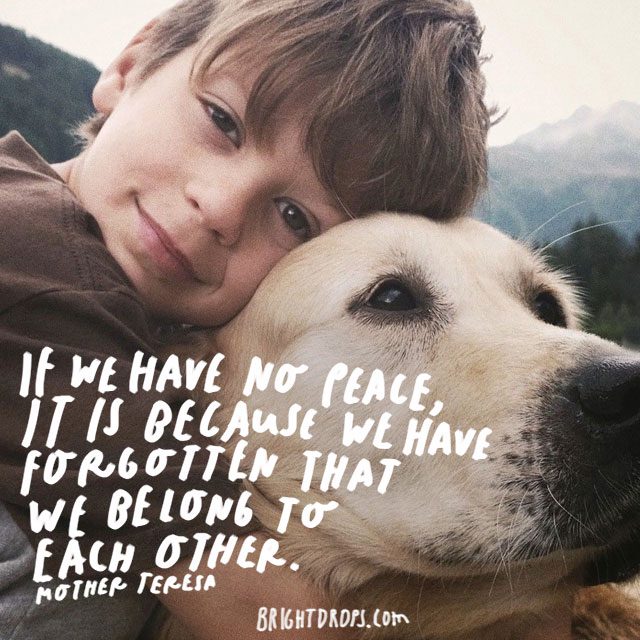 "If we have no peace, it is because we have forgotten that we belong to each other." – Mother Teresa
It's easy to get wrapped up in ourselves, thinking that we are the most important person in our world. While indeed, it's important to look after yourself, the idea that we humans all belong together in unity is incredibly powerful. Think of how beautiful the world would be if everybody worked together in harmony.
4. Mother Teresa Teaches us that Charity Starts in Small Doses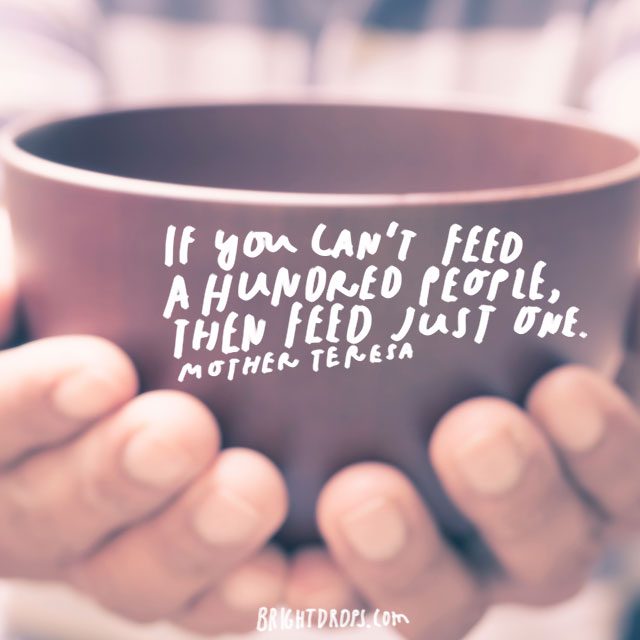 "If you can't feed a hundred people, then feed just one." – Mother Teresa
Mother Teresa fed thousands of starving people across her lifetime. She made it her life's mission to eradicate hunger and poverty in areas stricken with loss and grief. But indeed it's true, not all of us can afford to devote our lives to helping thousands of people, so why not help just one?
5. Mother Teresa Understood Humanities Strong Desire for Love
"The hunger for love is much more difficult to remove than the hunger for bread." – Mother Teresa
We all develop the desire to love and be loved as our lives progress. Love is one of the most powerful and indescribable feelings known to mankind. This quote is incredibly powerful as it reinforces the notion that all humans strive for love, from somebody who watched people in desperate need for her entire life.
6. Mother Teresa Knew how Important a Smile can be.
"Peace begins with a smile." – Mother Teresa
A smile costs nothing, think how pleasant it feels when a stranger smiles in the street, how it can lift up your spirits and improve your need. If we all smiled more, the world would definitely become a more peaceful and loving place.
7. Mother Teresa Appreciated Small Things in Life
"Be faithful in small things because it is in them that your strength lies." – Mother Teresa
Appreciating the small things in life is something that a lot of people forget to do. If we start to really notice the small things in life that we often take for granted, we will appreciate them more and feel more fulfilled throughout our day to day lives.
8. Mother Teresa Teaches us to Spread Love Wherever we go.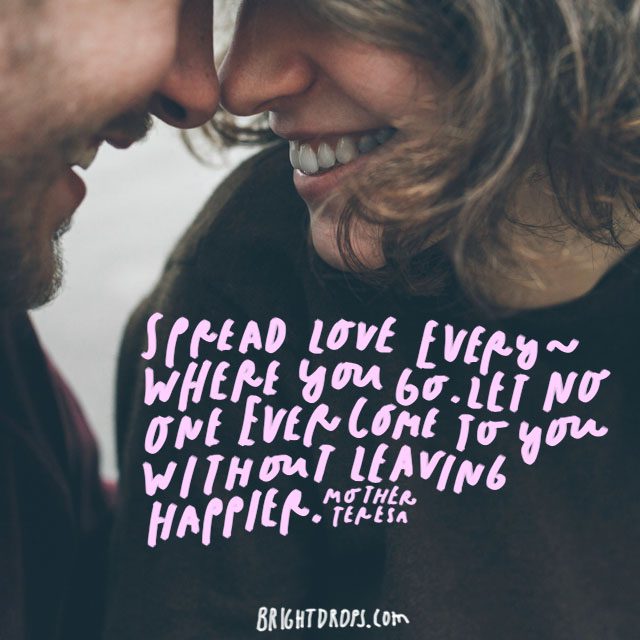 "Spread love everywhere you go. Let no one ever come to you without leaving happier." – Mother Teresa
If you aim to spread happiness wherever you go, you can't really go wrong in life. Think about the people that you know that seem to radiate good vibes and positivity, now consider the impact that you could have on others if you made more effort to spread positivity.
9. Mother Teresa Always had Kind Words to Say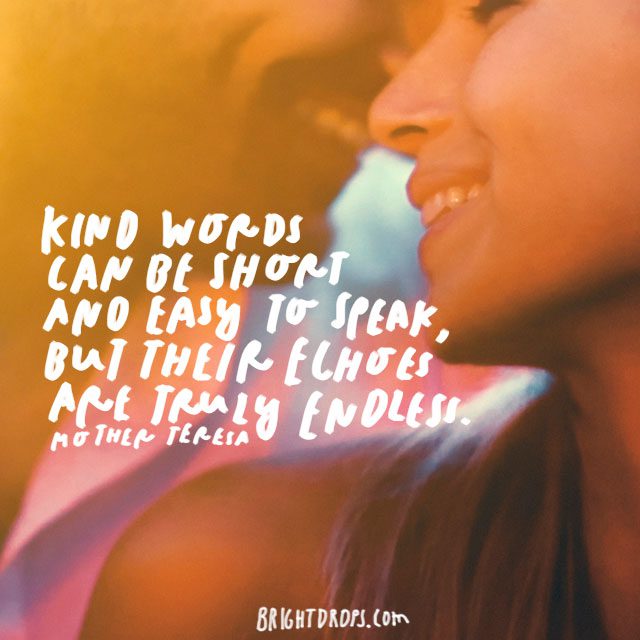 "Kind words can be short and easy to speak, but their echoes are truly endless." – Mother Teresa
Kind words can make a huge impact on somebody's overall happiness and well being. Indeed, it's very easy to pay a compliment to someone and get on with your day, but stopping to consider the true impact of kind words may make you use them more often as you pursue a happier existence.
10. Mother Teresa Eradicated Hurt by Using Love
"I have found the paradox that if I love until it hurts, then there is no hurt, but only more love." – Mother Teresa
Unconditioned love, like the love that we find from our parents can be a very soothing blanket as we progress through our lives. Imagine loving somebody so much that it hurt, then loving them more until all you could feel was love and no pain.. Very powerful thoughts!
11. Mother Teresa Believed in Intense Love
"Intense love does not measure, it just gives." – Mother Teresa
Boundless, limitless love is hard to measure. Sometimes people can love so intensely that they are constantly giving without wanting to receive anything in return. This type of love can be endlessly fulfilling and is achievable by anyone on Earth.
12. Mother Teresa Taught People how to Help
"Let us touch the dying, the poor, the lonely and the unwanted according to the graces we have received and let us not be ashamed or slow to do the humble work" – Mother Teresa
Mother Teresa never wanted anybody to feel alone or unwanted in their lives. She lived to spread love and courage throughout areas that were stricken with disease and poverty. This quote shows how passionate she was in her charitable duties.
13. Mother Teresa Thought Everybody Should be Somebody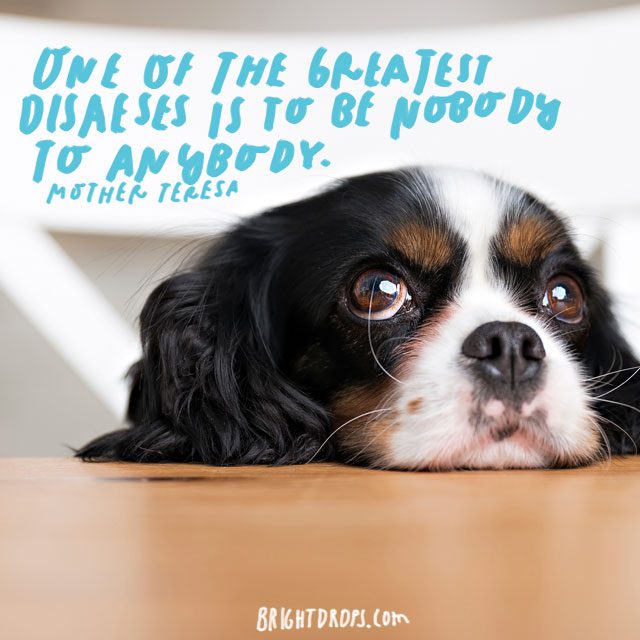 "One of the greatest diseases is to be nobody to anybody." – Mother Teresa
Everybody can be somebody loving, special and important to somebody else. Mother Teresa was so passionate about this that she described being nobody to anybody as an actual disease. It's a powerful quote and one that can inspire us to do more for others.
14. Mother Teresa Discusses Miracles
"Each one of them is Jesus in disguise." – Mother Teresa
Mother Teresa witnessed a lot of miracles as she worked across the world to help poverty stricken areas and poor people. She described miracles and acts of kindness as 'Jesus in Disguise', a powerful display of her strong catholic beliefs.
15. Mother Teresa Found Pleasure in Helping Others
"The miracle is not that we do this work, but that we are happy to do it." – Mother Teresa
The work that Mother Teresa and her missionaries did was well documented and praised throughout the world. One of the most beautiful things about her kindness was the fact that she found great pleasure in working her entire life to help others.
16. Mother Teresa Thought we should all help our Neighbors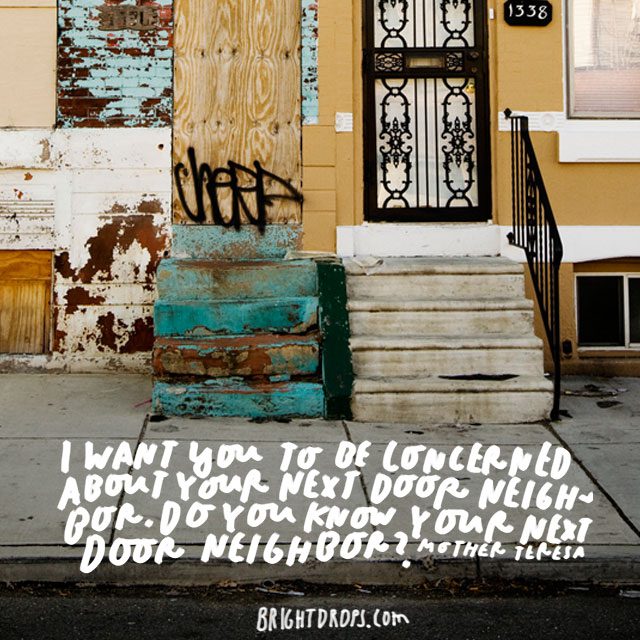 "I want you to be concerned about your next door neighbor. Do you know your next door neighbor?" – Mother Teresa
Do you know your neighbor? Think how much of a better place the world would be if we all had concerns and cared about our neighbors. Perhaps if we made more effort to reach out and get to know others, we would better ourselves and the world as a whole.
17. Mother Teresa Believes Everybody is Hungry for Love.
"Even the rich are hungry for love, for being cared for, for being wanted, for having someone to call their own." – Mother Teresa
Everybody want to feel loved by others, it's a natural feeling that comes with a balanced and happy life. People that are loved by many can often be more loving and happy, making the world a better place as a whole.
18. Mother Teresa Relishes Heaven after Life on Earth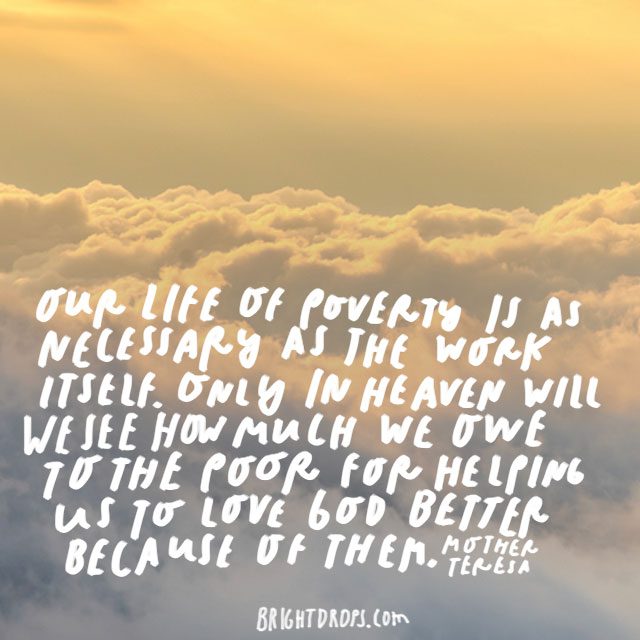 "Our life of poverty is as necessary as the work itself. Only in heaven will we see how much we owe to the poor for helping us to love God better because of them." – Mother Teresa
Mother Teresa was well known for her devotion to the Catholic Church and her faith in God. Here she explains her belief in the afterlife and heaven will make all of the poverty that she has experienced worthwhile after she passes away.
19. Mother Teresa was Strongly against Abortion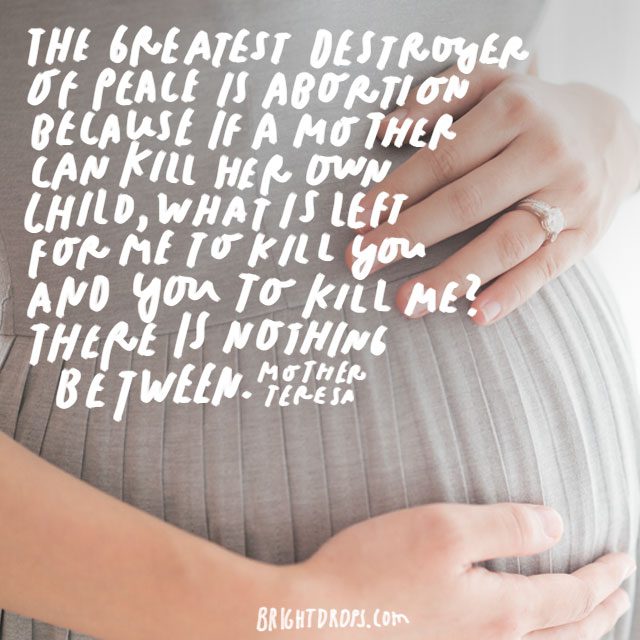 "The greatest destroyer of peace is abortion because if a mother can kill her own child, what is left for me to kill you and you to kill me? There is nothing between." – Mother Teresa
Mother Teresa was a strong campaigner for anti-abortion policies. This was due to her humanitarian work and her strong Catholic beliefs. She felt very strongly against the idea of a mother choosing to end the life of their own child before it is given a chance in the world.
20. Mother Teresa Cherished Feeling Wanted
"The biggest disease today is not leprosy or tuberculosis, but rather the feeling of being unwanted." – Mother Teresa
Loneliness is a terrible feeling, that's why Mother Teresa spent her entire life helping poor communities to work together. She worked incredibly hard to ensure that nobody was left feeling lonely, hungry, desperate or unwanted.
21. Mother Teresa Hugely Advocated Love
"Love is a fruit in season at all times, and within reach of every hand." – Mother Teresa
Love is indeed a wonderful feeling, one that is free to give and easy to receive. If we all gave a little more love, we would in turn all feel more loved. The world would run on love and would be a happier, healthier planet as a whole.
(Read this next: 107 Famous Quotes on Change)