Malala Yousafzai was just 15 when a Taliban gunman walked onto her school bus and shot her three times – once in the head – for the 'crime' of speaking out against the Taliban's ban on girls' and women's rights to education. She fled her home to a place of safety in 2009, but returned when it was deemed safe to do so, and in 2011 – the year before the attack – she was awarded The International Children's Peace Prize, a move that greatly angered the Taliban and its supporters.
Placed in a medically induced coma, Mala was airlifted to the UK where her recovery began, and instead of letting the shock and fear overcome her, she used the fact that she was now known worldwide to carry on her activism. Awarded the Nobel Peace Prize in 2014 (the youngest person ever to win this award), she has also spoken at the United Nations, and travelled to places like Jordan, Nigeria, and Kenya to continue her vital work..
Honest and thought-provoking, Malala Yousafzai quotes will fill you with a determination and courage to be the change you want to see. Showing that it is possible to not only overcome life's hurdles, but smash them entirely, her words can't fail to inspire you to speak up and be heard about the issues that are important to you.
Most Inspirational Malala Yousafzai Quotes
"Let us pick up our books and our pens, they are the most powerful weapons." – Malala Yousafzai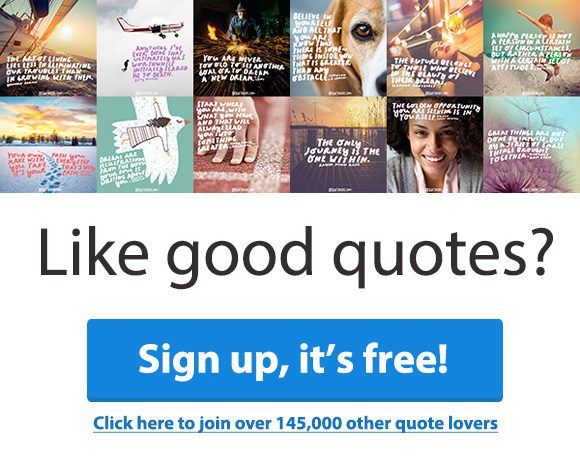 "The extremists are afraid of books and pens, the power of education frightens them. they are afraid of women." – Malala Yousafzai
"For my brothers, it was easy to think about the future. They can be anything they want. But for me it was hard and for that reason I wanted to become educated and empower myself with knowledge." – Malala Yousafzai
"Some people only ask others to do something. I believe that, why should I wait for someone else? Why don't I take a step and move forward." – Malala Yousafzai
"I don't want revenge on the Taliban, I want education for sons and daughters of the Taliban." – Malala Yousafzai
"Our men think earning money and ordering around others is where power lies. They don't think power is in the hands of the woman who takes care of everyone all day long, and gives birth to their children." – Malala Yousafzai
"Think life is always dangerous. Some people get afraid of it. Some people don't go forward. But some people, if they want to achieve their goal, they have to go. They have to move… We have seen the barbaric situation of the 21st century in Swat. So why should I be afraid now?" – Malala Yousafzai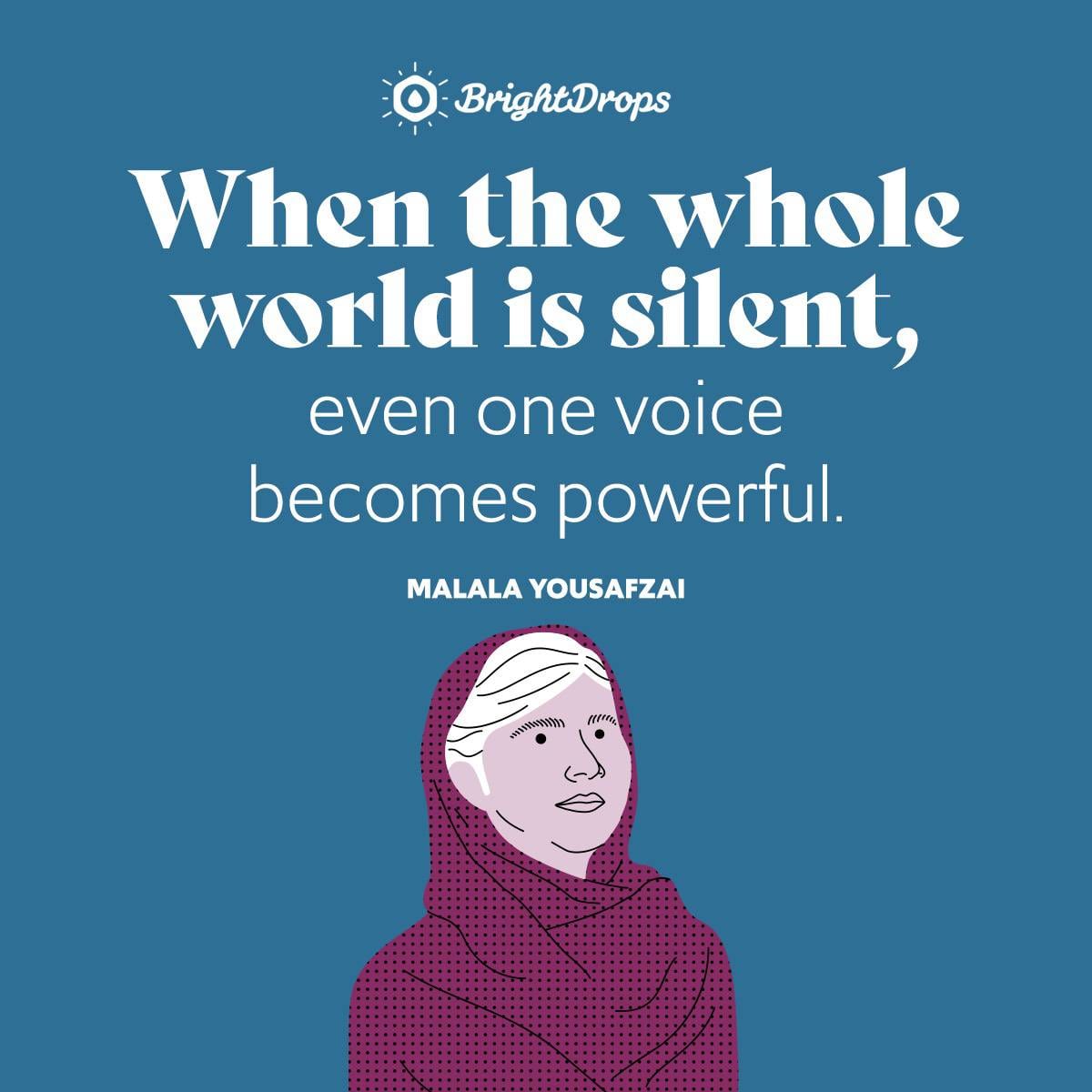 "When the whole world is silent, even one voice becomes powerful." – Malala Yousafzai
"What is interesting is the power and the impact of social media… So we must try to use social media in a good way." – Malala Yousafzai
"I don't want to be remembered as the girl who was shot. I want to be remembered as the girl who stood up." – Malala Yousafzai
"We realize the importance of our voices only when we are silenced." – Malala Yousafzai
"I believe it's a woman's right to decide what she wants to wear and if a woman can go to the beach and wear nothing, then why can't she also wear everything?" – Malala Yousafzai
"Some girls cannot go to school because of the child labor and child trafficking." – Malala Yousafzai
"All I want is an education, and I am afraid of no one." – Malala Yousafzai
"Let us make our future now, and let us make our dreams tomorrow's reality." – Malala Yousafzai
"If you hit a Talib with your shoe, then there would be no difference between you and the Talib. You must not treat others with cruelty and that much harshly, you must fight others but through peace and through dialogue and through education." – Malala Yousafzai
"With guns you can kill terrorists, with education you can kill terrorism." – Malala Yousafzai
"In countries other than Pakistan – I won't necessarily call them 'Western' – people support me. This is because people they respect others. They don't do this because I am a Pashtun or a Punjabi, a Pakistani, or an Iranian, they do it because of one's words and character. This is why I am being respected and supported there." – Malala Yousafzai
"Dear sisters and brothers, we realize the importance of light when we see darkness." – Malala Yousafzai
"There should be no discrimination against languages people speak, skin color, or religion." – Malala Yousafzai
"Let us remember: One book, one pen, one child, and one teacher can change the world." – Malala Yousafzai
"The best way to solve problems and to fight against war is through dialogue." – Malala Yousafzai
"I don't know why people have divided the whole world into two groups, west and east. Education is neither eastern nor western. Education is education and it's the right of every human being." – Malala Yousafzai
"I say I am stronger than fear." – Malala Yousafzai
"The terrorists thought they would change my aims and stop my ambitions, but nothing changed in my life except this: weakness, fear and hopelessness died. Strength, power and courage were born." – Malala Yousafzai
"If one man can destroy everything, why can't one girl change it?" – Malala Yousafzai
"There are many problems, but I think there is a solution to all these problems; it's just one, and it's education." – Malala Yousafzai
"And also I didn't want my future to be just sitting in a room and be imprisoned in my four walls and just cooking and giving birth to children. I didn't want to see my life in that way." – Malala Yousafzai
"I will get my education – if it is in home, school, or anyplace." – Malala Yousafzai
"We were scared, but our fear was not as strong as our courage." – Malala Yousafzai
"In some parts of the world, students are going to school every day. It's their normal life. But in other part of the world, we are starving for education… it's like a precious gift. It's like a diamond." – Malala Yousafzai
"I raise up my voice not so I can shout but so that those without a voice can be heard, we cannot succeed when half of us are held back." – Malala Yousafzai