Credited with the formation of both Yosemite National Park and Sequoia National Park, John Muir was a Scottish-born American writer and forest conservation advocate. When a work-related accident nearly blinded him, he gave up his career in mechanical inventions and embarked on a trek from the Midwest to the Gulf of Mexico; a walk that he documented in his 'A Thousand Mile Walk to the Gulf'.
Way ahead of his time, he founded The Sierra Club, which was devoted to protecting the environment and which held him as their president until he died in 1914. In fact, it was Muir's influence and tireless work that allows visitors today to enjoy the natural beauty and tranquility of the National Parks, without the influence and disruption of industrial intervention.
John Muir quotes clearly illustrate his deep love of the natural world and of the universe, and his disdain for the destruction of nature at the hands of humans. If you have lost sight of the simple joy and beauty of nature and what it can offer us, immerse yourself in his words to rediscover a passion for this wonderful world we live in.
John Muir Quotes on the Beauty of Nature
"To the lover of wilderness, Alaska is one of the most wonderful countries in the world." – John Muir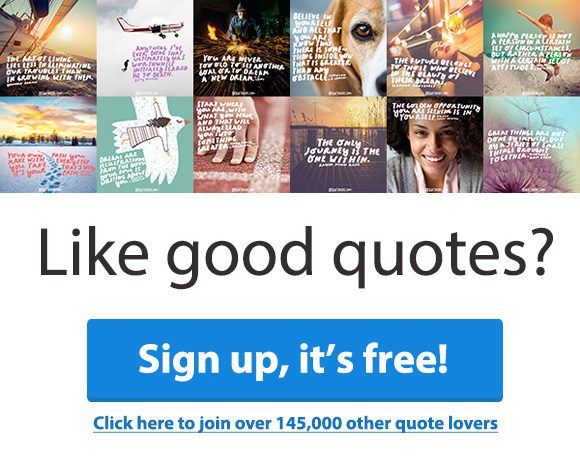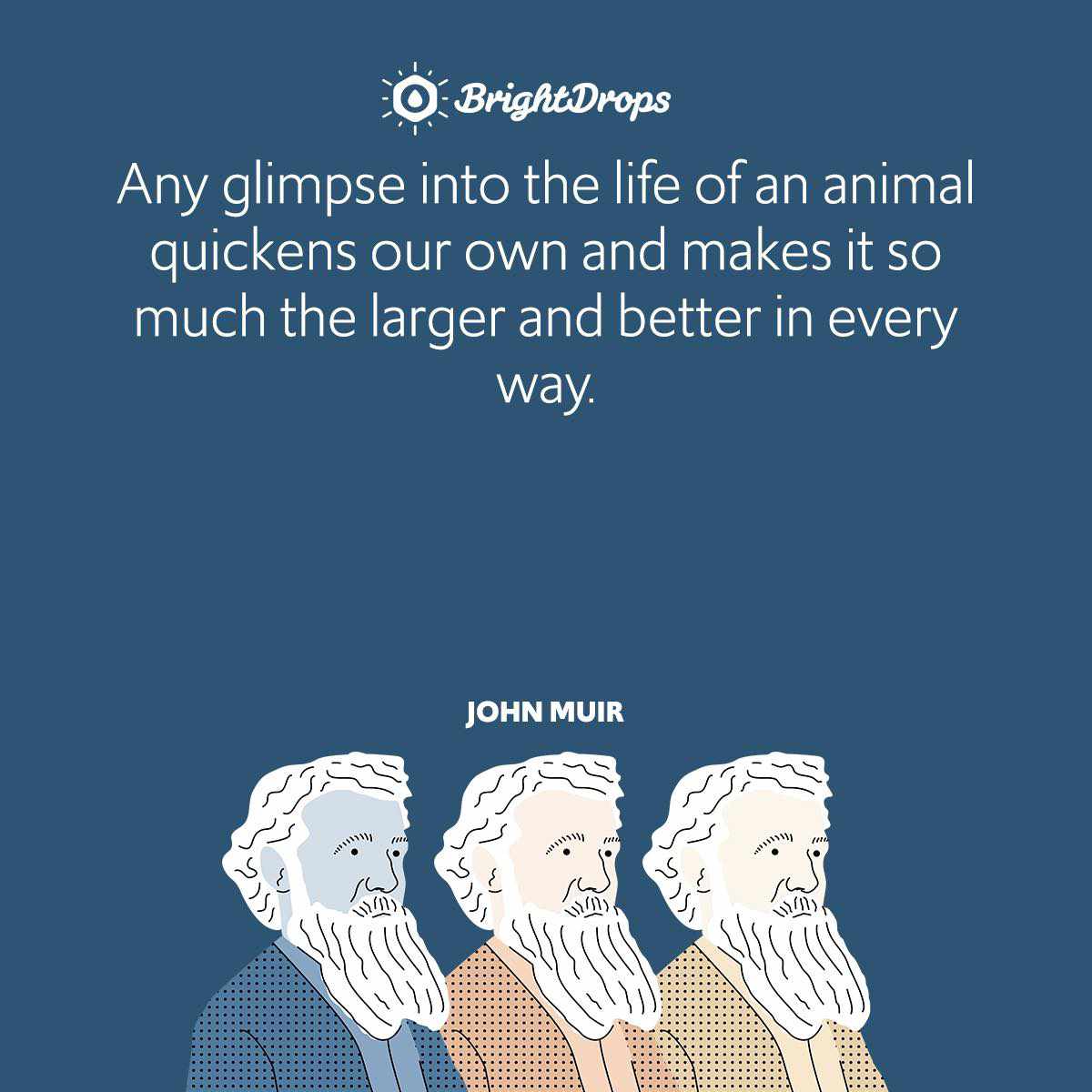 "Any glimpse into the life of an animal quickens our own and makes it so much the larger and better in every way." – John Muir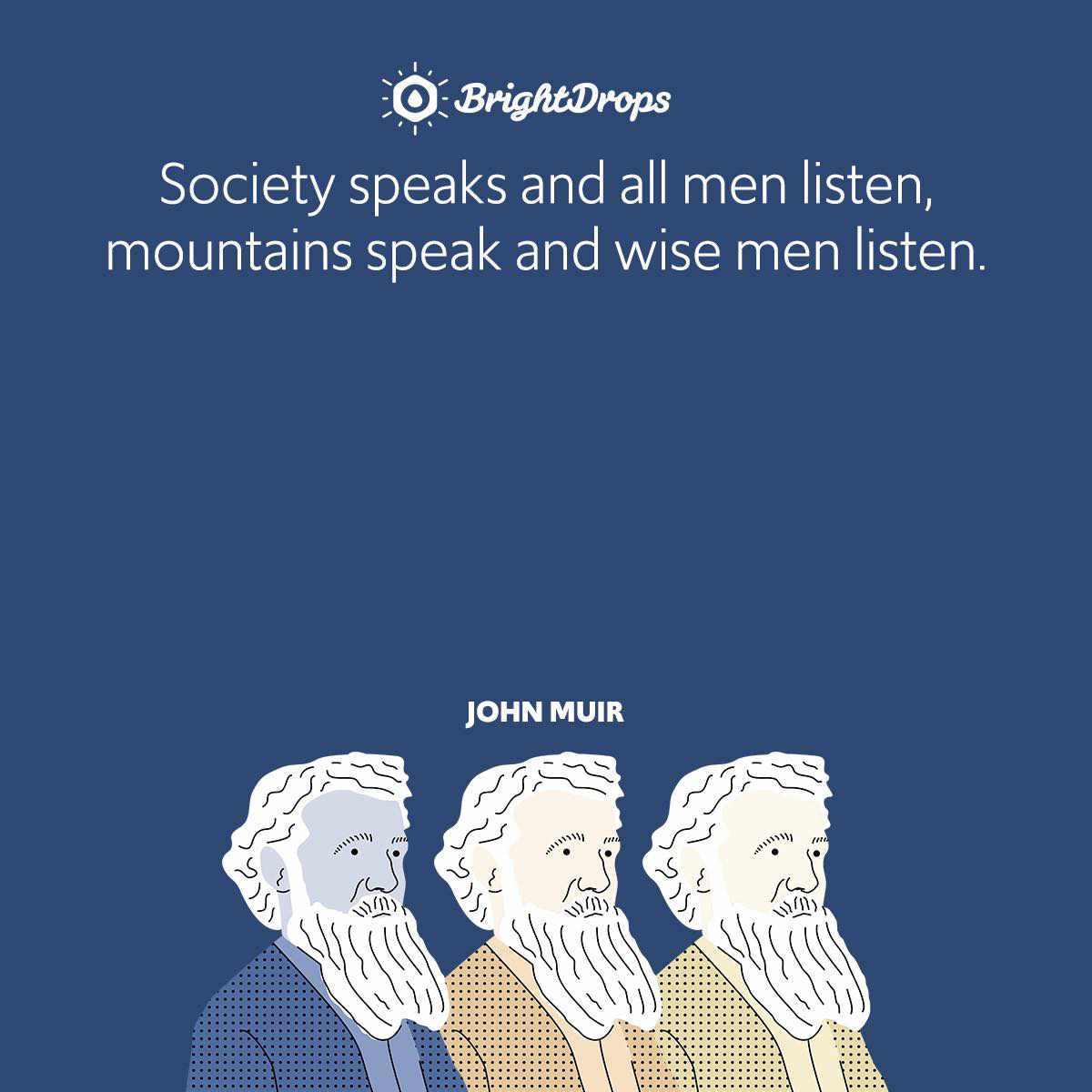 "Society speaks and all men listen, mountains speak and wise men listen." – John Muir
"Every hidden cell is throbbing with music and life, every fiber thrilling like harp strings." – John Muir
"Between every two pine trees there is a door leading to a new way of life." – John Muir
"But no punishment, however sure and severe, was of any avail against the attraction of the fields and woods. It had other uses, developing memory, etc., but in keeping us at home it was of no use at all." – John Muir
"When we tug at a single thing in nature, we find it attached to the rest of the world." – John Muir
"Like most other things not apparently useful to man, it has few friends, and the blind question, Why was it made? goes on and on with never a guess that first of all it might have been made for itself." – John Muir
"Oh, these vast, calm, measureless mountain days, days in whose light everything seems equally divine, opening a thousand windows to show us God." – John Muir
"None of Nature's landscapes are ugly so long as they are wild." – John Muir
"The morning stars still sing together, and the world, not yet half made, becomes more beautiful every day." – John Muir
"There is a love of wild Nature in everybody, an ancient mother-love ever showing itself whether recognized or no, and however covered by cares and duties." – John Muir
"Then, after a long fireside rest and a glance at my notebook, I cut a few leafy branches for a bed, and fell into the clear, death-like sleep of the tired mountaineer." – John Muir
"Here are the roots of all the life of the valleys, and here more simply than elsewhere is the eternal flux of nature manifested." – John Muir
"Few are altogether deaf to the preaching of pine trees. Their sermons on the mountains go to our hearts . . ." – John Muir
"Everybody needs beauty as well as bread, places to play in and pray in, where nature may heal and give strength to body and soul." – John Muir
"When California was wild, it was the floweriest part of the continent." – John Muir
"Rivers flow not past, but through us; tingling, vibrating, exciting every cell and fiber in our bodies, making them sing and glide." – John Muir
"Only by going alone in silence, without baggage, can one truly get into the heart of the wilderness. All other travel is mere dust and hotels and baggage and chatter." – John Muir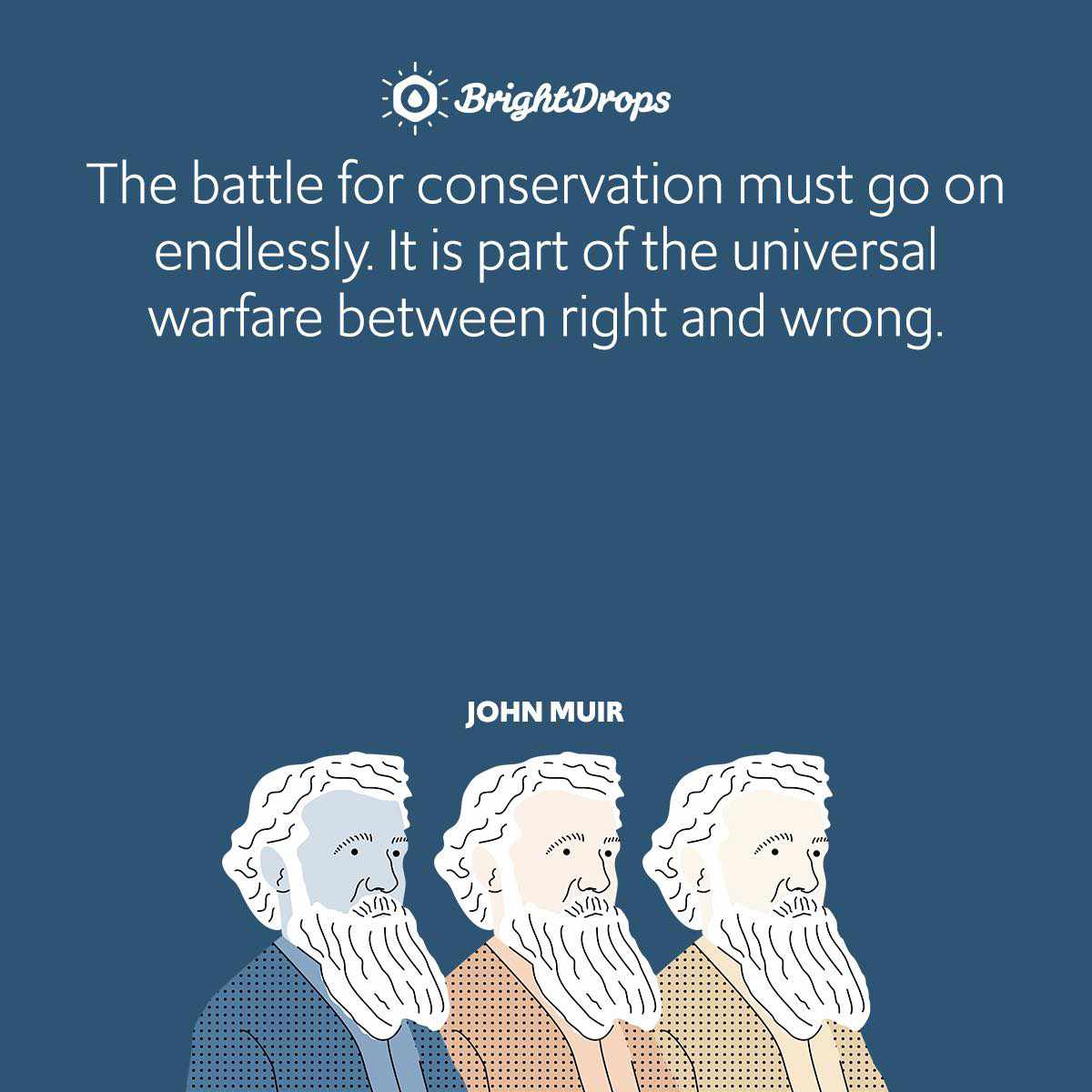 "The battle for conservation must go on endlessly. It is part of the universal warfare between right and wrong." – John Muir
"The clearest way into the universe is through a forest wilderness." – John Muir
"I am losing precious days. I am degenerating into a machine for making money. I am learning nothing in this trivial world of men. I must break away and get out into the mountains to learn the news." – John Muir
"One can make a day of any size and regulate the rising and setting of his own sun and the brightness of its shining." – John Muir
"Nothing more celestial can I conceive. How gently the winds blow! Scarce can these tranquil air-currents be called winds. They seem the very breath of Nature, whispering peace to every living thing." – John Muir
"One of the best ways to see tree flowers is to climb one of the tallest trees and to get into close, tingling touch with them, and then look broad." – John Muir
"I ran home in the moonlight with firm strides; for the sun-love made me strong." – John Muir
"Keep close to Nature's heart, and break clear away, once in awhile, and climb a mountain or spend a week in the woods. Wash your spirit clean." – John Muir
"Spring work is going on with joyful enthusiasm." – John Muir
"No synonym for God is so perfect as Beauty. Whether as seen carving the lines of the mountains with glaciers, or gathering matter into stars, or planning the movements of water, or gardening – still all is Beauty!" – John Muir
"Going to the mountains is going home." – John Muir
"In our best times everything turns into religion, all the world seems a church and the mountains altars." – John Muir
"I am well again, I came to life in the cool winds and crystal waters of the mountains." – John Muir
"But the darkest scriptures of the mountains are illumined with bright passages of love that never fail to make themselves felt when one is alone." – John Muir
"Every natural object is a conductor of divinity and only by coming into contact with them, may we be filled with the Holy Ghost." – John Muir
"We are now in the mountains and they are in us, kindling enthusiasm, making every nerve quiver, filling every pore and cell of us." – John Muir
"Climb the mountains and get their good tidings." – John Muir
"The rivers flow not past, but through us, thrilling, tingling, vibrating every fiber and cell of the substance of our bodies, making them glide and sing." – John Muir
"One should go to the woods for safety, if for nothing else." – John Muir
"Handle a book as a bee does a flower, extract its sweetness but do not damage it." – John Muir
"When we try to pick out anything by itself we find that it is bound fast by a thousand invisible cords that cannot be broken, to everything in the universe." – John Muir
"The body seems to feel beauty when exposed to it as it feels the campfire or sunshine, entering not by the eyes alone, but equally through all one's flesh like radiant heat, making a passionate ecstatic pleasure glow not explainable." – John Muir
"We all travel the Milky Way together, trees and men." – John Muir
"Walk away quietly in any direction and taste the freedom of the mountaineer." – John Muir
"I bade adieu to mechanical inventions, determined to devote the rest of my life to the study of the inventions of God." – John Muir
"In all my wild mountaineering, I have enjoyed only one avalanche ride; and the start was so sudden, and the end came so soon, I thought but little of the danger that goes with this sort of travel, though one thinks fast at such times." – John Muir
"I have never yet happened upon a trace of evidence that seemed to show that any one animal was ever made for another as much as it was made for itself." – John Muir
"Any fool can destroy trees. They cannot run away." – John Muir
"Come to the woods, for here is rest. There is no repose like that of the green deep woods. Sleep in forgetfulness of all ill." – John Muir
"I ran home in the moonlight with long, firm strides; for the sun-love made me strong." – John Muir
"I only went out for a walk, and finally concluded to stay out till sundown, for going out, I found, was really going in." – John Muir
"The mountains are calling and I must go." – John Muir
"I never saw a discontented tree." – John Muir
"Nothing dollarable is safe." – John Muir
"When one tugs at a single thing in nature, he finds it attached to the rest of the world." – John Muir
"The power of imagination makes us infinite." – John Muir
"In every walk with nature one receives far more than he seeks." – John Muir
"One must labor for beauty as for bread." – John Muir
"This grand show is eternal. It is always sunrise somewhere; the dew is never all dried at once; a shower is forever falling; vapor ever rising." – John Muir
"Life seems neither long nor short, and we take no more heed to save time or make haste than do the trees and stars. This is true freedom, a good practical sort of immortality." – John Muir
"Most people are on the world, not in it." – John Muir
"Who wouldn't be a mountaineer! Up here all the world's prizes seem nothing" – John Muir
"Earth has no sorrow that earth can not heal." – John Muir
"Raindrops blossom brilliantly in the rainbow, and change to flowers in the sod, but snow comes in full flower direct from the dark, frozen sky." – John Muir
"Not blind opposition to progress, but opposition to blind progress," – John Muir
"Beauty beyond thought everywhere, beneath, above, made and being made forever." – John Muir
"Sleep in forgetfulness of all ill. Of all the upness accessible to mortals, there is no upness comparable to the mountains." – John Muir
"Wilderness is a necessity, there must be places for human beings to satisfy their souls," – John Muir
"Yosemite Park is a place of rest, None can escape its charms. Its natural beauty cleans and warms like a fire, and you will be willing to stay forever in one place like a tree." – John Muir
"Yet through all this stress the forest is maintained in marvelous beauty." – John Muir
"It is easier to feel than to realize, or in any way explain, Yosemite grandeur. The magnitudes of the rocks and trees and streams are so delicately harmonized, they are mostly hidden." – John Muir
"You may be a little cold some nights on mountain tops above the timber-line, but you will see the stars, and by and by you can sleep enough in your town bed. or at least in your grave. Keep awake while you may in mountain mansions so rare." – John Muir
"How terribly downright must be the utterances of storms and earthquakes to those accustomed to the soft hypocrisies of society." – John Muir
"One touch of nature makes the whole world kin." – John Muir
"Take a course in good water and air; and in the eternal youth of Nature you may renew your own. Go quietly, alone; no harm will befall you." – John Muir
"the lake a perfect mirror reflecting the sky and mountains with their stars and trees and wonderful sculpture, all their grandeur refined and doubled,—a marvelously impressive picture, that seemed to belong more to heaven than earth." – John Muir
"One day's exposure to mountains is better than a cartload of books." – John Muir
"Look up and down and round about you.!" – John Muir
"We thought nothing of running right ahead ten or a dozen miles before turning back; for we knew nothing about taking time by the sun, and none of us had a watch in those days." – John Muir
"The world is big and I want to have a good look at it before it gets dark." – John Muir
"Nature is ever at work building and pulling down, creating and destroying, keeping everything whirling and flowing, allowing no rest but in rhythmical motion, chasing everything in endless song out of one beautiful form into another." – John Muir
"Rocks and waters, etc., are words of God, and so are men. We all flow from one fountain Soul. All are expressions of one Love." – John Muir
"Another glorious day, the air as delicious to the lungs as nectar to the tongue; indeed the body seems one palate, and tingles equally throughout." – John Muir
"Nothing truly wild is unclean." – John Muir
"God never made an ugly landscape. All that sun shines on is beautiful, so long as it is wild." – John Muir
"The sun shines not on us but in us." – John Muir
"Most people who travel look only at what they are directed to look at. Great is the power of the guidebook maker, however ignorant." – John Muir
"I care to live only to entice people to look at Nature's loveliness. Heaven knows that John the Baptist was not more eager to get all his fellow sinners into the Jordan than I to baptize all of mine in the beauty of God's mountains." – John Muir
"I am learning to live close to the lives of my friends without ever seeing them. No miles of any measurement can separate your soul from mine." – John Muir
"When we try to pick out anything by itself, we find it hitched to everything else in the Universe." – John Muir
"Yet how hard most people work for mere dust and ashes and care, taking no thought of growing in knowledge and grace, never having time to get in sight of their own ignorance." – John Muir
"There is nothing more eloquent in Nature than a mountain stream." – John Muir
"I only went out for a walk and finally concluded to stay out till sundown, for going out, I found, was really going in." – John Muir
"Fortunately wrong cannot last. Soon or late it must fall back home to Hades, while some compensating good must surely follow." – John Muir
"At the touch of this divine light, the mountains seemed to kindle to a rapt, religious consciousness, and stood hushed like devout worshippers waiting to be blessed." – John Muir
"Here I could stay tethered forever with just bread and water, nor would I be lonely; loved friends and neighbors, as love for everything increased, would seem all the nearer however many the miles and mountains between us." – John Muir
"There is not a fragment in all nature, for every relative fragment of one thing is a full harmonious unit in itself." – John Muir
"So far from complete at times is sympathy between parents and children, and so much like wild beasts are baby boys, little fighting, biting, climbing pagans." – John Muir
"Wherever we go in the mountains, or indeed in any of God's wild fields, we find more than we seek." – John Muir
"How glorious a greeting the sun gives the mountains!" – John Muir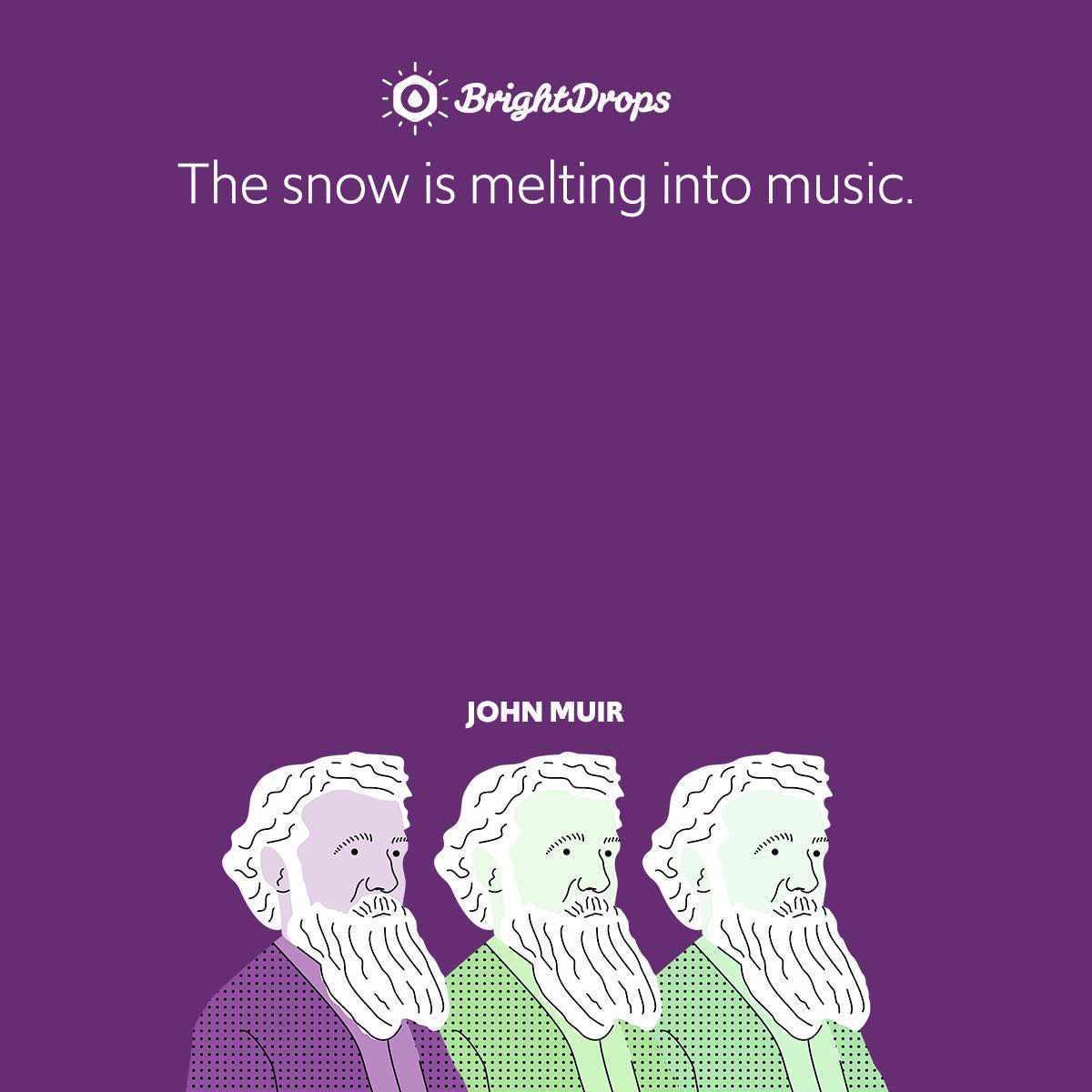 "The snow is melting into music." – John Muir
"What a psalm the storm was singing, and how fresh the smell of the washed earth and leaves, and how sweet the still small voices of the storm!" – John Muir
"It seems supernatural, but only because it is not understood." – John Muir
"All the world was before me and every day was a holiday, so it did not seem important to which one of the world's wildernesses I first should wander." – John Muir
"Wherever there were glaciers, the world was in a constant state of creation." – John Muir
"How narrow we selfish conceited creatures are in our sympathies! How blind to the rights of all the rest of creation!" – John Muir
"God has cared for these trees, saved them from drought, disease, avalanches, and a thousand tempests and floods. But he cannot save them from fool" – John Muir
"And into the woods I go, to lose my mind and find my soul." – John Muir
"The deeper the solitude the less the sense of loneliness, and the nearer our friends." – John Muir
"Come to the woods, for here is rest. There is no repose like that of the green deep woods." – John Muir
"The care-laden commercial lives we lead close our eyes to the operations of God as a workman, though openly carried on that all who will look may see." – John Muir
"I care to live only to entice people to look at Nature's loveliness." – John Muir