If you are looking for inspiration with a literary nod, these Jane Austen quotes will steer you in the direction of the joys of maintaining your individuality, the importance of friends, and the absolute necessity of marrying for nothing else but love.
It's true that Jane Austen died more than 200 years ago, but what she wrote about in the six novels which she's known for could be applied to today's society – dysfunctional families, life, love, and all the problems that come with it. Just 41 when she died from what was possibly Addison's disease, even as she battled the disease which ultimately killed her, Jane wrote diligently, but had to abandon a novel – 'Sanditon' – when her health rapidly declined.
A feminist before her time, Jane's novels tackled issues such as marriage and whether women should even enter into it, as well as the financial dependence that goes hand in hand. Indeed, having accepted the proposal from one Harris Wither – a wealthy man six years her junior – she called off the engagement the very next day, knowing that she accepted for the financial stability and not for love.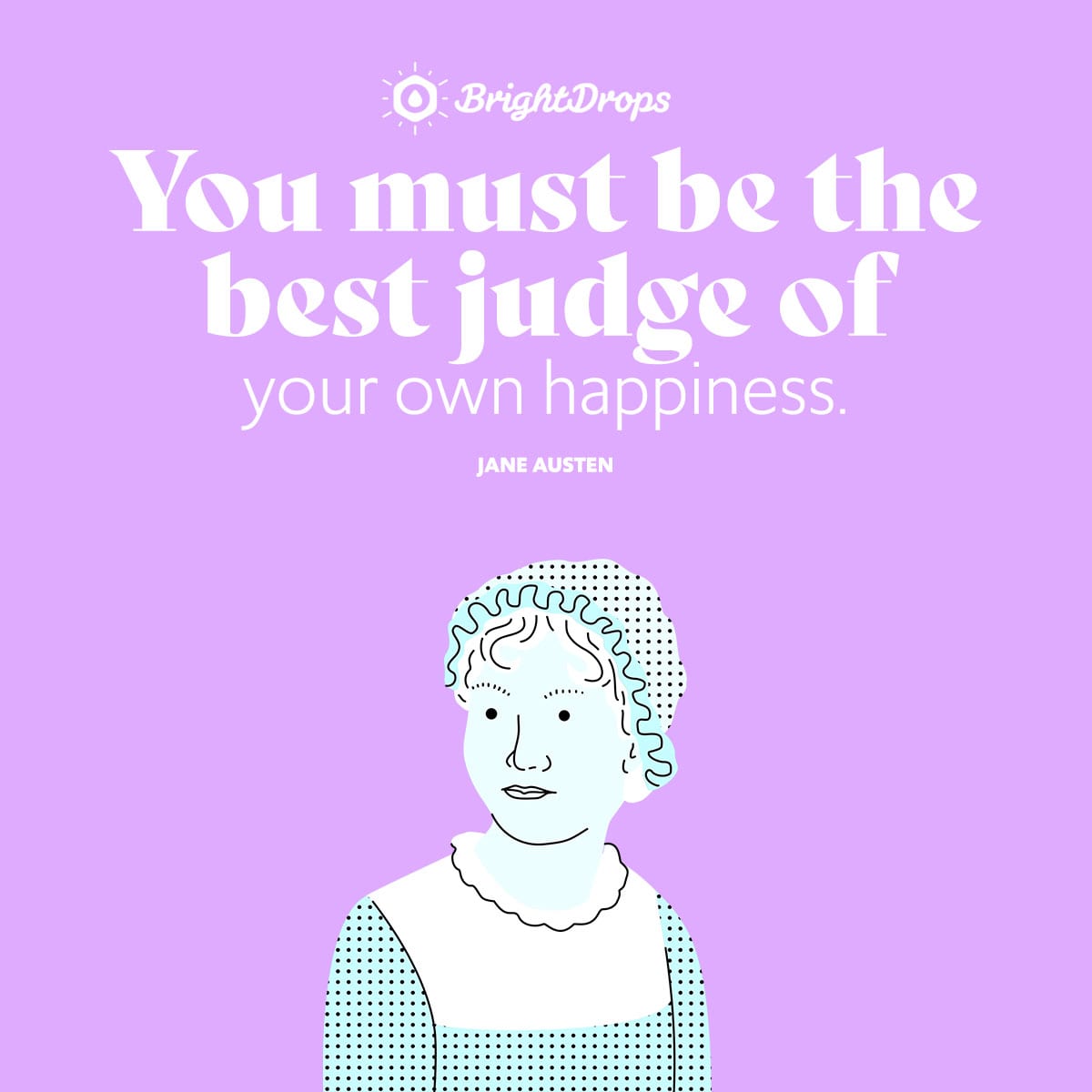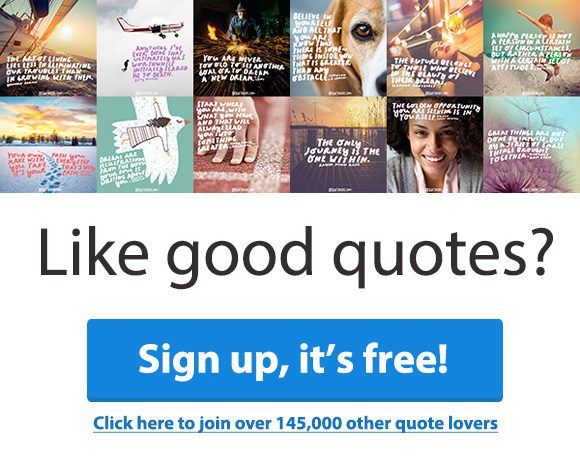 "You must be the best judge of your own happiness." – Jane Austen
"I lay it down as a general rule, Harriet, that if a woman doubts as to whether she should accept a man or not, she certainly ought to refuse him." – Jane Austen
"The person, be it gentleman or lady, who has not pleasure in a good novel, must be intolerably stupid." – Jane Austen
"A person, who can write a long letter with ease, cannot write ill." – Jane Austen
"If I loved you less, I might be able to talk about it more." – Jane Austen
"A large income is the best recipe for happiness I ever heard of." – Jane Austen
"Friendship is certainly the finest balm for the pangs of disappointed love." – Jane Austen
"There is a stubbornness about me that never can bear to be frightened at the will of others. My courage always rises at every attempt to intimidate me." – Jane Austen
"There is no charm equal to tenderness of heart." – Jane Austen
"Know your own happiness. Want for nothing but patience – or give it a more fascinating name: Call it hope." – Jane Austen
"To you I shall say, as I have often said before, do not be in a hurry, the right man will come at last." – Jane Austen
"I must learn to be content with being happier than I deserve." – Jane Austen
"My idea of good company is the company of clever, well-informed people who have a great deal of conversation; that is what I call good company." – Jane Austen
"There are as many forms of love as there are moments in time." – Jane Austen
"What are men to rocks and mountains?" – Jane Austen
"None of us want to be in calm waters all our lives." – Jane Austen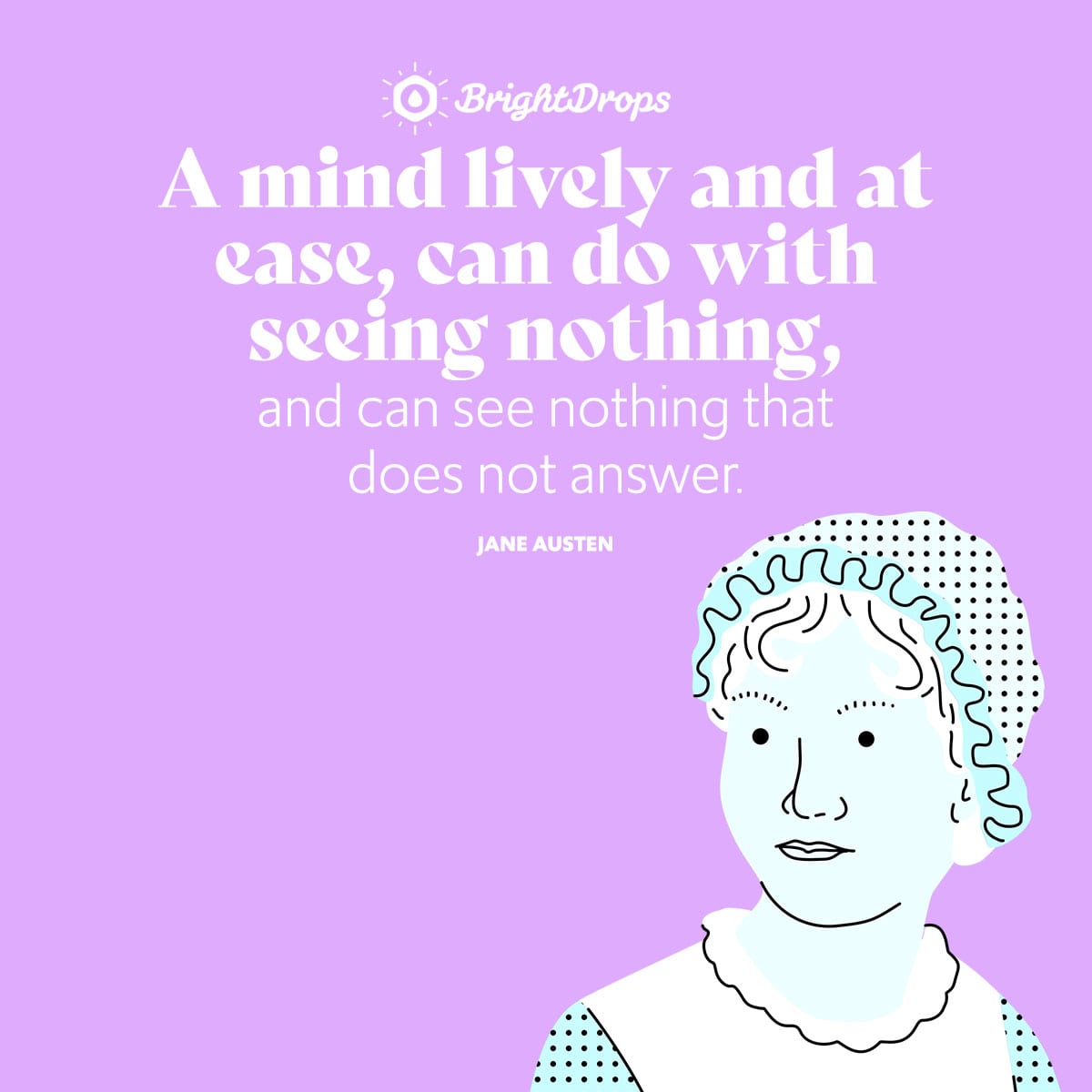 "A mind lively and at ease, can do with seeing nothing, and can see nothing that does not answer." – Jane Austen
"I do not want people to be very agreeable, as it saves me the trouble of liking them a great deal." – Jane Austen
"Oh! Do not attack me with your watch. A watch is always too fast or too slow. I cannot be dictated to by a watch." – Jane Austen
"I hate to hear you talk about all women as if they were fine ladies instead of rational creatures." – Jane Austen
"Her heart did whisper that he had done it for her." – Jane Austen
"There is no charm equal to tenderness of heart." – Jane Austen
"To be fond of dancing was a certain step towards falling in love." – Jane Austen
"The more I know of the world, the more I am convinced that I shall never see a man whom I can really love. I require so much!" – Jane Austen
"We have all a better guide in ourselves, if we would attend to it, than any other person can be." – Jane Austen
"I always deserve the best treatment because I never put up with any other." – Jane Austen
"Selfishness must always be forgiven you know, because there is no hope of a cure." – Jane Austen
"Nobody minds having what is too good for them." – Jane Austen
"The very first moment I beheld him, my heart was irrevocably gone." – Jane Austen
"I may have lost my heart, but not my self-control." – Jane Austen
"There is nothing I would not do for those who are really my friends. I have no notion of loving people by halves, it is not my nature." – Jane Austen
"Surprises are foolish things. The pleasure is not enhanced, and the inconvenience is often considerable." – Jane Austen
"Think only of the past as its remembrance gives you pleasure." – Jane Austen
"But for my own part, if a book is well written, I always find it too short." – Jane Austen
"I cannot fix on the hour, or the spot, or the look or the words, which laid the foundation. It is too long ago. I was in the middle before I knew that I had begun." – Jane Austen
"I declare after all there is no enjoyment like reading! How much sooner one tires of any thing than of a book! — When I have a house of my own, I shall be miserable if I have not an excellent library." – Jane Austen
"Angry people are not always wise." – Jane Austen
"You pierce my soul. I am half agony, half hope. I have loved none but you." – Jane Austen
"I have been used to consider poetry as the food of love." – Jane Austen
"I shall be miserable if I have not an excellent library." – Jane Austen
"Vanity and pride are different things, though the words are often used synonymously. A person may be proud without being vain. Pride relates more to our opinion of ourselves; vanity, to what we would have others think of us." – Jane Austen
"It is very often nothing but our own vanity that deceives us." – Jane Austen
"Then I examined my own heart. And there you were. Never, I fear, to be removed." – Jane Austen
"It is a truth universally acknowledged, that a single man in possession of a good fortune, must be in want of a wife." – Jane Austen
"One man's ways may be as good as another's, but we all like our own best." – Jane Austen
"I wish, as well as everybody else, to be perfectly happy; but, like everybody else, it must be in my own way." – Jane Austen
"I could easily forgive his pride, if he had not mortified mine." – Jane Austen