There are lots of good quotes out there, but we picked several that we thought were the finest inspirational quotes all kids should hear. Some of the best advice given through the ages is actually the simplest that kids can grasp and hopefully become just a bit wiser by knowing.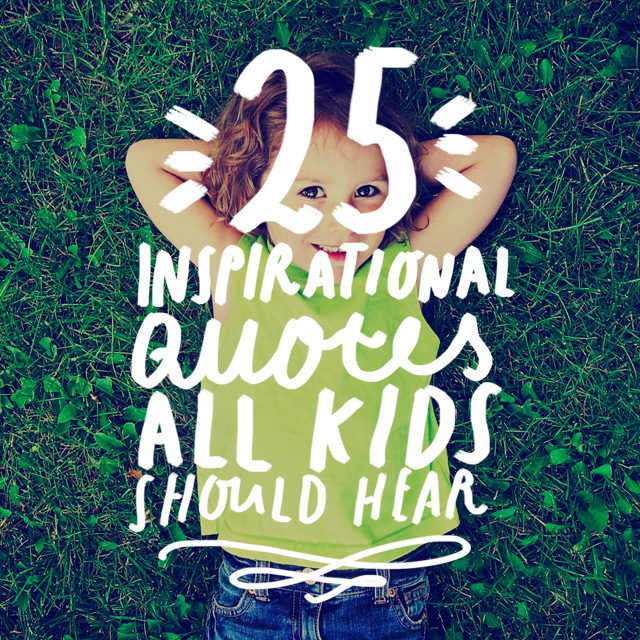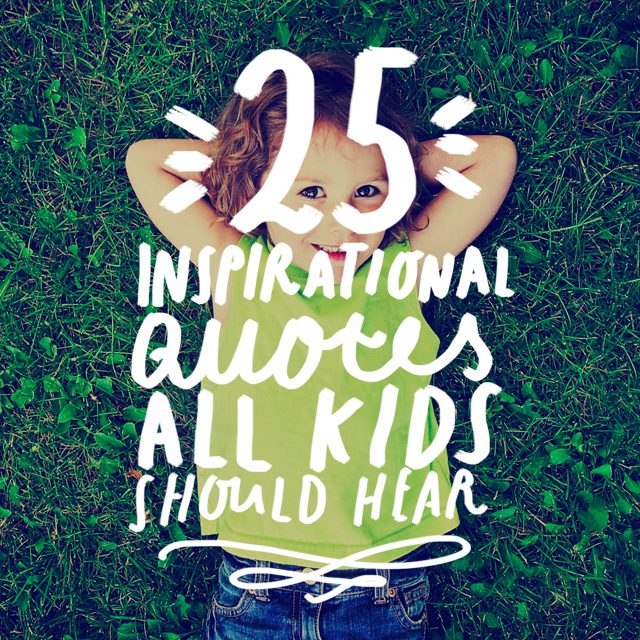 1. Natalie Portman on the Beauty of Learning.
"I don't love studying. I hate studying. I like learning. Learning is beautiful." – Natalie Portman
Miss Portman loves being a student. How many of you don't like studying, or get tired of it from time to time? If you can look at learning as a beautiful thing that you are privileged to get, then you might enjoy your education more.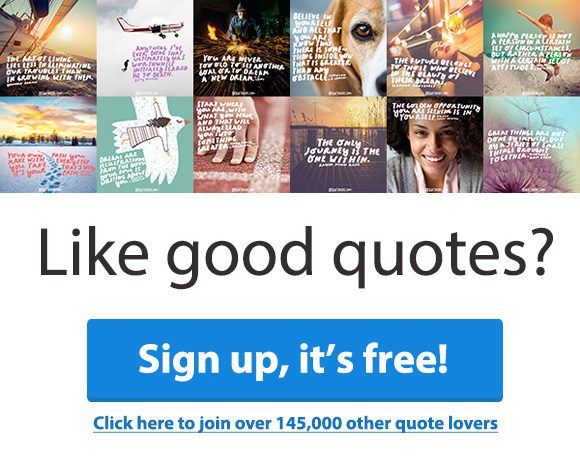 2. Roald Dahl Says Your Smile is the Sun
"If you have good thoughts they will shine out of your face like sunbeams and you will always look lovely." – Roald Dahl
It's amazing what good thoughts can do to a person. When you think positively, that energy expands from within you. This glow makes you look beautiful, inspires others, and makes you a pleasant person to be around. Your thoughts spread energy; choose happy energy.
3. Albert Einstein on the Power of Dreams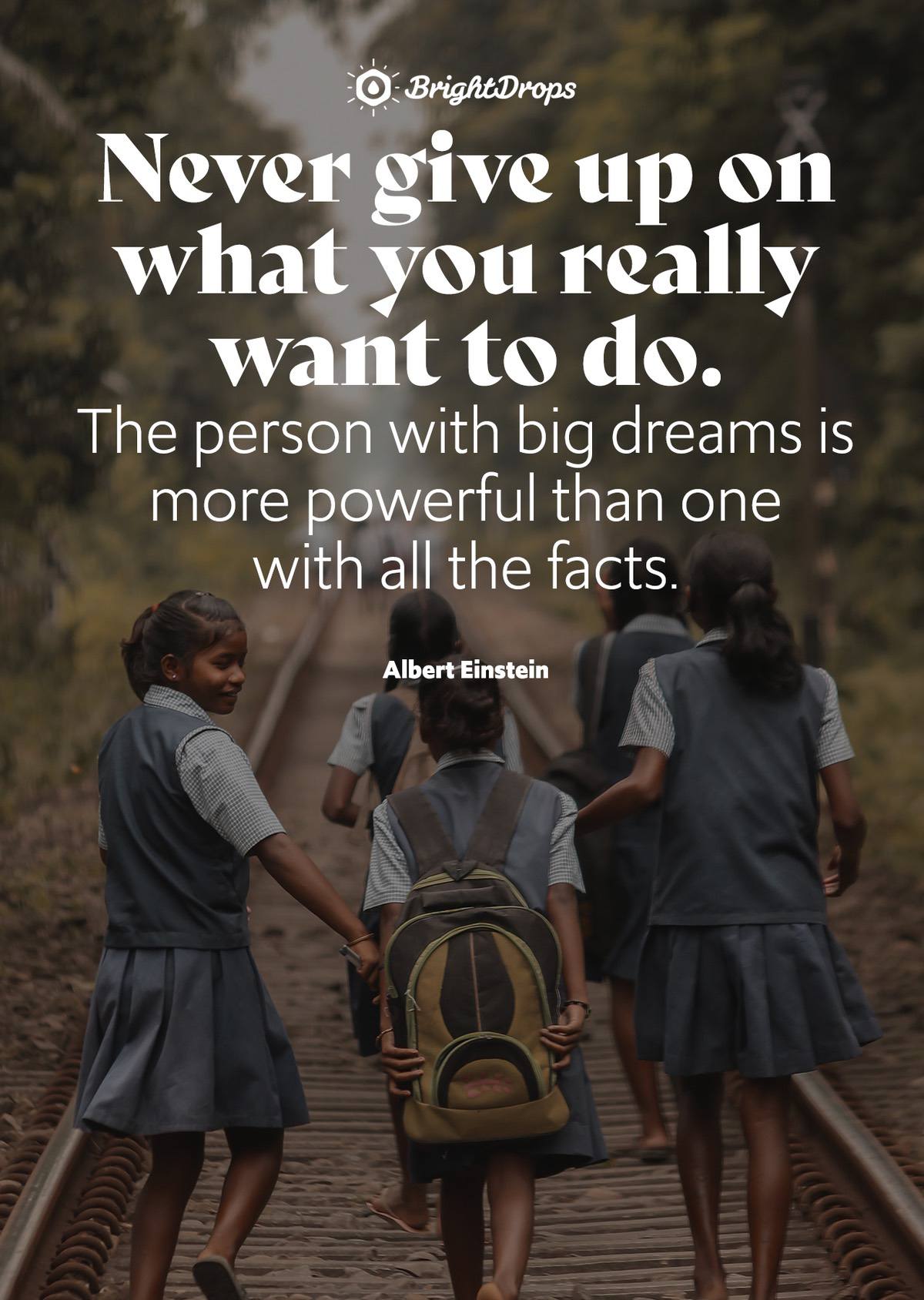 "Never give up on what you really want to do. The person with big dreams is more powerful than one with all the facts. " – Albert Einstein
It was a "fact" once that man would never fly in the sky. The Wright brothers had big dreams that went beyond fact in their day and age. If you stay true to what you really want to do, then you will find ways to make it happen. Big dreams work on big magic.
4. Bonnie Blair on Sportsmanship
"Winning doesn't always mean being first. Winning means you're doing better than you've done before. " – Bonnie Blair
The only competition you should have is with yourself. When you go to bed tonight, look back on the day you had and see if you are proud of the way you showed up in every experience. If you are not, then work on being a better version of yourself tomorrow.
5. A.A. Milne / Christopher Robin Knows You Better Than You Do
"You're braver than you believe, and stronger than you seem, and smarter than you think." – A.A. Milne/Christopher Robin
Trust in and know that you have more courage, strength and smarts than you think. It might be hard to see it right now, but your experiences in life will show you that it's true. Growth does not happen if you stay in one place out of doubt. You can do hard things, you can!
6. Jim Rohn Encourages Challenges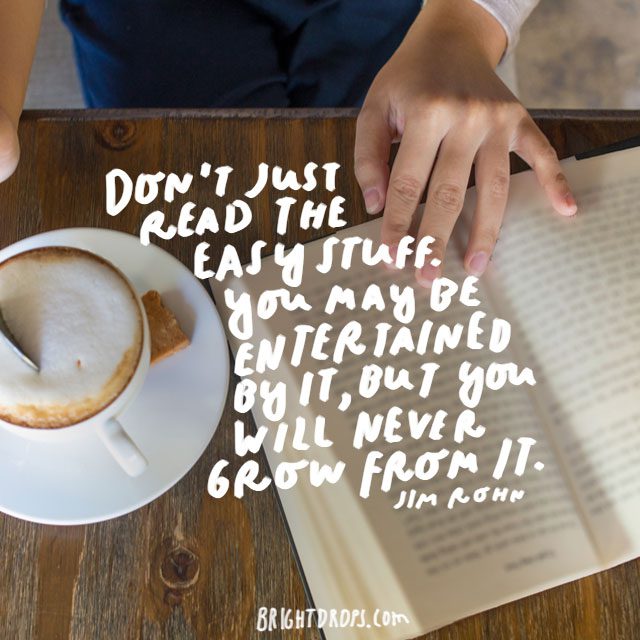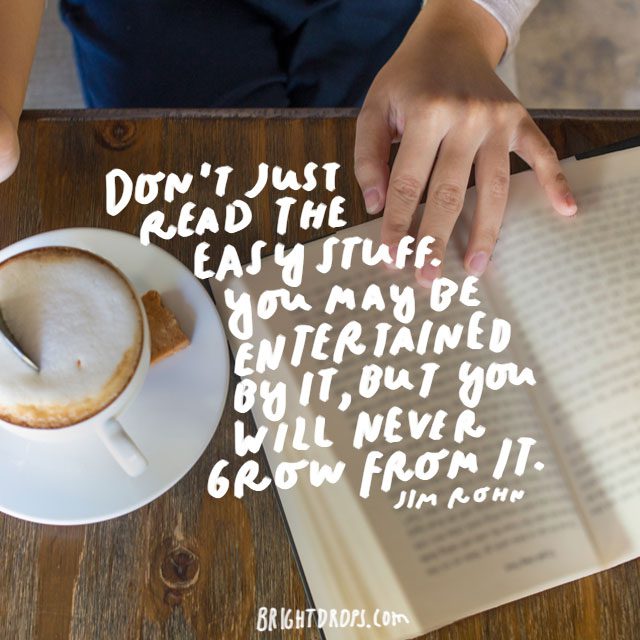 "Don't just read the easy stuff. You may be entertained by it, but you will never grow from it." – Jim Rohn
The easy stuff is fun and quick, it's true. However, to expand the mind, you must push it to its limits just as you would a muscle. The hard stuff makes you think; it causes you to re-read over and over again until you understand it. Challenge yourself every so often.
7. Edwin Hubbel Chapin on the Ripple Effect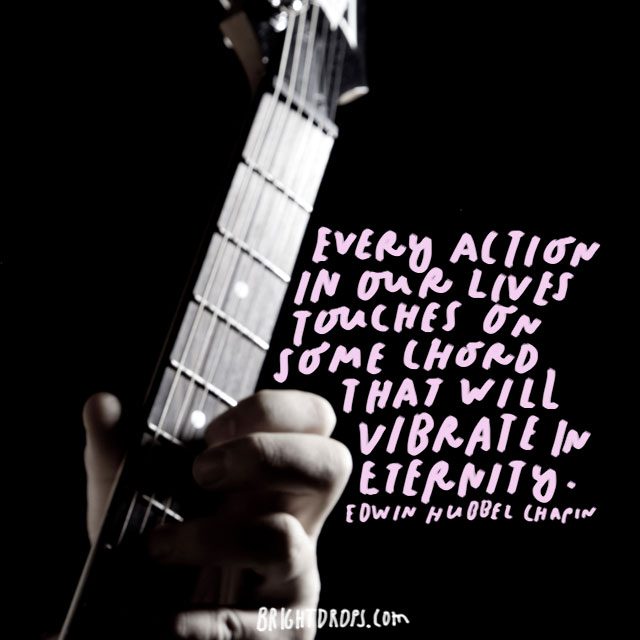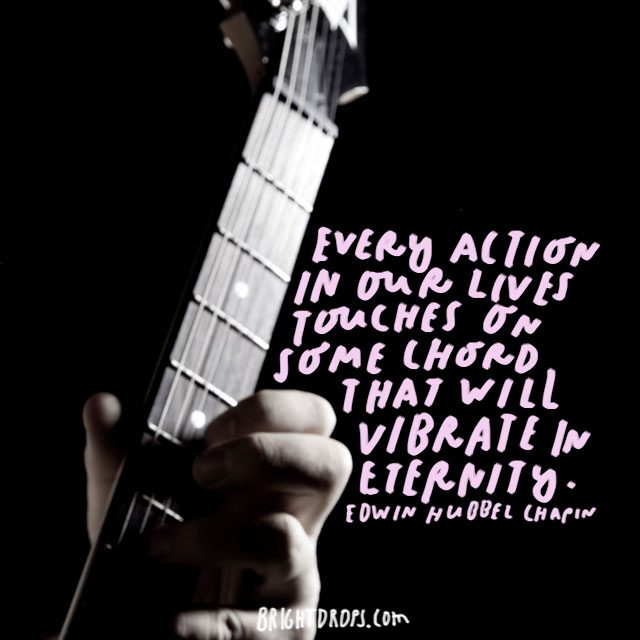 "Every action in our lives touches on some chord that will vibrate in eternity." – Edwin Hubbel Chapin
This is a big topic for a small paragraph. Every choice you make creates a ripple effect that touches the lives of others, sometimes many. The point here is that you stop and think about how you are showing up in the world and what kinds of ripples you are making. Are they positive or negative?
8. Theodore Roosevelt Tells You To Do the Right Thing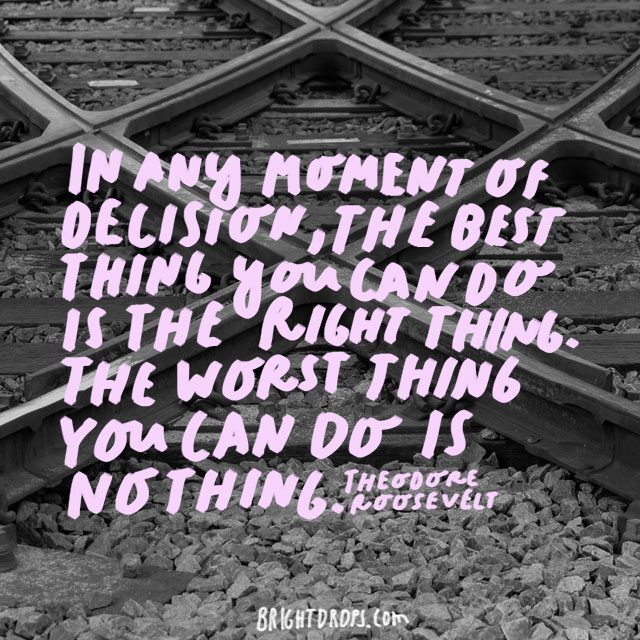 "In any moment of decision, the best thing you can do is the right thing. The worst thing you can do is nothing." – Theodore Roosevelt
Many times bad things happen because no one is willing to do anything about stopping them. You might not even be able to stop something bad from happening by doing the right thing, but that you tried is enough. It could even inspire or comfort another person that you stepped up to do the right thing.
9. Dr. Seuss Knows How Weird You Are
"Why fit in when you were born to stand out?" -Dr. Seuss
You were not made to hide or to be invisible. Each and every one of us is born to stand out. We simply need to decide we are going to, and be brave while we do. The greatest thinkers, artists, musicians, and engineers through time sure didn't fit in, did they?
10. Henry Ford on Getting Things Done
"Nothing is particularly hard if you break it down into small jobs." – Henry Ford
This advice works with anything in life. Take anything difficult and break it into a few pieces. Then take those pieces and add tasks to them that will help you complete each piece. Check off your progress as you go. Before you know it, your hard thing has been accomplished!
11. Sophia Loren Knows the Value of Mistakes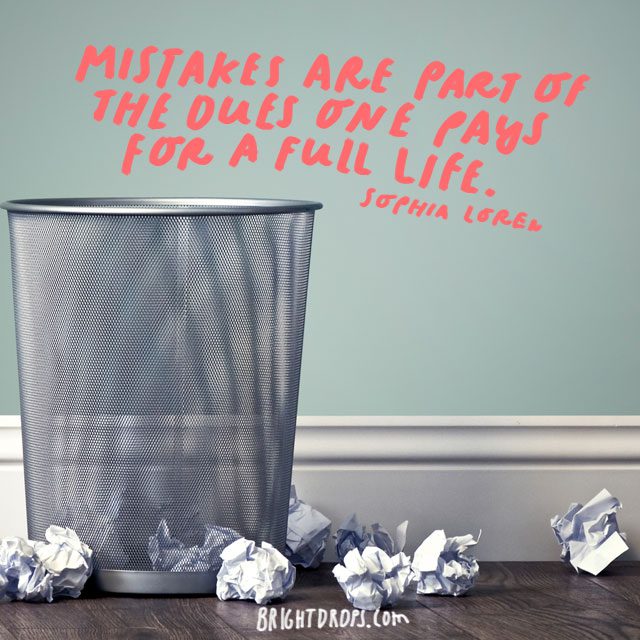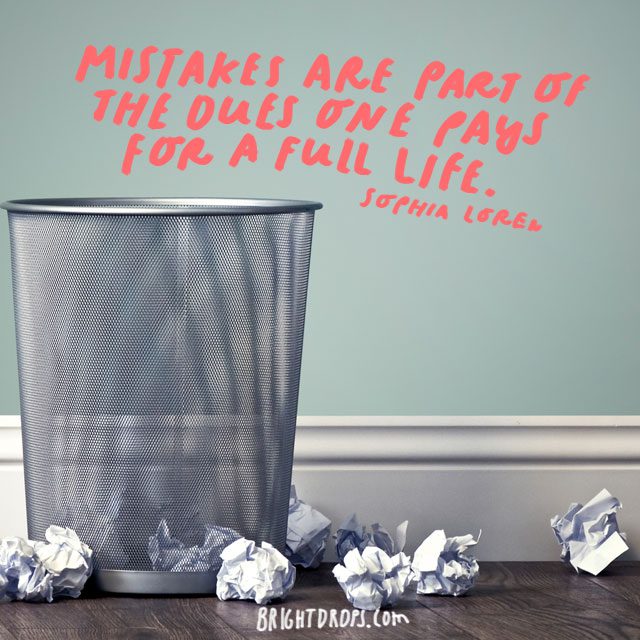 "Mistakes are part of the dues one pays for a full life." – Sophia Loren
If you lived your life never making any mistakes, then how much will you have really learned? Making mistakes is essential to success because instead of just knowing what not to do, the lesson is burned into your brain because you experienced it. Mistakes are valuable.
12. George Washington Carver on Being Uncommon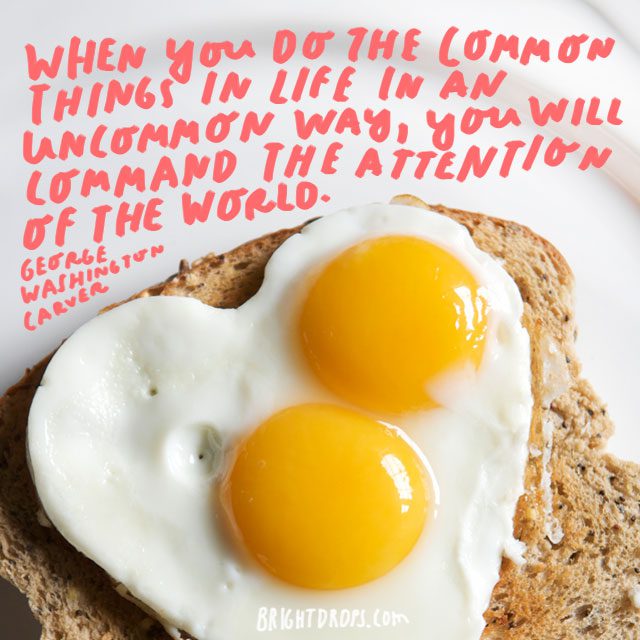 "When you do the common things in life in an uncommon way, you will command the attention of the world." – George Washington Carver
Common things done in common ways are predictable and safe. When you take something common and do it in a completely creative and new way, then others pay attention. Doing so can inspire others to create more fun and flexibility into their lives as well.
13. Jim Rohn Knows You Have the Power
"You cannot change the circumstances, the seasons, or the wind, but you can change yourself. That is something you have." – Jim Rohn
There is a lot in life that you will not be able to change for one reason or another. The best way to find peace and confidence in yourself is to not let the outer world affect your inner world so much. You can only change yourself in those circumstances.
14. David Bailey is Positively Positive About Positivity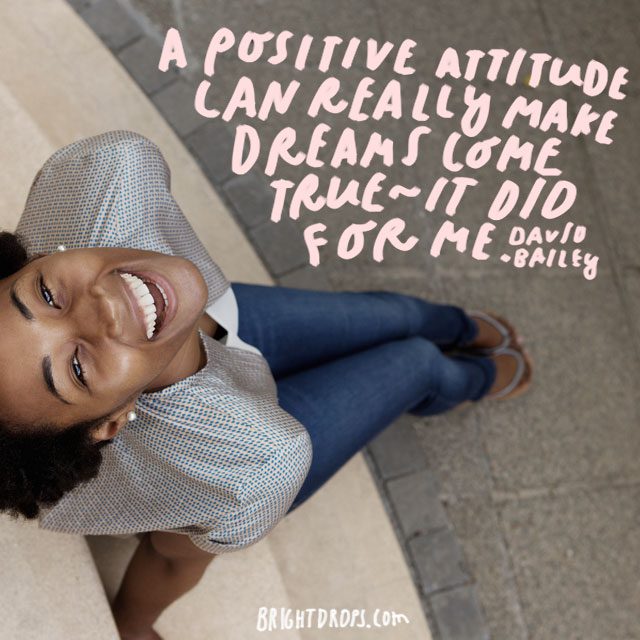 "A positive attitude can really make dreams come true – it did for me." – David Bailey
Positivity is not instantaneous magic. Being optimistic and positive is a way of life. This practice brings positive experiences in your life, makes you someone that people want to be around, and can create awesome opportunities that are dream come true worthy.
15. Mahatma Gandhi Encourages Change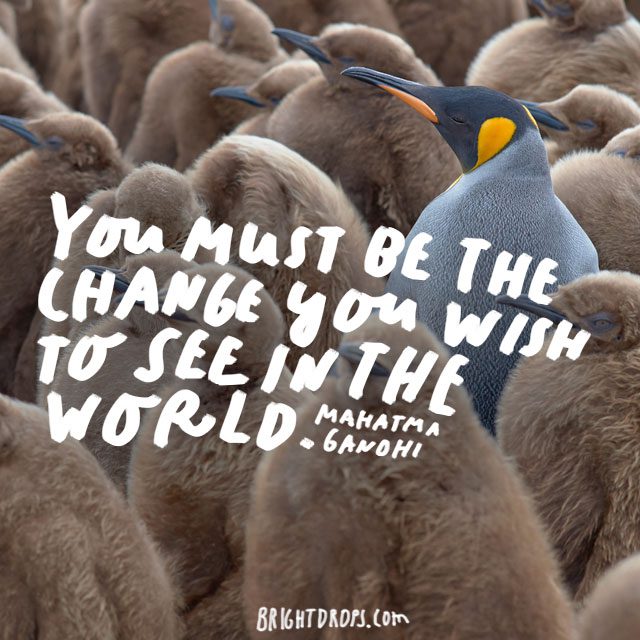 "You must be the change you wish to see in the world." – Mahatma Gandhi
Ok, so how does this actually work? Well, if you want to see more peace and less war in the world, find more peace and less war within yourself, your family, or your community. If you want to see more health in the world, take care of your body, and be healthy yourself.
16. Ralph Waldo Emerson Keeps It Simple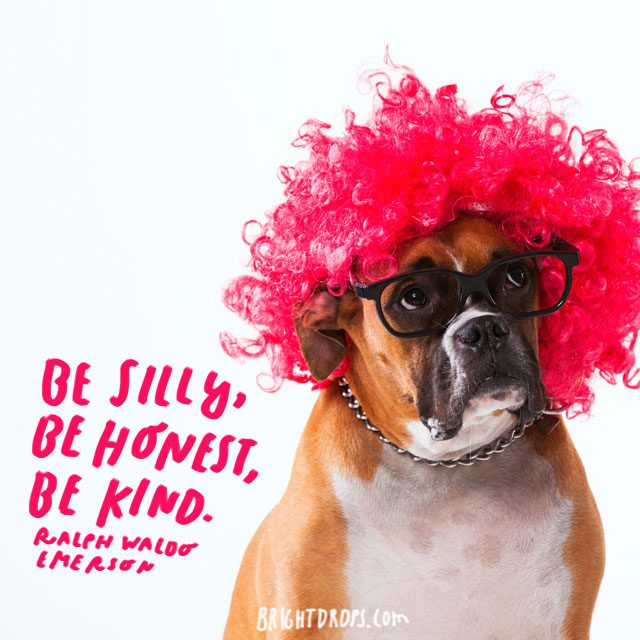 "Be Silly, Be Honest, Be Kind." – Ralph Waldo Emerson
So simple, yet so powerful. Being silly allows you to remain joyful and happy with yourself and life. Being honest means that people will trust you,and being kind creates harmonious relationships. These three little behaviors in everyone on the planet would create peace on Earth, don't you think?
17. Albert Einstein on Past, Present, and Future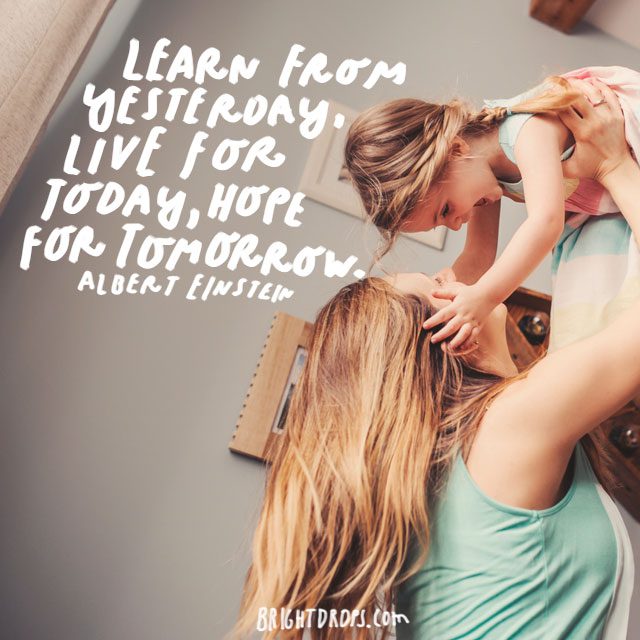 "Learn from yesterday, live for today, hope for tomorrow." – Albert Einstein
There are lessons from your past that can be valuable to your growth as a human being; make sure you know what they are. Living for today and living in the moment means that you are present and aware. Hoping for tomorrow gives you a chance to stay optimistic for good things to come.
18. Nelson Mandela Knows All Things Are Possible
"It always seems impossible until it is done." – Nelson Mandela
Man once thought it would be impossible to fly in the sky or visit space and land on the moon. Many things are not impossible, solutions just haven't been thought of yet. Those with perseverance, faith, and dedication in making the impossible possible are the ones that change the world.
20. Thomas S. Monson Says to Have Structure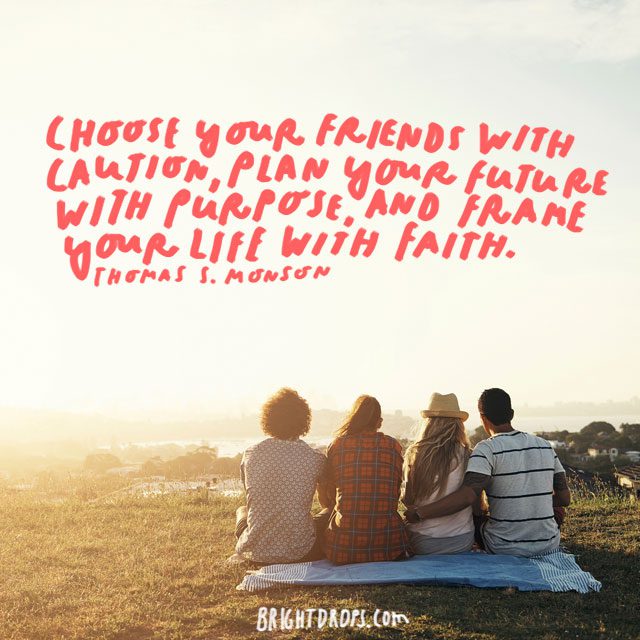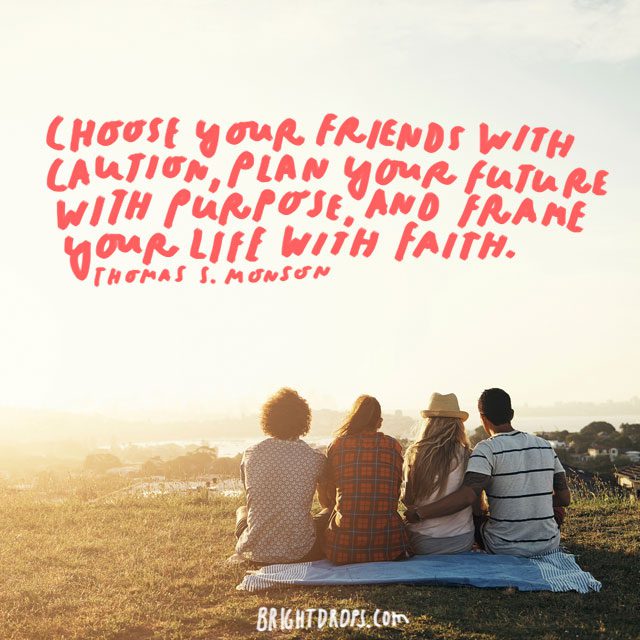 "Choose your friends with caution, plan your future with purpose, and frame your life with faith." – Thomas S. Monson
You become like the five people you spend the most time with, so as it is said here, choose your friends very carefully. Planning your future with a purpose helps you create your life the way you want to. Having faith in your life will give you inspiration and comfort during any rough times.
21. Ernest Hemingway Wants You to Think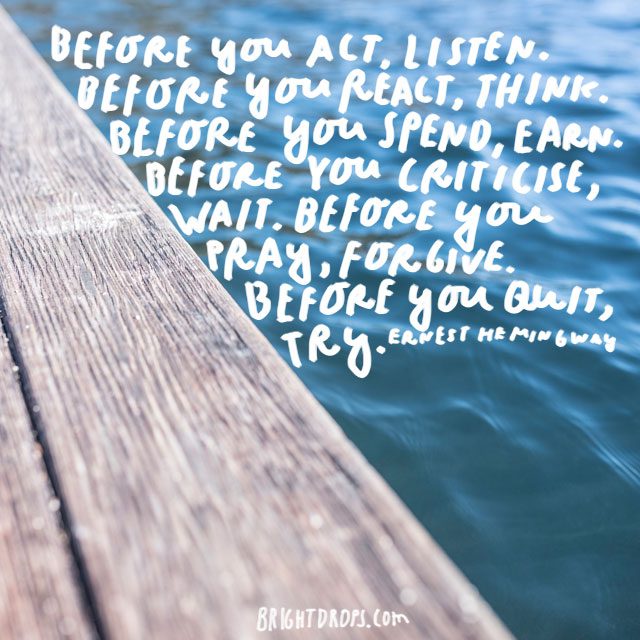 "Before you act, listen. Before you react, think. Before you spend, earn. Before you criticize, wait. Before you pray, forgive. Before you quit, try. " – Ernest Hemingway
Listening before acting saves headaches down the road. Thinking before reacting keeps you from looking like a fool. Earning before you spend ensures you don't have debt. Waiting lets you understand before judging. Pray with forgiveness on your mind for peace, and by all means, don't quit before you've had a chance to try!
22. Anatole France on Success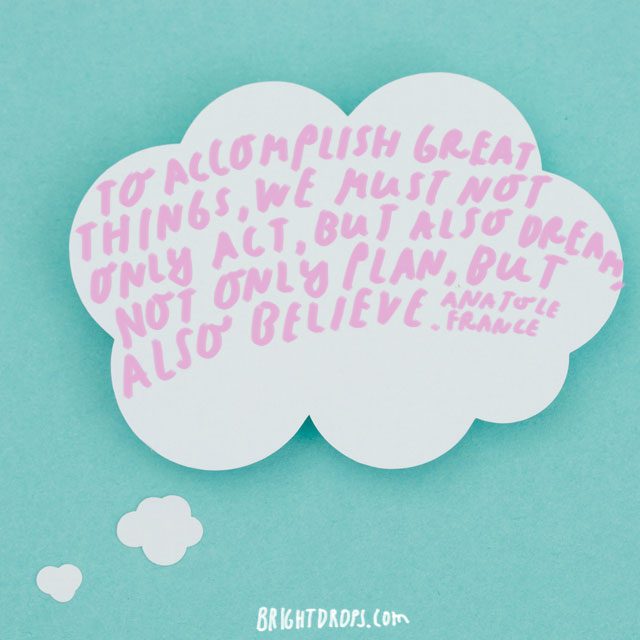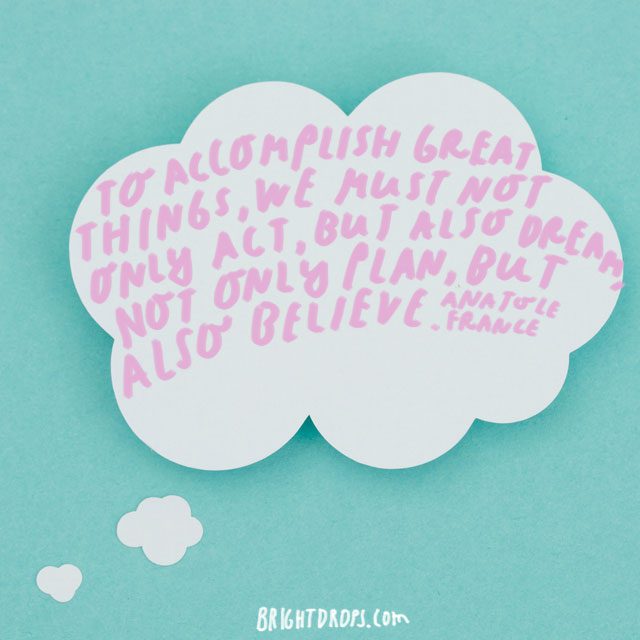 "To accomplish great things, we must not only act, but also dream, not only plan, but also believe." – Anatole France
Planning and acting will produce results, but it is dreaming and believing that keeps the passion alive within you. The belief you have in what you are trying to accomplish is often more powerful than anything else. Everything was once a dream that someone believed in, then planned and acted on.
23. Will Rogers Says To Keep Moving
"Even if you are on the right track, you will get run over if you just sit there!" – Will Rogers
You could have everything you ever wanted and be content with life. It's ok to stop and enjoy it for a while but life is always changing; always evolving. If you stop on the track, you will not only go nowhere new, but other people and experiences will pass you by and leave you behind.
24. John Wooden Knows You Are An Artist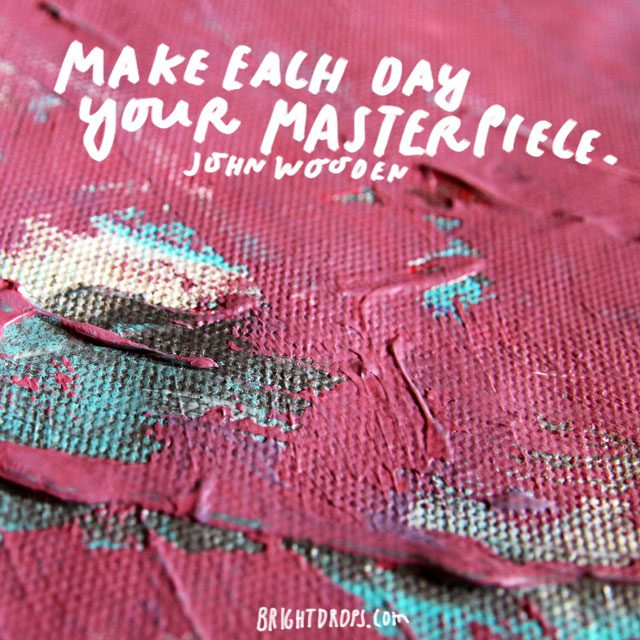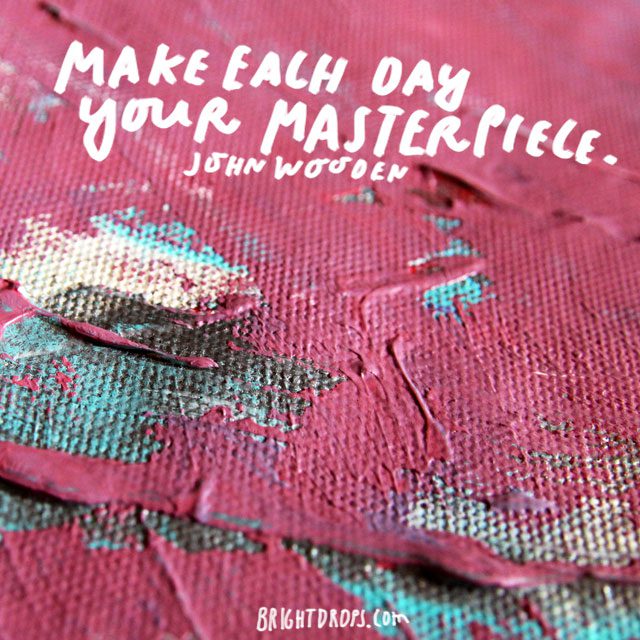 "Make each day your masterpiece." – John Wooden
Think of waking up to each new day with a plain canvas in front of you. The day is yours to create however you wish. With this kind of intention in mind you will be able to focus on your life and create each day as a masterpiece. Pretend you could take each day and hang it on the wall to admire the art.
25. Walt Disney on Dreams Coming True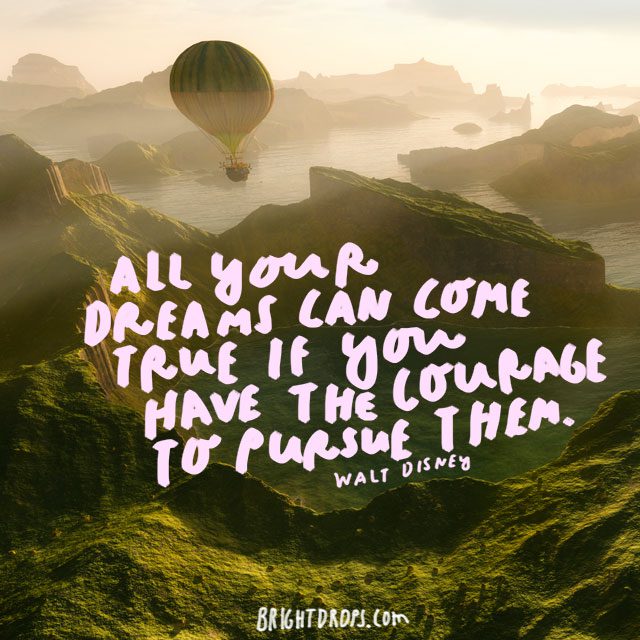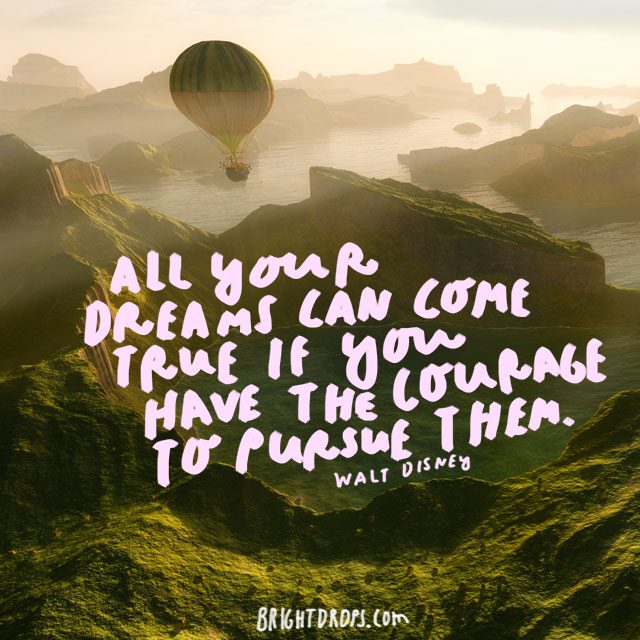 "All your dreams can come true if you have the courage to pursue them" – Walt Disney
Pursuing your dreams take a lot of work and can often be intimidating or scary. However, if you gather as much courage as you can and go for it anyway, your dreams will have a better chance of coming true. You may experience hardships, speed bumps, or setbacks when you pursue your dreams, but just keep going.
(Read this next: 33 Inspirational Quotes All Women Need to Hear)