We all need some inspiration here and there. As an employer, it can be hard to constantly inspire your employees to do their best work. The best advice is to act like a leader and not a boss. Get to know your employees and know what makes them produce their best work.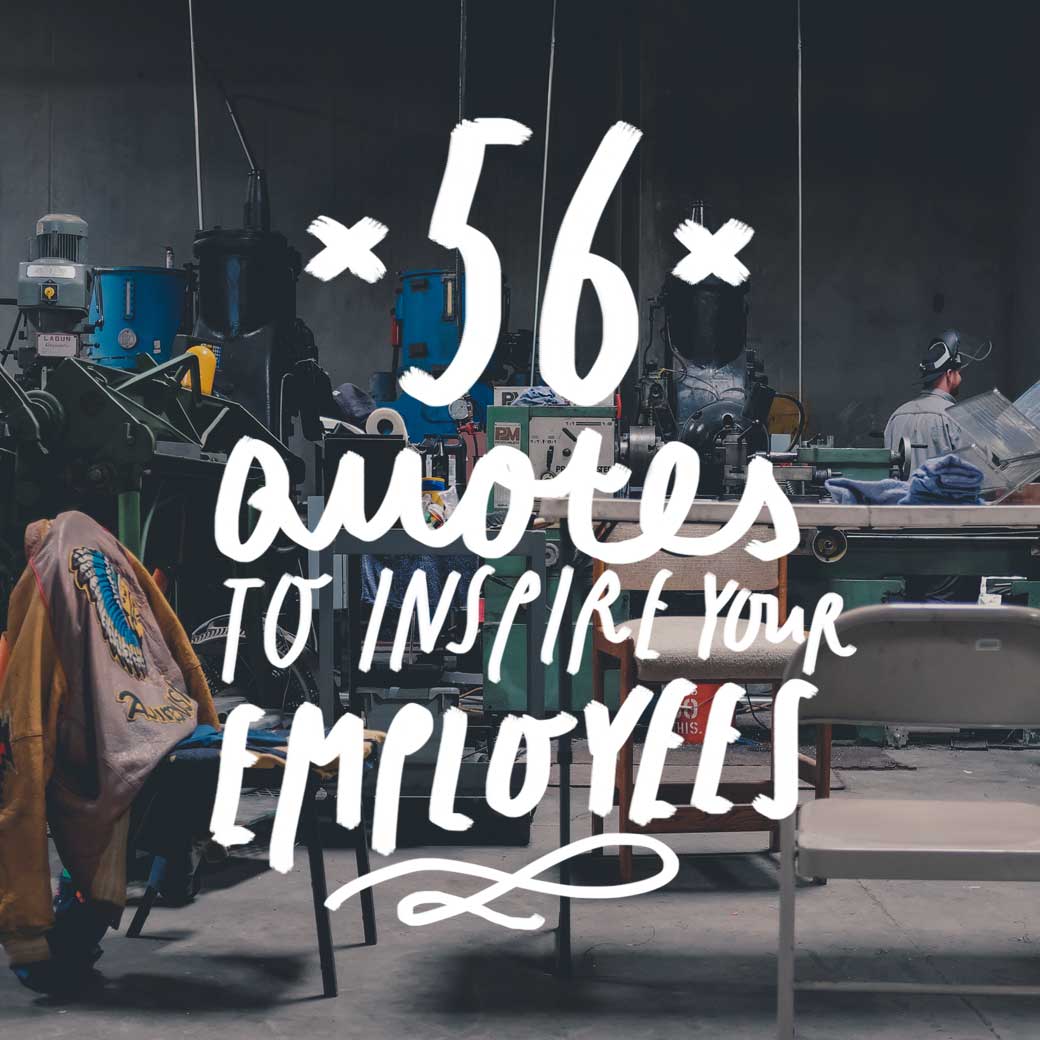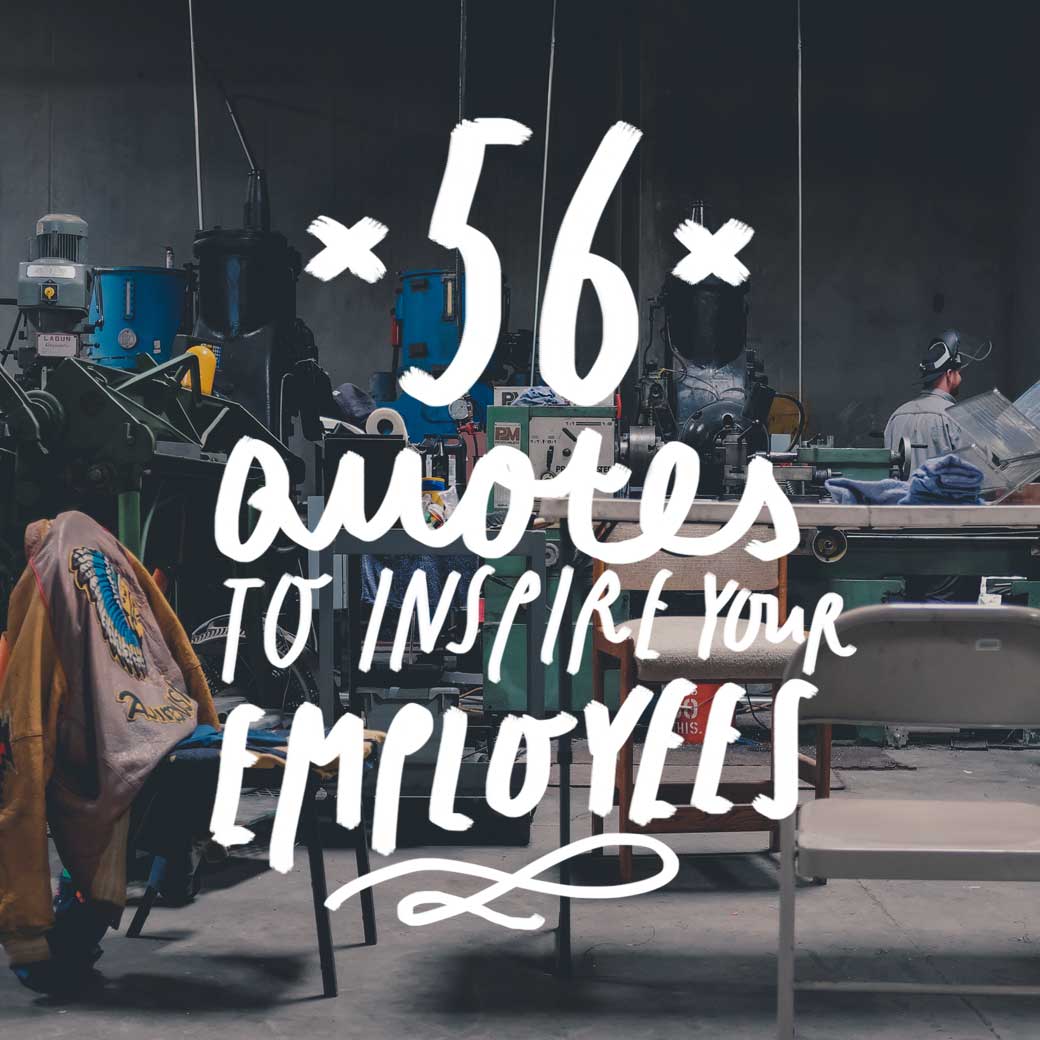 1. Stephen Covey Believes We all need a Goal
"Start with the end in mind." – Stephen Covey
When starting with the end goal in mind, you always have something to look to and measure. You are able to adjust if you seem to be going away from the goal and keep on the same path if you seem to be going toward it.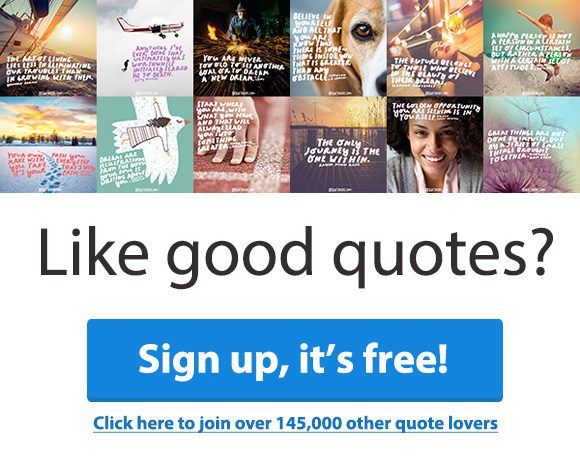 2. Peter Drucker Knows Progress is Key
"What's measured improves." – Peter Drucker
If you measure something on a consistent basis, you are able to see the changes and the improvements that you make. If you never measure anything you will never know how far you have come. Keeping measurements ensures improvement.
3. Brad Szollos Understands Actions Tells All
"If you really want the key to success, start by doing the opposite of what everyone else is doing." – Brad Szollos
If you want to be better than everyone else, start to do what they are not doing. You will not become greater than them by doing exactly what they are doing. That will do you no good and only keep you below them. Learn how to be different and think outside the box.
4. Stephen King Creates Success
"Amateurs sit and wait for inspiration, the rest of us just get up and go to work." – Stephen King
Don't wait for someone else to come along and do the work. If you want to be successful and trusted, make something happen on your own. Create opportunities and create the success you want by yourself without relying on someone else.
5. Theodore Roosevelt Values Confidence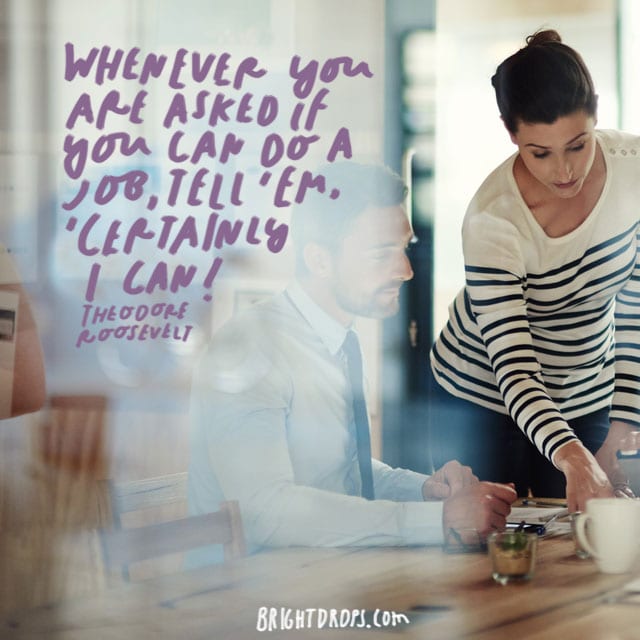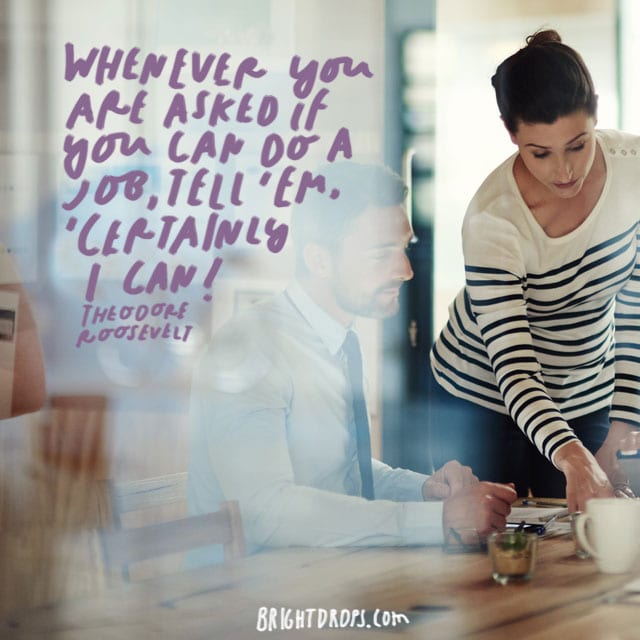 "Whenever you are asked if you can do a job, tell 'em, 'Certainly I can!" – Theodore Roosevelt
Confidence is a great attribute to have especially in a work setting. People love to hire confident people who are willing to learn and believe they can achieve anything they set their mind to. Always believe in yourself that you can do anything that is asked of you.
6. Ayn Rand Compares Morality and Production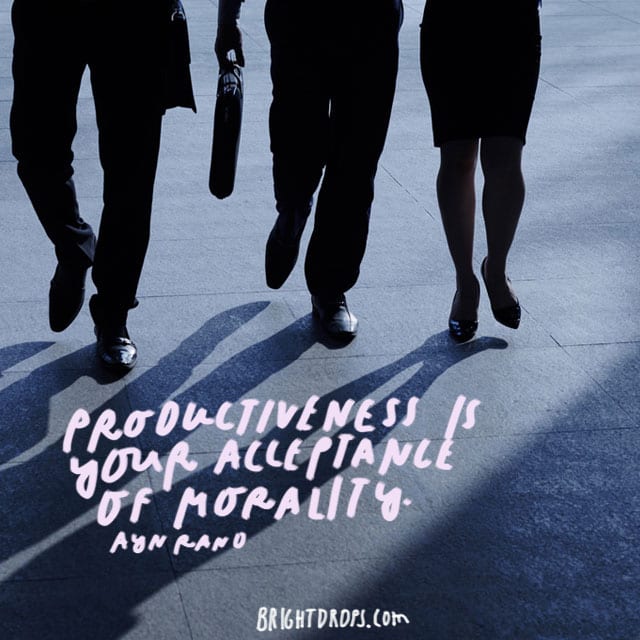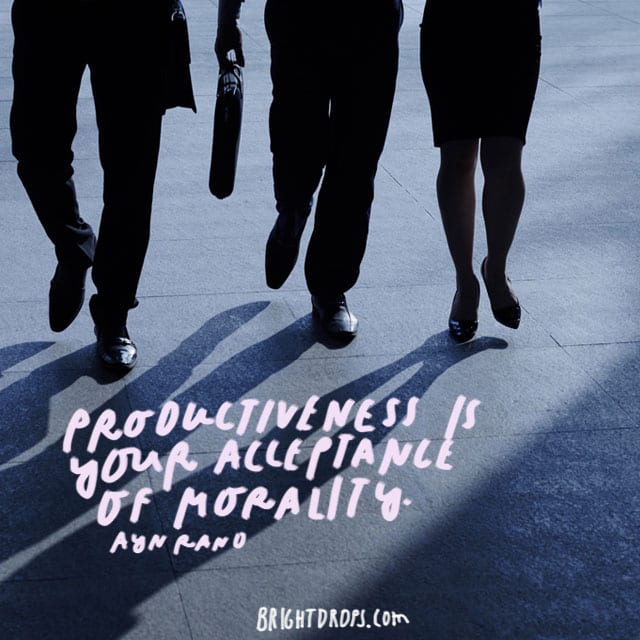 "Productiveness is your acceptance of morality." – Ayn Rand
Your recognition of the fact that you choose to live. The productive work is the process by which your consciousness controls your existence. There is a constant learning process and shaping what you learn to further yourself and grow.
7. David Allen Expresses Ideas
"Your mind is for having ideas, not holding them." – David Allen
Your mind is made to produce and share ideas, not to hold them. No idea is a bad idea. The only thing wrong about an idea is to never share it. Offer your ideas to anyone who is willing to listen. One of them might get picked and up and you will be praised.
8. Criss Jami Details how to Work on Passion
"Create with the heart; build with the mind." – Criss Jami
Start with your heart, but work with your mind. Follow your passion into work. Follow your heart and you will never be wrong. Build and grow with your mind and the knowledge you have learned over time. This is great advice from Criss Jami
9. Francine Jay has her Version of Success
"My goal is no longer to get more done, but rather to have less to do." – Francine Jay
Francine does want to learn how to get more done in a shorter amount of time. She wants to be so successful that she does not have much work anymore. We all want to success because it creates freedom and it gives us the ability to do what we want with our time.
10. Alexander Graham Bell Stays Focused
"Concentrate all your thoughts upon the work in hand." – Alexander Graham Bell
Focus on the task at hand and do not let your mind wander into thoughts of something else until that task is complete. Multi-tasking can be defined as a way to do two things with mediocre effort instead of one thing with excellent effort.
11. Evelyn Underhill Values Patience
"hurry and impatience are sure marks of the amateur." – Evelyn Underhill
Trying to get everything done as quickly as possible is a sign of someone who has not done something worthwhile before. Success takes time and great work takes constant analysis and overviews. Nobody gets anything right on the first try.
12. Leo Babauta Breaks Down Simplicity
"Simplicity boils down to two steps: Identify the essential. Eliminate the rest." – Leo Babauta
Simplicity is the key to success. When you have only one thing to focus on at a time, you can give all of your attention to it. When too many things are vying for your attention is when the essential moves to the rear for the less important tasks.
13. Peter Block Ask a Question of Greatness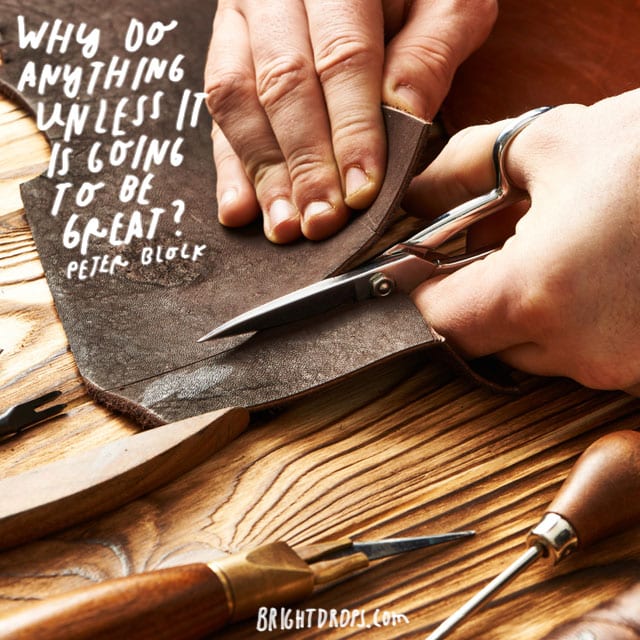 "Why do anything unless it is going to be great?" – Peter Block
What is the point in doing something with mediocrity? The only way you should do something is with a 100% effort and aim for excellence. Trying to get something done as quickly as possible or with the smallest amount of effort will only lead to subpar results.
14. Corita Kent Only Believes in the Art of Making
"Nothing is a mistake. There's no win and no fail. There's only make." – Corita Kent
Nothing that you do is a mistake if you are able to put all of your effort into it. There is no win or lose because you are able to gain something from every experience that you have. When you win you win and when you lose you gain knowledge.
15. Corita Kent Compares Disciplines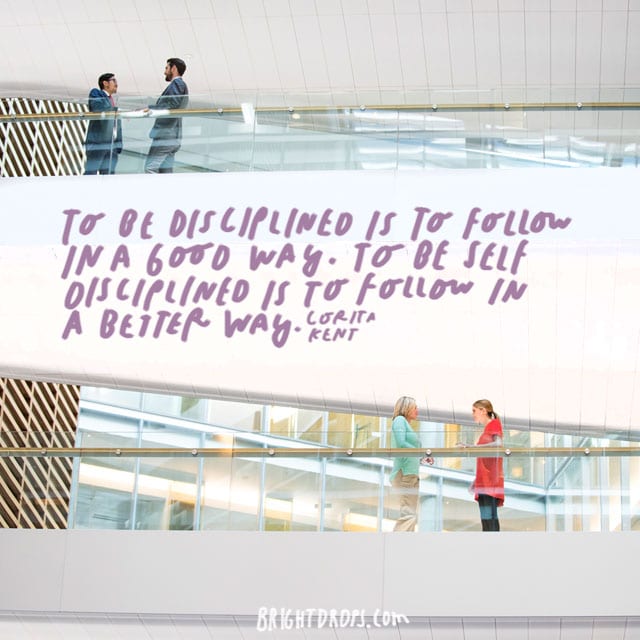 "To be disciplined is to follow in a good way. To be self disciplined is to follow in a better way." – Corita Kent
To be disciplined means to be focused on the leadership of other people. To be self-disciplined means that you are able to stay on task and work until the end even when nobody is relying on you. Self-made entrepreneurs are the group of people who have the most self discipline because the only people banking on their success is themselves.
16. Brian Tracy Gives You Credit
"You are where you are and what you are because of yourself, nothing else." – Brian Tracy
Never let someone tell you that you made it because of someone else. You are where are you are because of the hard work you have put in and the sacrifices that you have made along the way. Be proud of your success and take credit for it.
17. David Allen Gives the Truth
"What we truly need to do is often what we most feel like avoiding." – David Allen
Usually the tasks that we must do are the ones that we most want to avoid. The difference between the extremely successful people and the moderately successful people is that the moderated people hesitate to do the things they don't want to do while the extreme people dive right in.
18. Dee Dee Artner Believes in Taking Tasks for What They Are
"Don't interpret anything too much. This is time waster number 1." – Dee Dee Artner
Sometimes we tend to over-analyze the task at hand and think of all the different and complex ways that we can start them. When really the best and most efficient way is the simplest way. Try not to over think too much and just get started.
19. David Allen Conquers his Fears
"There is a light at the end of the tunnel, but the way out is through." – David Allen
This can be thought of in many ways, but as an employee, think of it as getting through the work week. There is no way around it so might as well do your best work so when the work week is over you can be happy and satisfied with the work that you did.
20. Gerry Geek Makes a Comparison
"A project goal is like a joke. If you have to explain it, it is not good / fun." – Gerry Geek
A project goal should be simple and easy to understand. You should not have to explain it like a joke that nobody in the room understood. Project goals should be short and concise and give your employees something to start on immediately.
21. Gerry Geek Gives Advice
"If you want to get a meaningful result: create something very complex, and then simplify it." – Gerry Geek
To create something worthwhile that is different than everything else out there, it must be complex. To be able to build and find people who can help it grow, it has be simplified for people to understand.
22. DJ Kyos is a Leader
"You can't be productive when you are not happy." – DJ Kyos
When you are unhappy it is hard to be productive and get your work done diligently. Talk to your employees and find out what is wrong if you believe they are not happy. A boss will yell at them to get their work done without taking a personal interest. A leader will see what he or she can do to help them out.
23. Aniekee Ezekiel Believes the Question can be the Problem
"the smarter the question, the lesser the guessing." – Aniekee Ezekiel
Sometimes when we cannot find the answer, we must re-think the question we are asking. The smarter and more clear the question; the easier the answer is to find. Try to make all questions as clear and concise as they can be.
24. Aniekee Ezekiel Believes in Work Today
"stand on your inner strength, shovel today's challenges for your tomorrow's freedom." – Aniekee Ezekiel
Work today to accomplish what you want tomorrow. Procrastinating is a terrible habit to get into. The work will always be put off until later and you will never be able to finish it on time. Get as much done as you can everyday and the end goal will be closer and closer.
25. Vivek Naik Devalues Multi-Tasking
"Focus only on one task at hand." – Vivek Naik
Do not try to do too many things at once. Focus on one thing at a time and devote all of your passion and effort into that one thing. At the end of the day, it is better to have one excellent project than two mediocre ones.
26. Ashish Patel Explains Fearlessness
"The elegance under pressure is the result of fearlessness." – Ashish Patel
The calm demeanor and elegance that people have when they are under pressure is the result of fearlessness. They are not afraid of the deadline approaching or that other people are relying on them because they are confident in their own ability.
27. Mike Ditka Does not Handle Quitters
"You're never a loser until you quit trying." – Mike Ditka
You cannot possibly lose unless you quit. If you give it your all and still come up short, you have learned valuable experience on what it takes to win. If you quit, you give up any chance of winning and it shows your character.
28. Thomas Edison Perseveres
"Many of life's failures are people who did not realize how close they were to success when they gave up." – Thomas Edison
People tend to quit right when they are about to win. This is because winning and success takes the right mindset, attitude and patience. Everybody who has ever won wanted to quit at some point but they persevered because they believed in their journey.
29. Bill Clinton Explains his Success
"The main thing is never quit, never quit, never quit." – Bill Clinton
If you talk to anyone who has had as much success as Mr. Clinton, you will find the same philosophy. Successful people never quit because they are confident enough in their ability to believe that they can do whatever they set their mind to.
30. Thomas Edison Values Hard-Work
"There is no substitute for hard work." – Thomas Edison
There is certainly no substitute for hard work. People can try and take short cuts and do quicker versions but in the end, the work is the work. You are either going to accept it and get started or you are going to quit.
31. Thomas Edison Explains a Genius
"Genius is one per cent inspiration, ninety-nine per cent perspiration." – Thomas Edison
A genius is someone whose brain works differently that everyone else. Geniuses are able to come with incredible ideas, but what separates them is their work ethic. Once an idea is hatched, they will stop at nothing to complete it.
32. Thomas Edison Does Believe in Certainties
"There is always a better way." – Thomas Edison
Everything has multiple ways of getting done. There is always a better way and there is always a faster way. Sometimes we do not think to look for these ways and just get started on what we believe is the best way. A true genius will find a better way of doing anything task.
33. Bill Clinton Measures Success
"Success is not the measure of a man but a triumph over those who choose to hold him back." – Bill Clinton
Success is not always defined as what someone has done or how much money they have made. It can be defined as the obstacles that one has overcome and how they got to where they are. Bill Clinton understands this.
34. Bill Clinton Starts From the Bottom
"By lifting the weakest, poorest among us, we lift the rest of us as well." – Bill Clinton
By starting with the weakest and poorest and working our way up, we help to lift everyone in the group. We are only as strong as our weakest link so make sure that the weakest link is getting stronger every day.
35. Bill Clinton Stays Focused
"Keep your eyes on the prize and don't turn back." – Bill Clinton
Stay focused on the task at hand and do not turn back or get side tracked. When we focus on one thing for a long period of time and practice patience, the results can be incredible. When we get side tracked or give up on the cause, we lose.
36. Wayne Dyer Understands his Control
"I cannot always control what goes on outside. But I can always control what goes on inside." – Wayne Dyer
This is a quote especially for employers. You are not always able to control what happens with the market or competing businesses. However, you can always control what happens inside your own business. Make sure everything is running efficiently and try not to worry about the outside sources.
37. Wayne Dyer Believes Successful People Attract What They Need
"Successful people attract money. They bring success to what they do." – Wayne Dyer
If you have ever been around a truly successful person, you will realize that they bring success anywhere they go. They bring an attitude that anything is possible and they are not afraid of any task. If you want to be successful as well, act like these people.
38. Tom Landry Understands the Winning Mentality
"A winner never stops trying." – Tom Landry
Someone is classified as a winner because they have won multiple times in their life. Winning is due to a will to never quit. Quitting has a one hundred percent losing rate. If you do not quit, your chance of winning escalates.
39. Tom Landry Values Preparation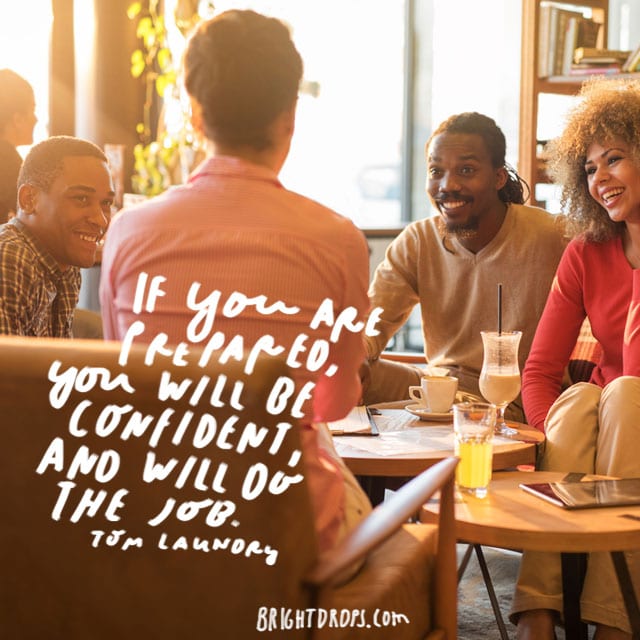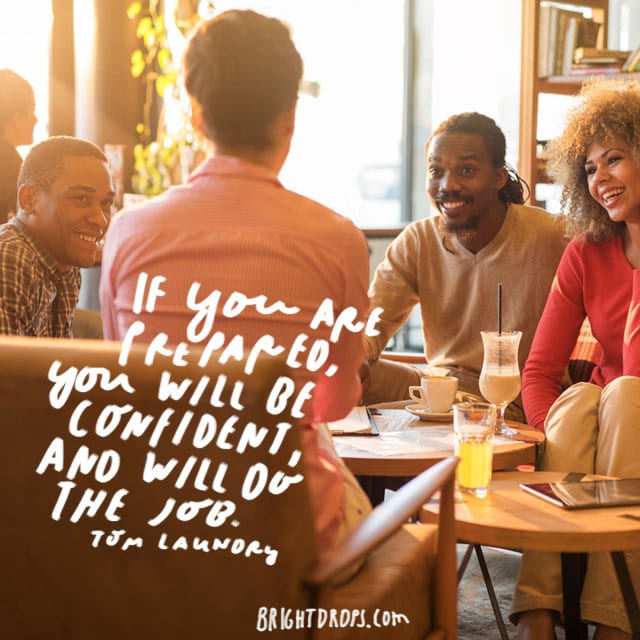 "If you are prepared, you will be confident, and will do the job." – Tom Landry
There is no reason to be afraid or to be nervous if you have prepared enough. Preparation breeds confidence. If you have prepared enough and believe that you understand everything that you should, you should be confident you can get the job done.
40. Mike Ditka Details how to Win
"If you are determined enough and willing to pay the price, you can get it done." – Mike Ditka
The famous football coach describes how to get anything done. No matter what it is you are trying to do, you can get it done through determination and a will to pay the price for what you want.
41. Aristotle Explains Human Nature
"Man is a goal seeking animal. His life only has meaning if he is reaching out and striving for his goals." – Aristotle
We are all on this planet to reach goals and strive for something that is difficult to obtain. We become lost when we don't have anything to strive for. We get complacent and comfortable and the years go by and we have not done anything with our lives. Always stay focused on your goal and your purpose in life.
42. Albert Einstein Prefers Values over Success
"Try not to become a man of success but rather try to become a man of value." – Albert Einstein
Becoming a man of success can mean many things. Most times we take it to mean the money one has earned. If you are only striving for money, you should start to strive for value. Provide value to other people and the world in what you are doing and chances are the money will follow anyway.
43. Mark Twain with a Famous Quote
"It's not the size of the dog in the fight, it's the size of the fight in the dog." – Mark Twain
It does not matter how big and successful you are. What matters is your determination and fight on the inside. If you are never willing to quit and willing to do whatever it takes to win then you have something to be proud of.
44. JJ Goldwag Advises to Focus on Ourselves First
"Focus on your strengths, build on them, develop them." – JJ Goldwag
Do not worry about what anyone else is doing. Focus on yourself and what you are working towards. Build your strengths and your skills and develop them as best as you can. We tend to lose focus when we compare ourselves to other people.
45. JJ Goldwag Plans for Success
"Set reasonable daily goals and celebrate when achieving them." – JJ Goldwag
Set goals for ever day. It will give you something to strive for and something to celebrate when you reach them. Daily goals turn into bigger goals. If you are able to complete your daily goals you will be able to complete any other long term goals.
46. JJ Goldwag Puts in the Work
"Nothing tastes quite so good as a victory earned by hard work." – JJ Goldwag
No victory tastes better than one that was earned through hard work and determination. When we are given something, it never feels as good as something that we have earned on our own. Put in the hard work to earn the rewards.
47. JJ Goldwag Always Aims to be the Best
"Regardless of what you are doing, strive to do the very best you can." – JJ Goldwag
It does not matter what you are doing, just do it to the best of your ability. Even if the work is not what you want it to be, you can get to where you want by giving it your all and producing great results. Aim to make everything you do excellent and people will take notice.
48. JJ Goldwag Values Beliefs
"Believe in the positive, and you will create the positive." – JJ Goldwag
What you believe, you will create. The thoughts in our head and the beliefs that we hold come to define us. If we choose to believe in the positive, we will become positive people. Positivity is a powerful tool that can be used in every situation we enter.
49. JJ Goldwag Follows the Leaders
"Find out your leadership's goals, then become determined to help achieve them." – JJ Goldwag
If you want to make an impact in your organization, find out what the leaders want and work toward making that happen. The employees who are able to fulfill the needs of the leaders are the one who get recognized and praised.
50. JJ Goldwag Has a Different Look on Success
"Many times success is measured by what you don't do." – JJ Goldwag
Success is usually thought of as the accolades we receive, the money we make or the people we help. What people don't see are the things we had to turn down to make time for the tasks we are successful at. You have to learn to say no to people who want to take your attention away from your goal.
51. JJ Goldwag Believes in Finishing the Task
"Do not fragment your focus by leaving many things undone." – JJ Goldwag
Once you start something, set a goal for when you will complete it. An end goal needs to be in site because it gives you something to work toward and strive for. Do not let things go undone because they will hang over your head while trying to complete something more important.
52. JJ Goldwag Believes Great Work Should be Praised
"When someone does right by you, or others, tell their supervisor." – JJ Goldwag
When someone performs greatly by you and helps you complete a task, you should let someone above them know. Great work must be acknowledged and praised because it gives people incentive to try their best when they know their supervisors will hear about it.
53. JJ Goldwag Believes in Sincerity
"Sincerity in your relationships has a direct impact on your success." – JJ Goldwag
Always be genuine and sincere with everything that you do. Sincerity has a direct impact on your success because people want to deal with people they trust and want to help out people who have helped them out.
54. JJ Goldwag Values Goal Setting
"Those who don't set goals, will have a difficult time figuring out how to reach them." – JJ Goldwag
Goals are needed because without them we would never know if we are getting closer or farther away from what we want. we need to make short and long term goals and aim to progress at a consistent rate over time.
55. JJ Goldwag Believes Helping Others Helps You
"Supporting and serving those around you is the best way to overcome career oriented concerns." – JJ Goldwag
Being supportive and helping the people around you will in turn help you. Working as a team will make every task easier and take the concern of doing everything yourself away. Learning to be a team player is an invaluable skill in the work force.
56. JJ Goldwag Asks an Important Question
"Are you the person people come to to get things done?" – JJ Goldwag
This is the person you want to be. The person that people come to when they need something done. Being known as a great worker who is always on task will bring so many opportunities you will not know what to do with all of them.
(Read this next: 90 Motivational Quotes on Hard Work and Giving it Your All)