Sometimes love leaves you tongue tied, sometimes it leaves you speechless. Scroll through our cute love quotes here and find the perfect message to share with your loved one today. There's topics about love at first sight to quotes about the madness of love and everything in between.
1. Markus Zusak on Boys Being Boys
"The only thing worse than a boy who hates you: a boy that loves you." – Markus Zusak
It definitely seems that when a boy hates you he picks on you, but when a boy loves you he picks on you even more. And boy who loves you might shower you with so much affection and attention that you are suffocating. However, if you have a boy that loves you, then love him back dearly.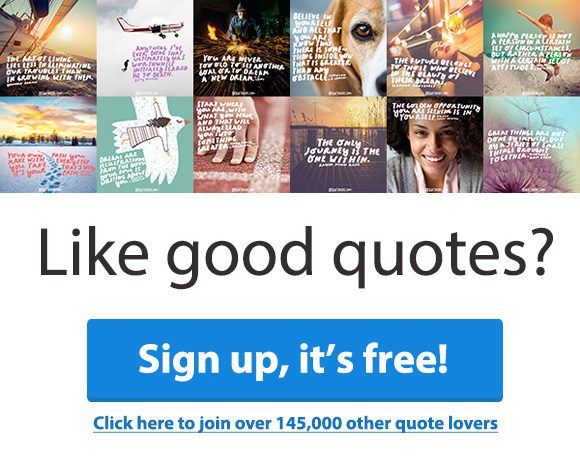 2. Lucille Ball Says Five Minutes Is All You Need
"It wasn't love at first sight. It took a full five minutes." – Lucille Ball
Does this describe the love you have with your partner? When you know, you just know. And like Lucille, you might notice within just a few minutes of meeting your partner that they are the love of your life. Love can happen very quickly, sweep you off your feet, and carry you along in its currents.
3. Winnie the Pooh on Living Without You
"If you live to be a hundred, I want to live to be a hundred minus one day, so I never have to live without you." – Winnie the Pooh
This poignant quote from Winnie the Pooh sure does speak to that which most of us feel, doesn't it? We could never imagine living our lives without the ones we love, but would you want them to live without you? Now there's a question to ponder.
4. Bil Keane and Hugs
"A hug is like a boomerang: you get it back right away." – Bil Keane
Hugs are great things to give because you get one back immediately! It's a great investment in your day. It is said that for survival alone we need 4 hugs a day. So as you get your quota in, you also help someone fill theirs. It's a win win!
5. Woody Allen on Love and Sex
"Love is the answer, but while you're waiting for the answer, sex raises some pretty interesting questions." – Woody Allen
Ok, so maybe you're not quite in love, yet. But while you wait around to see if love will show up, then sex can get you asking lots of questions that love will eventually answer. And with consenting adults it's a great way to kill time while you wait for love to develop!
6. Kermit the Frog
"Maybe you don't need the whole world to love you, you know. Maybe you just need one person." – Kermit the Frog
Many of us simply want love from another person. Our hearts do not care if one or one hundred love it, it simply cares that we are loved at all. Even if thousands love you, having that one person who has your back, trust you, respects you, and loves you is one of the most wonderful things in life.
7. Melanie Griffith Says Make Her Crazy
"There is a place you can touch a woman that will drive her crazy: her heart." – Melanie Griffith
Women definitely go crazy when you touch their hearts. Many men don't understand that the flame in the heart must be cultivated before it spreads to the rest of the body. Leaving little love notes, sending her flowers, and doing sweet things for her will all ignite the spark in her heart and drive her crazy for you.
8. Lisa Hoffman on Pi
"Love is like Pi: natural, irrational, and very important." – Lisa Hoffman
Now if only love could be like homemade apple pie. But this kind of Pi is extremely natural, causes symptoms of irrationality, but yet is one of the most profound things we can experience on this earth. Love is important to the human experience. Maybe your lover is kind of like Pi to you?
9. Jules Renard Says Love Makes Us Stupid
"Love is like an hourglass, with the heart filling up as the brain empties." – Jules Renard
This cute love quote talks about how we tend to lose all sense in our heads when we fall in love. Our hearts becomes so full that love seems to be all we can focus on. This is the beauty and the curse of love; it fills the heart with buoyant and delicious energy, only to be left with an empty head to navigate it.
10. Ingrid Bergman on Words and Kissing
"A kiss is a lovely trick designed by nature to stop speech when words become superfluous." – Ingrid Bergman
When you are stumbling over your words, when you can't seem to find the right words to describe how you're feeling, or if you are afraid you might put your foot in your mouth, the best thing to do is simply to kiss. You can send a lot of messages by kissing, sometimes better than speaking.
11. Charles Schulz Wants Love and Chocolate
"All you need is love. But a little chocolate now and then doesn't hurt." – Charles Schulz
Love and chocolate go together very well. All we really need is love but chocolate is that extra special treat. If you have a lover that brings you chocolate from time to time, then make sure you don't ever let them go! Someone might just snatch them and all their chocolate right up!
12. Joan Crawford Feels the Fire of Love
"Love is a fire. But whether it is going to warm your heart or burn down your house, you can never tell." – Joan Crawford
Love is one of life's greatest adventures is it not? It is an inferno that starts in the heart and can grow into a beautiful relationship, though sometimes the passion of love can get a little out of control and things can go a little crazy. You never really can tell what will happen, but it is always worth the risk.
13. Jane Austen From Hello to I Do
"A lady's imagination is very rapid; it jumps from admiration to love, from love to matrimony in a moment" – Jane Austen, Pride and Prejudice
How very true this quote is about women even in today's society. It is so easy for women to admire, fall in love quickly, and then start dreaming about marriage. If you're with such a woman, be patient with her. And by all means, be flattered!
14. Thomas Moore on Friendship and Love
"Came but for friendship, and took away love." – Thomas Moore
Sometimes the best love is forged out of the bonds of friendship. You might never have expected to fall in love with your partner because you were the best of buddies, but that can be a fantastic foundation for lasting love. Friendship between lovers is quite valuable as well.
15. Henry Ward Beecher Encourages Us to Worship Love
"I never knew how to worship until I knew how to love." – Henry Ward Beecher
When you love someone, it almost feels like you worship them. While it is not recommended to have a codependent relationship, you can easily be devoted and loyal to them the way you would a deity. And if it is reciprocated then you are blessed indeed.
16. Nicole Krauss Tells Of Laughter and Love
"Once upon a time there was a boy who loved a girl, and her laughter was a question he wanted to spend his whole life answering." – Nicole Krauss
What a darling quote! When you love someone, hearing them laugh it is the most joyous sound on the planet. Make it your mission to create smiles and laughter from the one you love as often as you possibly can. Nothing bad ever happens by spreading joy.
17. Torquato Tasso on Completion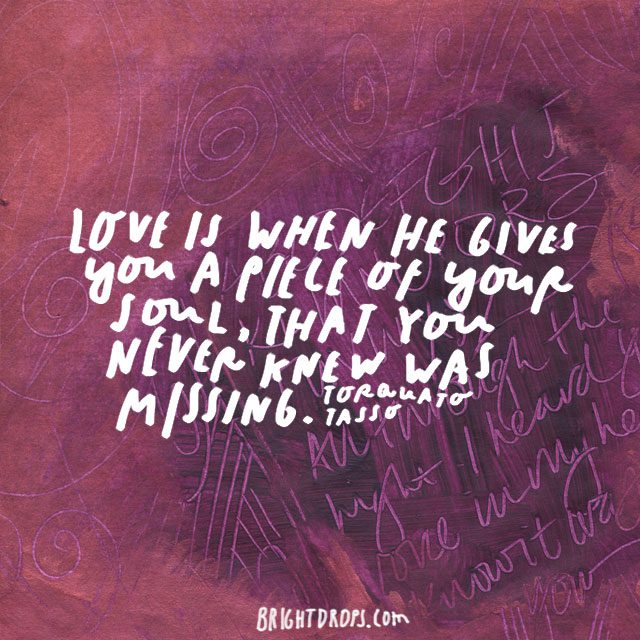 "Love is when he gives you a piece of your soul, that you never knew was missing." – Torquato Tasso
You might never have known what was missing inside of you if you hadn't met your lover. Meeting someone we fall in love with means that they help heal parts of us that need healing, and can soothe parts of us that need soothing, as well as ignite passion where we were once dead. Love can be extremely rewarding.
18. Judy Garland Knows of Heart and Soul
"For it was not into my ear you whispered, but into my heart. It was not my lips you kissed, but my soul." – Judy Garland
Who knew that little Dorothy from Kansas would hold such romantic wisdom? The words you speak may go straight to the heart of those you love, and when you kiss them you may ignite their soul. Do not take this power lightly and ensure that you treat your lover with the utmost respect at all times.
19. Elizabeth Barrett Browning on Counting
"How do I love thee? Let me count the ways." – Elizabeth Barrett Browning
Though such a simple quote, it really sums love up. If your lover ever asks you what you love about them, make sure you have a very long list in hand. Sometimes we may need to tell people exactly why we love them because they might not understand why we do, or they need some loving reassurance that they are indeed loved.
20. Emily Bronte on Twin Souls
"Whatever our souls are made of, his and mine are the same." – Emily Bronte
When you fall in love, you notice that there are a lot of similarities. You might feel as if a part of you that was missing is now complete within you. We are often drawn to people with whom our souls are especially interconnected with.
21. Nicholas Sparks Knows They Are Your Everything
"You are every reason, every hope and every dream I've ever had" – Nicholas Sparks
If the one you love is the very reason for your life and breath, if they are the one that keeps you hopeful, and they are the manifestation of your dreams about love, then you make sure to let them know. They might not realize just how significant they are to you.
22. F. Scott Fitzgerald Says Love Until the End of Time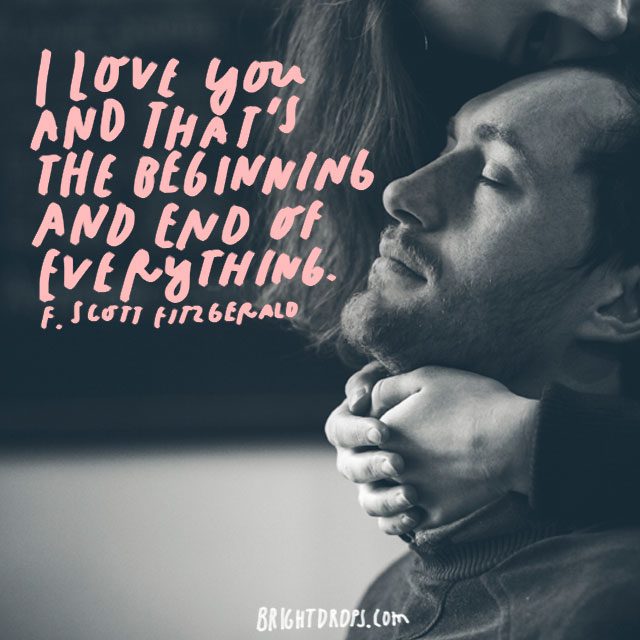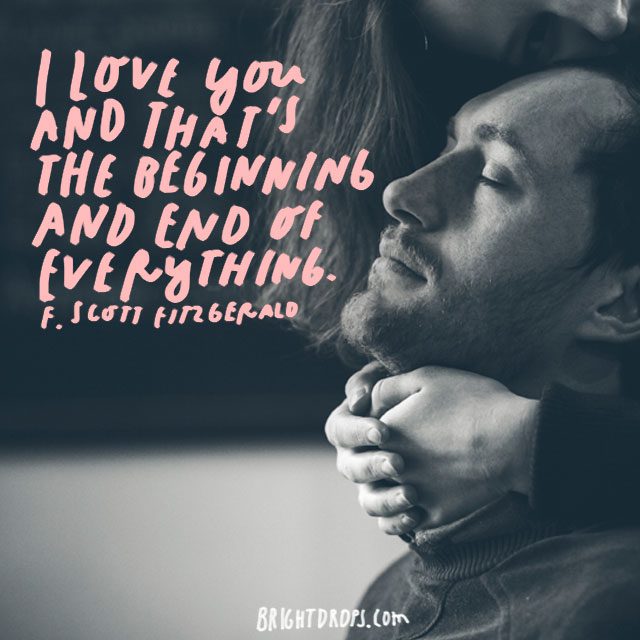 "I love you and that's the beginning and end of everything" – F. Scott Fitzgerald
There's no more simpler way to say it then is there? Love doesn't have to be complicated. You loved them from the beginning and you'll love them till the end. Make sure to enjoy the journey along the way and value their love each and every day.
23. Valerie Lombardo on Friends and Lovers
"To be your friend was all I ever wanted; to be your lover was all I ever dreamed." – Valerie Lombardo
If you have a love that began out of friendship, you are truly lucky. Friendship is a good foundation for romantic love. You might have even loved your partner while you only had friendship between you; dreaming of the day when you might kiss them. If your dreams have come true, make sure to count your blessings.
24. Roy Croft Knows They Make You Better
"I love you not only for what you are, but for what I am when I am with you" – Roy Croft
If your lover makes you a better person when you are around them, let them know how much they mean to you. We are often in love with people who can teach us things we most need to learn. Love can make you both surrender into the better parts of yourselves, so walk the journey together.
25. Alfred Tennyson on Love and Gardens
"If I had a flower for every time I thought of you, I could walk in my garden forever" – Alfred Tennyson
Now this is a romantic thought. Instead of having a dollar for every time that you think of your lover, try collecting flowers instead! Pretty soon you will have a garden that is the envy of the world. You would have endless floral arrangements to present them with every day.
26. Pablo Neruda Loves Simply
"I love you without knowing how, or when, or from where. I love you simply, without problems or pride" – Pablo Neruda
Sometimes love is too hard to figure out. You might never know how you fell in love, when, or where it even came from. There might be issues and problems that arise because of the love you have for your partner, but do not let that stop you. Love them through it all.
27. Pablo Neruda Knows Love Conquers All
"By night, Love, tie your heart to mine, and the two together in their sleep will defeat the darkness" – Pablo Neruda
If you have some one that loves you through and through, that is walking with you side by side during this life, then you are truly fortunate. The challenges of life are much more easily defeated with someone we love by our side. They gives us strength and support.
28. Dierks Bentley Feels Your Pain
"You're always the first and the last thing on this heart of mine. No matter where I go, or what I do, I'm thinking of you." – Dierks Bentley
If you cannot seem to get your lover off your mind to matter what it is that you do, share this quote with them. From the moment you wake up, to the moment you go to sleep, let them know that you think about them and how much you love them.
29. Aerosmith Doesn't Want to Fall Asleep
"I don't wanna close my eyes, I don't wanna fall asleep, cuz I'd miss you babe and I don't wanna miss a thing" – Aerosmith
From a very popular rock song this message surely does depict the torture of love. It can be hard to be apart from the one you love even in sleep. Your heart does not want to waste one second and must be smothered in love at all times. Enjoy the sleeplessness and the desire, for they are bittersweet symptoms of love.
30. Ritu Ghatourey Asks How Close You Can Get
"When I am with you, the only place I want to be is closer" – Ritu Ghatourey
Is this how you feel when you are with your lover? That when you're together you want to be even closer sharing dreams, hopes, fears, kissing, cuddling, and more? If this is how you feel, then the next time you're with your lover, make sure to get closer.
31. Boris Kodjoe Knows It Goes Beyond Your Head
"My love for you is past the mind, beyond my heart, and into my soul" – Boris Kodjoe
Sometimes love is so profound and so deep that it goes beyond any objections of the mind, beyond any fears of the heart, and straight into the strength of the soul. Deep and binding love will always speak much louder to you than romantic flings.
32. Mary Wortley Montagu Doesn't Want to Part
"In short I will part with anything for you but you" – Mary Wortley Montagu
Let your lover know that you will part with anything for them, but if you are asked to part from them, that that is something you cannot do. This quote shows that you would happily sacrifice everything for the one you love.
33. Oscar Wilde Delivers Poetic Love
"There's this place in me where your fingerprints still rest, your kisses still linger, and your whispers softly echo." – Oscar Wilde
Do you have that place within you? Do you still feel those fingertips caressing your cheek, the kisses on your forehead, and the whispers of "I love you," in your ear? Hold this within your heart anytime that you have to be away from your love and it will bring you comfort.
34. Ralph Block on Love Being Everything
"You're nothing short of my everything" – Ralph Block
You are probably everything to your lover just as they are everything to you. Do not take for granted the love that you have for each other because it will strengthen you and support you through all the challenges of life. Be the everything they need you to be.
35. Eleanor Di Guillo Feels the Rays of Love
"Your love shines in my heart as sun that shines upon the earth" – Eleanor Di Guillo
So what do we know about the sun? Well, it is warm, it is life giving, and it is powerful. That is exactly what love from another person can do for us. It can breathe life into us, warm our hearts and infuse our lives with power.
36. Margaret Walker on the Stretchy Affects of Love
"Love stretches your heart and makes you big inside." – Margaret Walker
When you first fall in love it is almost as if you're in the throes of agony because your heart is so full, and it stretches and stretches. You feel like you're expanding from the inside out that nothing can contain you. Love is a great mover of energy and life.
37. Franz Rosenzweig on the Life Giving Ways of Love
"Love brings to life whatever is dead around us" – Franz Rosenzweig
This is one of our favorite quotes about love. Love is extremely valuable and it brings things to life that were previously dead. It can inspire and motivate where there was despair and apathy. What has your love brought to life around you?
38. Leo Christopher Says Love Expands
"I swear I couldn't love you more than I do right now, and yet I know I will tomorrow" – Leo Christopher
That is the great enigma of love. That it can continue to grow even when you think you have loved to capacity. The more time you spend with people the more you come to know them and love them. Just think about how much more love you'll have for your partner in another 10 or 20 years!
39. Angelita Lim Knows Love's Imperfections
"I saw that you were perfect, and so I loved you. Then I saw that you were not perfect and I loved you even more" – Angelita Lim
When you're in love, the person of interest appears so perfect and there is nothing that they could do wrong in your eyes. Then, as you get to know someone you see their imperfections and it makes you love them even more for being human.
40. Dr. Seuss is Happy Your Dreams Came True
"You know you're in love when you can't fall asleep because reality is finally better than your dreams" – Dr. Seuss
It is easy to want to spend every waking moment with the one that you love, especially when your dreams have now become a reality. Rest assured that if you close your eyes to get some sleep that you will wake once again to the eyes of your lover.
41. Friedrich Nietzsche on the Madness of Love
"There is always some madness in love. But there is also always some reason in madness" – Friedrich Nietzsche
Love makes us crazy from time to time. There is a bit of madness in love because of the way that it fills us with passion, and makes us do very irrational and impulsive things. But yet, even mad geniuses have reason in their madness, and so does your love.
42. Pedro Calderón de la Barca Also Speaks of Love and Madness
"When love is not madness it is not love" – Pedro Calderón de la Barca
These cute love quotes certainly do seem to have a theme with madness don't they? But yet again, we can see just how much madness does exist in love. But madness is a good thing! It infuses us with passion and desire to share our hearts with someone else.
43. Samuel Lover Says Move On In
"Come live in my heart, and pay no rent." – Samuel Lover
Tell your lover today that they need not pay any rent for taking up space in your heart. Let them know that you are going to share your love and life with them without regard for what they're going to give back to you.
44. H. Jackson Brown, Jr. Instructs to Be Selfless
"Love is when the other person's happiness is more important than your own." – H. Jackson Brown, Jr.
Now this does not mean that you have to be unhappy so that someone else can be happy, but rather that you are willing to sacrifice something you want in order to see the one you love smile and get what they want. This is a very mature kind of love.
45. Audrey Hepburn Says Don't Let Go
"The best thing to hold onto in life is each other." – Audrey Hepburn
This is some of the best advice yet! Hold onto each other because your love can be the lifeboat in which you both keep afloat during the times and trials of life. When the world is against you, it's great to have someone who has your back.
46. Lao Tzu on the Value of Love
"Being deeply loved by someone gives you strength, while loving someone deeply gives you courage." – Lao Tzu
The great thing about love is that it is not something you just give away and not get anything back for. Loving someone allows you to be very courageous with your affections and your heart, while being loved by someone gives you strength to be the person you know you can be.
47. Jean de la Bruyere Knows the Power of Their Voice
"The sweetest of all sounds is that of the voice of the woman we love." – Jean de la Bruyere
To keep things generic, we'll say that the sweetest of sounds is the voice of the person you love. When you've had a rough day, or you're feeling blue, the voice of your lover is the perfect music to lift you up and comfort you.
48. John Lennon Says It's All Clear
"Everything is clearer when you're in love." – John Lennon
Things can get a little confusing when you're in love at first, but after the dust settles then life becomes much clearer. Love, compassion, and kindness towards another can expand out to other people. Just being in love with another person can help shift your view about love and about the world.
49. Candace Bushnell on the Fires of Love
"Man may have discovered fire, but women discovered how to play with it." – Candace Bushnell
If you love a passionate fiery woman, then you know how much this is true. You might be the provider in the relationship in terms of income, building, hunting, or other skills, but your woman is the other half of you that plays with everything you bring you. A happy wife, a happy life!
(Read this next: 105 Cute Quotes on Everything)