Being grounded means that you feel safe and secure in your own skin and within your life. It means that you have a stable foundation that allows you to roll with the punches and deal with the ups and downs of life. Everyone could use some grounding, so peruse these quotes here and you can thank us later.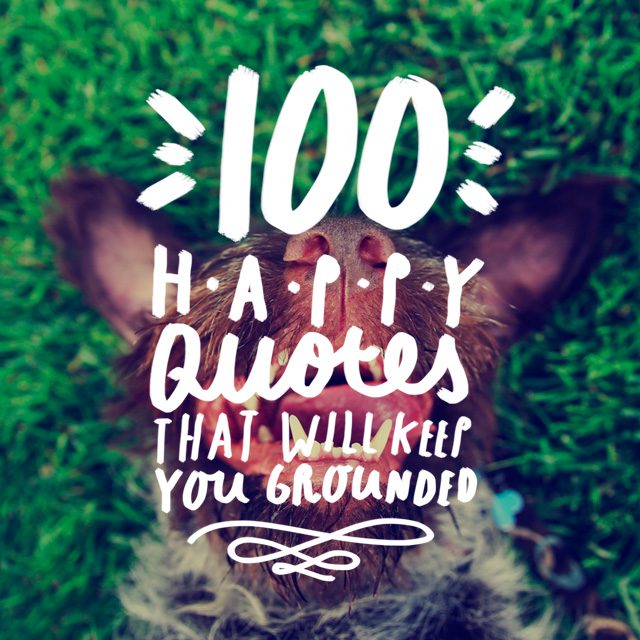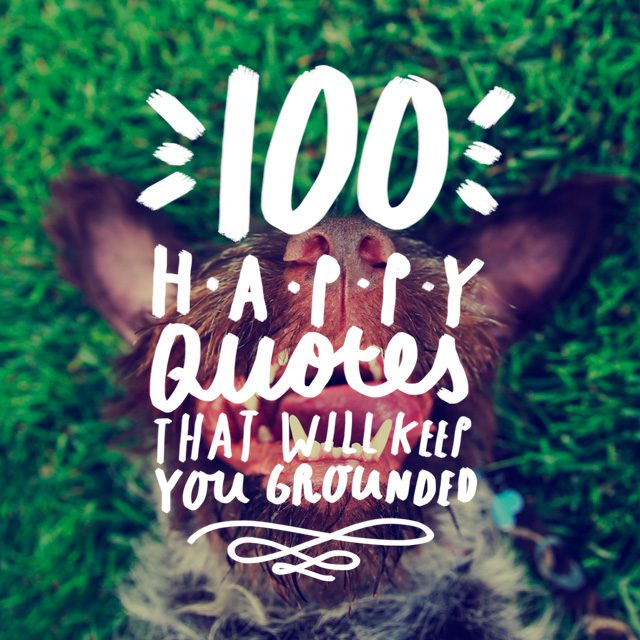 1. Steve Goodier Knows the Power of Grounding
"Get yourself grounded and you can navigate even the stormiest roads in peace." – Steve Goodier
Being grounded is essential to making it through life in one piece. What does being grounded look like? That you take care of your body, that you spend time in nature and enjoy each moment in life. It also means that you are centered and feel safe within your own skin.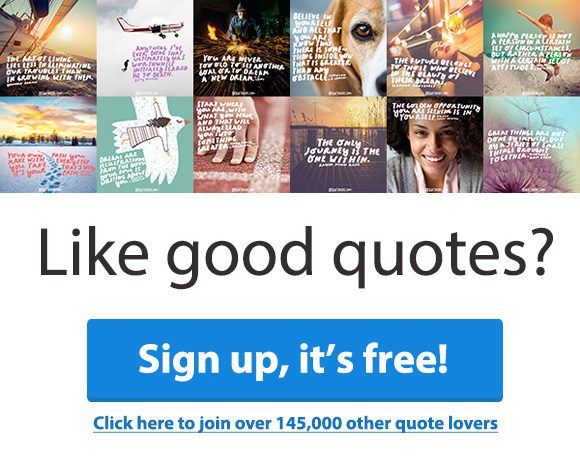 2. Michael Gruber Tells Us to Stay Grounded
"But it turns out that people who are grounded and secure don't change much under stress. That's what being grounded means." – Michael Gruber
If you have a solid foundation, the roughest storms of life can't shake you down. It really is quite liberating two stay consistent through any stress that you might be dealing with. Take steps today to ground yourself and your life so that you have strength for the years to come.
3. J.R. Rim on Flying
"Flying starts from the ground. The more grounded you are, the higher you fly." – J.R. Rim
Why is being grounded so important? Well, if you've got your head in the clouds and you are drifting in the wind, then it is hard to create consistent success for yourself. Plant your feet firmly in the earth and stretch your head to the clouds so you can bring your dreams into reality in your life.
4. Hemal Radia Knows the Value of Self-Love
"There is only one true love affair; the one with yourself. All others are expressions of it." – Hemal Radia
Loving yourself is one of the most important things that you can do. It is not possible to love others authentically if you do not love yourself. Take some time today to give yourself some of TLC that you probably desperately need and deserve. Learn how to love and appreciate yourself for who you are.
5. The Dalai Lama Keeps it Simple
"The point of life is happiness" – The Dalai Lama
Happiness is such a central behavior to an abundant and joyful life. Happiness makes the rough times easier to get through and it's contagious. It spreads from you to others in ways that you can't even imagine, and it comes back to you. The happier you are, the more quality of life you will have.
6. Rumi Instructs You To Break Your Barriers
"Your task is not to seek for love, but merely to seek and find all the barriers within yourself that you have built against it." – Rumi
Many people walk around looking for love and never really find it. There are blocks within each of us that keep us from accepting the good things in life. Dig deep and find those barriers within yourself that keep you from experiencing the kind of love that you say that you want.
7. Anthony Robbins on Gratitude Beating Fear
"When you are grateful, fear disappears and abundance appears" – Anthony Robbins
An attitude of gratitude allows you to shift your vibration just enough to calm your fears and create the abundance in your life that you so desire. It makes you realize that things are not as bad as you might feel they are. Make practicing gratitude a daily ritual and see how you life transforms.
8. Gabrielle Bernstein Knows You Are What You Believe
"What you believe, you receive." – Gabrielle Bernstein
The more you believe something to be true the more of it you receive. So if you believe the world is a bad place, then all you'll see is the bad within it. If you believe that your dreams can come true, you will receive the life of your dreams.
9. Mastin Kipp on Love and Action
"Love is an action, a choice. Love is not really an emotion." – Mastin Kipp
Although love is something that we feel within us, true love is how we show up for those we say we love. Love is taking what we feel and acting on it. How can you show someone in your life that you love them today? Let your actions speak much louder than your words.
10. Anthony Robbins Says to Focus On What You Want
"Focus on where you want to go, not on what you fear." – Anthony Robbins
The more you focus on what you are afraid of, the more you will actually experience it. Instead, spend your precious energy focusing on the future and what you want for your life. This will give you an incredible amount of control to create the life that you desire.
11. Dalai Lama Tells You How To Empower Yourself
"Awareness is empowering." – Dalai Lama
Think about it this way. You are driving along the road and hit a pothole that you were unaware existed. But the next time you drive down the road you are aware of the pothole and you swerve to miss it. When you bring your awareness to something you empower yourself.
12. Osho on Awareness
"Just go on becoming more and more aware, and you will find your life changing for the better in every possible dimension. It will bring great fulfillment." – Osho
Here's another quote about awareness. The more you open your eyes and step back to look at the bigger picture, the more you become aware of, and the more you are able to have compassion for others. You are able to learn from things more easily and you can transform your life.
13. Brother David Steindl-Rast on Happiness and Gratitude
"In daily life we must see that it is not happiness that makes us grateful, but gratefulness that makes us happy." – Brother David Steindl-Rast
Expressing gratitude brings a comforting and humbling vibration to your being. If life has you down right now, look around at all of the things you have to be grateful for and see if it doesn't make you feel just a little bit better. Taking stock of the good things allows you to tap into a happier frequency.
14. Sarah Caldwell on Learning
"Learn everything you can, anytime you can, from anyone you can – there will always come a time when you will be grateful you did." – Sarah Caldwell
Life is about creating and experiencing, don't just sit there and watch it pass you by. You can learn something from everything you experience every single day. There is always something more to learn, no matter how old you are. Glean as much wisdom out of your days and the wiser you become because of it.
15. William A. Ward Ask How Grateful You Are
"God gave you a gift of 86,400 seconds today. Have you used one to say 'thank you?'" – William A. Ward
Expressing gratitude to someone else sends out a ripple effect of happiness into the world. Make a commitment to say thank you to at least one person every single day and see what happens. Gratitude can utterly change lives, just try it and see if it doesn't change yours.
16. Swami Rama Tells You To Be the Observer
"Start observing your own mind. Do not try to escape; do not be afraid of your thinking." – Swami Rama
So how do you be the observer of your own mind? Well, sit in quiet meditation and decide that you're going to watch your thoughts pass before you like a movie. Remove attachments and emotions to any of your thoughts and just watch them; watch them come and go. This kind of awareness is incredibly empowering.
17. Abraham Lincoln Encourages You to Choose Happiness
"We are as happy as we make up our minds to be." – Abraham Lincoln
Being happy is a choice. Have you ever noticed people in the worst of life circumstances that still continue to smile and laugh? Take a lesson from those people and choose to be happy even if you don't really feel like it. That simple choice can shift your mood immensely.
18. Buddha Says to Let Go
"Learn to let go. That is the key to happiness." – Buddha
Letting go is extremely liberating. Many people carry around regret, guilt, and grudges, but that does nothing but weigh our lives down with negativity. Learn to accept how you feel about things then let them go so you can focus on more important matters in your life.
19. R. H. Grenville on the Pursuit of Happiness
"In the pursuit of happiness, the difficulty lies in knowing when you have caught up." – R. H. Grenville
Are you on a constant search for happiness? It's not something you can find, it's something you create within yourself and decide to be. If you are seeking happiness then make sure you know when you have it in your life instead of being so busy searching that you pass it by completely.
20. Virgil Says Being Healthy is Being Wealthy
"The greatest wealth is health." – Virgil
What good is financial wealth if you are too sick to enjoy it? To have good health is the most important of things because without your health, you don't really have much of anything else. Life can be hard to experience if you're not healthy enough to enjoy it. Eat well, exercise, and reduce stress.
21. Buddha Says to Sit Back and Watch
"Be the witness of your thoughts." – Buddha
Witnessing your thoughts allows you to see patterns in your mind that do not serve you. If you step back and watch your thoughts come and go you allow your mind a chance to work itself out, and you can examine your thoughts to help you be a better person.
22. Hannah Green on Health
"Health is not simply the absence of sickness." – Hannah Green
Being healthy does not mean that you are free from all illness. Health incorporates not only balance in the body, but the mind, and the spirit. Being healthy means that you are well rounded, grounded, optimistic, eat well, exercise, and are kind to people.
23. Charles de Lint is Magic
"That's the thing with magic. You've got to know it's still here, all around us, or it just stays invisible for you." – Charles de Lint
Those who do not believe in magic, never experience it. Magic exists in the form of energy and energy can be manipulated. There is nothing wrong with that and you have the power to use the magic around you to create the life you want. You must simply believe that it exists and start working with it.
24. Cicero on Being Content
"To be content with what one has is the greatest and truest of riches." – Cicero
If you take a minute to look around at everything you have, you'll probably see that you are very blessed and you have quite a rich life. No matter if you have the shirt on your back or $1,000,000 in the bank, always tap into gratitude and be content with what you have.
25. Norman Vincent Peale Tells You to Believe in Yourself
"Believe in yourself! Have faith in your abilities! Without a humble but reasonable confidence in your own powers you cannot be successful or happy. " – Norman Vincent Peale
It is so essential to success that you believe in yourself and take pride in what you do, and for who you are. Having this creates confidence in your life and allows you the opportunity for even more happiness and success. You are so much smarter and wonderful than you probably think.
26. Og Mandino on Planting Seeds
"Always do your best. What you plant now, you will harvest later." – Og Mandino
No matter what you are experiencing now or what task you have at hand, do your best at it. Nothing is too menial for your undivided attention and hard work. Things you do now will blossom down the road. So plant seeds right now for your future.
27. Helen Keller on Optimism
"Optimism is the faith that leads to achievement. Nothing can be done without hope and confidence." – Helen Keller
Hope and confidence are great cheerleaders for you. Having optimism in even the most challenging of circumstances well offer you a higher chance of success no matter what you do. Hope and confidence will carry you far in this life, so make them your best friends.
28. Jim Rohn Wants You to Control Your Day
"Either you run the day or the day runs you." – Jim Rohn
The sun will rise and set regardless of what you do during the day. Either you jump in and are an active participant in your days, or you unconsciously allow life to be lived for you. What is your choice today? If you want success, consider taking each day by the reins.
29. Benjamin Franklin Instructs You To Do Well
"Well done is better than well said. – Benjamin Franklin
Anybody can speak flowery words, so what's more important is that you back your words up with working hard. When do you things well, people know that you are reliable and good at what you do. Actions speak louder than words in many cases so always choose to do something well rather than just speak about it.
30. Dale Carnegie Says Face Your Fears
"If you want to conquer fear, don't sit home and think about it. Go out and get busy." – Dale Carnegie
Conquering fear was never accomplished by just thinking about it. The best way to conquer fears is to go out and face them, right? Be it asking the cute barista at the coffee shop out on a date, or applying for that job, or going skydiving. Once you face your fears you're that much stronger because of it.
31. Jim Rohn Knows You Can Change
"If you don't like how things are, change it! You're not a tree." – Jim Rohn
Many people feel that they do not have the power to change their lives, but that is simply not true. Whatever you do not like in your life, you are the only person that can change it. Move, learn, grow, and create the life you deserve for yourself.
32. Mark Twain Wants You to Just Get Started
"The secret of getting ahead is getting started." – Mark Twain
The best way to do anything is to simply get started. Even the biggest of tasks are not accomplished unless the process to get them finished has begun. If you want a leg up on the competition, then get moving and keep moving. Do whatever you can today to get started.
33. Aristotle Says Actions Speak Louder
"Quality is not an act, it is a habit." – Aristotle
Living a quality life, and being a high quality person is something that you make a habit of every single day. It's not something you just pretend for little while and put on as a mask around others, it is something that you do in the quiet moments when no one's watching.
34. Thomas Paine On Triumph
"The harder the conflict, the more glorious the triumph." – Thomas Paine
Sometimes you might have gone through some really intense and challenging experiences. But take a look at how much stronger you are because of them. We grow and evolve because of the complex experiences in life. You have more untapped strength and potential in you than you probably know.
35. R.H. Blyth on Gratitude
"There is no greater difference between men than between grateful and ungrateful people." – R.H. Blyth
There are two types of people in this world, those that express gratitude, and those that do not. If you take a look at both types of people you will see that those that are grateful are happier and have lighter energy about them. Do your best to emulate them.
36. Samuel Beckett on Failing
"Ever tried. Ever failed. No matter. Try again. Fail again. Fail better. " – Samuel Beckett
Everybody tries things over and over again, and everybody fails at things over and over again. Each time you fail, fail better than the last time. This means that you have learned from your last failure and will do better the next time until eventually you aren't failing anymore!
37. Ralph Marston Says to Make Tomorrow Better
"What you do today can improve all your tomorrows" – Ralph Marston
The actions you take today are the seeds you are planting for tomorrow. The hard work you put in right now might not seem like it will amount to anything, but just wait for the tomorrows down the road which will prove to you that it was all worth it.
38. Bradley Whitford Wants You to Make it Happen
"Infuse your life with action. Don't wait for it to happen. Make it happen. Make your own future. Make your own hope. Make your own love." – Bradley Whitford
Nothing great was ever done by those who did not act. Take the reins of your life and take accountability for what you have created in it. Make changes that are needed, evolve yourself and your life into a better version than they were before.
39. William James Says To Be Right Now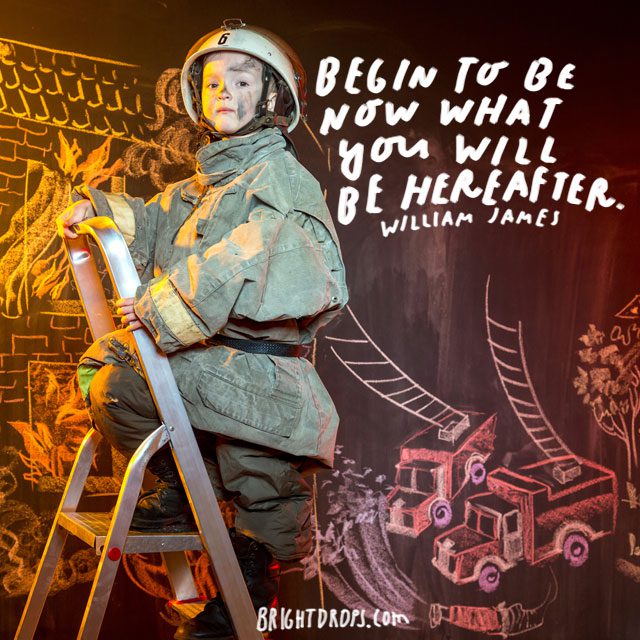 "Begin to be now what you will be hereafter." – William James
If you dream of being a confident, successful, or amazing person, then be that right now in this moment. It takes practice to be the people that we want to become. You might have heard the term, "act as if." That means to act as if you are what you want to be right now.
40. Eric Hoffer on Counting Blessings
"The hardest arithmetic to master is that which enables us to count our blessings." – Eric Hoffer
Sometimes it can be very hard to count your blessings when life is weighing you down. However, counting blessings brings an air of comfort and gratitude to your experience. It shines a light for you to follow out of your difficult experiences. Counting blessings keeps you humble.
41. Tony Robbins on Setting Goals
"Setting goals is the first step in turning the invisible into visible." – Tony Robbins
When you want something and are not sure how to get it, sit down and make a list of what it would take to get what you want. Then set a goal to accomplish the first step, then the second, then the third. And before you know it, what was invisible to you once will be a part of your reality.
42. Gordon B. Hinckley Knows of Hard Work and Harvests
"Without hard work, nothing grows but weeds." – Gordon B. Hinckley
Hard work provides all of the wonderful experiences in life that we desire. This could be hard work at your job to develop a career and success within it, it could be hard work in healing behavior within yourself so that you are happier and more grounded, or to be the hard work it takes to have a happy relationship.
43. Brian Tracy on Luck
"I've found that luck is quite predictable. If you want more luck, take more chances. Be more active. Show up more often." – Brian Tracy
Luck is simply your ability to manifest what you want in your life. Have you ever known someone that seems to get things they want almost effortlessly? It is possible for you as well. Be open minded, say yes to the world, show up and be prepared to participate in life. Then you have more control over luck.
44. Zig Ziglar Says Failure is Not Who You Are
"Remember that failure is an event, not a person." – Zig Ziglar
Failure is something that happens, not something that you are. No matter how many times you have failed, it does not define the person you are. Even if you fail many times, it is just something that happens. Remove your guilt and you will find success much more easily.
45. Emelia Earhart Knows You Need to Keep Going
"The most difficult thing is the decision to act, the rest is merely tenacity." – Emelia Earhart
Once you decide to get off your butt and take action in your life, the rest that carries you through is your desire to keep going. Once you get moving, it is much easier to stay moving. What can you do today to improve your life with your actions?
46. Earl Nightingale Says Think Carefully
"We become what we think about." – Earl Nightingale
This is another happy quote about being careful what you think about. If you think that you are an amazing, kind, and happy person, then that is what you will be. However if you think the opposite, you will also continue to be that. The power is yours.
47. Charles Swindoll Chooses How to React
"Life is 10% what happens to me and 90% how I react to it." – Charles Swindoll
We cannot change many things that happen to us in life, but the one thing we have control over is how we react to those things that happen. If you practice reacting to things in an open and loving way, it you will find that all challenges are just that much easier to deal with.
48. Alice Walker Speaks of Your Power
"The most common way that people give up their power is by thinking they don't have any." – Alice Walker
There's so much power at your fingertips! Do not get sucked into the belief that you cannot change your circumstances in your life. There's always something that you can change, and you are more powerful than you have ever dreamed. If you do not claim your power, others will exert their power over. Stand up for yourself and change your life.
49. Woody Allen Wants You to Show Up
"Eighty percent of success is showing up." – Woody Allen
Many people fall short of success because they stop showing up. It can be hard to continue to show up if you have failed a few times, or if you are meeting resistance. However, continuing to show up will eventually lead you to the success you desire.
50. Anais Nin Says to Be Brave
"Life shrinks or expands in proportion to one's courage." – Anais Nin
Life is quite small to those who are fearful of it, yet light is large and exciting to those who are courageous enough to go out and face it. Increase your courage and see your life expand in ways never imagined. The more you practice courage, the more courageous you will be.
51. Theodore Roosevelt Says It's All About Belief
"Believe that you can and you're half way there." – Theodore Roosevelt
Most of the time the thing that keeps us from being the people we want to be and living the life you want to live is simply a lack of belief in ourselves. If you believe in yourself and the dreams you have for your life, you have literally won half the battle.
52. Tony Robbins Instructs You To Do Something Different
"If you do what you've always done, you'll get what you've always gotten." – Tony Robbins
You can't keep doing the same things and expect different results. Things need to be tweaked and manipulated to to workout in the ways that you would like things to work out. If you want to something in your life to change, look around and do something different than the same old thing.
53. Ayn Rand Says Keeping Going No Matter What
"The question isn't who is going to let me; it's who is going to stop me. " – Ayn Rand
You don't need permission to do anything for yourself and your life And even if those in your life try to stop you from doing what you want to do, follow your heart and work to make your dreams come true. Nobody else is going to do it for you.
54. Les Brown on Accountability
"Accept responsibly for your life. Know that it is you who will get you where you want to go, no one else" – Les Brown
It can be easy to blame circumstances or other people for the way your life turned out, but that does absolutely nothing positive for your life. You have the power in your hands to change your life in any way the you choose, so what can you do today to change your life?
55. Zig Ziglar Tells You to Keep Motivated
"People often say motivation doesn't last. Neither does bathing—that's why we recommend it daily." – Zig Ziglar
Motivation in definitely loses steam after a while. Especially if you meet a lot of resistance or have a lot of doubts that you can actually accomplish what you set out to accomplish. To stay motivated every day, you need to renew and refresh your vision and goals, and keep moving forward.
56. Bryant H. McGill is Enthused
"Enthusiasm is the energy and force that builds literal momentum of the human soul and mind." – Bryant H. McGill
When you are passionate and enthusiastic about something that you are doing, it carries a blowing powerful energy that awakens the heart, the mind, and the soul. Whatever it is you are passionate and enthusiastic at about, make sure to do as much of it as you possibly can.
57. Tom Watson Doesn't Want You to Over Think
"Sometimes thinking too much can destroy your momentum." – Tom Watson
A lot of times the reason for our failure is simply ourselves. Thinking a lot is great when you need to create solutions or a plan of action, but if you over think every little detail, you lose the momentum you've gained from your passion. Keep things simple.
58. Aristotle Knows What You Do, You Become
"We are what we repeatedly do. Excellence, therefore, is not an act but a habit." – Aristotle
Our habits are what make us. If we do not like ourselves or our habits then we simply need to change them. Being excellent at anything in your life takes practice and becomes a daily habit. What is a new habit you can adopt today that will better your life?
59. George S. Patton Says to Take Careful Risks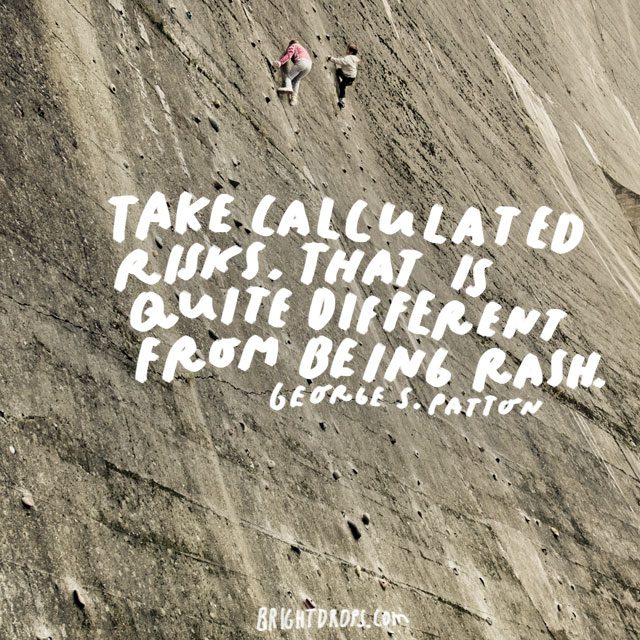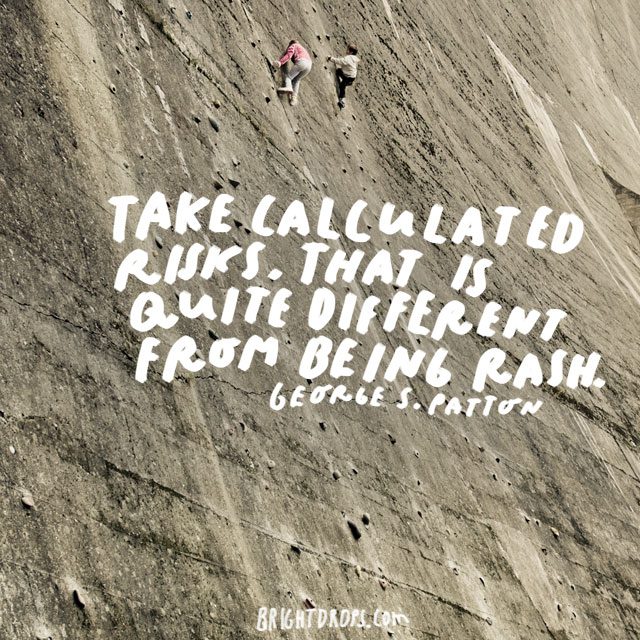 "Take calculated risks. That is quite different from being rash." – George S. Patton
Understanding the pros and cons of a choice you are about to make means that you are going about the process intellectually and in the smartest way possible. Looking at every angle before making a decision is empowering. So if you make decisions the others disagree with, just let them know you're taking calculated risks.
60. Robert Frost Says Come on Through
"The best way out is always through." – Robert Frost
It can be hard to face up to what life has been giving us but the best way to get through anything is to simply go through it. Get in there and get messy, and then move on to other things. Trust the process and do your best not to skip it, go straight through it.
61. Samuel Smiles on Sunshine and Shadows
"Hope is like the sun, which, as we journey toward it, casts the shadow of our burden behind us." – Samuel Smiles
Hope gives you a light to turn your face to in the darkest of times. As you continue to focus on light and anchor it in your being, the shadows of all the challenges you experience will fall behind you. Just make sure you keep turning your face to the sun.
62. Voltaire on the Usefulness of Jobs
"Work spares us from three evils: boredom, vice, and need." – Voltaire
If you have a job, be grateful for it. Working gives us something to focus on and keeps us from doing dumb things out of boredom, keeps us from developing dangerous vices, and keeps us from being too needy. If you don't like your job, find a new one that you do like; it makes a world of difference.
63. G.B. Stern on Gratitude
"Silent gratitude isn't much use to anyone." – G.B. Stern
Feeling gratitude keeps a heart humble, but it does so much more when it is shared with others. When you express to someone how grateful you are for them or something that they have done, you are simply spreading happiness. And that is worth quite a lot.
64. Jaggi Vasudev Instructs to Be Aware
"Higher dimensions of Awareness means Higher dimensions of energy." – Jaggi Vasudev
The more you become aware of yourself and the world around you, the different kinds of energy you get to play with. There is so much magic that exists simply in awareness. Being aware brings a special kind of power that is yours to own.
65. John E. Southard Says Get Even With Goodness
"The only people with whom you should try to get even are those who have helped you." – John E. Southard
Do not hold vendettas or grudges against others. It simply wastes your time and energy. If you want to get even with people, then get even with those who have been kind and generous to you. Spending our energy on something like that only brings positive results to life.
66. Sanjo Jendayi Says Be Humble
"Pedestals aren't safe…one wrong move and a nasty tumble is sure to follow. Humility is a great grounding tool." – Sanjo Jendayi
Being up on a pedestal can often change a person. And falling off that pedestal can be painful and sometimes embarrassing. Being humble keeps you real and authentic with others and most people appreciate it greatly. People like someone they can relate with and be real with. Try not to hold yourself above others. It's uncomely.
67. Andre Balazs on the Power of Water
"Bathtubs, pools, water – to me, it's a very essential part of being grounded and sensual and feeling yourself." – Andre Balazs
Anytime that you can engage yourself in the elements of the earth will allow you to be more grounded. Water is especially healing and good for processing emotions, as well as tapping into the creative sensual part of yourself. Learn to use water as a healing tool in your life.
68. Tim Howard Says to Have Faith
"My faith helped me stay grounded in defeat and victory, to not get too excited about the successes and too low about the failures." – Tim Howard
Having faith in your life and within yourself keeps you grounded so that it doesn't matter if you are failing or succeeding, you are able to stay consistent through the entire process. That kind of peace cannot be bought, it must be practiced. Learn to stay neutral during good times and bad.
69. Mahatma Gandhi on Harmony
"Happiness is when what you think, what you say, and what you do are in harmony." – Mahatma Gandhi
This is so very true. This happy quote points out that true happiness comes from being in alignment with self. Make sure that the things you think about in your life, and the things that you say about it, as well as your actions are all in perfect harmony for what you want to create for yourself.
70. Sean Kingston on Having Good Friends
"I make sure I always surround myself with good, down to earth, fun, real people, who always keep me grounded." – Sean Kingston
Being around people who are confident, well-rounded, and tapped into kindness and compassion are always the best people to have as friends. These people will keep you grounded and accountable for your life. Those types of friendships are valuable so if you already have some, cherish them.
71. Colbie Caillat
"Talking with my friends and family every day helps keep me grounded and connected to home. They are the most important things to me." – Colbie Caillat
Connecting with people who have known you the longest and love you the best can keep you from floating away in the tides of life. These people usually love you enough to tell you the truth even if you don't want to hear it. Who can you call and reconnect with today?
72. LL Cool J on Being Calm
"When adversity strikes, that's when you have to be the most calm. Take a step back, stay strong, stay grounded and press on." – LL Cool J
To get through any upsetting circumstance, practicing the art of calmness can help you get through any challenging circumstances. It keeps you grounded and more stable to process whatever is happening in as graceful of a way as possible. It's ok to freak out some, but don't let it consume you.
73. Tony Stewart Has a Grounding Family
"When I go home, it's an easy way to be grounded. You learn to realize what truly matters." – Tony Stewart
Going home and seeing your family takes you back to what matters. You realize that family and togetherness matters more than the busyness of life. Make sure that you visit your family as much as you possibly can. Just being around them for short time can ground your life exponentially.
74. Becky G Tells You to Be a Kid
"My little siblings keep me grounded. I'm a kid at heart." – Becky G
Kids are fantastic at keeping us grounded. The carefree and loving ways of children remind us that there are more important things than all the stresses of adult life. Whenever life is getting you down, go hang out with some kids and chances are you'll feel better pretty quickly
75. Gerald Good on Life Changing Thankfulness
"If you want to turn your life around, try thankfulness. It will change your life mightily." – Gerald Good
Gratitude is a very powerful thing. An attitude of gratitude brings about more abundance and things to be grateful for. What you think about you bring about. If you can learn to practice gratitude every single day, your life will absolutely transform. If you don't believe us, try it.
76. Benjamin Disraeli on Happiness and Action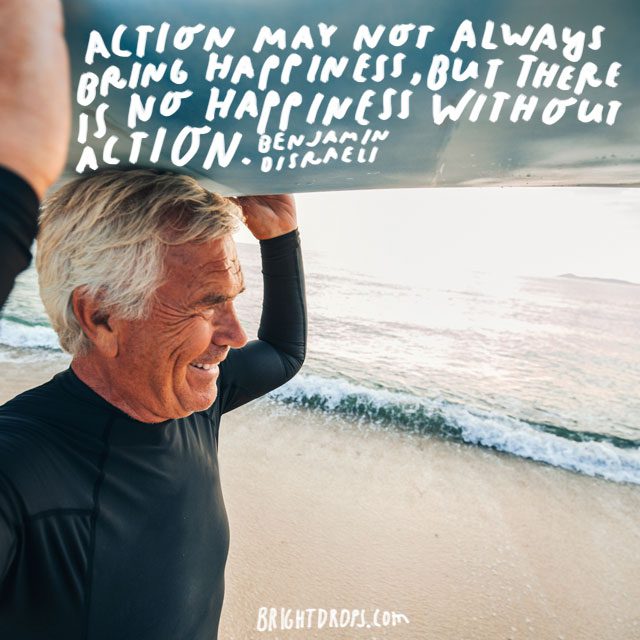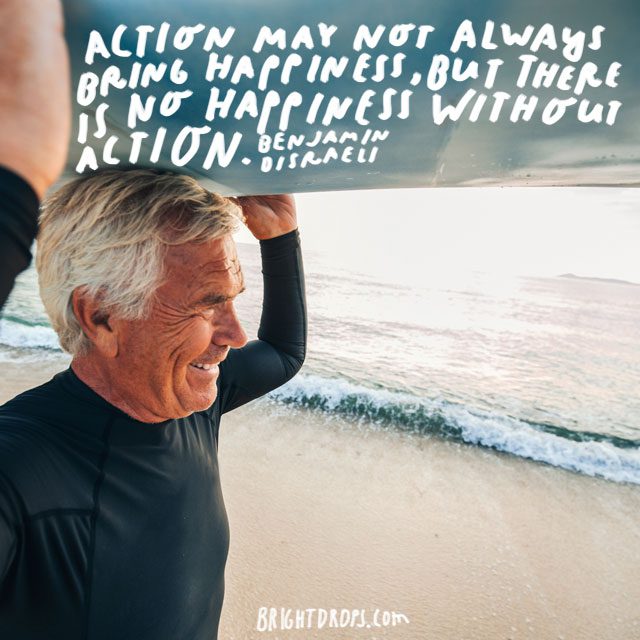 "Action may not always bring happiness, but there is no happiness without action." – Benjamin Disraeli
To stay happy we must do things that keep us happy. This could mean taking care of ourselves, treating ourselves to things from time to time, taking action to complete a project or do something artistic. What are some actions you can take today to live a happy life?
77. Jennifer Ellison Says Family is Great
"Going home and spending time with your family and your real friends keeps you grounded." – Jennifer Ellison
The people that know you the best are the ones that remind you of who you really are and where you've come from. Revisiting your roots can be extremely cathartic and give you the perspective you need to face life head on when you go back to it.
78. Buddha Wants You to Benefit Others
"Happiness comes when your work and words are of benefit to yourself and others." – Buddha
When your work is something that really benefits other people, there's a level of satisfaction that is attained. When your words are used to heal and to build others up, you also receive good karma tenfold. Your beneficial words and deeds are more important than you think.
79. Edith Wharton Says Just Stop and Be Happy
"If only we'd stop trying to be happy we'd have a pretty good time." – Edith Wharton
So many people are so focused on trying to be happy, when being happy simply means sitting in the moment and choosing to be so. Happiness is not something to be attained, it is something to be felt and cultivated within oneself. You can find happiness in any moment if you but look for it.
80. Frank A. Clark on Being Grateful For Everything
"If a fellow isn't thankful for what he's got, he isn't likely to be thankful for what he's going to get." – Frank A. Clark
If you aren't grateful for the things that you have in your life right now, what makes you think that you will have authentic gratitude for what will come to you in the future? Be thankful for what you have and watch what you want come into your life more easily.
81. David Whyte Speaks of Humility
"Honesty is grounded in humility and indeed in humiliation, and in admitting exactly where we are powerless. – David Whyte
Being honest and humble means being able to account for your actions and your behaviors. If you can set aside your pride to admit exactly where you are powerless and where you have allowed things to go wrong, then you have a level of personal freedom by doing so.
82. Orison Swett Marden Says You Are Made For It
"Believe with all of your heart that you will do what you were made to do." – Orison Swett Marden
It can be hard to get lost in all of the details of life, but if you believe with your whole being that you are doing what your heart and soul has whispered to you that you are here to do, then your life will inevitably be more fulfilled.
83. Walter Elliot on Perseverence
"Perseverance is not a long race; it is many short races one after the other." – Walter Elliot
Persevering does not mean you have the stamina of a race horse. It means that you are run really hard for short periods of time in succession so that you are able to transcend your challenges and difficulties. Do it long enough and a period of rest will follow.
84. Norman Vincent Peale Says Everything Has a Silver Lining
"In every difficult situation is potential value. Believe this, then begin looking for it." – Norman Vincent Peale
Every challenge has a silver lining. Once you start looking for the lessons and blessings in everything you experience, not only do you grow as a person, you start living more abundant life. Seek out the value in each experience and gain infinite wisdom.
85. William James Knows You Make a Difference
"Act as if you make a difference. It does." – William James
It really does make a difference if you act like you make a difference. You were born on this earth to provide something in service to humanity. There are people that love you and are inspired by you. So go out and live today I like you believe it.
86. Mark Caine Says the Power Is Yours
"The first step toward success is taken when you refuse to be a captive of the environment in which you first find yourself." – Mark Caine
If you want success in your life, the trick is to look around and what is not serving you. Once you see what is holding you back then you simply need to take action to make the changes needed so your life can be a better version that was yesterday.
87. Ella Wheeler Wilcox Knows Your Value
"It is possible for you to do whatever you choose, if you first get to know who you are and are willing to work with a power that is greater than ourselves to do it." – Ella Wheeler Wilcox
Knowing who you are is one of the most valuable things in life. It's also a key to success. Once you know yourself, then you understand what drives you and you're able to tap into the passion needed to be the person you are meant to be.
88. Muhammad Ali is Confident
"I know where I'm going and I know the truth, and I don't have to be what you want me to be. I'm free to be what I want. " – Muhammad Ali
It is so liberating to be the person you want to regardless of what those around you would like you to be. Speak your truth, feel your truth, and fight for it always. Make yourself your biggest cheerleader. The power is yours so don't let anything else convince you otherwise.
89. Winston Churchill Says You Have the Power
"We are still masters of our fate. We are still captains of our souls. " – Winston Churchill
You have control over your life and your fate. Do not give your power away to other people and circumstances that do not serve your overall growth. You get to be the captain of your ship and steer it wherever you would like. Stay true to yourself.
90. Norman Vincent Peale Wants You to Have Confidence
"Without a humble but reasonable confidence in your own powers you cannot be successful or happy." – Norman Vincent Peale
Successful people have a level of confidence and self-esteem that others often admire greatly. Take a lesson here and learning to be proud of your own power and you'll find your life is much happier and much more successful. You are smarter, stronger, and more beautiful than you probably realize.
91. Jim Rohn Says Take the Reins
"If you don't design your own life plan, chances are you'll fall into someone else's plan. And guess what they have planned for you? Not much." – Jim Rohn
Chances are if you let someone else plan your life they won't take as good care of you as you would yourself. Why would you want to give your power away like that? Get out there and be your own advocate to create the life you want.
92. Thomas Edison on Trying More
"Our greatest weakness lies in giving up. The most certain way to succeed is always to try just one more time. " – Thomas Edison
So many of us give up right before we're ready to succeed. Keep trying one more time, then another time, and another one after that. The more you keep trying the closer you get to not having to try anymore because you have finally done.
93. Zig Ziglar Says Critics Don't Get It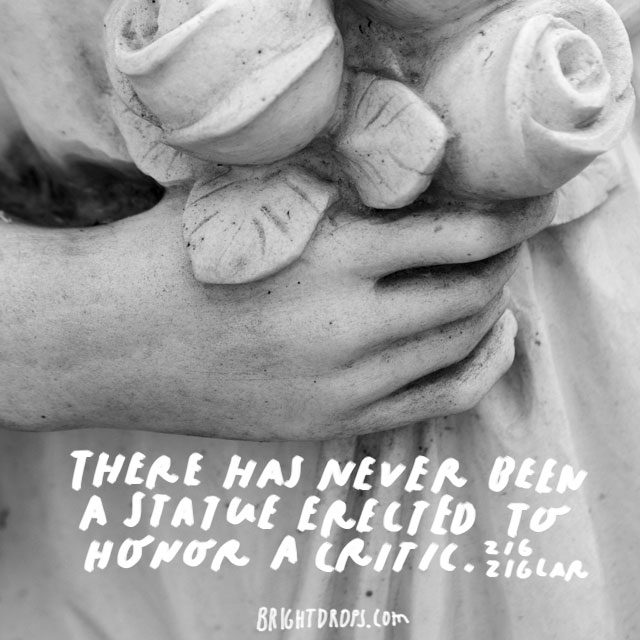 "There has never been a statue erected to honor a critic. " – Zig Ziglar
How true it is. No one has celebrated someone who's full of criticism and negativity. Be the type of person that others would make a statue of. How do you do that? Go out and be the most amazing version of yourself today that you possibly can.
94. Jada Pinkett Smith on Being Grounded Within a Crazy Life
"I do a lot of reading, meditating, and praying to stay as grounded as I can be in this crazy world." – Jada Pinkett Smith
There's so much stress in life back that pulls us in different directions and can completely crush our spirits. The best way to combat this is to stay as grounded as you can. Enjoy nature as much as possible, meditate and go within yourself, and always strive to learn and grow every day.
95. Albert Einstein Imagines Your Future
"Your imagination is your preview of life's coming attractions." – Albert Einstein
What you daydream and imagine your life to be is something you are giving power to your life actually becoming. If you're going to think about what your future might be like, make sure you choose happy and successful thoughts. Hold the vision of the life you want in your mind like a precious film that you know you will star in one day.
96. Mahatma Gandhi Says It Starts Within
"You must be the change you wish to see in the world. – Mahatma Gandhi
Changing anything in the world can be hard unless you have a lot of money or influence. However, the changes you make within yourself to be more kind and compassionate to others, spreads out more than you could possibly imagine. Let it begin within yourself then extend your home, and your neighbors, and your community, and eventually into the world.
97. Jean de la Bruyere on Motive and Character
"It's motive alone that gives character to the actions of men." – Jean de la Bruyere
Whatever motivates men definitely defines their character, doesn't it? If you are motivated and passionate about being in service to humanity, then a great character will be built around that. Take a look at what motivates you and see if it is a worthy cause.
98. Lanny Henninger on Resistance and Rivers
"Following the course of least resistance makes for crooked rivers and crooked men." – Lanny Henninger
The path of least resistance sometimes is the path of laziness and can lead to taking shortcuts where shortcuts are not ultimately beneficial. Make sure that resistance you experience in your life is something that you push through with all the courage and strength that you have within you.
99. William Arthur Ward Encourages Gift Giving
"Feeling gratitude and not expressing it is like wrapping a present and not giving it." – William Arthur Ward
People love to hear how they've made a difference in your life and to receive thanks. If you are truly grateful for someone else, make sure that you tell them. Keeping it to yourself serves no one. Who can you tell today that you're thankful for them?
100. Zig ziglar on Attitudes
"Your attitude, not your aptitude, will determine your altitude." – Zig ziglar
A good attitude gives you an advantage. It does not matter if you aren't particularly successful, having a great attitude shows people that you are easy to work with, get along with, and are just plain nicer to be around. Practice having a positive attitude and see how your life changes.
(Read this next: 27 Positive Life Quotes to Put Things into Perspective)