Life can be very simple or it can be extremely complicated. Life will throw you in every different direction. We are all searching for our happy endings and in life and these good quotes about life can make you realize that you are only given one life, so live it to the fullest.
1. Dr. Seuss Wants You to be Happy About the Past
"Don't cry because it's over, smile because it happened." – Dr. Seuss
Dr. Seuss's quote means do not be sad that something fun has ended or a person you loved has left, be happy that you were able to experience the fun times and cherish those moments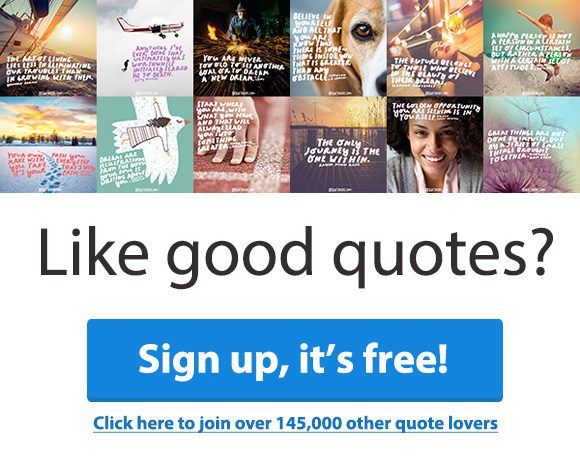 2. William W. Purkey Does not Mind Who's Watching
"You've gotta dance like there's nobody watching." – William W. Purkey
Dance as if you are the only one in the room, a true saying and a metaphor for not worrying about what other people think. Live your life as if the only opinion of yourself that matters is your own.
3. Mae West Believes One Life can be Enough
"You only live once, but if you do it right, once is enough." – Mae West
Everybody only has one life, but if we live it to the fullest and get everything we want out of it, then once is enough. This is perhaps Mae Wests' most famous quote from her lifetime.
4. Robert Frost Teaches Us an Important Lesson About Life
"In three words I can sum up everything I've learned about life, it goes on." – Robert Frost
Life can be hard and it does not stop for anybody. Robert Frost is an incredible poet and has garnered wisdom and a way with words throughout his many years. The three words he uses can be used to perfectly describe the lives we live.
5. Oscar Wilde Knows Many People don't Take Advantage of Life
"To live is the rarest thing in the world. Most people exist, that is all" – Oscar Wilde
Existing is what everybody does. Living, now that is truly rare. People who wake up every day feeling blessed with another day to be alive are the ones that are truly living on this earth.
6. Andre Gide Is Himself no Matter What
"It is better to be hated for what you are than to be loved for what you are not." – Andre Gide
Many quotes are about being true to you and Andre Gide delivers that message perfectly. Be yourself and if you are hated for it, well so be it. It is better than being a fake version of yourself and being loved.
7. J.K. Rowling Believes Life Should Always be at the Forefront
"It does not do well to dwell on dreams and forget to live." – J.K. Rowling
Dreams are great to have and to work toward, but don't get so caught up in them to let life pass you by. We need to remember to live in the moment sometimes and not worry about the future.
8. Allen Saunders Doesn't want Life to Pass Anyone By
"Life is what happens to us while we are making other plans." – Allen Saunders
We always need time to sit down and go over our lives. Are we living the way we want? Or are we just living to exist? Allen Saunders does not want anyone to let life go by because of doing anything other than living.
9. Mark Twain Describes His Perfect Life
"Good friends, good books, and a sleepy conscience: this is the ideal life." – Mark Twain
Though not everyone may feel this way, this is the perfect life to Mark Twain and many others. Mark Twain was an intellectual who loved to learn and grow his thoughts. A good book and a sleepy conscious was all he wanted.
10. Dr. Seuss Switches the Conventional Thinking
"Sometimes the questions are complicated and the answers are simple." – Dr. Seuss
Sometimes in life we believe we can't find the answer to our problems. But maybe it is the wrong question we are asking. Instead of always looking for the right answer, ask yourself if you are asking the right question.
11. Pablo Picasso Believes in Imagination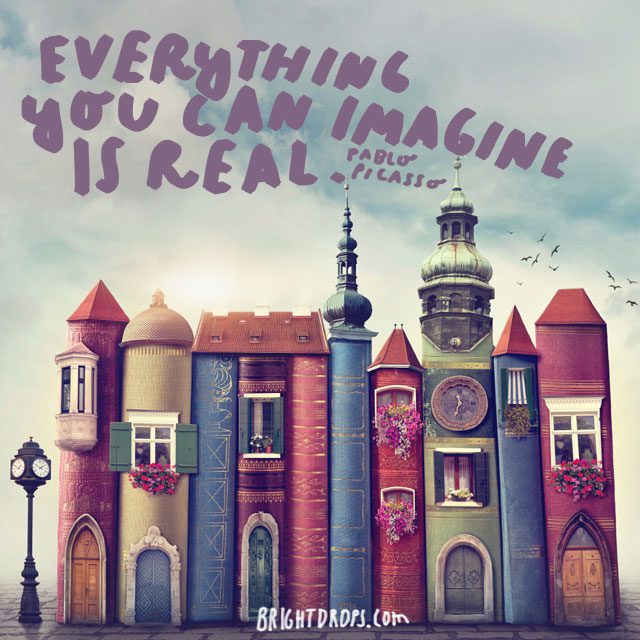 "Everything you can imagine in real." – Pablo Picasso
The famous painter believes everything he paints is real because he can imagine it. Your mind is not fake or phony, your mind is an extension of you so if you can think of it, it is real
12. Dr. Seuss Knows Nobody Is More You than You
"Today you are you, that is truer than true." – Dr. Seuss
Today, and everyday, nobody is more you than you. Realize that everyone one of us is a unique individual who is capable of extraordinary feats. Don't waste the ability you were given, work to become better everyday.
13. Woody Allen Describes Death in the only way he Can
"I'm not afraid of death, I just don't want to be there when it happens." – Woody Allen
Woody Allen is famous for his life sayings with a bit of comedy. He does not want to be around when it is time for his death. Only the esteemed actor and playwright could come up with this quote.
14. George Bernard Shaw Is a Creator of Life, not a Finder
"Life isn't about finding yourself. Life is about creating yourself." – George Bernard Shaw
Life should not be lived trying to find yourself and hoping. Life should be lived using your given talents to create whatever life you wish to lead. Don't just wish for your dreams to come true, make them come true.
15. Albert Einstein Believes in Forward Motion, in Science and Life
"Life is like riding a bicycle. To keep your balance, you must keep moving." – Albert Einstein
Albert Einstein is perhaps the smartest man to have ever lived. He compares life beautifully to an object we are all familiar with. Life becomes unbalanced when we stop moving forward.
16. Stephen Chbosky Gives Us the Honest Truth
"Things change and friends leave. Life doesn't Stop for Anybody." – Stephen Chbosky
A very true quote that many people need to hear. Life will always keep moving no matter what the circumstances. It will not stop for a lost life or a relationship ending. You just have to roll with the punches and take life as it comes.
17. Bob Marley's Life will be Lived How he Decides to Live It
"I'm the one that's got to die when it's time for me to die, so let me live my life the way I want to." – Bob Marley
Bob Marley knows he will die at some point, and only he was going to die as Bob Marley. So he wanted people to let him live the way he wanted to live until then. Life should be lived the way you want to live, not by what someone else expects of you.
18. Kurt Vonnegut Knows Sometimes We Pretend to be People We Aren't
"We are what we pretend to be, so we must be careful about what we pretend to be." – Kurt Vonnegut
There comes times in life where we pretend to be people we are not to fit in or make a good first impression. However, what we pretend to be sometimes becomes who we are, so we must be careful about how we present ourselves.
19. George Harrison Opens the Eyes of any Wanderers
"If you don't know where you're going, any road'll take you there." – George Harrison
George Harrison aims this quote at anyone who is lost in life. If you have no idea where you want to go, it does not matter what road you take because your end destination has not been determined. Take chances and maybe even take the road less traveled.
20. Mitch Albom Doesn't Completely Believe Death Does us Part
"Death ends a life, not a relationship." – Mitch Albom
For anyone who has a lost a loved one, this quote should give you a little closure. Mitch Albom knows that death ends a life, but that doesn't end the relationship you had with the person. Relationships last forever, even when life does not.
21. Virginia Woolf's Version of Peace is not Through Seclusion
"You cannot find peace avoiding life." – Virginia Woolf
Peace is not found through secluding yourself. Some people think of peace and quiet as synonyms, but peace should be a state of mind. When you are happy and comfortable with your life, you have found peace.
22. Margaret Mead Believes in the Citizens
"Never doubt that a small group of thoughtful, committed citizens can change the world." – Margaret Mead
Margaret Mead believes in the power of the people and with enough thought and commitment, the people can achieve anything. Citizens of a city, country or the world should never be underestimated or undermined.
23. Mahatma Ghandi Speaks one of the Most Famous Quotes
"Where there is love there is life." – Mahatma Ghandi
Life can be described as a living and breathing being. However, some people do not live, they simply exist. When love is obviously present, you can tell there is true life in the souls of two lovers. Love is the greatest sign of life.
24. Stephen King Believes There is Two Kinds of Busy People in the World
"Get busy living or get busy dying." – Stephen King
Get started doing what you love and making your life the way you want it to be, or just live day by day until you run out of time. Stephen King gives the most important Ultimatum we as humans can have.
25. Jonathan Swift has Hope for Your Life
"May you live every day of your life." – Jonathan Swift
Every day should be for living. Of course we have school, jobs, family and responsibilities to attend to. But set aside some time to do what you love each day, no matter what it is. Though it may not seem it, it is just as important as any other obligations you have.
26. Oscar Wilde Lets Imagination run Freely
"Anyone who lives within their means suffers from a lack of imagination." – Oscar Wilde
The human mind is capable of incredible things. Learn to use it and live outside of your means. Get out of your comfort zone to learn news things about yourself and the people around you. An imagination is a terrible thing to waste.
27. Rick Riordan Preaches That We Must Live Our Own Lives
"If my life is going to mean anything, I have to live it myself." – Rick Riordan
Be true to yourself and do not let other people make decisions for you. If your life is going to have an impact on anything, it has to be lived by you and only you. Don't let anyone, even family; tell you how to live your life.
28. Soren Kierkegaard Knows Living and Understanding are Two Different Elements
"Life can only be understood backwards; but it must be lived forwards." – Soren Kierkegaard
Life tales are told about the past. Stories and old memories are all from a life lived earlier. However, life cannot be lived this way. Life has to be lived going forward and reminisced about backwards.
29. Cassandra Clare Believes Every Tomorrow is a New Page
"Life is a book and there are a thousand pages I have not yet read." – Cassandra Clare
Boo metaphors are one of the most widely used metaphors for life and for good reason. Every life is like a book that has an unknown amount pages. It is your job to give that book an introduction, a body and a conclusion you are proud of.
30. Margaret Mitchell Knows We Can't Expect Much from Life
"Life's under no obligation to give us what we expect." – Margaret Mitchell
Life is unfair sometimes. We can't expect too much from life or we may be let down. All we can do is work as hard as we can to achieve a life we enjoy. Don't expect anything, but believe in achieving everything you want.
31. Stephanie Klein Knows the Truth Will Come Out One Way or Another
"Tell the truth, or someone will tell it for you." – Stephanie Klein
The truth will always come out eventually. It is better to give the honest truth than for someone else to tell it. Honesty is a trait everybody can respect, but hiding and lying are most definitely not.
32. Gordon Hinckley's Version of Life is For Pleasure
"Life is to enjoyed, not endured." – Gordon Hinckley
Life is made to be lived and enjoyed. Life is not meant to just "get through." If you are simply living just to endure your limited years on this planet, you are doing something wrong. Go out and maximize the opportunity you were given.
(Read this next: 29 Deep and Meaningful Quotes on Life)