A new outlook on life is hard to come by. If you manage to add a few of these phrases to your lexicon, you'll be more interesting at parties, and you'll be able to get through days with a smile on your face. These funny quotes and sayings will literally make you laugh out loud on more than one occasion.
1. Mark Twain on Being Broke.
"The lack of money is the root of all evil." – Mark Twain
We must begin with the creator of American humor, Mark Twain. Despite his stature in American Literature today, Samuel Clemens spent the majority of his life in long periods of being broke. He lived paycheck to paycheck at the dawn of industry. There's nothing better than to be able to laugh at the rat race we're all stuck in.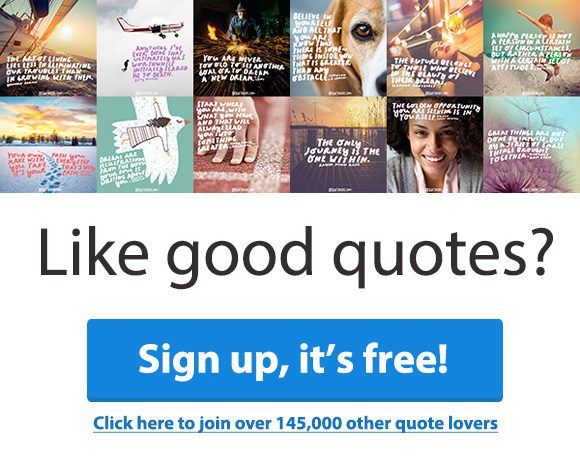 2. Mark Twain on Generalizations.
"All generalizations are false, including this one." – Mark Twain
We kick off our funny list with a trio of quotes from the great humorist. How many times do you hear people swear by the way they can paint everyone with the same brush? This great retort will put them right in their place. It never hurts to hit someone with some Mark Twain quote because there is rarely a justifiable come back… if ever.
3. Mark Twain on Anger Management.
"When angry, count to four; when very angry, swear." – Mark Twain
You probably came to this list because you are trying to find a bright spot. Well, sometimes you just have to let loose. You can try the whole take a deep breath and count to ten thing, but sometimes there's nothing better than just unleashing a few eff bombs and getting that anger come out and show itself.
4. George Carlin on the Complexities of Time.
"There's no present. There's only the immediate future and the recent past." – George Carlin
Hey, if it matters at all, there is no present moment for you to get lost in because it's already gone. That moment you were trying to really focus on? It just left. And now you're in another one. But that one's gone, too. So, why are you bothered by any of that? It was in the past. You can't even be in the moment because the moment is already gone.
5. Oscar Wilde Made Mistakes.
"Experience is simply the name we give our mistakes." – Oscar Wilde
Everybody has experience. That's really just a fancy way of saying that we made a lot of mistakes. If we can take that approach earlier, we'll have a lot less regret to carry around. So, go ahead and laugh about your failures. Laugh about that naive moment where you thought you knew exactly what you were doing when really you should've already known that it wasn't going to work out.
6. Mitch Hedberg on Tennis.
"The depressing thing about tennis is that no matter how good I get, I'll never be as good as a wall." – Mitch Hedberg
Probably the most futile attempt we make is to succeed at sports. No matter how amazing we get at anything, someone is always better. In tennis, a wall is the ultimate opponent. There's not a wall in the world that would lose to Roger Federer or Bjorn Borg in a head to head match.
7. Isaac Asimov Knows Everything.
"People who think they know everything are a great annoyance to those of us who do." – Isaac Asimov
This funny quote is so easy to relate to because we get in the cycle of repeating ourselves over and over with everyone around us. Every day we find ourselves thinking about Jan from Accounting and how she thinks she knows everything but she's really an idiot. We all know she's an idiot. And she probably thinks the same thing every time she talks to us.
8. George Carlin Has All Day.
"When someone is impatient and says, 'I haven't got all day,' I always wonder, How can that be? How can you not have all day?" – George Carlin
Everyone has all day. You really have to wonder who come up with that funny saying. The reality is that we ONLY have all day, every single day. We don't have anything else. It's not like we have tomorrow or yesterday. From now on, when you hear this response, go ahead and ask, "Oh really?"
9. Mitch Hedberg on Watering the Plants.
"My fake plants died because I did not pretend to water them." – Mitch Hedberg
The best part of this joke is picturing someone going through the motions, literally, of pretending to bend over and water the plants. Mitch Hedberg had a way of pointing out the puns and idioms in everyday life. He could take something that seemed so obvious to him and make us feel like the biggest idiots for never noticing things on our own.
10. Yogi Berra Never Said That.
"I never said most of the things I said." – Yogi Berra
If we could all get away with the things that Yogi Berra got away with saying, we'd be so much happier and more fulfilled. Yogi-isms have become a national pastime of their own, with everyone choosing their own mantra from the collected words of wisdom from one of America's greatest catchers of all time.
11. Oscar Wilde Simply Can't Resist.
"I can resist everything except temptation." – Oscar Wilde
We all tell ourselves we have the strongest will. The fact of the matter is that when the chocolate cake is in the break room, we have no willpower. That chocolate goodness calls to us in the deep of our soul. We have nothing to do but grab a plate, but only if no one else is in the break room.
12. Benjamin Franklin on Wine.
"Wine is constant proof that God loves us and loves to see us happy." – Benjamin Franklin
Benjamin Franklin had quite the reputation for drinking wine. There's nothing better than using this funny quote from the guy on the 100. If he can relax and unwind with a glass of wine or six, we should be allowed the same freedoms without judgment. Just remember to sip slowly.
13. Steve Martin on Sunshine.
"A day without sunshine is like, you know, night." – Steve Martin
I don't know if I'm more thankful for sunshine or Steve Martin. The comic genius has lines that continue to bring a smile to my face even after I've heard them a few dozen times. When you are feeling down, just remember this hilarious take on sunshine. It's a scientific fact, but it's also a bit of a tongue in cheek analysis of all those old sayings about tomorrow being another day.
14. Mitch Hedberg on Children's Books.
"Every book is a children's book if the kid can read." – Mitch Hedberg
As we continue to plummet down the global literacy charts, it's fun to think about the way we define literacy in the first place. Open your mind and realize that all reading is reading whether you're 12 or 112. If you have a sense of humor at any age, you'll get the glaring truth in this funny quote.
15. Oscar Wilde on Getting Stabbed.
"True friends stab you in the front." – Oscar Wilde
Perhaps you needed a good laugh because you and a friend got in a little tiff. Well, the master of cutting remarks delivers the unfortunate but true irony of friendship. It's always the real friends that will go right to your face and cut you down to size. Hopefully you can begin to find the humor and see the light at the end of the tunnel.
16. Bill Hicks Thinks Kids Are Smart.
"Children are smarter than any of us. Know how I know that? I don't know one child with a full time job and children." – Bill Hicks
There's no getting around it, we all miss the days of having no responsibility. There are some days where this thing called life just kicks us right in the behind. That's the days where it's good to take a deep breath and remember that it's important to take time for ourselves, and to enjoy a good laugh every once in awhile.
17. Groucho Marx on Going Before Your Time.
"No man goes before his time – unless the boss leaves early." – Groucho Marx
Today might be one of those days where you're really hoping to go a little before your time. Maybe just kick back and relax for a minute, enjoy a few laughs, and it might not be so all important that you get out the door by 4:58. Maybe you can just hang in there until 5:00.
18. George Carlin on Zen.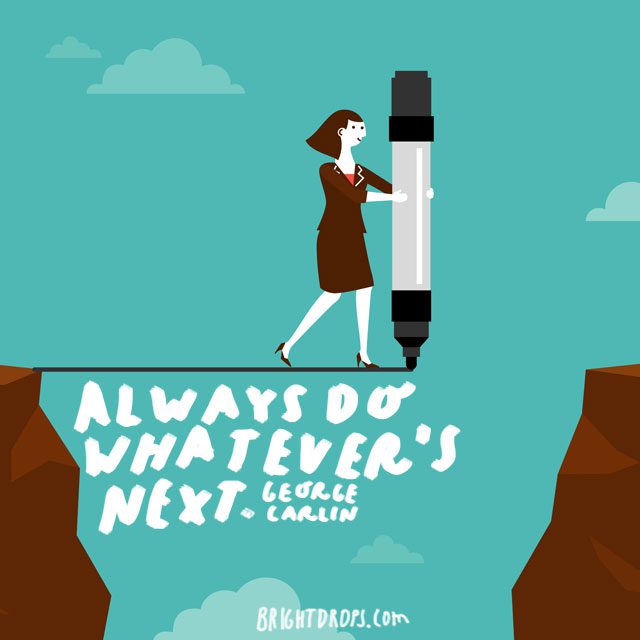 "Always do whatever's next." – George Carlin
Sometimes we think we have to have some sort of life plan. We get caught up in the idea that we have to have a five year plan and some huge ambition to change the world. All that is great. If you've got that drive, that's wonderful. But the truth is that all you really have to do is the next thing.
19. Elbert Hubbard on Taking Life Seriously.
"Do not take life too seriously,You'll never get out of it alive." – Elbert Hubbard
At those moments where you feel like you're drowning and you can't take another set back, even if you just have to wait an extra three minutes for your fries, take a deep breath and remember that maybe you are taking things a little too seriously. Eventually, this whole life thing is gonna be over. Are those fries that important?
20. Don Marquis on Artful Procrastination.
"Procrastination is the art of keeping up with yesterday." – Don Marquis
Procrastination is an art. You're not alone in putting off that call until tomorrow. It's so much easier to send the email at 4:50 than to send it at 2. That delicate balance of getting things done when they are most important, that's the art. Those precise brush strokes of genius are what separate the Van Goghs from the Lisa Franks.
21. Franklin P. Jones on Talking to Yourself.
"One advantage of talking to yourself is that you know at least somebody's listening." – Franklin P. Jones
We all walk ourselves through our routine. We have to tell ourselves the same little idiosyncrasies over and over again on a daily basis. Some of our need to have that inner monologue going all the time is that basic need for affirmation. Plus, how much of what you say is ignored by your boss, your significant other, your children, or that jerk that pulled out and cut you off even though you clearly said, "Don't do it green Honda!"
22. Ellen Was a Serious Child.
"People always ask me, 'Were you funny as a child?' Well, no, I was an accountant." – Ellen DeGeneres
For any comedian, they probably face this questions thousands of times during the course of their lifetime. How many questions do you have that seem to be recursive? Find a way to make a punchline to some of those repetitive questions you face day after day. The barrage won't seem as aggressive and annoying.
23. Robert Orben on Eating Health Food.
"Older people shouldn't eat health food, they need all the preservatives they can get." – Robert Orben
There was an older guy that lived down the street from my family. He always said he'd eat whatever he wanted because he was already dying. That's such a great mentality to me. Once you hit the age where you feel like you've really lived life, get the ribeye and don't even get a baked potato, get the fries.
24. Henny Youngman on Giving Up.
"If at first you don't succeed… so much for skydiving." – Henny Youngman
Henny Youngman puts a hilarious twist on an old adage. So many times, we do have to talk ourselves into keeping up the fight. From now on, when you face those minor setbacks, just laugh and realize that it could've been much worse. At least you didn't end up splattered all over the sidewalk.
25. Bill Watterson on the Inconvenience of Real Life.
"Reality continues to ruin my life." – Bill Watterson
We could all get so much more done if it weren't for that inconvenience of responsibility. Who could possibly find joy in owning a home, having a job, or raising children. If only we knew then what we know now, maybe our life would not be ruined. We could finally finish that screenplay.
26. Woody Allen Has One Regret.
"My one regret in life is that I am not someone else." – Woody Allen
There are days where we all feel this way. There's no other option in life but to find the humor in every situation, especially our failures and setbacks. It's good to know that even someone with a number of moderately successful films under his belt still has a few things to complain about.
27. Jane Wagner on Talking to God.
"When we talk to God, we're praying. When God talks to us, we're schizophrenic." – Jane Wagner
Whether you're religious or not, you know the lady that gets messages from God. Even if you're the first to claim the Communion cup, you know that lady is a little bit like a character from the X Files. You can't talk about the messages you hear from God and then talk about the new cat you adopted in the same conversation.
28. Sam Levenson on Temptation.
"Lead us not into temptation. Just tell us where it is; we'll find it." – Sam Levenson
When we need to get into something, we can figure out where to get it. We most feel like this on those days where 5 o'clock just can't come soon enough. You look at the clock and then you swear you aren't going to look again for another hour. The next time you check the time, it's only been a minute and a half. Sometimes the clock even moves backwards. It's a conspiracy!
30. James Garfield on Survival.
"Man cannot live by bread alone; he must have peanut butter." – James A. Garfield
The former president was known for his sharp wit and great sense of humor. Besides being just a great one-liner, this is a great approach to life. You can't scrape by with just bread, you've got to have a full meal. Typically, the assumption is that you need love and affirmation and all that stuff, but really, you just need yourself. You're stronger than you think. A message of positive thinking in the middle of our laughs.
31. Anthony Burgess on Laughing Together.
"Laugh and the world laughs with you, snore and you sleep alone." – Anthony Burgess
Laughter is contagious. No one is going to sleep with a snorer. Even a snorer has an expectation for the snorer they sleep next to every night. There's an entire industry devoted to anti-snoring that includes herbal supplements, nasal strips, pillows, earplugs and just about every other invention our American ingenuity could whip up.
32. Laurence J. Peter Is an Original.
"Originality is the fine art of remembering what you hear but forgetting where you heard it." – Laurence J. Peter
You'll probably forget where most of these funny quotes came from. That will just make you the funny one in your circle. Just use all of these over and over and you can conveniently forget who said all of them. Everyone will want you at their party because you are just so hilarious. Pretty hard to have bad days when you're the funny one.
33. Sam Goldwyn Is an Avid Reader.
"I read part of it all the way through." – Samuel Goldwyn
Don't even think about doing that with this list of funny quotes! You'll miss some of the real gems. When someone says you have to read the new trendy novel, you can just read the back cover. If you've read one, you've read them all anyway, right? While you don't always have to admit it, we all thumb through some of the novels we are leant.
34. George Burns on Slow Towns.
"I spent a year in that town, one Sunday." – George Burns
When you visit someone who lives in one of these towns, you'll remember it forever. The only grocery store is also a gas station and a pizza joint. The mechanic also does small appliance repair and the laundromat is attached to his building. If you hope to see a movie, you'll be in for a drive of at least an hour.
35. Fred Allen Enjoys Long Walks.
"I like long walks, especially when they are taken by people who annoy me." – Fred Allen
Wouldn't it be great if you could just get everyone you couldn't stand to just go on a long walk any time they got on your nerves? Unfortunately, we have to have these interactions because that's the way we keep our job and our real life. This whole responsibility thing is really rough. Good thing we can find a way to laugh about it.
36. Fran Lebowitz on Food.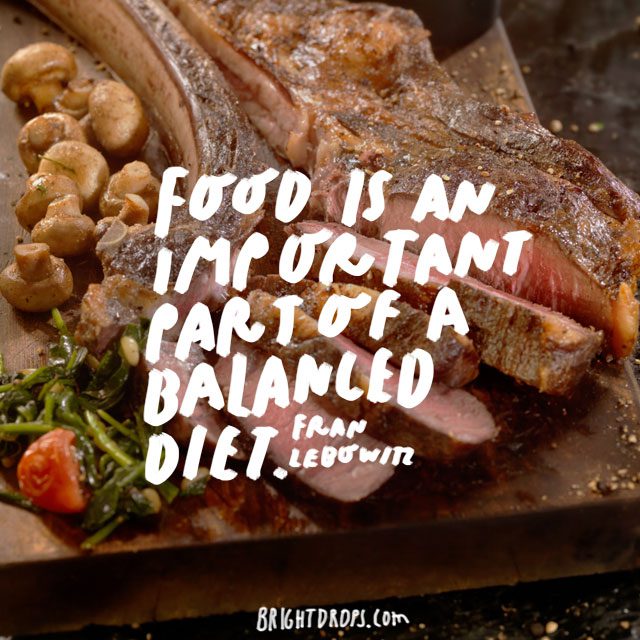 "Food is an important part of a balanced diet." – Fran Lebowitz
Sometimes we get so focused on counting calories and making the healthy choice that we forget, the most important aspect of any diet is that you're getting fuel for your body. So, relax. If you really need that piece of cake, go ahead and have the cake. In the long run, a piece of chocolate cake is not going to be the end of the world.
37. Lenny Bruce Sums Up Miami.
"Miami Beach is where neon goes to die." – Lenny Bruce
Miami is bright, there's no doubt about it. When Crockett and Tubbs were wandering the mean streets of South Florida, no one had a problem with the abundance of bright colors, but at this point, they could afford a minor facelift. No one is popping colors in the 21st century, so we can also put hot pink to bed.
38. Robert A. Heinlein on Temptation.
"Yield to temptation. It may not pass your way again." – Robert A. Heinlein
If you're caught up in the harsh reality of life and all the responsibilities that come with it, you'd better take advantage of a night off. If you get a chance to have that second glass of wine, you should take it while you still can. Don't get lost in the cycle of your routine so much that you never take a moment for yourself.
39. Steve Martin on the French.
"Boy, those French: They have a different word for everything." – Steve Martin
Steve Martin's whole bit on the French is fantastic. It starts with the different words for car and airplane and a few other basic words. He ends with this observant line. There are many observations you could make about the French, but it probably stems from their language. It just sounds a bit fancier than it needs to be, just like the French.
40. Rodney Dangerfield on Heritage.
"I looked up my family tree and found out I was the sap." – Rodney Dangerfield
You've got to feel that way sometimes. The harsh reality is that we are going to have those times when we realize that we are the dumbest person we know. The most important thing is to be able to laugh at ourselves. If we can find the humor in our mistakes instead of dwelling on them, we will be better off for it.
41. George Burns on the Importance of Family.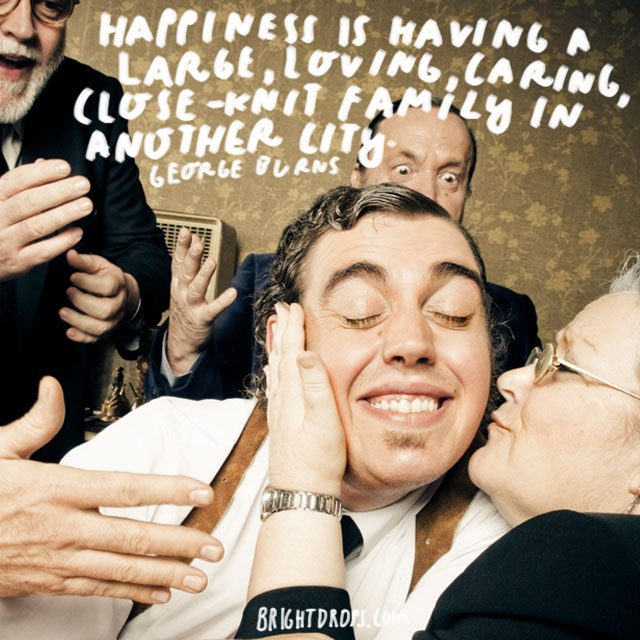 "Happiness is having a large, loving, caring, close-knit family in another city." – George Burns
It's great to have family. If you live around your family you'll know the invasive nature of that loving community. The doorbell seems to ring at the most inopportune times. Of course, you can't escape it. Family still has the telephone and will always find some way to interrupt you from doing those all important things, like online shopping.
42. Rodney Dangerfield on Fitness.
"I found there was only one way to look thin: Hang out with fat people." – Rodney Dangerfield
In our image driven culture, we are obsessed with our bodies. Rodney Dangerfield has a great solution for that problem. Instead of stressing about calories and weighing yourself every day and finding some strict workout program, we can just find a new group of friends. You can also be the funny one in that group now, too.
43. Steve Martin on His Dream Woman.
"I love a woman with a head on her shoulders. I hate necks." – Steve Martin
For some reason, we have this strange fixation with this odd compliment. Steve Martin turns that phrase on its head, pun intended, and points out the literal humor. I don't think anyone would want to have a woman without a neck. That would definitely not be the woman to grace the cover of any magazines.
44. Lucille Ball on Seeing Her Children.
"You see much more of your children once they leave home." – Lucille Ball
Once your kids get into those teen years, you'll see a lot less of them. They will hole up in their room and in a few short years find the independence of driving. Eventually, they'll move out and be "on their own." Don't bother missing them. They'll be back to do laundry and probably beg you for a meal or two. Oh, and they'll never bring their own detergent.
45. George Eliot on the Cock's Crow.
"He was like a cock who thought the sun had risen to hear him crow." – George Eliot
We've all known this guy. He's the guy that honestly believes that the entire world revolves around him, whether there is any justification for that opinion or not. This is often the same guy that has to shake every hand when he walks in the room. Before you know it, he'll be asking about your car and tell you about his newest puchase.
46. Robert Byrne on Walking a Mile.
"Until you walk a mile in another man's moccasins you can't imagine the smell." – Robert Byrne
You probably wouldn't wear another person's shoes in any situation. If you ever were in that situation, there's no way you would choose their moccasins. Consider all the times you've been asked to try to relate to someone else's point of view. Do you think anyone has ever paused before saying that to ask them to walk in your shoes first?
47. Alex Haley on Turtles In the Oddest Places.
"Anytime you see a turtle up on top of a fence post, you know he had some help." – Alex Haley
Everyone needs a little help from their friends. Turtles especially. Next time you get a little frustrated and need a laugh, just picture a turtle climbing up the side of a fence. There are few things funnier than the mental image of turtles doing… well… almost anything.
48. Herb Caen Has a Great Memory.
"I have a memory like an elephant. I remember every elephant I've ever met." – Herb Caen
The old saying is that elephants never forget. That stems from the idea that elephants remember each other. They remember those relationships forever. Humans do have a very similar ability, we just meet more people. If we measured in elephants, I think we would have the same ability because I remember every elephant I've ever met, too.
49. Steven Wright Likes Variety.
"What's another word for thesaurus?" – Steven Wright
There's not another word for thesaurus, which is a bit ironic. You could come up with a brief description like: Book of Synonyms and Antonyms" but that definitely doesn't roll off the tongue the way thesaurus does. Little kids often think that a thesaurus is a type of dinosaur. It'd probably be the name of the first dinosaur: THE-saurus. Until they found the second one.
50. W. C. Fields Cooks with Wine.
"I cook with wine, sometimes I even add it to the food." – W. C. Fields
Wine has a way of making things better. Sure, you can use it to cook. It's best used in a wine glass, in your hand, especially after a day when you need a little cheering up. Another way to ensure that everyone gets along, is to have a few bottles of wine. There's never been a staff Christmas party without wine. Ever.
51. Yogi Berra on Inflation.
"A nickel ain't worth a dime anymore." – Yogi Berra
The truth is that our money is never worth anything. I don't think anyone would argue that a nickel was ever worth a dime, hence the need for a dime. Yogi is just pointing out that times are always tough, whether he meant to or not. Every time you think you're catching up, your battery dies or you get a flat on the way to work.
52. Katharine Hepburn on Life.
"Life is hard. After all, it kills you." – Katharine Hepburn
Laugh a little. Heck, laugh a lot. At the end of it all, you'll be dead. If you think about it that way, you have to measure things very differently. Measure all life's setbacks in the realm of eternity. In the realm of eternity, our lives are just a blip on the radar. What's the point in spending any of that time on stressing yourself out?
53. Jean-Luc Godard on Shakespeare.
"To be or not to be. That's not really a question" – Jean-Luc Godard
Shakespeare wasn't the master of English like we thought he was. Rather than being a question, that's actually just a positive and negative conjugation of the same verb. You could do that with any verb in the infinitive form. To kick or not to kick? To eat or not to eat? I think two examples is enough.
54. Samuel Goldwyn on Cliches.
"Let's have some new cliches." – Samuel Goldwyn
This list of funny quotes will offer plenty of cannon fodder for your conversations around the office, at the house, or in social situations. So get out there and make Sam's wish come true. He just wants us to create some new things that will be so cliche a few years from now. Laugh before the joke gets old.
55. Zsa Zsa Gabor Cleans Up.
"I am a marvelous housekeeper. Every time I leave a man, I keep his house." – Zsa Zsa Gabor
The funniest part about this funny quote is that it's completely true. Zsa Zsa Gabor became a very wealthy woman. Even if she only had the possessions from her marriage settlements, she'd be wealthier than most people. She's probably the reason that Hollywood prenups are an expectation these days.
(Read this next: 18 Funny Quotes to Send to Your Best Friend)