This list with funny brother quotes will hit on everything you went through growing up with one or multiple brothers. Brothers can be crazy and out of control at times, but we love them anyway. These quotes range from personal stories to how people become true brothers.
1.Garrison Tells a Personal Tale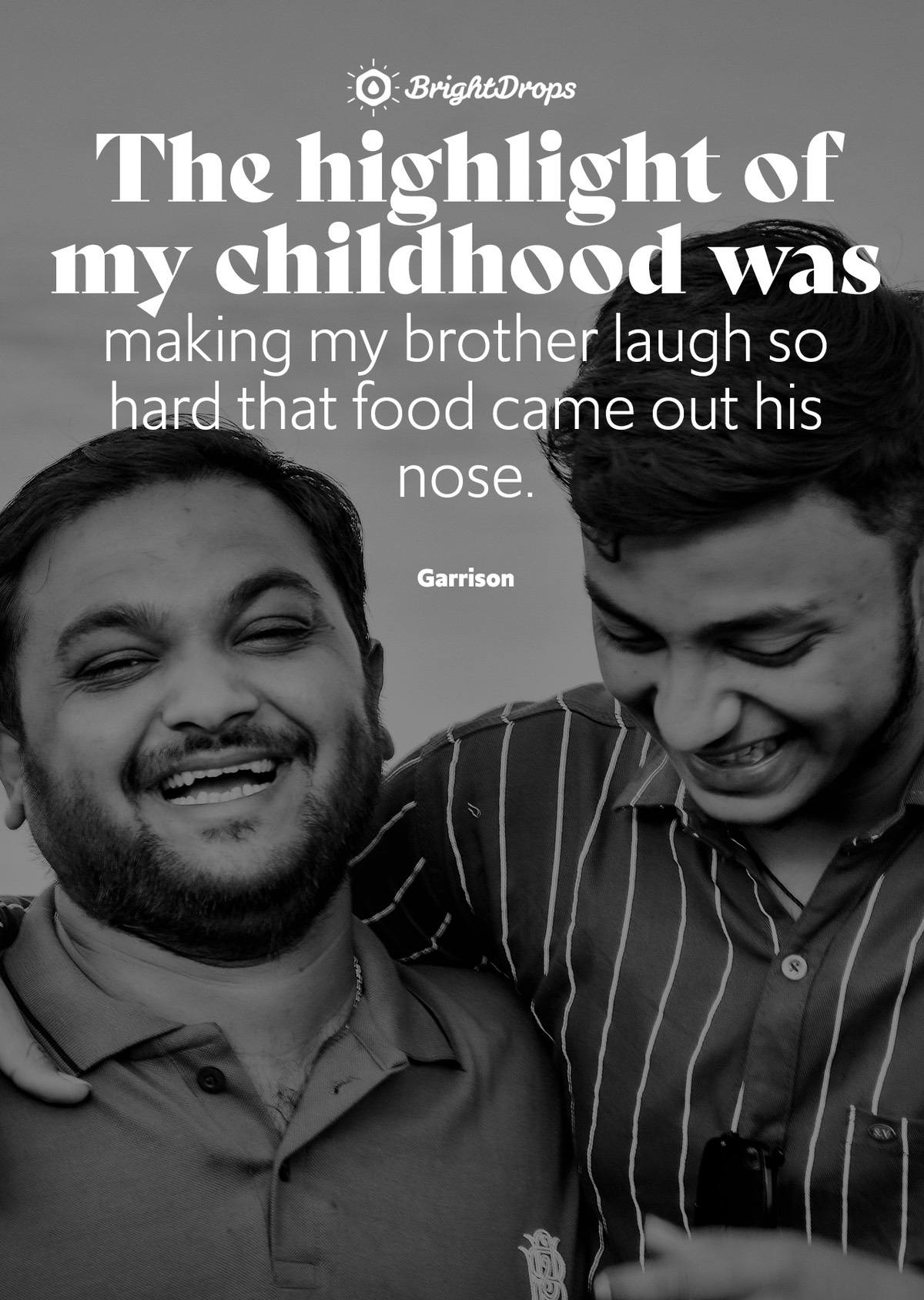 "The highlight of my childhood was making my brother laugh so hard that food came out his nose." – Garrison
I am sure that everyone with a brother has a similar story like this. There are countless funny stories to tell about your brother growing up. Anyone with a brother can tell you that there were times that you got along great, and there were times that you two were sworn enemies.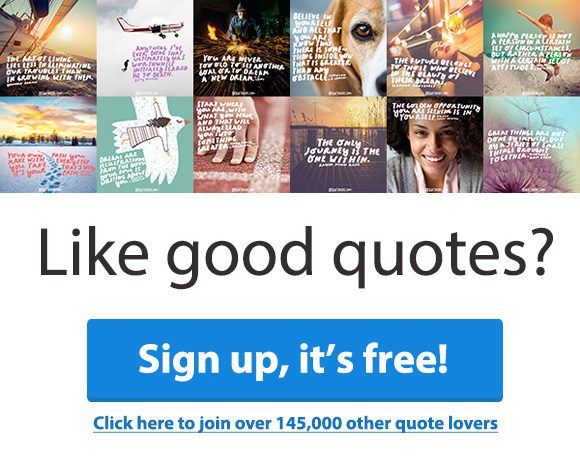 2.Maya Angelou Believes Brothers are Chosen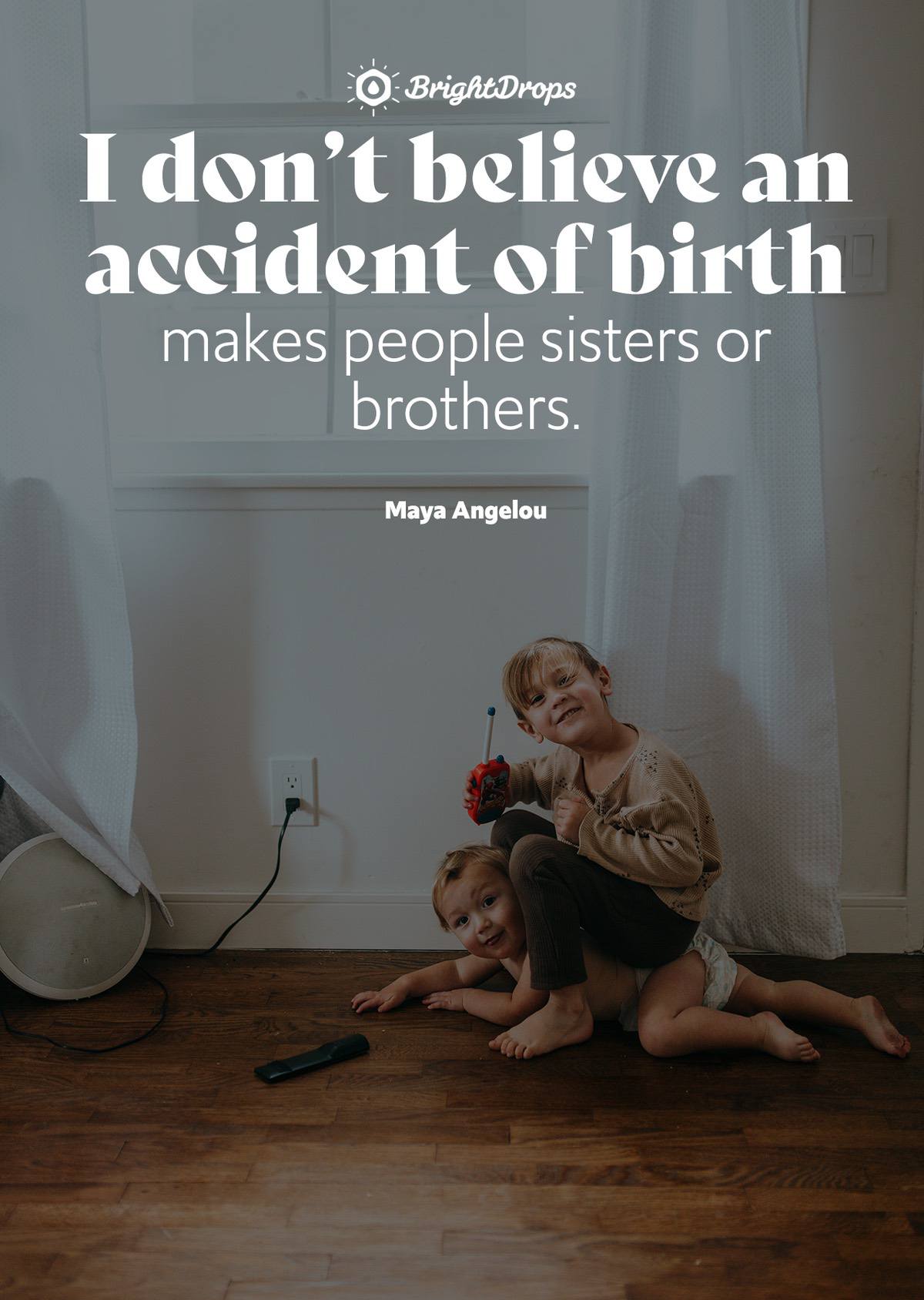 "I don't believe an accident of birth makes people sisters or brothers." – Maya Angelou
Maya Angelou believes that just because we are born into the same family, we are automatically brothers. Brotherhood is something that is built over a lifetime. We deal with different matters of family and life with our brothers and we always have them there for us.
3.James Patterson Reveals a Shocking Truth
"Half the time when brothers wrestle, it's just an excuse to hug each other." – James Patterson
The famous author believes that the only reason brothers wrestle is so they can hug each other. Many people would think that they are angry with each other and resort to physical violence because it is what they know best, but not Mr. Patterson. He believes it is all an excuse.
4.Marc Brown Loves Being a brother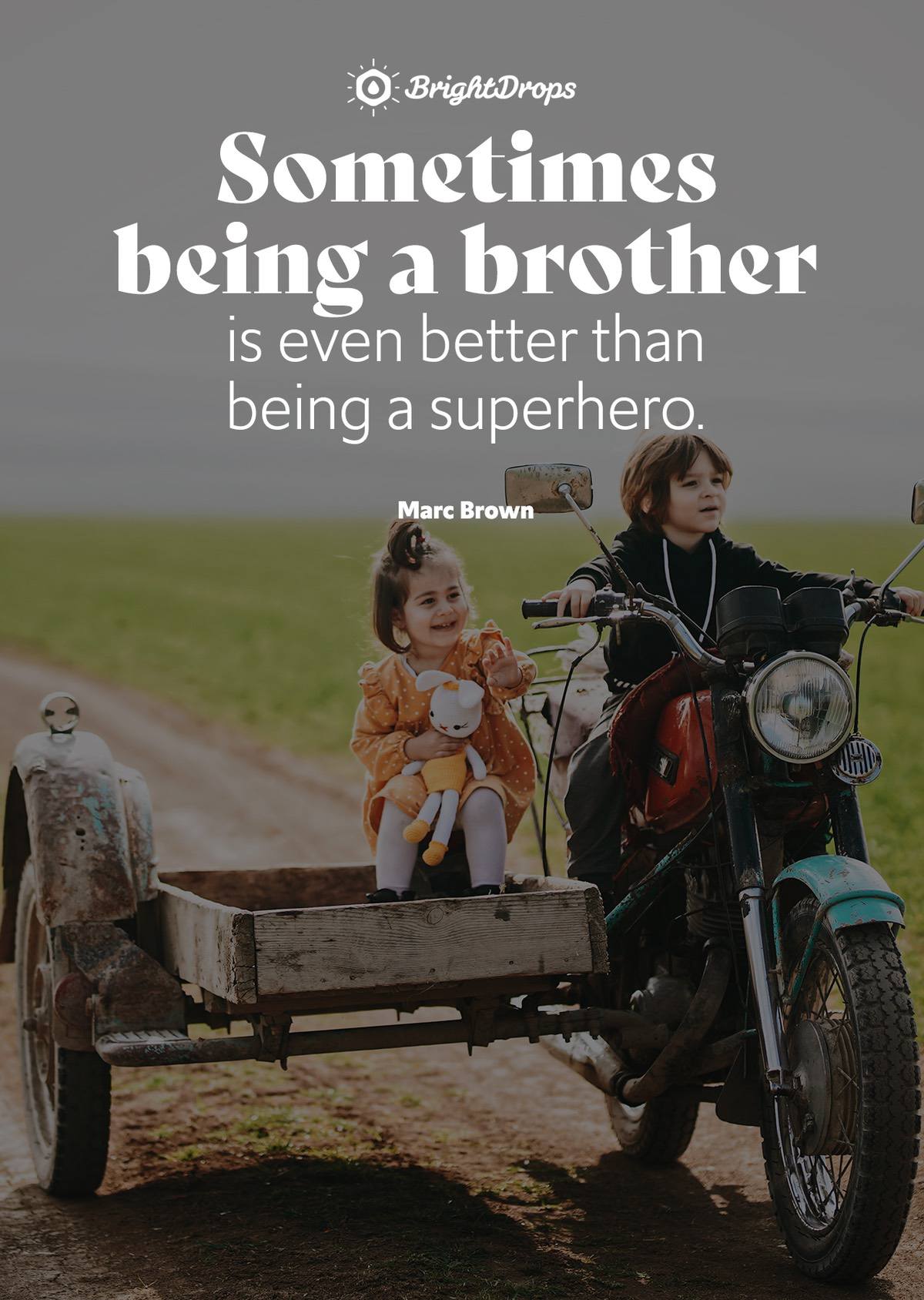 "Sometimes being a brother is even better than being a superhero." – Marc Brown
Marc Brown believes that being a brother can be like being a superhero. Maybe you are not flying around or driving fancy cars to catch criminals, but you are protecting someone important to you. Brotherhood is all about looking out for the people you care about.
5.Unknown Author has a Funny Outlook on Brothers
"Brothers are like fat thighs..they stick together." – Unknown
Just like Fat thighs, brother stick together. No matter what happens you are still brothers and you will do anything for your brother. Family is the truest form of friendship because nobody else can understand the things that you went through together.
6.Leonardo DiCaprio Describes Normal Behavior Among Brothers
"Brothers can sit in a room and be together and just be completely comfortable." – Leonardo DiCaprio
The famous actor believes that brothers are comfortable no matter where they are or what they are doing. They can be completely silent in a room, which might be awkward for some people, but not with your brother. With your brother that is totally normal.
7.Anna Quindlen Does not Believe Her Brother Will Ever Grow Up
"There is a little boy inside the man who is my brother." – Anna Quindlen
Siblings, especially brothers, can be immature and get on our nerves. We may never completely understand them because we knew them throughout all stages of our lives. Anna believes that even though her brother is grown, he is still the little boy she remembers growing up with.
8.Unknown Author Believes Brothers Evolve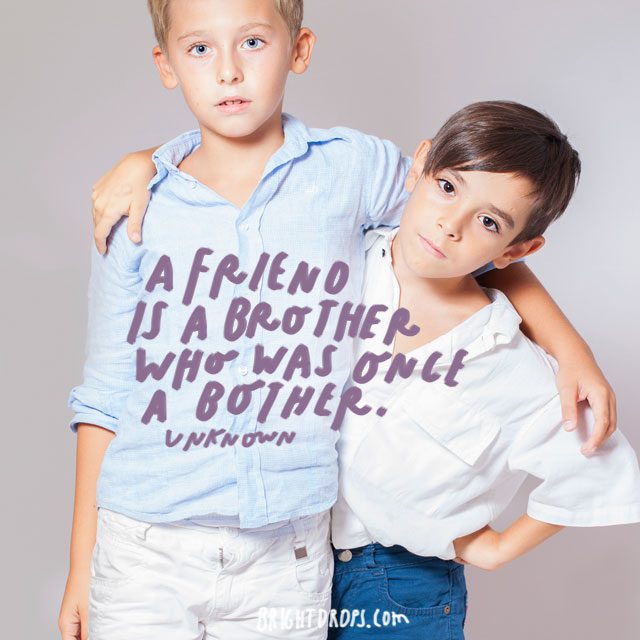 "A friend is a brother who was once a bother." – Unknown
We may not always appreciate our brothers growing up. They get on our nerves and make fun of us and sometimes do not seem to have our best interest. As we grow into adulthood we realize brothers become good friends. They used to be a nuisance when we were younger, but now we value them.
9.Martin Short Explains Where he Found his Comedic Ways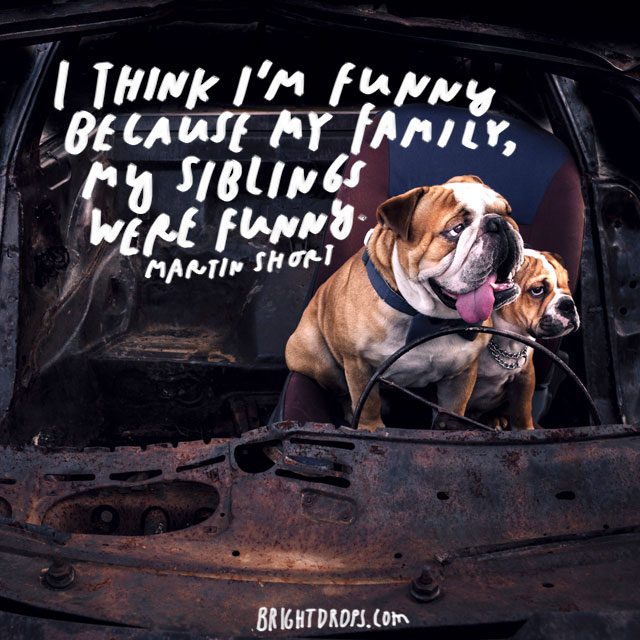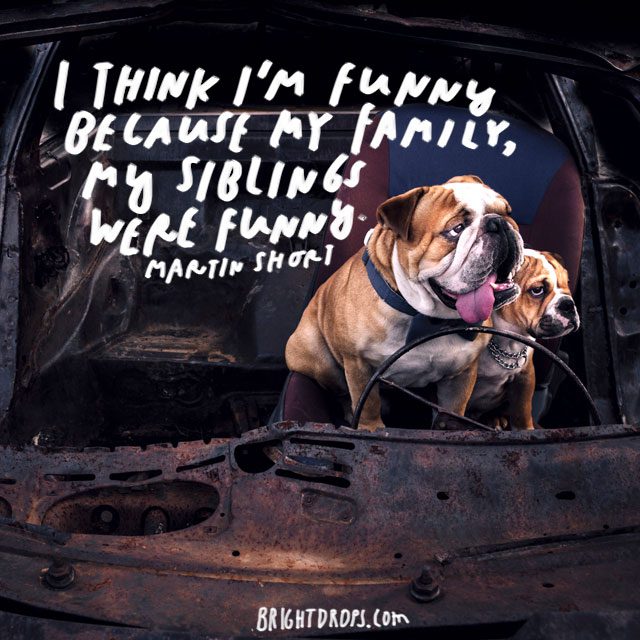 "I think I'm funny because my family, my siblings were funny." – Martin Short
Many people are able to say this. They learned their craft and got better at i because of their family. Martin short is a famous comedian and he believes that he learned his craft because his family was funny. He credits his family with giving him his interest into comedy.
10.Liam Gallagher Knows how Brothers Act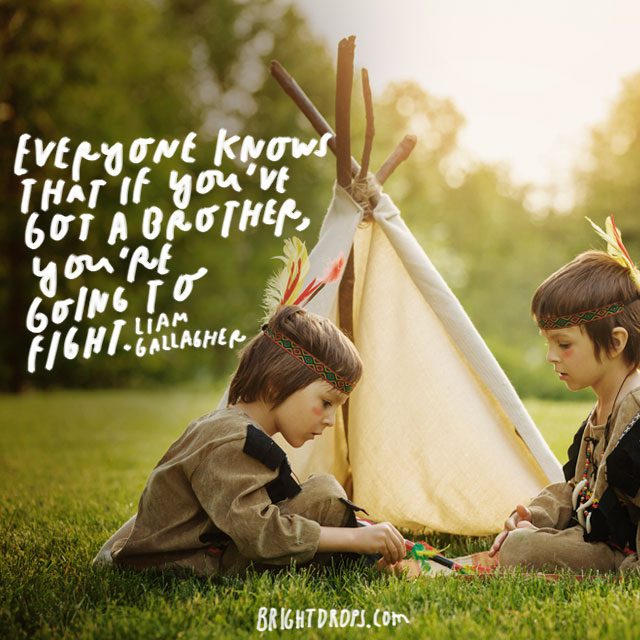 "Everyone knows that if you've got a brother, you're going to fight." – Liam Gallagher
Brothers have always been known to fight. If you have a brother, you most likely have some vivid memories of fights you had growing up. Brothers fight a lot, but at the end of the day they always have each others back and will always be there for each other.
11.Oscar Wilde Describes his Relationship with his Brothers
"My elder brother won't die, and my younger brothers seem never to do anything else." – Oscar Wilde
Oscar Wilde has two brothers. He has one older brother that just won't die and a younger brother who he claims does not do anything. This is common joking behavior among brothers. Oscar Wilde obviously loves his two brothers and is just having a little fun messing with them.
12.Bob Hope Explains how he Learned to Dance
"I grew up with six brothers. That's how I learned to dance – waiting for the bathroom." – Bob Hope
Growing up with six brothers must have been tough, especially every morning when everybody needed to use the bathroom. Bob Hope says he learned to dance by waiting for the bathroom and having to hold himself together until it was his turn to go.
13.Unknown Author Knows Brothers are for Life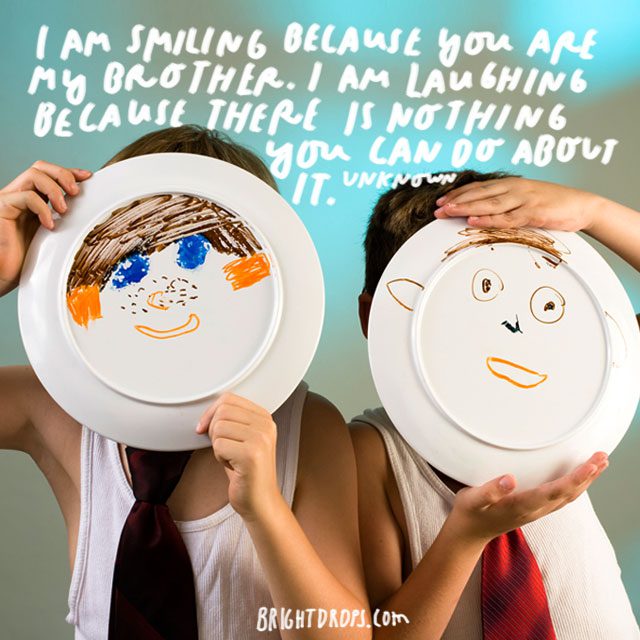 "I am smiling because you are my brother. I am laughing because there is nothing you can do about." – Unknown
We are born into families and there is nothing that we can say or do about it. We have brothers that will be our brothers for life. If we are lucky enough to become friendly with our brothers, then we have a whole new relationship as well. Friends and brothers.
14.Sam Levenson Explains the Brotherhood Phenomenon
"Brothers are children of the same parents, each of whom is perfectly normal until they get together." – Sam Levenson
When separated, brothers are just two people who are children with the same parents. When together, they become brothers and the madness starts. Brothers are usually pretty normal people when they are by themselves, but turn crazy when they are together.
15.Unknown Author Believes Brothers Never Fight!
"Brothers don't hit each other, they just high-five on face." – Unknown
Brothers are known to fight with each other, both verbally and physically. Unknown author believes they are just high-fiving each other on the face! A great way to look at a fight without worry. They're not fighting, just expressing their love for each other through physical violence.
16.Lemony Snicket Believes Some Brothers Are Lying
"Brothers that say they never fight are most definitely hiding something." – Lemony Snicket
All brothers have had a fight or two at some point in their lives. Brothers that they say never fight are certainly trying to hide the fact that they do. Growing up with a brother or multiple brothers is basically growing up in a wrestling ring, there will be fights.
17.Esther Friesner Knows Her Brothers Care
"What brothers say to tease their sisters has nothing to do with what they really think of them." – Esther Friesner
Brother always tease their sisters. It is programmed in their DNA and that will never change. What they say and what they do their sisters has nothing to do with how they really feel. Brothers are always very protective of their sisters and just want the best for them.
18.Jane Austen Tells it Like it Is
"What strange creatures brothers are!" – Jane Austen
Jane Austen tell is straight, brothers are strange! She has grown up with brothers and lived through the strange things they do and the strange way they treat her. Brothers can definitely be strange, but they will always be family and always have your back when push comes to shove.
19.Swati Avasthi Believes One Brother is Just Right
"Maybe one is enough." – Swati Avasthi
For most people, one brother or one sibling is perfectly fine with them. Growing up with more than one brother can be tough. You have to deal with more people in one place and all the fighting, which is usually a guarantee. Swati believes that one brother is definitely enough.
(Read this next: 99 Heartwarming Quotes on Family)