Forrest Gump took the world by storm in a story on the silver screen. The words of wisdom from the mouth of a very simple man still echo in our minds and hearts today. We can all find something nostalgic in these Forrest Gump quotes as they bring us an ironically inspirational precipice.
1. Forrest Gump on What Stupid Actually Is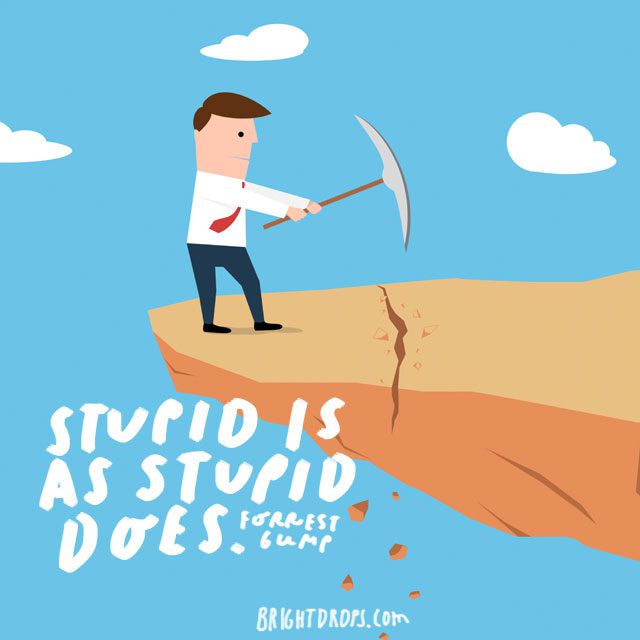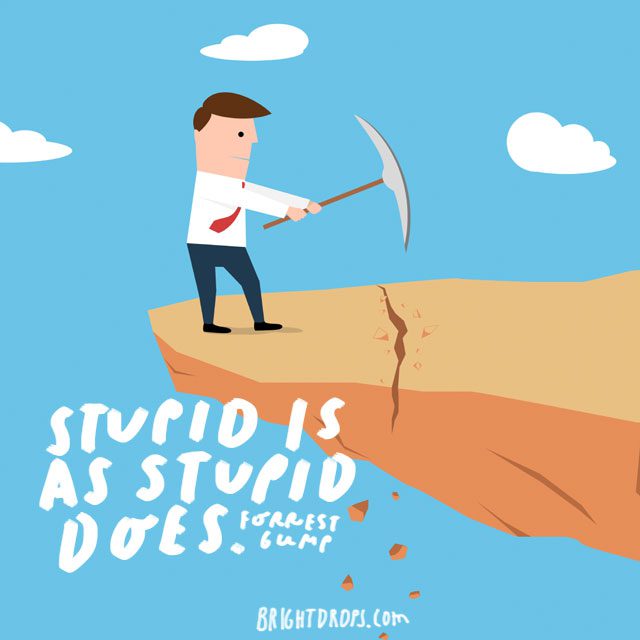 "Stupid is as stupid does." – Forrest Gump
Arguably the most memorable line from the iconic character, this is the most obvious statement there ever was. This is also the shortest quote from Forrest Gump. In this simple line, he seems to sum up the totality of mankind's mishaps and mistakes. After all, to err is human.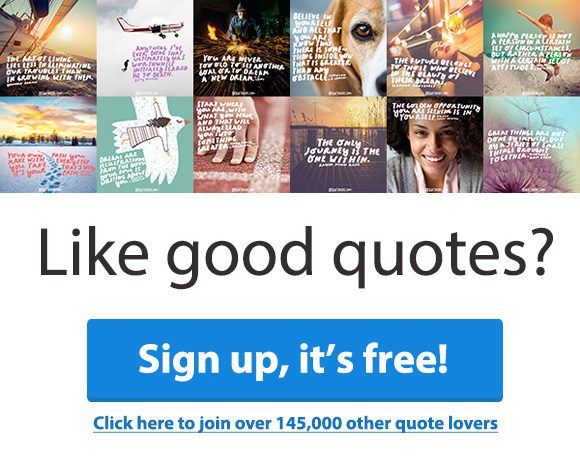 You may also like: 94 Most Famous Movie Quotes of All-Time
2. Forrest Gump Provides a Most Memorable Quote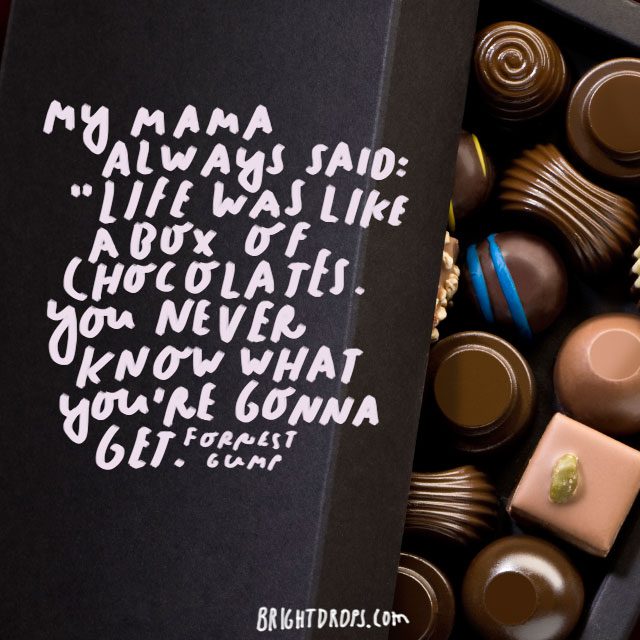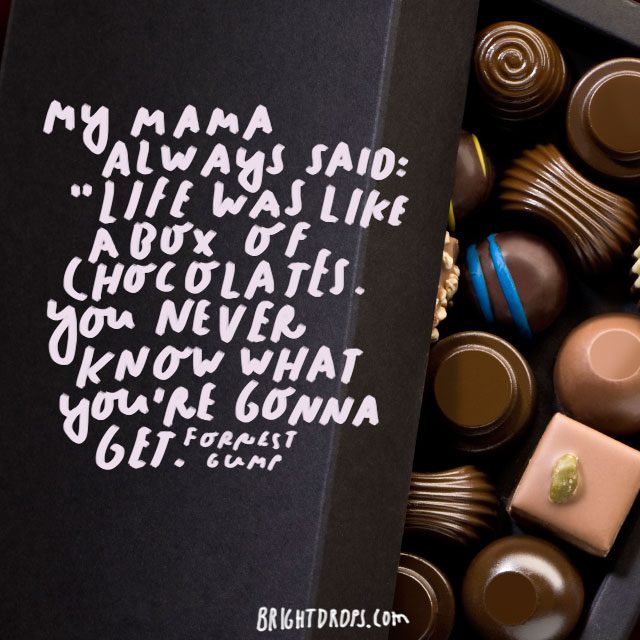 "My mama always said, 'Life was like a box of chocolates. You never know what you're gonna get.'" – Forrest Gump
Forrest Gump remembers where he comes from; it's a character trait we admire greatly about the beloved savant. In this simple statement, he sums up life and love: You never do know what you'll bite into with a box of chocolates and those maps on the lid often make it more confusing. The same is true with life: You never know what you'll bite into and a plan can sometimes make it worse.
3. Forrest Gump on Moving On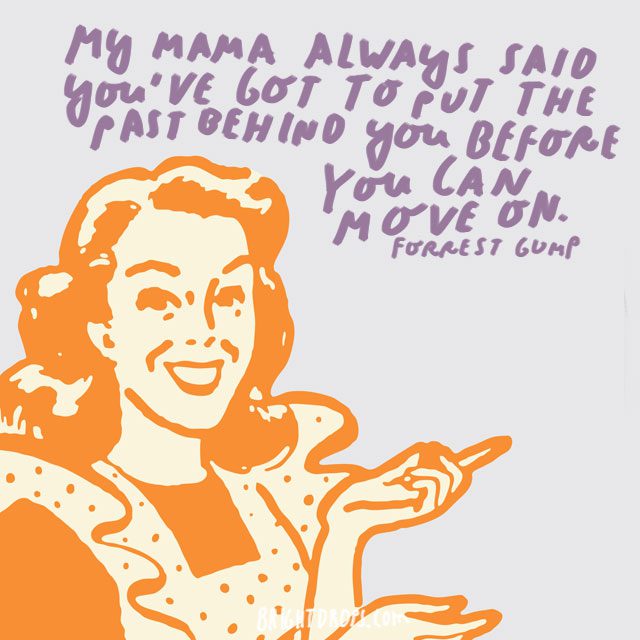 "My Mama always said you've got to put the past behind you before you can move on." – Forrest Gump
Yet another example of Mama's wisdom shining through. Perhaps this is one of the more inspirational quotes because of the tragedies that are in Forrest Gump's past. With great courage and very little hindsight, he is able to accomplish far greater things than most of us by putting the past behind him in the simplest way.
Related: Encouraging Moving On Quotes
4. Forrest Gump Opines on Death and Dying
"Mama always said, dying was a part of life. I sure wish it wasn't." – Forrest Gump
The most tragic moment of the movie, and Forrest Gump brings such hope to all of us. In the tragic farewell to the love of his life, he goes on to place the greatest tragedy of his life in the past and carry himself with the same attitude he's had all along.
5. Forrest Gump Asks a Pretty Good Question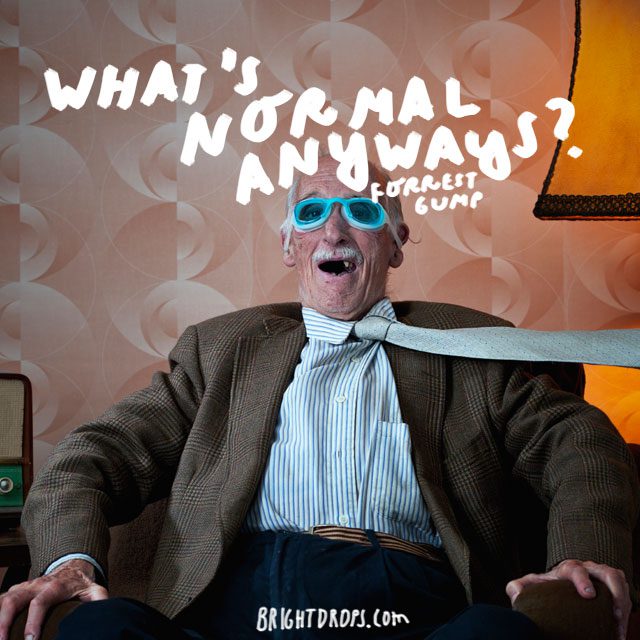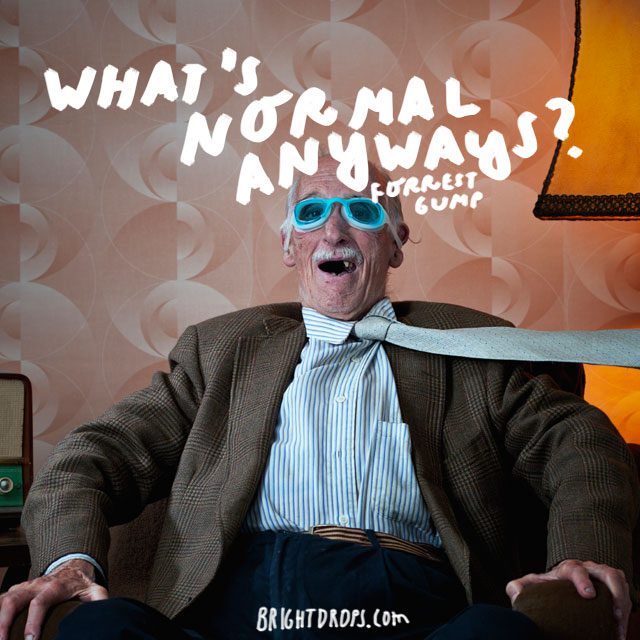 "What's normal anyways?" – Forrest Gump
This is another line that is recycled from Mama earlier in the story. Rather than crediting Mama for this quote, it has truly become part of his mindset. No one could ever say that Forrest Gump was "normal." In fact, he was less than normal, but lived a life of greatness.
6. Forrest Gump Compliments His Mother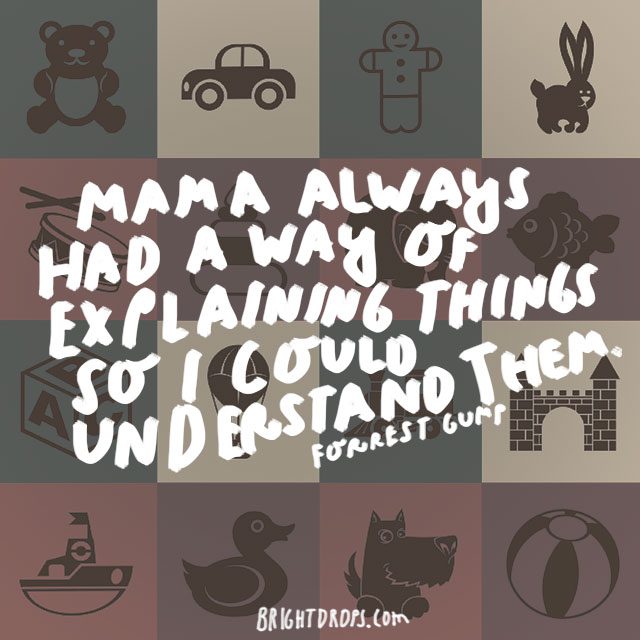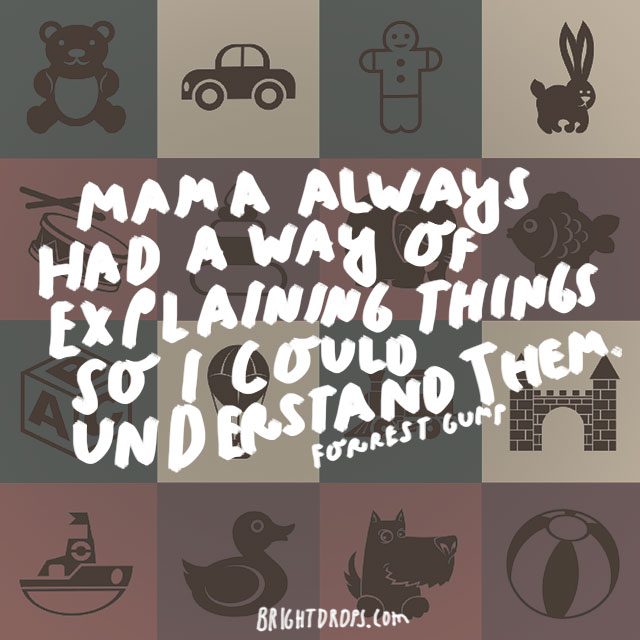 "Mama always had a way of explaining things so I could understand them." – Forrest Gump
We all need someone and Forrest Gump had Mama. With the patience of a saint, she took the time to make the big world make sense to a small mind. The same connection that brings every life into the world is the one that makes Forrest Gump the character that could make us laugh, make us love, and make us cry.
7. Forrest Gump States His Name Clearly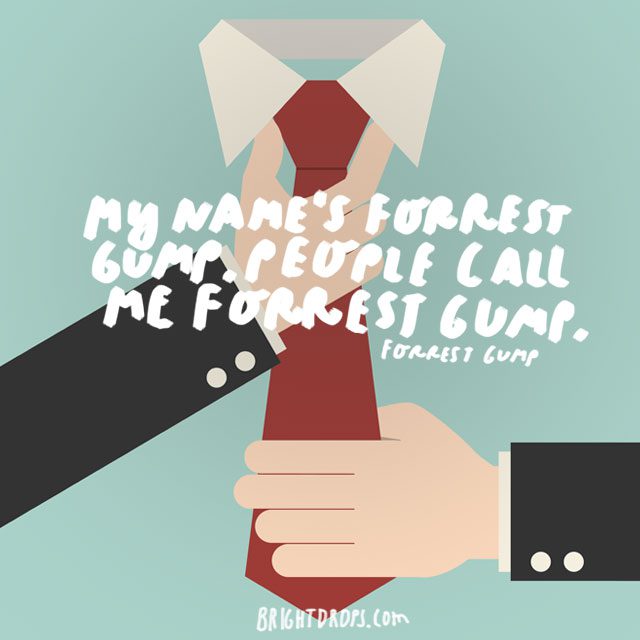 "My name's Forrest Gump. People call me Forrest Gump." – Forrest Gump
The way Forrest Gump introduces himself is memorable. He's one of those people that is on a full name basis all the time. We do not just call him "Forrest" and we would never refer to him as "Gump." In the beauty of his trademarked complex simplicity, he will always be "Forrest Gump."
8. Forrest Gump Keeps It Simple
"I'm pretty tired… I think I'll go home now." – Forrest Gump
After running across the country a few times and gaining a following, he just decides that it's finally time to go home. Forrest Gump built a movement by simply running, but he decided to leave all that behind because he was just ready to go home. This moment defines what makes him such a hero to all of us; he was always doing what he wanted to do and never what he didn't.
9. Forrest Gump Delivers a Great Quote
"Me and Jenny goes together like peas and carrots." – Forrest Gump
This could be analyzed on every level. Do peas and carrots go together for their color, their taste, or their texture? It's probably all three just like it's more than one thing that bring two souls together from billions in the world. Forrest Gump loves like none other and this quality is the one that draws us to him.
10.Forrest Gump on His Fondness of Dr. Pepper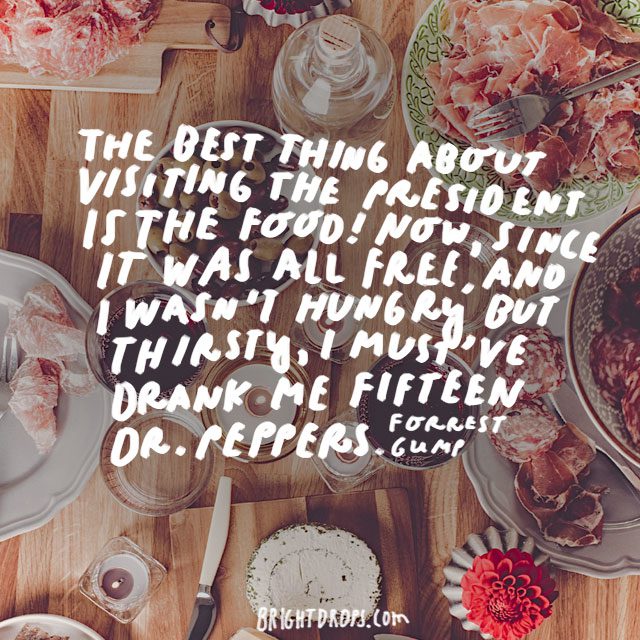 "The best thing about visiting the President is the food! Now, since it was all free, and I wasn't hungry but thirsty, I must've drank me fifteen Dr. Peppers." – Forrest Gump
Here we see Forrest Gump's true personality. For him, it is more exciting to have the food and drinks at the White House than to be in the presence of the most powerful man on the planet. We see this in the following scene when his words to the president are about his need to leave.
11. Forrest Gump Says He Knows What Love Is
"I'm not a smart man… but I know what love is." – Forrest Gump
Ultimately, Forrest Gump's story is one of love. There's no IQ required to love another person. With this quote, we all find inspiration in knowing that love doesn't have to be complicated, it just has to be pure. True love is a thing of beauty, which requires no calculation, no scheming, and no thinking.
12. Forrest Gump Points Out the Painfully Obvious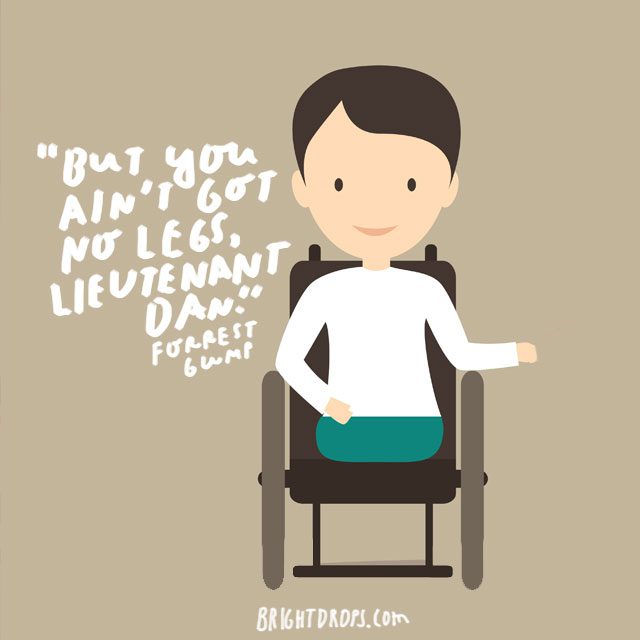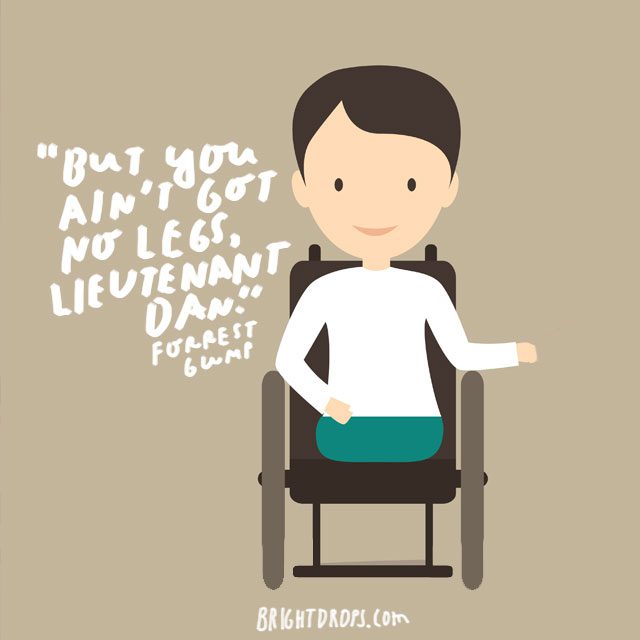 "But you ain't got no legs, Lieutenant Dan." – Forrest Gump
Even Forrest Gump, with his own limitations, knows when someone else needs a little help. Here, we see his heart and his willingness to offer help. This glimpse into the heart and soul of Forrest Gump is just one of the many moments we get to see every piece of him. He's an open book.
13. Forrest Gump on Making a Fortune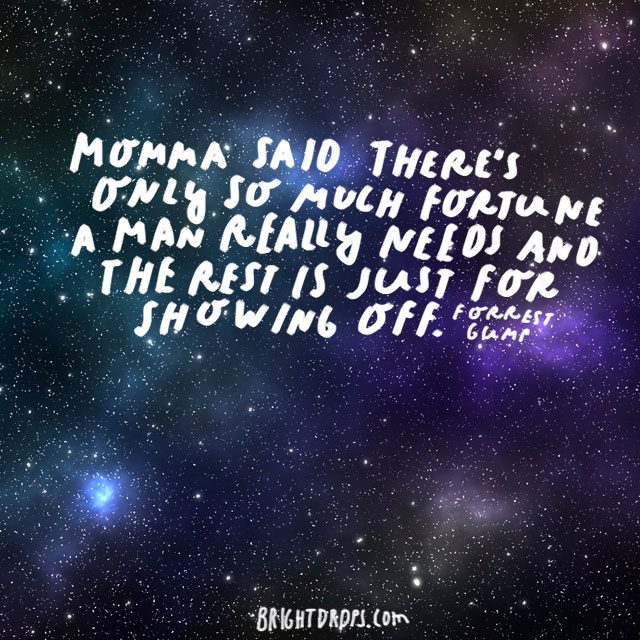 "Momma said there's only so much fortune a man really needs and the rest is just for showing off." – Forrest Gump
Mama's wisdom again leads Forrest Gump to many good deeds. After finally having one less thing to worry about, he goes on to give fortunes to others. He even hunts down Bubba's family and gives them the fortune that, in Forrest Gump's mind, rightly belongs to Bubba.
14. Forrest Gump Laments on the Lack of Rocks
"Sometimes, I guess there just aren't enough rocks." – Forrest Gump
We all feel the pain of the past. Forrest Gump watches the love of his life throw rock after rock at the source of all of her pain. In this one line, he embodies what it is like to battle that whale of an enemy. Yet, in his simplicity, sums up the whole of our frustration. You can try to stay angry, but ultimately, there are never enough rocks to throw.
15. Forrest Gump Is Still Waiting for His Payday
"They said it was a million dollar wound, but the army must keep that money 'cause I still haven't seen a nickel of that million dollars." – Forrest Gump
With this line, Forrest Gump sums up the stupidity of our own language. Pointing fun at the way we speak about pretty much everything, we see that money never mattered to him, but being right always does. When Forrest Gump's mouth writes a check, he can always cash it. He can never understand why that's not the case for the rest of the world.
16. Forrest Gump Explains How He Ran So Far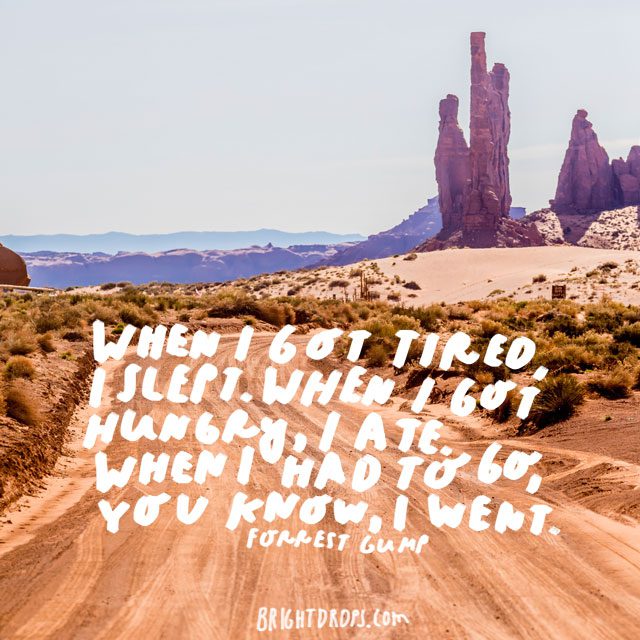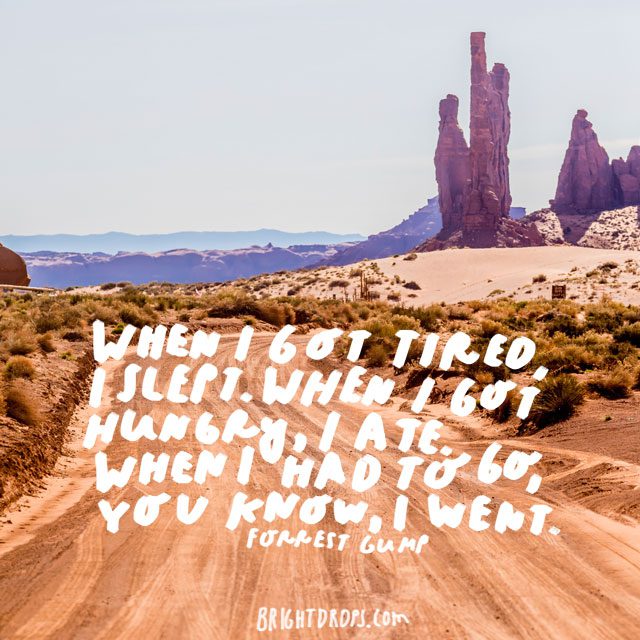 "When I got tired, I slept. When I got hungry, I ate. When I had to go, you know, I went." – Forrest Gump
Though he was speaking about his running adventure, Forrest Gump was also giving us a philosophy of life. Sometimes we over complicate things when really, all we need to do is what comes naturally. Throughout his life, that's what Forrest Gump always does.
17. Forrest Gump Wraps Things Up Nicely
"That's all I have to say about that." – Forrest Gump
Forrest Gump had so much to say. When he was finally done talking, he would move on to another topic. He would talk to person after person sitting on a park bench. When he was done with that story, he would simply move on and leave the past behind him as Mama always said to do.
More Good Movie Quotes:
Harry Potter Quotes
Yoda Quotes
Elf Quotes
Batman Quotes
Grinch Quotes