Even the strongest person can struggle with forgiveness when faced with hurt, because it's only those we are close to (or thought we were) who have the ability to cut us so deeply. Trying to accept and move on from such a huge duplicity can seem insurmountable, and not many of us can climb that particular mountain easily.
However, forgiveness is less about the person who has broken our trust, and much more about being kind to ourselves, because living with unresolved pain can rob us of our futures as we struggle to deal with the hurt. Holding onto pain isn't a sign of strength, forgiveness is, and these forgiveness quotes will help you to see how letting go is the ultimate in self-care.
To forgive doesn't mean to forget, but it does require you to recognize your feelings, acknowledge them, and then let them go in order to move forward in a healthy way. Whether your betrayer is a family member, a partner, or a close friend, these forgiveness quotes will help you to see that forgiving is not forgetting, and neither is turning the other cheek; it's all about allowing yourself to grow and move past something which you thought you could never get over.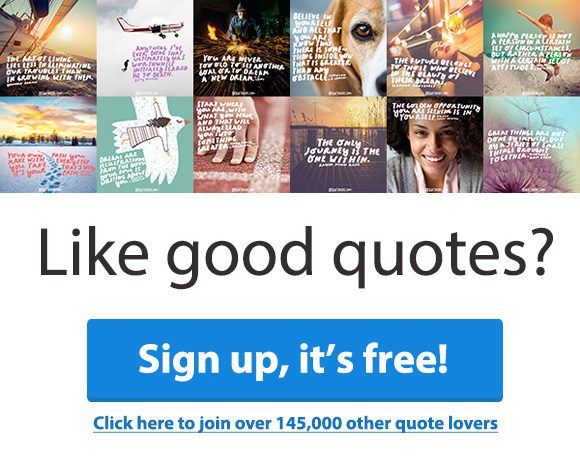 If you're looking for more good quotes to help protect your mental health, take a look at these healing quotes and these quotes on knowing your worth.
Forgiveness Quotes
"Forgiveness is the sweetest revenge." – Isaac Friedmann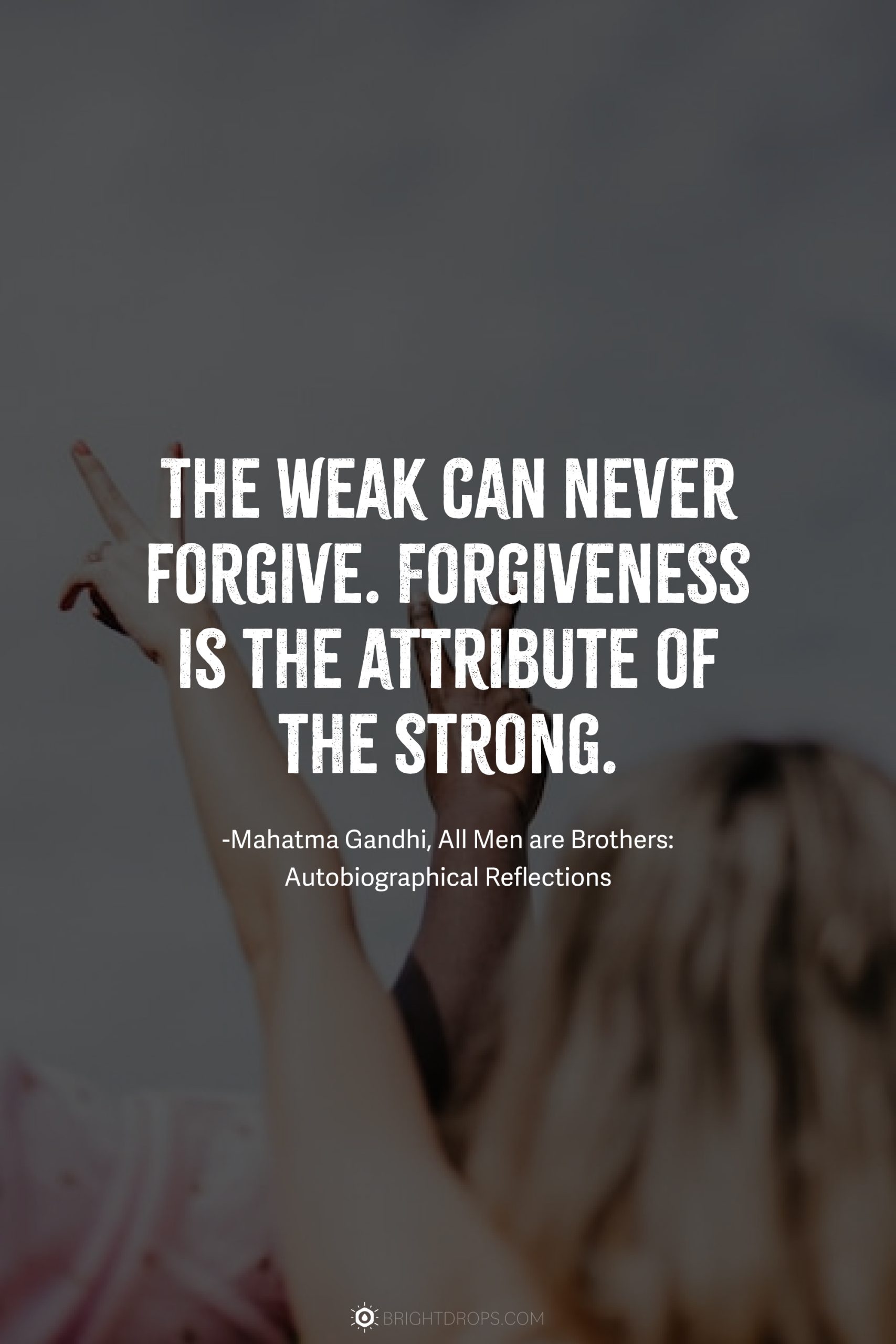 "The weak can never forgive. Forgiveness is the attribute of the strong." – Mahatma Gandhi, All Men are Brothers: Autobiographical Reflections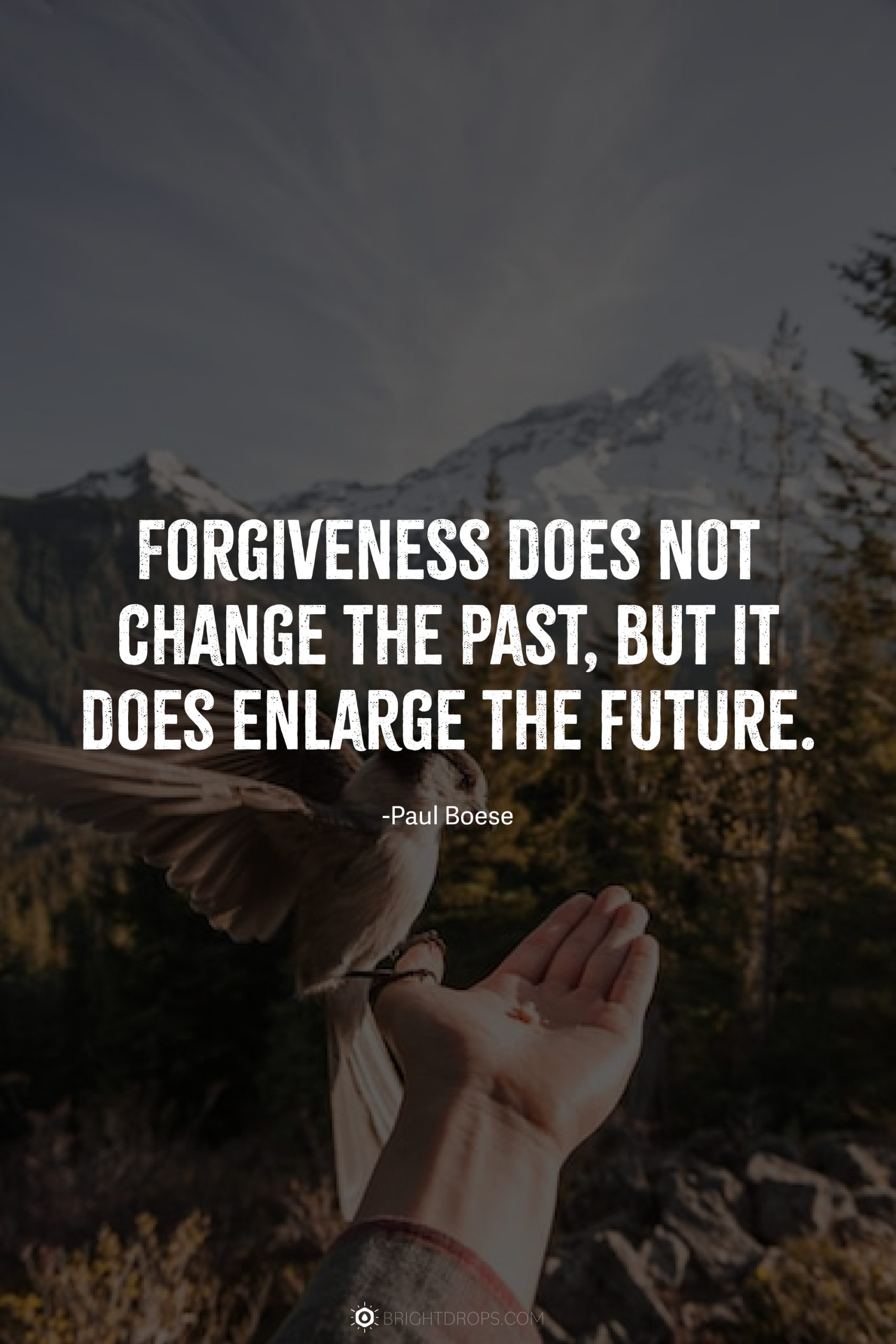 "Forgiveness does not change the past, but it does enlarge the future." – Paul Boese
You may also like: These quotes on peace for a calm, centered mind: https://brightdrops.com/peace-quotes
"Love may forgive all infirmities and love still in spite of them: but Love cannot cease to will their removal." – C.S. Lewis, The Problem of Pain
"We are told that people stay in love because of chemistry, or because they remain intrigued with each other, because of many kindnesses, because of luck. But part of it has got to be forgiveness and gratefulness." – Ellen Goodman
"Genuine forgiveness does not deny anger but faces it head-on." – Alice Duer Miller
Related: Self-Love Quotes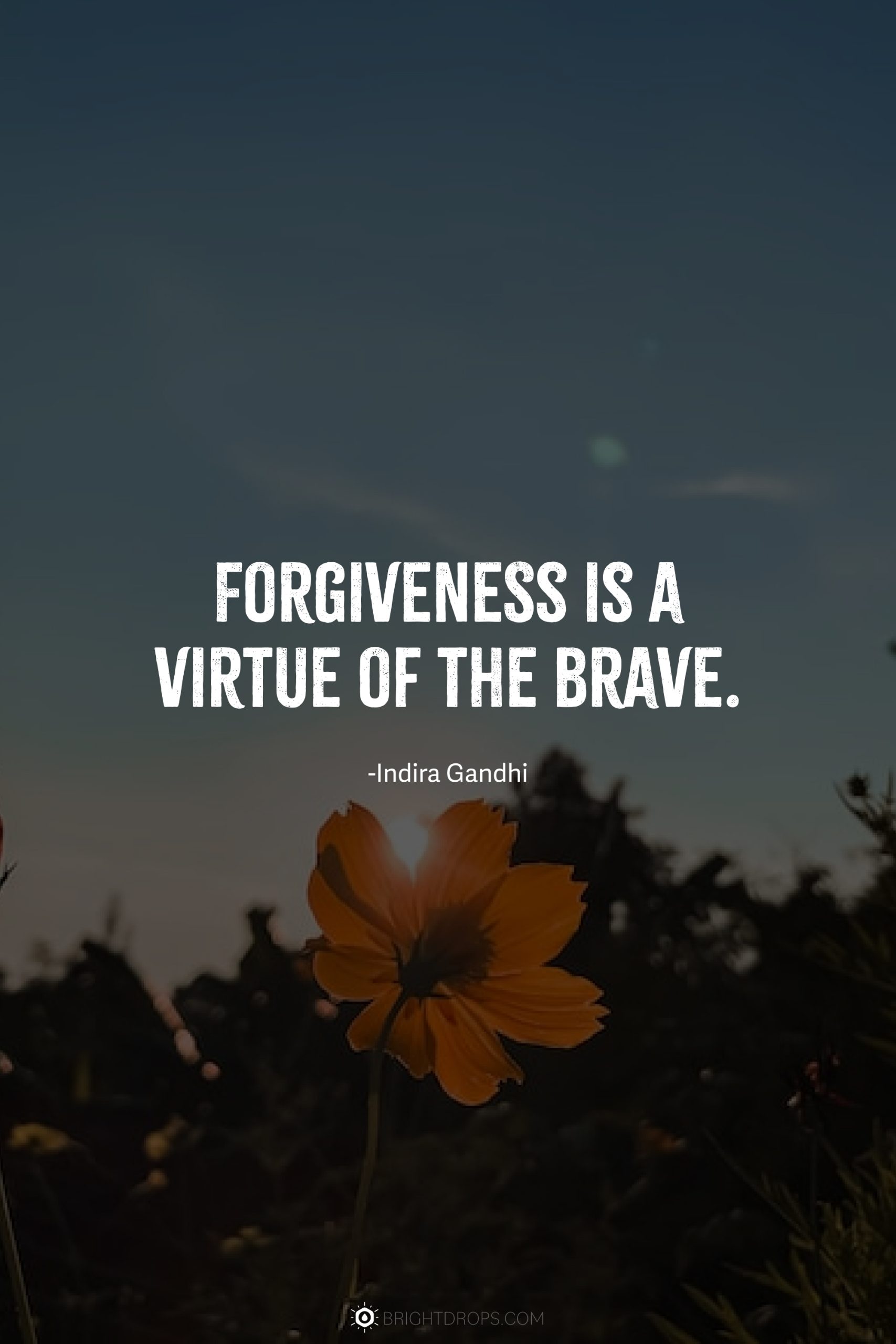 "Forgiveness is a virtue of the brave." – Indira Gandhi
"Life is grace. Sleep is forgiveness. The night absolves. Darkness wipes the slate clean, not spotless to be sure, but clean enough for another day's chalking." – Frederick Buechner, The Alphabet of Grace
"I want to be the kind of person who can do that. Move on and forgive people and be healthy and happy. It seems like an easy thing to do in my head. But it's not so easy when you try it in real life." – Susane Colasanti, Waiting for You
"Can I be forgiven for all I've done to get here? I want to be. I can. I believe it." – Veronica Roth, Allegiant
"A life lived without forgiveness is a prison." – William Arthur Ward
"When you hold resentment toward another, you are bound to that person or condition by an emotional link that is stronger than steel. Forgiveness is the only way to dissolve that link and get free." – Katherine Ponder
"Only the brave know how to forgive. … A coward never forgave; it is not in his nature." – Laurence Sterne
"Forgiveness is the giving, and so the receiving, of life." – George MacDonald
"Dumbledore says people find it far easier to forgive others for being wrong than being right." – J.K. Rowling, Harry Potter and the Half-Blood Prince
"Forgiveness is the key to action and freedom." – Hannah Arendt
"Forgive your enemies, but never forget their names." – John F. Kennedy
"Forgiveness is not a feeling; it is a commitment. It is a choice to show mercy, not to hold the offence up against the offender. Forgiveness is an expression of love." – Gary Chapman
"Love is an act of endless forgiveness, a tender look which becomes a habit." – Peter Ustinov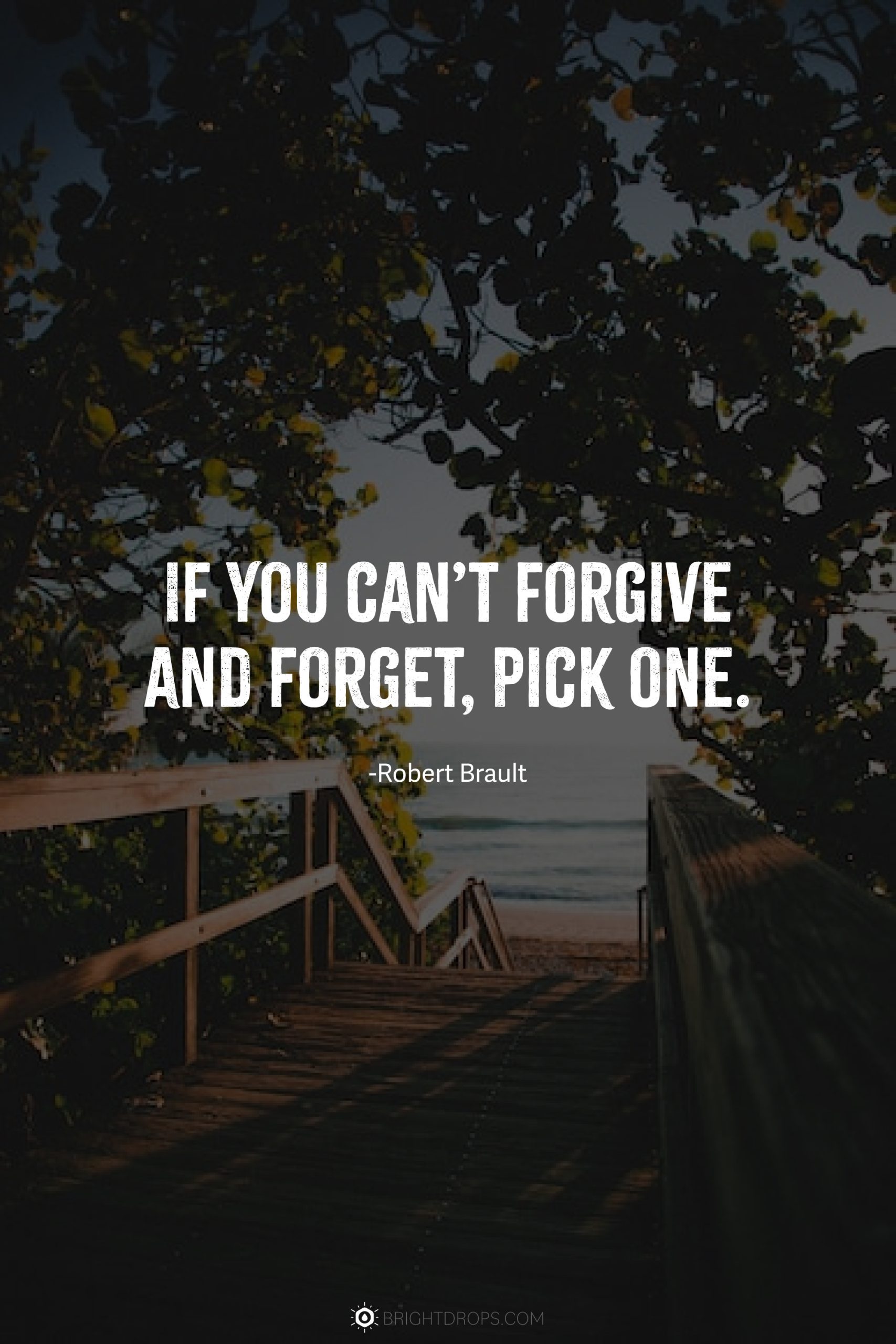 "If you can't forgive and forget, pick one." – Robert Brault
"Anger makes you smaller, while forgiveness forces you to grow beyond what you are. ― Cherie Carter" – Scott
"To forgive is the highest, most beautiful form of love. In return, you will receive untold peace and happiness." – Robert Muller
"A broken friendship that is mended through forgiveness can be even stronger than it once was." – Stephen Richards, Forgiveness and Love Conquers All: Healing the Emotional Self
"Disagreements don't cause disunity, a lack of forgiveness does." – Loren Cunningham
"To be wronged is nothing, unless you continue to remember it." – Confucius
"Forgiveness is not an occasional act, it is a constant attitude." – Martin Luther King Jr.
"Those who cannot forgive others break the bridge over which they themselves must pass." – Confucius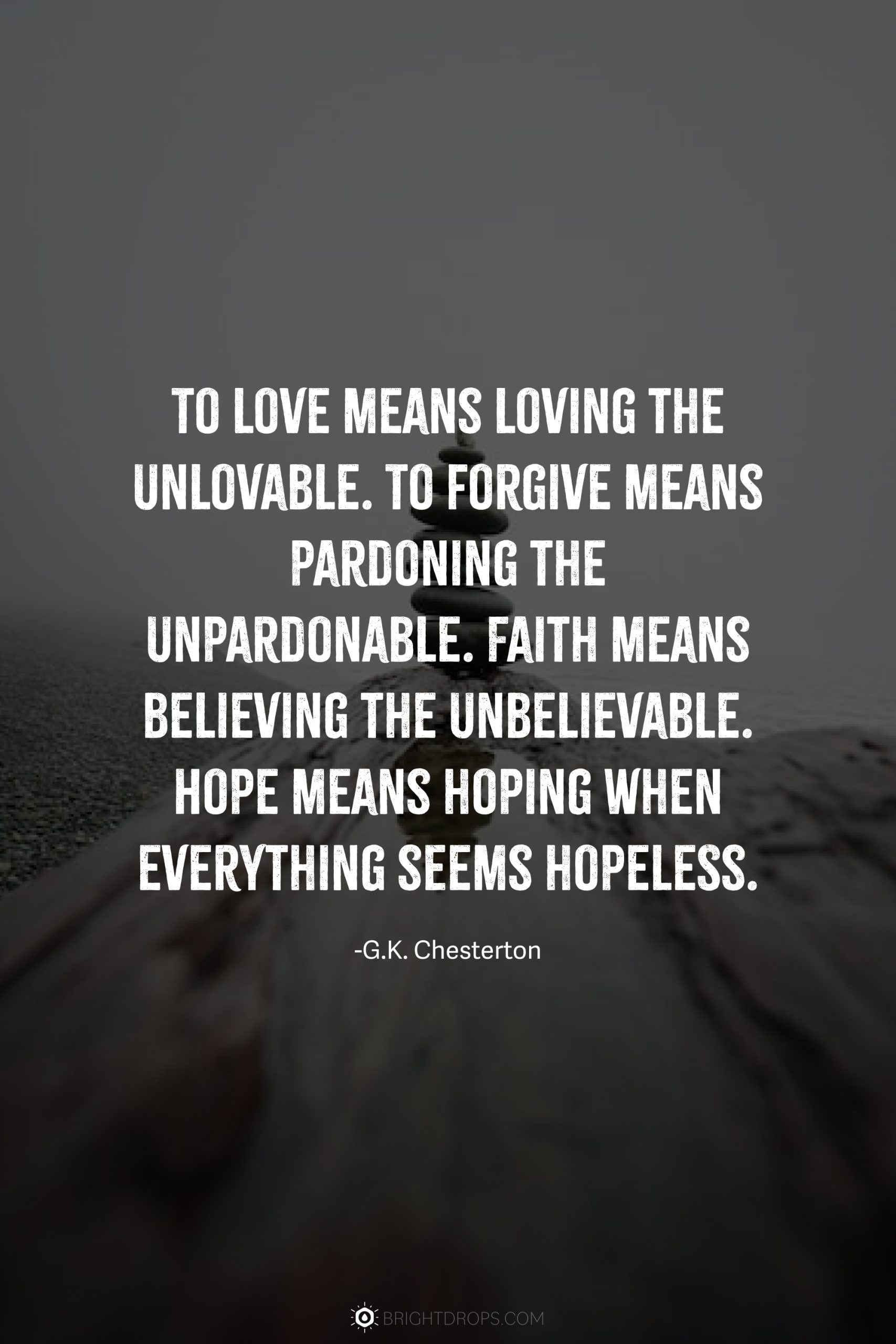 "To love means loving the unlovable. To forgive means pardoning the unpardonable. Faith means believing the unbelievable. Hope means hoping when everything seems hopeless." – G.K. Chesterton
"Forgiveness is the economy of the heart… forgiveness saves the expense of anger, the cost of hatred, the waste of spirits." – Hannah More
"Forgiveness means it finally becomes unimportant that you hit back." – Anne Lamott
"Forgiveness is an act of the will, and the will can function regardless of the temperature of the heart." – Corrie ten Boom
"It is easier to forgive an enemy than to forgive a friend." – William Blake
"These are the few ways we can practice humility: To speak as little as possible of one's self. To mind one's own business. Not to want to manage other people's affairs. To avoid curiosity. To accept contradictions and correction cheerfully. To pass over the mistakes of others. To accept insults and injuries. To accept being slighted, forgotten and disliked. To be kind and gentle even under provocation. Never to stand on one's dignity. To choose always the hardest." – Mother Teresa, The Joy in Loving: A Guide to Daily Living
"We ask for forgiveness. And we forgive others who ask us. In that way we can experience healing, healing in our souls." – Ed Dobsons
"Grudges are for those who insist that they are owed something; forgiveness, however, is for those who are substantial enough to move on." – Criss Jami, Salomé: In Every Inch In Every Mile
"Sigh no more, ladies, sigh no more, Men were deceivers ever,- One foot in sea and one on shore, To one thing constant never." – William Shakespeare, Much Ado about Nothing
"I have always found that mercy bears richer fruits than strict justice." – Abraham Lincoln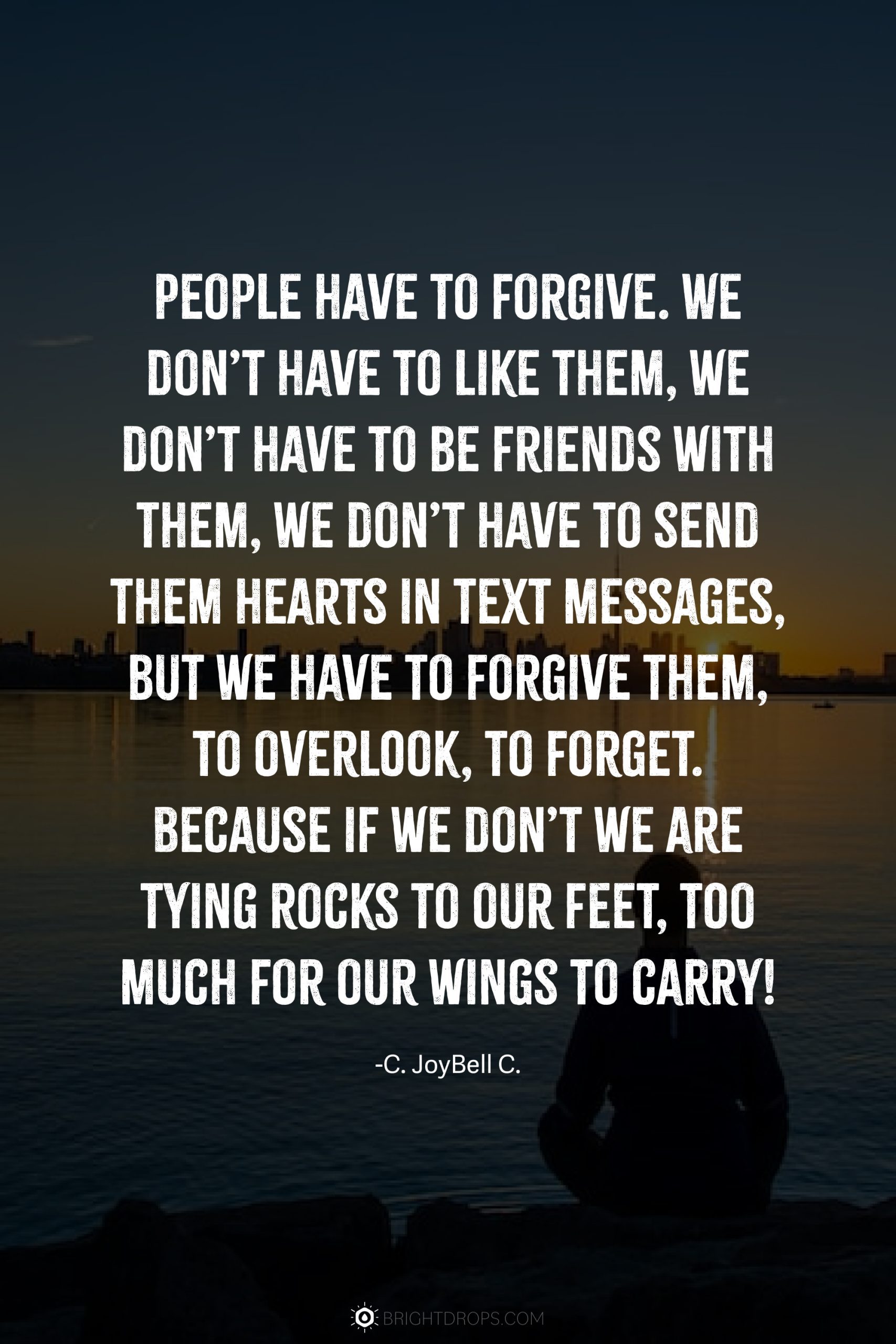 "People have to forgive. We don't have to like them, we don't have to be friends with them, we don't have to send them hearts in text messages, but we have to forgive them, to overlook, to forget. Because if we don't we are tying rocks to our feet, too much for our wings to carry!" – C. JoyBell C.
"Forgiveness is the oil of relationships." – Josh McDowell
"There is no love without forgiveness, and there is no forgiveness without love." – Bryant H. McGill
"We are all mistaken sometimes; sometimes we do wrong things, things that have bad consequences. But it does not mean we are evil, or that we cannot be trusted ever afterward." – Alison Croggon
More Good Quotes:
33 Never Give Up Quotes
58 Narcissist Quotes
63 Peace Quotes
82 Loyalty Quotes
106 Fake Friends Quotes