Inspired by the children's book by Judith Viorst, this list will help you get through those terrible, horrible, no good, very bad days. If you feel like it's time to move to Australia, just read these encouraging quotes and you'll find that you aren't the only person to face adversity. Everyone from William Shakespeare to Anne Frank to the Dalai Lama offers up encouragement to help pull you through today.
1. J.R.R. Tolkien on what to do with your time.
"All we have to decide is what to do with the time that is given us." – J.R.R. Tolkien
Who better to tell us how to spend our time in a constructive manner? Tolkien created his own world, his own language, and a franchise that still pays royalties to his family 3 generations later. He provided a map for Middle Earth and this quote can serve as a map to navigate the struggle that is today.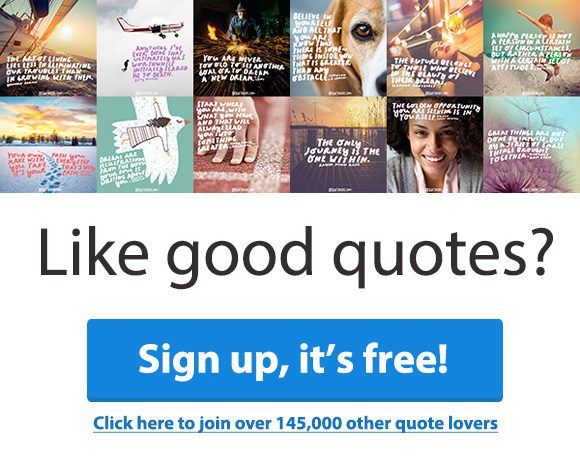 2. Ralph Waldo Emerson on what all of us really want.
"Our chief want is someone who will inspire us to be what we know we could be." – Ralph Waldo Emerson
One of the greatest songwriters of his generation assures us that things will turn out okay. They are working out even better than that for him at the moment. Of course, a quick review of his bio will remind us that things weren't always running smooth for Ed Sheeran. He struggled through his fair share of bad days.
3. Steve Martin on hanging in there.
"Thankfully, persistence is a great substitute for talent." – Steve Martin
Perhaps the secret to everyone's success is that we just need the right words of encouragement behind us. Maybe today isn't just a bad day because of our circumstances. Maybe today is just one of those days we needed someone in our corner. Choose today to be a little more transcendent.
4. Ed Sheeran on the end.
"Everything will be okay in the end. If it's not okay, then it's not the end." – Ed Sheeran
The comic genius says over and over again in almost every interview that he just kept at it. Even on those days he didn't feel like he could stand another second on stage, he persevered and eventually it paid off. While sticking it out might not yield massive international success, you will reap the reward of enduring yet another day.
5. Stephen R. Covey on becoming what we should be.
"Treat a man as he is and he will remain as he is. Treat a man as he can and should be and he will become as he can and should be." – Stephen R. Covey
A leading expert on leading, Covey explains exactly why bad days have to happen. If we have great days all the time, we become complacent. These challenging days burn away the impurities and make us shine; it's the same process used to purify gold. Today, just remember that you are a treasure.
6. Tyler Perry on the importance of "Yes."
"You can get a thousand no's from people, and only one "yes" from God." – Tyler Perry
Today, it feels like the entire world is rising up against you. Fortunately, it only takes one good ally to defeat any foe. It might not come in the form of divine intervention, but we can find solace in the fact that we will receive support. Keep your head up and it will be much easier to find that ally.
7. Johann Wolfgang von Goethe on being inspired from within.
"Instruction does much, but encouragement everything." – Johann Wolfgang von Goethe
During World War II, copies of Faust replaced the Old Testament in Germany. Goethe had a way of teaching life lessons with his words. He had no intention of becoming a sage. Instead, he prefered to inspire people to action in their personal lives. He understood that there were so many bad days, and finding that internal source of encouragement could change the world.
8. Albert Lord Tennyson dreams of a newer world.
"Come friends, it's not too late to seek a newer world." – Albert Lord Tennyson
Today, Tennyson would have a followers. Just when you needed some encouraging quotes, you stumble across this gem and realize that we can indeed change the world. If we can just get through these terrible days, we could see the light at the end of the tunnel.
9. Amy Gatliff on facing another day.
"The greatest act of faith some days is to simply get up and face another day." – Amy Gatliff
On days like today, you hit the snooze button a few extra times. By the time you head out the door, you're focused on the paycheck, not the process. That is great faith: Pushing on and being loyal to an idea, something that is unseen. Showing such faith is a sign of great things to come.
10. John C. Maxwell on butter.
"Remember, man does not live on bread alone: sometimes he needs a little buttering up." – John C. Maxwell
Another leading leader, Maxwell reminds us that this very list is vital today. You need a few encouraging quotes to get through this horrid experience. Today is your bread, this list is your butter. You are a already showing so much strength and character; you didn't call in. Can you say that about everyone else? Look around.
11. Elizabeth Cady Stanton on your unique soul.
"Nature never repeats herself, and the possibilities of one human soul will never be found in another." – Elizabeth Cady Stanton
Always remember that you are unique. Sure it's cliche, but it's also true. Mother Nature didn't make a mistake by putting you here. You have a purpose and, believe it or not, even days like today are a requirement to make you stronger and better than you were yesterday.
12. Roz Inga on blooming.
"You need to be buried deep in the dirt before you can find your bloom." – Roz Inga
The most beautiful flowers grow from the dirtiest, most worm-infested dirt you could imagine. If you aren't buried in the muck, you won't be able to reach your fullest, most beautiful potential. Despite the dirty origin, the ends will justify the means. You're planted here for a reason and when you bloom, everyone will notice.
13. Sumi on fruit-bearing trees.
"Stones and sticks are thrown only at fruit-bearing trees." – Sumi
Keep in mind that some of the best flowers grow on trees, which could mean that you'll have many challenging days, but it also means that you'll have many beautiful blossoms. Some of those beautiful blossoms will even become fruit, which will feed you and your loved ones for years to come.
14. Hugh B. Brown on the battle between night and day.
"Night never had the last word. The dawn is always invincible." – Hugh B. Brown
Today is your darkest night, but tomorrow the sun will rise. Today has got you down, but when the sun shines on your figurative horizon, you will feel the strength of every sunrise. The darkness is always conquered by the brilliant brightness of the burning sun. Have no fear, tomorrow is another day.
15. Deborah Day on renewal.
"Renewal requires opening yourself up to new ways of thinking and feeling." – Deborah Day
Today is just another opportunity to learn. You can find a new way of thinking about today. You can find a new way to feel the pain of those around you. Maybe you can empathize better. Maybe you can find a way to feel the joy that someone around is feeling. If we are to find renewal, we must find new again… literally.
16. Robbie Kwia on the stars we reach for.
"Let's not just reach for the stars, but become the stars everyone reaches for." – Robbie Kwia
Today is the perfect day to push yourself. If you can overcome the adversity of today, then you are well on your way to becoming someone else's goal. You have what it takes to become the very thing you only dreamt you could become. Today is just another stepping stone on your path to success.
17. Amaka Imani Nkosazana on living in the shadows.
"You don't have to live in anyone's shadow. Allow your unique characteristics to shine forth and Illuminate your way." – Amaka Imani Nkosazana
When you finally become the star that someone else is trying to emulate, you will easily shine your light on the path before you. Today's got you down, but don't live in the shadows. Dig deep and let your path be lit by the illumination from within. Your unique soul can provide light for you and those around you.
18. Debasish Mridha on drawing new pictures.
"We often forget to draw a new picture because we are so busy criticizing other paintings." – Debasish Mridha
On day's like today, it's so easy to get stuck in a rut. You could notice every hair out of place, every crease that wasn't there ten years ago, and every imperfection that has bugged you since adolescence. Instead, focus on where you can go from here. We can get out a blank canvas today, and begin a new masterpiece.
19. Heather Wolf on daily miracles.
"You're going to make it, you'll be ok, miracles happen every day." – Heather Wolf
Your masterpiece could start today. There's no shame in feeling downtrodden. Right in the middle of the most violent storms lies the eye, the calmest and quietest part. Look for the eye of the storm around you. Find your calm, and you might just find your miracle.
20. Lailah Gifty Akita on positive thoughts.
"If you saturate your mind with positive thoughts, it will sustain you in any situation." – Lailah Gifty Akita
Focus on the little miracles that you can find, even in the midst of an awful day like today. In doing so, you fill yourself with positive thinking and remove all the negativity from your mind. You can use these positive thoughts to sustain you, especially on terrible days like today.
21. Lailah Gifty Akita on the end of the journey.
"There is an end to every journey." – Lailah Gifty Akita
If some of these encouraging quotes aren't lifting your spirit, just know that this dark and gloomy journey will end. Every journey has to end, even bad ones. Especially bad ones. If you don't think so, just remember the movie Gigli. If you sat through it you felt like it would never end but when the credits finally rolled you were finally there.
22. Max Lucado on doing something.
"No one can do everything, but everyone can do something." – Max Lucado
Today, you feel like you're drowning. You're not drowning… yet. You're treading water and keeping your head up with your most Herculean effort. No one can do it all. Look around and ask for help. If you can't find the help you need, take the rest of the day off. Try again tomorrow.
23. Robin Caldwell on how lovely you are.
"You're the loveliest you'll ever be…until tomorrow and then you will be even lovelier." – Robin Caldwell
You truly are getting more lovely every day. We are like wine and we age to become more mature, wiser, and more beautiful. Don't focus on the minute details and focus on how much you've grown in the past month. The past year. The past decade. Now, can you really say you aren't lovelier now than you were before?
24. Auliq Ice on taking control.
"Take control of your future by taking a choice of starting it right now." – Auliq Ice
You've heard all the cliches about today being the first day of the rest of your life and all those generic encouraging quotes. Again, cliches become cliches because they are usually true. So, grab the bull by the horns and decide that today, yes that horrible day you're in right now, is going to be the first step in your future.
25. Emilyann Girdner on higher ground.
"If you're stuck in a puddle, it means there's higher ground all around you, you just have to step onto it." – Emilyann Girdner
Today is a puddle, a rut, a valley, a challenge. Well, if you're at a low point, everything around you is the higher ground. Reach for higher ground wherever it is around you. Getting to that higher ground is where you can start planning for a better tomorrow. Don't be discouraged.
26. Hope from Chitty Chitty Bang Bang
"Up from the ashes come the roses of success." – Chitty Chitty Bang Bang
Roses are yet another flower that grows in the worst of circumstances. Not only do they grow best in scorched earth, they grow from thorny stalks. Everything about the rose bush is morbid except for the brilliant bloom that is the favorite around the entire world. Today, you're in the ashes, but soon, you may be the most beautiful thing in the world.
27. Alexandra Stoddard on trusting the process.
"Slow down. Calm down. Don't worry. Don't hurry. Trust the process." – Alexandra Stoddard
Growing something perfect and beautiful doesn't happen overnight. Sure, you've been waiting a lot longer than a couple of days, but you just have to trust the process. Keep putting out good into the world and you will reap the rewards. On bad days, it's even more important to remember that.
28. Alex Haley on finding the good.
"Find the good, and praise it." – Alex Haley
On a day like today, it's probably difficult to find anything good. That's exactly why you must. There are infinitely many good things in the world. Find a few. Be grateful that you can see those few good things. Those few moments of positivity can help pull you through the rest of your day.
29. E. A. Bucchianeri
"A new challenge keeps the brain kicking and the heart ticking." – E. A. Bucchianeri
Finding the good in an awful situation is a great challenge. That new challenge that you are doubting is the very one that will keep you going. More than just keeping the heart ticking, it'll get you closer to your goal. That's why you have to make sure you get through today.
30. Chris Burkmenn on victory.
"The harder the fight, the greater the victory." – Chris Burkmenn
When you finally come out the other side, you'll be so glad that you went through the fire. When you are forged in fire, it only makes you stronger. Much like passing iron through the hot coals, you will need to go through the hard times to make the pleasure at the end that much sweeter.
31. Lacey Sturm reminds you that you are not an accident.
"You are not a burden, an accident, or a mistake. You are meant for amazing things that you can't even imagine for yourself." – Lacey Sturm
There are amazing things in store for you. Today, you probably don't believe that. From the names on many of these encouraging quotes, you should already believe that the storm is always darkest just before the sun breaks through the clouds.
32. Hannibal on how to become a conqueror.
"I will find a way — or make one." – Hannibal
On the darkest day, it's hard to focus on where you're going, much less how to get there. Take a few minutes today to look around and find your path. Take some mental steps toward that goal. Nothing will make you feel better than making progress toward your true goals.
33. Tamika L. Sims on changing.
"If it doesn't challenge you, it will not change you." – Tamika L. Sims
The best way to make progress toward your goals is to face the worst challenges, whether they are minor or major setbacks. If you take some steps today toward where you want to be, you will be even stronger in your desire to get there.
34. Einstein on real opportunity.
"In the middle of every difficulty lies opportunity." – Albert Einstein
Albert Einstein knows about everything, relatively. Who better to offer some encouraging words on opportunity? The man was a terrible student who became known for his genius that was far above and beyond any the world had ever known. Today we are still exploring the depth of the opportunities he took advantage of.
35. Sufi poets on not getting too caught up in this one moment.
"This too shall pass." – Persian Sufi Poets
If today is too much, just keep in mind that this too shall pass. Persian Sufi poets were masters of living for a higher purpose. When you are living for a higher purpose, a greater cause, or some end goal that you know is around the corner, it is important to understand that all the trouble will eventually pass, because great things are coming soon.
36. Ralph Waldo Emerson on destiny.
"The only person you are destined to become is the person you decide to be." – Ralph Waldo Emerson
Take this one in, especially on a day like today. You can decide to let this day control you, or you can decide to be better than this day. Your destiny is up to you, not what your high school gym coach said about you. Just because you couldn't climb the rope as fast as Todd, doesn't mean you can't be what you want to be in life.
37. Arthur Ashe on starting.
"Start where you are. Use what you have. Do what you can." – Arthur Ashe
It's not just this list that you're reading. The universe is really trying to send you a message. Take the first step today. This terrible, horrible, no good, very bad day is just the message you needed. So just like Arthur says: Start right now.
38. Anne Frank on improving the world.
"How wonderful it is that nobody need wait a single moment before starting to improve the world." – Anne Frank
In her short life, she learned many things and she shared many of them with us. One of those brilliant moments is when she made this observation about the world. Don't wait for a better day. Stop waiting until "work slows down" or "the kids go back to school" to start making a difference.
39. Helen Keller on life's lessons.
"Life is a succession of lessons which must be lived to be understood." – Helen Keller
Helen Keller is quite possibly the single most inspirational person who ever lived. Who knows more about bad days than a woman who had no sight or hearing. Despite these setbacks, she lived through life and learned and understood everything that she needed.
40. Alexander Graham Bell on doors.
"When one door closes another door opens; but we so often look so long and so regretfully upon the closed door, that we do not see the ones which open for us." – Alexander Graham Bell
We remember Alexander Graham Bell for inventing the telephone. We've come quite a long way since that first step. Consider all the doors that were closed to him in his life. Follow in his footsteps. Don't just give up; look for the open door instead of dwelling on the missed opportunity.
41. Harriet Beecher Stowe on hanging in there.
"When you get into a tight place and everything goes against you, till it seems as though you could not hang on a minute longer, never give up then, for that is just the place and time that the tide will turn." – Harriet Beecher Stowe
In the darkest, most hopeless hour, that's where things start looking up. Almost every success story starts in the pit of darkness. There's nothing more promising than facing that dark moment because the silver lining is right around the edge of that dark cloud.
42. Eleanor Roosevelt on doing that one thing.
"You must do the thing you think you cannot do." – Eleanor Roosevelt
You've been putting it off for the longest time. You've been telling yourself that you'll start tomorrow but you've said that for months, maybe even years. The truth is that you doubt yourself. You need to do this for you and for the universe. Today is the starting point. No more excuses.
43. David Allen on paying attention.
"If you don't pay appropriate attention to what has your attention, it will take more of your attention than it deserves." – David Allen
Don't think about it too hard. It's a paradox. It is obvious and confusing all at the same time. The truth is, when we give the proper thought to our day, things are great. Today is no worse than any other day, we are just paying the negative events more attention than they truly deserve.
44. The Dalai Lama on dark days.
"I find hope in the darkest of days, and focus in the brightest. I do not judge the universe." – Dalai Lama
So none of us are the Dalai Lama. Well, one of us is the Dalai Lama. Who better to learn lessons on the universe from? Even the Dalai Lama has to learn to find hope in the darkest days. If you can learn that skill, imagine how much brighter the great days will be.
45. Joseph Campbell on the treasures of life.
"It is by going down into the abyss that we recover the treasures of life. Where you stumble, there lies your treasure." – Joseph Campbell
When you reach the low point, the abyss, you have found the bottom of your soul. Quite often, the things you stumble over are the things that we treasure the most. It's those stumbling points that often become our source of strength and our inspiration to do even more.
46. Helen Keller on suffering.
"Character cannot be developed in ease and quiet. Only through experience of trial and suffering can the soul be strengthened, ambition inspired, and success achieved." – Helen Keller
The only way to grow and become stronger is to face adversity. When we're lucky, that adversity is a bad day or a series of unfortunate events. Even in the gloomiest circumstances, we experience exponential growth in our soul when we face suffering head on. Relax, you're growing.
47. Thomas Edison on certain success.
"Our greatest weakness lies in giving up. The most certain way to succeed is always to try just one more time." – Thomas Edison
Thomas Edison accomplished so much in his life. He never stopped chasing success. Even some of his tactics that are criticized in modern scientific circles were just his latest "one more try." So many of those last tries were the ones that worked for him. So go ahead, try one more time.
48. C. S. Lewis on goal setting.
"You are never too old to set another goal or to dream a new dream." – C. S. Lewis
C. S. Lewis wrote until the day he died. Some of his more notable works were published posthumously. What if he had given up because he had a few bad days? What if he quit writing when he received his first or second rejection letter from a publisher?
49. Victor Klam falls on his face.
"Even if you fall on your face, you're still moving forward." – Victor Kiam
This is true in the realm of science and in the figurative sense. When you fail, you are a step closer to success. You can see this with any of the wildly successful stories whether it's the life of Rockefeller or the life of Steve Jobs. Everyone started with failure.
50. Wayne Dyer on being miserable.
"Be miserable. Or motivate yourself. Whatever has to be done, it's always your choice." – Wayne Dyer
Brevity is great, especially when it is completely honest and true. Nothing says it more aptly than this quote, which is why it is roughly our midpoint. If you are tired of being miserable, then just stop being miserable. Take this moment to make a change, even if it just takes a mental adjustment.
51. Denis Waitley on right now.
"Learn from the past, set vivid, detailed goals for the future, and live in the only moment of time over which you have any control: now." – Denis Waitley
You have control over this moment right now. No need to get all Oprah on it. You literally only have control over this moment. You can set great goals and you can learn from mistakes and successes from yesterday, but you only have right now. Take action while you can.
52. Thomas Jefferson on you.
"Do you want to know who you are? Don't ask. Act! Action will delineate and define you." – Thomas Jefferson
Tommy J knows a thing or two about taking action. After all, he did pretty much create the greatest nation on earth with nothing more than a piece of parchment and a feather. Don't keep sitting there waiting for things to get better, take the first steps to setting up tomorrow's success.
53. Epictetus knows about the company you keep.
"The key is to keep company only with people who uplift you, whose presence calls forth your best." – Epictetus
Today might be the right day to part company with some negative people. Start by giving out some warnings. You have the right to associate with a more positive and uplifting group. When you're by the water cooler, talk about good things, not the memo about TPS reports.
54. William James thinks you make a difference.
"Act as if what you do makes a difference. It does." – William James
What you do makes a difference. You probably don't get the thanks you deserve. Okay, you DON'T get the thanks you deserve. If it's any consolation, no one gets the appropriate amount of gratitude. Take pride in your work. Take pride in you. You're pretty wonderful.
55. Robert H. Schuller on epic fails.
"I'd rather attempt to do something great and fail than to attempt to do nothing and succeed." – Robert H. Schuller
Despite what every YouTuber says to the contrary, epic fails are the most noble failures. If you failed at microwaving a Hot Pocket, that's something you're going to forget by Thursday. If you fail at curing cancer, you still changed a lot of lives and made a massive scientific and medical impact in the world.
56. Breaking bread with Rumi.
"If it is bread that you seek, you will have bread. If it is the soul you seek, you will find the soul. If you understand this secret, you know you are that which you seek." – Rumi
Whatever you look for, that's what you're going to find. If you are looking for a way to wallow in self pity, then the only sustenance you'll get is your salty tears. If you are looking to improve your lot in life, chances are you are going to improve your life greatly.
57. Rainer Maria Rilke needs some love.
Image
"Perhaps everything terrible is in its being something that needs our love." – Rainer Maria Rilke
Today needs love. It's being terrible, which means it probably just needs our love. Instead of blaming today and blaming circumstance and threatening to fist fight the universe, take a deep breath and love today. Offer a hug to the universe for giving you this opportunity to grow.
58. A Hopi prayer about holding onto the good.
"Hold on to what is good, even if it's a handful of earth." – Hopi Prayer
Sometimes, all you have is the handful of earth below your feet. Be grateful that you have that good. Chances are, you've got more than a handful of earth to be thankful for right now. Hold on to all those good things. Breathe them in and focus on all of the goodness around you instead of wallowing in the negative space.
59. Walt Whitman gets all Star Wars on us.
"Let your soul stand cool and composed before a million universes." – Walt Whitman
Don't let the stress show on your face. You've had a rough day. Maybe even a rough week or two. Take a deep breath and compose yourself. All the universes are watching and circling together and flowing all sorts of karmic energy through you and all that. Stay cool.
60. Winston Churchill on going all the way through Hell.
"If you are going through hell, keep going." – Winston Churchill
You know that cliche people add at the end of a determined statement? "And all Hell can't stop me now!" That was based on Winston Churchill. Well, guys like Winston Churchill anyway. We call them the "Greatest Generation." Take that model of determination and apply it to yourself, especially today.
61. Deepak Chopra on staying still.
"In the midst of movement and chaos, keep stillness inside of you." – Deepak Chopra
While the day buzzes by you with the chaos that every day brings, take a moment for yourself. Keep your mind still. Keep your body still. If Deepak tells you to do it, it probably has all sorts of health benefits in addition to keeping your whole chi centered and all that stuff.
62. A Japanese proverb about getting back up.
"Fall seven times, stand up eight." – Japanese Proverb
Besides being reminiscent of a Chumbawumba song, this classic proverb tells us the origin of the theory of every great sports team in history. When today knocks you down, because it will, just get back up and prepare yourself for the next time it knocks you down.
63. Robert H. Schuller doesn't stop at stop signs.
"Problems are not stop signs, they are guidelines." – Robert H. Schuller
When you run into a problem, like today, it just shows you the guidelines for life. Today is just another example of why you must push on. If you keep on keeping on, you will find the great reward you are after in life. Today is probably making you have some doubts, but it will come.
64. Kenji Miyazawa on burning fuel.
"We must embrace pain and burn it as fuel for our journey." – Kenji Miyazawa
If you can take the pain of today, turn it into your fuel, and make it drive the engine of your desire, you will be a very successful person. Despite what all these encouraging quotes may say, they all have the same message. Use today to make tomorrow better.
65. Mark Victor Hansen tells you where you can put your future.
"Put your future in good hands — your own." – Mark Victor Hansen
You must take control of your own future. No one else can do it for you. No one else is going to offer their assistance. At least not for free. Unless you have been sitting on a big pile of money that you will give to consultants, it's time you take control of your own future. Start today.
66. Stephen R. Covey on your greatest investment.
"Be patient with yourself. Self-growth is tender; it's holy ground. There's no greater investment." – Stephen Covey
You are the most important investment you make. Sometimes you're going to forget to take your vitamins, but this is bigger than that. You have to understand that days like today are just steps in a greater process of self growth. You are growing and changing and becoming more you.
67. Maria Robinson on new endings.
"Nobody can go back and start a new beginning, but anyone can start today and make a new ending." – Maria Robinson
It would be great if we could all redo high school and start everything over from there. We'd get better grades, take the SAT a little more seriously, go to a better college for less money, marry an international supermodel, and make millions by 30. We can't. But we can decide how our story will end.
68. Thomas Edison astounds everyone.
"If we did all the things we are capable of, we would astound ourselves." – Thomas Edison
This reminds us of that statistic about only using 10% of your brain. If we were able to actually use all of our skills and abilities, we could get more done. Sometimes, we forget to pick up the dry cleaning on the way home. Use today to do just one thing that you know you are supposed to but never get around to.
69. Einstein on value.
"Try not to become a person of success, but rather try to become a person of value." – Albert Einstein
What good is success if you have to sell your soul to get there. Einstein says this much later in life. He publicly regretted helping with the atomic bomb. He thought he was making mathematical breakthroughs and he was. But he was more focused on success than value at the moment.
70. Kim Garst on charging for your talents.
"If you don't value your time, neither will others. Stop giving away your time and talents — start charging for it." – Kim Garst
You probably get paid for something. If not, now would be a good time to use the talents you have to make some money. The truth is, if you value your time, others will, too. If you count today as a wash, so will everyone else around you. Then, next time you have a rough day, they'll expect the same thing. Put an end to the cycle.
71. Rockefeller on going for great.
"Don't be afraid to give up the good to go for the great." – John D. Rockefeller
You're sitting there giving it everything you've got to just settle for good. Good is not great. What can you do today to ensure that what you're doing will be the greatest. Don't settle. Always push on the be the greatest you that you can be.
72. Lolly Daskal on creating yourself.
"Life is not about finding yourself. Life is about creating yourself." – Lolly Daskal
So often, we struggle with finding ourselves. The truth is that we are creating ourselves all along. The way you respond to today is going to become a part of you. If you want to be something bigger and better than today, use today as a building block in you.
73. Michael John Bobak is outside his comfort zone.
"All progress takes place outside the comfort zone." – Michael John Bobak
Today is not your comfort zone. Piaget had the theory of the Zone of Proximal Distance. If you want to grow at all, you must be outside your comfort zone, but in your ZPD. Today isn't comfortable, but it's doable. So, do today and you'll be better for it.
74. Audre Lorde on being powerful.
"When I dare to be powerful – to use my strength in the service of my vision, then it becomes less and less important whether I am afraid." – Audre Lorde
Be powerful today. Stand for something and have the vision to look forward to tomorrow to see what is really important. If you can do that, you won't be afraid. You won't be lost in the negativity of today and you definitely won't be holding anything back.
75. Vince Lombardi on being as great as you want.
"A man can be as great as he wants to be." – Vince Lombardi
If you settle for today, you'll never be great. Instead, turn today into a step ladder to reach what you really want to attain in life. If you can turn today's lemons into tomorrow's lemonade, you'll be well on your way to being great. Then, you'll have to decide just how great to be.
76. Winston Churchill on optimism.
"The pessimist sees difficulty in every opportunity. The optimist sees opportunity in every difficulty" – Winston Churchill
Today is a difficulty. You can either view this as a terrible day and focus on every bad circumstance surrounding you, or you can listen to Winston Churchill, one of the greatest leaders and men ever, and find the opportunity to grow and evolve as a person.
77. FDR on tying the knot.
"When you come to the end of your rope, tie a knot and hang on. " – Franklin D. Roosevelt
Difficult days have a way of making us give up on life. Instead, take this opportunity to tie the knot and end the cycle of bedlam. You don't have to continue down the same monotonous path. Put an end to the frustrating cycle and hang on instead of giving up and giving in.
78. Robert Kennedy on why not.
"There are those who look at things the way they are, and ask why… I dream of things that never were, and ask why not?" – Robert Kennedy
The dreamer always has the next big idea. How do they stay ahead of things? They keep going when the rest of us give in the the negative side of our conscience. That little nagging voice that tells us we can't do something has a little too much power over us, especially in our low moments.
79. Van Gogh heard voices.
"If you hear a voice within you say "you cannot paint," then by all means paint, and that voice will be silenced." – Vincent Van Gogh
It shouldn't come as a surprise that Vincent Van Gogh heard voices. What is shocking is that the voice in his head told him he couldn't paint yet he went on to become one of the most influential and monumental artists in history. Do the things the voice in your head says that you can't.
80. Henry Ford on taking off for flight.
"When everything seems to be going against you, remember that the airplane takes off against the wind, not with it." – Henry Ford
Henry Ford is an expert on ingenuity. It's probably because of his approach to working hard. When everything's against you, you have to work even harder. The Wright Brothers couldn't get their flying machine to work until they turned against the wind and used the wind against itself.
81. Clara Barton on facing danger.
"I may be compelled to face danger, but never fear it, and while our soldiers can stand and fight, I can stand and feed and nurse them." – Clara Barton
If the founder of the American Red Cross can face literal battles to do her work, I think all of us can suck it up and face another day. Sure we take figurative gunfire on a daily basis, but she actually had to run through the battle lines to make her life goals become a reality.
82. Drew Barrymore on greatest pains and greatest strengths.
"Life is very interesting. In the end, some of your greatest pains become your greatest strengths." – Drew Barrymore
Today is one of those painful days. Take that terrible pain and mold it into one of your strengths. It starts with a positive mindset. You have to allow the negative energy around you to subside and begin making this negativity a part of your strength. Just like we learned from Van Gogh, paint especially if it's your weakness.
83. Martha Washington on being happy.
"The greatest part of our happiness depends on our dispositions, not our circumstances." – Marth Washington
Have a better attitude and a better mindset towards your setbacks. Don't let the circumstances around you dictate how you feel about life in general. If we allow the circumstances around us at work, in the world, and in general impact our emotional state, we will be destitute all the time.
84. Shakespeare on the reverse thief.
"The robbed that smiles, steals something from the thief." – William Shakespeare
When life takes everything you thought you had, appreciate what you do have. And smile. When the going gets tough, think about how much better off you're going to be when it's all over. Take advantage of this opportunity to grow and do it with a smile on your face.
85. Ralph Waldo Emerson on the night sky.
"When it is dark enough, you can see the stars." – Ralph Waldo Emerson
Transcendent double entendres are the best. On the darkest nights, the stars are the brightest and most beautiful. The same can be said of those awful days. When life gives you lemons, you can make lemonade by taking a moment to make a mental adjustment. Find the beauty.
86. William Stafford on broken parachutes.
"I have woven a parachute out of everything broken." – William Stafford
What better way than to take all the brokenness around you and weave a beautiful parachute that can let you down gently the next time you get caught in a flaming plane heading straight toward the earth. When you're spiraling out of control, pull the cord and float down gently.
87. Henry David Thoreau on living your dreams.
"Go confidently in the direction of your dreams. Live the life you have imagined." – Henry David Thoreau
Today, take the first steps toward your dreams. Stand confident in knowing that today is not your destiny, it's merely a stop on the journey. It's a bad stop that you'll soon forget. Take a moment to envision where you want to be and take the first positive steps to be there.
88. A Jewish Proverb on anxiety.
"Anxiety in a man's heart weighs him down, but a good word makes him glad." – Proverbs 12:25
Don't get caught up in everything that's going wrong around you today. Don't focus on the negative. Instead, find a way to focus on all the good things around you. Think about the people in your life that you can depend on. Think about the accomplishments that have brought you here.
89. William McKinley on finding victory.
"In the time of darkest defeat, victory may be nearest." – Williams McKinley
A recurring theme in this entire list of encouraging quotes is the idea of hanging in there. When we feel that defeat is inevitable, victory is closer than ever before. It seems that every person that finds success, only does so because of the difficult times that preceded that success.
90. George Eliot on despair.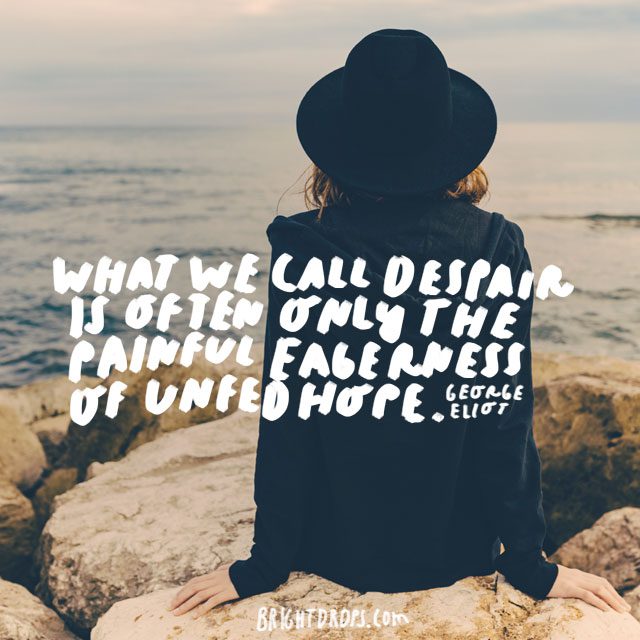 "What we call despair is often only the painful eagerness of unfed hope." – George Eliot
Consider all the bad feelings you have in your heart right now. Is it possible that you haven't been feeding the hope for your future enough? Are you focused on what you don't have too much? Are you forgetting to be grateful for all that you do have?
91. Lucille Ball on learning the hard way.
"One of the things I learned the hard way was that it doesn't pay to get discouraged. Keeping busy and making optimism a way of life can restore your faith in yourself." – Lucille Ball
Finding the positive in every situation can make you realize all the good things about you. If you start to see the glass as being half full, you can find the positive in the world today and every day. People take this positive energy and ride it all the way to the wildest successes in history.
92. H. Jackson Brown, Jr. on preparing for tomorrow.
"The best preparation for tomorrow is doing your best today." – H. Jackson Brown, Jr.
Use today as steps toward tomorrow. Not just tomorrow but the next day, the next week, and the next year. If you can continue to use each day as a way to build your mental, emotional, and spiritual skills for the next day, you'll be well on your way to sharpening your mindset to be the best you.
93. Jimmy Dean on adjusting your sails.
"I can't change the direction of the wind, but I can adjust my sails to always reach my destination." – Jimmy Dean
The winds of change started today. It's probably knocked you off kilter. If you take the time to adjust your sails, you can get headed in the right direction. The winds are only blowing you toward the place you are trying to be anyway.
94. Joseph Campbell on the life you planned.
"We must let go of the life we have planned, so as to accept the one that is waiting for us." – Joseph Campbell
Sometimes, we get so caught up in our vision of perfection, that we miss the perfection all around us. Today, you were caught up in the negative energy around you. Now, you can see the light at the end of the tunnel. Everything you have ever wanted is right here, right now.
95. Norman Vincent Peale on changing your world.
"Change your thoughts and you change your world." – Norman Vincent Peale
Accepting the message from the universe that things are changing can be the first step to making a better life for yourself. The entire world can be at your feet if you change the way you are thinking. Adjust your mindset and accept the world that is before you.
96. Maya Angelou on thriving.
"My mission in life is not merely to survive, but to thrive; and to do so with some passion, some compassion, some humor, and some style." – Maya Angelou
Living is not enough for anyone. The only way to really live is to be full of passion. The only way to be full of passion is to be compassionate and to have a sense of humor. Today, life is playing a big joke on you. You can either choose to be laughed at, or laughed with.
97. Aristotle Onassis on the darkest moments.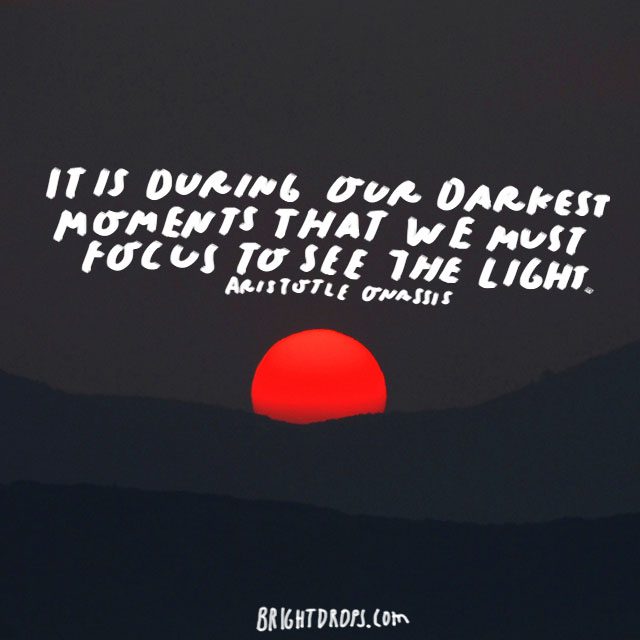 "It is during our darkest moments that we must focus to see the light." – Aristotle Onassis
When everything starts to turn bad, we start to see the darkness all around us. It's harder to block out the darkness when it feels like it surrounds us. If you can adjust what you're focused on and make the mind center around the light, you will be able to block out the darkness and appreciate the light more.
98. Loretta Young on today.
"I believe in living today. Not in yesterday, nor in tomorrow." – Loretta Young
We have to live in the moment. Unfortunately, today sucks. Tomorrow might be better, but we're not there yet. So, the only thing to do is to find the good things today and dance in that sunshine. Find the good things in life and you'll quickly be filled with joy, rather than gloom.
99. Rabindranath Tagore on colorful clouds.
"Clouds come floating into my life, no longer to carry rain or usher storm, but to add color to my sunset sky." – Rabindranath Tagore
If you have the luxury of living where there is sky, you can see the sunset. The sunset is not beautiful for the sun itself, but the light reflecting off the clouds and bouncing back and forth between the various colors on the evening sky. You can see colors from black to purple to pink to red to blue. These storm clouds aren't so bad after all.
100. Walt Whitman on facing the sunshine.
"Keep your face always toward the sunshine – and shadows will fall behind you." – Walt Whitman
If you simply adjust your mindset, you can focus on the sunshine in your life. You don't have to be caught up in the dark shadows. About face and you will see the beauty around you. Don't get caught in the shadows. Darkness will only bring you down, and not just for the day.
101. Anne Frank on contagious happiness.
"Whoever is happy will make others happy too." – Anne Frank
If you can turn that frown upside down, you'll make others catch that same attitude. You're probably not the only one having a bad day. So, take today to be the change in the world. You can help everyone see the light around them. In fact, you could even be the light they see.
102. Robert Louis Stevenson on planting seeds.
"Don't judge each day by the harvest you reap but by the seeds that you plant." – Robert Louis Stevenson
We tend to focus on the outcome rather than the work it takes to get there. Instead, look around you and see where you can plant the harvest that will come later. If we focus on bringing in the harvest every day, there won't be a harvest next season. That's when we'll really need it.
103. Tony Robbins on true fulfillment.
"Only those who have learned the power of sincere and selfless contribution experience life's deepest joy: true fulfillment." – Tony Robbins
The deepest joy in life is to be completely fulfilled on every level. The only way to make sure you get there, it to contribute. So dig deep and find a way to make today less about you, and more about making everyone around you have a better day. It will help you along on your journey.
104. Jean de la Bruyere on miracles.
"Out of difficulties grow miracles." – Jean de la Bruyere
Like roses, the miracles of life always grow in the most difficult situations. Every story of success and hope and happiness starts in the thickest thorns, the darkest swamp. Today can be your swamp, but it's only preparing you for the beautiful flowery fields you'll frolick in tomorrow.
105. Og Mandino on enduring the darkness.
"I will love the light for it shows me the way, yet I will endure the darkness because it shows me the stars." – Og Mandino
Endure the darkness with joy. Share that joy with others because they are probably stuck in the darkness as well. Appreciate these hard and difficult times because they illuminate the true beauty and light in the world around you. Take time to be grateful for what you do have and don't get distracted by the things you don't have. Today's not so bad after all. In fact, it's a pretty good day.
(Read this next: 55 Funny Quotes and Sayings to Brighten Your Life)