Read this list of depression quotes from top to bottom. It covers what depression is, what it feels like, shows you you're not alone in your struggles and gives you hope for a brighter future.
Quotes on What Depression Is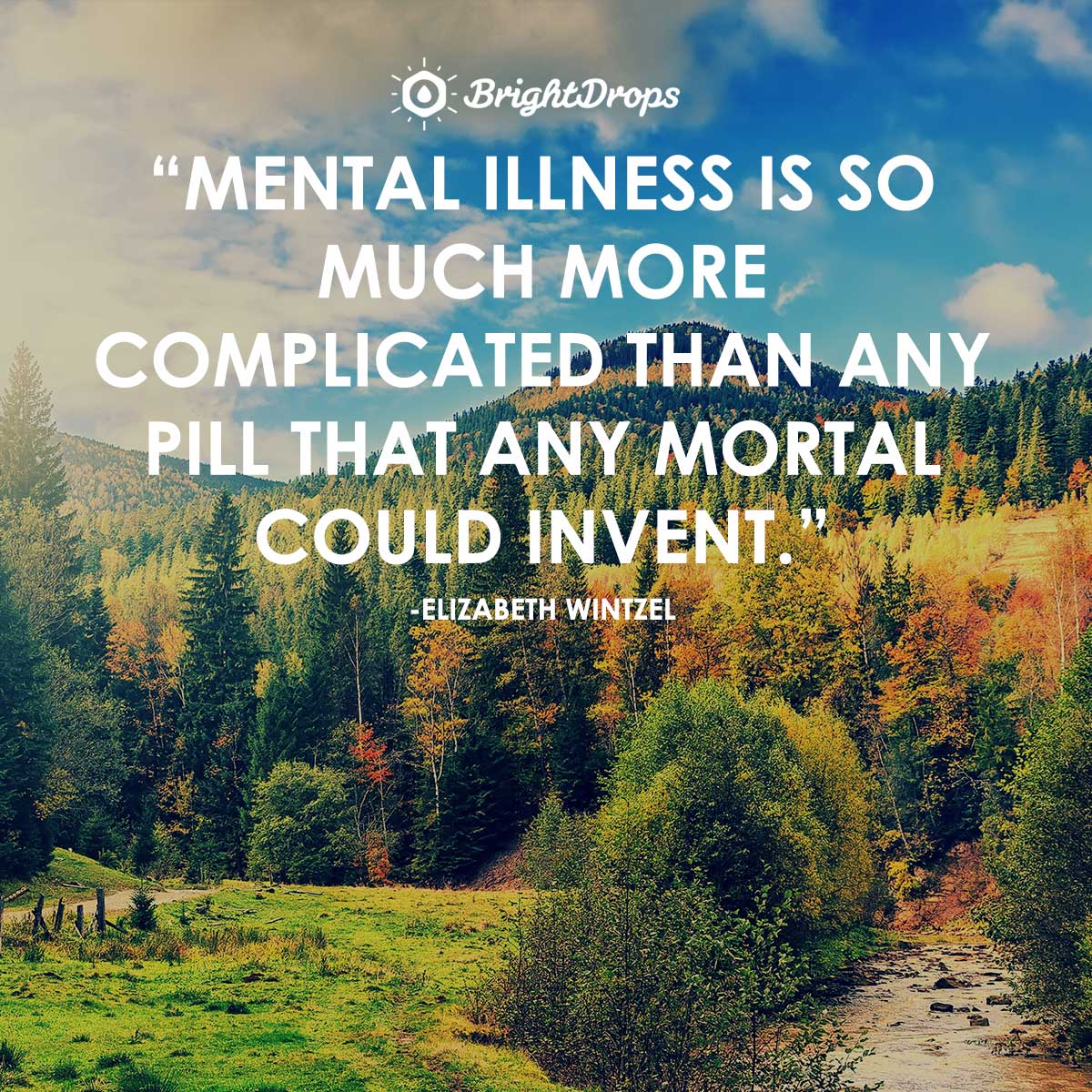 "Mental illness is so much more complicated than any pill that any mortal could invent." -Elizabeth Wintzel
"Depression is the inability to construct a future." -Rollo May
"It is very hard to explain to people who have never known serious depression or anxiety the sheer continuous intensity of it. There is no off switch." -Matt Haig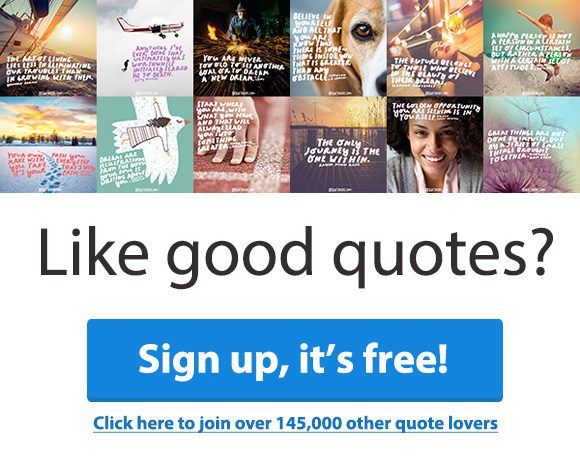 "When you're lost in those woods, it sometimes takes you a while to realize that you are lost. For the longest time, you can convince yourself that you've just wandered off the path, that you'll find your way back to the trailhead any moment now. Then night falls again and again, and you still have no idea where you are, and it's time to admit that you have bewildered yourself so far off the path that you don't even know from which direction the sun rises anymore." -Elizabeth Gilbert
"Mental illness lives all around us every day. I've seen it in other family members, I've seen it in friends, and I've dealt with it myself with my own postpartum depression." -Rachel Hollis
"There is no point treating a depressed person as though she were just feeling sad, saying, 'There now, hang on, you'll get over it.' Sadness is more or less like a head cold – with patience, it passes. Depression is like cancer." -Barbara Kingsolver, The Bean Trees
"There are wounds that never show on the body that are deeper and more hurtful than anything that bleeds." -Laurell K. Hamilton, Mistral's Kiss
"Perhaps depression is caused by asking oneself too many unanswerable questions." -Miriam Toews
"Sometimes I just think depression's one way of coping with the world. Like, some people get drunk, some people do drugs, some people get depressed. Because there's so much stuff out there that you have to do something to deal with it." -Ned Vizzini, It's Kind of a Funny Story
Quotes on What Depression Feels Like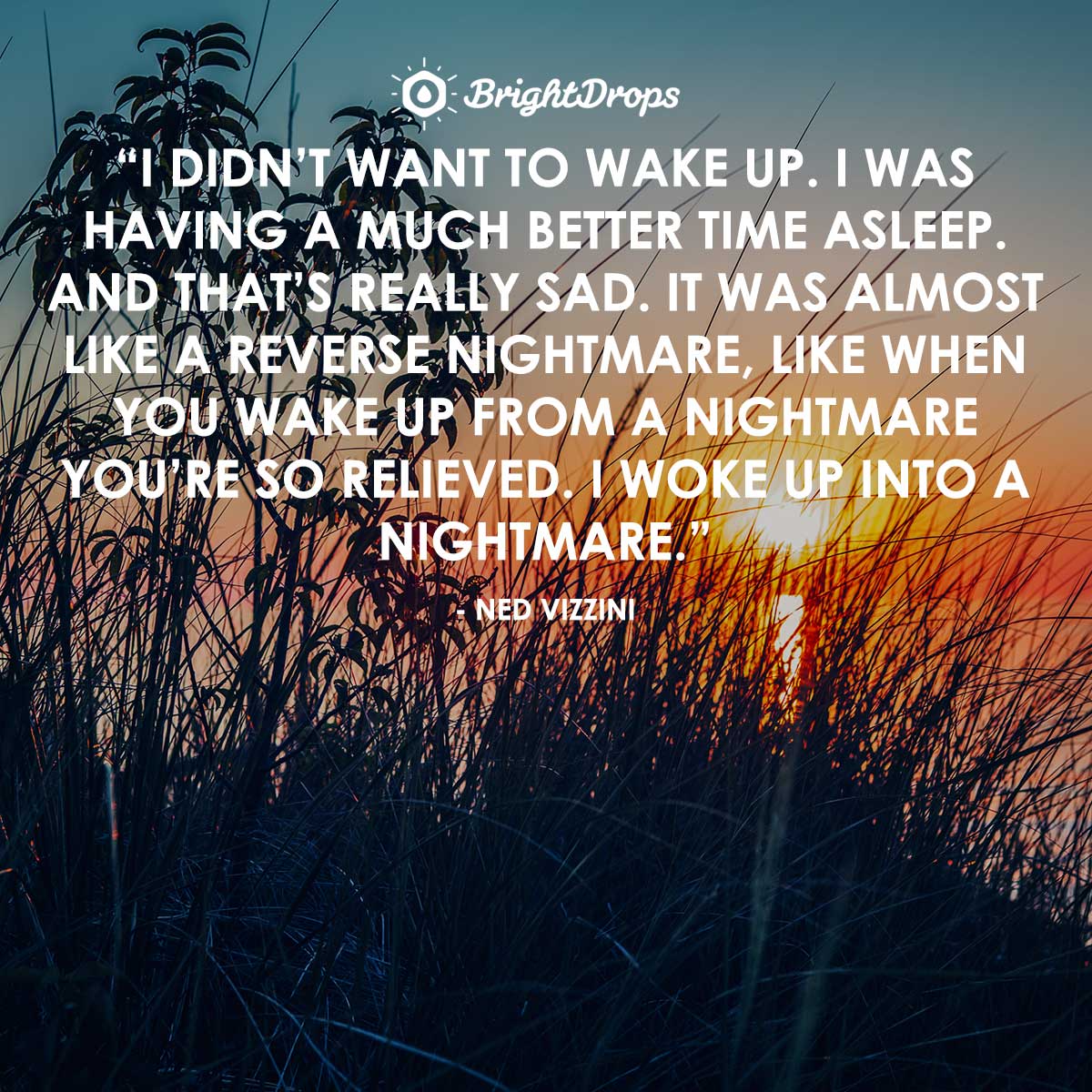 "I didn't want to wake up. I was having a much better time asleep. And that's really sad. It was almost like a reverse nightmare, like when you wake up from a nightmare you're so relieved. I woke up into a nightmare." -Ned Vizzini, It's Kind of a Funny Story
"I've got a bad case of the 3:00 am guilts – you know, when you lie in bed awake and replay all those things you didn't do right? Because, as we all know, nothing solves insomnia like a nice warm glass of regret, depression and self-loathing." -D.D. Barant, Dying Bites
"It's my experience that people are a lot more sympathetic if they can see you hurting, and for the millionth time in my life I wish for measles or smallpox or some other easily understood disease just to make it easier on me and also on them." -Jennifer Niven, All the Bright Places
"And I felt like my heart had been so thoroughly and irreparably broken that there could be no real joy again, that at best there might eventually be a little contentment. Everyone wanted me to get help and rejoin life, pick up the pieces and move on, and I tried to, I wanted to, but I just had to lie in the mud with my arms wrapped around myself, eyes closed, grieving, until I didn't have to anymore." -Anne Lamott, Operating Instructions: A Journal of My Son's First Year
"I didn't want my picture taken because I was going to cry. I didn't know why I was going to cry, but I knew that if anybody spoke to me or looked at me too closely the tears would fly out of my eyes and the sobs would fly out of my throat and I'd cry for a week. I could feel the tears brimming and sloshing in me like water in a glass that is unsteady and too full." -Sylvia Plath
"I couldn't be with people and I didn't want to be alone. Suddenly my perspective whooshed and I was far out in space, watching the world. I could see millions and millions of people, all slotted into their lives; then I could see me—I'd lost my place in the universe. It had closed up and there was nowhere for me to be. I was more lost than I had known it was possible for any human being to be." -Marian Keyes, Anybody Out There?
"Try to understand the blackness, lethargy, hopelessness, and loneliness they're going through. Be there for them when they come through the other side. It's hard to be a friend to someone who's depressed, but it is one of the kindest, noblest, and best things you will ever do." -Stephen Fry
"So you try to think of someone else you're mad at, and the unavoidable answer pops into your little warped brain: everyone." -Ellen Hopkins
"When you're surrounded by all these people, it can be lonelier than when you're by yourself. You can be in a huge crowd, but if you don't feel like you can trust anyone or talk to anybody, you feel like you're really alone." -Fiona Apple
"I wondered why I couldn't go the whole way doing what I should any more. This made me sad and tired. Then I wondered why I couldn't go the whole way doing what I shouldn't, the way Doreen did, and this made me even sadder and more tired." -Sylvia Plath, The Bell Jar
"The sun stopped shining for me is all. The whole story is: I am sad. I am sad all the time and the sadness is so heavy that I can't get away from it. Not ever." -Nina LaCour, Hold Still
Hopeful Depression Quotes
"You say you're depressed – all I see is resilience. You are allowed to feel messed up and inside out. It doesn't mean you're defective – it just means you're human." -David Mitchell, Cloud Atlas
"You're like a grey sky. You're beautiful, even though you don't want to be." -Jasmine Warga, My Heart and Other Black Holes
"The five stages – denial, anger, bargaining, depression, and acceptance – are a part of the framework that makes up our learning to live with the one we lost. They are tools to help us frame and identify what we may be feeling. But they are not stops on some linear timeline in grief." -Elisabeth Kubler-Ross
"I'm not grateful for depression, but it honestly made me work harder and gave me the drive that I have to succeed and to make it work." -Lili Reinhart
"Depression, suffering and anger are all part of being human." -Janet Fitch
"I saw the world in black and white instead of the vibrant colours and shades I knew existed." -Katie McGarry, Pushing the Limits
"Only those with skin as thick as elephant hide can hope to sail through their teens unscathed by self-doubt and bouts of depression." -Mariella Frostrup
Quotes on How to Overcome Depression
"Do not brood over your past mistakes and failures as this will only fill your mind with grief, regret and depression. Do not repeat them in the future." -Swami Sivananda
"I think one thing is that anybody who's had to contend with mental illness – whether it's depression, bipolar illness or severe anxiety, whatever – actually has a fair amount of resilience in the sense that they've had to deal with suffering already, personal suffering." -Kay Redfield Jamison
"Crying is one of the highest devotional songs. One who knows crying, knows spiritual practice. If you can cry with a pure heart, nothing else compares to such a prayer." -Kripalvanandji
"If you want to conquer the anxiety of life, live in the moment, live in the breath." -Amit Ray, Om Chanting and Meditation
(You may also like: 25 Uplifting Quotes to Brighten Your Day When Life Gets Tough)