Life is full of surprises. You never know what's going to happen from one day to the next. But that's part of what makes life so exciting! Along with the good surprises, there are also occasionally bumps in the road. But we can get through anything if we have a positive attitude and keep our eyes on the prize.
Here are 105 cute quotes to help you stay positive and inspired every day. Enjoy!
P.S. If you're looking for collections of almost too adorable love quotes, take a look at these cute love quotes for him and her.
1. Natalie Portman Believes Personality can Reflect Looks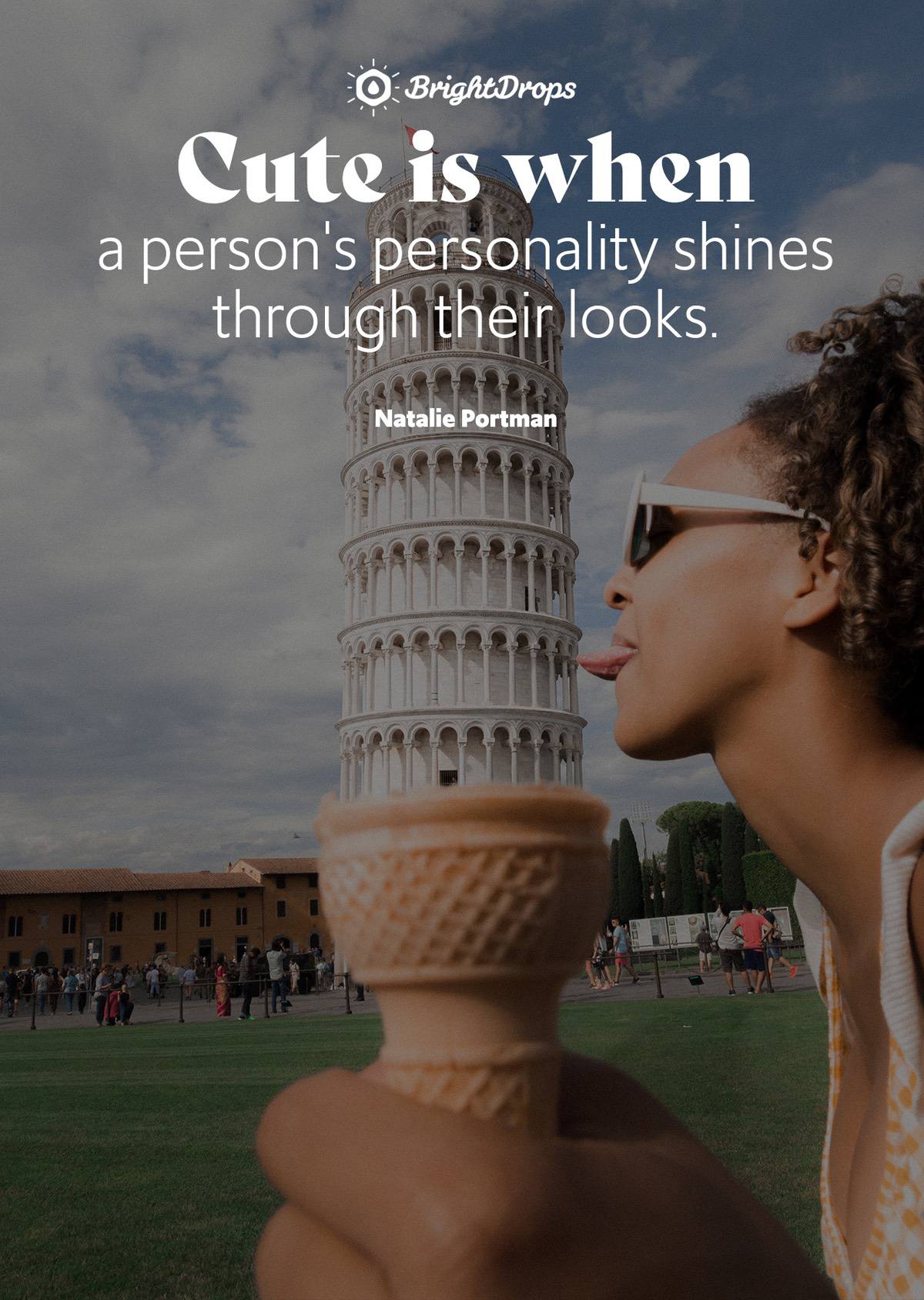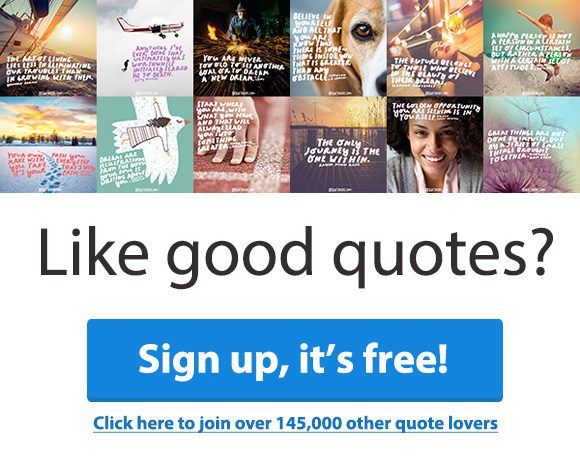 "Cute is when a person's personality shines through their looks." – Natalie Portman
The famous actress believes personality can shine through to our appearance. This is a great way to think about people. If their personality is true and genuine, it will show through their appearance.
You may also like: Butterfly Quotes
2. Paris Hilton Poses an Inspiring Life Lesson
"The only rule is don't be boring and dress cute wherever you go. Life is too short to blend in." – Paris Hilton
The reality TV queen has her own spin on why she dresses cute everyday and it is a smart reason. Life is too short to be like every one else. Dress how you want, look good and stand out in every crowd you are in.
3. Adriana Lima Says Be Yourself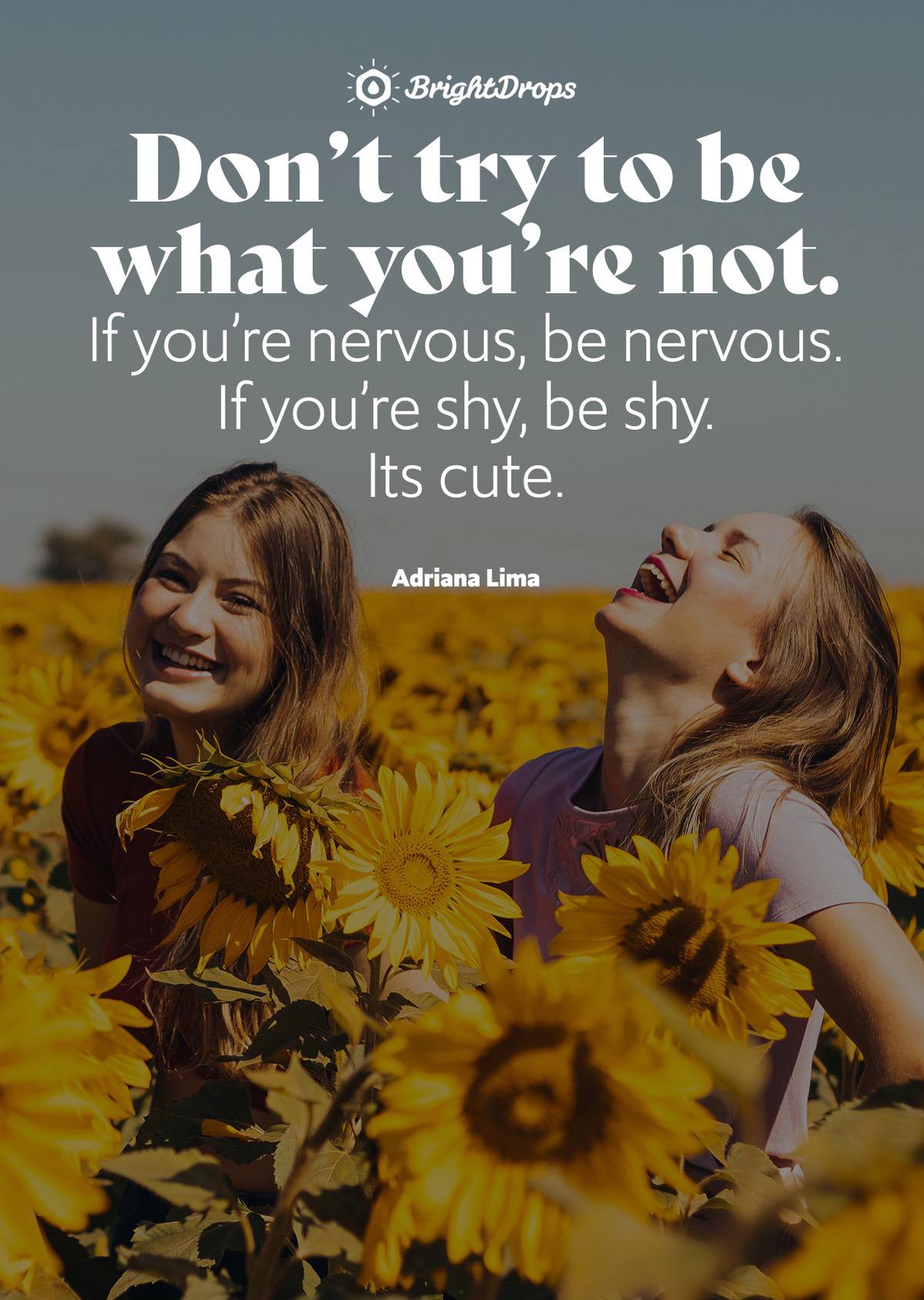 "Don't try to be what you're not. If you're nervous, be nervous. If you're shy, be shy. Its cute." – Adriana Lima
Too many times, people attempt to be people that they are not. This cute quote on being yourself teaches us to be comfortable with ourselves and accept our strengths and weaknesses for what they are. If you are shy, be shy. If you are outgoing, be outgoing.
4. Joel Madden With a Funny Quote in a Peculiar Situation
"Always wear cute pajamas to bed, you'll never know who u will meet in your dreams." – Joel Madden
Joel Madden demonstrates an adorable reason to look good even when you are sleeping. What if you meet the person of your dreams…in your Dreams?! You will definitely want to be looking good for that occasion.
5. Cynthia Rowley Believes Small is Always Cute
"Everything looks cute when it's small." – Cynthia Rowley
Cynthia Rowley is on to something here. Most things that are small are very cute. Babies, puppies and kittens are just a few small, living things that are usually very cute. If you want something to be cute, make it small.
6. Frank A. Clark Thinks You Get out More Than You Think from Talking to Children
"There's nothing that can help you understand your beliefs more than trying to explain them to an inquisitive child." – Frank A. Clark
Talking to children means you have to explain every detail of a situation. This can cause you remember things that you may have forgot about what you are explaining. You can really tell how much you know about a subject when explain to a child.
Related: 25 Inspirational Quotes All Kids Should Hear
7. Abraham Lincoln Gives Great Life Advice
"Whatever you are, be a good one." – Abraham Lincoln
No matter what path you choose in life, be the best you can be. Life will not let you settle for second best. Give everything you have into your life and you will be rewarded. Success is much more rewarding knowing you gave it your all, and failure has less of a sting.
8. Confucius Gives Great Love and Life Advice
"Wherever you go, go with all your heart." – Confucius
Confucius was an inspiring figure, and he quotes similarly to Abraham Lincoln about giving your all in your endeavors. Wherever life may lead you, go into it with all of your heart. There is simply no time in our lives to never go full-speed ahead.
9. Christy Romano Believes Looks are not Always About Money
"You don't need really expensive clothes to look cute." – Christy Romano
Christy Romano knows you can look great without destroying your budget. Find some cheaper ways to buy clothes or just make do with the ones you have. Looking cute should not come at that big of a cost.
10. Helen Keller Believes Friendship is a Beautiful Thing
"Walking with a friend in the dark is better than walking alone in the light." – Helen Keller
This sweet quote by Helen Keller shows us that walking in the light is obviously better than walking in the dark. But walking with a friend in the dark will always be better than walking alone during the day. Cherish your friends and pick the right ones to enhance your life.
11. Walt Whitman Doesn't Remember Anything Beside who He was With
"We were together. I forget the rest." – Walt Whitman
This is such a cute love quote! Sometimes when you are with the right person, it does not matter what you do of where you go. You may not remember those details about nights or days you spend with that person. You may only remember that you were together.
12. Zayn Malik Believes in Staying True
"Things change, people change, but you will always be you, so stay true to yourself and never sacrifice who you are for anyone." – Zayn Malik
Material thins chance, the people you spend time with change and move on, but you will always be who you are. Stay true to your morals and your personality and never let anyone come between you and you.
13. Harry Styles Believes Perfection is not Possible
"A real girl isn't perfect and a perfect girl isn't real." – Harry Styles
With all of the media we have today, sometimes love is portrayed in an idealistic way that is not really for anybody. People get ideas in their heads from movies, which were written to be perfect. Perfect people are not real and we need to realize that. Use this darling quote to remember that being the true you is more cute than anything else in this world.
14. Ernest Hemingway Goes Straight to the Point of Life
"Live life to the fullest." – Ernest Hemingway
The great poet and author gives the most simplified yet need advice. Life is short and we have to live it to the max. We simply don't have enough time on this earth to take a little break and don't use up the opportunity.
15. Douglas Adams Relates Work-Life to Time
"Time is an illusion, lunchtime, doubly so." – Douglas Adams
Douglas Adams Knows that Time is tricky, and many of us take time granted. Lunchtime, however, is especially an illusion. Lunchtime is always that hour we are looking forward to and then realize we have work to catch up on or responsibilities to handle. Relaxing lunchtime become lunch on the go.
16. Plato Describes his Version of Life
"Life must be lived as play." – Plato
Plato, the famous philosopher and student of Aristotle, gives a short endearing quote on his idea of how lived should be lived. Live must be lived as on big game of play. Make sure you play by your own rules…
17. Rita Mae Brown Explains her Views on Authority
"I believe in a lively disrespect for most forms of authority." – Rita Mae Brown
Rita Mae Brown did not trust many forms of authority and repeatedly announced her distrust for authority figures. She believed in disrespect toward most forms and took out her right to protest and not put her lives in their hands. Some may not agree with her, but she had her own way of thinking and stuck to it.
18. Helen Keller Believes Life is a Constant Lesson
"Life is a succession of lessons which must be lived to be understood." – Helen Keller
Life is a constant stream of new lessons to be learned. These lessons can only be lived through to understand and learn. One cannot learn from a second hand source about some factors of life. We must learn through our own experience.
19. Harry Styles Doesn't Believe All Love is the Same
"I don't think you can define love." – Harry Styles
Love is something that if we are lucky enough, we get to experience in our lives. However Love is not a universal feeling that everyone experiences in the same way. Love is different for everybody and what one person will not always be the same of what another person feels.
20. Charlie Brown Knows Worry is Always Present
"That's the secret to life… replace one worry with another…" – Charlie Brown
Life is filled with worry, which this darling quote shows. Worry is what makes us feel alive and gives us reassurance that we are able to care for one another. The secret is to not focus so much energy on one worry. We need to be constantly switching our worries to, realistically, remain sane.
21. Oscar Wilde Believes We Must Love Ourselves First
"To love oneself is the beginning of a lifelong romance." – Oscar Wilde
Loving oneself is one of the first lessons we must learn as humans. We can never love another person if we are unable to love ourselves. Learning to love yourself is the first step in creating a life filled with love.
Related: Oscar Wilde Quotes
22. Wolfgang Von Johann Goethe Believes Our Lives are a By-Product of Our Character
"Character develops itself in the stream of life." – Wolfgang Von Johann Goethe
Life is a constant stream of lessons and with each lesson, we learn and understand more the people around us, ourselves and the world. Our character is created through the lessons that we learn and the experiences that we have.
23. Pablo Picasso Preaches That Art is Needed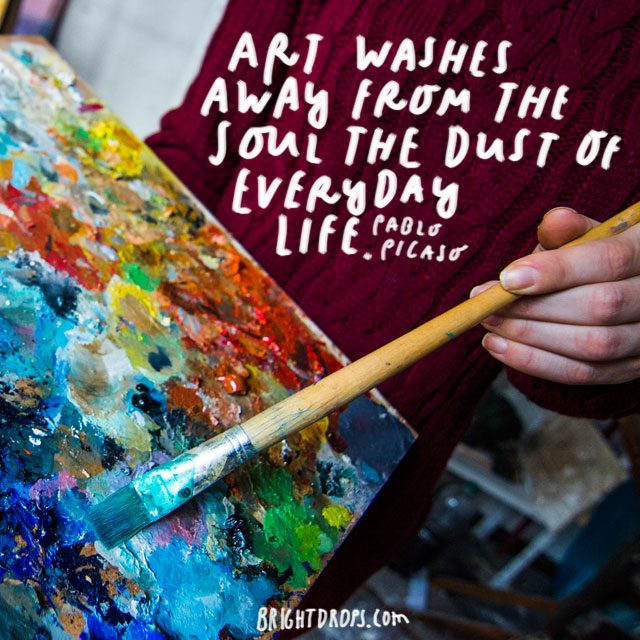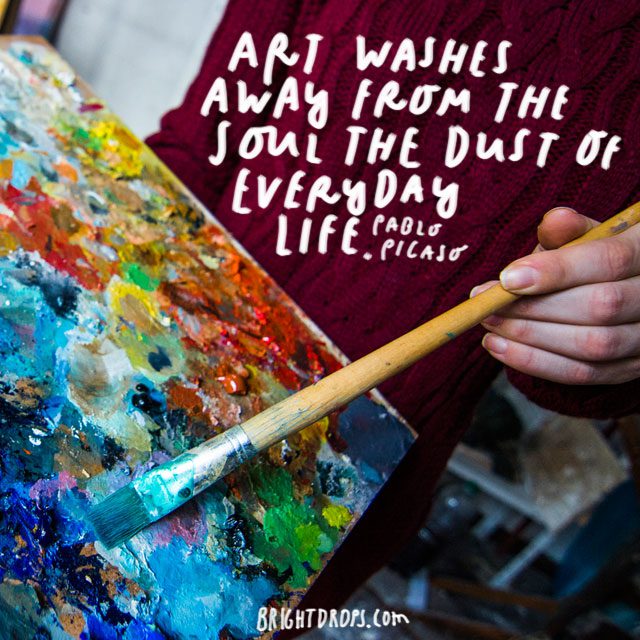 "Art washes away from the soul the dust of everyday life." – Pablo Picasso
Art is a beautiful thing and it is a practice that is needed in the world. Art can bring you up when you are feeling down and make a bad day a little better. Art is mostly focused on visuals, but it can be so much more than just a painting or a drawing.
24. W. Somerset Maugham Strives for the Best
"It's a funny thing about life; if you refuse to accept anything but the best, you very often get It." – W. Somerset Maugham
We must always strive for the best and never be satisfied with anything less. If you accept less than what you deserve, you will always under value yourself. Learn to understand your own value and never settle for "good enough."
25. Mark Twain Believes in Living a Productive Life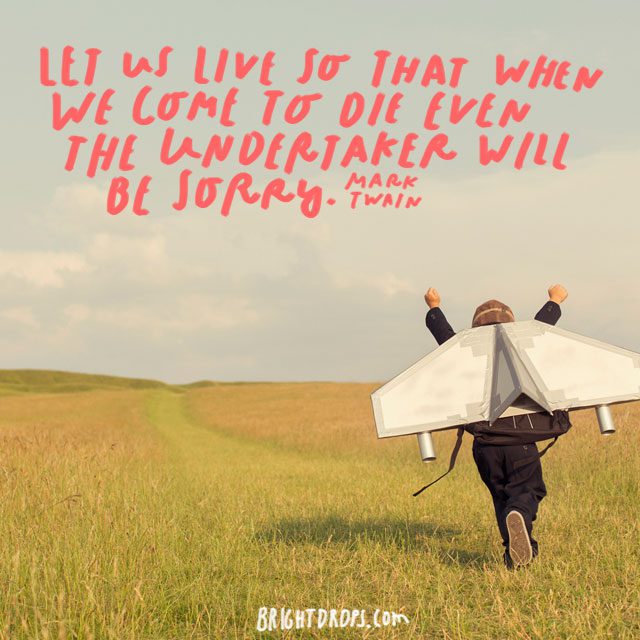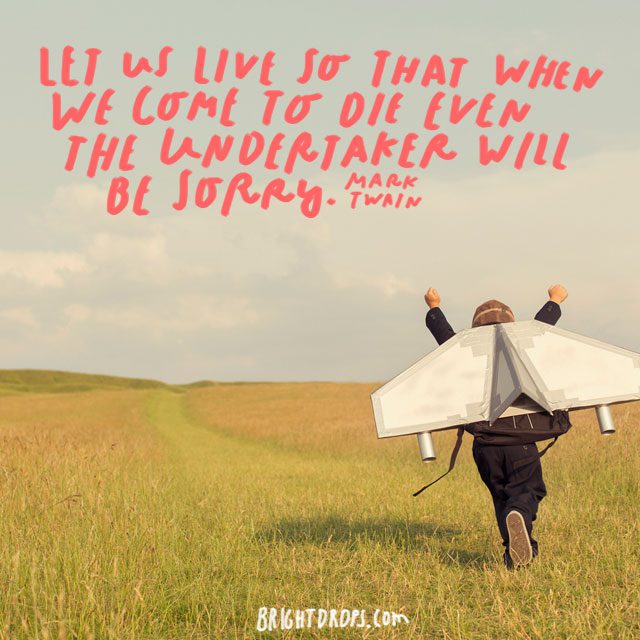 "Let us live so that when we come to die even the undertaker will be sorry." – Mark Twain
We all need to live in such a way that nobody will be happy to see us go. We need to leave a mark on the world that cannot be forgotten and cannot be replicated. A person that does not live with a purpose is a lost opportunity.
Related: Mark Twain Quotes
26. Charlie Brown Relates Life to a Textbook with This Cute Quote
"In the book of life, the answers aren't in the back." – Charlie Brown
Charlie Brown relates life to a homework assignment in school. Sometimes we are given assignments and the answers are in the back of the book so we do not need to learn how to complete them. In life, we must always learn for ourselves because there are no cheat codes.
27. Samuel Butler Relates Music to Life
"Life is like music; it must be composed by ear, feeling, and instinct, not by rule." – Samuel Butler
There are no rules in Music, just chords and notes that have been learned and mastered through practice. There are no rules to life and no rulebook to how to live. We can only learn how to live the way that we want to.
28. William Osler Wants to Know What He can Offer to Life
"We are here to add what we can to life, not to get what we can from life." – William Osler
We should be looking for what we can get out of life. Instead we should be looking for we can add to the lives of others. Every one of us was given the opportunity to provide something great to this earth and we need to take advantage of it before it is too late.
29. Danny Kaye Relates Life to the Process of a Painting
"Life is a great big canvas, and you should throw all the paint you can on It." – Danny Kaye
If like were like a canvas, you would want to get as much different paint on it as you can. What Danny Kaye is trying to say is that paint is adventures and love and relationship, and the canvas is your lifetime. Paint the picture you envisioned.
30. Marcus Aurelius Believes Our Thoughts Create our Lives
"The universe is change; our life is what our thoughts make It." – Marcus Aurelius
Thoughts turn into decisions and decisions turn in to life. Thoughts are very important. Train your mind to develop clear and concise thoughts and put yourself in positions to make tough decisions. You will be better trained in the long run.
31. Aristotle Believes Action Proves All
"In the arena of human life the honors and rewards fall to those who show their good qualities in action." – Aristotle
Many people have good qualities but are never given the chance to use them, or decide against it. The ones willing to show their qualities are ones who are remembered. Learn what your good qualities are and practice using them in action.
32. Jonathan Swift Knows Everyone Doesn't Live
"May you live all the days of your life." – Jonathan Swift
Many people exist but they do not live. Jonathan Swift hopes everybody will truly live everyday of his or her life. Living is adventuring, building relationships and learning what you can bring to life.
33. Ralph Waldo Emerson Believes Conquering Fear is Key to Life
"He who is not everyday conquering some fear has not learned the secret of life." – Ralph Waldo Emerson
Everybody has fears that they try not to deal with. Growing as a person is about conquering fears and moving forward. If you are not conquering a fear at least once per day, then you are not living to your fullest potential.
34. Daniel Boorstin Values Other Opinions and Points of View
"The courage to imagine the otherwise is our greatest resource, adding color and suspense to all our life." – Daniel Boorstin
Daniel Boorstin describes a "what if" scenario. These scenarios are important for making decisions. If you are able to see things from both sides, you have a much greater ability than many people. Use it to your advantage.
35. Henry David Thoreau Believes We need to be Self-Reliant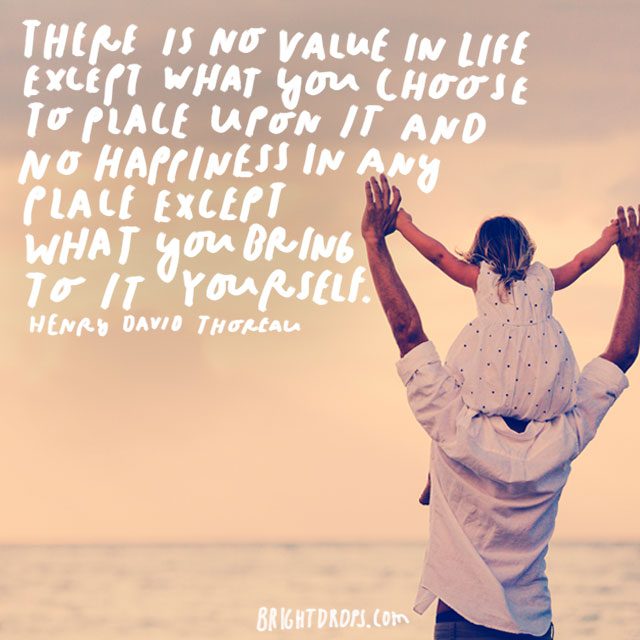 "There is no value in life except what you choose to place upon it and no happiness in any place except what you bring to it yourself." – Henry David Thoreau
Henry David Thoreau believes Life should be handled completely on our own. Our happiness and value we bring should not depend on any outside sources. We all have the ability to leave an impact on the earth and be happy.
36. Anthony J. D'angelo Describes Life as a Game
"If life doesn't offer a game worth playing, then invent a new one." Anthony J. D'angelo
Anthony D'angelo relates life to a game that is not worth playing. When we play games, we find one we enjoy playing and stick with it. This should be the same with life. If we are living a life we don't enjoy, find a new life path.
37. Indira Gandhi Believes Love is Life
"Where there is love there is life." – Indira Gandhi
Love and life should go hand in hand. People who love and are loved are full of life and it is contagious. Love is something unlike anything else we can experience. The feeling of love brings life out of anybody.
38. Louisa May Alcott Compares Life to College
"Life is my college. May I graduate well, and earn some honors!" – Louisa May Alcott
Life can be compared to college. In college, you are constantly moving up from class to class and year to year. Life should be lived the same way. Constantly get better and utilize every day to get stronger and smarter at your craft.
39. Christopher Morley Explains his Keys to Life
"There are three ingredients to the good life; learning, earning, and yearning." – Christopher Morley
Learning is what we do throughout our lives, in school and out of school. Earning is what we do to provide for the people we love and make our financial life goals come true. Yearning is what wishing and working for our dreams.
40. Zelda Fitzgerald Prefers to Love Before Live
"I don't want to live. I want to love first, and live incidentally." – Zelda Fitzgerald
Loving and living should go hand in hand. Zelda Fitzgerald wants to love first and have life be a by-product of that love. This is an interesting look at the love-life dynamic. Love can certainly bring life, but life cannot always bring love.
41. Ben Stein Understands We Must Decide What We Want
"The indispensable first step to getting the things you want out of life is this: Decide what you want." – Ben Stein
The first aspect of life is deciding what we want to achieve in life. We must work ever day with a clear goal in mind and use each day as a stepping-stone to that goal. Without a plan, each day is a wasted opportunity.
42. Christopher Believes Success is Exclusive to One Thing
"There is only one success -to be able to spend your life in your own way." – Christopher Morley
Christopher Morley believes there is simply one success story in life, and that is people who are able to live their lives according to their own plan. A tragedy in life is living under some one else's rules and living by someone else's agenda. Stay true to yourself.
43. Marianna Williamson Believes Giving Love Leads to Getting Love
"If you give your life as a wholehearted response to love, then love will wholeheartedly respond to you." – Marianna Williamson
If you focus your life on giving and spreading love, then life will undeniably give back love to you. People who constantly spread genuine love are always rewarded. Even if they are not, they have a clear conscious that they had an impact of the world.
44. Michel de Montaigne Believes Life is not Measured by Days
"The value of life is not in the length of days, but in the use we make of them; a man may live long yet very little." – Michel be Montaigne
Some people live many more days than others, but they hardly live at all. Life is not measured by the number of days we are on this earth. Life is measured by how we spend those days and who we spend those days with.
45. Alfred Adler Preaches the Danger of Caution
"The chief danger in life is that you may take too many precautions." – Alfred Adler
Being cautious is needed sometimes, but taking too many precautions can lead to a life of never taking any risks. To achieve the life you want, you will need to take some risks to be rewarded. Risk is what makes life interesting and worthwhile.
46. Anais Nin Believes Life is Measured by Courage
"Life shrinks or expands in proportion to one's courage." – Anais Sin
Life can either grow or shrink based on the courage one has. Courage is a characteristic that everybody wants but not everybody has. The ability to face fears is hard, but it is needed to grow as human and achieve what we want to achieve.
47. James Baldwin Knows Love can be Tough
"Love does not begin and end the way we seem to think it does. Love is a battle, love is a war; love is a growing up." – James Baldwin
Love is not always roses and holding hands. Sometimes we love people who may not be the best for us, but we hold on to them and want to make things work because the love is there. Love is certainly not always what we expect.
48. Yogi Berra Gives Advise on Funeral Attendance
"Always go to other peoples' funerals, otherwise they won't go to yours." – Yogi Berra
Yogi Berra is filled with funny quotes about everyday life. Make sure you go to funerals; otherwise those people will not come to yours. This quote makes you think because if you go to someone's funeral they will not be able to go to yours because they have already died!
49. G. Elliot Believes Love is Where Imagination Beats Intelligence
"Love is the triumph of imagination over intelligence." – G. Elliot
Falling in love may not be the most intelligent thing to do, but love is when imagination wins. Love can make us forget all of our senses and run with it. When it comes to love, imagination will win over what we might consider our best interest.
50. Melanie Griffith Explains Where to Touch Women
"There is a place you can touch a woman that will drive her crazy. Her heart." – Melanie Griffith
You may have been expecting something else to finish off that quote, but that is what Melanie Griffith wanted you to think. A women's heart is a special place and if you can touch it in the right way, you can find something amazing.
51. Confucius Knows Life can be Simple
"Life is really simple, but we insist on making it complicated." – Confucius
Life does not always have to be as complicated as we sometimes make it out to be. Life simple, live, breathe and love. Though Life can get complicated at times with relationships and responsibilities, we need to remember to simplify things as best as we can.
52. Audrey Hepburn Believes Happiness is the Key to Life
Audrey Hepburn" width="640″ height="640″ class="alignnone size-full wp-image-4418″ />
"The most important thing is to enjoy your life – to be happy – it's all that matters." – Audrey Hepburn
Happiness is the ultimate goal in life. What else do you need from life if you are truly happy? Audrey Hepburn delivers a powerful quote that speaks to many people. Strive for happiness and you will achieve your goal.
53. Cesare Pavese Believes Life is measured in Moments
"We do not remember days, we remember moments." – Cesare Pavese
Specific days are usually not remembered as clearly as specific moments. When we look back on our lives, we remember moments that were special to us with people that were special. We don't necessarily remember dates or weeks that they happened.
54. D.H. Lawrence Believes Love is Universal of Beings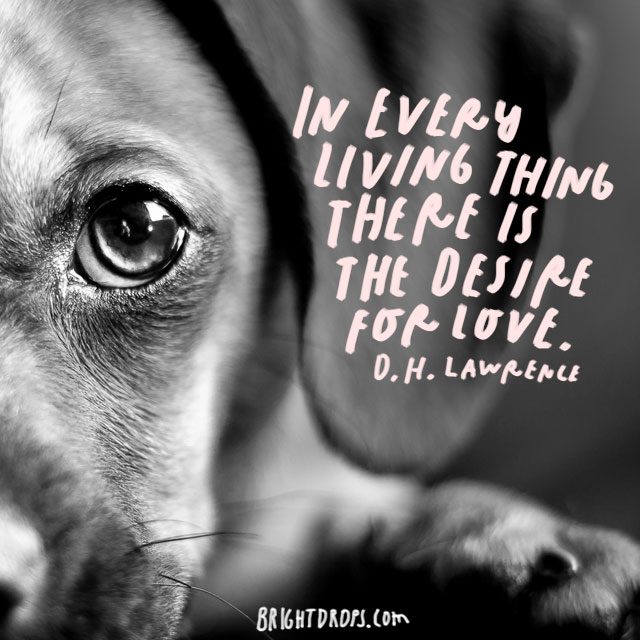 "In every living thing there is the desire for love." – D.H. Lawrence
Every living thing, especially humans, has a desire to love and to be loved. D.H. Lawrence is true in this statement because deep down, everybody wants to be loved. Giving and getting love is human nature.
55. Lou Holtz Understands Life is about Response
"Life is ten percent what happens to you and ninety percent how you respond to It." – Lou Holtz
A very small portion of life is what happens to you. The large majority of tests throughout life are your reaction to something that happened. Be able to think quickly and make hard decisions is a skill that is learned over time.
56. Victor Hugo Compares Love to a Flower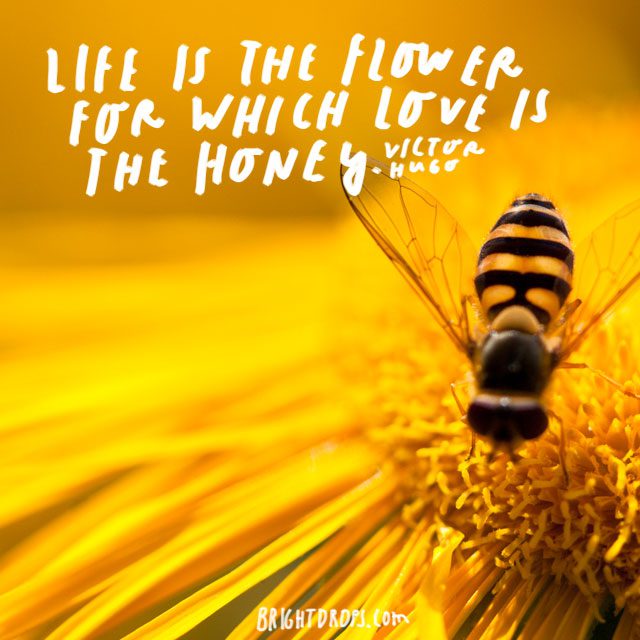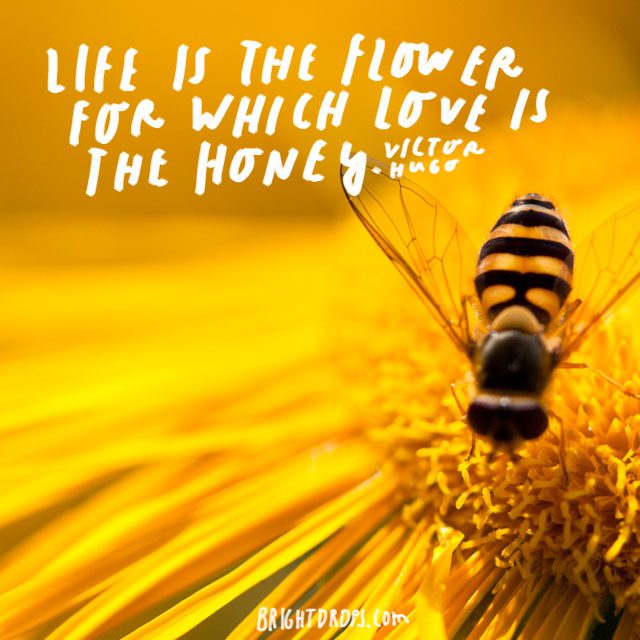 "Life is the flower for which love is the honey." – Victor Hugo
If life is the beautiful flower we can see in the garden, then love is the honey that is able to pollinate it. Life can go on for a while without love, but eventually, love is what we all need, and what we are all looking for.
57. Bertrand Russell Believes Life is a Combination of Love and Knowledge
"The good life is one inspired by love and guided by knowledge." – Bertrand Russell
Love and knowledge are two of the biggest aspects in life. The ideal life told by Bertrand Russell is one that is inspired by the people you love and the people who love you, and guided by your knowledge you have learned throughout your lifetime.
58. Winston Churchill Believes Enemies is a Good Sign
"You have enemies? Good. That means you've stood up for something, sometime in your life." – Winston Churchill
Creating enemies can be considered a good thing because it can mean that you have stood up for something that you believe in. Standing your ground and creating animosity toward people will prove you do not budge when it comes to your beliefs.
59. Rose Kennedy Preaches an Inspiring Statement
"Life isn't a matter of milestones, but of moments." – Rose Kennedy
Life is about moments that we will cherish. Moments are the times you will remember when you are looking back on your life. Moments may be when your future husband or wife, or when your child hit that first homerun. Whatever the moment is, it will be remembered and thought of as a highlight of your life.
60. R.H. Delaney Understands Love can Replace Anything
"Love builds bridges where there are none." – R.H. Delaney
Love can repair something that has been broken down. Many people go through tough times and love is able to bring them back up and make them feel happy again. Love is an incredible feeling and can do wonders.
61. Martin Luther King Jr. Speaks From his Heart
"Life's most persistent and urgent question is, 'What are you doing for others?" – Martin Luther King Jr
Life is not all bout you, you, you. Life is about what kind of an impact you have on other people. When you are in your last days, you should be able to look back and be proud of what you have done for other people.
62. William Feather has Perspective on Life
"One way to get the most out of life is to look upon it as an adventure." – William Feather
Think of every day as a new adventure. Each day is a new experience as a human that you can learn and grow from. Thinking of life as an adventure is a great way to never get bored of days that seem to be the same over and over.
63. William Morris Knows Every Day is not Spectacular
"The true secret of happiness lies in taking a genuine interest in all the details of daily life." – William Morris
Life can get boring. We all have jobs and responsibilities that we have to handle. The key to making it interesting is to take a genuine interest in every day. Invest in the lives of c-workers and really listen to how your kids' day at school went.
64. Mahatma Gandhi Believes Life is a Message
"My life is my message." – Mahatma Gandhi
Mahatma Gandhi portrayed his message through his life. He didn't need to make a speech claiming what good he was trying to do. He showed it through his daily actions and life.
65. Joseph Campbell Believes Being Yourself is a Privilege
"The privilege of a lifetime is being who you are." – Joseph Campbell
The privilege every one of us has is being able to live out each day as an individual. Each person has special skills and talents that are exclusive to them. We are able to live every day as ourselves. We need to start thinking of ourselves as one-of-a-kind instead of one-of-many.
66. Bob Marley Poses a Major Question
"Open your eyes, look within. Are you satisfied with the life you're living? – Bob Marley
Truly think about your life and if you are living the life you want to be living. Are you happy and satisfied with what you are doing? Or are you just going through the motions of life? If you are not happy, then change it.
67. Dalai Lama Understands Life's Purpose
"Our prime purpose in this life is to help others. And if you can't help them, at least don't hurt them." – Dalai Lama
Our purpose in life is to have a positive impact on other people. There is a reason why giving to other people feels better than getting. Even if you are unable to help somebody, do your best not to hurt anybody.
View more: Dalai Lama Quotes
68. Ernest Holmes Believes Thinking Defines Us
"Life is a mirror and will reflect back to the thinker what he thinks into it." – Ernest Holmes
If life is a mirror, our thoughts will reflect back to us. Our thoughts become who we are. Thoughts and decisions are the biggest parts of our personality that make us who we are. Thoughts can be dangerous, so be careful about what you think.
69. Dr. Seuss Advises to be Proud
"Don't cry because it's over, smile because it happened." – Dr. Seuss
Dr. Seuss's quote means do not be sad that something fun has ended or a person you loved has left, be happy that you were able to experience the fun times and cherish those moments. Be proud of what happened.
70. Oscar Wilde Wants you to be Yourself
"Be yourself; everyone else is already taken." – Oscar Wilde
Don't try to be exactly like anyone else. It is ok to learn and try to emulate people, but there is only on you, so just be yourself. Everybody else is already taken so might as well learn to love yourself.
71. Albert Einstein Delivers a Humorous Quote on Humans
"Two things are infinite: the universe and human stupidity; and I'm not sure about the universe." – Albert Einstein
Albert Einstein was one of the smartest men who have ever lived and he certainly had a way with words. Human stupidity is the only constant in this world. People will always make irrational and stupid decisions for as long as humans are around.
72. Oscar Wilde Believes Pessimists Don't Expect Much
"Always borrow money from a pessimist. He won't expect it back." – Oscar Wilde
Borrowing money from a pessimist is a good idea says Oscar Wilde. A pessimist is someone who looks for and expects the worst in situations. Borrowing from a pessimist is better than borrowing from an optimist.
73. Bernard M. Baruch Advises You to be Yourself
"Be who you are and say what you feel, because those who mind don't matter, and those who matter don't mind." – Bernard M. Baruch
Be yourself in every situation in life. The people who mind how you carry yourself are the people that do not matter to you. The people who truly matter to you will not care what you do because they are there for you no matter what.
74. Frank Zappa Loves His Books
"So many books, so little time." – Frank Zappa
There are millions upon millions of books in this world. Frank Zappa understands this and realizes he does not have enough time to read them all. Choose books that interest you and if you cannot get into it, move on to the next one.
75. Mae West With a Hopeful Life Quote
"You only live once, but if you do it right, once is enough." – Mae West
Everybody has only one chance on this earth. However, Mae West explains that if life is lived correctly the first time, then once is definitely enough. People need to realize that we only get one chance at this thing called life.
76. Robert Frost Expresses the Most Important Detail of Life
"In three words I can sum up everything I've learned about life: it goes on." – Robert Frost
Life can be hard and it does not stop for anybody. Robert Frost is an incredible poet and has garnered wisdom and a way with words throughout his many years. The three words he uses can be used to perfectly describe the lives we live.
77. Mahatma Gandhi Advises You to Take Action
"Be the change that you wish to see in the world." – Mahatma Gandhi
Many people wish to see the world be different but don't take any action to make it better. Gandhi believes if you want to see change, don't just wish it, act on it. Change in the world is only done from the people brave enough to stand up for something.
78. Eleanor Roosevelt Believes in Self-Actualization
"No one can make you feel inferior without your consent." – Eleanor Roosevelt
Nobody can make you fell less about yourself without you agreeing to let him or her. People will constantly try to bring you down in your lifetime. It is your job to understand the value you bring and to always stay positive.
79. Mark Twain Poses an Interesting Look on the Truth
"If you tell the truth, you don't have to remember anything." – Mark Twain
If you always tell the truth, you will not have to memorize or remember anything. The truth is something that happened and it is easy to tell. Always tell the truth and you will never be considered a liar.
80. Elbert Hubbard Describes Friendship
A friend is someone who knows all about you and still loves you." – Elbert Hubbard
Friendship is one of the truly great things about life. Friends are people who know all about the strengths and weaknesses that you have but love you anyway. They are there for you and are willing to do anything for you.
81. Mahatma Gandhi Preaches to Live Like There is no Tomorrow
"Live as if you were to die tomorrow. Learn as if you were to live forever." – Mahatma Gandhi
Live today is if tomorrow will never come. Do everything that you want to do and tell the people you love that you love them. Learn as if death will never come, be patient and aim to learn and grow a little more each day.
82. Robert Bloch has a Comical View on Friendship
"Friendship is like peeing on yourself: everyone can see it, but only you get the warm feeling that it brings." – Robert Bloch
Robert Bloch relates friendship to peeing yourself in a funny metaphor. Urine is warm and you can feel it when it is on you. Friendship brings a warm feeling that you can only feel when you have it.
83. Oscar Wilde Knows Some People are Liked More Than Other
"Some cause happiness wherever they go; others, whenever they go." – Oscar Wilde
Some people create happiness when they enter a room wherever they choose to go. Other people create happiness whenever they leave a room. Decide which one of these types of people you would rather be.
84. Soren Kierkegaard Believes Life is About Experience
"Life is not a problem to be solved, but a reality to be experienced." – Soren Kierkegaard
Life is not a big problem that we spend trying to figure out. Life needs to be looked at as a reality that we must experience. Everybody has a different viewpoint on life but Soren Kierkegaard hits the nail on the head with his description.
85. Henry Wadsworth Longfellow Believes Our First Taste of Love is the Highest Human Experience
"There is nothing holier in this life of ours than the first consciousness of love, the first fluttering of its silken wings." – Henry Wadsworth Longfellow
Love is a beautiful thing and the first time we ever experience is something we will remember forever. There is nothing in life that we will remember more than the first time we realized we have felt or given love.
86. Charlotte Bronte does not Waste Time Holding Grudges
"Life appears to me too short to be spent in nursing animosity, or registering wrongs." – Charlotte Bronte
Life is too short to be living with regrets or to be living with hate. In order to grow as a person, we must learn to forgive and get rid of the hate that we have inside of us. Living a life filled with love is much more enjoyable.
87. Pablo Picasso Lays out the Two Purposes of Life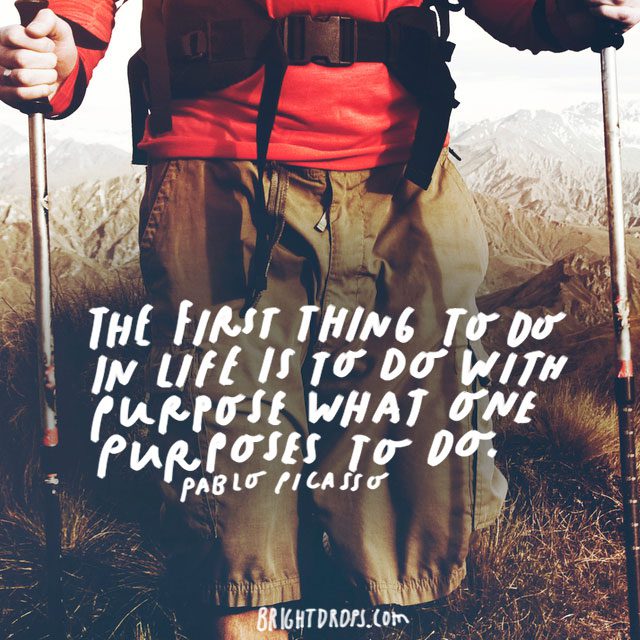 "The first thing to do in life is to do with purpose what one purposes to do." – Pablo Picasso
Pablo Picasso Has a tricky way of saying that life must be lived with purpose. Have a purpose for what you want to do. Choose a goal that you genuinely care about and spend your life working toward that goal.
88. Marcus Tullius Cicero Explains What we Believe a Happy Life Is
"We think a happy life consists in tranquility of mind." – Marcus Tullius Cicero
A happy life is best with a calm mind. A mind that is always angered or displeased will not live a long and happy life. We must learn what makes us happy and what doesn't and focus on the things that do.
89. George Bernard Shaw Knows Life is not Easy
"Life is not meant to be easy, my child; but take courage — it can be delightful." – George Bernard Shaw
Nobody has ever said that life was easy. Life is meant to be difficult and it is meant to challenge us. To succeed in life, we must be courageous in our endeavors. Courage is what separates people in life
90. Helen Keller Understands Our Best Work Can Lead to Greater Things
"When we do the best that we can, we never know what miracle is wrought in our life, or in the life of another." – Helen Keller
When our best work is done, we never know who is watching and who is learning from us. People will constantly be watching you, either waiting for you to fail or waiting for you to succeed. Whichever one it is, give them your best.
91. Martin Luther King Jr. Knows We must Work Together
"We must learn to live together as brothers or perish together as fools." – Martin Luther King Jr
As humans, we must learn to work together. We either all work together as a race, or we don't associate with each other and fall apart. Only one of those options sounds good, so we should always work together when we have the chance.
92. Yoda Believes You Either Do or Do Not
"Do, or do not… There is no try." – Yoda
There is no trying; there is only doing or not doing. Yoda believes that if you decide to do something; you should give it one hundred percent of your effort. Trying is a good start, but it usually not good enough.
Related: Star Wars Quotes
93. F. Scott Fitzgerald Believes We Must Cherish People While They are Alive
"Let us learn to show our friendship for a man when he is alive and not after he is dead." – F. Scott Fitzgerald
Many people cherish their lost loved ones, but what if we started to cherish the people we love when they are still alive? If we do this, we will have no reason for regret when they are gone, only good memories we spend with them.
94. Erma Bomback Asks a Great Question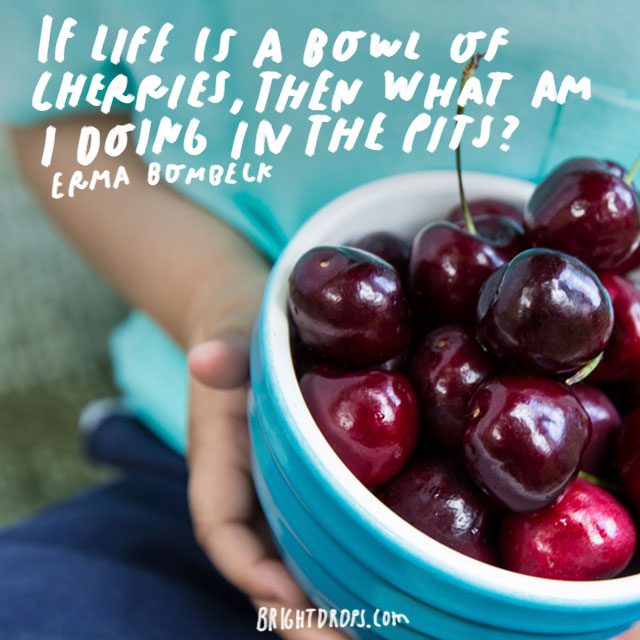 "If life is a bowl of cherries, then what am I doing in the pits?" – Erma Bomback
When people eat cherries, they usually eat the cherry and spit out the pit. So if life is compared to cherries, what are some of us doing in the pits? Get out and do what you were meant to do and provide some value to the people around you!
95. Barbara Bush Has a Funny Story on Marriage
"I married the first man I ever kissed. When I tell this to my children, they just about throw up." – Barbara Bush
The first lady has a funny story about whom she married and whenever she tells her kids, they are disgusted. Times have certainly changed, but Barbara Bush has kept her old-time mentality of only being with one person.
96. Oscar Wilde Can't Even Understand Himself Sometimes
"I am so clever that sometimes I don't understand a single word of what I am saying." – Oscar Wilde
Oscar Wilde has such a way with words that even he sometimes does not understand the gravity of what he is saying. He has a funny way of explaining his smarts so everyone can understand.
97. Freidrich Nietzsche Has a Great Love for Music
"Without music, life would be a mistake." – Friedrich Nietzsche
Everyone in the world loves music; can you imagine life without music? It would be a boring, non-inspiring world. Music is there to cheer people up and give them confidence. Everybody has different tastes, but everybody enjoys a good tune.
98. Milton Berle Believes Mothers Need More Hands
"If evolution really works, how come mothers only have two hands?" – Milton Berle
Mothers are some of the hardest working people in the world. If evolution were true, shouldn't mothers have evolved to the point where they have more than two hands to accomplish all of the daily tasks asked of them?
99. Ralph Waldo Emerson Understands Being Yourself is an Accomplishment
"To be yourself in a world that is constantly trying to make you something else is the greatest accomplishment." – Ralph Waldo Emerson
In a world where everyone around you is trying to make you be something that you are not, staying true to you and following your own path in life is one of the greatest accomplishments you can have.
100. Isaac Asimov Has a Take on Know-It-Alls
"Those people who think they know everything are a great annoyance to those of us who do." – Isaac Asimov
The ones who believe they know everything and tell everyone about it annoy the brilliant people in the world. Isaac Asimov states a subtle brag, but there are many people in the world who get in the way of the ones who are capable of making the world a better place.
101. Stephen Chbosky Believes We Sometimes Settle for Less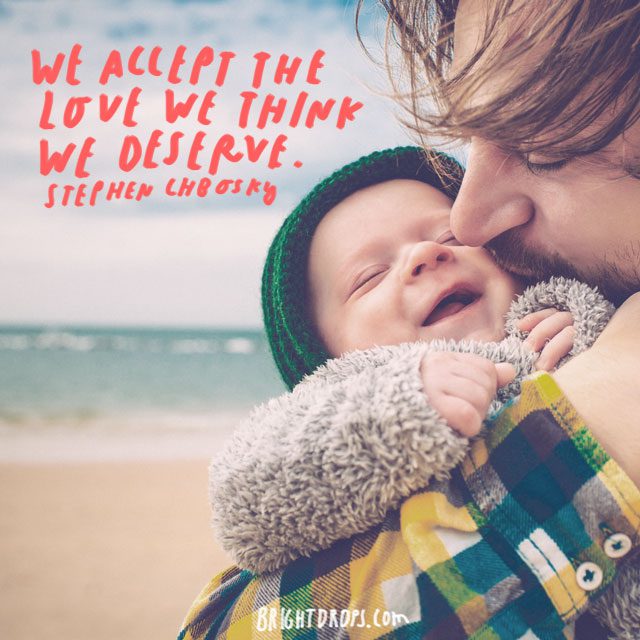 "We accept the love we think we deserve." – Stephen Chbosky
We all have a standard of ourselves that we set. Sometimes, we believe we don't deserve as much as we do. We settle for what we think we deserve. Do not settle until you have found someone that truly appreciates and loves you.
102. Marilyn Monroe Believes Crazy is Better than Boring
"Imperfection is beauty, madness is genius and it's better to be absolutely ridiculous than absolutely boring." – Marilyn Monroe
Marilyn Monroe is one of the most popular pop culture icons of all time. She believes that it is much better to be insane and crazy than to be boring and dull. People who express themselves usually will not have any regrets.
103. Albert Einstein Has Two Ways to Live
"There are only two ways to live your life. One is as though nothing is a miracle. The other is as though everything is a miracle." – Albert Einstein
We can live each day as if everything that happens is a miraculous feat and appreciate the little things, or we can believe that nothing is spectacular and everything is just life. Living in the first sense gives people more enjoyment.
104. Maurice Switzer Believes Silence can be a Virtue
"It is better to remain silent at the risk of being thought a fool, than to talk and remove all doubt of It." – Maurice Switzer
Silence is very important in certain situations. If you are unsure of what to say, then there is no need to say anything at all. Silence is not sign of weakness, the smartest people in the world will tell you they have gotten that way by listening.
105. Eleanor Roosevelt Relates Women to Tea
"A woman is like a tea bag; you never know how strong it is until it's in hot water." – Eleanor Roosevelt
Men have studied women for all of humanity and still have no idea what women are thinking at any given time. You never know what women can be like when they are in trouble or angry, so beware!
(Read this next: Funny Love Quotes That All Couples Can Relate To)