The epitome of an overnight success, in 2010 Brene brown was an 'ordinary' professor at the University of Houston, but after she was persuaded to give a TEDx talk to a small group of people, she became a world renowned 'self-help guru', specializing in the fields of shame and vulnerability. Author of nine books, NYT best-seller Brene has fought and overcome her own problems in life, including alcoholism and emotional eating.
Scathing of the term 'self-help' Brown believes that healing should never be a solitary journey and that life is about getting back up after all of life's falls. Through her research as a professor, she discovered that the key to success is connection, but that shame and vulnerability keeps us from achieving that.
Brene Brown quotes all have one thing in common; they will all light a fire under you and encourage you to get up, get out, and get on with life. Her words will inspire you to become a total badass while still allowing – even celebrating – the flaws and vulnerabilities that can so often hold you back.
Brené Brown Quotes on the Power of Being Vulnerable
"Vulnerability sounds like truth and feels like courage. Truth and courage aren't always comfortable, but they're never weakness." – Brené Brown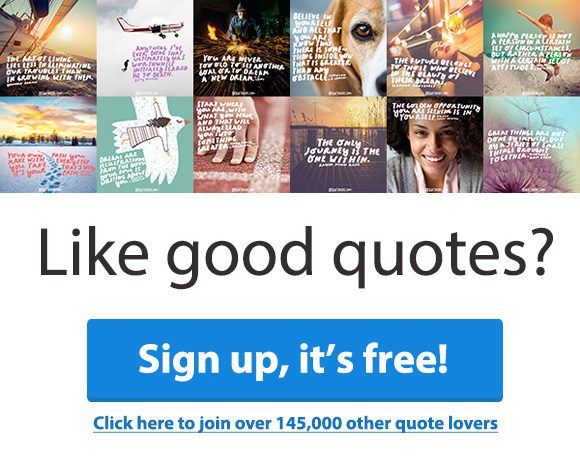 "Staying vulnerable is a risk we have to take if we want to experience connection." – Brené Brown
"Vulnerability is the birthplace of innovation, creativity and change." – Brené Brown
"Vulnerability is the birthplace of love, belonging, joy, courage, empathy, and creativity. It is the source of hope, empathy, accountability, and authenticity. If we want greater clarity in our purpose or deeper and more meaningful spiritual lives, vulnerability is the path." – Brené Brown
"When I look at narcissism through the vulnerability lens, I see the shame-based fear of being ordinary. I see the fear of never feeling extraordinary enough to be noticed, to be lovable, to belong, or to cultivate a sense of purpose." – Brené Brown
"To love someone fiercely, to believe in something with your whole heart, to celebrate a fleeting moment in time, to fully engage in a life that doesn't come with guarantees – these are risks that involve vulnerability and often pain. But, I'm learning that recognizing and leaning into the discomfort of vulnerability teaches us how to live with joy, gratitude and grace." – Brené Brown
"Owning our story can be hard but not nearly as difficult as spending our lives running from it. Embracing our vulnerabilities is risky but not nearly as dangerous as giving up on love and belonging and joy—the experiences that make us the most vulnerable. Only when we are brave enough to explore the darkness will we discover the infinite power of our light." – Brené Brown
"Vulnerability is not about winning or losing. It's having the courage to show up even when you can't control the outcome." – Brené Brown
Brené Brown Life Advice and Words to Live By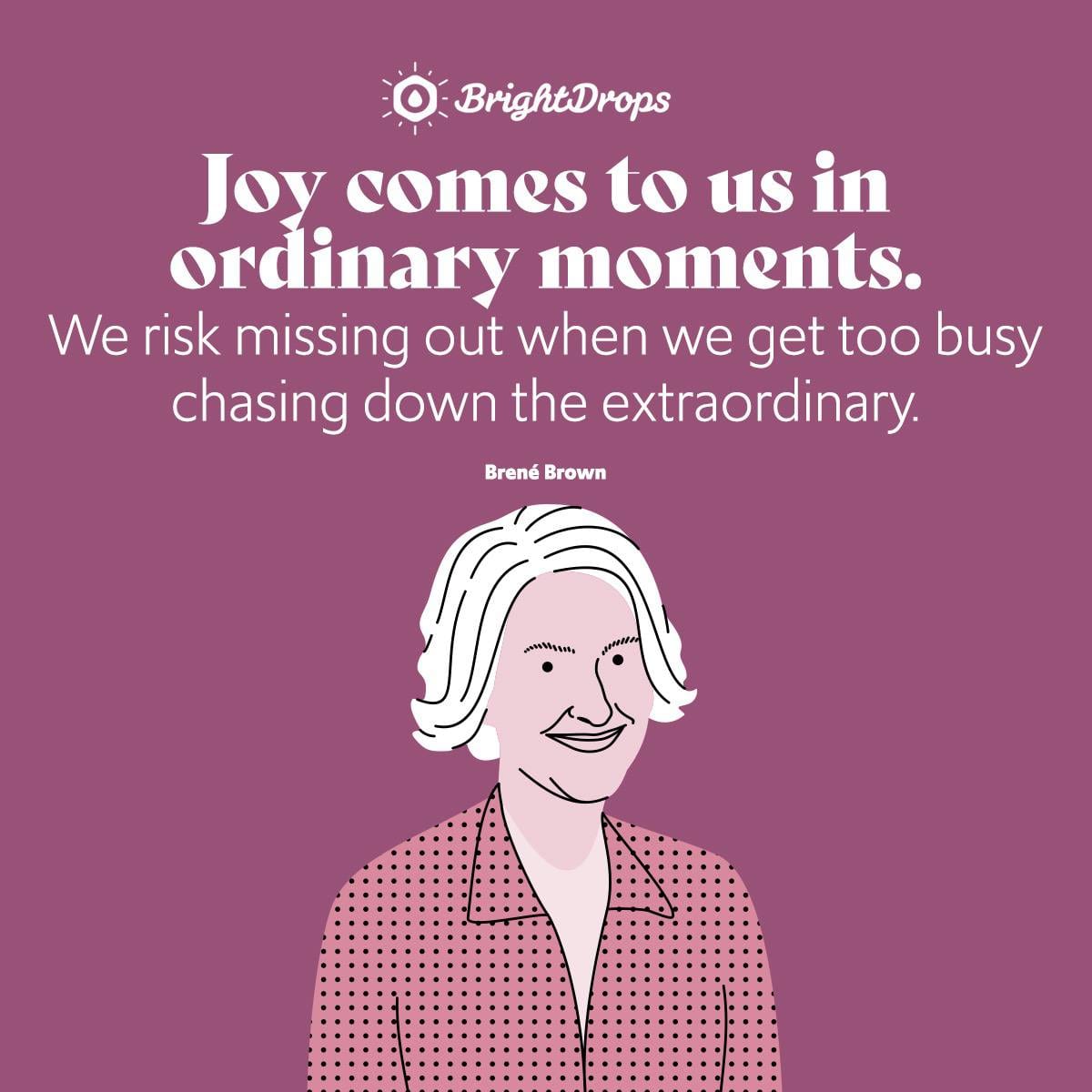 "Joy comes to us in ordinary moments. We risk missing out when we get too busy chasing down the extraordinary." – Brené Brown
"What we know matters but who we are matters more." – Brené Brown
"Don't try to win over the haters; you are not a jackass whisperer." – Brené Brown
"I define connection as the energy that exists between people when they feel seen, heard, and valued; when they can give and receive without judgment; and when they derive sustenance and strength from the relationship." – Brené Brown
"Connection is why we're here; it is what gives purpose and meaning to our lives." – Brené Brown
"I thought faith would say, 'I'll take away the pain and discomfort,' but what it ended up saying was, 'I'll sit with you in it.'" – Brené Brown
"Our job is not to deny the story, but to defy the ending—to rise strong, recognize our story, and rumble with the truth until we get to a place where we think, Yes. This is what happened. And I will choose how the story ends." – Brené Brown
"When we work from a place, I believe, that says 'I'm enough,' then we stop screaming and start listening, we're kinder and gentler to the people around us, and we're kinder and gentler to ourselves." – Brené Brown
"Empathy has no script. There is no right way or wrong way to do it. It's simply listening, holding space, withholding judgment, emotionally connecting, and communicating that incredibly healing message of 'You're not alone.'" – Brené Brown
"Who we are and how we engage with the world are much stronger predictors of how our children will do than what we know about parenting." – Brené Brown
Brené Brown Quotes on the Power of Being Imperfect
"Imperfections are not inadequacies; they are reminders that we're all in this together." – Brené Brown
"You are imperfect, you are wired for struggle, but you are worthy of love and belonging." – Brené Brown
"Because true belonging only happens when we present our authentic, imperfect selves to the world, our sense of belonging can never be greater than our level of self-acceptance." – Brené Brown
"Understanding the difference between healthy striving and perfectionism is critical to laying down the shield and picking up your life. Research shows that perfectionism hampers success. In fact, it's often the path to depression, anxiety, addiction, and life paralysis." – Brené Brown
"Those who have a strong sense of love and belonging have the courage to be imperfect." – Brené Brown
"Want to be happy? Stop trying to be perfect." – Brené Brown
Brené Brown Quotes on Authenticity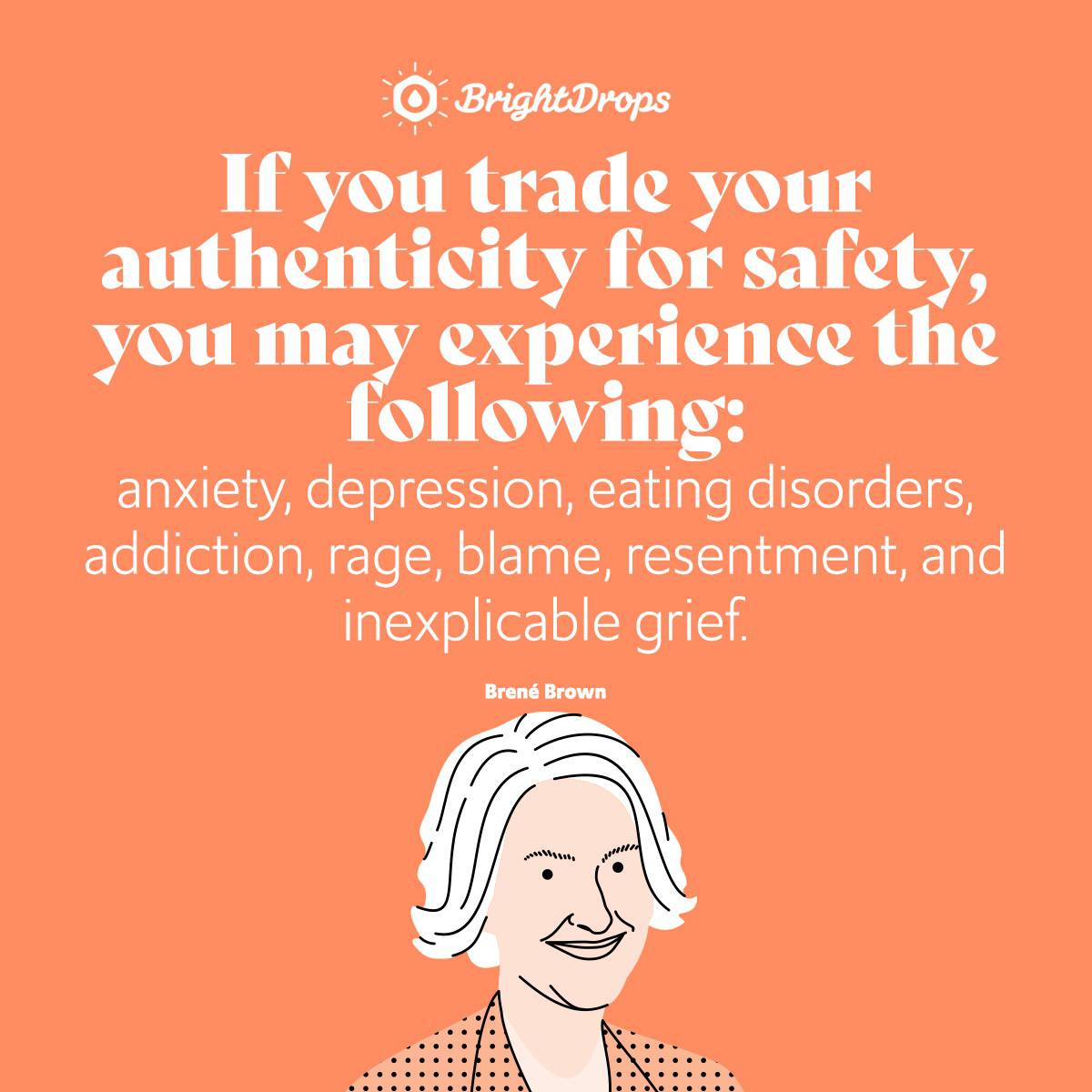 "If you trade your authenticity for safety, you may experience the following: anxiety, depression, eating disorders, addiction, rage, blame, resentment, and inexplicable grief." – Brené Brown
"Authenticity is a collection of choices that we have to make every day. It's about the choice to show up and be real. The choice to be honest. The choice to let our true selves be seen." – Brené Brown
"Authenticity is the daily practice of letting go of who we think we're supposed to be and embracing who we are." – Brené Brown
Brené Brown Quotes on Courage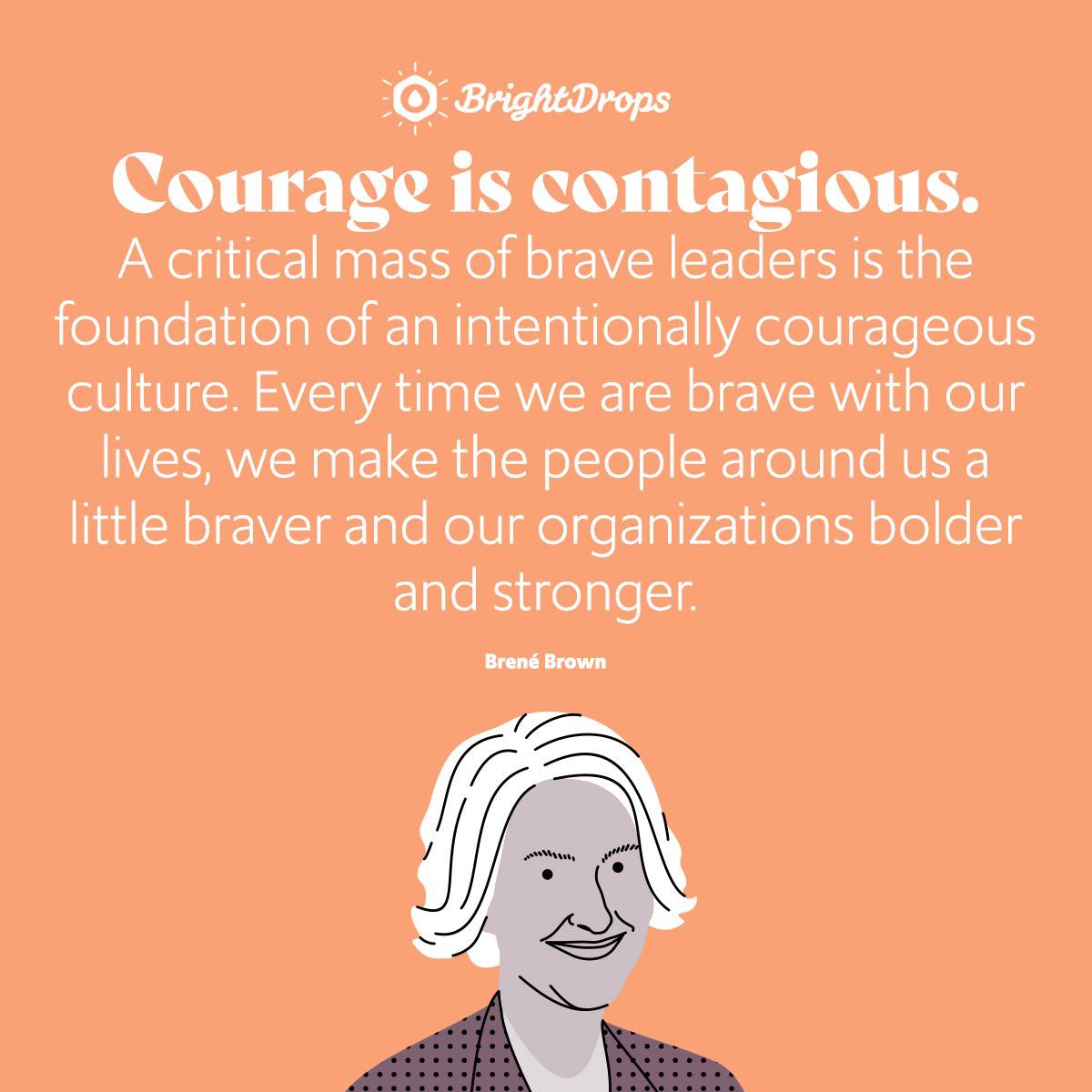 "Courage is contagious. A critical mass of brave leaders is the foundation of an intentionally courageous culture. Every time we are brave with our lives, we make the people around us a little braver and our organizations bolder and stronger." – Brené Brown
"Courage starts with showing up and letting ourselves be seen." – Brené Brown
"I now see how owning our story and loving ourselves through that process is the bravest thing that we will ever do." – Brené Brown
"Faith is a place of mystery, where we find the courage to believe in what we cannot see and the strength to let go of our fear of uncertainty." – Brené Brown
"I believe that what we regret most are our failures of courage, whether it's the courage to be kinder, to show up, to say how we feel, to set boundaries, to be good to ourselves. For that reason, regret can be the birthplace of empathy." – Brené Brown
"Daring to set boundaries is about having the courage to love ourselves even when we risk disappointing others." – Brené Brown
"Courage is like—it's a habitus, a habit, a virtue: You get it by courageous acts. It's like you learn to swim by swimming. You learn courage by couraging." – Brené Brown
"The willingness to show up changes us, It makes us a little braver each time." – Brené Brown
Brené Brown Quotes on Harmful Effects of Shame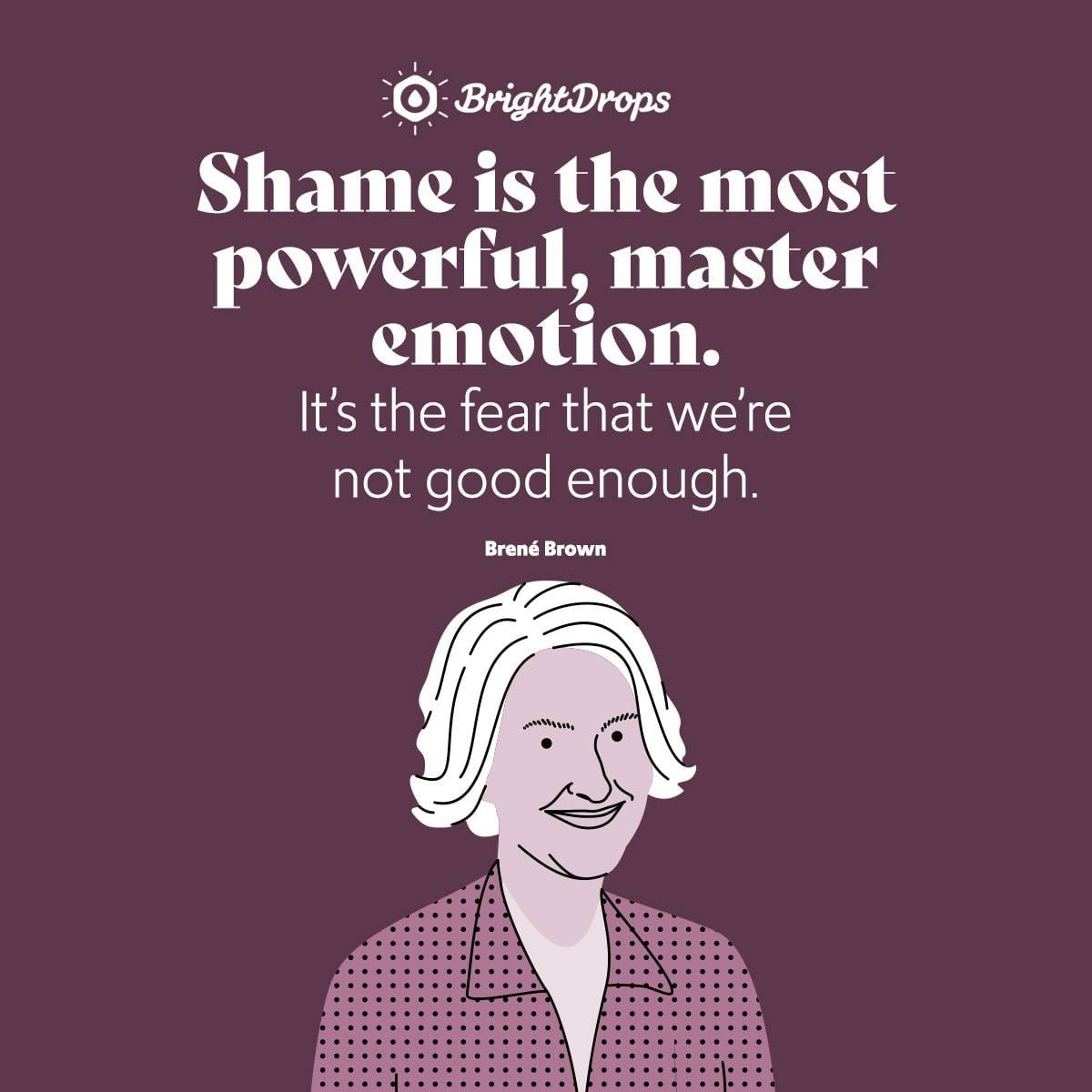 "Shame is the most powerful, master emotion. It's the fear that we're not good enough." – Brené Brown
"Shame corrodes the very part of us that believes we are capable of change." – Brené Brown
"If we share our shame story with the wrong person, they can easily become one more piece of flying debris in an already dangerous storm." – Brené Brown
"If we can share our story with someone who responds with empathy and understanding, shame can't survive." – Brené Brown