Having spent time in the military as a Master Sergeant, Bob Ross vowed never to raise his voice again, and that gentleness and kindness shone through in his long-running TV show, The Joy of Painting. Heavily influenced by the Alaskan landscape, everything in his paintings was happy, something which he strived for as he said that through painting he could create the world that he wanted to see.
Known for his curly hair and ever-present smile, Ross encouraged an entire nation to take up their paintbrushes and find joy in painting directly onto the canvas, working from imagination rather than sketching or drawing the image first.
Bob Ross quotes live on, long after his untimely death in 1995, and you cannot help but be uplifted by reading some of these inspiring words. His love of nature and happiness is evident in these words of wisdom, and are the perfect way to start (or finish) the day on a happy little note.
Bob Ross Quotes to Live Your Life By
"There are no mistakes, only happy accidents." – Bob Ross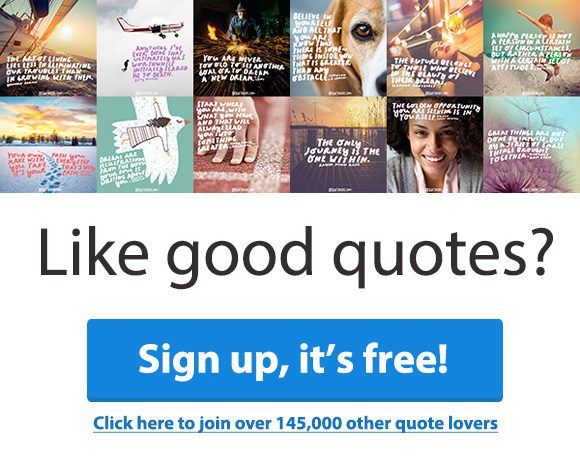 "Water's like me. It's laaazy … Boy, it always looks for the easiest way to do things" – Bob Ross
"How do you make a round circle with a square knife? That's your challenge for the day." – Bob Ross
"There's nothing in the world that breeds success like success." – Bob Ross
"Here's your bravery test!" – Bob Ross
"Traditionally, art has been for the select few." – Bob Ross
"This is your world. You're the creator. Find freedom on this canvas. Believe, that you can do it, 'cuz you can do it." – Bob Ross
"All you need to paint is a few tools, a little instruction, and a vision in your mind." – Bob Ross
"They say everything looks better with odd numbers of things. But sometimes I put even numbers — just to upset the critics." – Bob Ross
"Anytime you learn, you gain." – Bob Ross
"Go out on limb. That's where the fruit is." – Bob Ross
"You can do anything you want. This is your world." – Bob Ross
"If we're going to have animals around we all have to be concerned about them and take care of them." – Bob Ross
"Maybe in our world there lives a happy little tree over there." – Bob Ross
"Just let go — and fall like a little waterfall." – Bob Ross
"Let's build a happy little cloud. Let's build some happy little trees." – Bob Ross
"Mix up a little more shadow color here, then we can put us a little shadow right in there. See how you can move things around? You have unlimited power on this canvas — can literally, literally move mountains" – Bob Ross
"I guess I'm a little weird. I like to talk to trees and animals. That's okay though; I have more fun than most people." – Bob Ross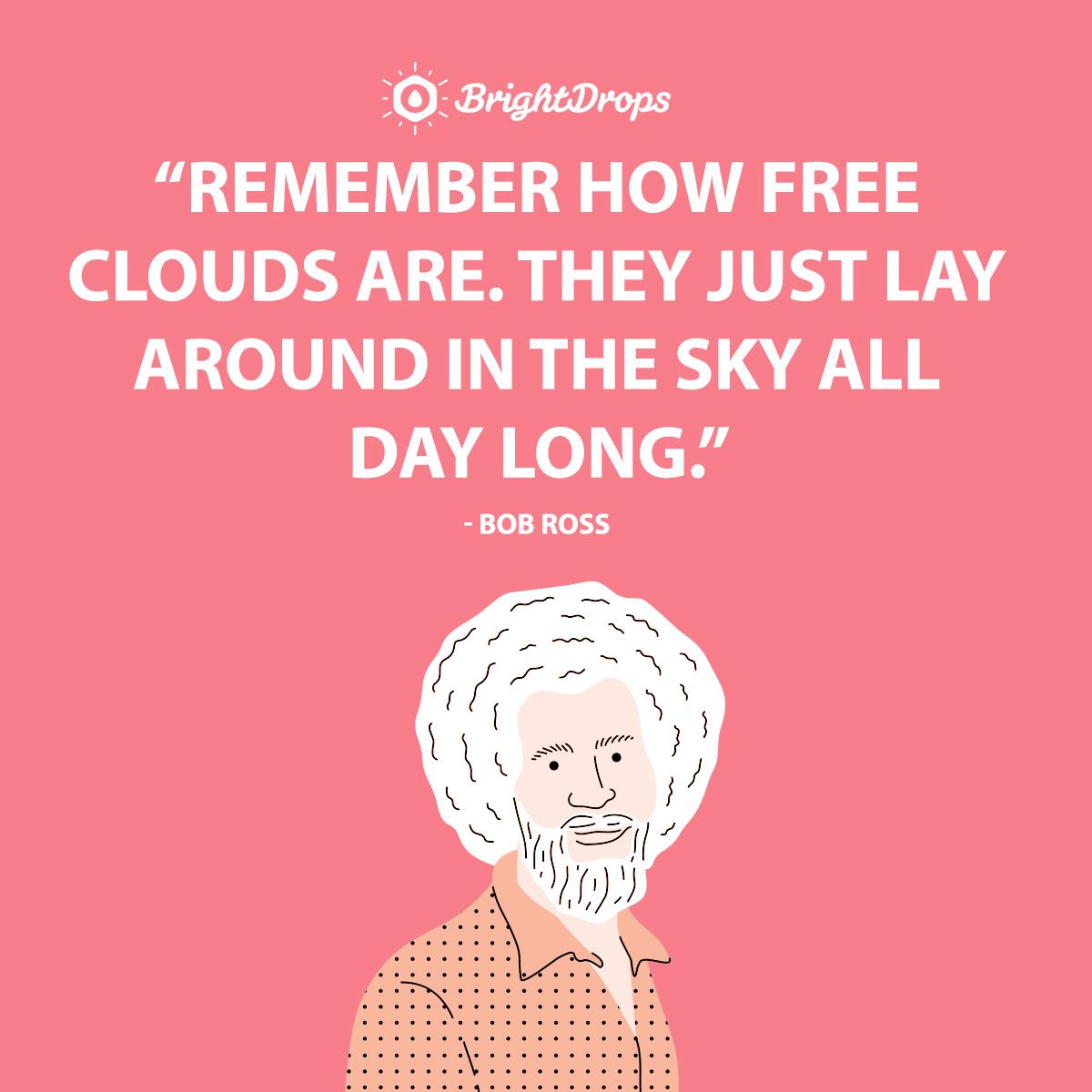 "Remember how free clouds are. They just lay around in the sky all day long." – Bob Ross
"We don't laugh because we feel good, we feel good because we laugh." – Bob Ross
"I think each of us, sometime in our life, has wanted to paint a picture." – Bob Ross
"See how it fades right into nothing. That's just what you're looking for." – Bob Ross
"I can't think of anything more rewarding than being able to express yourself to others through painting. Exercising the imagination, experimenting with talents, being creative; these things, to me, are truly the windows to your soul." – Bob Ross
"I don't intimidate anyone. Instead, I try to get people to believe in themselves." – Bob Ross
"The secret to doing anything is believing that you can do it. Anything that you believe you can do strong enough, you can do. Anything. As long as you believe." – Bob Ross
"Within one hour of touching the brush to canvas for the first time, my students have a total, complete painting." – Bob Ross
"I believe, I believe every day is a good day when you paint." – Bob Ross
"There's nothing wrong with having a tree as a friend." – Bob Ross
"Don't forget to make all these little things individuals — all of them special in their own way." – Bob Ross
"Gotta give him a friend. Like I always say, 'Everyone needs a friend.'" – Bob Ross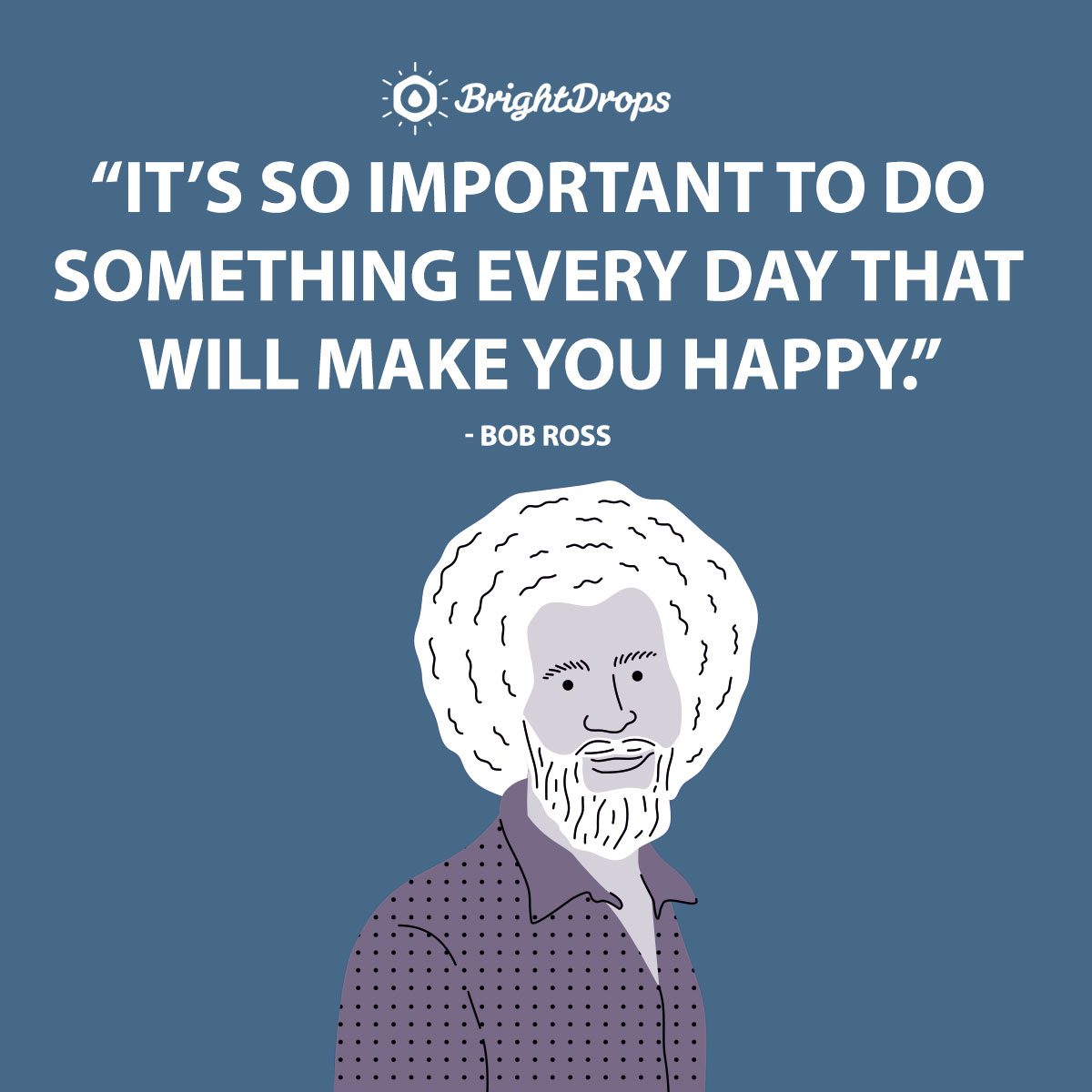 "It's so important to do something every day that will make you happy." – Bob Ross
"I tell people, 'You can do this.' And they write back and say, 'You were right. I can do this. And now I believe I can do anything.'" – Bob Ross
"We don't really know where this goes — and I'm not sure we really care." – Bob Ross
"The only thing worse than yellow snow is green snow." – Bob Ross
"Trees cover up a multitude of sins." – Bob Ross
"I really believe that if you practice enough you could paint the 'Mona Lisa' with a two-inch brush." – Bob Ross
"This is happy place; little squirrels live here and play." – Bob Ross
"Talent is a pursued interest. Anything that you're willing to practice, you can do." – Bob Ross
"One of the questions that I hear over and over and over is, 'What do we do with all these paintings we do on television?' Most of these paintings are donated to PBS stations across the country. They auction them off, and they make a happy buck with 'em." – Bob Ross
"No pressure. Just relax and watch it happen." – Bob Ross
"If you learned how to make a cloud, your time is not wasted." – Bob Ross
"We artists are a different breed of people. We're a happy bunch." – Bob Ross
"Look around. Look at what we have. Beauty is everywhere—you only have to look to see it." – Bob Ross
"Use absolutely no pressure. Just like an angel's wing." – Bob Ross
"Be sure to use odorless paint-thinner. If it's not odorless, you'll find yourself working alone very, very quick." – Bob Ross
"Ever make mistakes in life? Let's make them birds. Yeah, they're birds now." – Bob Ross
"We show people that anybody can paint a picture that they're proud of. It may never hang in the Smithsonian, but it will certainly be something that they'll hang in their home and be proud of. And that's what it's all about." – Bob Ross
"You have to allow the paint to break to make it beautiful." – Bob Ross
"It's hard to see things when you are too close. Take a step back and look." – Bob Ross
"If I paint something, I don't want to have to explain what it is." – Bob Ross
"If you do too much, it's going to lose its effectiveness." – Bob Ross
"You need the dark in order to show the light." – Bob Ross
"Let's just blend this little rascal here, ha! Happy as we can be." – Bob Ross
"I think there's an artist hidden at the bottom of every single one of us." – Bob Ross
"Any way you want it to be, that's just right." – Bob Ross
"You can do anything here — the only prerequisite is that it makes you happy." – Bob Ross
"If you study my paintings, there are no signs of human life." – Bob Ross
"We get letters every day from people wanting more mountains. As many as I paint, they still say, 'Give me more mountains.'" – Bob Ross
"We want happy paintings. Happy paintings. If you want sad things, watch the news." – Bob Ross
Read these quotes next:
46 Good Morning Quotes to Inspire and Motivate You
34 Inspirational Self Love Quotes to Make Yourself Stronger
105 Inspirational Nature Quotes on Life and Its Natural Beauty
28 Smile Quotes on the Power of Smiling