The Batman franchise, which contains comics, movies and paraphernalia, is one of the largest franchises in the entertainment industry. These Batman quotes range from quotes from the Dark Knight himself, to his trusted butler Alfred Pennyworth.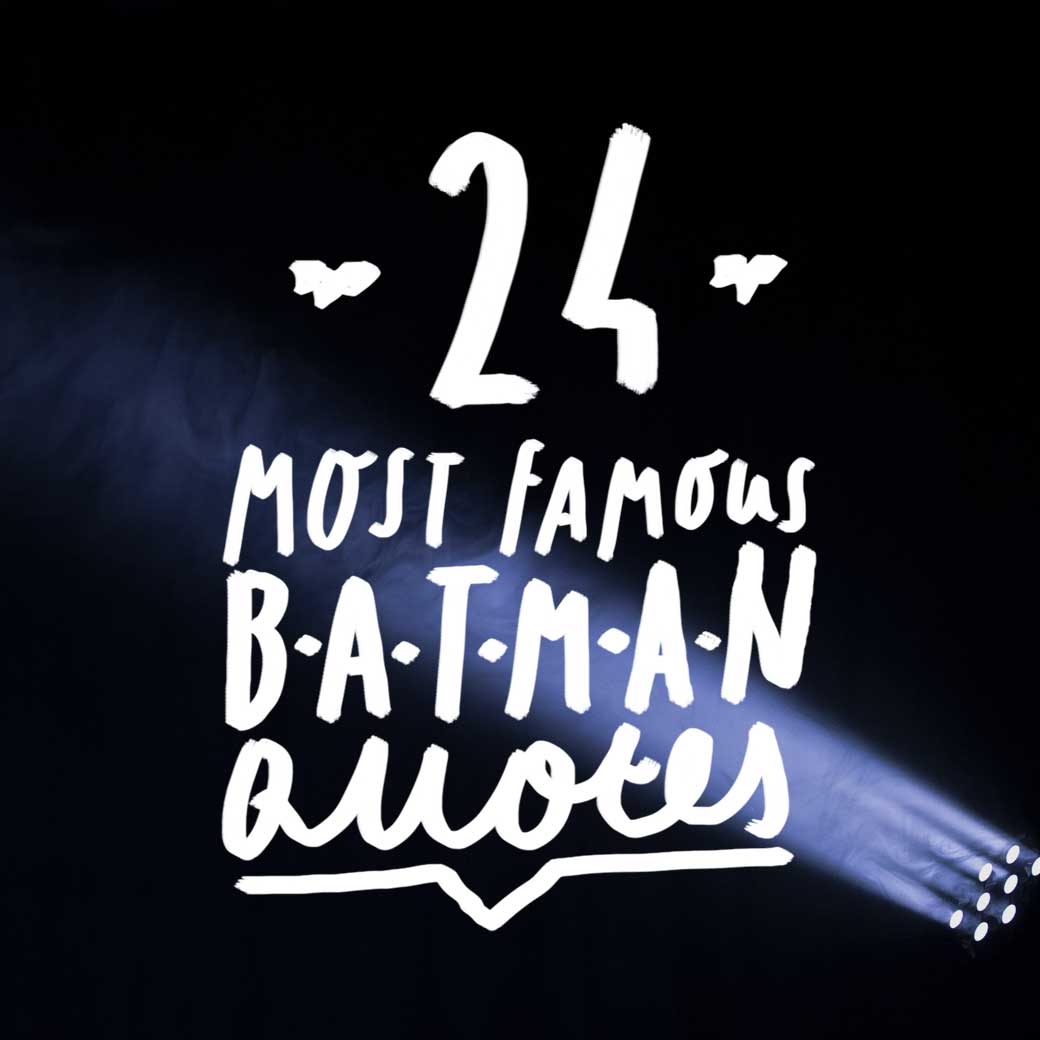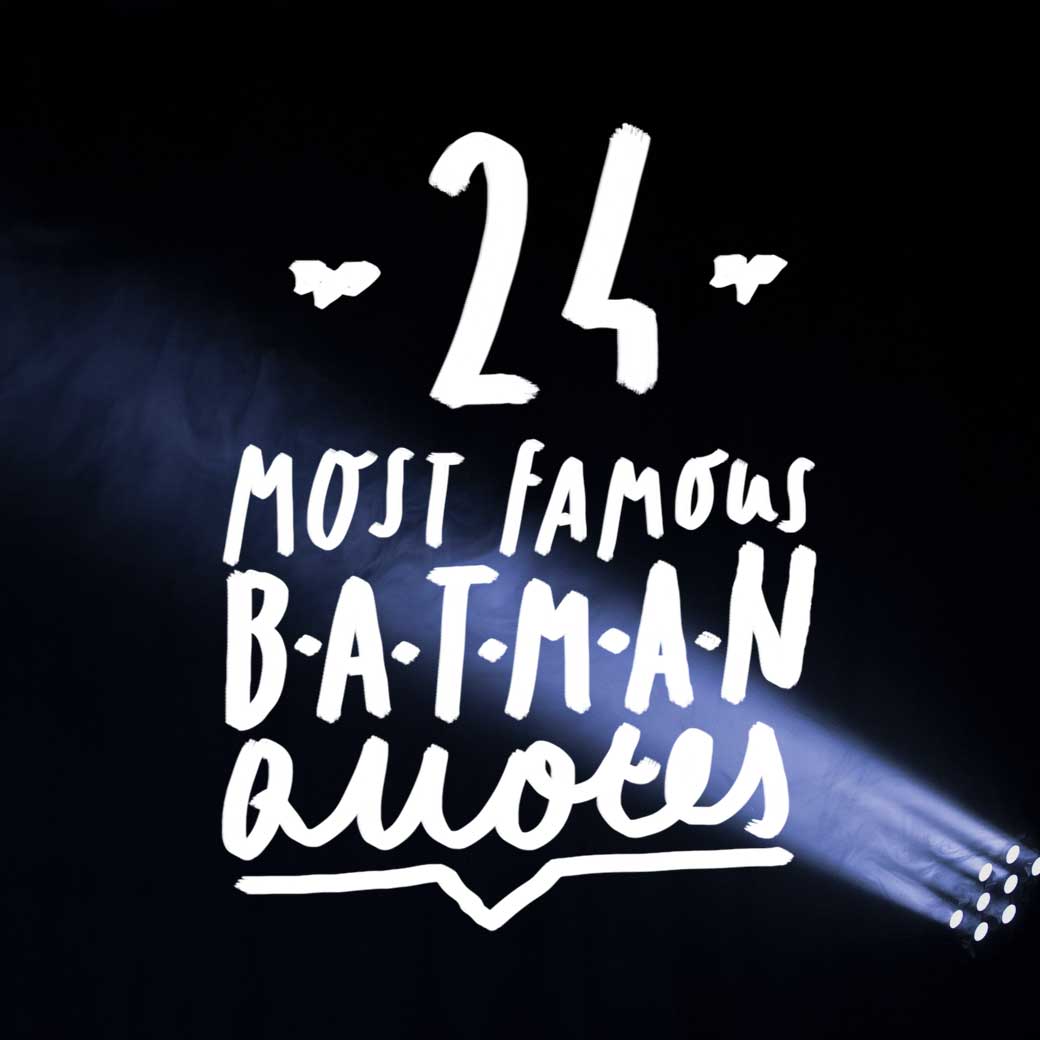 1. Batman Believes Actions Define Us
"It's not who I am underneath, but what I do that defines me." – Batman
We come to be known by what we do, and not by who we really are. Our actions speak to our character and the decisions we make become who we are. Batman is someone whose action completely makes him, because nobody truly knows who he is.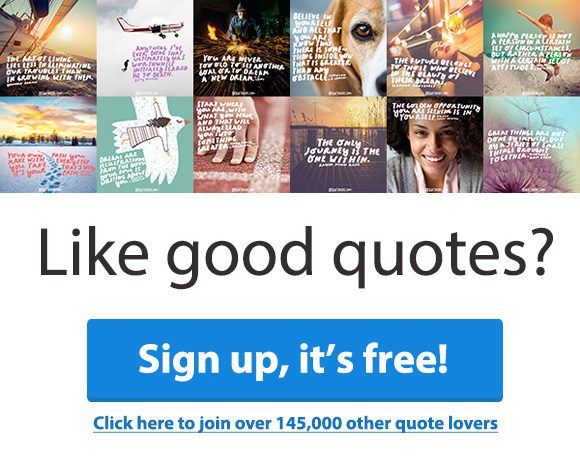 2. Batman Believes Anything is Possible
"Everything's impossible until somebody does it." – Batman
Impossible is a word that is thrown a lot when someone can't do something. Everything was once impossible until somebody did it. You must have the mindset that nothing is impossible and anything can be achieved with the right attitude and effort.
3. Batman Believes We Fail for a Reason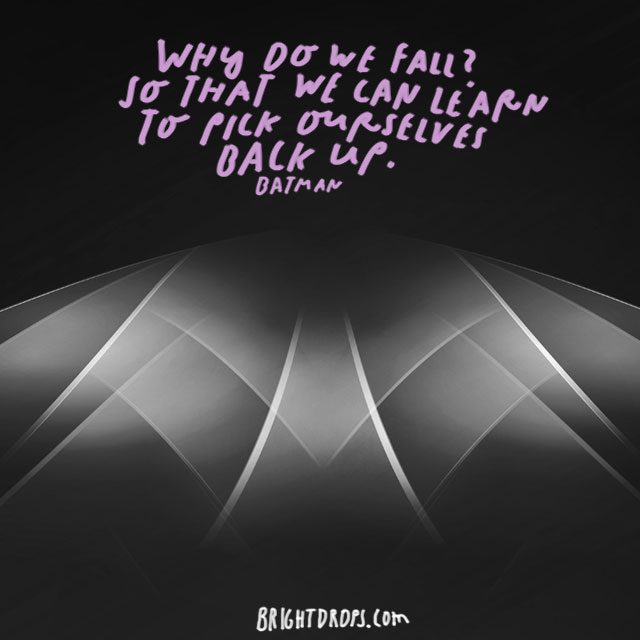 "Why do we fall? So that we can learn to pick ourselves back up." – Batman
We fail so that we can learn from our failures. Failing is one of the best lessons we can learn in life. It gives us humility and we learn what we did wrong and how to fix it. Nobody succeeds without failing a few times first.
4. Batman Believes Our Glory is in Coming Back Stronger
"Our greatest glory is not in ever falling, but in rising every time we fall." – Batman
Our strongest traits are not in the ability to succeed flawlessly, but in coming back even stronger after we fail. Failures are hard to take and they break some people, but the successful ones are the ones who learn from their failures and come back better than ever.
5. Batman Does Not Want to be Like his Enemies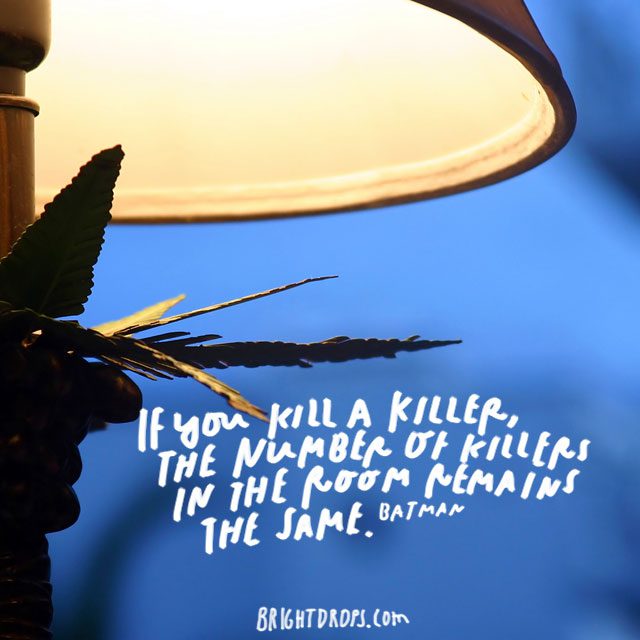 "If you kill a killer, the number of killers in the room remains the same." – Batman
If you kill someone who has killed, then you are also a killer. Batman's rule was to never kill anyone. He always wanted to be the bigger man in the room and this quote exemplifies that. It does not matter what someone else does, do not drop down to their level.
6. Batman Believes Madness Makes People
"Sometimes it's only madness that makes us what we are." – Batman
Some people are judged by their actions during times of madness. The joker is a perfect example of the image Batman is trying to point out. The Joker is famous for his times of madness and his overall insane behavior.
7. Batman Does not Believe he is Special
"I have one power. I never give up." – Batman
Batman does not believe his main powers are what make him special. He believes that his true power is that of never giving up and never giving in. The will to never give up is worth much more than a superpower or any natural born talent.
8. The Joker Realized He was the Monster
"We stopped checking for monsters under our bed when we realized they were inside us." – The Joker
People like the Joker are not scared of monsters because they have realized that they are monsters. We usually check for monsters under our bed as children, but if we knew that we were the monsters we were checking for, we would no longer be scared.
9. Alfred Pennyworth Understands There is Bad People
"Some men just want to watch the world burn." – Alfred Pennyworth
Some people are not here for the betterment of themselves or the world. Some people are born with the purpose to cause chaos and make the world worse. These people need to be contained and not associated with. They are negative people and bring nothing but hate.
10. Batman Would Rather Die a Hero
"You either die a hero, or live long enough to see yourself become a villain." – Batman
Batman knows that if he lives long enough, he may end up turning into a villain. He would rather have a short, impactful life as someone who has made the world better, than live long enough to become someone who has made the world worse.
11. Harvey Dent Explains Better Days are Coming
"The night is darkest just before the dawn. And I promise you. The dawn is coming." – Harvey Dent
Harvey Dent is saying that as bad as things are, they will get better soon. The worse something gets, the faster it will get better. The night is the darkest just before the sun rises, so persevere until the dawn.
12. Batman Believes in No Rules
"The only sensible way to live in this world is without rules." – Batman
Batman believes in living by his own rules. There are times when bending the rules are necessary for success and for what is right. We cannot live our lives on the basis of someone else's rules and someone else's agenda.
13. Batman Knows Failures Create Strength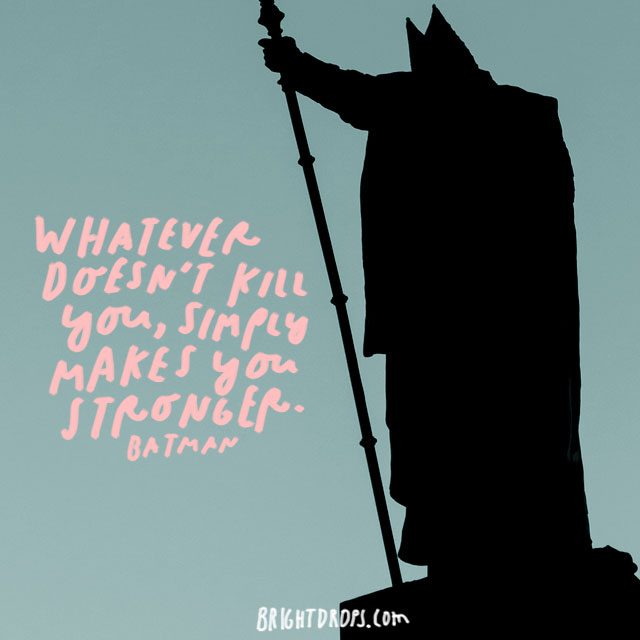 "Whatever doesn't kill you, simply makes you stronger." – Batman
The failures we go through and the pain we endure only makes us stronger for future tasks. When we learn what we can accomplish and what we can get through, we are able to realize that anything is possible if have the right mindset.
14. Jim Gordon Talks About Batman
"He's the here Gotham deserves, but not the one it needs right now." – Jim Gordon
Sometimes what we deserve and what we need are not the same. Batman is the hero that Gotham deserved at that point in time, but he was not the one they needed. Batman was not a hero for Gotham, he was a protector; someone who watched over the entire city.
15. Alfred Pennyworth Advises Batman to Endure
"Endure, Master Wayne. Take it. They'll hate you for it, but that's the point of Batman, he can be the outcast." – Alfred Pennyworth
Batman does not need bring immediate satisfaction to the city of Gotham. He can be hated for a time to bring something even greater to the city. He can be the outcast because he knows what he is capable of in the long run.
16. Alfred Pennyworth Express his Love for Batman
"You are as precious to me as you were to your own mother and father." – Alfred Pennyworth
Alfred was Batman's butler and friend. He raised Bruce Wayne from when he was a child to the crime stopping hero that he became. He loved him like a son and acted as a father figure when Bruce Wayne's parents were gone.
17. Alfred Pennyworth Advises Batman to Loosen Up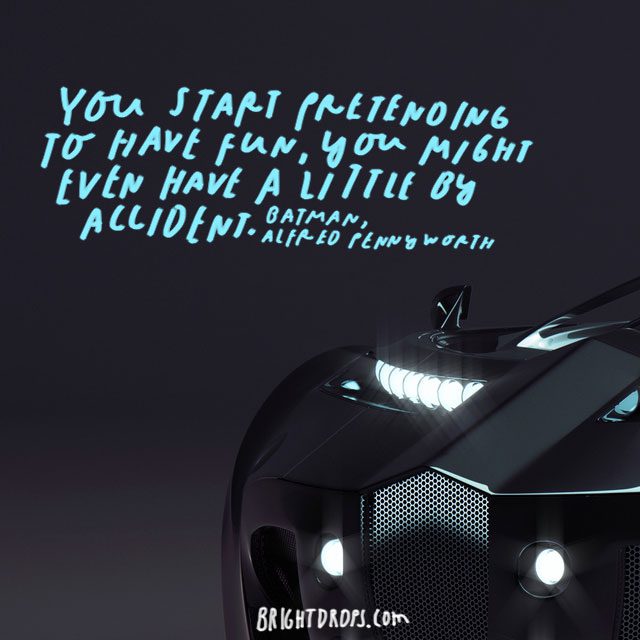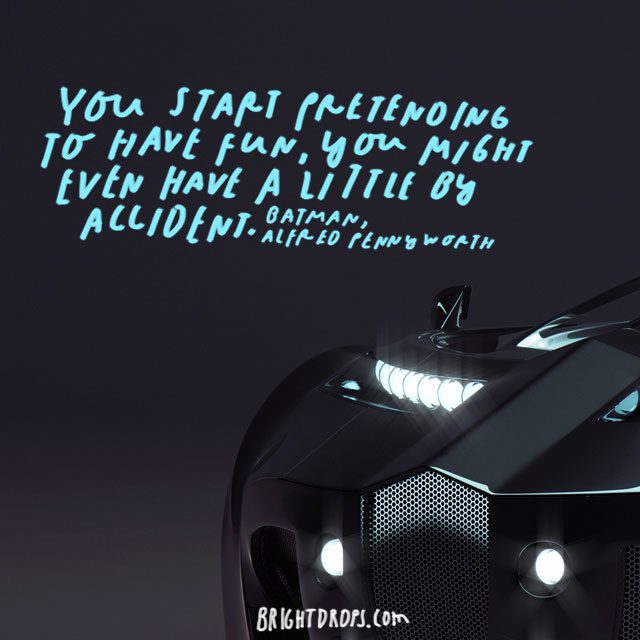 "You start pretending to have fun; you might even have a little by accident." – Alfred Pennyworth
Batman is a very serious man, in and out of his alter ego. Alfred advises him to try and enjoy his life purpose of protecting Gotham. He believes that Batman will do a better job and enjoy it more if he has a good time doing it.
18. Batman Knows He Has Not Met His Strongest Opponent
"You're not the devil. You're practice." – Batman
Batman Knows that the villains he faces are just practice for when he truly faces a challenging adversary. Every day that he protects the city is a growth process for him to get better at his craft and become a master superhero.
19. Alfred Pennyworth Wants Batman to Realize Who He's Fighting For
"It's not just your name, sir! It's your father's name! And it's all that's left of him. Don't destroy it." – Alfred Pennyworth
Batman must understand that he is fighting for more than just the city of Gotham, he is fighting for his name and his parents name. He fights to honor his parents and Alfred wants him to realize that there is more at stake than just protecting a city.
20. Henri Ducard Understands Batman is Different
"Your compassion is a weakness your enemies will not share." – Henri Ducard
Compassion for another human, no matter who they are, is a trait that Batman Personifies. He will never kill another man regardless of what they have done. His enemies do not think this way and he has to be aware of that fact.
21. Batman Knows the Truth is not Always Enough
"Sometimes the truth isn't good enough, sometimes people need more." – Batman
It is good to be an honest person, but sometimes the truth is not enough. Sometimes people need advice on their next step, or assurance that everything is going to be okay. Telling the truth is always the first step, but sometimes that just makes people more nervous for the future.
22. Batman Wants to be More Than a Hero
"But as a symbol, as a symbol I can be incorruptible." – Batman
Batman knows he will not be around to protect Gotham someday. But he wants his message to stay alive. If he is able to build a symbol for himself that represents Gotham, then villains will never know if Batman is there or not and will stay away from the city.
23. Batman Loves Gotham
"I'm whatever Gotham needs me to be." – Batman
Batman does not care if Gotham needs him to save the city, or to bag groceries. Whatever Gotham needs, he will be there for the city he loves. This is a sign of a true hero, someone who will do anything to protect their city no matter what the task is.
24. Batman Knows Anyone can be a Hero
"A hero can be anyone, even a man doing something as simple as reassuring putting a coat on a young boy's shoulders." – Batman
A hero isn't always the person who flies through the air and defends against villains. A hero can be any normal person who does the right thing. A hero is someone who puts faith and love in the eyes of the people around them.
(Read this next: 24 Yoda Quotes)