Art is subjective. Art is emotional. Art is moving. These good (and short) art quotes show the impact art can have on our lives and our society.
If you love quotes about art and from famous artists, make sure to check out these Andy Warhol quotes and these Bob Ross quotes.
Art Quotes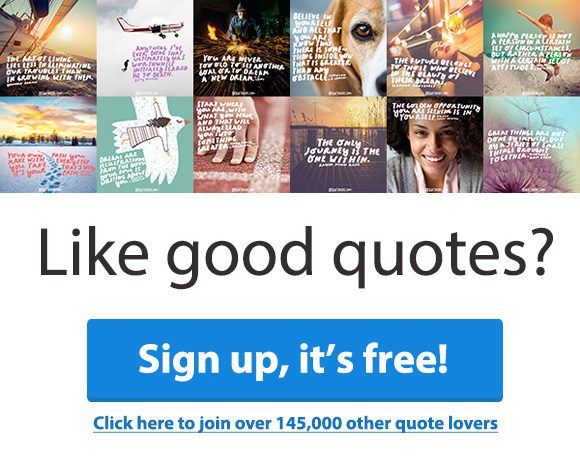 "Any form of art is a form of power; it has impact, it can affect change – it can not only move us, it makes us move." – Ossie Davis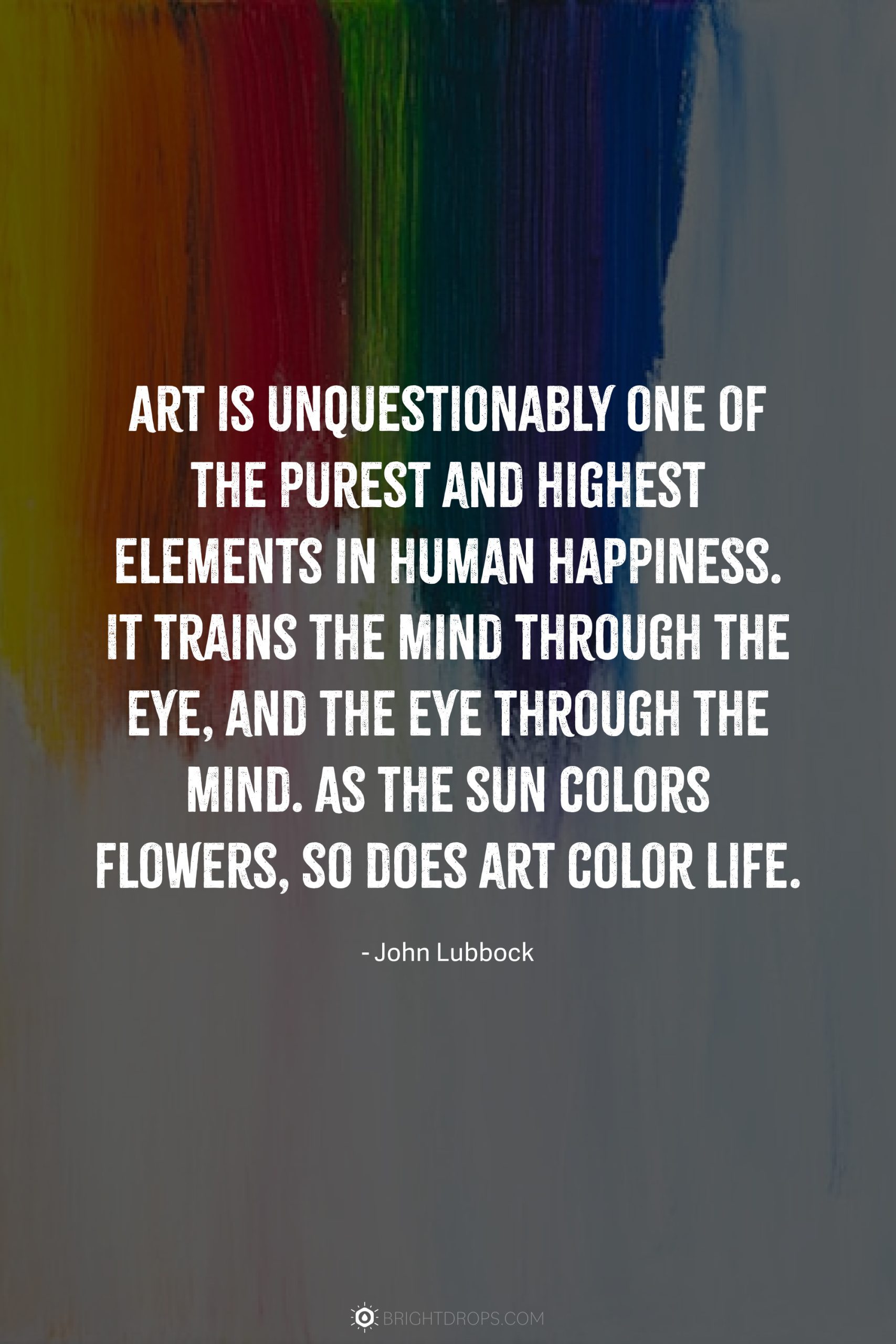 "Art is unquestionably one of the purest and highest elements in human happiness. It trains the mind through the eye, and the eye through the mind. As the sun colors flowers, so does art color life." – John Lubbock
"If art is to nourish the roots of our culture, society must set the artist free to follow his vision wherever it takes him." – John F. Kennedy
You may also like: These beautiful quotes on nature: https://brightdrops.com/nature-quotes
"What art is, in reality, is this missing link, not the links which exist. It's not what you see that is art; art is the gap." – Marcel Duchamp
"Art is just another way of keeping a diary." – Pablo Picasso
"Art is about changing what we see in our everyday lives and representing it in such a way that it gives us hope." – Kehinde Wiley
Related: Short Meaningful Quotes
"Art is the stored honey of the human soul, gathered on wings of misery and travail." – Theodore Dreiser
"Art is a guarantee of sanity." – Louise Bourgeois
"Art is a marriage of the conscious and the unconscious." – Jean Cocteau
"You must not fight too often with one enemy, or you will teach him all your art of war." – Napoleon Bonaparte
"A good painting to me has always been like a friend. It keeps me company, comforts and inspires." – Hedy Lamarr
"I think being different, going against the grain of society is the greatest thing in the world." – Elijah Wood
"The mission of art is to represent nature not to imitate her." – William Morris Hunt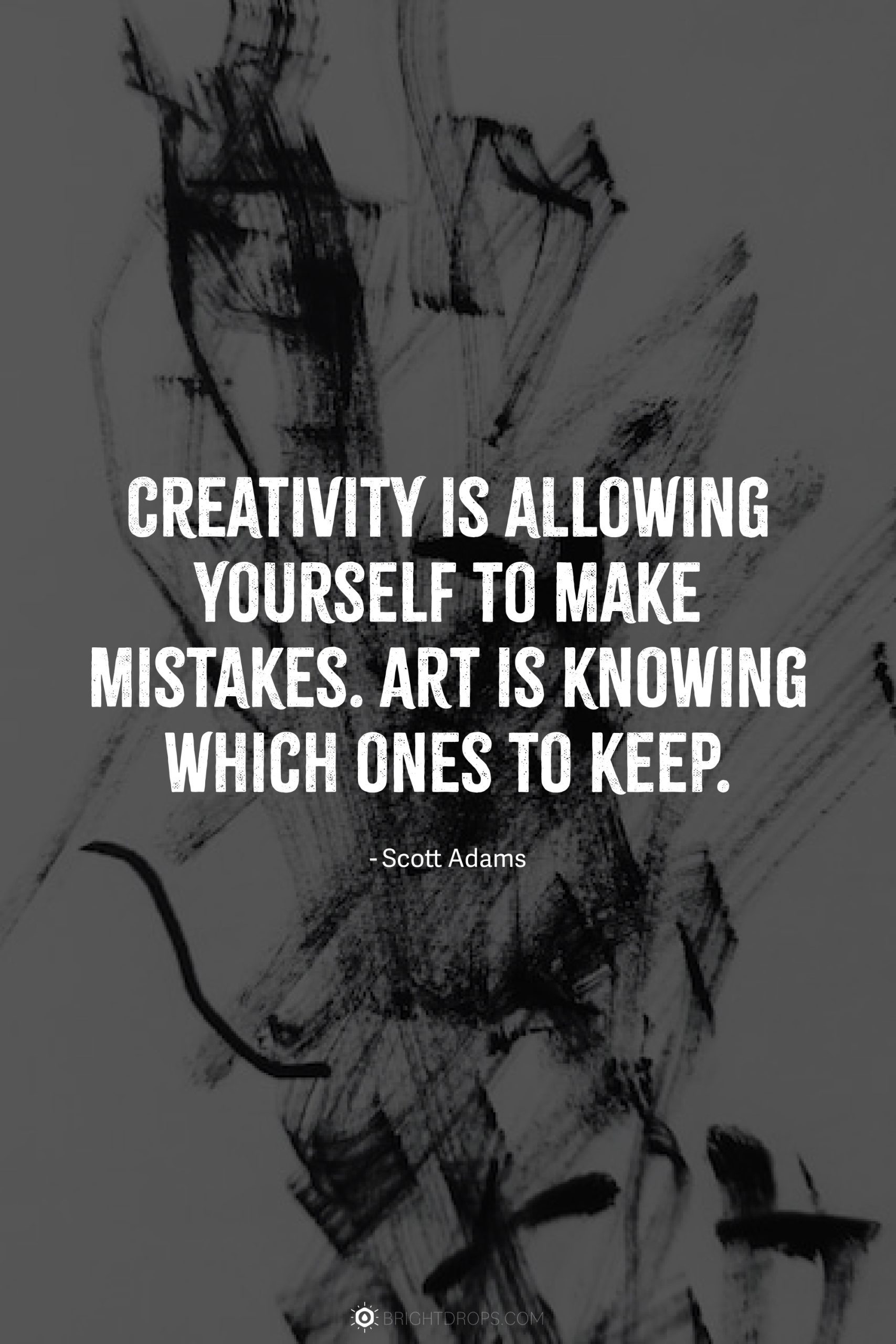 "Creativity is allowing yourself to make mistakes. Art is knowing which ones to keep." – Scott Adams
"Art is essentially the affirmation, the blessing, and the deification of existence." – Friedrich Nietzsche
"In art as in love, instinct is enough." – Anatole France
"Art is not a mirror to hold up to society, but a hammer with which to shape it." – Leon Trotsky
"Personally, I experience the greatest degree of pleasure in having contact with works of art. They furnish me with happy feelings of an intensity that I cannot derive from other sources." – Albert Einstein
"Art is the daughter of freedom." – Friedrich Schiller
"A guilty conscience needs to confess. A work of art is a confession." – Albert Camus
"A picture is a work of art, not because it is 'modern,' nor because it is 'ancient,' but because it is a sincere expression of human feeling." – John F. Carlson
"You cannot be all things to all people. Be unique. Be different. Give to others what you want yourself. And do what you were made to do." – Robert Kiyosaki
"In art, the hand can never execute anything higher than the heart can imagine." – Ralph Waldo Emerson
"Instead of worrying about what people say of you, why not spend time trying to accomplish something they will admire." – Dale Carnegie
"Art enables us to find ourselves and lose ourselves at the same time." – Thomas Merton
"What is Art? It is the response of man's creative soul to the call of the Real." – Rabindranath Tagore
"No difficulty can discourage, no obstacle dismay, no trouble disheartens the man who has acquired the art of being alive. Difficulties are but dares of fate, obstacles but hurdles to try his skill, troubles but bitter tonics to give him strength; and he rises higher and looms greater after each encounter with adversity." – Ella Wheeler Wilcox
"Art is the most intense mode of individualism that the world has known." – Oscar Wilde
"What moves men of genius, or rather what inspires their work, is not new ideas, but their obsession with the idea that what has already been said is still not enough." – Eugene Delacroix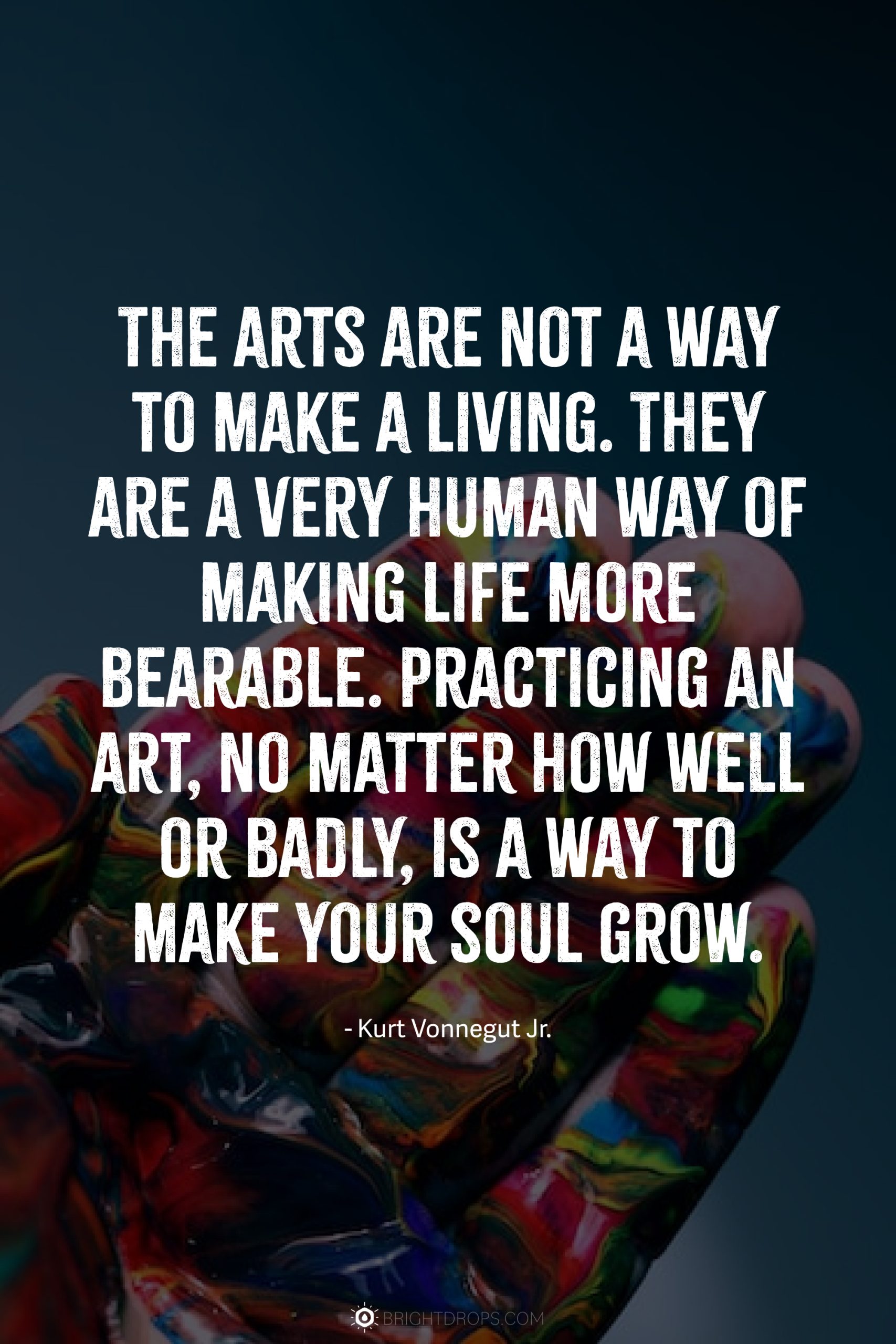 "The arts are not a way to make a living. They are a very human way of making life more bearable. Practicing an art, no matter how well or badly, is a way to make your soul grow." – Kurt Vonnegut Jr.
"Art is like singing. Some do it better than others, but everyone can and should be doing it for their soul." – Barbara Mason
"All art deals with the absurd and aims at the simple. Good art speaks truth, indeed is truth, perhaps the only truth." – Iris Murdoch
"The object of art is not to reproduce reality, but to create a reality of the same intensity." – Alberto Giacometti
"Every painting is a voyage into a sacred harbour." – Giotto di Bondone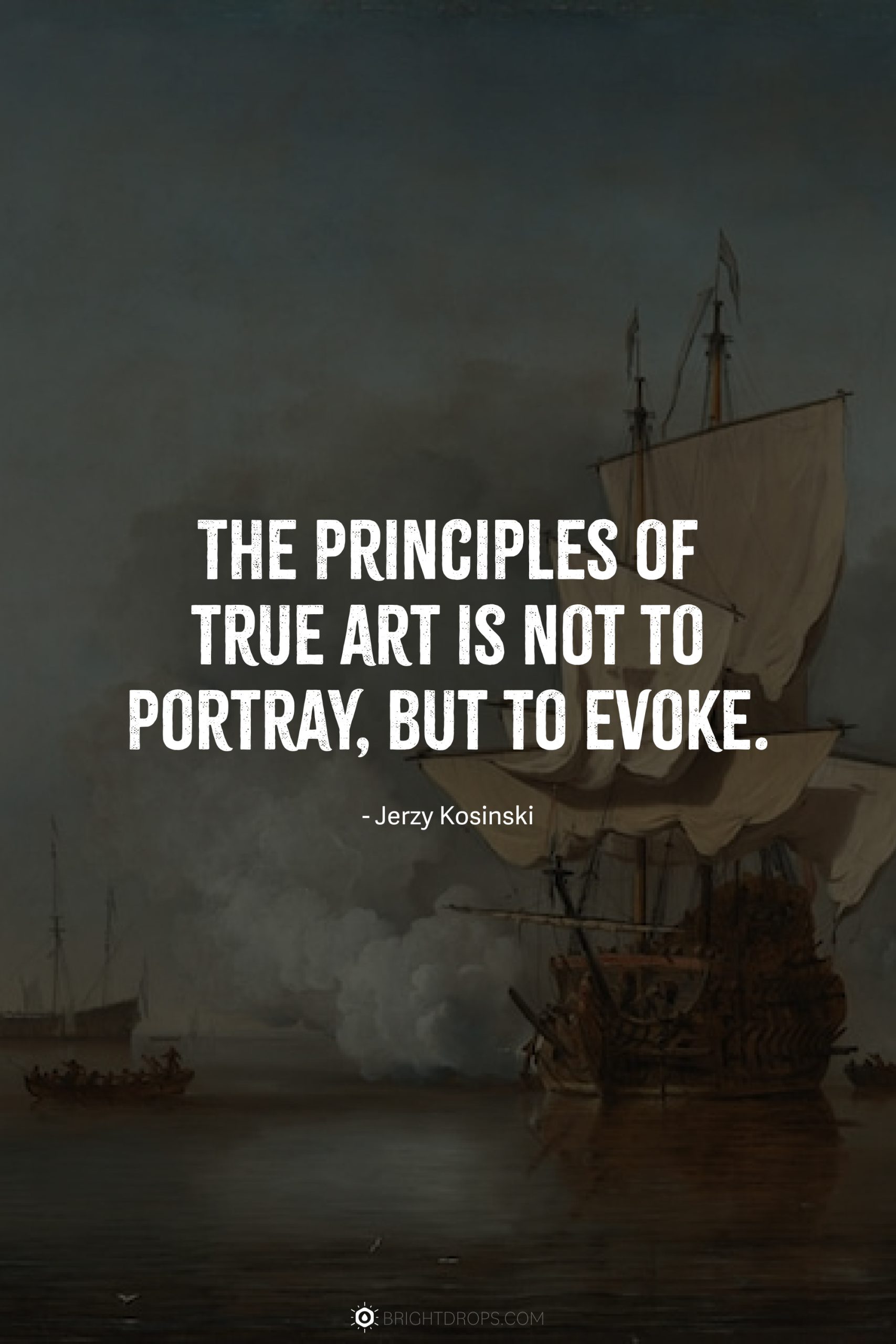 "The principles of true art is not to portray, but to evoke." – Jerzy Kosinski
"When I think of art I think of beauty. Beauty is the mystery of life. It is not in the eye it is in the mind. In our minds there is awareness of perfection." – Agnes Martin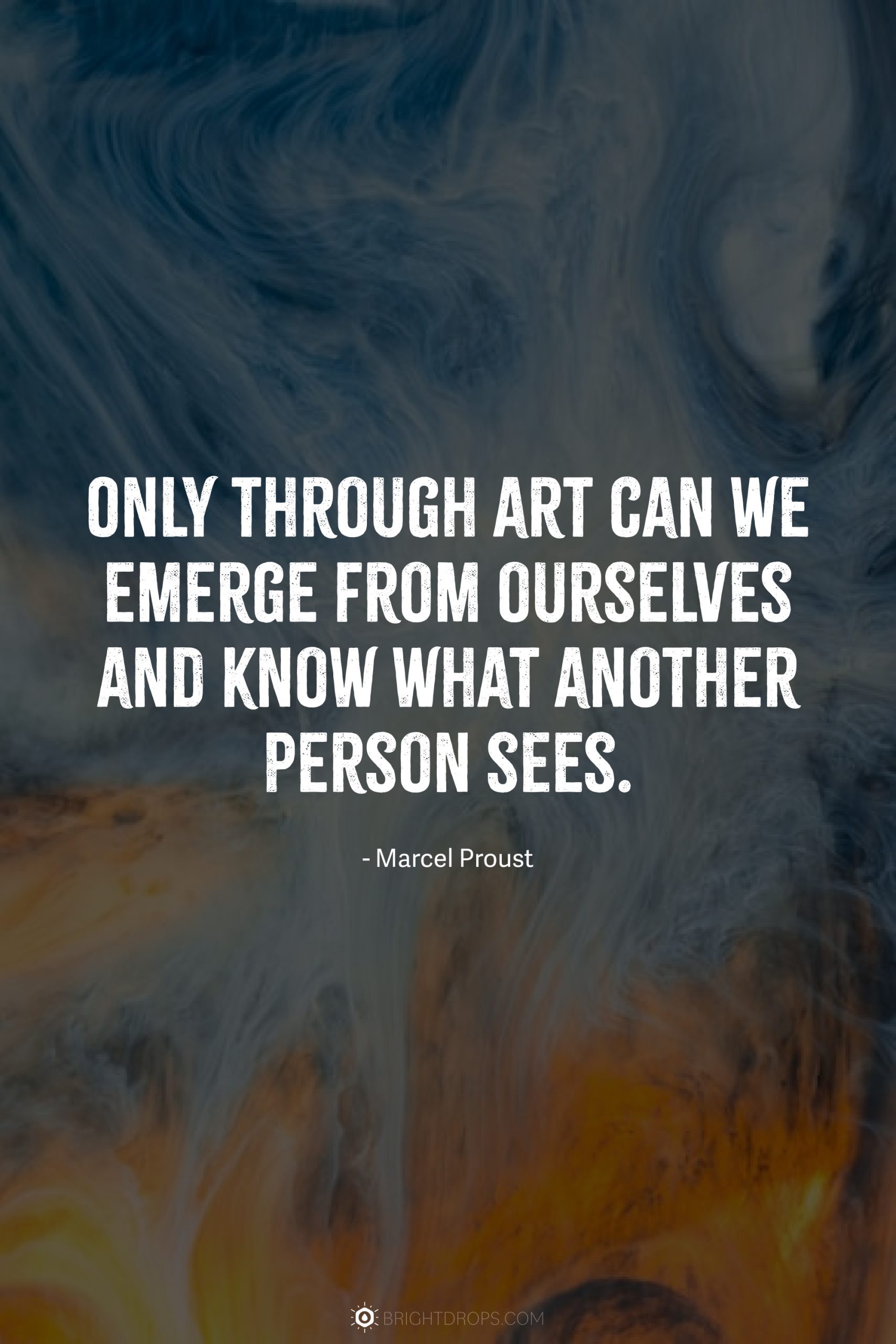 "Only through art can we emerge from ourselves and know what another person sees." – Marcel Proust
"Art is not a handicraft, it is the transmission of feeling the artist has experienced." – Leo Tolstoy
"If you hear a voice within you say 'you cannot paint,' then by all means paint, and that voice will be silenced." – Vincent Van Gogh
"Artistic talent is a gift from God and whoever discovers it in himself has a certain obligation: to know that he cannot waste this talent, but must develop it." – Pope John Paul II
"Art arises when the secret vision of the artist and the manifestation of nature agree to find new shapes." – Khalil Gibran
"Art must take reality by surprise." – Francoise Sagan
"Art, freedom and creativity will change society faster than politics." – Victor Pinchuk
"Art is a human activity having for its purpose the transmission to others of the highest and best feelings to which men have risen." – Leo Tolstoy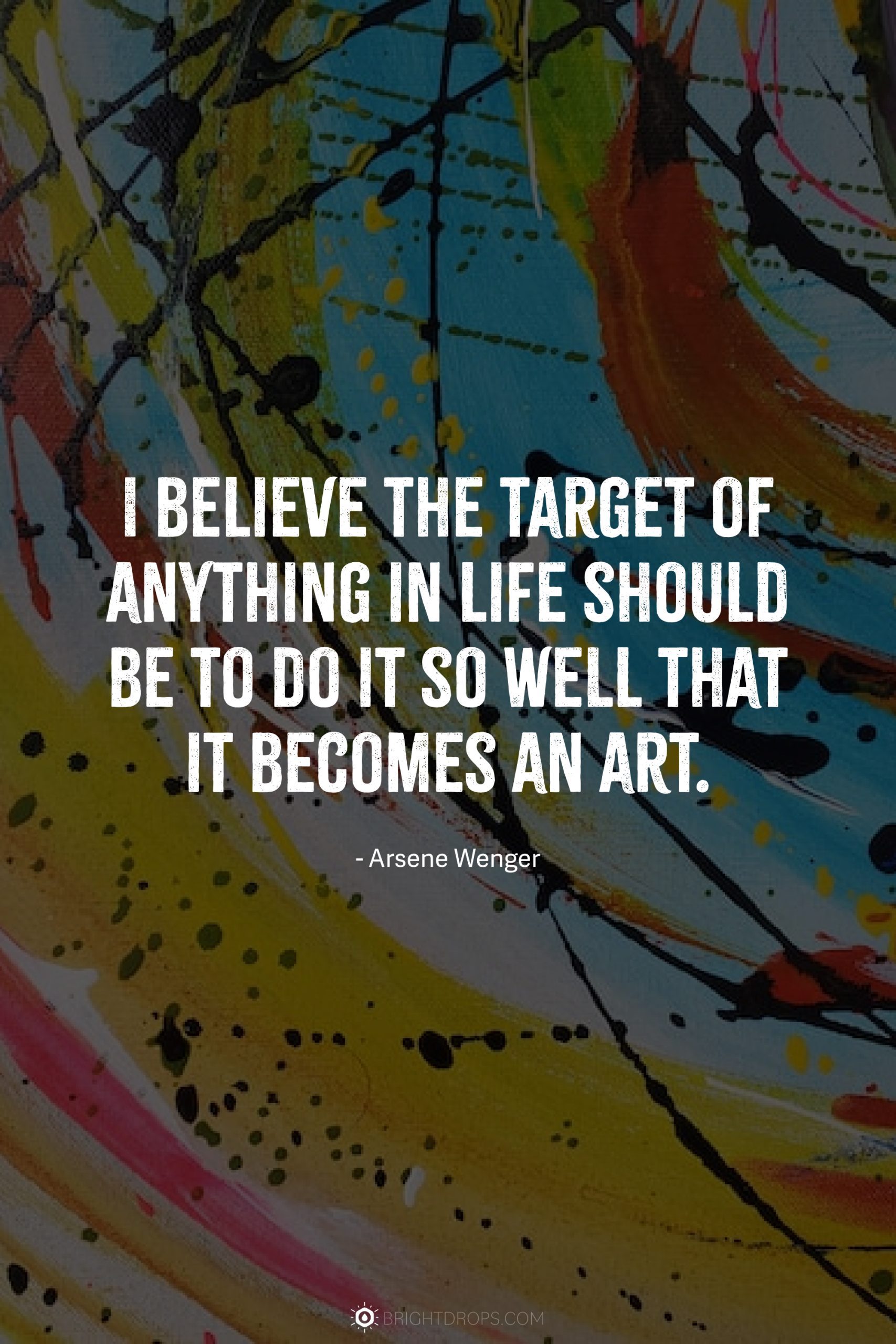 "I believe the target of anything in life should be to do it so well that it becomes an art." – Arsene Wenger
"Without art, the crudeness of reality would make the world unbearable." – George Bernard Shaw
"To send light into the darkness of men's hearts – such is the duty of the artist." – Robert Schumann
"The work of art is a scream of freedom." – Christo
"Art attracts us only by what it reveals of our most secret self." – Alfred North Whitehead
More Good Quotes: