Despite everything – the horrors, sadness, and fear in which they were written – these Anne Frank quotes show just how resilience and optimism can sustain you through even the darkest of times. Penned while hiding in a tiny room with her family and other people, her words will inspire you to look for the good in people and situations, to choose to see the light in a dark place, and to try and change the things that you don't agree with.
When antisemitism realy took hold in Nazi Germany, Jewish Anne Frank and her sister, Margot, along with her parents Otto and Edith, fled Germany for the Netherlands, where the 5 year old Anne settled in, learned the language, and made new friends at the local school. But when the Nazis invaded the Netherlands in 1940, Anne and her family decided to hide in a secret annex which her father had furnished at his business premises – it was a small, cramped space and the Frank family were joined there by several other people who were also in fear of Hitler's army.
While in hiding, Anne began to write a diary, in which she spoke of her feelings and emotions, and her thoughts during the two years she spent with her family in the secret annex; in fact, The Secret Annex (or Het Achterhuis) became the title of a collection of her diaries after an appeal was made from the Dutch Government to keep hold of war diaries and documents. Sadly, after two years in hiding, Anne and her family were discovered by the Nazis in 1944 and sent to Auschwitz concentration camp, and later Bergen-Belsen, where she sadly died shortly after her sister Margot, at the age of just 15.
Anne Frank Quotes on Finding Hope When You Need It Most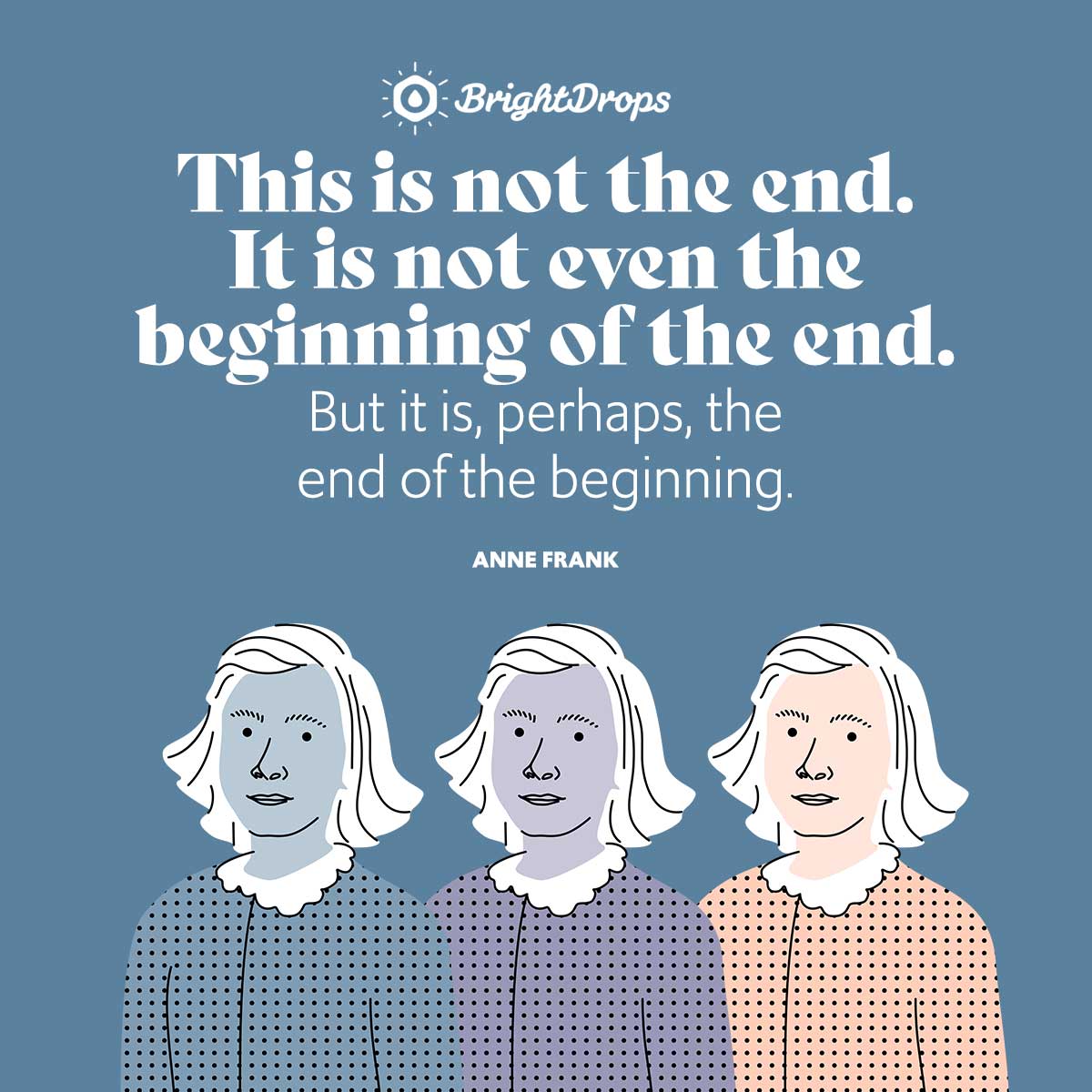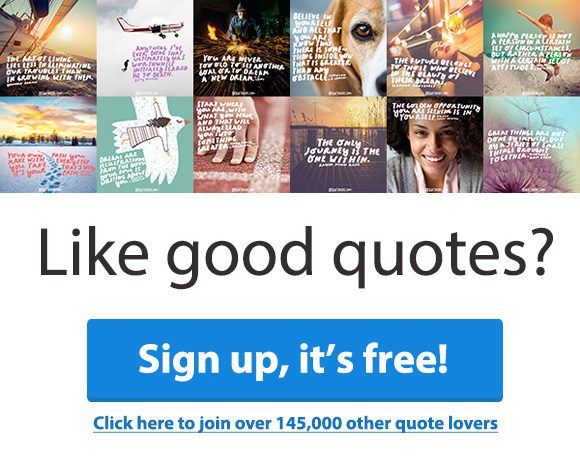 "This is not the end. It is not even the beginning of the end. But it is, perhaps, the end of the beginning." – Anne Frank
"It's difficult in times like these: ideals, dreams and cherished hopes rise within us, only to be crushed by grim reality. It's a wonder I haven't abandoned all my ideals, they seem so absurd and impractical. Yet I cling to them because I still believe, in spite of everything, that people are truly good at heart." – Anne Frank
"I don't think of all the misery but of the beauty that still remains." – Anne Frank
"Look at how a single candle can both defy and define the darkness." – Anne Frank
"I see the world gradually being turned into a wilderness. I hear the ever-approaching thunder, which will destroy us too. I can feel the sufferings of millions and yet, if I look up into the heavens, I think that it will all come right." – Anne Frank
Anne Frank Quotes on How to Find Happiness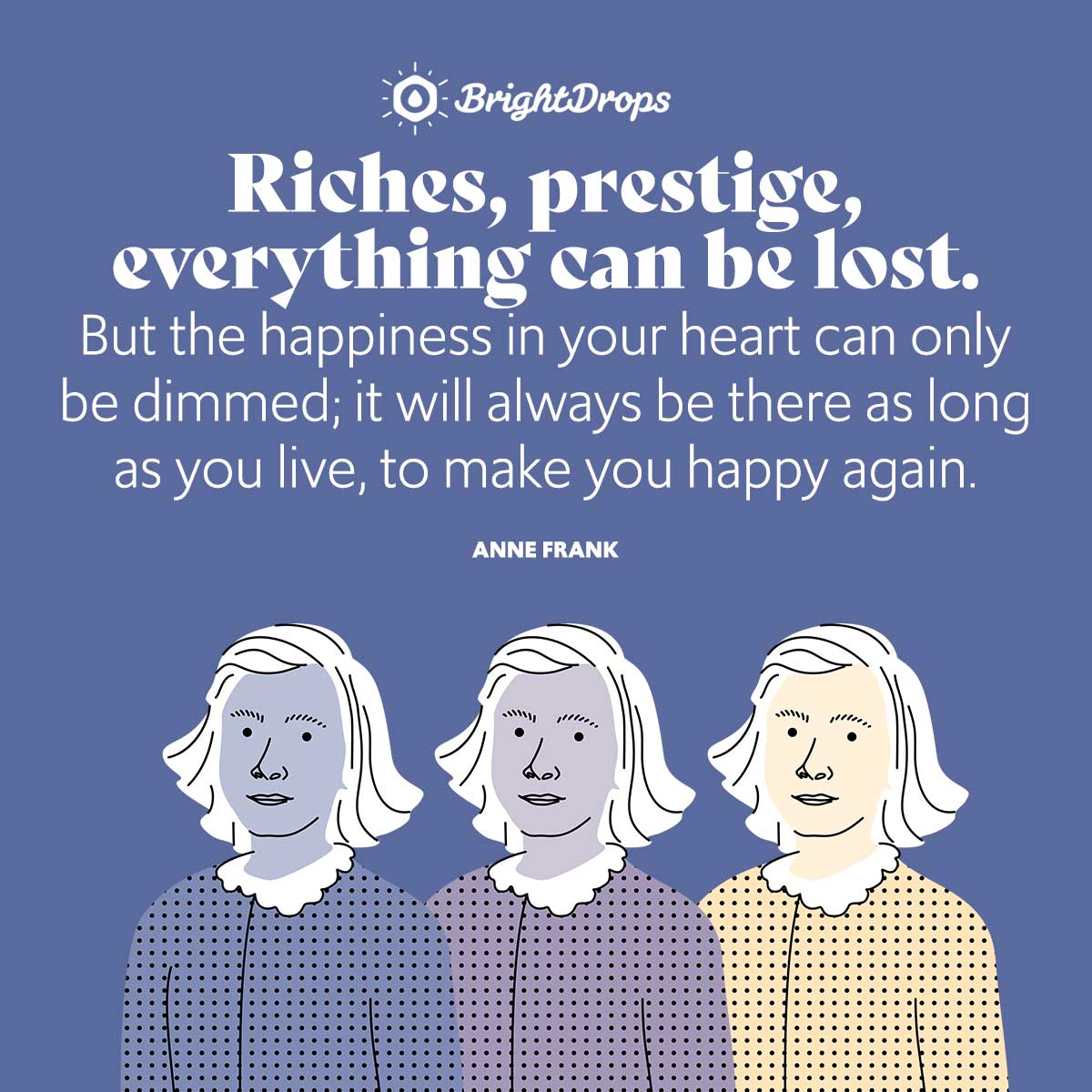 "Riches, prestige, everything can be lost. But the happiness in your heart can only be dimmed; it will always be there as long as you live, to make you happy again." – Anne Frank
"Whoever is happy will make others happy too." – Anne Frank
"Think of all the beauty still left around you and be happy." – Anne Frank
"Whenever you're feeling lonely or sad, try going to the loft on a beautiful day and looking outside. Not at the houses and the rooftops, but at the sky. As long as you can look fearlessly at the sky, you'll know that your pure within and will find happiness once more." – Anne Frank
"We all live with the objective of being happy; our lives are all different and yet the same." – Anne Frank
"Earning happiness means doing good and working, not speculating and being lazy. Laziness may look inviting, but only work gives you true satisfaction." – Anne Frank
Anne Frank Quotes on the Goodness of People
"In spite of everything I still believe that people are really good at heart. I simply can't build up my hopes on a foundation consisting of confusion, misery and death." – Anne Frank
"Despite everything, I believe that people are really good at heart." – Anne Frank
"Everyone has inside of him a piece of good news. The good news is that you don't know how great you can be! How much you can love! What you can accomplish! And what your potential is!" – Anne Frank
Anne Frank Quotes on What It Means to Be a Woman
"I know what I want, I have a goal, an opinion, I have a religion and love. Let me be myself and then I am satisfied. I know that I'm a woman, a woman with inward strength and plenty of courage." – Anne Frank
"Women should be respected as well! Generally speaking, men are held in great esteem in all parts of the world, so why shouldn't women have their share? Soldiers and war heroes are honored and commemorated, explorers are granted immortal fame, martyrs are revered, but how many people look upon women too as soldiers?" – Anne Frank
Anne Frank Quotes on Bravery and Kindness in the Face of Fear
"How wonderful it is that nobody need wait a single moment before starting to improve the world." – Anne Frank
"We aren't allowed to have any opinions. People can tell you to keep your mouth shut, but it doesn't stop you having your own opinion. Even if people are still very young, they shouldn't be prevented from saying what they think." – Anne Frank
"No one has ever become poor by giving." – Anne Frank
"The best remedy for those who are afraid, lonely or unhappy is to go outside, somewhere where they can be quiet, alone with the heavens, nature and God. Because only then does one feel that all is as it should be." – Anne Frank
Anne Frank Quotes on the Power of Writing
"I can shake off everything as I write; my sorrows disappear, my courage is reborn." – Anne Frank
"Writing in a diary is a really strange experience for someone like me. Not only because I've never written anything before, but also because it seems to me that later on neither I nor anyone else will be interested in the musings of a thirteen-year old school girl. Oh well, it doesn't matter. I feel like writing." – Anne Frank
"Because paper has more patience than people." – Anne Frank
"Still, she writes, what does that matter? I want to write, but more than that, I want to bring out all kinds of things that lie buried deep in my heart." – Anne Frank
More Inspirational Quotes: