"All efforts to make politics aesthetic culminate in one thing, war." – Walter Benjamin
"If a work of art is rich and vital and complete, those who have artistic instincts will see its beauty, and those to whom ethics appeal more strongly than aesthetics will see its moral lesson." – Oscar Wilde
"Whenever you are creating beauty around you, you are restoring your own soul." – Alice Walker
"What always seems miraculous is when aesthetic necessities yield an insight which otherwise I would have missed." – Susan Griffin
"Behind the aesthetic form lies the repressed harmony of sensuousness and reason." – Herbert Marcuse
"After a certain high level of technical skill is achieved science and art tend to coalesce in aesthetics, plasticity, and form. The greatest scientists are artists as well." – Albert Einstein
"People define themselves aesthetically at a very young age." – Thom Filicia
"Design is about the betterment of our lives poetically, aesthetically, experientially, sensorially, and emotionally." – Karim Rashid
"I will try to account for the degree of my aesthetic emotion. That, I conceive, is the function of the critic." – Clive Howard Bell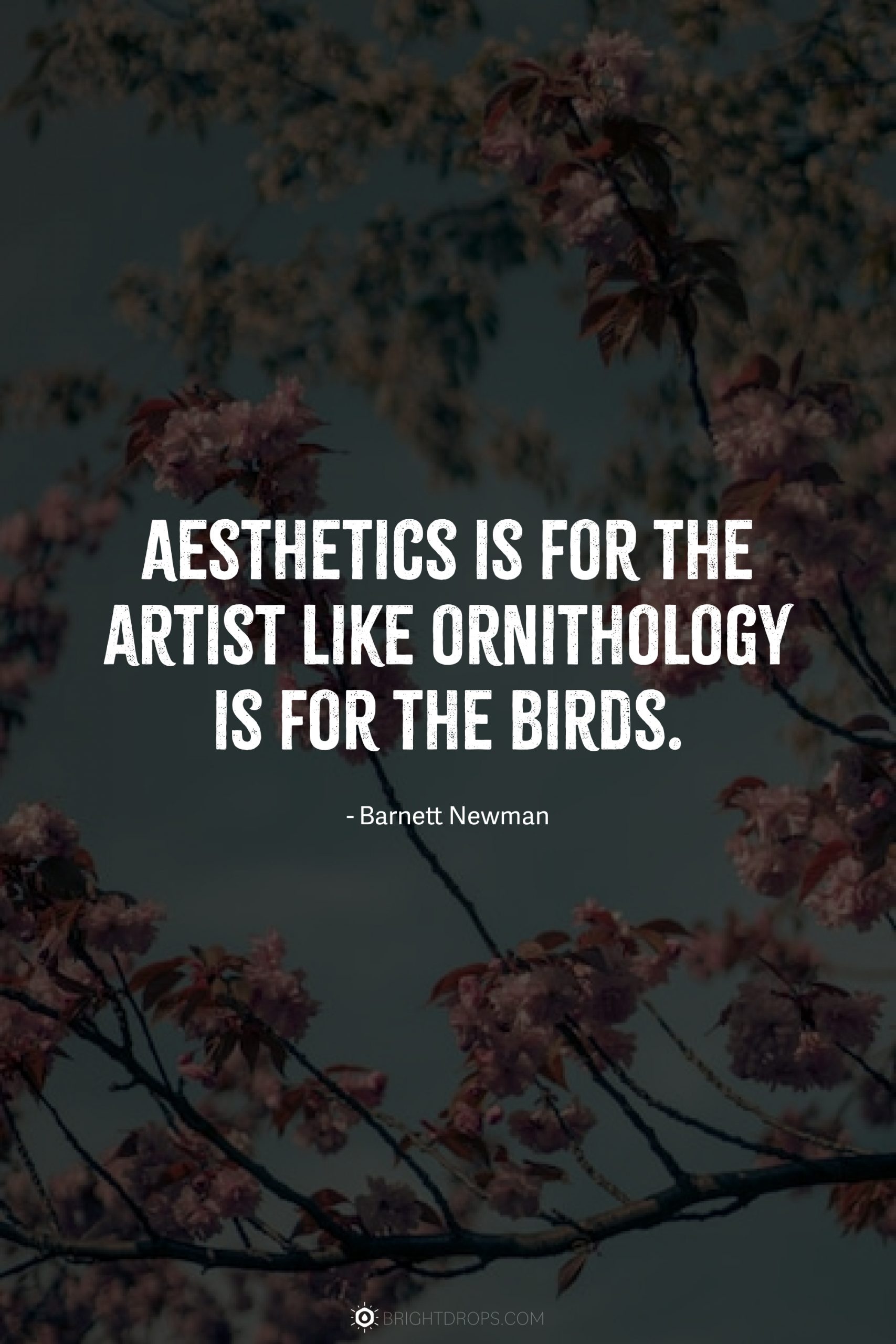 "Aesthetics is for the artist like ornithology is for the birds." – Barnett Newman
"What comes from sorrow, watered by tears, grows something of beauty. A salt garden. And so this I leave behind. A harvest for those who find their way into my life and I into theirs." – Cindy McCormick Martinusen
"Styles may change, details may come and go, but the broad demands of aesthetic judgment are permanent." – Roger Scruton
"Should you shield the canyons from the windstorms, you would never see the true beauty of their carvings." – Elisabeth Kubler
"Form follows profit is the aesthetic principle of our times." – Richard Rogers
"In the life of the individual, an aesthetic sensibility is both more authentic and more commendable than a political or religious one." – Tom Robbins
"Aesthetic emotion puts man in a state favorable to the reception of erotic emotion. Art is the accomplice of love. Take love away and there is no longer art." – Remy de Gourmont
"Aesthetics have substantial political consequences. How one views oneself as beautiful or not beautiful or desirable or not desirable has deep consequences in terms of one's feelings of self-worth and one's capacity to be a political agent." – Cornel West
"I find beauty in the continual shaping of chaos which clearly embodies the primordial power of nature's performance." – Iris van Herpen
"A rich poet from Harvard has no sense in his mind, except the aesthetic." – Beatrice Wood.
"Desire for beauty will endure and undermine the desire for truth." – Richard O. Prum
"The more people explore the world, the more they realise in every country there's a different aesthetic. Beauty is in the eye of the beholder." – Helena Christensen
"Behind every exquisite thing that existed, there was something tragic." – Oscar Wilde
"To the man who loves art for its own sake, it is frequently in its least important and lowliest manifestations that the keenest pleasure is to be derived." – Arthur Conan Doyle
"Refinement creates beauty everywhere: it is the grossness of the spectator that discovers nothing but grossness in the object." – William Hazlitt
"Beauty is the main positive form of the aesthetic assimilation of reality, in which the aesthetic ideal finds its direct expression." – Karl Marx.
"Aesthetic sense is the twin of one's instinct for self-preservation and is more reliable than ethics." – Joseph Brodsky
"Just because something causes you to have a feeling of aesthetic beauty does not make it a work of art." – Fred Ross
"The best and most beautiful things in the world cannot be seen or even touched – they must be felt with the heart." – Helen Keller
"Bread cannot feed the addicts of beauty." – Raheel Farooq
"Aesthetic matters are fundamental for the harmonious development of both society and the individual." – Friedrich Schiller
"We all appreciated a certain aesthetic, and with that appreciation came a certain stylized presence." – Amber Heard
"Even a colour-sense is more important, in the development of the individual, than a sense of right and wrong. Aesthetics, in fact, are to Ethics in the sphere of conscious civilisation, what, in the sphere of the external world, sexual is to natural selection. Ethics, like natural selection, make existence possible. Aesthetics, like sexual selection, make life lovely and wonderful, fill it with new forms, and give it progress, and variety and change." – Oscar Wilde
"Our hearts are drunk with a beauty our eyes could never see." – George W. Russell
"For you to sleep well at night, the aesthetic, the quality, has to be carried all the way through." – Steve Jobs
"I love art dealers….I love that they put their money where their taste is, create their aesthetic universes, support artists, employ people, and do all of this while letting us see art for free. Many are visionaries." – Jerry Saltz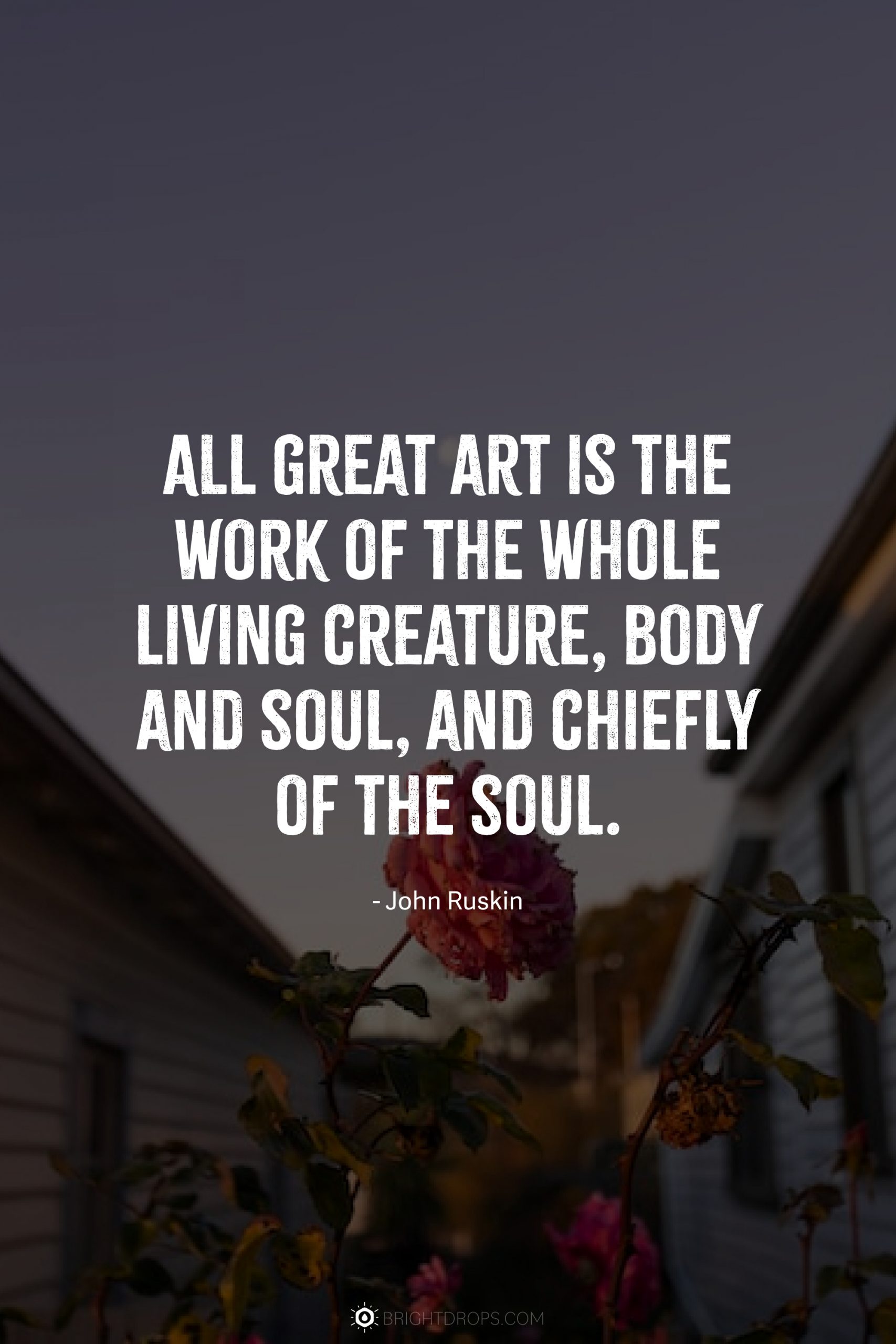 "All great art is the work of the whole living creature, body and soul, and chiefly of the soul." – John Ruskin
"I always loved aesthetics. Not particularly fashion, but an idea of beauty." – Miuccia Prada
"I believe that one of the most powerful things of all is aesthetics." – Kalle Lasn
"Dreaming is not merely an act of communication; it is also an aesthetic activity, a game of the imagination, a game that is a value in itself." – Milan Kundera
"Aesthetic freedom is like free speech; it is, indeed, a form of free speech." – George Edward
"Art is the imposing of a pattern on experience, and our aesthetic enjoyment is recognition of the pattern." – Alfred North Whitehead
"But those who seek only reassurance from life will never be more than tourists—seeing everything and trying to possess what can only be felt. Beauty is the shadow of imperfection." – Simon Van Booy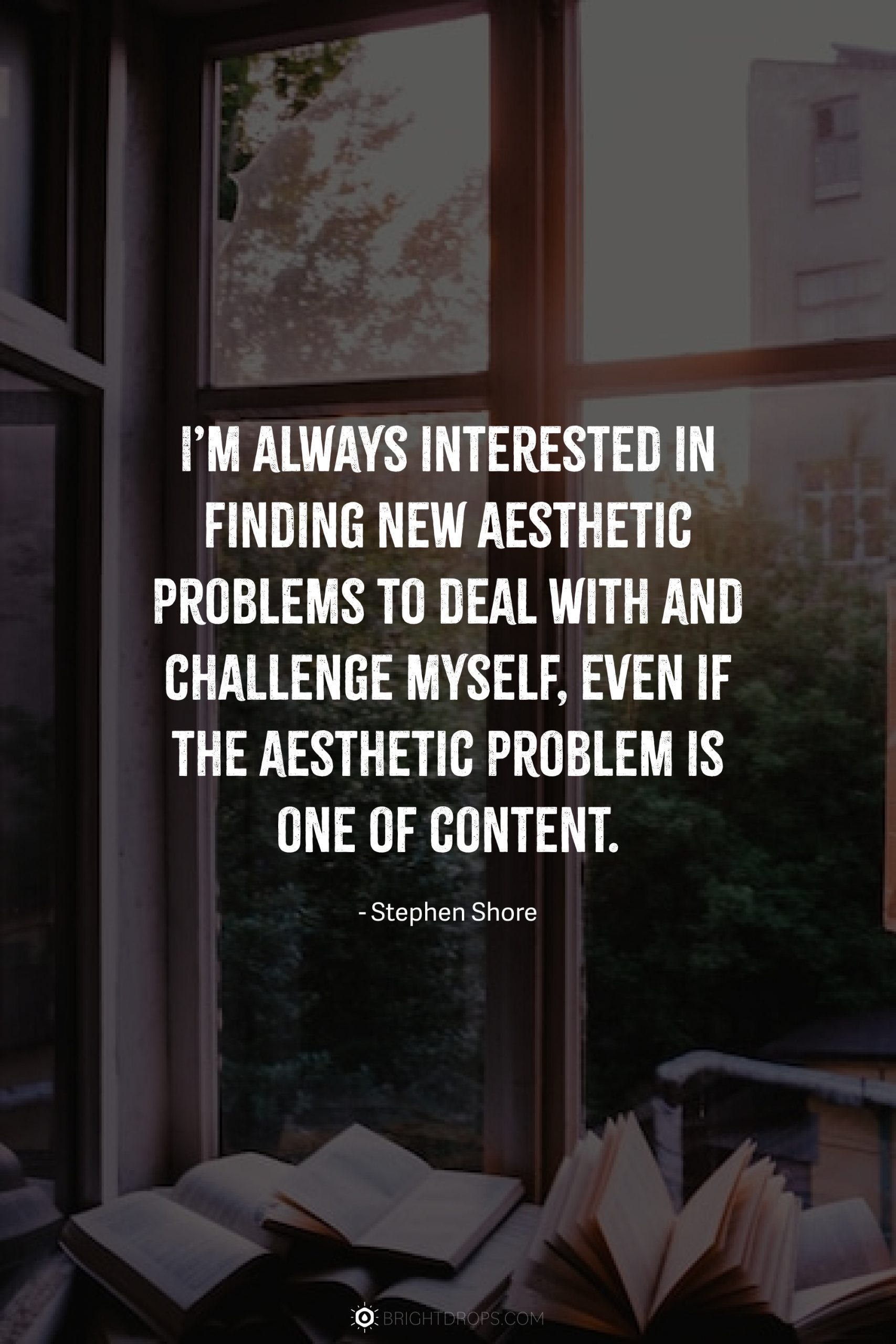 "I'm always interested in finding new aesthetic problems to deal with and challenge myself, even if the aesthetic problem is one of content." – Stephen Shore
"Nothing is beautiful, only man: on this piece of naivete rests all aesthetics, it is the first truth of aesthetics. Let us immediately add its second: nothing is ugly but degenerate man – the domain of aesthetic judgment is therewith defined." – Friedrich Nietzsche
"The best way to pay for a lovely moment is to enjoy it." – Richard Bach
"I don't think of all the misery but of the beauty that still remains." – Anne Frank
"It's just my aesthetic: to want to feel a bit undone, effortless but not without style." – Yigal Azrouel
"Good befalls us while we sleep, sometimes." – Honoré de Balzac
"Appreciate the aesthetic and creativity of the nature and be grateful for being part of it." – M.F. Moonzajer
"It's odd that there is a high level of appreciation of nature. There is the aesthetic side that really loves nature and beauty." – Jerry Garcia
"I've never seen a smiling face that was not beautiful." – Unknown
"The aesthetics aren't merely a side note, they're as important as anything else." – Sylvain Neuvel
"I fell in love with R&B music at a young age. The energy and aesthetic of that genre strike an emotional chord with me." – Sid Sriram.
"Everything good is good because of the love it contains." – John K. Brown
"The power of finding beauty in the humblest things makes home happy and life lovely." – Louisa May
"The aesthetic can have its revenge upon ideology by revealing a power to complicate that is also a power to undermine." – Murray Krieger
"In so far as the mind sees things in their eternal aspect, it participates in eternity." – Baruch de Spinoza
"Art is an invention of aesthetics, which in turn is an invention of philosophers… What we call art is a game." – Octavio Paz
"Beauty of whatever kind, in its supreme development, invariably excites the sensitive soul to tears." – Edgar Allan Poe
"Show me what a people admire, and I will tell you everything about them that matters." – Jack McDevitt
"Aesthetics – rather than reason – shapes our thought processes. First comes aesthetics, then logic. 'Thinking in Numbers' is not about an attempt to impress the reader but to include the reader, draw the reader in, by explaining my experiences – the beauty I feel in a prime number, for example." – Daniel Tammet
"An artist's concern is to capture beauty wherever he finds it." – Kazuo Ishiguro
"Light has an evident, functional and aesthetic impact on our lives." – Olafur Eliasson
"There is nothing more rare, nor more beautiful, than a woman being unapologetically herself; comfortable in her perfect imperfection. To me, that is the true essence of beauty." – Steve Maraboli